Everyone loves apple pie! This Paleo Apple Pie is so good, they won't know it's paleo! Buttery hazelnut crust is made with cold lard and is flaky perfection. The filling is sweetened with dates, spiked with vanilla bean, and cooked to tender perfection.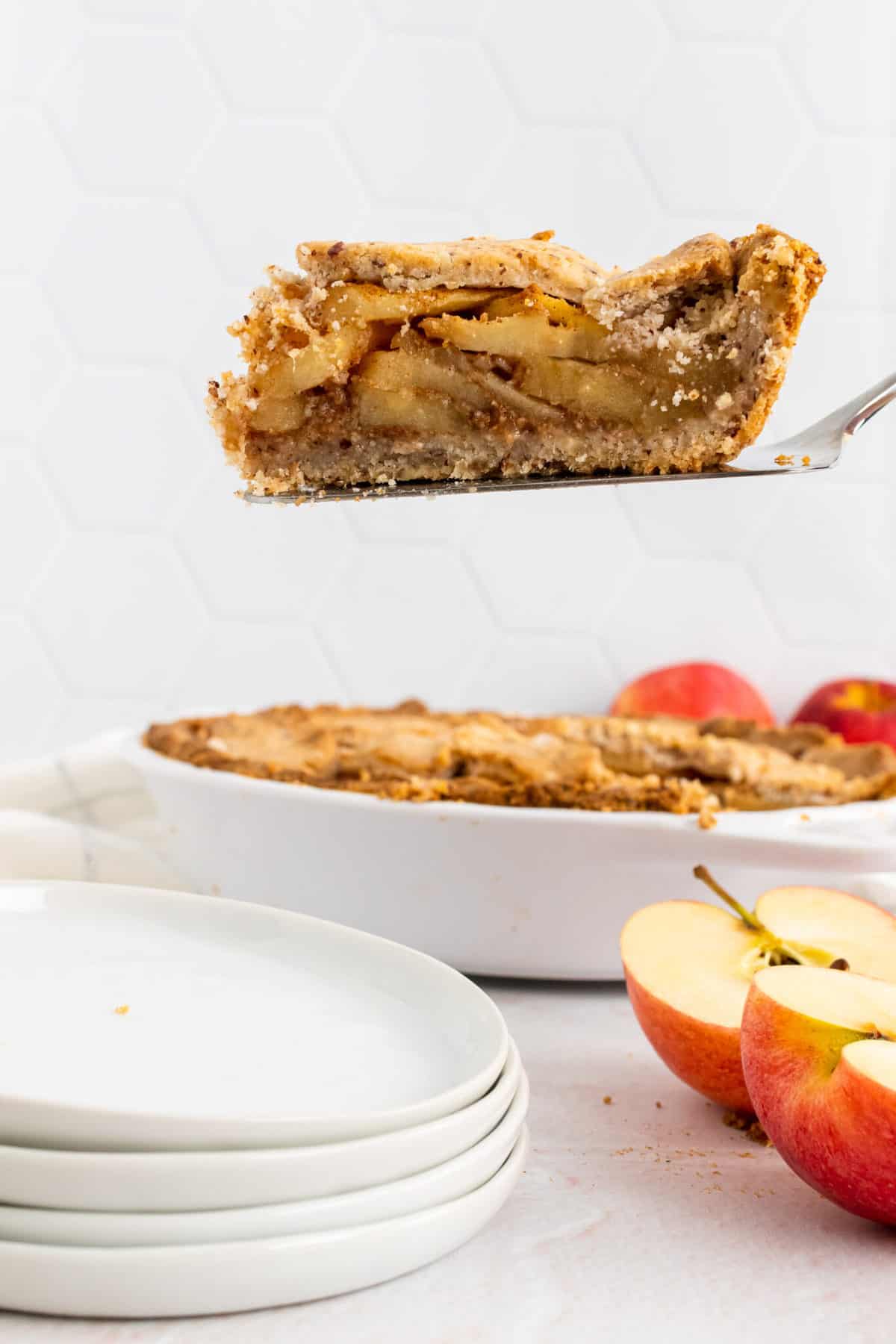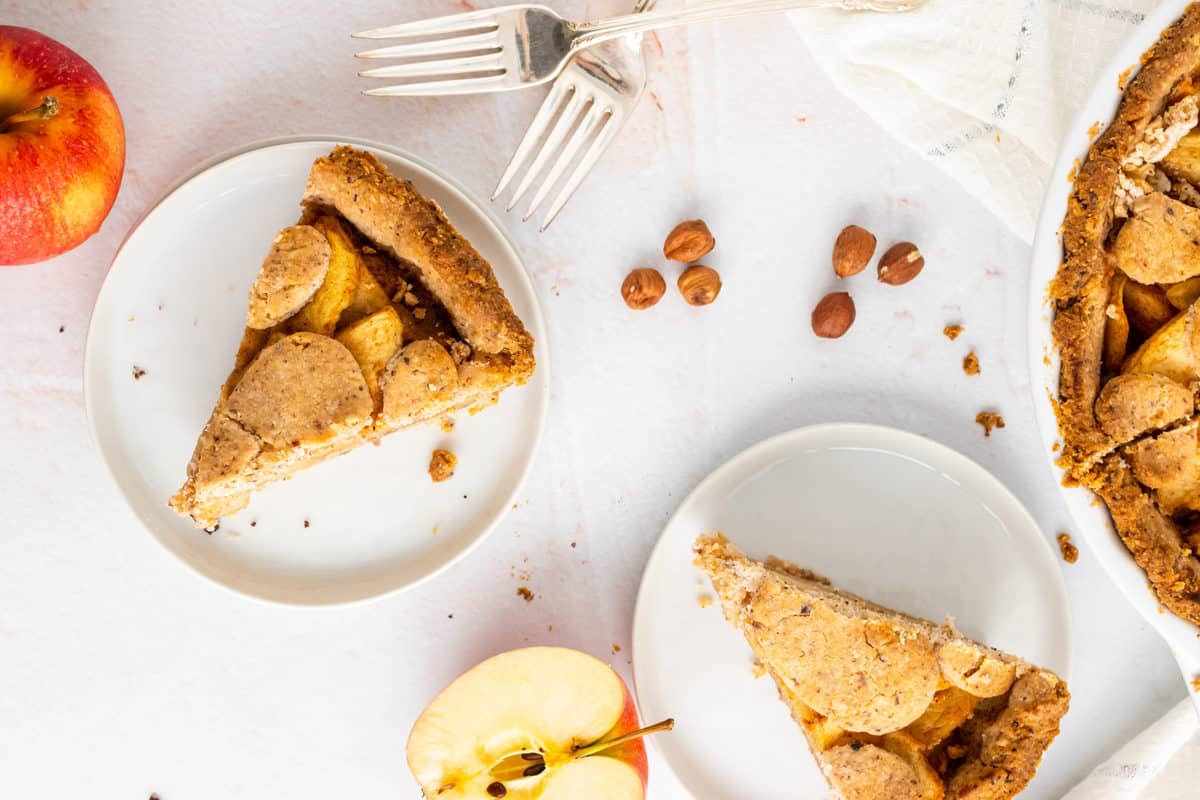 Paleo Pie For The Win
After Thanksgiving last year, the neighbors decided to have a leftover potluck. Only thing was, I didn't really have leftovers. I wanted to share some of the awesome pumpkin pie I made, but I had eaten the last piece (don't judge). It was the perfect excuse to make this paleo apple pie – it's delicate, crumbly, flaky, and delicious. The recipe follows traditional pie rules. It's old school. It's nostalgic. Tastes like home.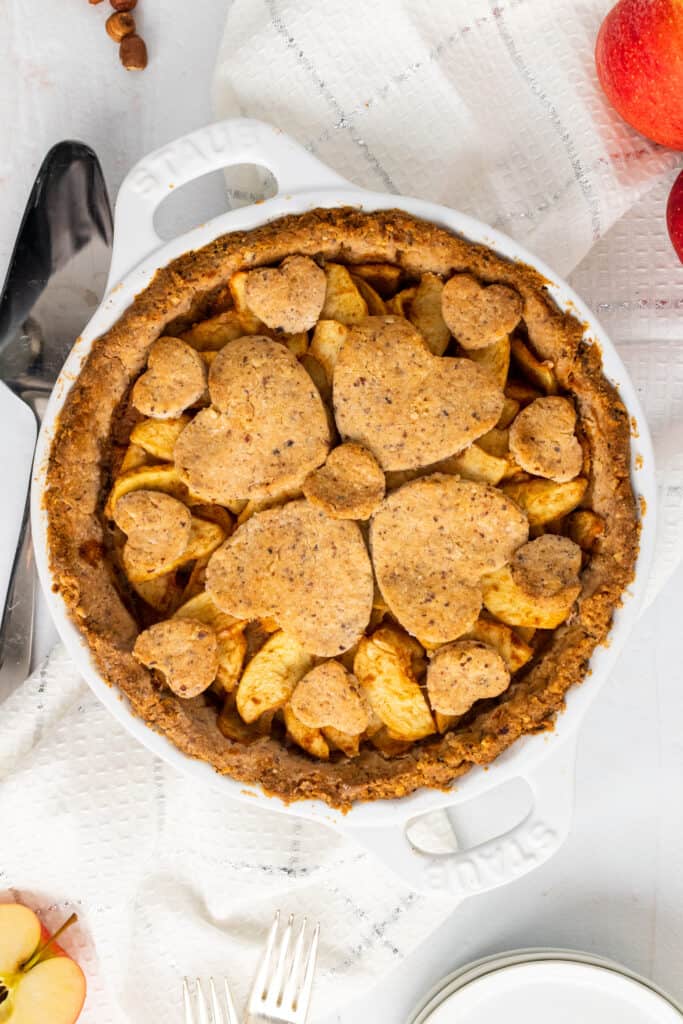 Ingredients for your Paleo Apple Pie
This pie is made with simple and real food ingredients. The benefit of baking with paleo ingredients is that you get an amazing flavor without ingredients that make you feel icky. This paleo apple pie is perfect for your holiday table.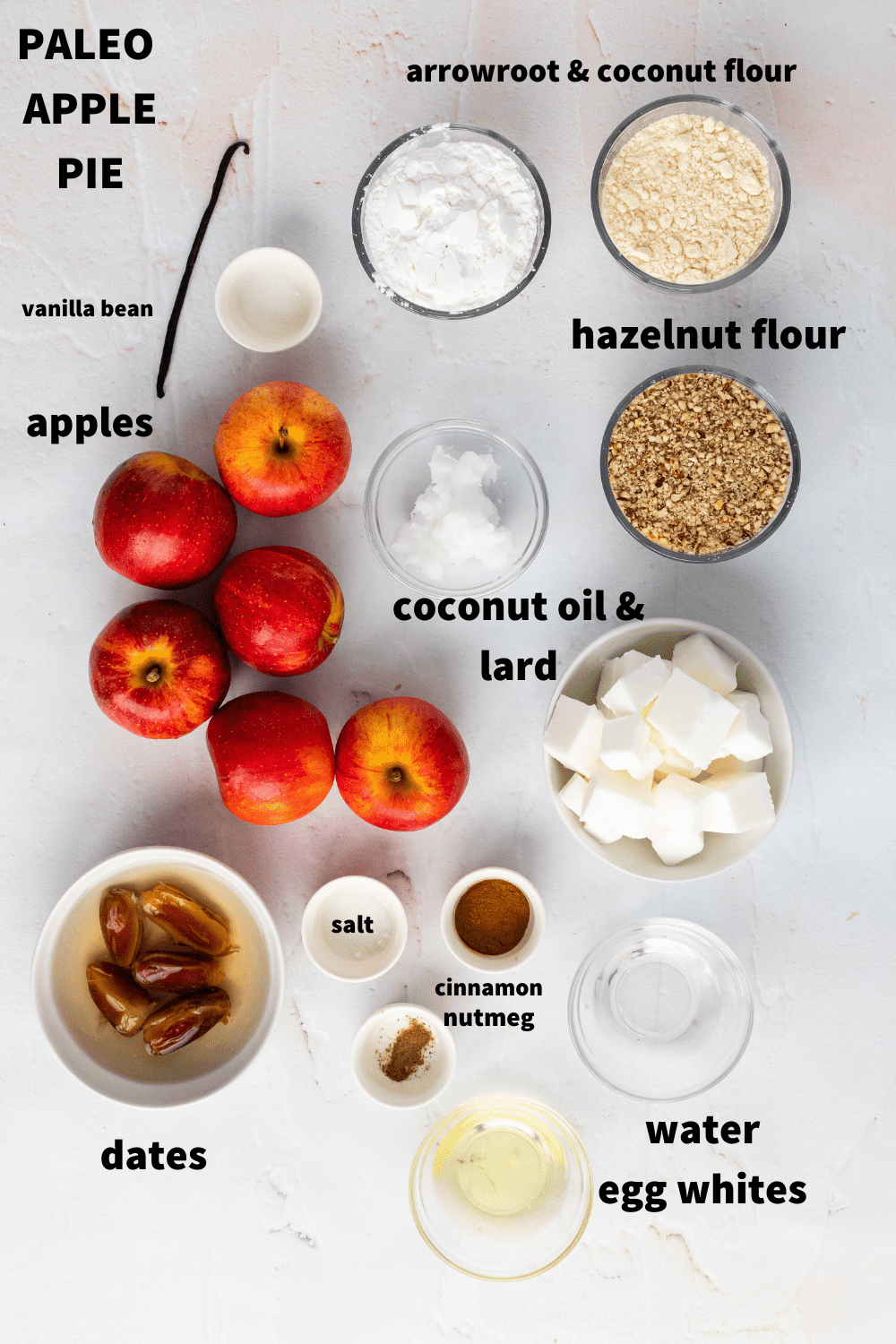 Hazelnut flour – don't let this ingredient stump you. It's just finely ground up hazelnuts. You can buy them whole and grind them yourself in a food processor or grab a bag of Bob's Red Mill's Hazelnut Flour. It's so fatty and makes a super flaky crust that totally makes this paleo pie amazing.
Dates – are a great whole food sweetener. They're high in antixodiants, which help lower inflammation. Perfect for all sorts of baking, but making a date puree works amazing in this healthy apple pie.
Cold Lard – makes THE best pie crust, especially paleo pie crusts. However, if you can't find it, or don't eat it, you may use cold butter too.
Tapioca Starch or Arrowroot Flour – you may use either for the paleo apple pie crust! I find that if you are sensitive to cassava you will also be sensitive to tapioca, so go with arrowroot.
Gala Apples or Fuji Apples – these are my favorite types of apples. Fuji apples are especially sweet and so perfect for apple pie!
Step by Step Healthy Pie
Let's start by making the hazelnut crust, grab your ingredients, and food processor. This paleo apple pie is a labor of love, but totally worth it. You're going to love sharing this amazing pie with your family.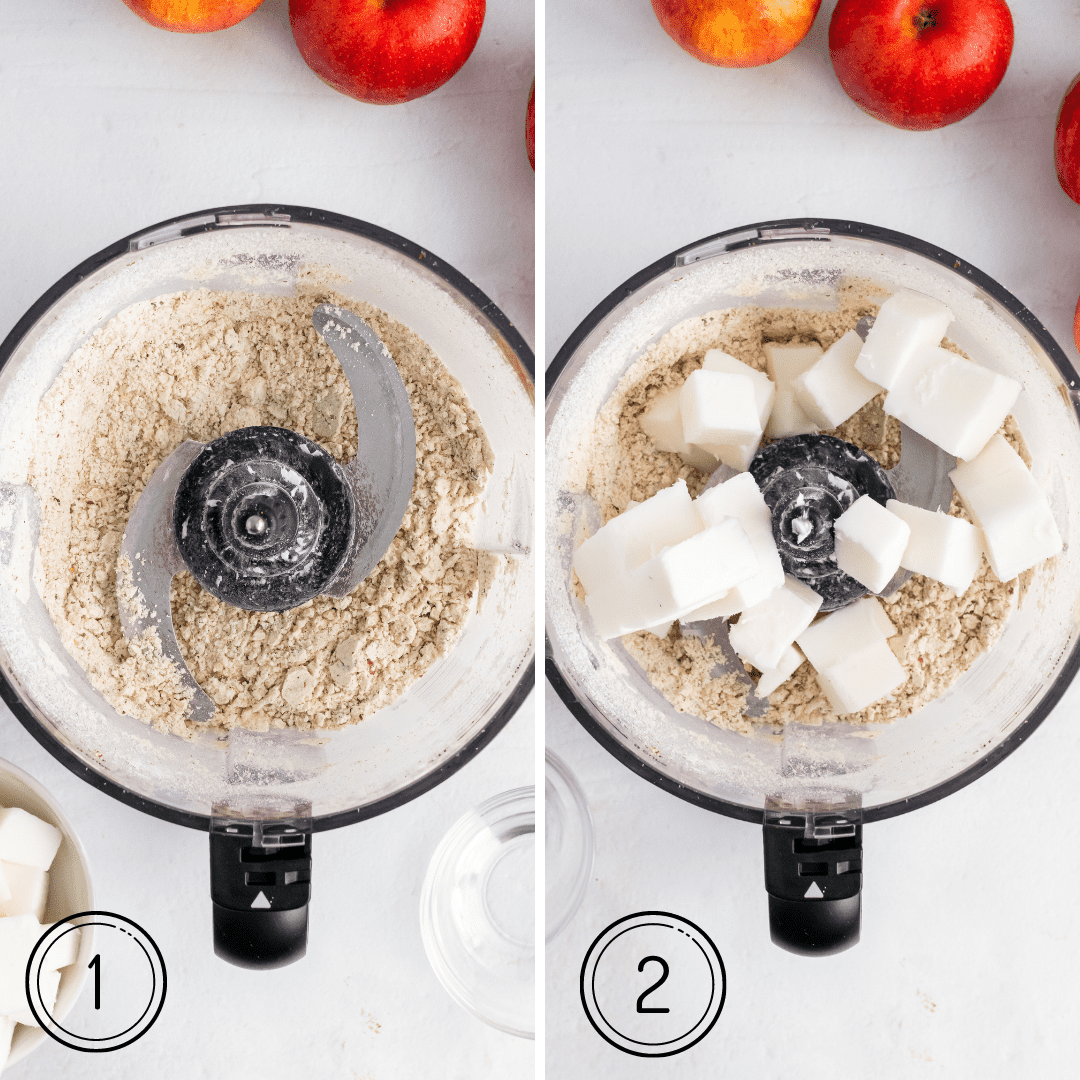 Sift your flours into the food processor.
Add the cold lard in chunks. Pulse, adding in water until it creates a dough.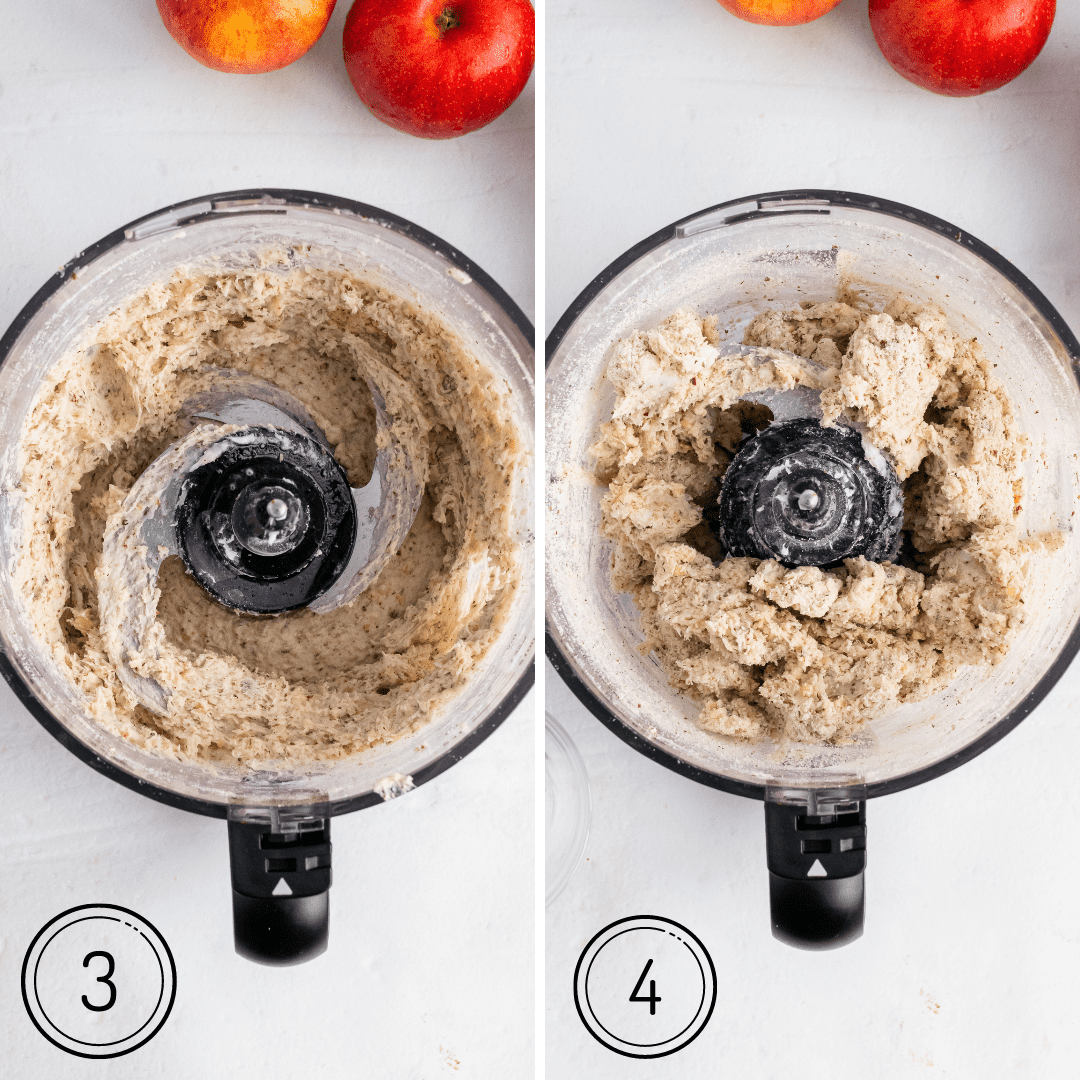 It will get sticky at first, keep pulsing.
You want it to create a ball or look like wet sand.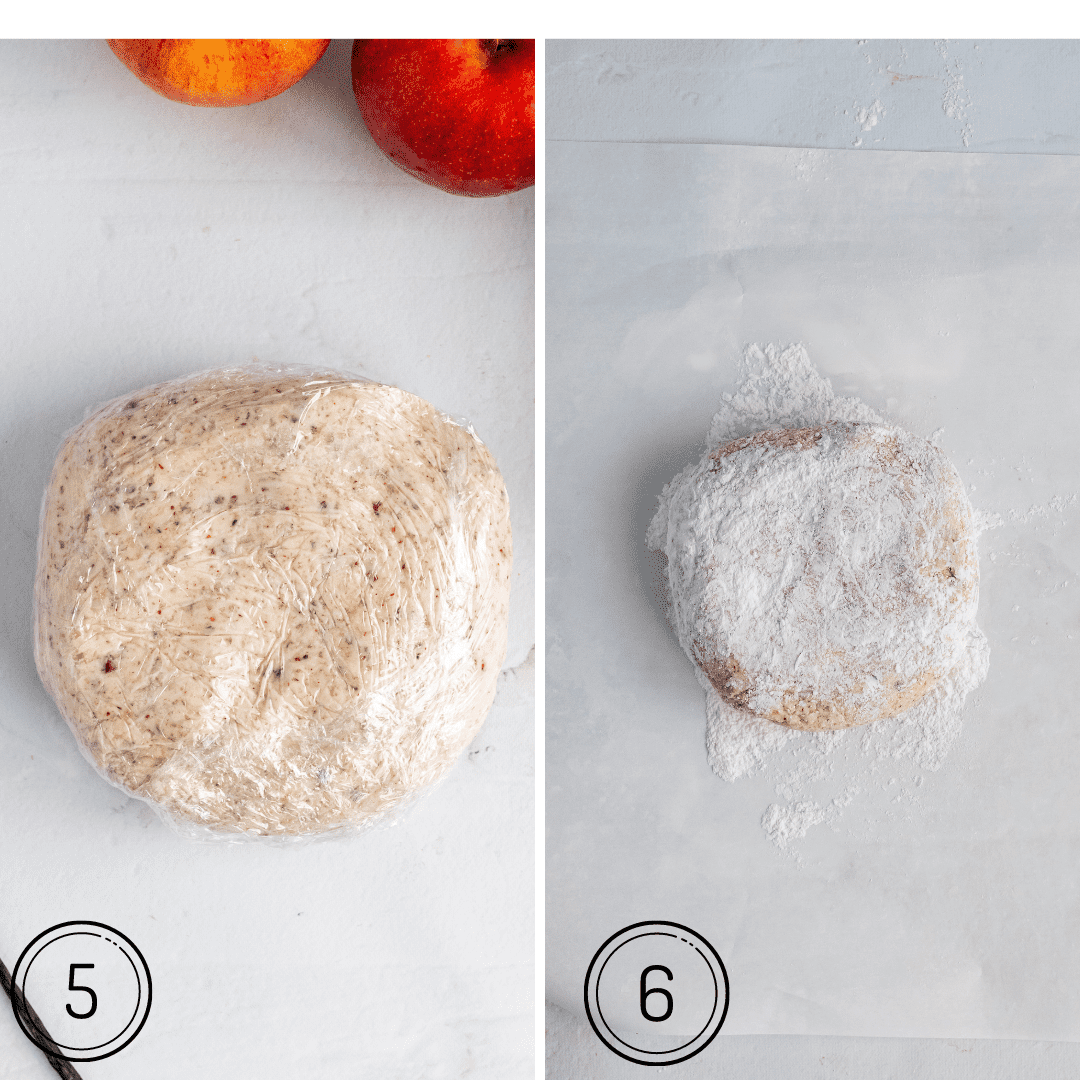 Use a spatula to transfer all of the dough to a piece of plastic wrap. Create a ball, wrap tightly and chill for 30 minutes.
Then on a dusted surface flatten the ball into a disk. Roll out, using parchment paper if needed.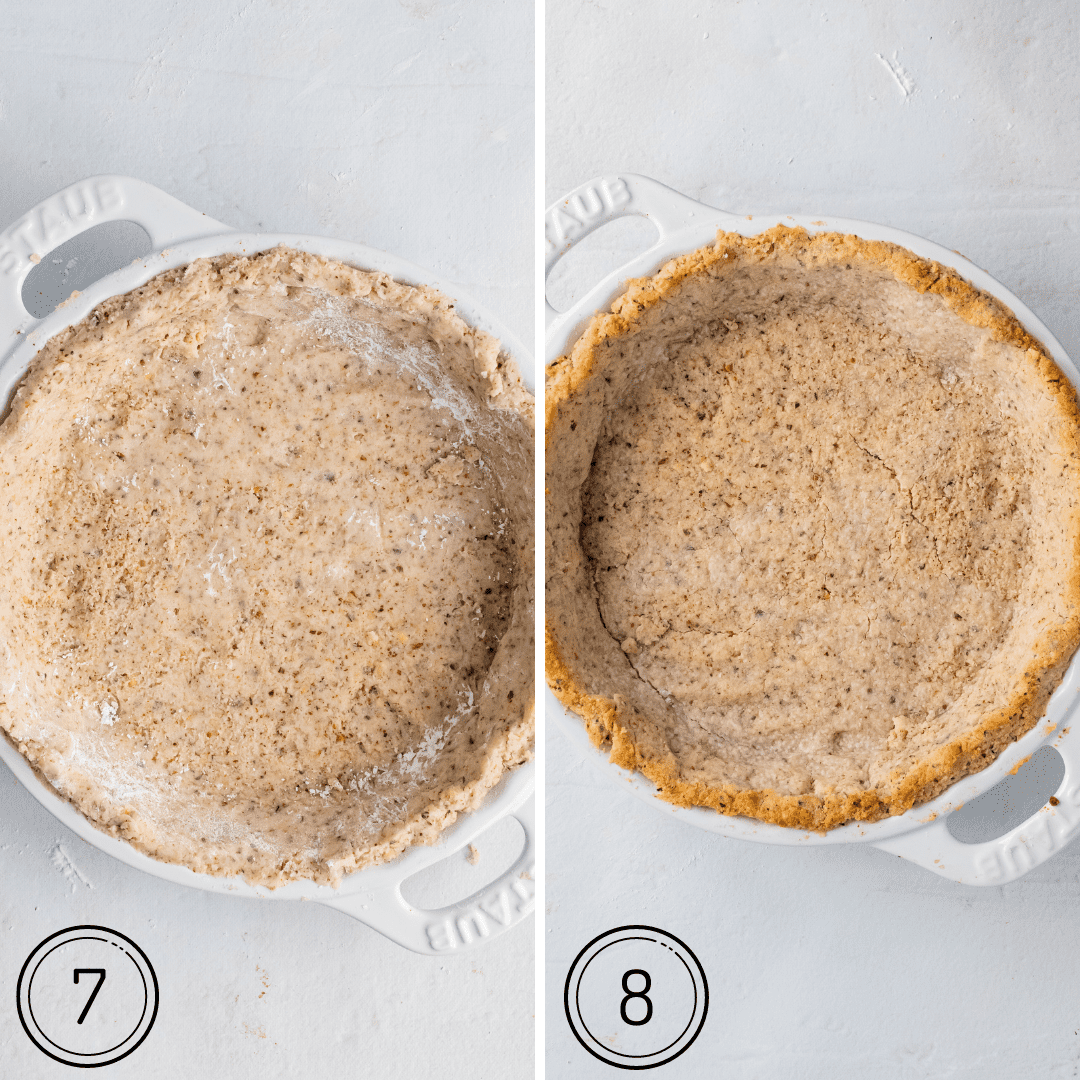 Transfer the dough circle to your pie dish and cut the excess off. Save it to decorate the top.
Use wet fingers to fix any cracks. Use a fork to poke holes in the dough and bake until golden.
Now let's make the filling.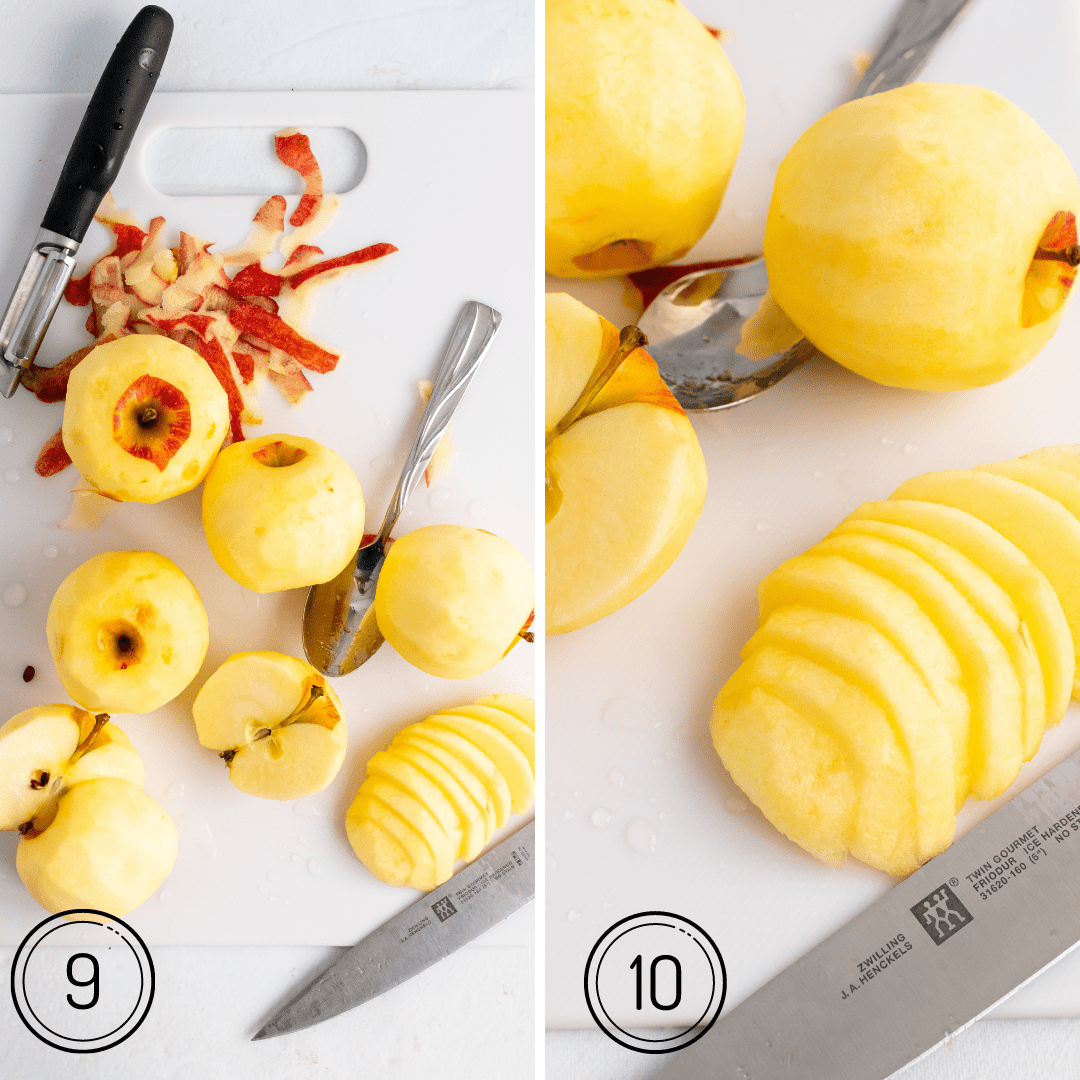 Start by peeling and coring all of the apples.
Then slice the apples in half moon slices.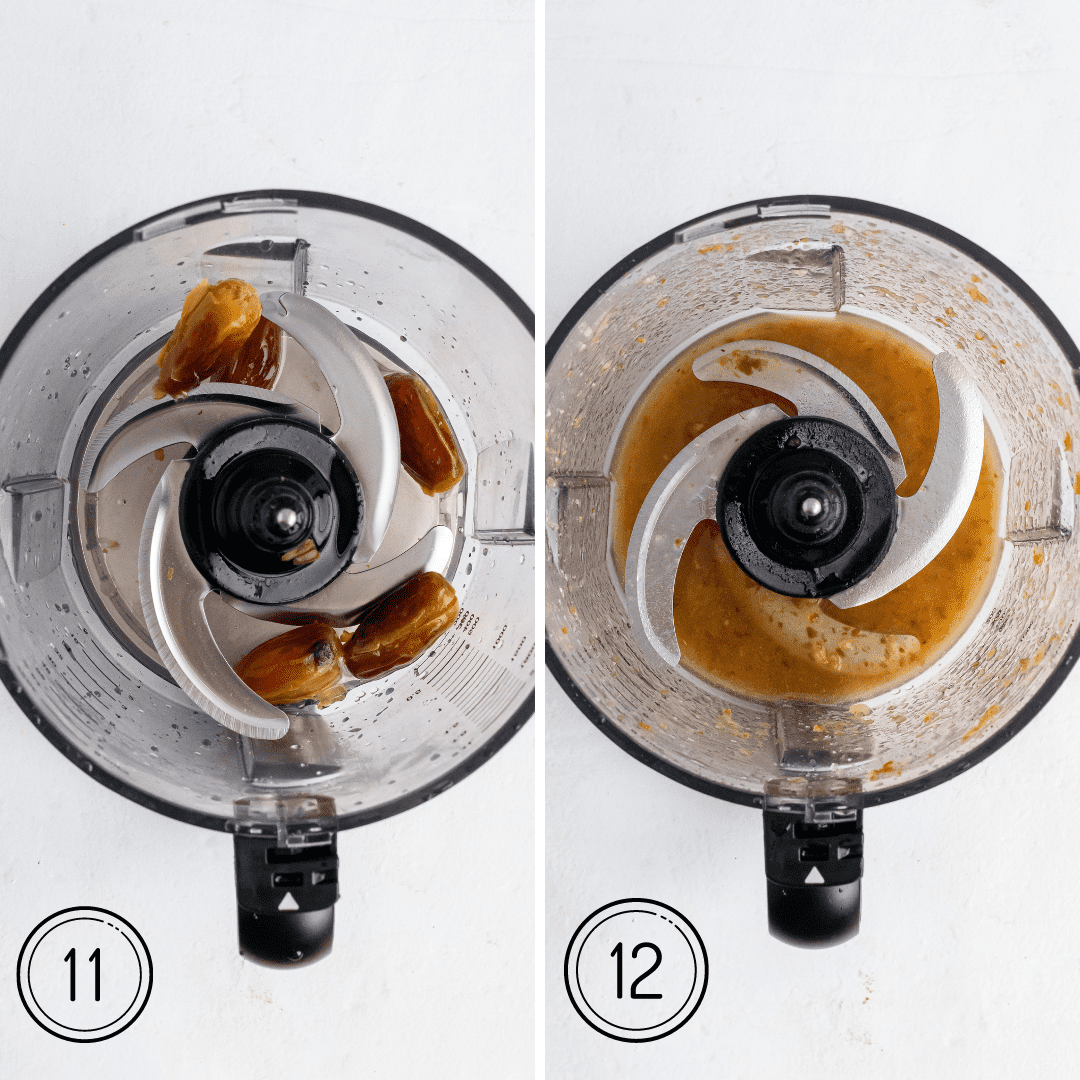 Grab your soaked dates and blend them in the food processor to make a paste.
Make sure they are pitted! If you want to skip this step you can use Date Lady Syrup instead.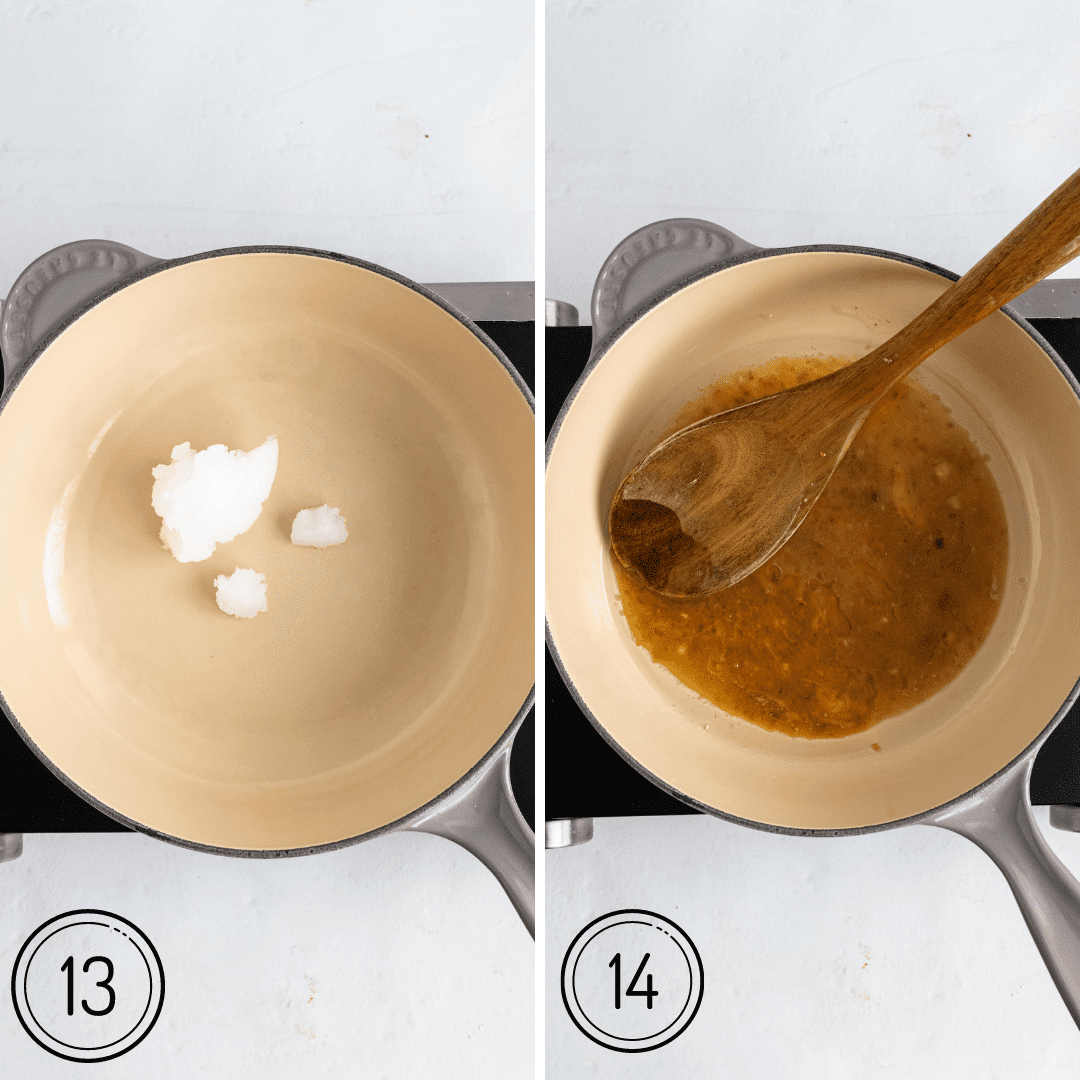 In a pot, melt the coconut oil.
Add in the date syrup and mix until well combined.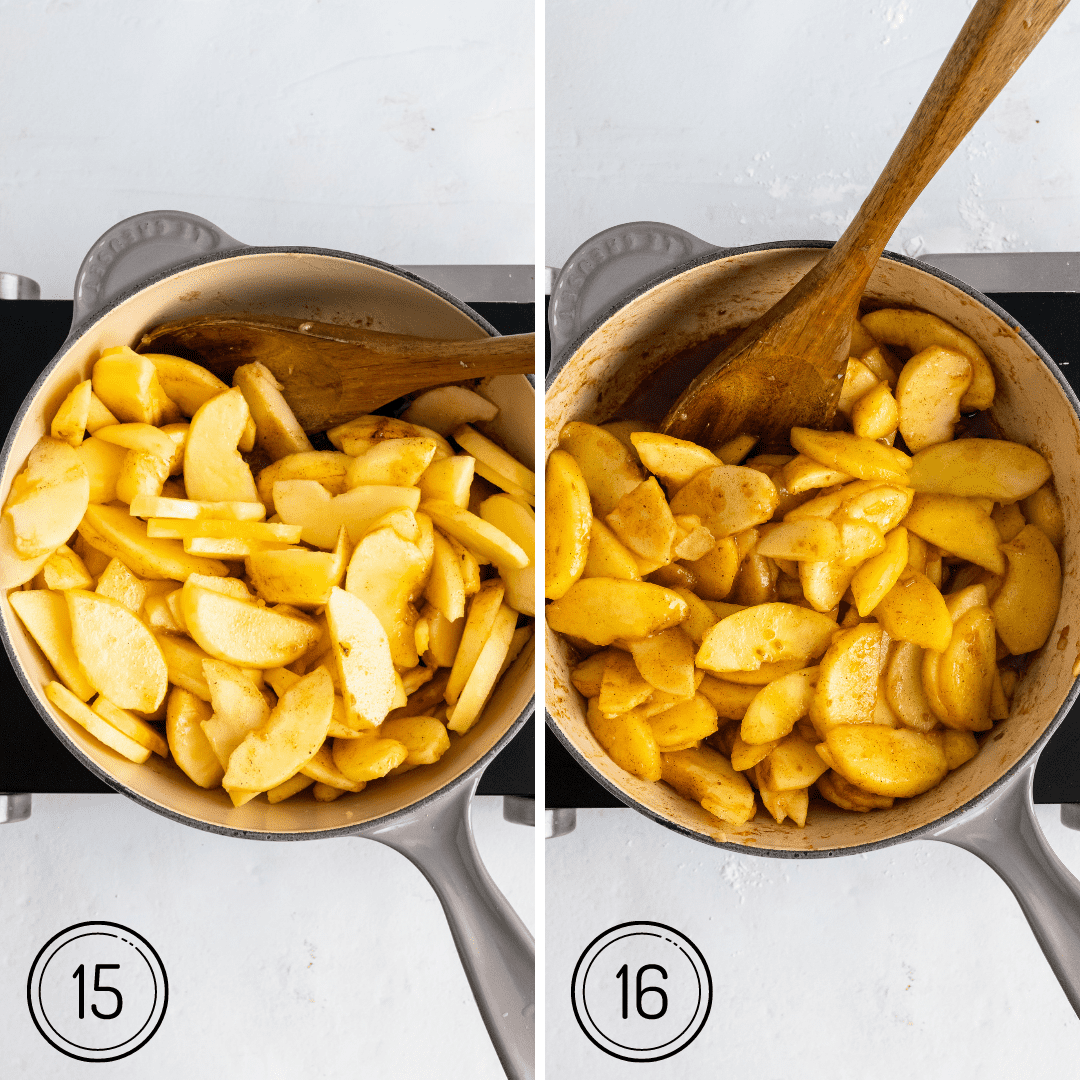 Add the sliced apples to the pot and cook, gently mixing. Add in the vanilla bean, cinnamon, salt and nutmeg.
Once the apples are tender and aromatic, remove from the heat. Fill the pie crust.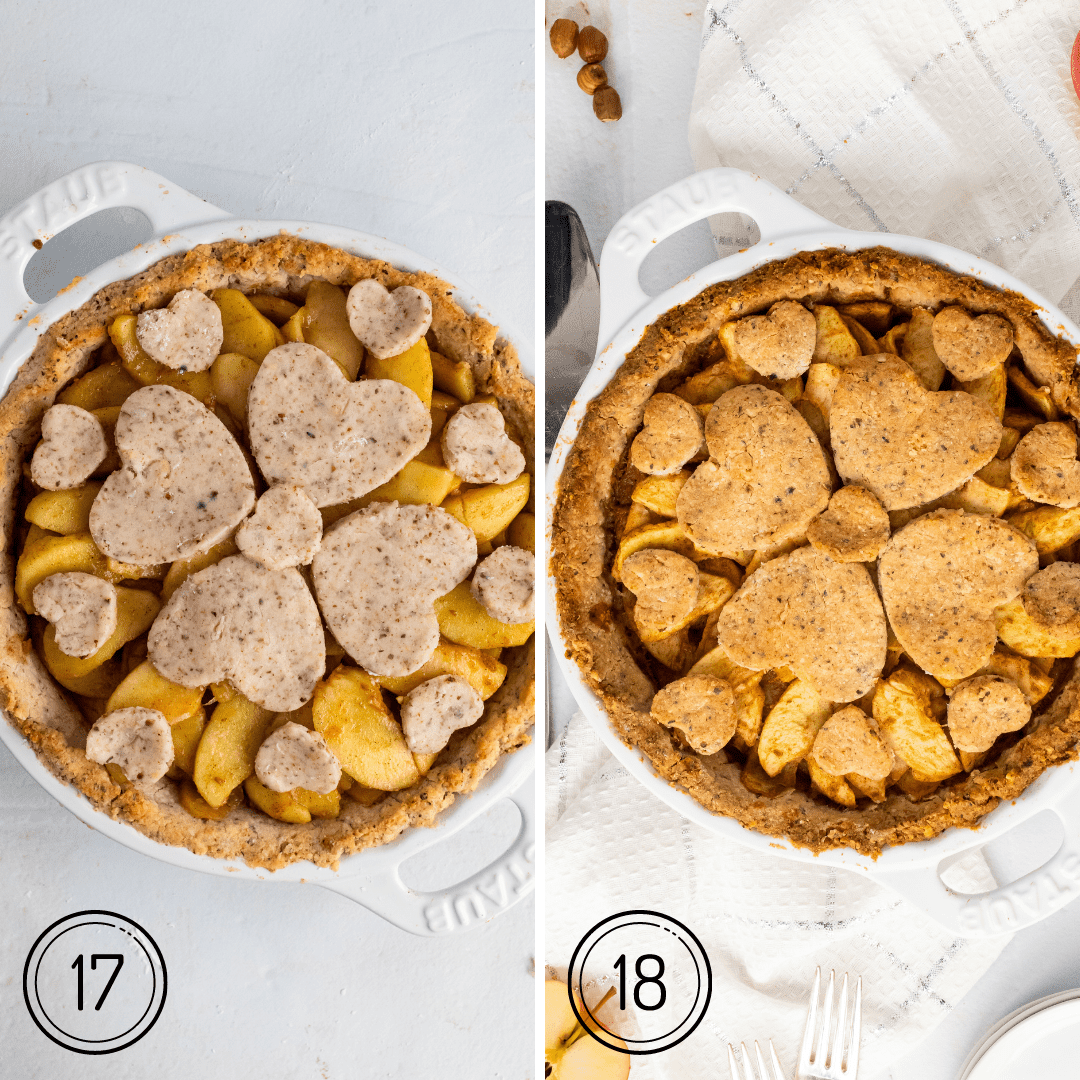 Save the pretties apple slices for the top and make a nice pattern with them. Then use your dough scraps to create festive shapes. I made hearts, you can make apple cut outs or whatever you want.
Bake until golden brown! Serve warm or at room temperature.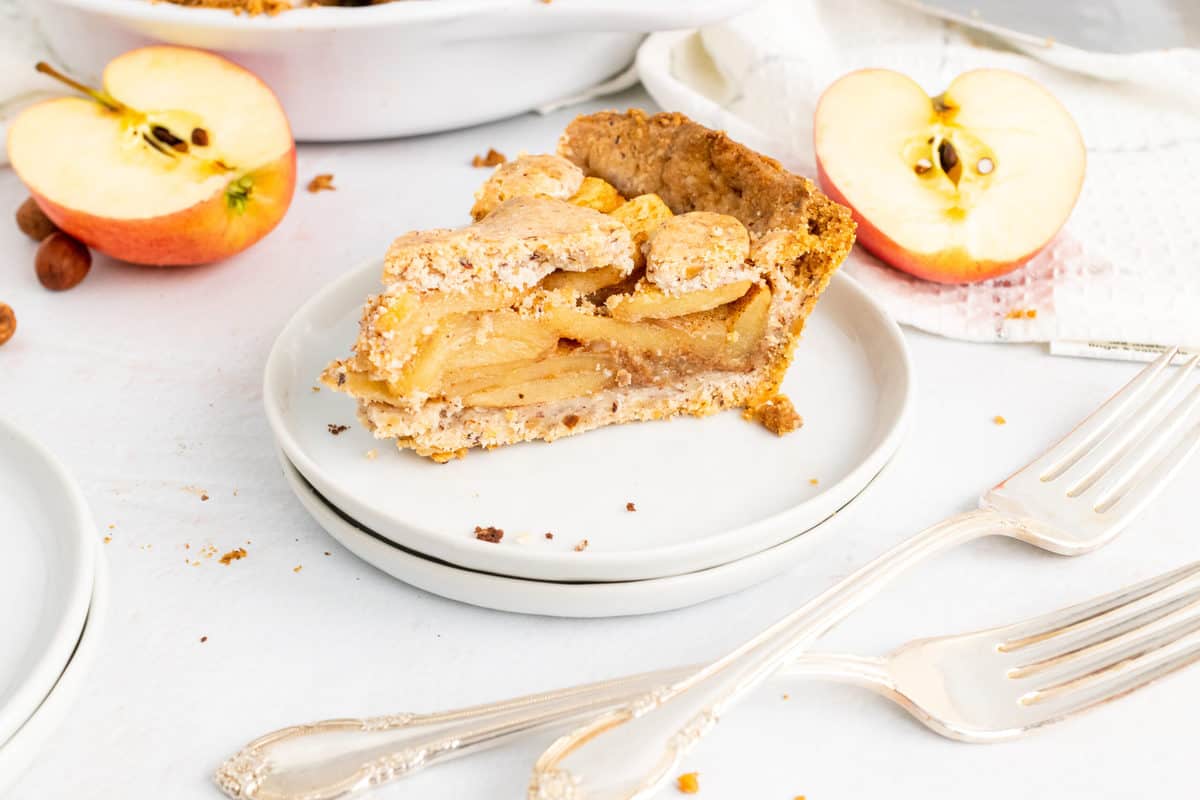 Frequently Asked Questions
Can I use almond flour instead of hazelnut flour for this apple pie?
Yes!
Can I omit the coconut flour?
I have not tried it, but tiger nut should work instead.
Can I use coconut sugar or another sweetener instead of dates?
Yes, 1/2 cup to 3/4 cup of any sweetener you want will work just fine!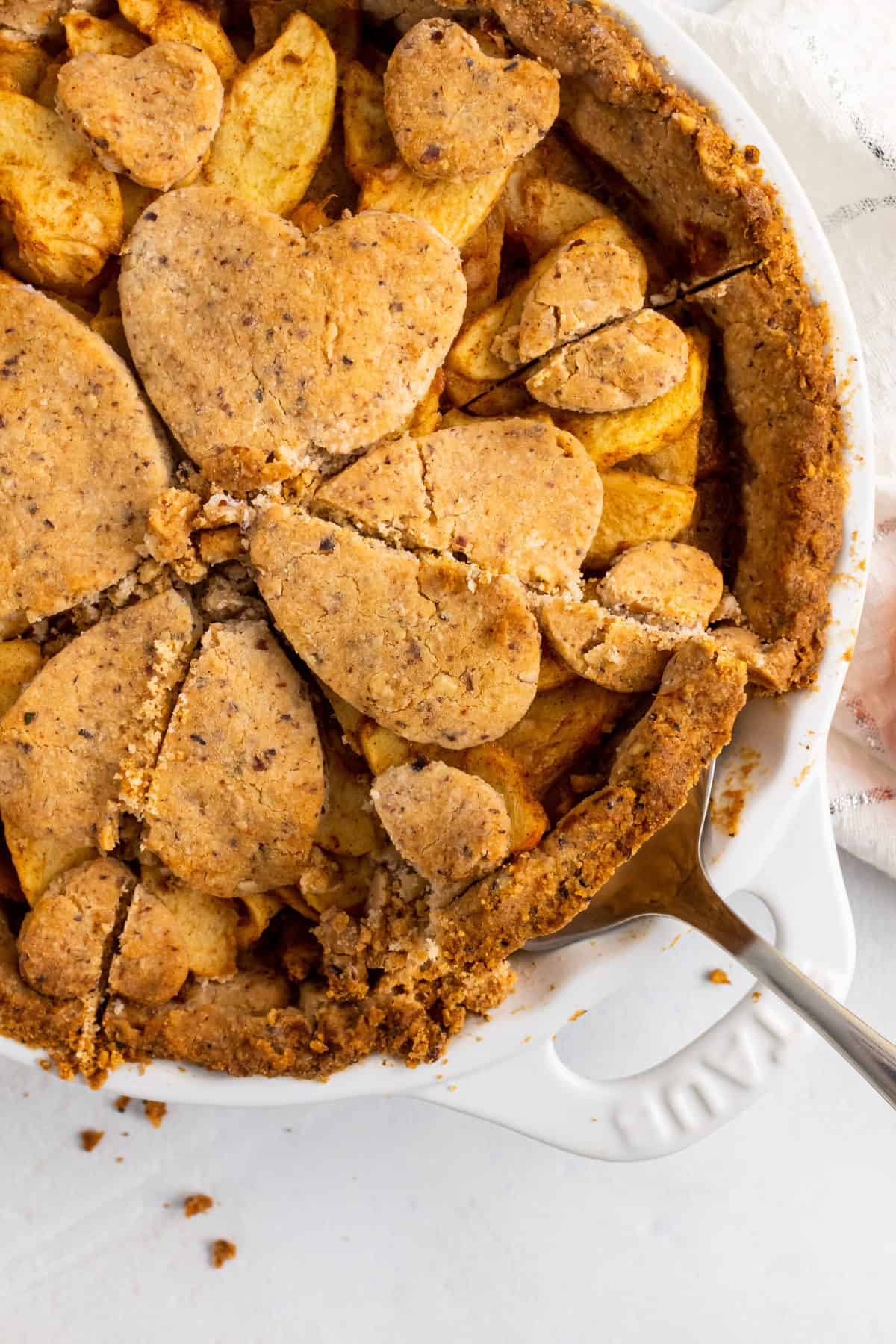 You Might Also Enjoy…
Paleo Apple Pie with a Hazelnut Crust
---
Author: Cristina Curp
Prep Time: 20
Cook Time: 35
Total Time: 55 minutes
Yield: 10 slices 1x
Category: dessert
Method: baking
Cuisine: Fall/ Winter
Diet: Gluten Free
Description
A classic apple pie made with real food ingredients!
---
Scale
Ingredients
For the Crust:
1 cup hazelnut meal
1/2 cup coconut flour
1/2 cup tapioca flour + more for dusting
 1 cup cold lard, cut into 1-inch chunks
2 tbsp cold water
1 egg white
pinch salt
Apple Filling:
5 dates, seeded and soaked overnight, in 1/2 cup filtered water
5 organic Gala Apples
2 tbsp coconut oil
1 tsp cinnamon
1/8 tsp sea salt
1 vanilla bean scraping
1 pinch nutmeg
---
Instructions
Crust:
Sift together flours and salt, into the food processor.
Cut lard into flour by pulsing together in a food processor until it looks like wet sand.
Add in egg white and water (spoonful at a time) pulse until it forms into a ball.
Remove from food processor and wrap in plastic, refrigerate for 30 minutes.
Separate two large sheets of parchment paper. Place on counter and dust with tapioca flour. Place the ball in the center and pat down into a disk.
Dust the disk with tapioca flour and cover it with the second sheet. Use a rolling pin to roll out into a 10in a circle. Roll gently in an outward motion. Remove top sheet & carefully place the crust into pie pan- 8″ or 9″.
If it cracks, use wet fingertips to repair the cracks. Smooth the pie crust up the rim of the pie pan, but don't let it fold over. Collect the leftover scraps and roll them out into a small sheet, use to cut out designs for the top, I made hearts and dots (set these aside).
In a 1/4 inch pattern make holes with the fork in the dough to prevent bubbling. Bake at 400F for 10 minutes. Remove and let cool to the touch.
Apple Filling:
Pre-heat oven to 375F
Peel your apples cut them in half & core them. Slice them in half-moon slices, about 1/8 inch thick.
Blend your soaked dates with the water blender until smooth.
In a large saucepot, on medium heat, melt coconut oil, mix in date puree. Add in apples, vanilla, sea salt, nutmeg + cinnamon. Gently mix, to not break the apples.
Cook until apples release liquid, they are tender and aromatic. About 5-8 minutes. Let it cool enough to handle.
Pour apple mixture into the pie crust, setting aside a handful of the best-looking slices. Spread out the apple mix. Then arrange the best-looking slices on the top layer in a pattern.
Place your design cutouts on the top. Bake at 375F for 35 minutes. If eating that same day, you can let it sit out. Or wrap up and store in the fridge overnight.
Recipe Notes:
You can use any sweetener you like: 1/2 cup to 3/4 cup, instead of the dates
Almond flour will work in place of hazelnut flour.
Nutrition
Serving Size: 1 slice
Calories: 419
Sugar: 18g
Sodium: 97mg
Fat: 31g
Saturated Fat: 11g
Unsaturated Fat: 0g
Trans Fat: 0g
Carbohydrates: 31g
Fiber: 7g
Protein: 5g
Keywords: paleo apple pie