A warm custard is a must during the winter months for me. It's tradition. This vegan butternut custard is the new tradition. Who's got time to mess with egg yolks and slurries. This vegan butternut custard with thyme is thick and rich and whips up in a blender. Ready in less than 30 minutes, this rich paleo custard is elegant and perfect for all your guests.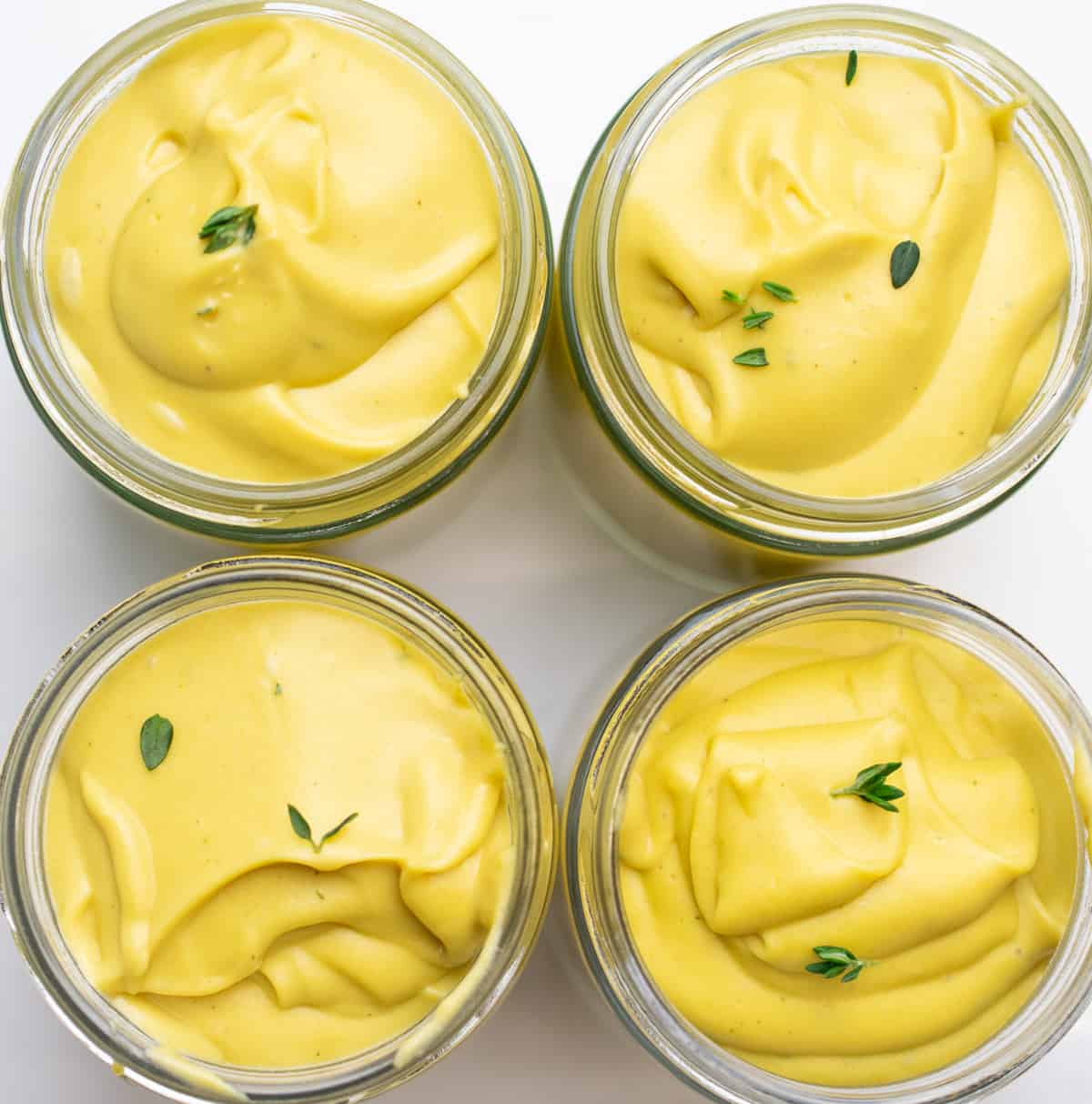 Why This Vegan Custard is the GOAT
Growing up my mother always made us natilla, especially in the wintertime. Natilla is Spanish for custard. Not that it was super cold in Miami in the winter, but for us warm-blooded Cubans, those chilly nights in the 50F's warranted something extra yummy. I'm pretty sure most people let their custard cool off and then let it set in the fridge. We didn't.
We always ate the warm custard, straight from the pot in a sort of spoon sword fight with my sister, or quickly distributed in mugs and gobbled up hot, sometimes whilst dunking cookies in it. I made this vegan butternut custard a paleo version and went with an egg-free and dairy-free cashew base that's heavenly.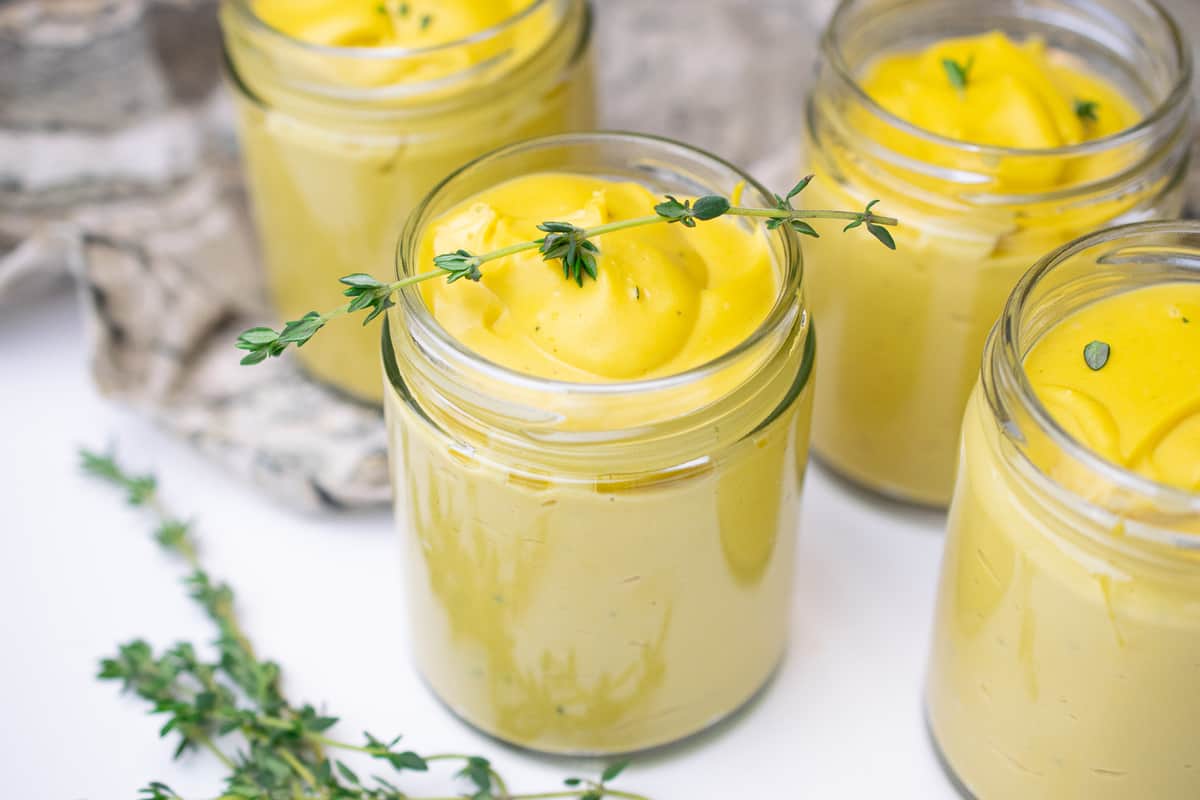 This paleo and vegan butternut custard is a much easier and good for you version of my mom's recipe. It's plant-based using soaked cashews and steamed butternut squash and skips the eggs and milk. Hints of lemon, thyme, and maple syrup really make it special.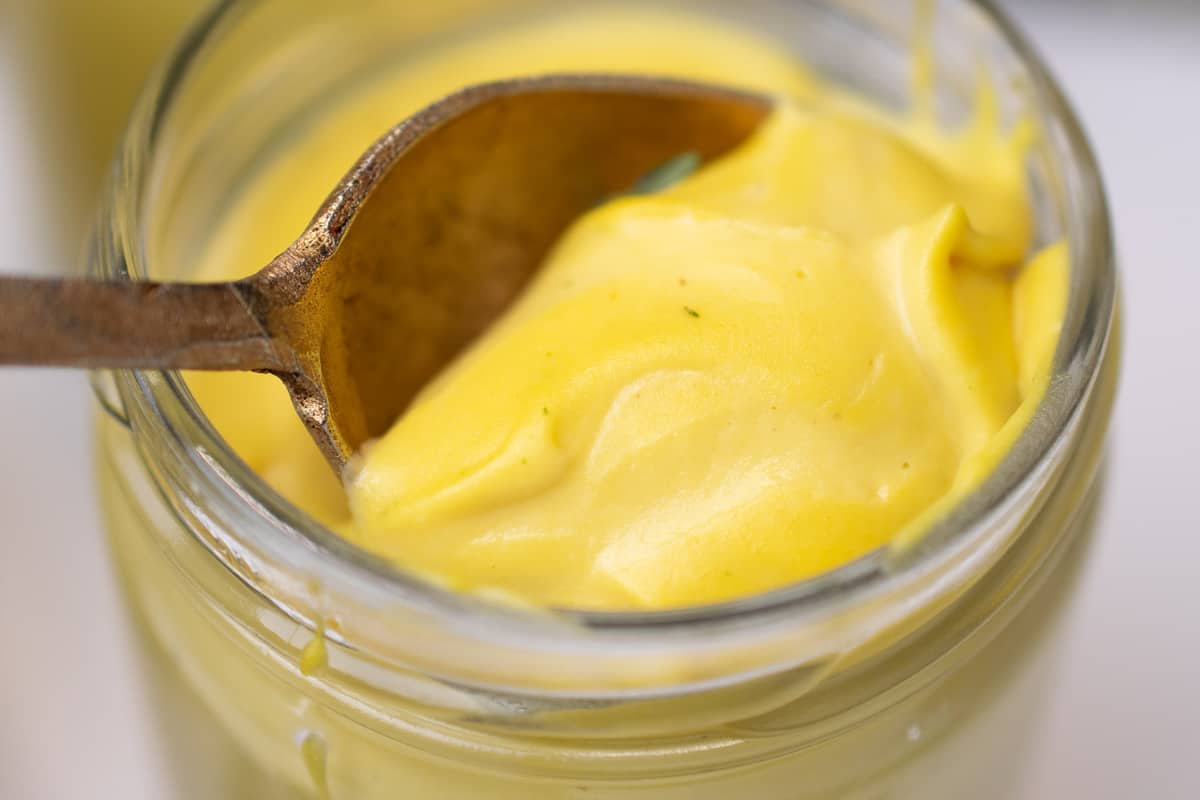 Grab Your Vegan Custard Ingredients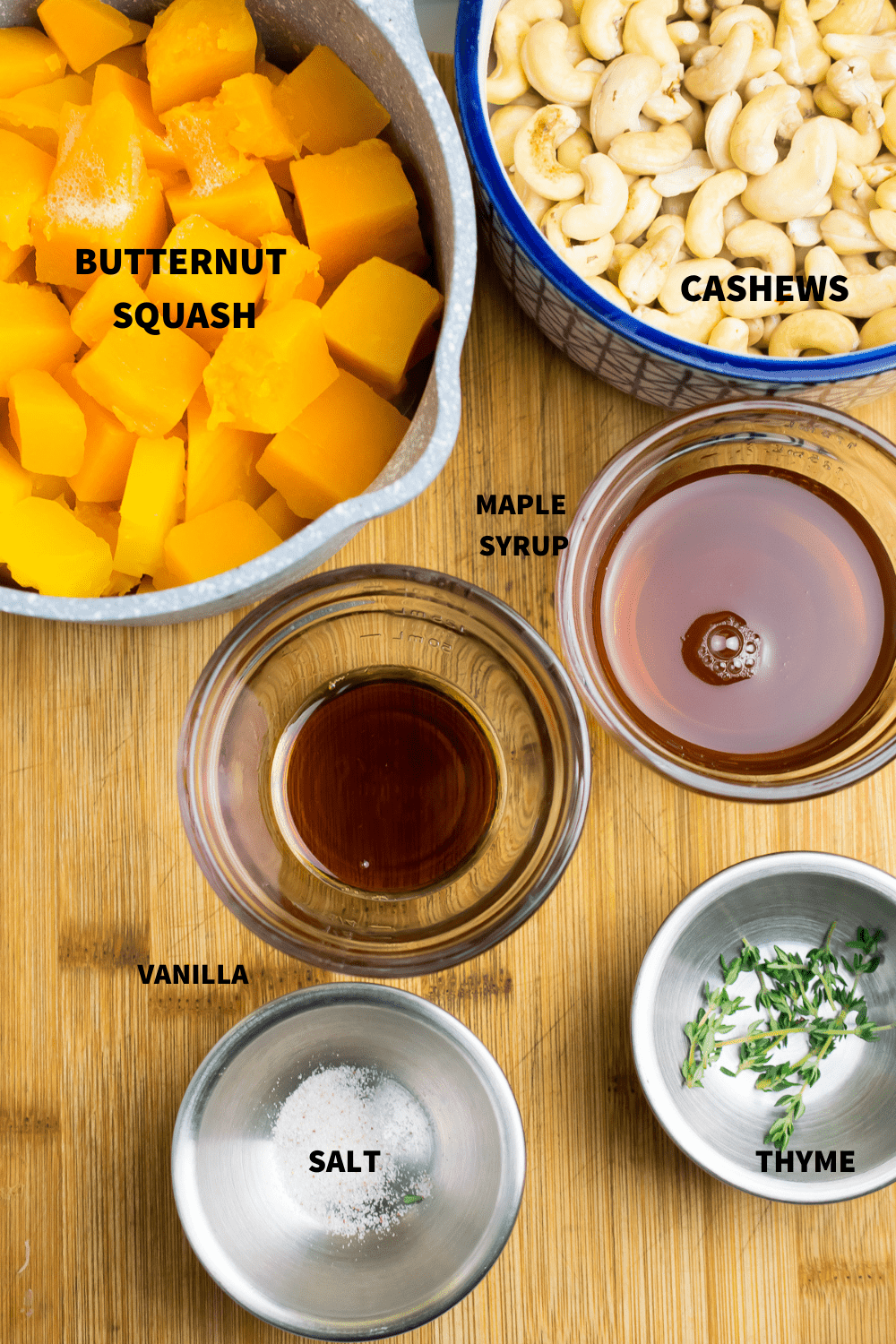 The vegan butternut custard base is soaked cashews, these beauties thicken right up and make up for the lack of starch or eggs.
Butternut squash is a wonderful addition that is more delicate than pumpkin and pairs well with maple syrup.
Thyme in desserts is a delicate thing, here it adds a touch of class and surprise.
Vanilla syrup to boost the dairy free custard flavor to authentic level good.
Maple syrup to sweetwen as it really shines through, you can use Lakanto Maple Syrup for lower carb.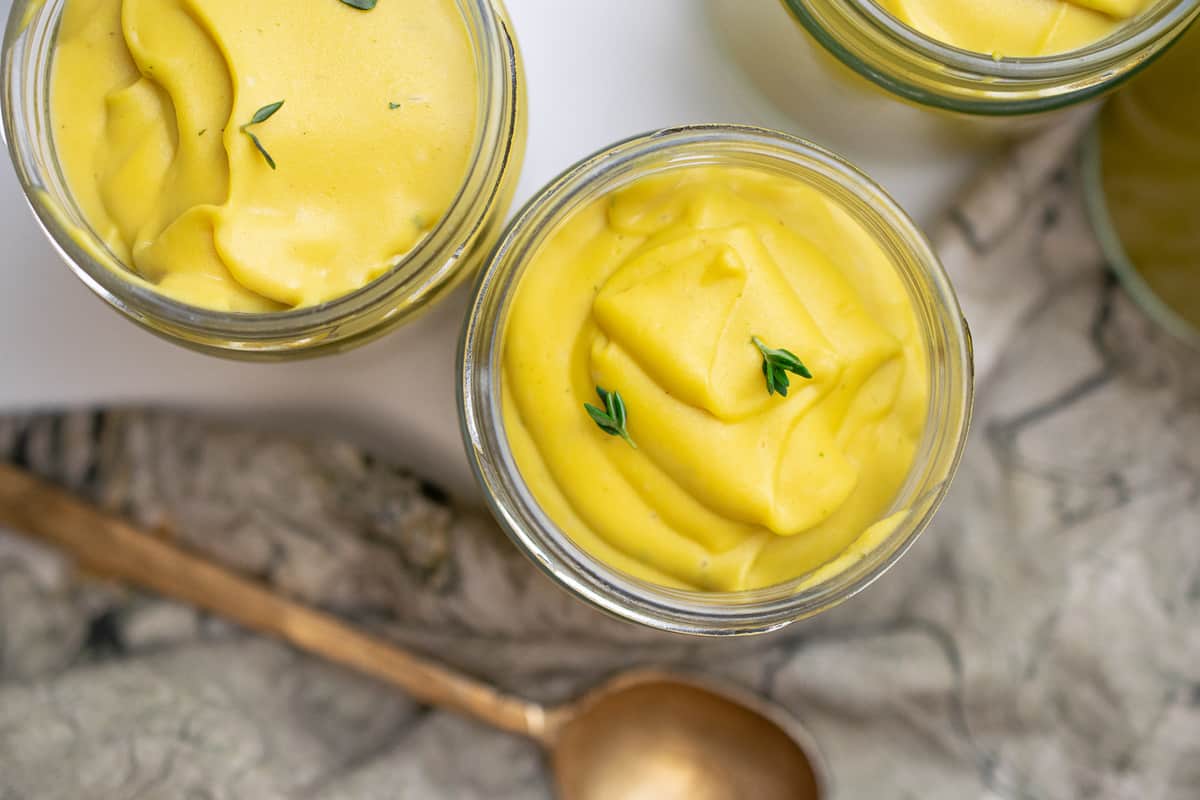 Step by Step Vegan Butternut Custard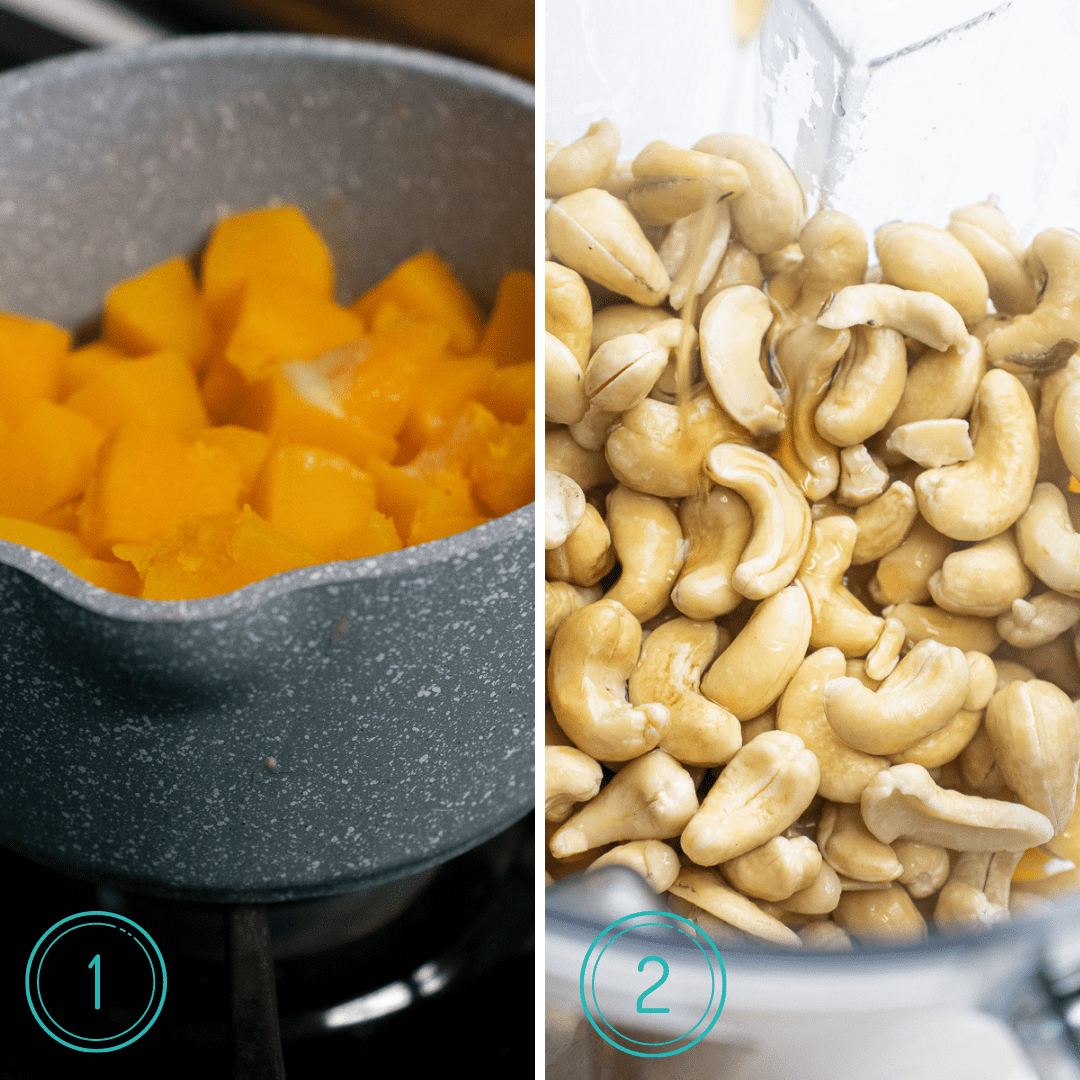 You want to start with diced butternut squash, save time and buy it pre-diced. Steam it in a sauce pot until tender.
Add your pre-soaked cashews and the remaining ingredients into a blender.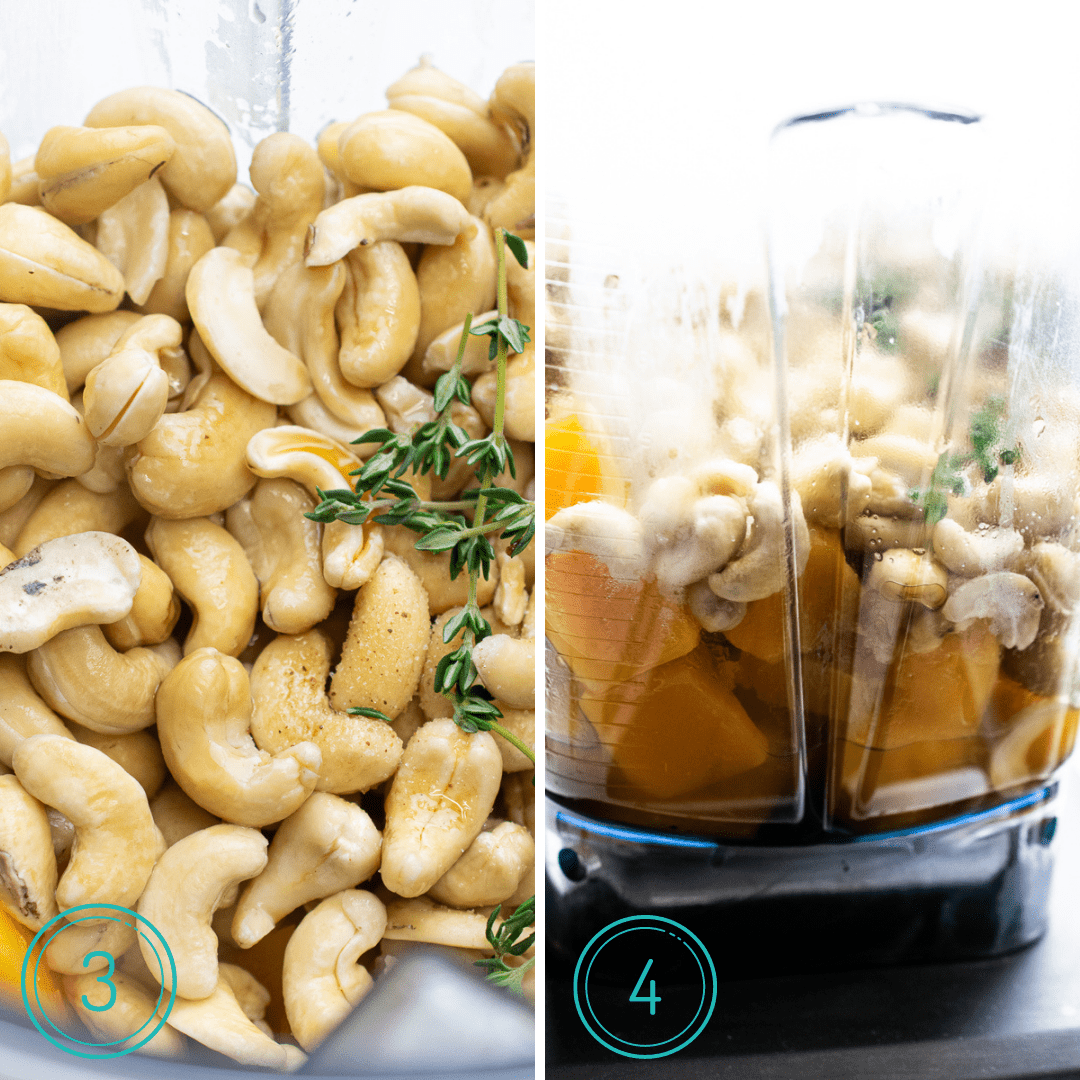 Add the thyme, salt, maple syrup, etc.
Work quickly, you want to blend it while everything is still hot- this is key for the consistency of this egg free custard.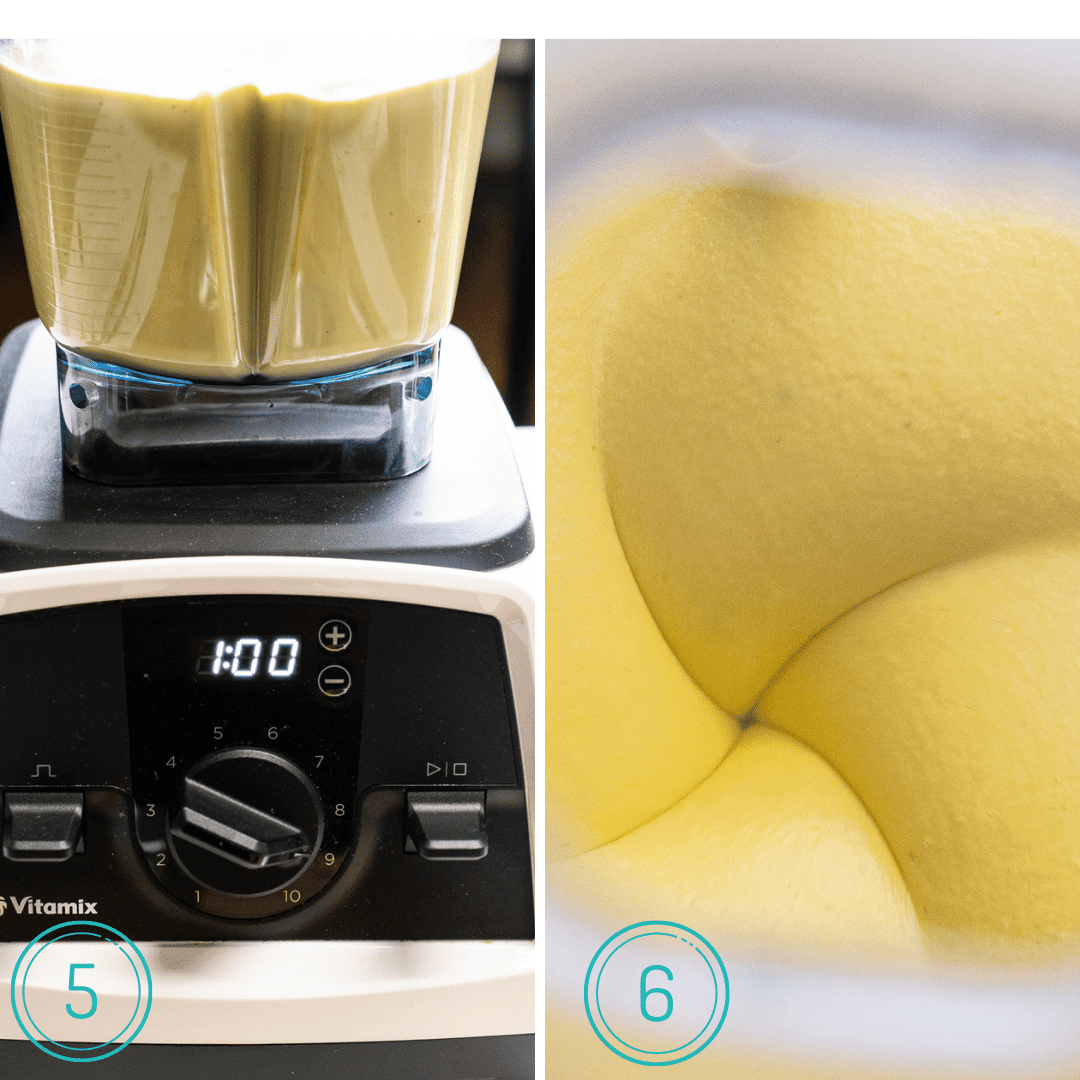 Blend, gradually turning the speek to high for one minute.
It should look super silky and smooth but thick, like pudding.
Use a spatula to transfer to desired cups, bowls or ramekins. You can serve your vegan butternut custard cold or warm. If serving cold, set in the fridge to chill for 2 hours.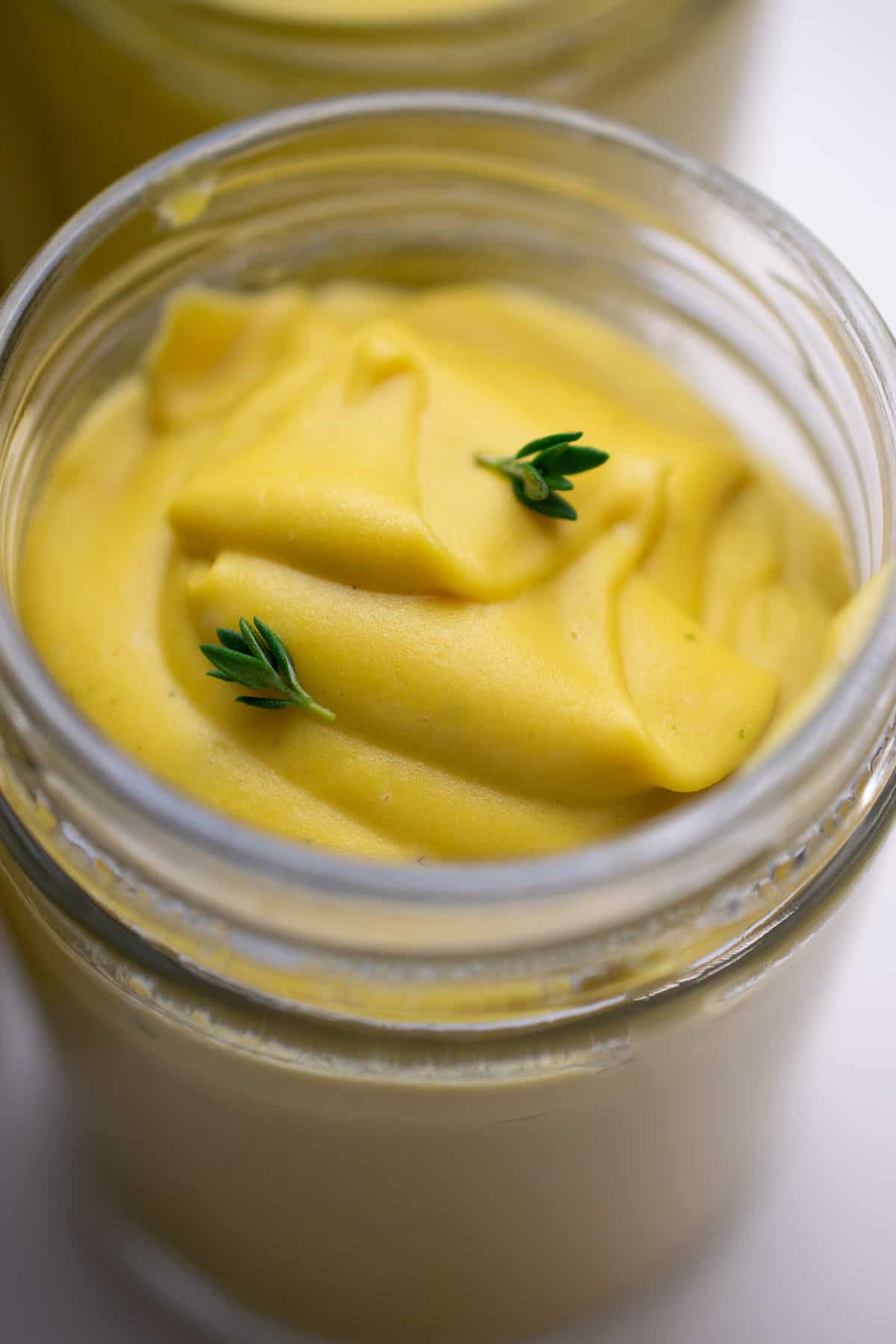 Frequently Asked Questions
Can I use pumpkin instead of butternut for this custard?
Yes, but it would have to be fresh, not canned, the steaming part is important.
Can I use another nut?
No, cashews are unique, they are the only nut that will blend smoothly once soaked. The reason this vegan butternut custard thickens so well and works without eggs is due to the cashews.
Can honey or coconut sugar work?
You can use any sweetener you like, if you use a granulated sweetener it's important to blend until the custard no longer feels grainy.
Why does the cashew cream get thickened when heated? Why is it important to make the recipe while hot?
This paleo custard is also vegan, meaning it's an egg-free and dairy-free custard without a thickening agent like gelatin. The reason these butternut custards works is because of the cashews. Cook's Illustrated explains: while true cream gets thinner and more fluid when you heat it because of the tiny fat globules that make up more than 35 percent of its bulk melt, cashew cream gets thicker. That's because heat causes its plentiful starch particles to swell and gelatinize.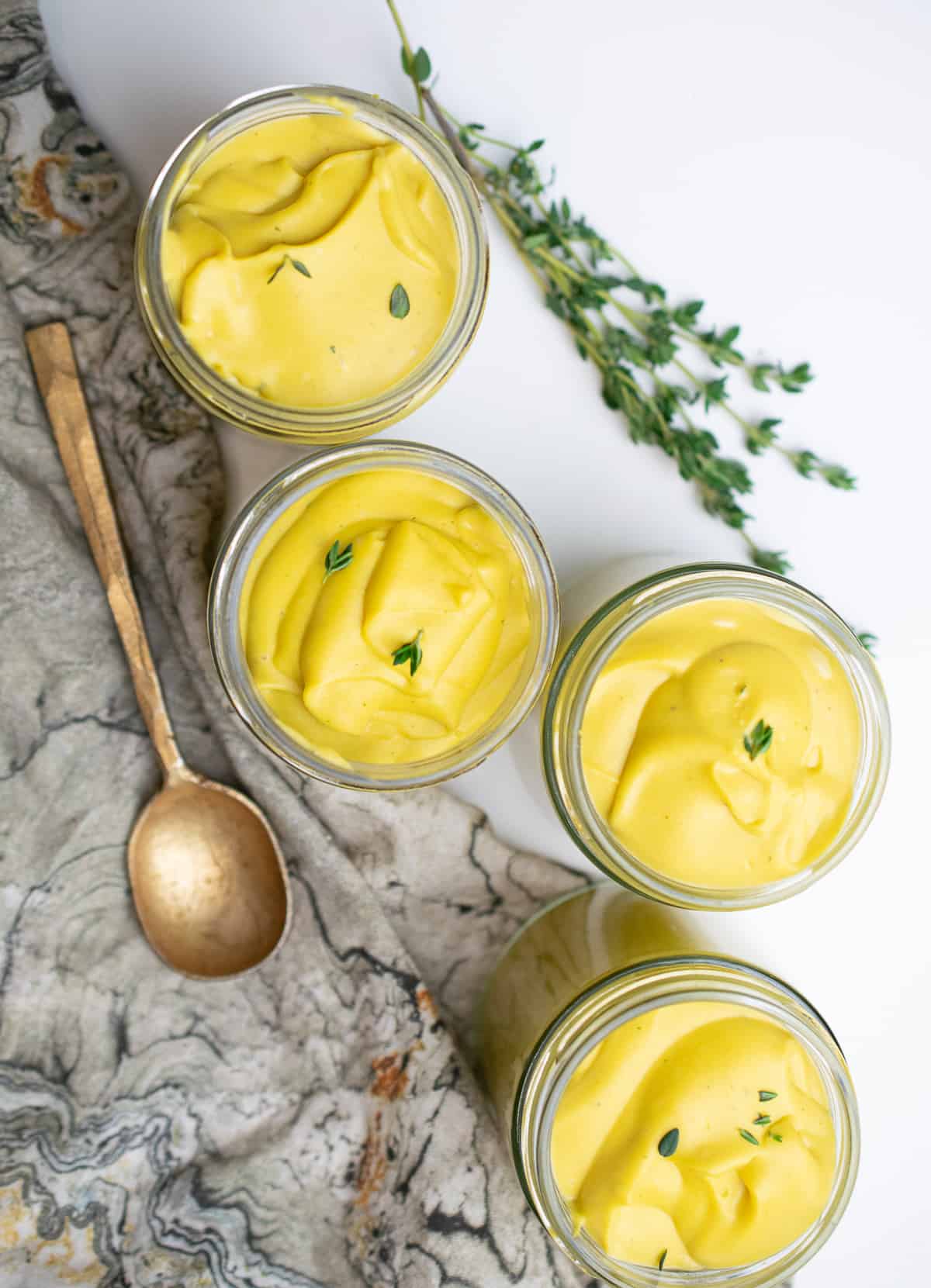 You May Also Like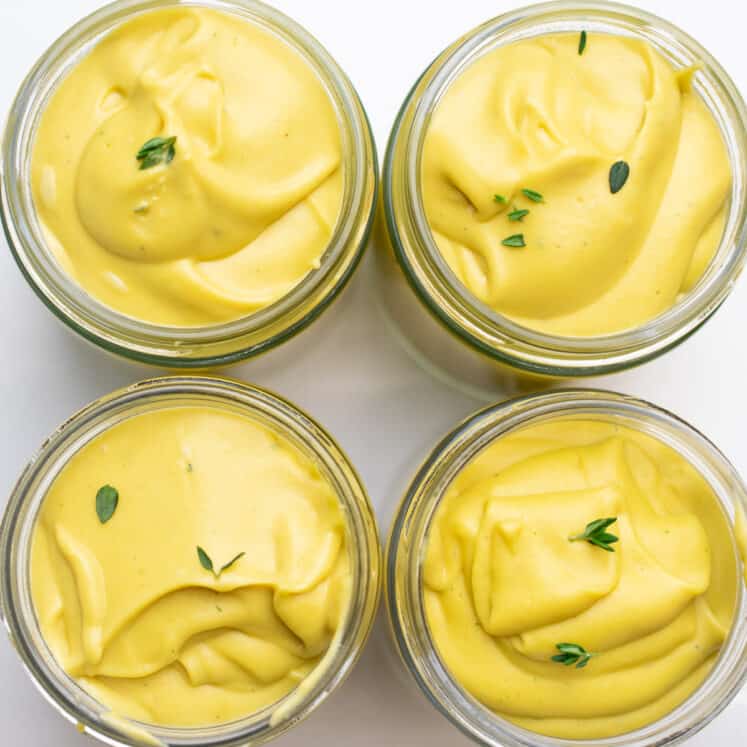 Vegan Butternut Custard with Thyme
---
Author: Cristina Curp
Prep Time: 10
Cook Time: 15
Total Time: 25 minutes
Yield: 4 1x
Category: dessert
Method: blender
Cuisine: vegan
Diet: Gluten Free
Description
DELISH Dairy-Free and Egg Free Custard
---
Scale
Ingredients
1 pound diced butternut squash
7.5 ounces whole raw cashews 
1/4 teaspoon of pink Himalayan salt
1 teaspoon lemon zest
1/4 cup maple syrup 
2 teaspoons thyme leaves, fresh
1 teaspoon vanilla extract
---
Instructions
Soak your cashews overnight or just steam them with the butternut squash. 
In a sauce pot cover the butternut squash with water and bring to a boil. Cook until fork tender, if you forgot to soak your cashews, just boil with the squash. 
Once ready, drain the water. Quickly transfer to a blender. 
Add in the rest of the ingredients. Blend on high until smooth, about a minute.
Distribute the thick, smooth custard to ramekins or bowls. Makes 4 cups. 
Recipe Notes:
Use pre-diced butternut squash, it makes it much easier. 
Use raw cashews. 
A high powered blender or food processor works best. 
Nutrition
Serving Size: 1 cup
Calories: 363
Fat: 23.4g
Carbohydrates: 36.1g
Fiber: 7.4g
Protein: 10.7g
Keywords: vegan butternut custard