A Little Bowl of Nostalgia, Paleo Lemon Custard! 
Growing up my mother always made us natilla, especially in the winter time. Natilla is Spanish for custard. Not that is was super cold in Miami in the winter, but for us warm blooded Cubans, those chilly nights in the 50F's warranted something extra yummy. I'm pretty sure most people let their custard cool off and then let it set in the fridge. We always had it warm, straight from the pot in a sort of spoon sword fight with my sister, or quickly distributed in mugs and gobbled up hot, sometimes whilst dunking cookies in it.
I texted my mom for her custard recipe and she actually referred me to the recipe in a book that she gave me for Christmas last year, The Cuban Table, by Ana Sofia Pelaez. My first run at this recipe I made it just like in the book with the paleo ingredients, it didn't do it justice. So I tweaked for my needs and I'm super pleased with how this turned out. My house guests were pretty stoked about it too! This PALEO LEMON CUSTARD CAME OUT LEGIT!
New Traditions, Healthier Options
For this year's Thanksgiving collection I wanted to share something non-pumpkin pie, mostly because I already have a killer pumpkin pie recipe on the blog… but also because this dessert is just perfect. Decadent and comforting, the addition of thyme makes it absolutely elegant. It's easy to make and something everyone can enjoy. What's extra awesome about this, making it paleo made it a truly nourishing treat. While it's traditional counterpart is made with whole milk and egg yolks, it also calls for a cup of sugar and four tablespoons corn starch. Still gluten free though! This one is made by whisking together five pastured egg yolks with cashew cream, a quarter cup of maple syrup and half a tablespoon of arrowroot starch Strained with a fine mesh sieve and simmered with lemon peel, cinnamon sticks, and fresh thyme while stirred gently with a wooden spoon. The wooden spoon is a must.
It's actually really soothing, the slow motion of stirring this aromatic concoction for ten minutes or so. Finally, you begin to feel the resistance on the wooden spoon, and look down to see your mix thickening. This is when you fish out the thyme, cinnamon and lemon peel, they have left their scent and flavor behind, you may discard them. Stir in a splash of quality vanilla extract, let it mingle with the aromas and flavors in the milky mixture. Remove from the heat and distribute your warm custard between cups, bowls and ramekins.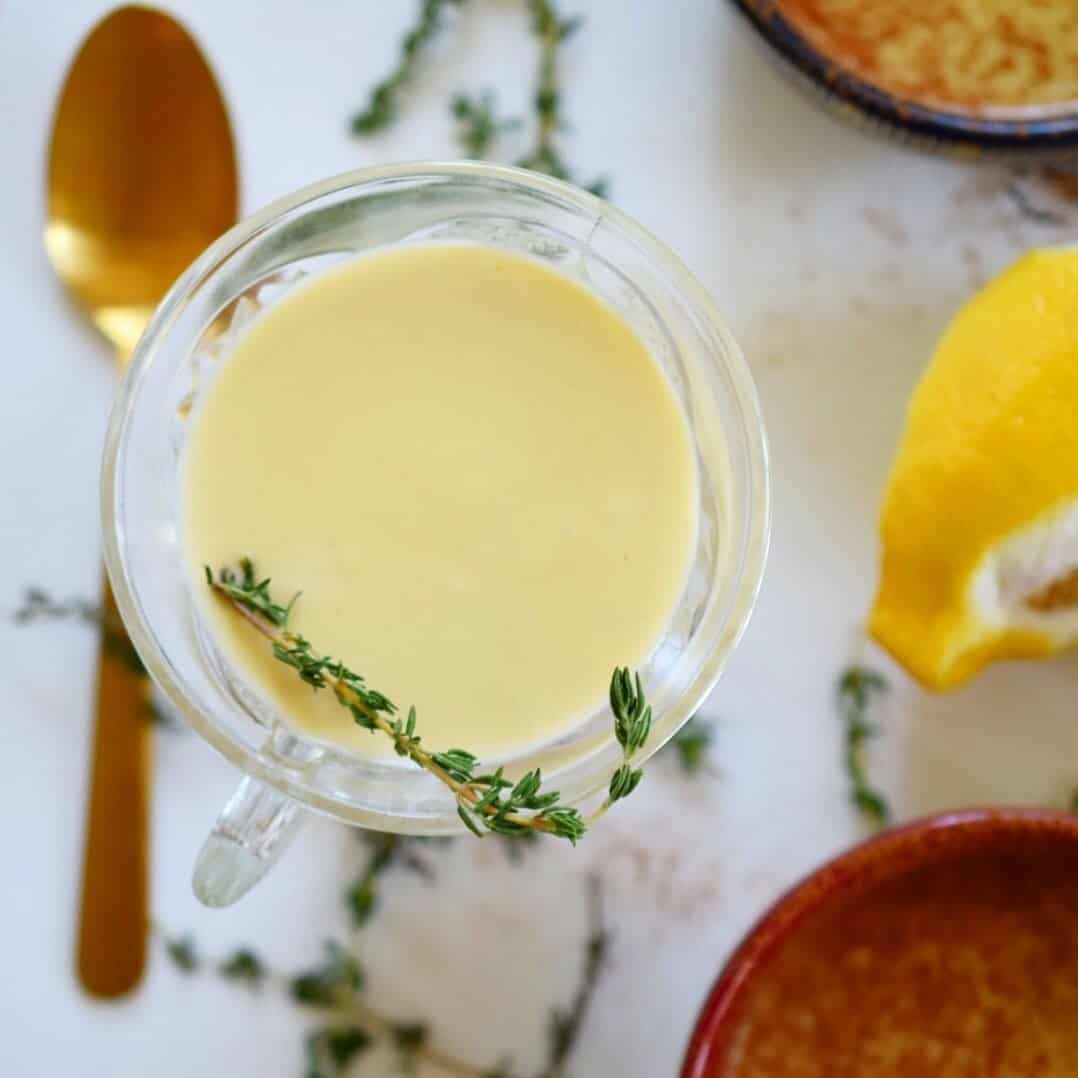 The BEST milk for this Paleo Lemon Custard…
My homemade cashew creamer is the best for this.
Soak two cups whole, raw cashews in water (at least 30 min, preferably overnight). Then drain, and rinse them. Place in a high powered blender with two and half cups filtered water. Blend on high until silky smooth. Viola!
Ps. This stuff is amazing in coffee!
Now… if you're like me… this is the time to pounce. But, you can also let it cool and set them in the fridge for later. Garnish with lemon zest, cinnamon and thyme leaves!
Lemon Thyme Custard
---
Author:
Prep Time: 10
Cook Time: 15
Total Time: 25 minutes
Yield: 4 1x
Category: dessert
Method: stove top
Cuisine: Latin
Description
Dairy free lemon custard!
---
Scale
Ingredients
2 cups cashew creamer (see text for recipe) or coconut milk
5 egg yolks
1/2 tbsp arrowroot starch
pinch of pink Himalayan Salt
1/4 cup maple syrup or 1/3 cup erythritol
2 inch piece of lemon rind
6 sprigs thyme (small bunch)
2 cinnamon sticks
1 tsp vanilla extract
---
Instructions
In a large bowl whisk together egg yolks, sweetener, arrowroot starch and a pinch of salt.
Add the milk in as you whisk it together, until fully incorporated.
Pour the mix through a fine mesh sieve in to a medium sized pot.
Add in the lemon rind, thyme and cinnamon sticks. You can tie your thyme together with some string (kitchen safe, to make it easier to remove later).
Heat on medium heat, stir with a wooden spoon continuously for about ten minutes.
When the mixture begins to coat the back of the wooden spoon, mix in the vanilla extract.
Remember to remove the thyme, cinnamon sticks and lemon rind. I used tongs to fish them out.
Stir on medium heat for another two to five minutes until thick.
Remove from heat.
Distribute the custard into ramekins or bowls (about 3, 4 oz a serving).
Let them cool. Set in the fridge until serving time.
Recipe Notes:
If you're going to use store bought nut milk, you may have to compensate and add more egg yolks or starch.
Keywords: dairy free lemon custard