'Tis the season for pumpkin spice and these paleo pumpkin spice pancakes are fluffy, perfectly spiced, and absolutely delicious. A simple grain-free and gluten-free pancake recipe for fluffy paleo pancakes.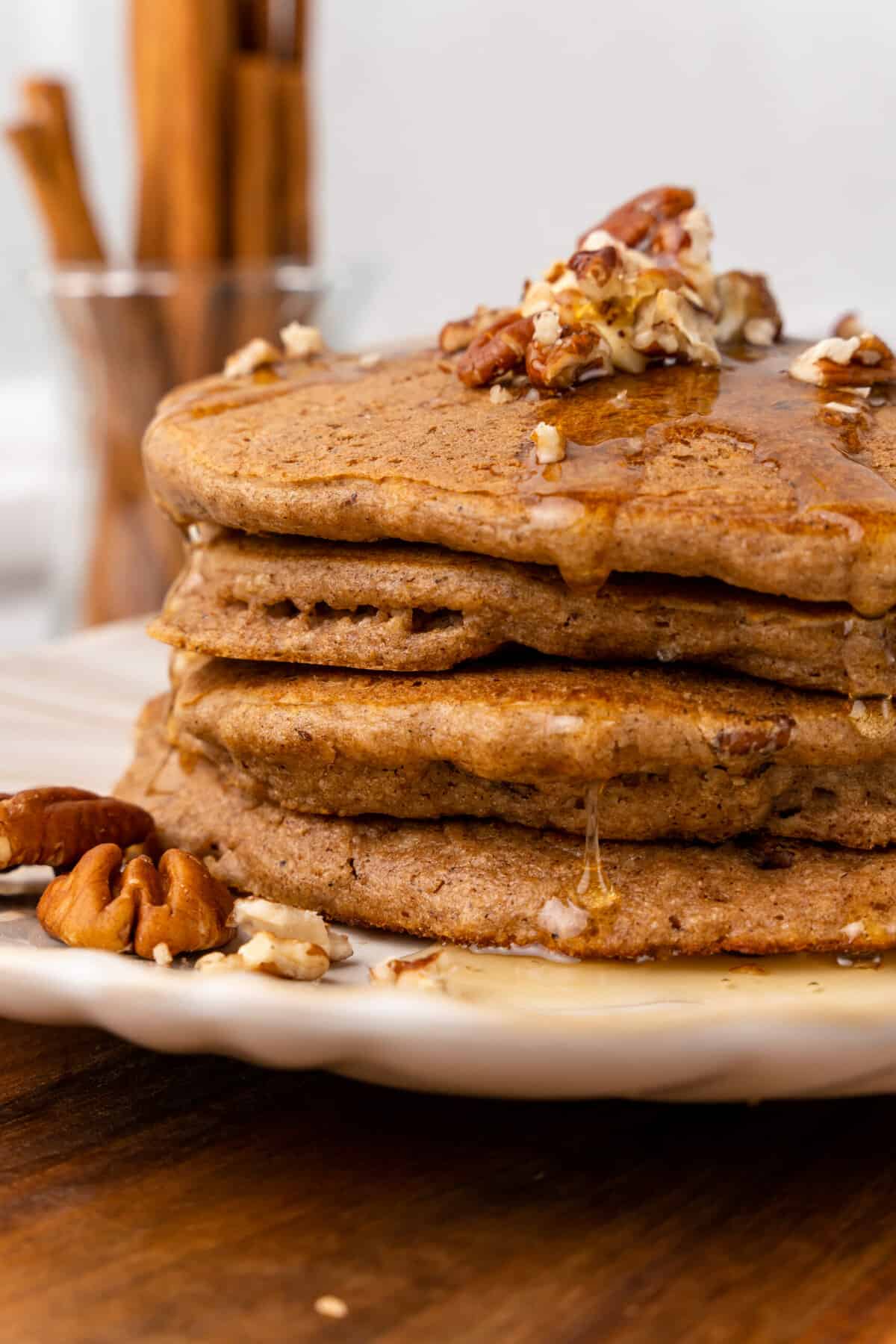 Table of Contents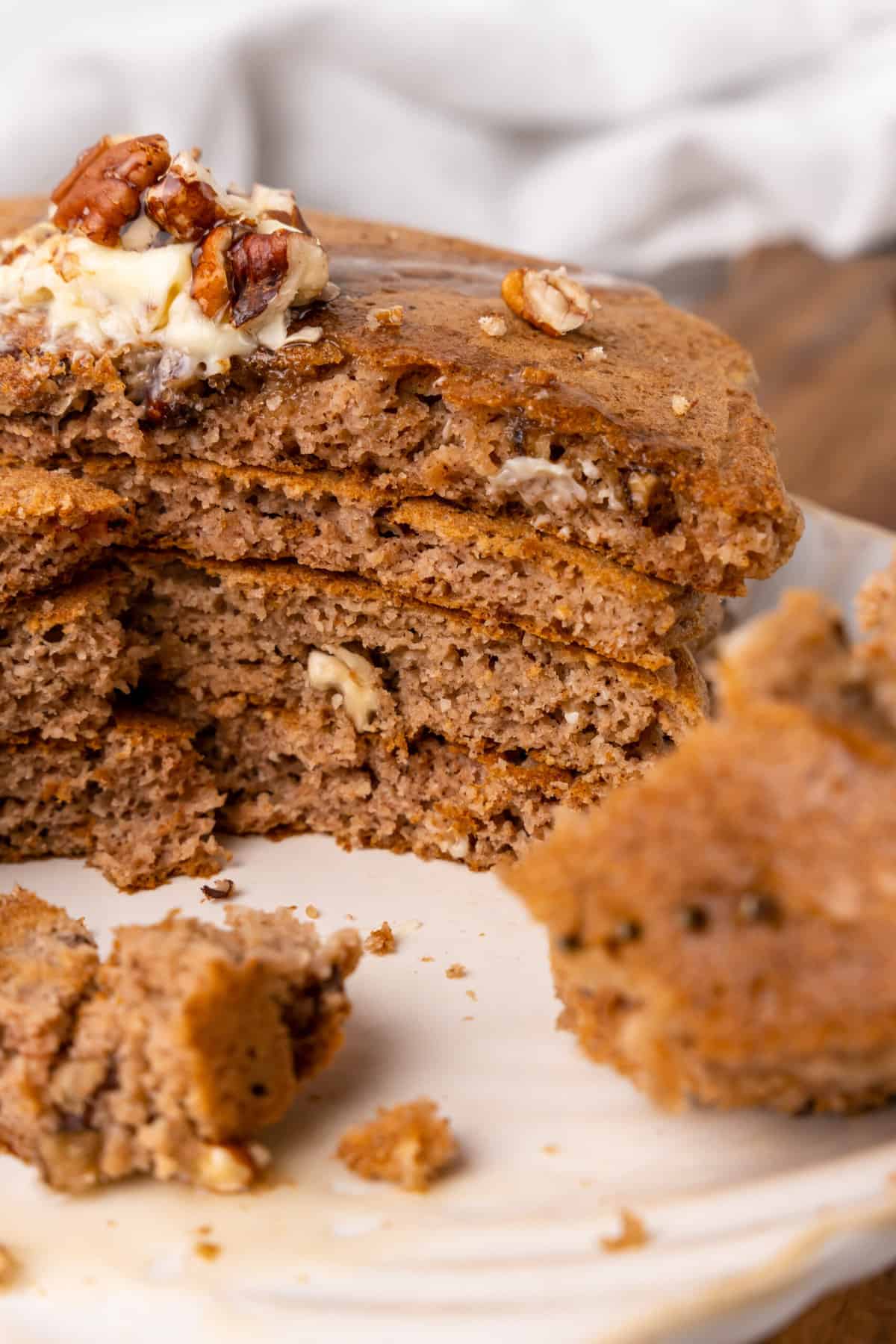 The Perfect Pumpkin Spice Pancakes
In my opinion, the almond meal-only recipes fall flat. The addition of cassava flour adds texture to these and they cook up easily and are delicious. The trick with pancakes is to combine the wet and dry ingredients in the last moments for nice fluffy pancakes. These paleo pumpkin spice pancakes are it! Also, always cook them over a pre-heated skillet, preferably cast iron!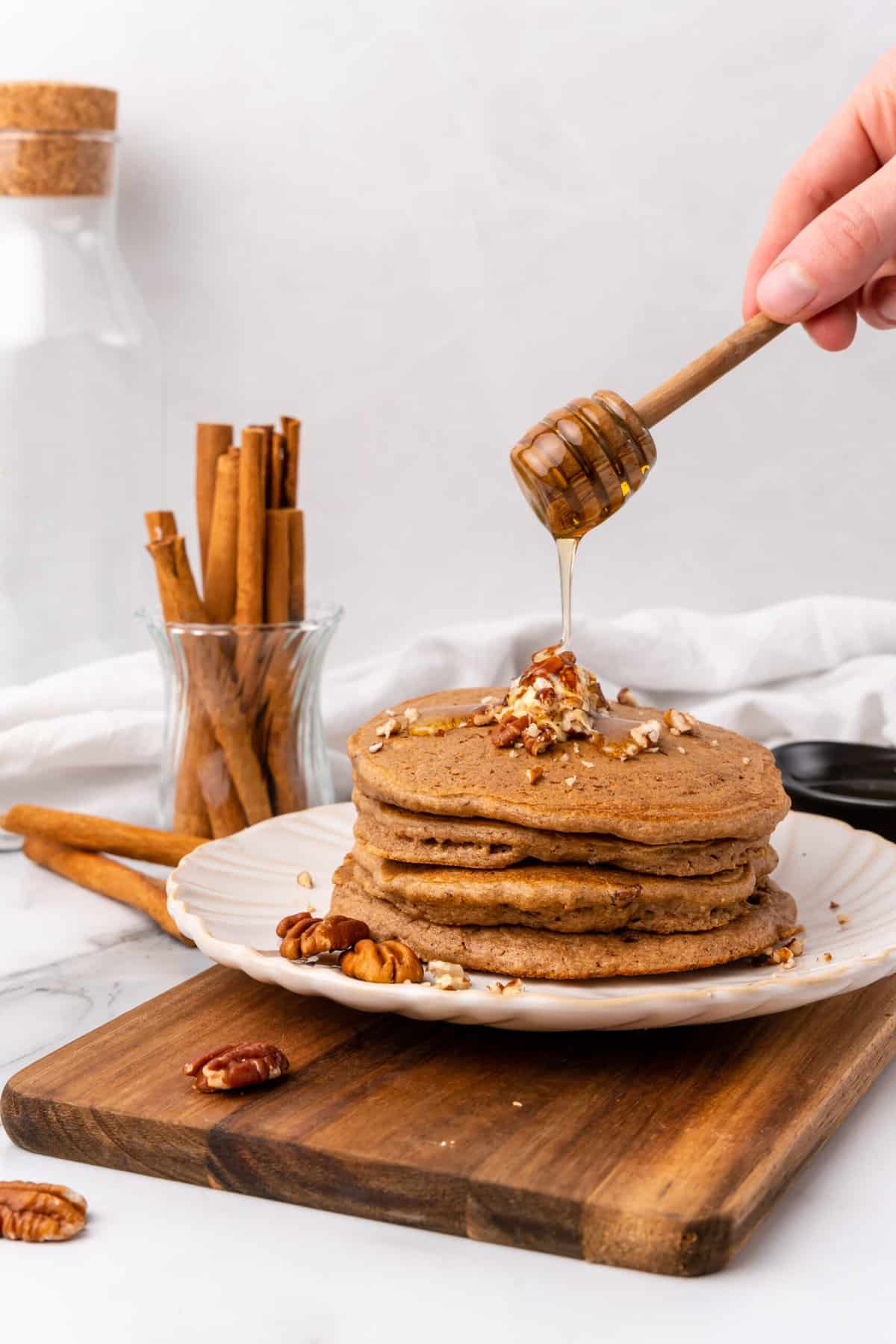 Paleo Pancake Ingredients
Almond flour: I always use blanched almond flour, which means the almond's skin was removed before it was made into flour. This type of almond flour yields the best results because it's not gritty.
Cassava flour: A very starchy flour made from yuca root. If you don't tolerate cassava flour you can use 1/2 tiger nut and 1/2 arrowroot starch or tapioca starch in its place.
Pumpkin Spice: You can use store-bought pumpkin spice mix or make your own, in the recipe I have listed the ingredients to make your own.
Brown Butter: Brown butter has a nutty taste and brown butter ghee does too. It's easy to make by browning some butter in a pan, but you can also get Brown Butter Ghee from Tin Star.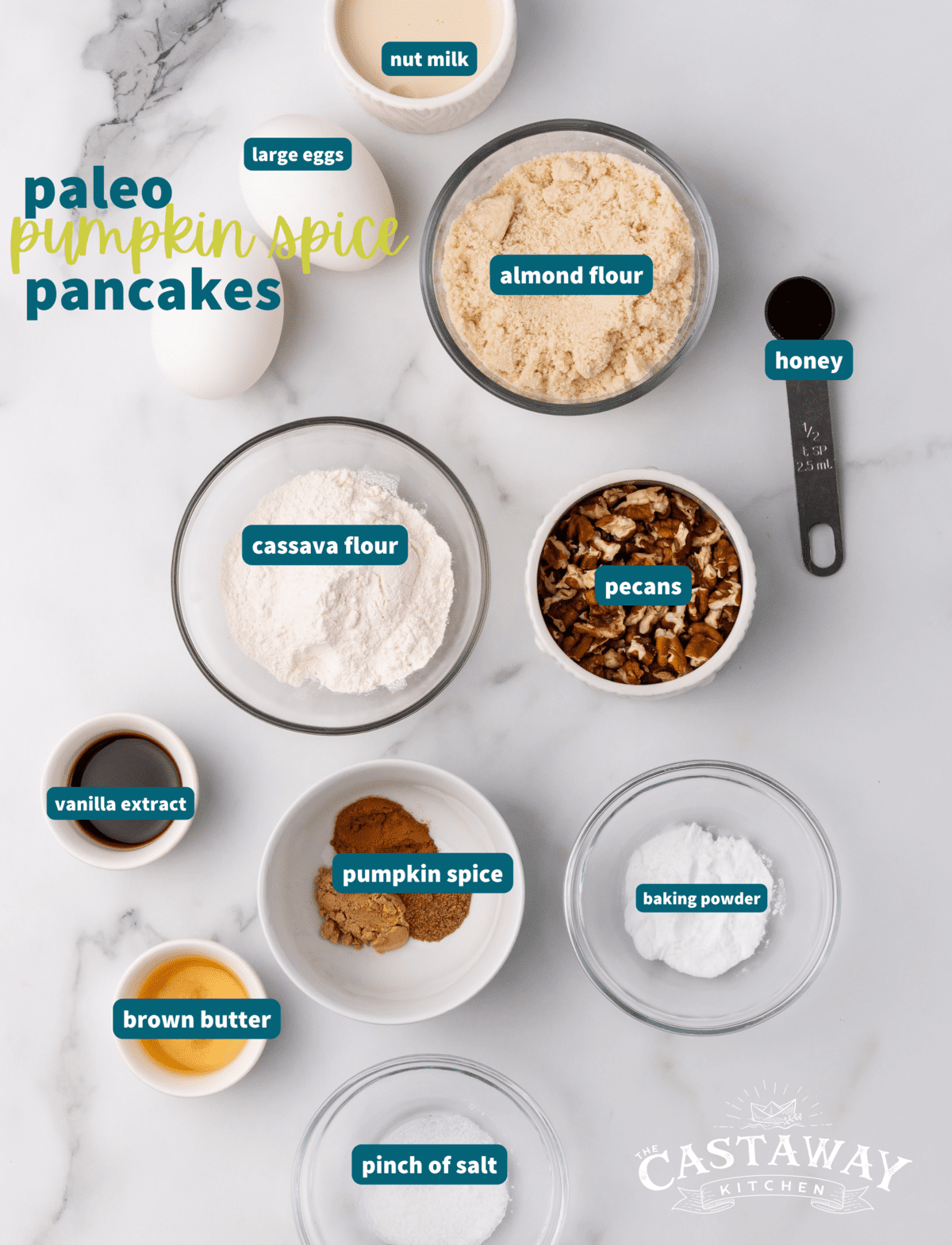 Step by Step Gluten Free Fall Pancakes
If you're using homemade pumpkin spice, start by mixing that.
Next combine all of your dry ingredients into a large bowl, including the spice mix.
In a separate bowl combine the egg, honey, vanilla, and melted butter and whisk vigorously.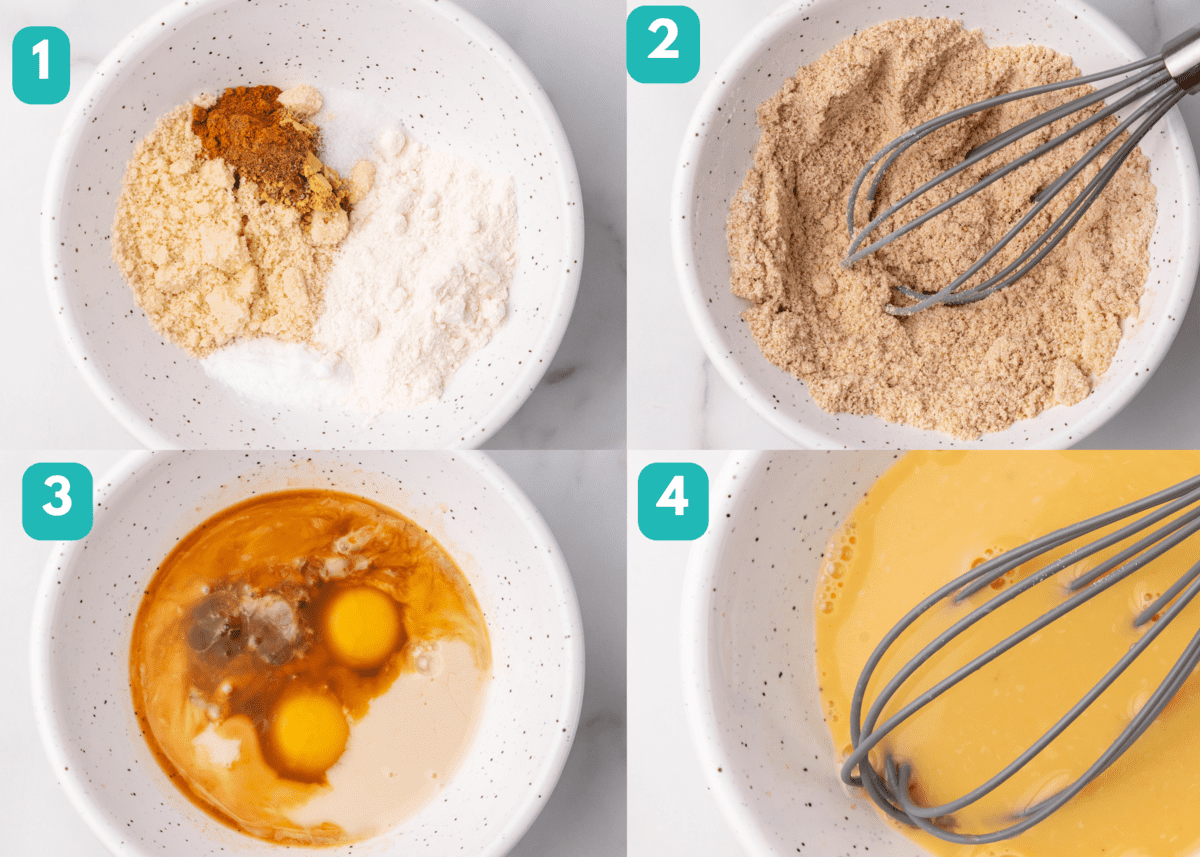 Heat up a cast iron skillet or griddle.
Then add the dry mix to the wet mix and mix well. Mix in the chopped pecans.
Quickly start making your pancakes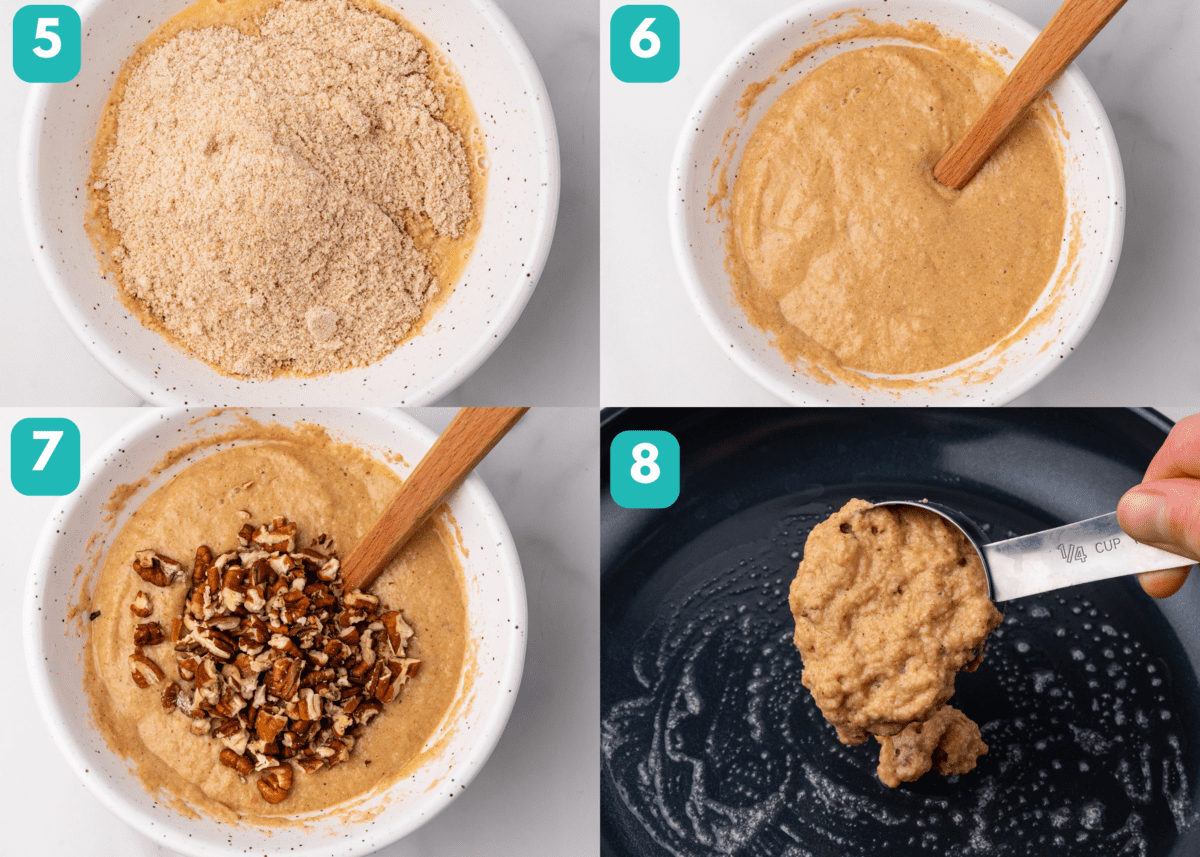 Cook 1/4 cup of batter for each pancake. Cook until bubbles form on the top then flip over.
Cook here for 2-3 minutes then repeat with the remaining batter.
Stack, top with more nuts, and drizzle with honey. Enjoy!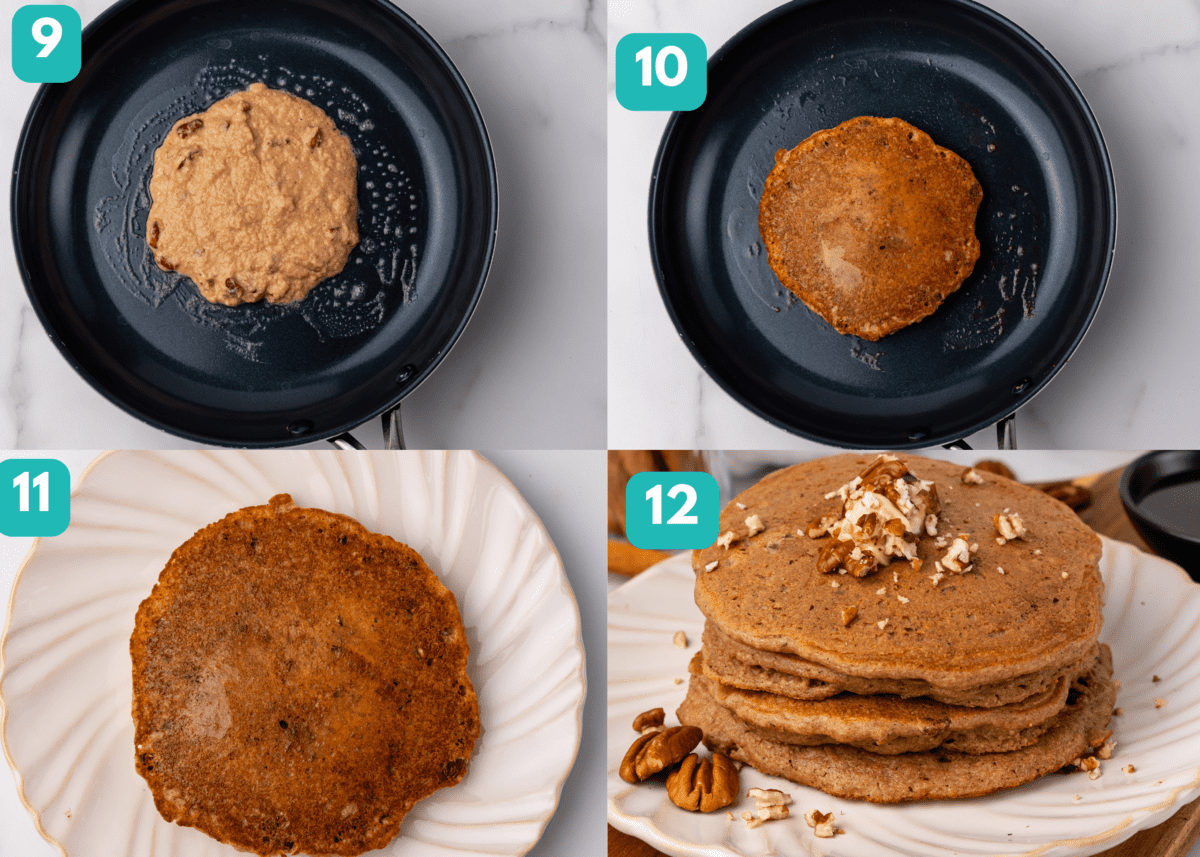 Frequently Asked Questions
Can I use coconut oil or another type of fat?
Yes! If you're totally dairy free, I recommend the Nutvia Plant Based Ghee, it tastes great and it's coconut oil.
Can I swap out the cassava flour?
Yes, you can use 1 tablespoon tiger nut flour or coconut flour and 2 tablespoons of arrowroot or tapioca starch.
Can I make these egg-free or nut free?
No.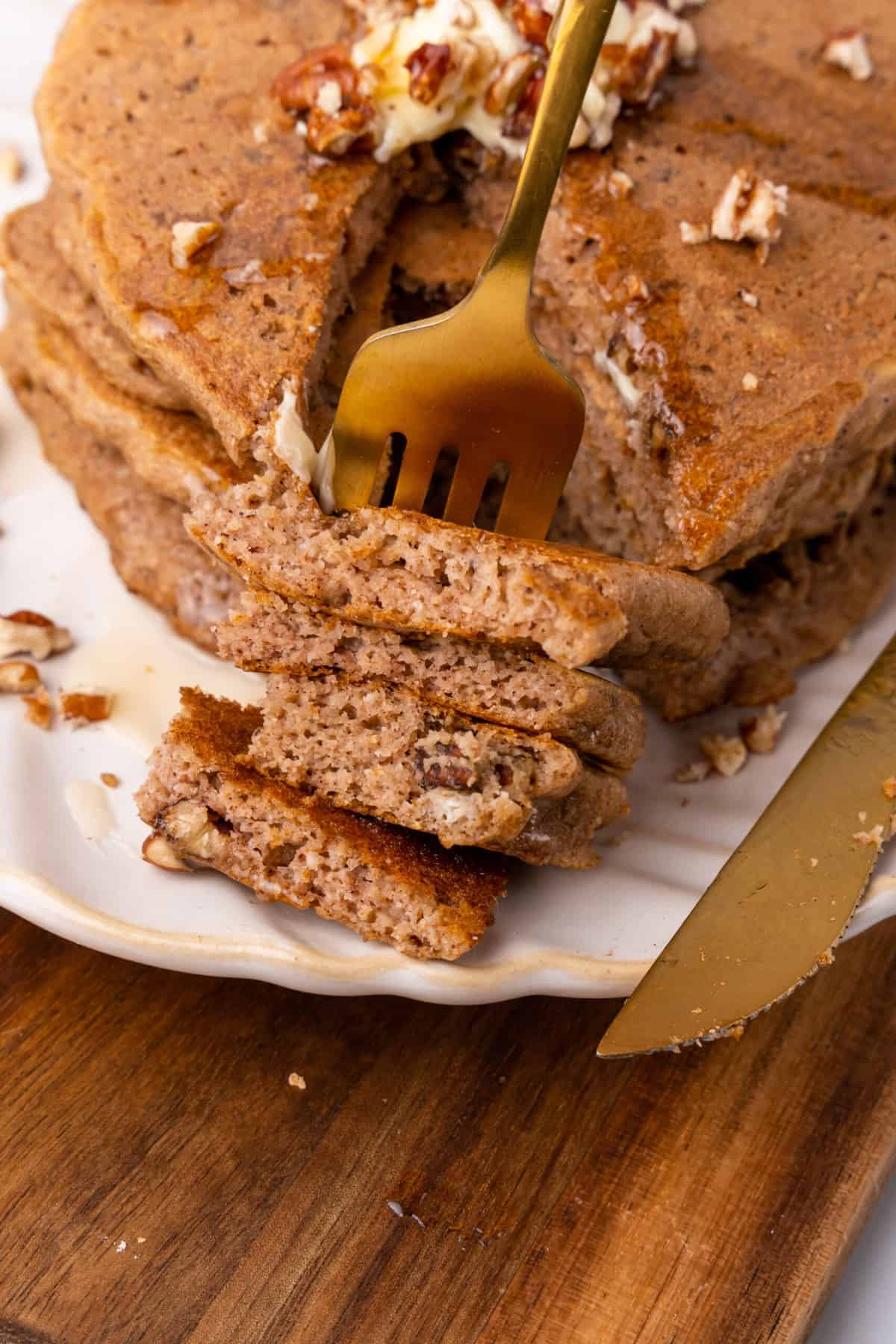 Want More Paleo Pancakes?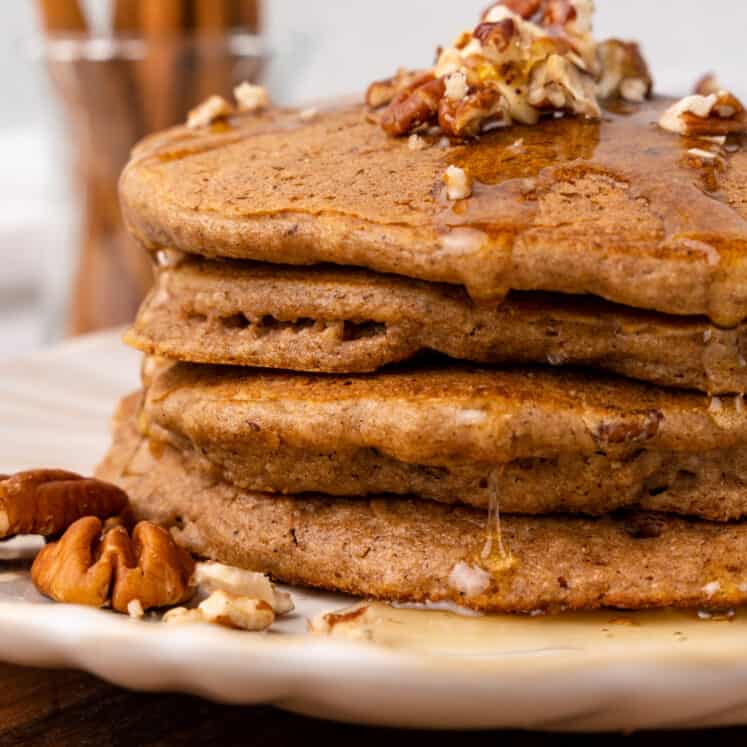 Pumpkin Spice Paleo Pancakes
---
Author: Cristina Curp
Prep Time: 10
Cook Time: 15
Total Time: 20
Yield: 4 pancakes 1x
Category: Breakfast
Method: Griddle
Cuisine: Fall
Diet: Gluten Free
Description
Delicious pumpkin spice pancakes
---
Scale
Ingredients
1/4 cup nut milk (I used cashew milk)
2  large eggs
1/2 tsp Honey (or preferred liquid sweetener)
1 tsp vanilla extract
1 tsp apple cider vinegar
1/2 cup fine ground blanched almond meal
3 level tbsp Otto's Cassava Flour
1/4 tsp salt
1 tsp baking powder
Pumpkin Spice Seasoning (optional, leave out for plain pancakes)
1/2 tsp cinnamon
1/2 tsp ground ginger
1/4 tsp nutmeg
Other
Tin Star Brown Butter Ghee for cooking
1/4 cup chopped pecans (optional)
For topping
Extra pecans
1 tsp Tin Star Brown Butter Ghee
1/2 tsp Honey Drizzle on top (Or maple syrup)
---
Instructions
You will need two bowls, a spatula and a griddle or skillet.
In one bowl, add all the wet ingredients (eggs, milk, honey, vanilla, vinegar). Whisk to combine.
In another bowl whisk together the dry ingredients, except the pecans.
Add the dry ingredients to the wet and mix with a spatula to combine.
Fold in the chopped pecans, if you're using them.
Heat the skillet or griddle on medium-high heat. Lightly grease it, and use 1/4 cup to measure out the batter.
Once the edges are cooked and there are little bubbles, gently flip the pancake. Cook for another 1-3 minutes. I usually cook my pancakes in a 6″ skillet, one at a time so I don't mess them up.
Stack, and top with extra ghee, pecans, and or honey or maple. Enjoy!
Recipe Notes:
If you need eight pancakes, I would make two batches instead of doubling the batter if you want 8 pancakes because the cassava flour does not duplicate well in recipes.
Serve with chicken maple sausage for some extra protein!
Nutrition
Serving Size: 2 pancakes
Calories: 481
Fat: 10g
Carbohydrates: 27g
Fiber: 2g
Protein: 9g
Keywords: paleo pumpkin spice pancakes