So excited to bring you another recipe in collaboration with Mann's Veggies Made Easy!
January Whole30 is in full force! With their new books out, Melissa on tour (and all over media)… plus the millions of people who are doing it this month… I can't even get Primal Kitchen mayo at my Whole Foods, all the Whole30 approved foods are wiped out! While I want my damn mayo, I kind of love this. While I am not doing the Whole30 this month, the program has been a big part of my life in the last three years.
After all, all of this started with a Whole30!
Since then I have done 6 rounds, yes S-I-X! While I no longer feel the need to do them I do eat Whole30 compliant most of the time anyway, and love sharing recipes to make it easier for all of you to do your Whole30's because I believe in the power of the program.  Recipes like these Broiled Burgers with Slaw!
Keep It Simple, Not Boring
One of my strategies for success, when I did my Whole30's, was to make simple meals, while keeping them exciting and flavorful. You're not going to last a whole month on chicken and lettuce, neither should you. It's not about going crazy with restriction, it's about committing to 30 days of uncompromisingly nourishing foods. Fun sauces, pickled onions, and great products like Primal Kitchen mayo and Mann's Broccoli slaw make it so easy to create interesting meals in no time.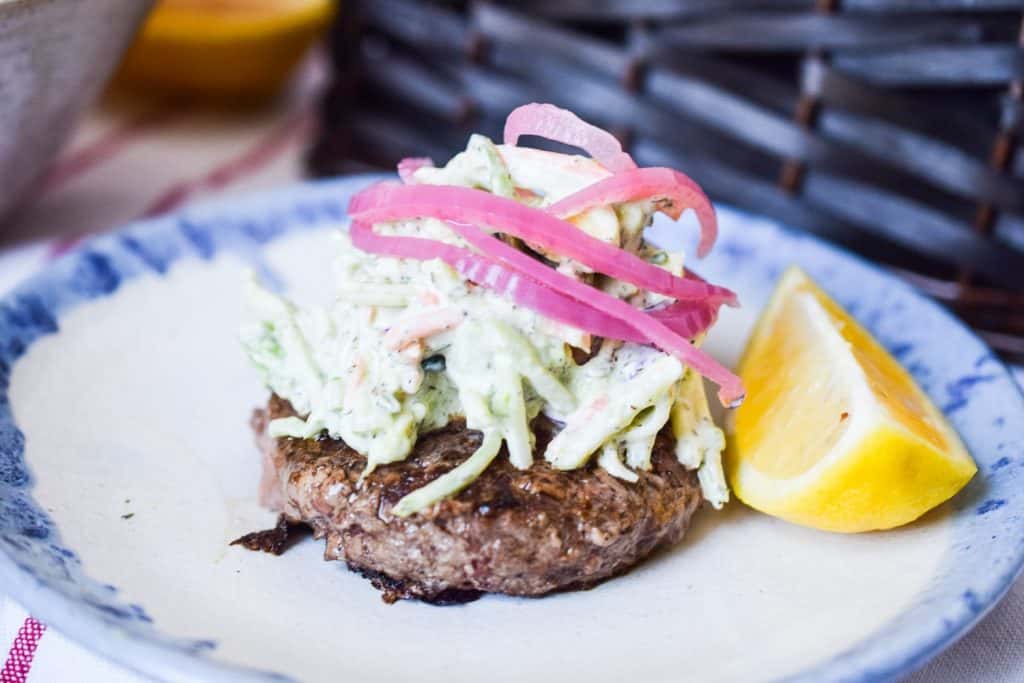 Avocado. Dill. Slaw.
This isn't your mama's coleslaw! Made with broccoli slaw for maximum crunch and nutrition, mixed with creamy avocado, paleo mayo and lots of dried dill, finished off with a healthy squeeze of lemon. This coleslaw is tangy and satisfying, bonus it takes minutes to make.
Throw your burgers under the broiler, and make the slaw in the 14 minutes they take to cook. This Whole30, paleo and keto meal comes together in less than 20 minutes!  Yes! Broiled Burgers and Slaw for everyone!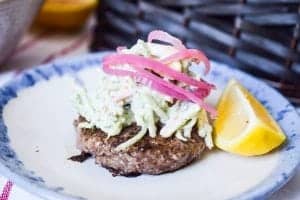 Broiled Burgers with Avocado Dill Slaw
---
Author:
Prep Time: 6
Cook Time: 14
Total Time: 20
Yield: 4 1x
Category: entree
Method: broil
Cuisine: bbq
Description
Bring the BBQ indoors with this easy recipe!
---
Scale
Ingredients
For The Slaw
1 bag Mann's Broccoli Slaw
2 tbsp homemade mayo or Primal Kitchen
½ tsp salt
2 tsp dried dill
½ tsp black pepper
1 ripe hass avocado
1 lemon
For the Burgers
1 pound 85% lean ground beef
pinch salt
1 teaspoon cooking fat
---
Instructions
Pre-heat oven to 500F broil with the rack in the center.
Shape 4 quarter pound burger patties. Make an indent in the center. Coat with fat and place on a sheet pan. Sprinkle with salt. Place under the broiler. Set a timer for 7 minutes.
In the meantime combine the broccoli slaw, mayo, and seasoning in a bowl.
Add half of the avocado into the mix and mash and mix it in until creamy.
Add the rest of the avocado to the slaw diced into cubes. Add the lemon juice and mix to combine.
When the burger timer goes off, open the oven and use a spatula to carefully flip the burgers. Broil for another 5-7 minutes.
Serve the burgers on a plate or over greens, top with a healthy serving of creamy slaw. Garnish with pickled onions, fried eggs or herbs!
Nutrition
Serving Size: 1 burger
Calories: 320
Fat: 23g
Carbohydrates: 6g
Fiber: 2g
Protein: 23g
Keywords: broiled burger with slaw