Recently I discovered the wonder that is tamarind. I actually prefer the plan tamarind paste to most faux-mato sauces. After using it in a few different ways, I finally gave it a shot… I made a tamarind BBQ sauce. I'm really pleased with how it turned out. It's not autoimmune protocol compliant because it contains seed-based spices, which I CAN eat. It's good. Real good. I hope you enjoy it!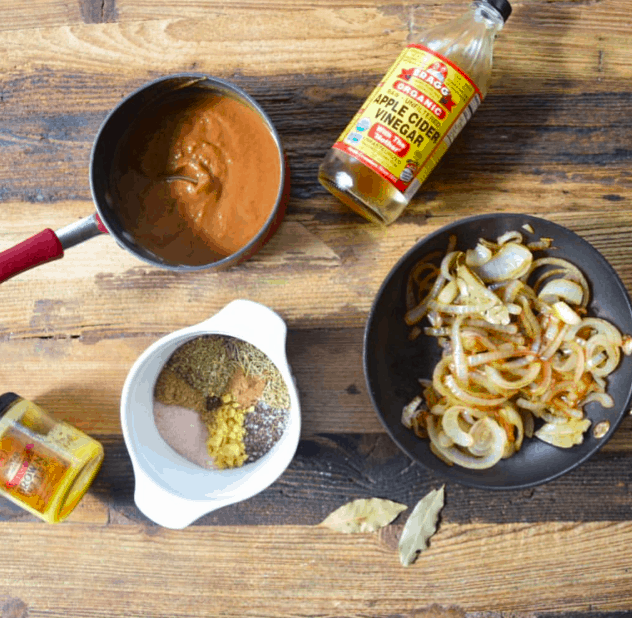 Marinara and a good barbecue sauce.
I miss those guys. I omitted nightshades from my diet a little over a year ago. It wasn't a decision that came lightly. Some of my favorite vegetables are nightshades! I was the queen of roasted eggplant, big heirloom tomato BLT's, and sweet pepper stir-fry. So why did I give up my beloved vegetables? Well, they are trigger foods for me. When I read about the autoimmune protocol I immediately knew those would have to go. Even before I knew about leaky gut before I know my Hidradenitis Suppurativa was an autoimmune disease and what those are… I had a feeling my flares correlated to eating these foods. Especially eggplant.
Obviously marinara is a no-go, but so are ALL restaurant and grocery store options for barbecue sauce. They all contain tomato and/or some form of pepper (cayenne, paprika, chile powder). Faux-mato sauces are not so hard to make, I've been quite satisfied with a blend of orange and red veggies, herbs and wine or vinegar that lend themselves to pizza and zoodles.
Nightshade Free Tamarind BBQ Sauce
---
Prep Time: 45
Cook Time: 5
Total Time: 50
Yield: 16 1x
Scale
Ingredients
1 1/2 cup tamarind paste (if using concentrate mix 1/2 cup with 1 cup water)
3 tbsp apple cider vinegar
1 tbsp Tin Star Foods brown butter ghee
1 onion
5 garlic cloves
2 bay leaves
1/2 tbsp salt
2 tbsp carob powder
1 tbsp dried oregano
1/2 tbsp dried rosemary
1 tsp black pepper
1/2 tsp fennel seeds
1 tsp nutmeg
1/2 tbsp ground mustard
1/8 tsp ground clove
1/2 tbsp coriander
optional: 2 drops liquid smoke
---
Instructions
First make tamarind paste by peeling then simmering tamarind pods in water until tender & broken down.
Remove the hard outer shell, and place the sticky pods in a large pot.
Add water until the pods are just submerged, and bring to a boil.
Lower heat to a simmer, and let it simmer for 35-40 minutes until it's nice and tender and the sticky paste has let go of the seeds.
Strain thoroughly through a fine mesh sieve over a bowl. Scooping a large spoonful at a time and pressing down to release the paste. A lot of it will gather at the bottom of the mesh sieve, use a spatula to grab it and put it on the bowl.
1lb of tamarind makes almost 2 cups paste.
Peel & slice onion and garlic.
Sautée on low with ghee & bay leaves until tender & caramelized, about 8 minutes.
Let onions cool.
Then add all the ingredients to a blender & purée until smooth.
Makes 16 ounces. Store in the fridge.