I'm a Thigh Girl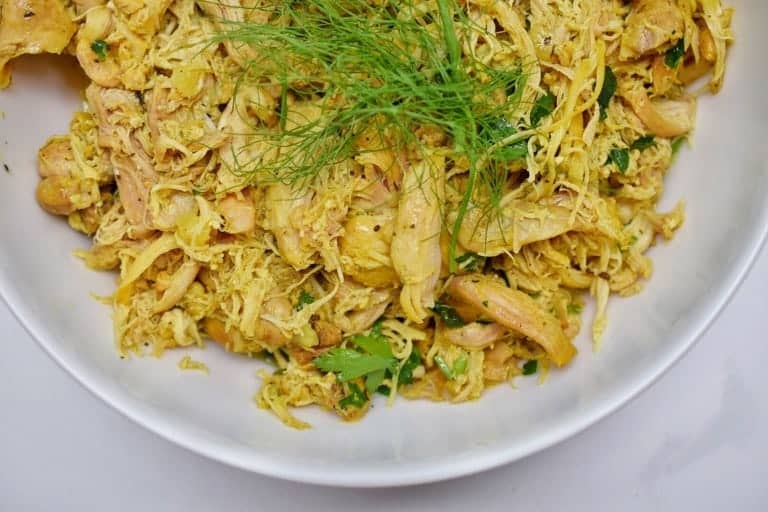 If you haven't noticed yet, I lurv cooking chicken thighs in the pressure cooker. I think of all the things I can make in there, chicken thighs turn out best. I don't like all meats shredded or soft. I'm a fan of crust, crisp and crunch. Things you can't really achieve with the oh-so-useful Instant Pot. Enter these super juicy fennel shredded chicken!
Pressure Cooker Easy
Boneless, skinless chicken thighs however pull apart perfectly and then with a little reduction action, the liquid vanishes to a thick sauce and a little caramelizing and toasting happens for little bits of toasty chicken. I mean. It's just so damn good. And "Instant Pot easy" that should be a thing or their new tag line. Haha I did work in marketing back in the day. No, I don't have an actual Instant Pot, before getting my own electric pressure cooker I used my neighbor's Instant Pot all the time, she has two and I commandeered her back up, for a month. Until my mom heard of this nonsense and sent me my own, or well, a pressure cooker. I now use the Breville FastSlow Pro, it's pretty fancy. My mom loves Breville. If you haven't bought a pressure cooker yet, and are a kitchen gadget junkie, it's a cool one to consider. But all pressure cookers use pounds per square inch to cook. So tomato-tomAto right?
So for this dish, cook it at the poultry setting first, then open it and set it to reduce or saute for 10 minutes, in this time the liquid should be boiling and reducing. Stir occasionally.

Living On The Edge
Also… don't fret, no, I don't use a lot of liquid when cooking in my pressure cooker. You don't need to fill it up to the line, the chicken and vegetables will release their own juices and when you open the pot they will be swimming in fluid, hence the reduction. If you're scared you're going to explode your kitchen, go ahead and add the "required" amount of liquid. Just keep in mind, you will need to reduce (boil) it for longer after it's done pressure cooking, maybe even 20 minutes.
What I Love About This Dish…
Is the fresh fennel that gives it that familiar flavor that reminds you of breakfast sausage. Basil, lots of garlic, turmeric, and aromatic ginger come together for depth and warmth. This chicken is versatile and delish. Add it to some sweet potato hash for breakfast, toss it in some BBQ sauce and wrap it up in a plantain tortilla, for a pulled pork sandwich experience. We had it over a bed of fried cabbage, garnished with fennel greens, and it was perfect!
Fresh Fennel Shredded Chicken
---
Author: Cristina Curp
Prep Time: 10
Cook Time: 30
Total Time: 40 minutes
Yield: 4 1x
Category: Entree
Method: Pressure Cooker
Cuisine: American
Description
Pressure cooker fennel shredded chicken
---
Scale
Ingredients
2lbs boneless skinless chicken thighs
1/4 cup minced fennel bulb
4 garlic cloves
2 inch nub of fresh ginger
1 tsp cinnamon
2 tsp turmeric
1 1/2 tsp salt
1 tsp dried basil leaves
1 tbsp apple cider vinegar
3 tbsp bacon fat
3 tbsp full fat coconut milk
a few sprigs of parsley
---
Instructions
Prepare your vegetables: dice fennel, peel and dice garlic, peel ginger.
Add the chicken to the bowl of your pressure cooker.
Add in the bacon fat, coconut milk, vinegar, and all the seasoning.
Add in the fennel, garlic and the chunk of ginger.
You just want the ginger to infuse it's flavor in the dish, mincing the ginger up will make it's flavor overpowering (you will remove the chunk after cooking).
Toss with a spoon or with clean hands.
Close the pressure cooker, set to poultry mode (Aprx 12.0 PSI for 20 minutes)
When the machine is done cooking and the pressure has released, open the lid, stir well.
There will be a lot of fluid in the pot, set the pressure cooker to saute or reduce mode, for 10 minutes.
It will come to a boil. Stir twice during reductions. You want the chicken to stick a little to the bottom to get that toasty, browned part.
When done reducing, mix with tongs or forks, the chicken should easily shred, fall apart, and it should be saucy but not soupy.
Serve, garnish with fennel greens, and be sure to find and remove the large piece of ginger.
Chop up parsley, add in and mix up.
Enjoy!
Nutrition
Serving Size: 1/4 recipe
Calories: 391
Fat: 21g
Carbohydrates: 5g
Fiber: 2g
Protein: 44g
Keywords: Pressure Cooker Fennel Shredded Chicken