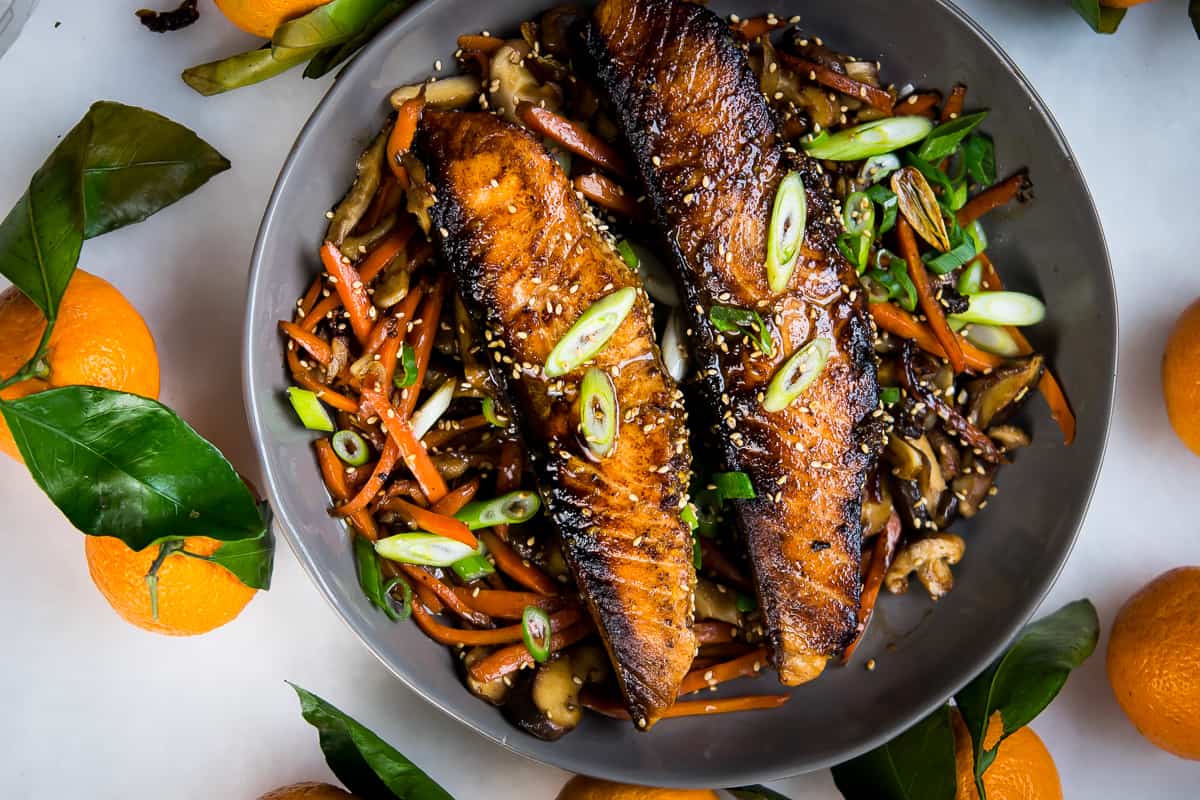 Full of fresh citrus, Asian-inspired flavor, and nutrient density, this Orange Ginger Salmon Skillet is the perfect one pot Whole30 meal, ready in under 30 minutes!
This Orange Ginger Salmon Skillet is a crave-worthy Whole30 recipe you'll want to make again and again
Not only is this recipe bursting with citrusy, Asian-inspired flavor, it's also loaded with nutrient density, making it a healthy low carb meal you'll want to make again and again.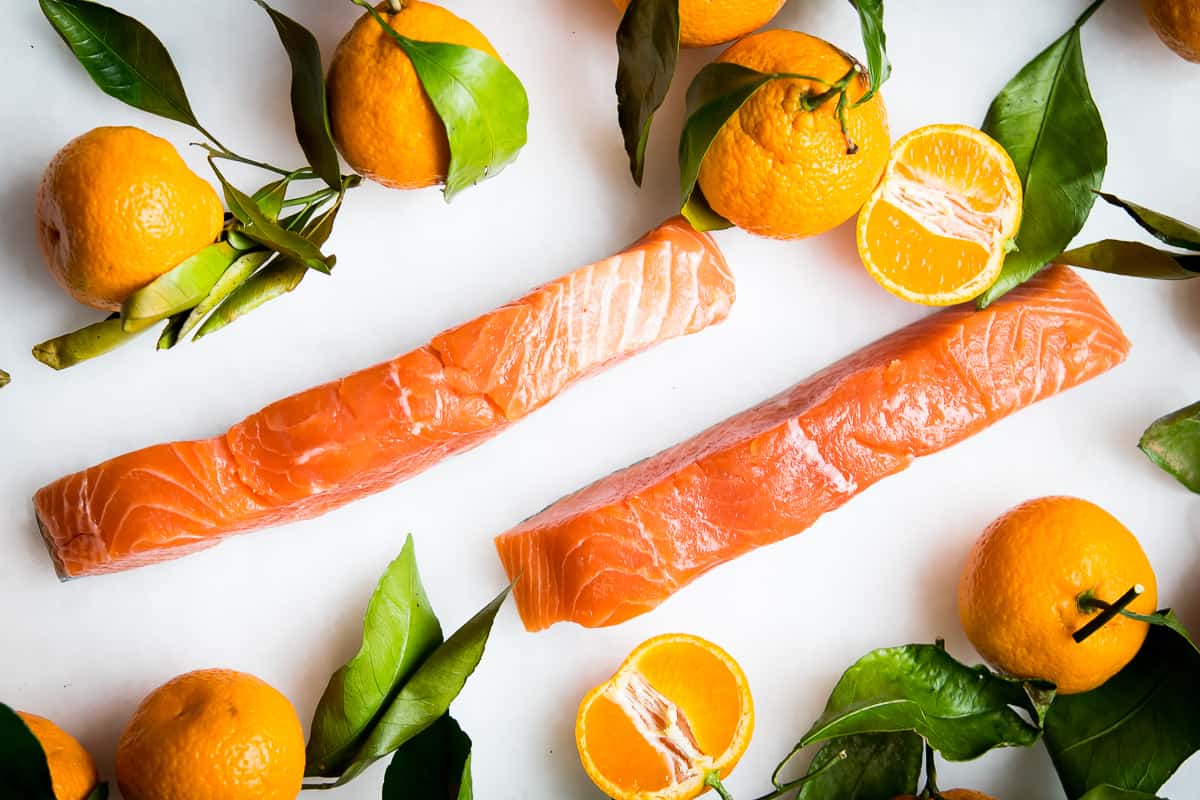 Let's break down some of the star ingredients in this Orange Ginger Salmon Skillet
Salmon — a good source of omega-3 fatty acids, which help with managing inflammation
Shiitake Mushrooms — immune boosting superpowers from vitamins B and D, selenium, niacin, and amino acids
Carrots — high in fiber, good for detoxifying excess estrogen
Ghee/Coconut Oil — both are high in saturated fat, which is essential for healthy hormone production 
Real Salt — loaded with trace minerals and electrolytes, essential for electrolyte balance
Orange Juice and Zest – high in vitamin c and antioxidants to help you fight off flu season
While this Whole30 salmon recipe is good for you, it's also damn delicious, and it makes a beautiful plate. Make it delicious, good for you, and beautiful. Food should check all the boxes, no need to compromise!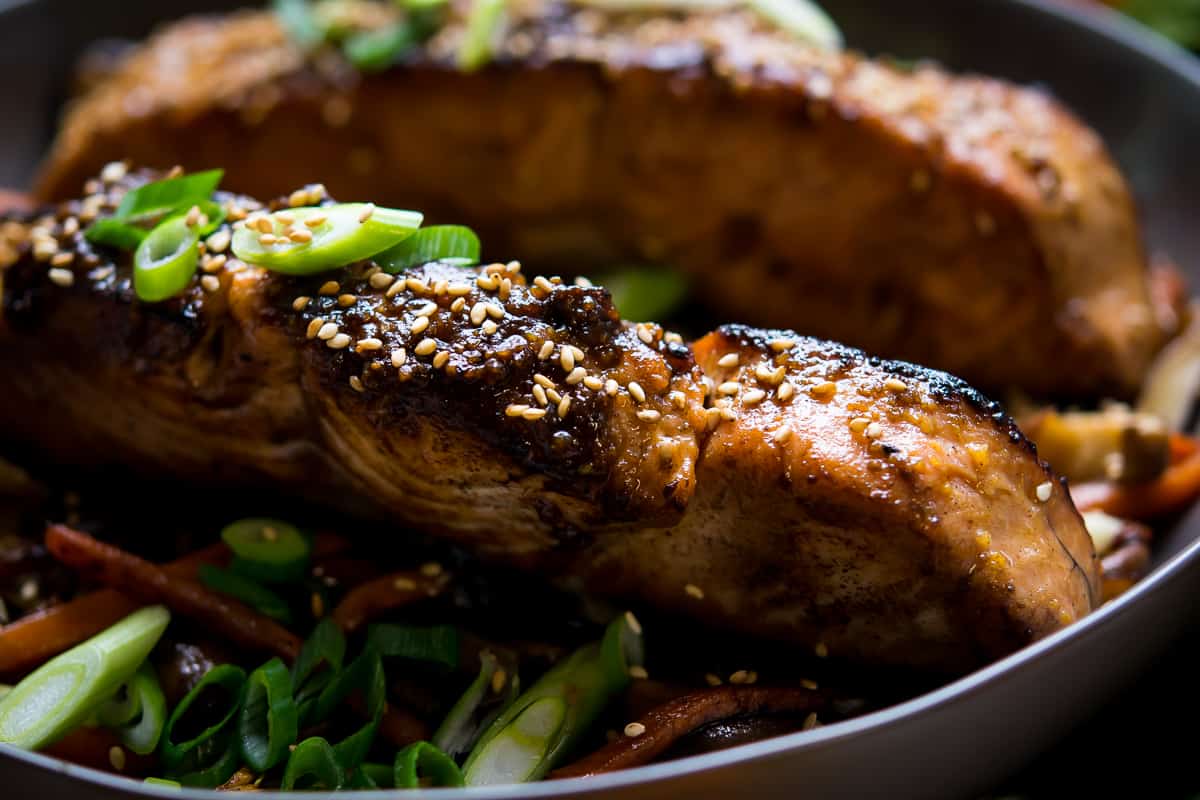 Quick update: shifting the keto focus
Listen gang, I need to just say it out loud, and you might have already noticed it with my content … but I'm not so strictly keto anymore. Not that I was ever hard core about it, because I like carrots ;).
While writing my next book, I was really impacted by the importance of bioindividual nutrition and not fearing foods just because you haven't had them in a while. For me, paleo will always be the template I base my lifestyle on and low carb or keto is where I feel really good, but I've realized that it's cyclical, just like many things in life.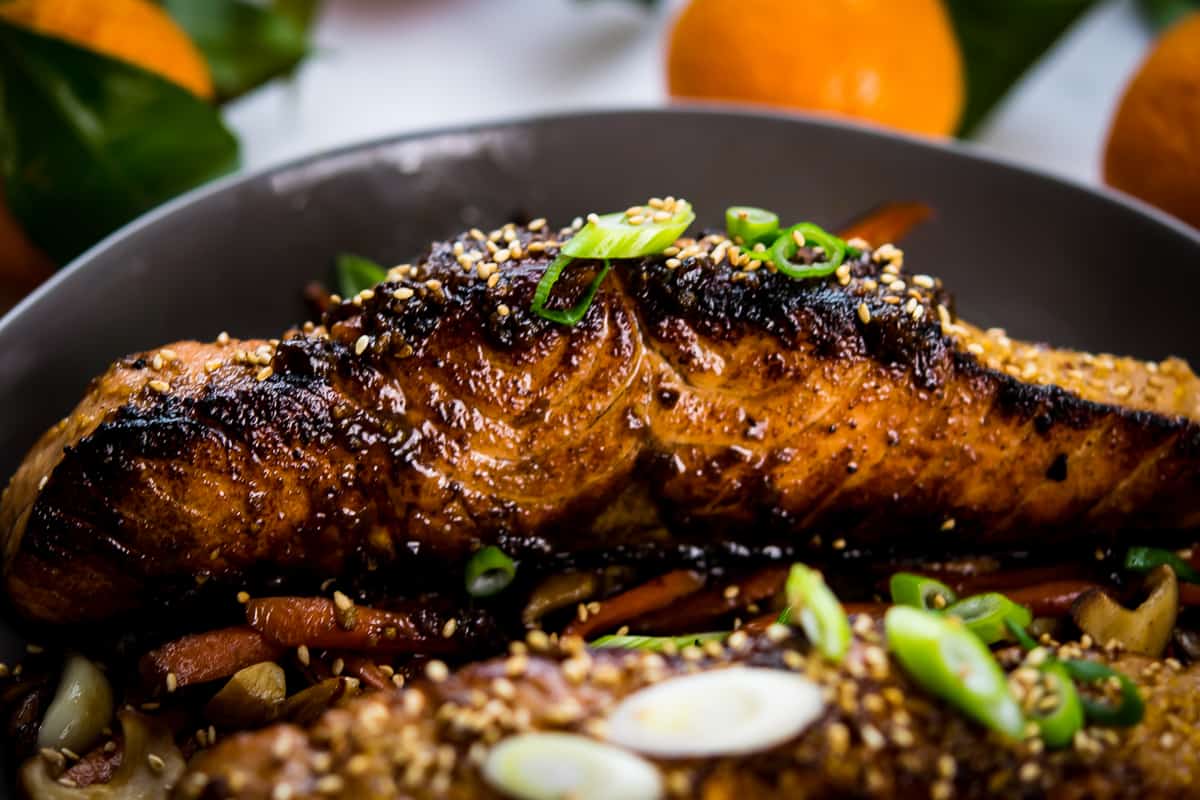 Finding balance with an intuitive keto approach
I have found a better balance for my hormones with a cyclical keto approach, one that meets my needs and honestly one that brings me more enjoyment in food again. 
I think we can be completely committed to healing through food, to a healthy lifestyle and not be into food rules or diet dogma. I want to lead you all past the rules, past the dogma, past the yes/no lists and to a place where you find true wellness and true food freedom. I want to give you the confidence to explore and experiment and listen to YOUR BODY. 
This is the approach that I used when I wrote Made Whole Made Simple; I've included over 35 one pot meals like this one … good for you, absolutely beautiful, and bursting with flavor. I am so excited to share this approach more with you on the blog, and I hope it inspires you to cook more of what lights you up, both in body and soul!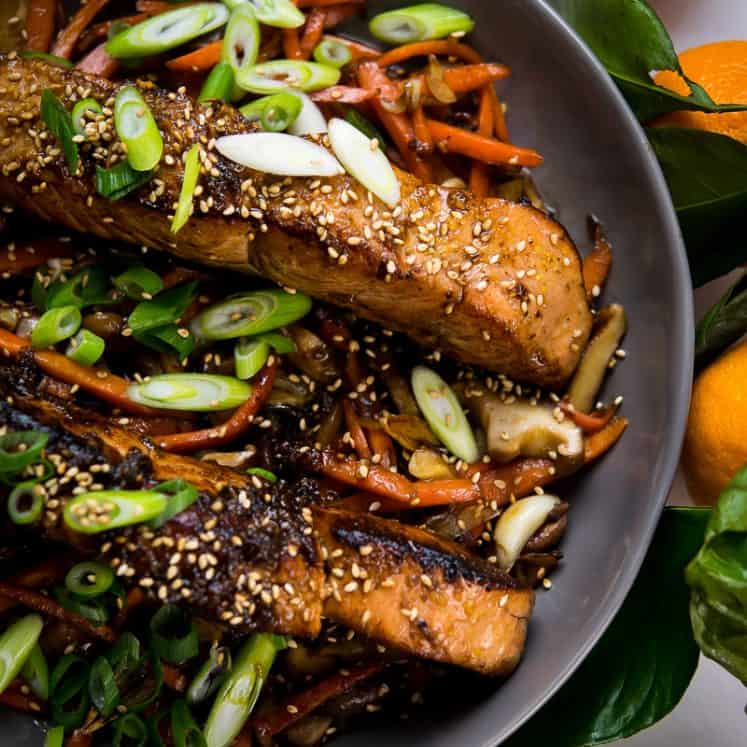 Orange Ginger Salmon Skillet (One Pot, 30 Minute Meal, Whole30, Low Carb, Egg Free, AIP Friendly)
---
Author: Cristina
Prep Time: 8 minutes
Cook Time: 20 minutes
Total Time: 28 minutes
Yield: 2 servings 1x
Category: Entree
Method: Saute
Cuisine: Seafood/Fish
Scale
Ingredients
For the Salmon:
For the Veggies:
2 tablespoon ghee or coconut oil 
3 medium carrots, cut into matchsticks 
3 cloves garlic, sliced
2 cups sliced shiitake mushrooms 
½ teaspoon fine salt
Splash of fish sauce
Splash of coconut aminos 
To Garnish:
2 green onion cut on the bias
1 teaspoon sesame seeds
---
Instructions
Juice the orange into a medium bowl, mix in the aminos, orange zest, ground ginger and garlic powder. Place the salmon filets meat side down in the marinade, not getting the skin wet. 
Heat a large skillet over medium heat. When it comes to temperature, melt the 2 tablespoons ghee in the skillet. Then add in the carrots, and salt, and sauté for 2-3 minutes or until beginning to brown. Stir in the garlic and mushrooms, sauté for 10 minutes or until tender, toasty, and aromatic. Stir in the aminos and fish sauce and stir well.
Transfer the veggies to a bowl, cover and set aside. Put another tablespoon of ghee in the skillet then place the salmon filets, skin side down in the melted ghee. Cook here, undisturbed for 5 minutes. Then sear the filets for 30 seconds on all remaining sides. 
Arrange the salmon skin side down again on the skillet and pour the remaining marinade over the salmon filets. Remove them from the skillet and serve over the veggies. 
Garnish with green onion and sesame seeds. Enjoy!
Recipe Notes:
Net carbs per serving: 13.8g
For coconut free use gluten free low sodium tamari 
To make AIP omit sesame seeds and sesame oil, use coconut oil to cook with.
To make it more keto friendly, use zucchini instead of carrots.
Nutrition
Serving Size: 1 serving
Calories: 685
Fat: 47.3g
Carbohydrates: 18.4g
Fiber: 4.6g
Protein: 48.9g
Keywords: salmon whole30 recipe, one pot whole30 meal, asian inspired meal, how to cook salmon