Homemade egg-free mayonnaise is quite the elusive condiment in the paleo world. For those who need an egg-free mayo option, there are very few that are actually good and which don't require perilous emulsification. That's where recipes go wrong. In my first cookbook, which has over 90 AIP (autoimmune protocol) compliant recipes I shared a Toum recipe. An emulsion of garlic, lemon, and olive oil. It fits all the prerequisites of a wonderful allergen-free mayonnaise.
I wanted to share a recipe on my blog that checked all the boxes without having the gamble of emulsification, which is where most folks go wrong. So here it is, a homemade paleo mayonnaise that's allergen-free!
Table of Contents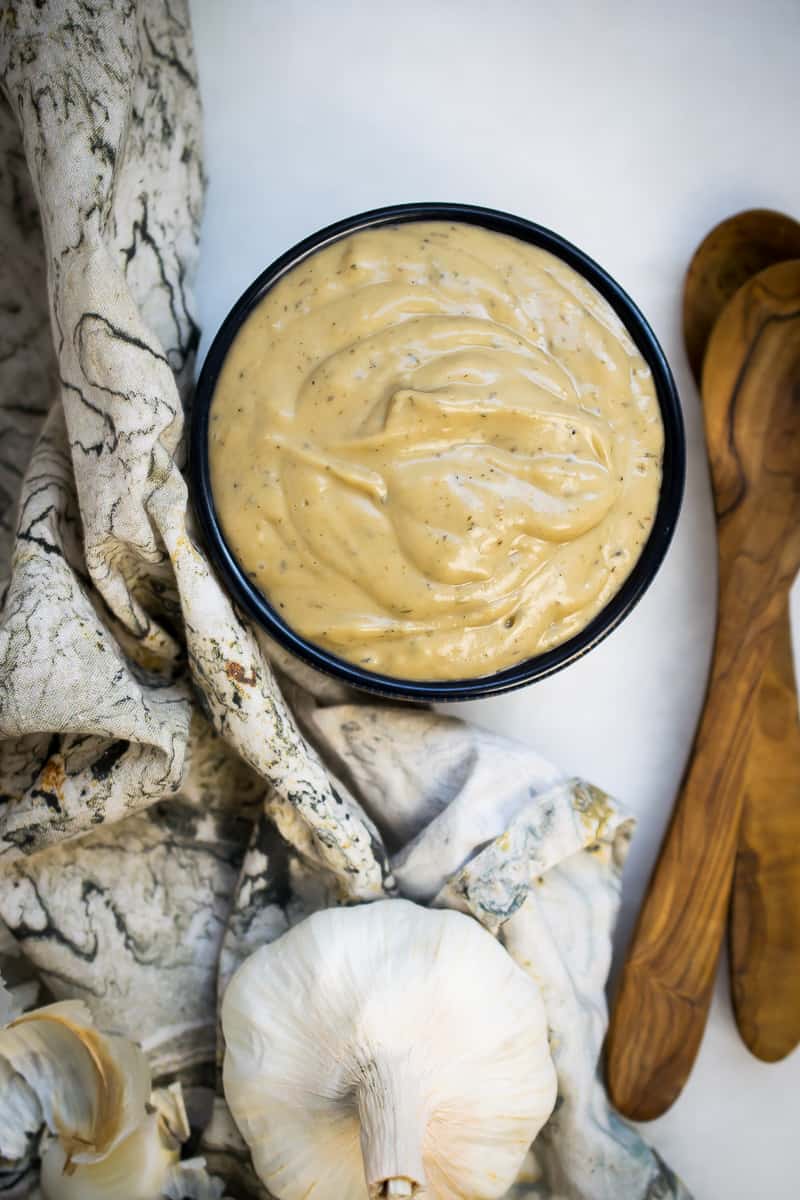 Homemade Egg Free Mayonnaise That's Actually Good
So what is it made of? Well, we start with garlic confit! Yes, slow-roasted garlic cloves that are tender, a little sweet, and oh so creamy and soft. While the confit itself takes a little time to make it is virtually THE EASIEST thing to make. 2 minutes of prep time and totally hands-off.
You get to save the delightful garlic-infused oil for other purposes, you're welcome, it's divine. Then you blend up the cloves with a little vinegar and your dairy-free milk of choice. That's it. Creamy, dreamy, egg-free mayo or better, egg-free roasted garlic aioli that is to die for!

What's Garlic Confit?
Confit is any type of food that is cooked slowly over a long period of time as a method of preservation. Confit is a cooking term that describes when food is cooked in grease, oil, or sugar water, at a lower temperature, as opposed to deep-frying. This French cooking method can be used for meat, fruit and to make condiments. Today we're using garlic confit to make an allergen-free, homemade egg-free mayonnaise!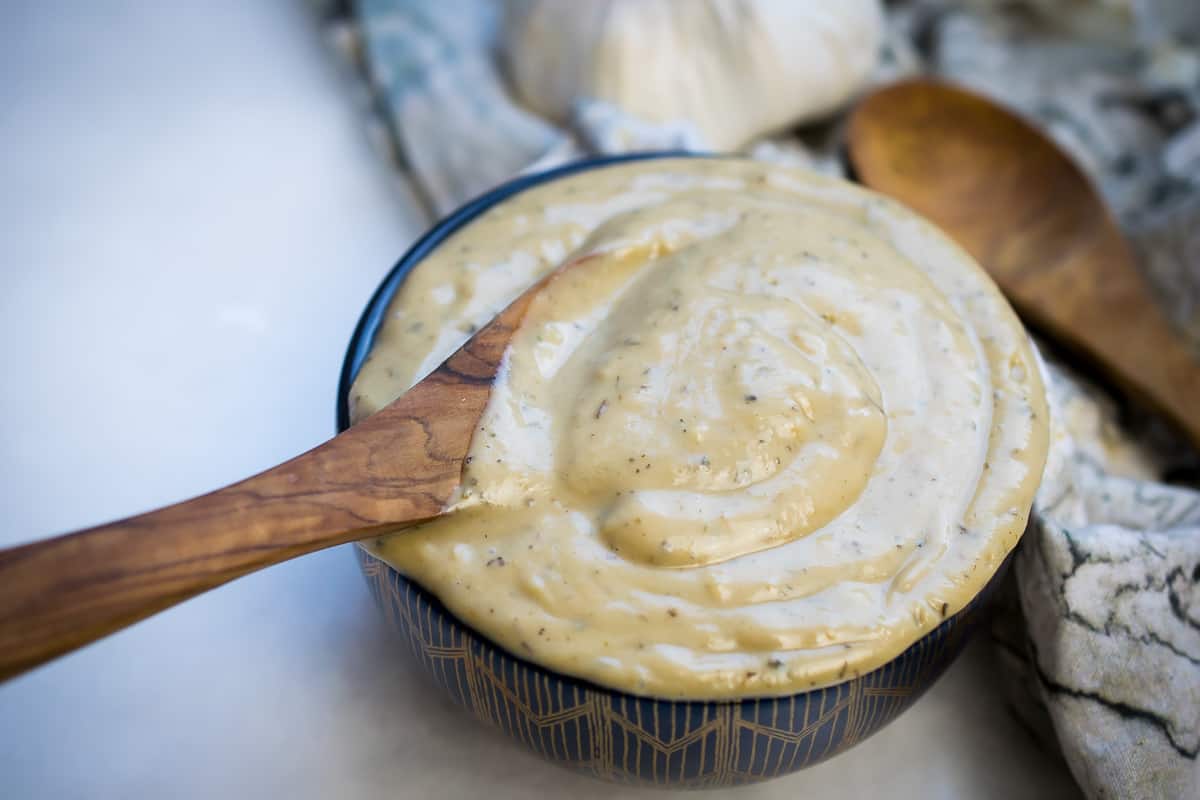 Why No Eggs?
You all! I get a lot of requests for egg-free recipes! You can sort the recipes on this blog in the recipe index via dietary needs, like egg-free! Eggs are a common allergen and also not compliant with certain elimination protocols like AIP.
The best part about this recipe is that no matter if you eat eggs or not, it's a delicious paleo mayonnaise that just happens to be egg-free!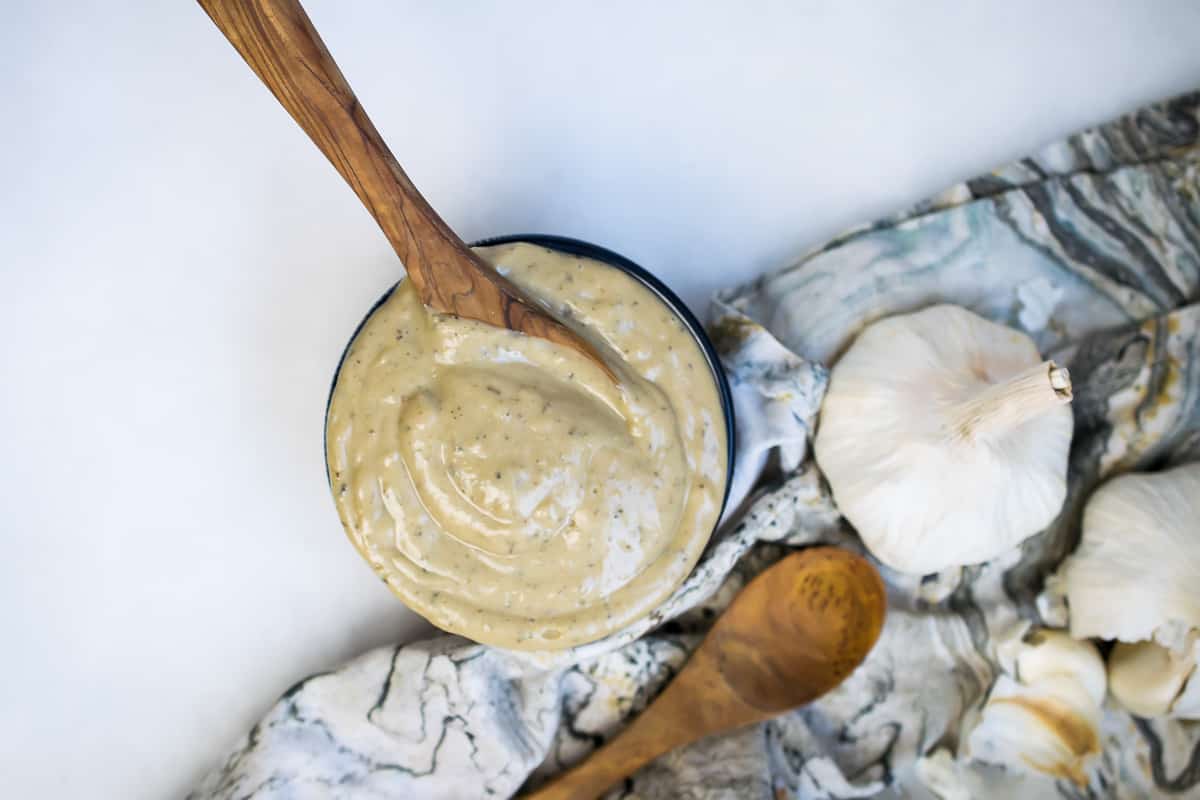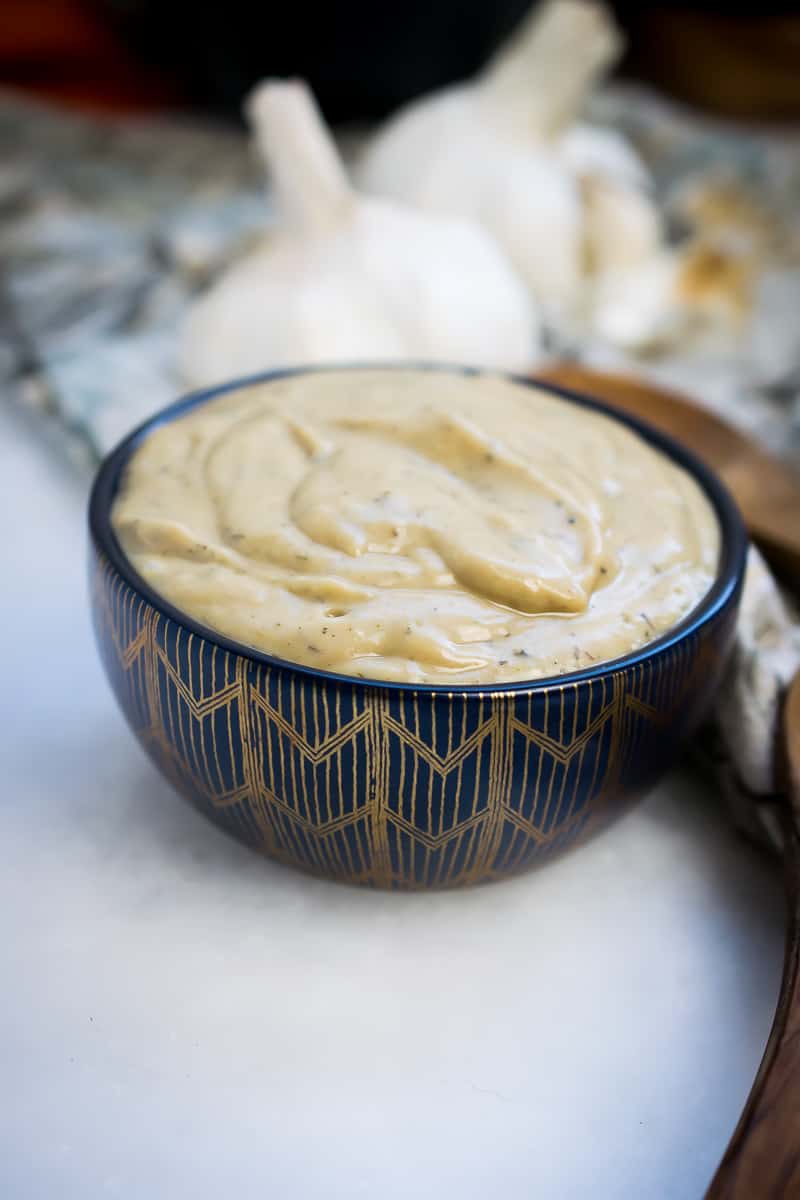 Step one: make garlic confit.
Step two: blend up amazing egg-free mayo! Let's get cookin'. The best part about this recipe is that you get a bonus recipe! Garlic confit (from my first book) and an AIP mayo! You're welcome!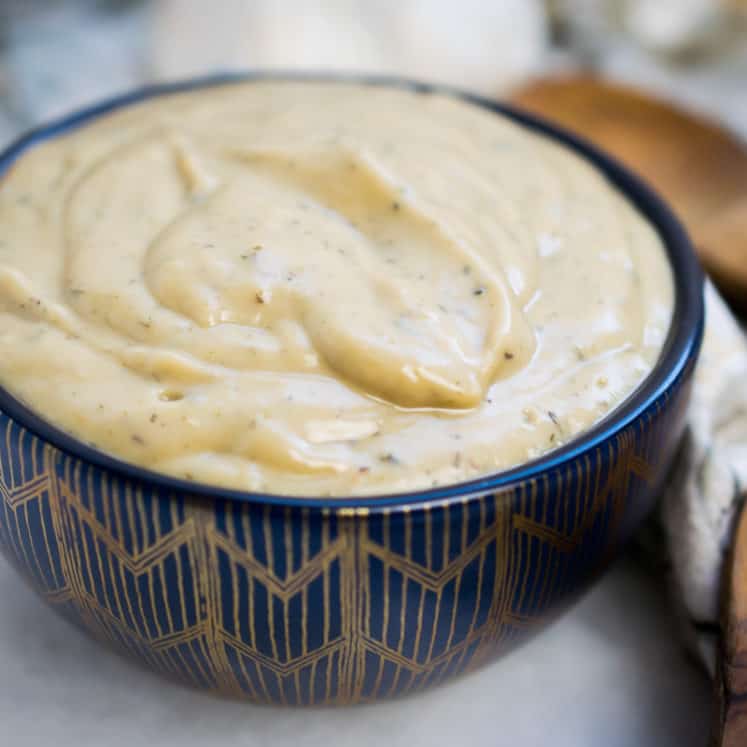 Homemade Egg-Free Mayonnaise: Garlic (Whole30, AIP)
---
Author: Cristina Curp
Prep Time: 60 minutes
Total Time: 1 hour
Yield: 1 1/2 cups 1x
Category: condiment
Method: confit
Cuisine: egg free
Diet: Vegan
Description
Creamy dreamy and allergen-free mayonnaise that's paleo, Whole30, Vegan, and AIP!
---
Scale
Ingredients
Garlic Confit
1 1/2 cups whole, peeled garlic cloves
enough olive oil to submerge them in a small pot or ramekin
2 teaspoons dried Italian herb seasonings
1/2 teaspoon fine salt
For the Egg Free Mayo
1 cup of confit (drained)
1 1/2 tablespoons garlic-infused oil (from confit)
1/2 cup dairy-free milk of choice
2 teaspoons balsamic vinegar
Salt to taste
---
Instructions
To make the confit, preheat the oven to 250F. Combine the garlic, salt, and herbs in a small oven-safe pot or ramekin. Pour olive oil over the garlic cloves until they are fully submerged in oil. Roast on the middle rack for 1 hour. Remove from the oven and let cool. Drain the olive oil into a jar (you can store this at room temp). Cover the garlic and store it in the fridge until ready to use.
When you're ready to make the egg-free mayo, combine the drained garlic cloves, 1 cup, in a blender with 1 1/2 tablespoon olive oil (from the garlic), 1/4 cup milk of choice, and balsamic vinegar.
Blend until creamy, thick, and smooth. Add the remaining milk as needed, for desired consistency.
Store the paleo egg-free mayo in the fridge in an air-tight container. Lasts about a week.
Nutrition
Serving Size: 1 tablespoon
Calories: 79
Sodium: 3.8mg
Fat: 6.3g
Saturated Fat: 2.2g
Carbohydrates: 5.4g
Fiber: 0.4g
Protein: 1g
Keywords: allergen-friendly mayonnaise, homemade mayo, Paleo mayonnaise