Having a good grazing table when you have guests is imperative. This Sichuan Guacamole with Zucchini Chips is the ideal low carb, nutrient dense, fat-loving snack scenario.
I have this nightshade free guacamole a fun twist: Sichuan!  These peppercorns are citrusy and aromatic berries that really make this recipe pop!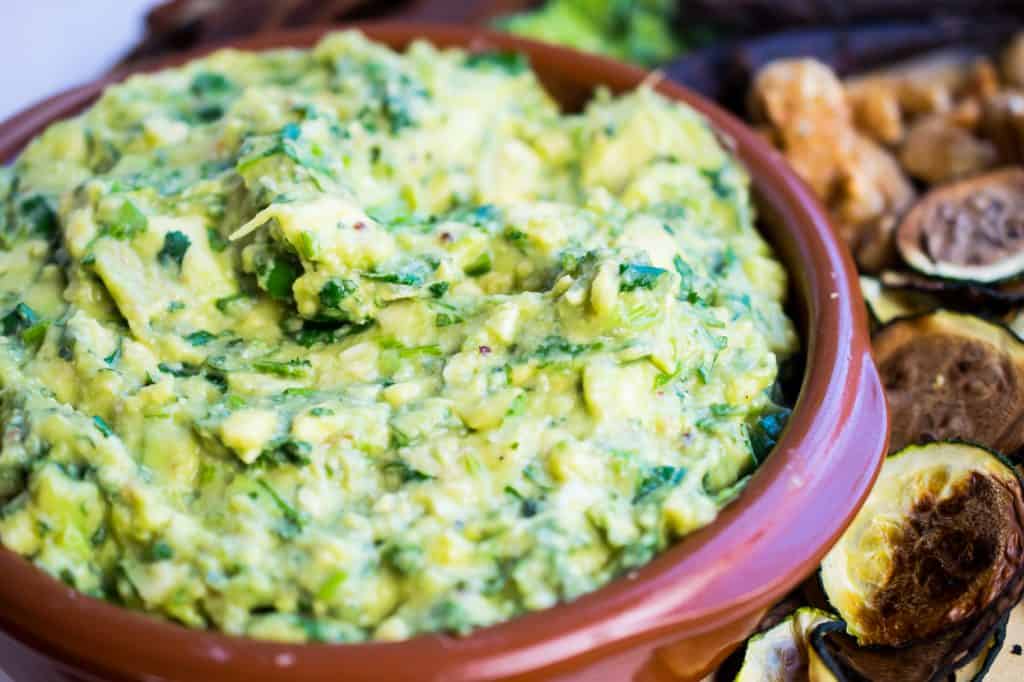 Nightshade Free?
A botanical group of plants, the Solanaceae family.
There are over 2,000 varieties of nightshade plants and most of them are poisonous, like deadly! Tobacco is a nightshade and we know that stuff is no good for us. So which nightshades do people eat? The most common ones: tomatoes, potatoes(not sweet potato), eggplant, peppers (not peppercorns). Ashwagandha, acai, tomatillos…. every kind of hot pepper, bell pepper, chili pepper… it's a long list, but you get the point.
These veggies contain lectins which can be hard to digest and may cause gut permeability. Another antinutrient present in nightshades is saponins, in this case, it's glycoalkaloid. This is a no go for folks with autoimmune disease because it can cause an exaggerated immune response and hello! We already have an overactive immune system.
Not ALL folks with autoimmune disease react to nightshades, but many do. That's why Nightshades are omitted during the autoimmune protocol.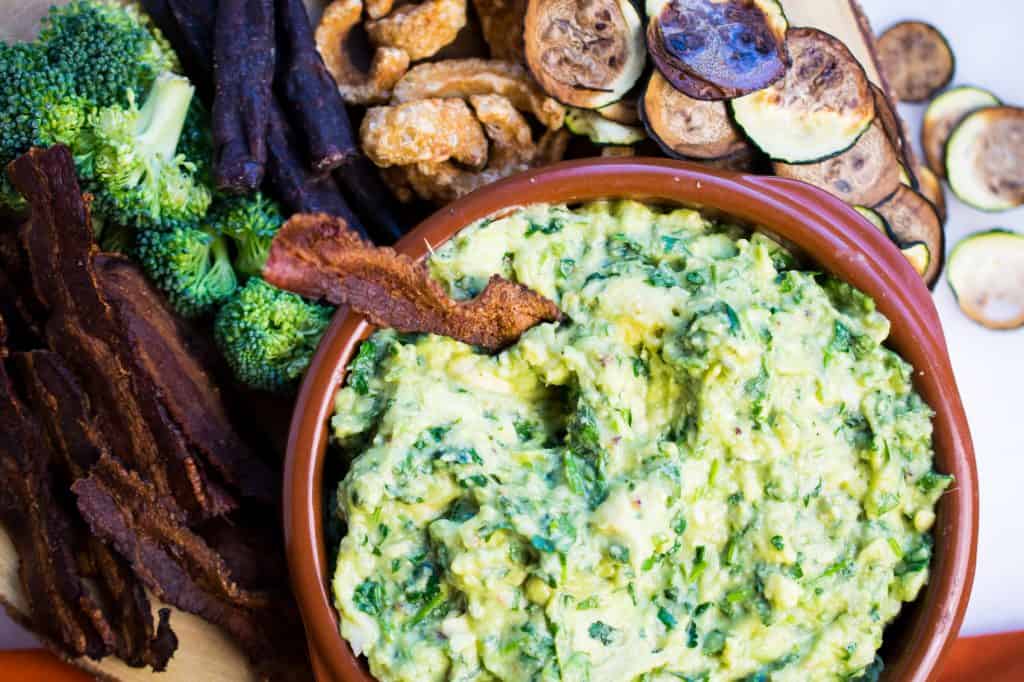 Where Do I Get Sichuan Peppercorn?
I found a little jar, the brand is Joyce Chen as my local Wegman's Grocery Store in the international food isle. I found this brand on Amazon that also looks legit, get it here.
You can also find these in any Chinese Markets in your area. These citrusy pods are best when lightly toasted then ground up right before adding it to the recipe.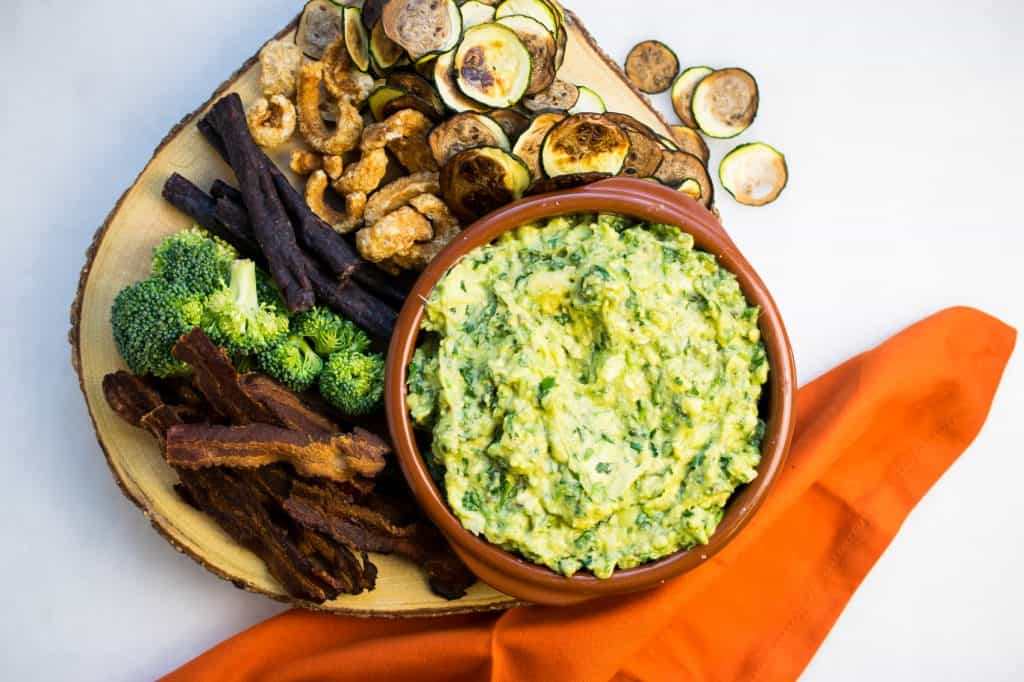 Zucchini Chips
These could not have been easier to make! And while they were really delicate and not the best for scooping, they were a welcome snack with this lovely spread. This is how you make them:
2 medium zucchini
2 sheet pan
Preheat the oven to 350F. | Slice the zucchini in very thin slices.
Line them up in one even, flat layer on 2 parchment paper lined sheet pans. | Bake for 20-25 minutes, rotating the pans halfway through cooking until most of them are browned and they all look dry.
Remove from the oven. | Let them cool for 10 minutes. | Use a spatula to gently lift from the sheet pan.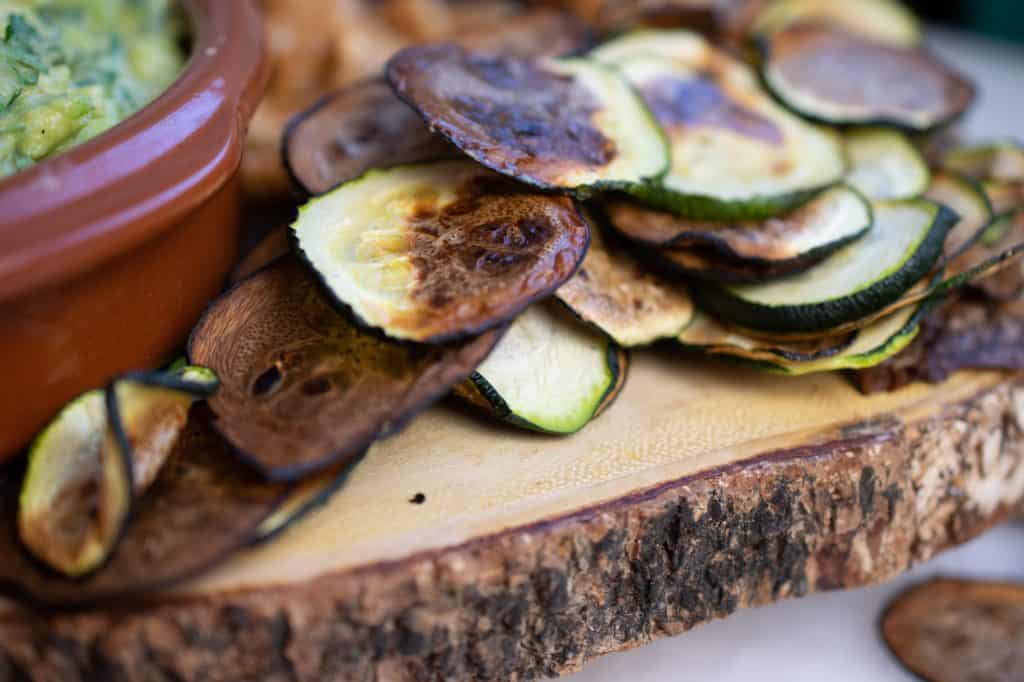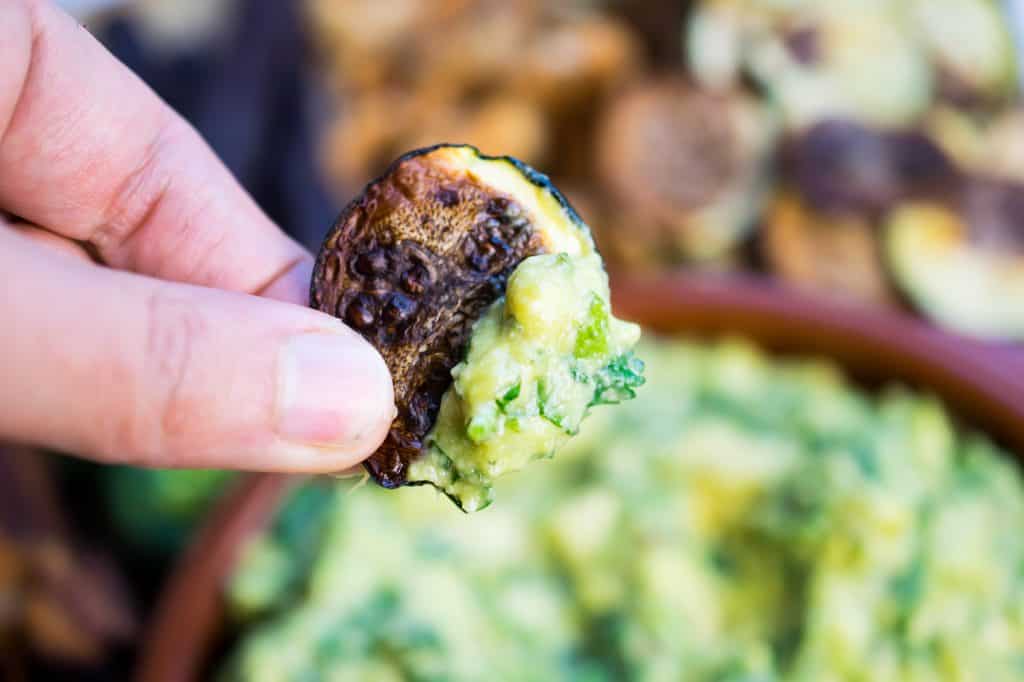 The Other Dippables
4505 Chicharrones, their salt and pepper flavor. Epic Pork Rinds also work.
Broccoli and Crispy Bacon!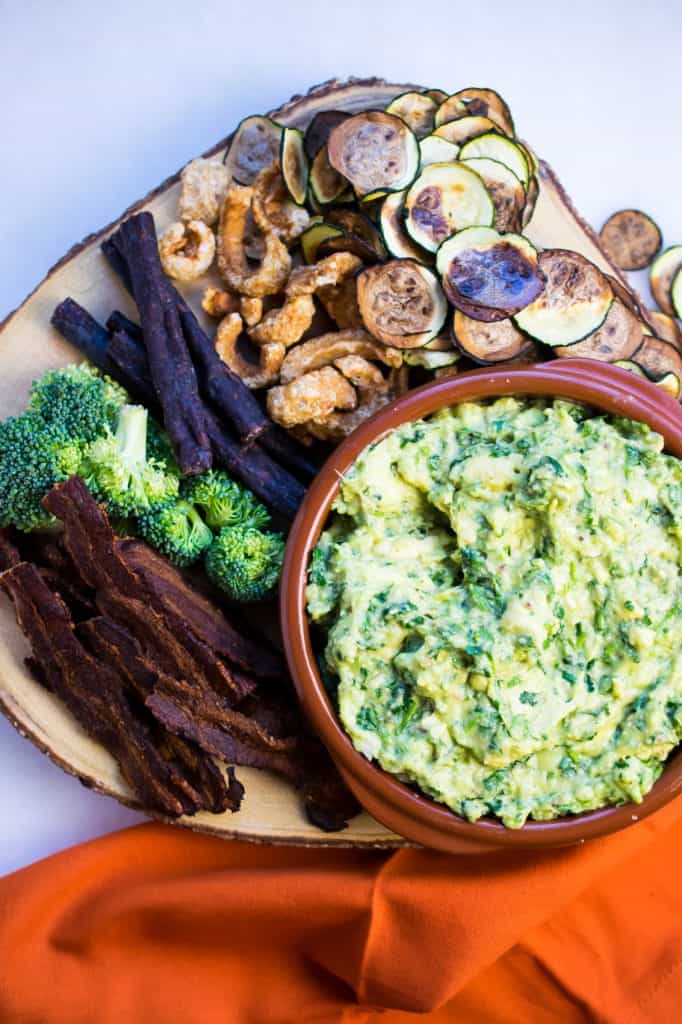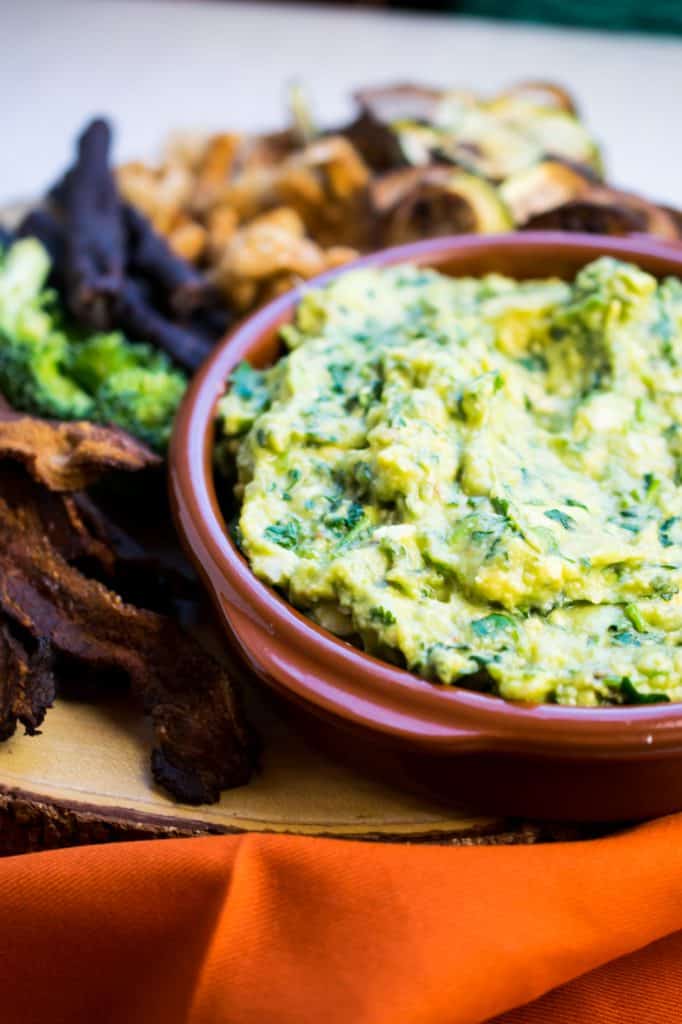 Okay, let's get our Guac On!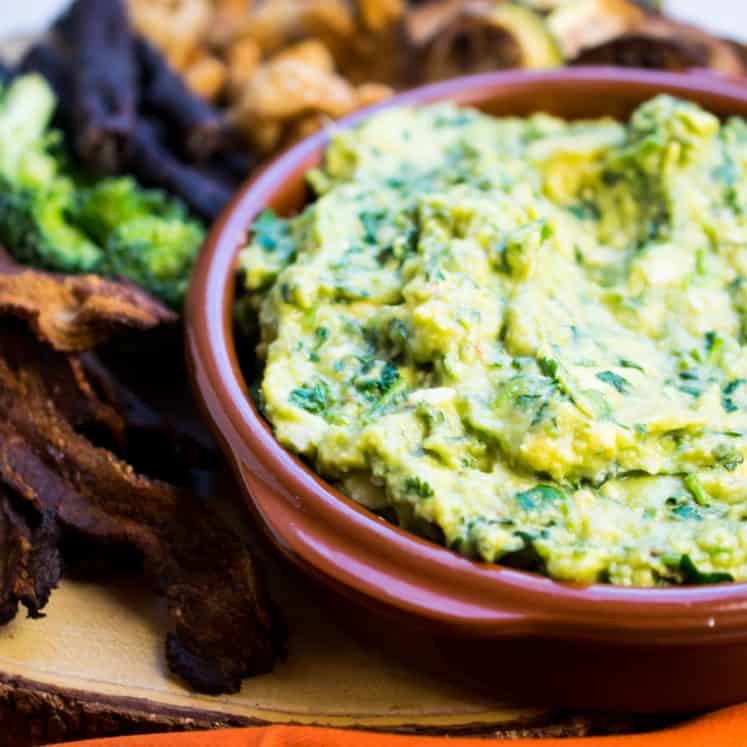 Sichuan Guacamole with Zucchini Chips (Paleo, Keto, Nightshade Free)
---
Author: Cristina Curp
Prep Time: 10
Total Time: 10 minutes
Yield: 4 servings 1x
Category: Snacks
Method: No Cook
Cuisine: Fusion
Description
Surprising guacamole combination!
---
Scale
Ingredients
3 hass avocado, ripe
1/2 cup minced cilantro
6 cloves garlic, minced
2 limes, juiced
1 lemon, juiced
1/2 teaspoon fine salt
1 teaspoon garlic powder
2 teaspoon Sichuan pepper, toasted and ground
1 teaspoon ground white pepper
2 teaspoon red wine vinegar
4 tablespoon extra virgin olive oil 
---
Instructions
Combine all of the ingredients in a large bowl. Use a whisk to mix and mash the guacamole until desired consistency. You can leave it really chunky or mash until smooth.
Nutrition
Serving Size: 1/4 recipe
Calories: 236
Fat: 23g
Carbohydrates: 6g
Fiber: 1g
Protein: 1g
Keywords: Sichuan Guacamole