This rib eye roast is such an easy and delicious recipe. Using za'atar, a Middle Eastern spice mix made of thyme, sesame seeds, and sumac. A simple mix that has such a special flavor. Sumac is a berry based spice, like peppercorns and safe for nightshade free!
This roast is elegant and easy to make with perfectly burnt vegetables that cook along with the meat. Yes, you read that right. Burnt vegetables, in the most magical way ever, a combination which is sure to delight your palate and blow away the family, your guests or anyone you cook this for.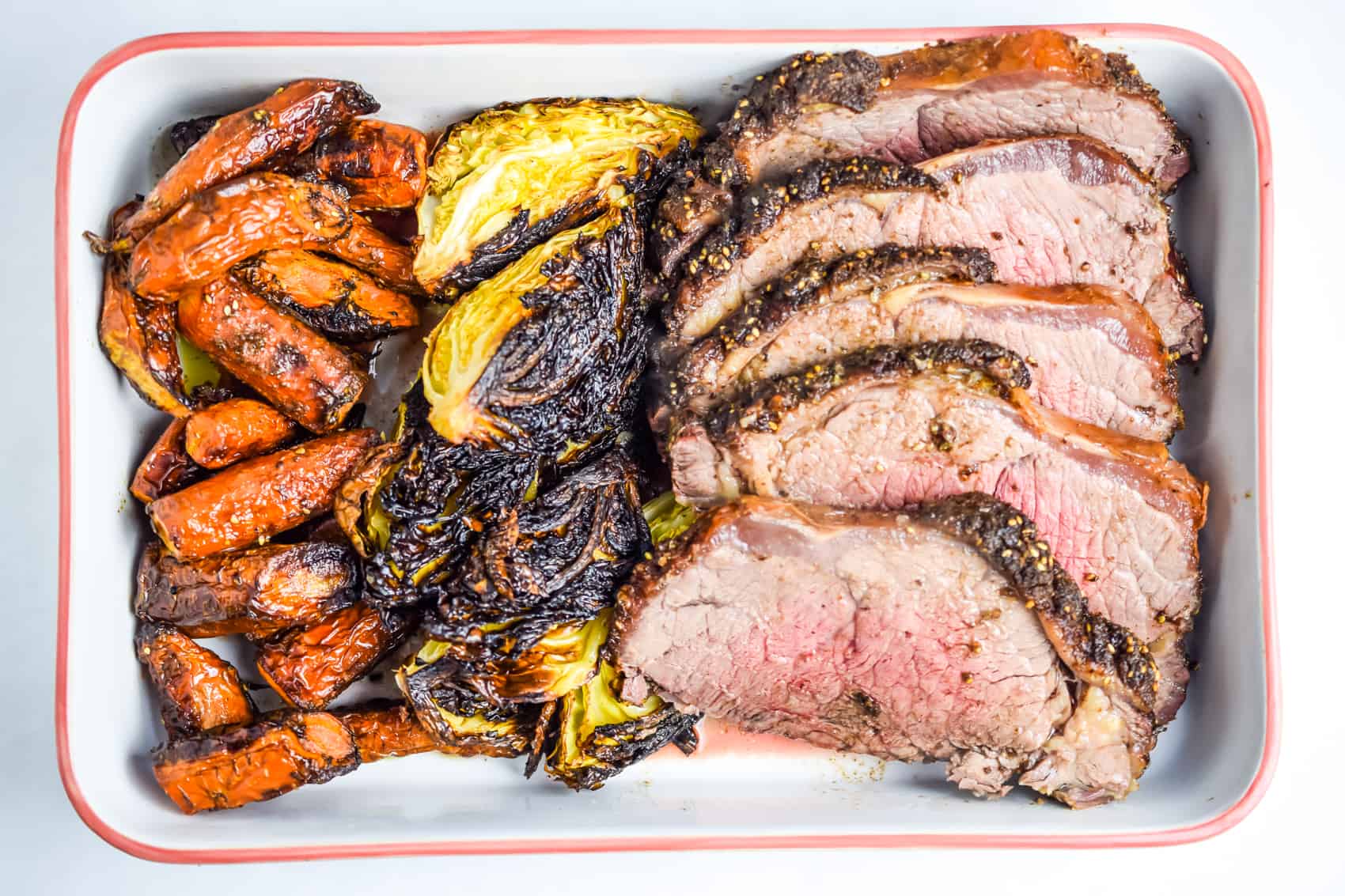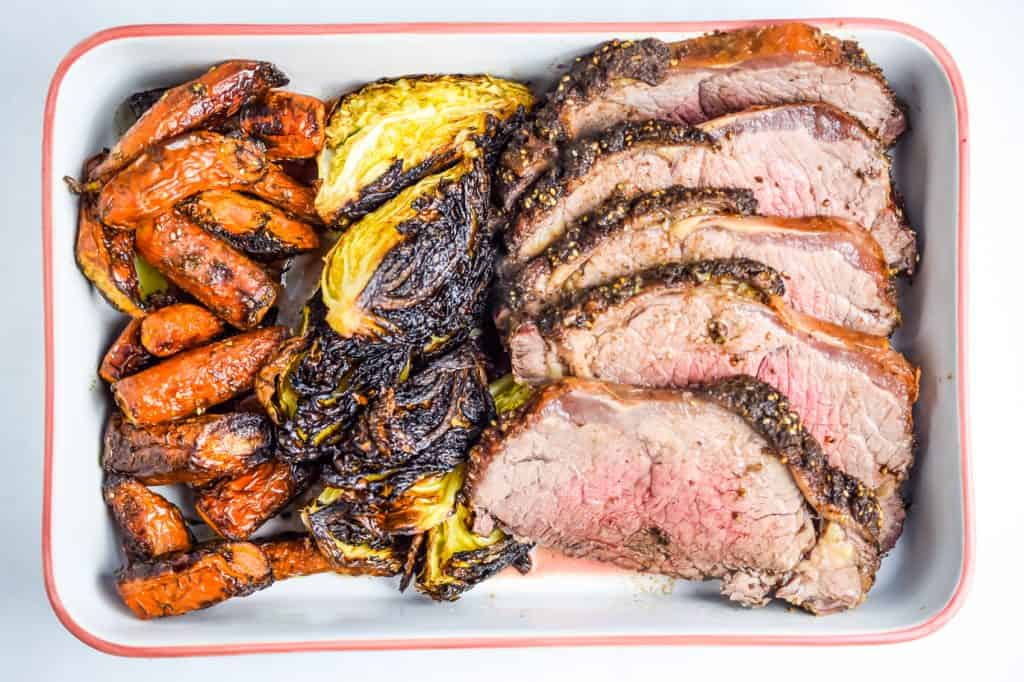 Where Do I Get Za'atar?
You can buy it or you can make it! Both are easy peasy. I found Za'atar at my local grocer, Wegman's, in the international aisle. You can also find it online: here or here. 
To make your own, I like this recipe, but you will still need to source sumac, which you can get here.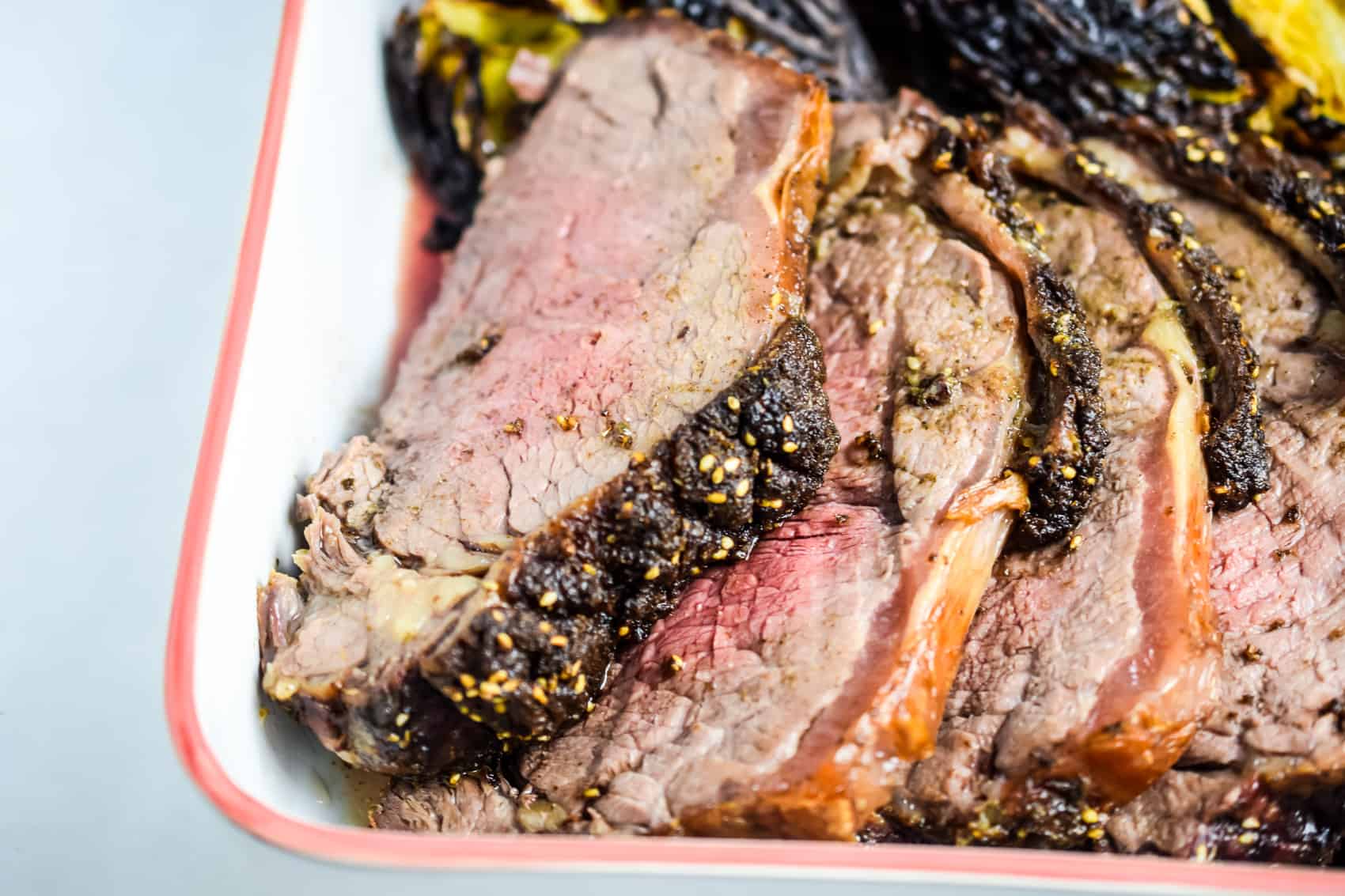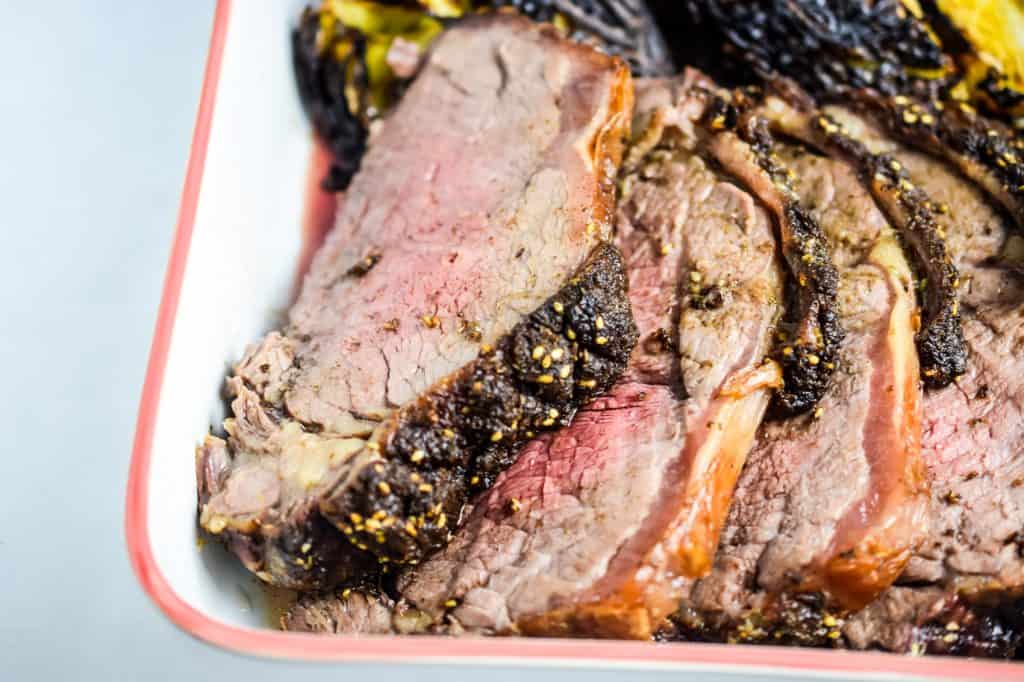 Rib Eye Roast Basics
I used a boneless ribeye roast that was about 2.5 pounds. If your roast is bone-in, go for one, no more than 3.5 pounds for this recipe. I use Butcher Box beef and I love it. Ask your butcher for this cut if you don't see it in the case, if they sell rib eye steaks, they can cut you a rib eye roast!
I like to pat in the seasoning rather than rub it in, set in the fridge to marinate and then set it out at room temp at least an hour before cooking. If the meat goes into the oven too cold it will cook unevenly and take longer.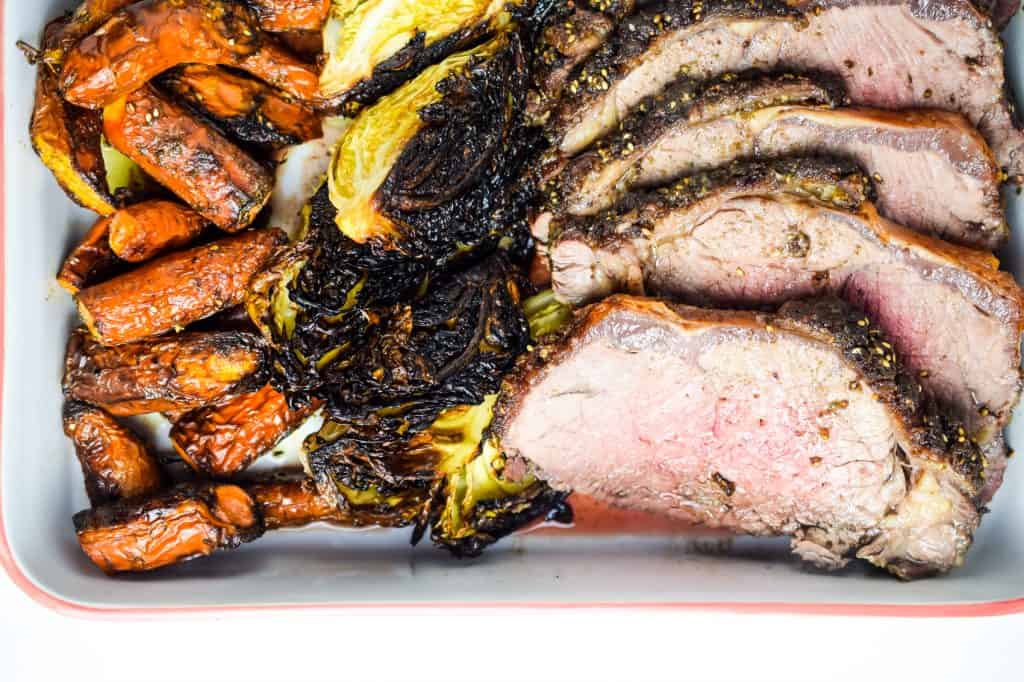 The Veg
These perfectly charred vegetables go so well with this za'atar rib eye roast! Carrots and cabbage are both nutrient dense vegetables that have a high heat threshold. They can cook, and cook and cook and keep toasting and caramelizing. Making it pretty hard to truly burn them These toasted veggies are life-changing.
Yup Burnt Cabbage Wedges are making an appearance in my second book. Much like crispy roasted cauliflower rice. I'm taking ownership of this delicious vegetable cooking method. When it comes to delectable overcooked vegetable creations I am the mastah.
Sheet Pan Dinner Rib Eye Roast FTW!
Just a note, that yes I photographed it in a casserole dish for looks, but I used my sheet pans to cook this.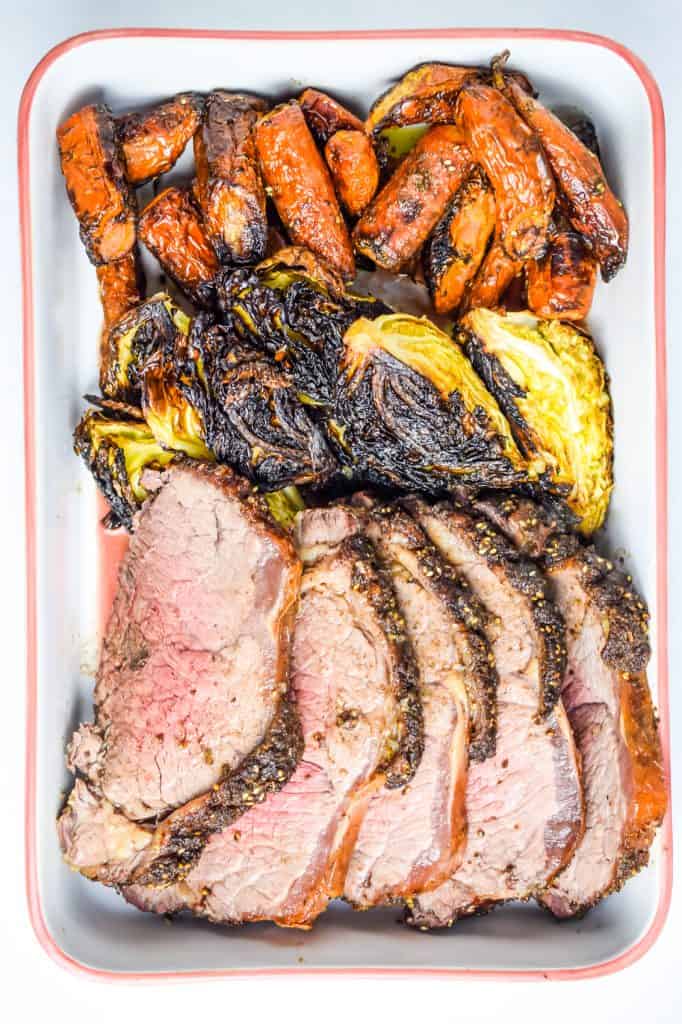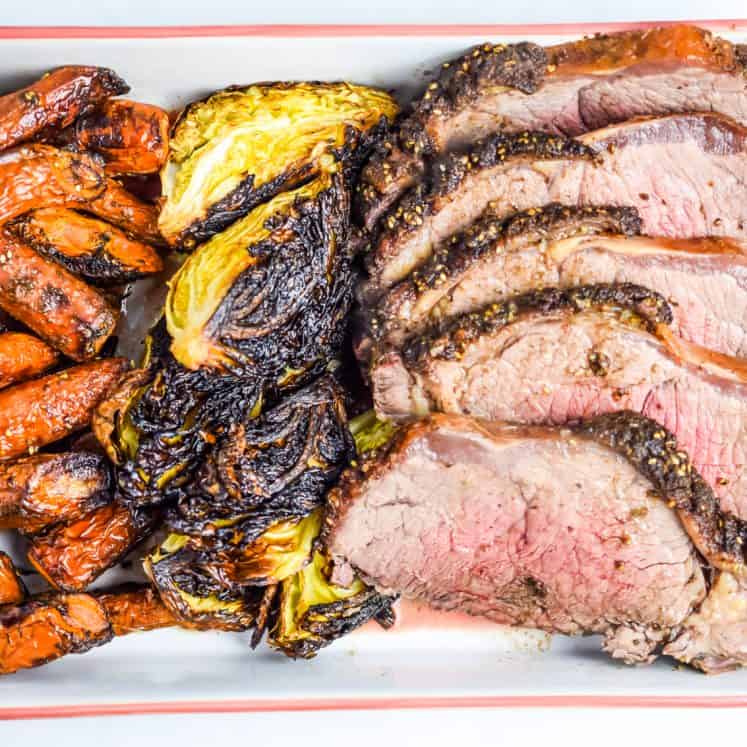 Za'atar Rib Eye Roast with Vegetables
---
Author: Cristina Curp
Prep Time: 10 minutes
Cook Time: 100 minutes
Total Time: 1 hour 50 minutes
Yield: 5 servings 1x
Category: entree
Method: roast
Cuisine: fusion
Description
Elegant and simple sheet pan rib eye roast recipe!
---
Scale
Ingredients
Roast
2.5 pound boneless rib eye roast
2 tablespoons za'atar
2 teaspoons salt
2 tablespoons extra virgin olive oil
Vegetables
1 head cabbage
4 large carrots
1 teaspoon fine salt
2 tablespoons extra virgin olive oil
---
Instructions
Pat the rib eye down with za'atar and salt all over until evenly covered. Place in a large bowl, cover and set in the fridge for at least 3 hours, up to 12 hours.
Set at room temperature an hour before cook time. Rub down with olive oil. Pre-heat oven to 350F.
Use a sharp knife to score the layer of fat on the top of the roast in a criss cross pattern.
Set the roast on a sheet pan, fat side up. Cut the carrots in half and place all around the roast. Drizzle with 1 tablespoon olive oil and 1/2 teaspoon salt.
Cut the cabbage into 6 wedges and coat with remaining olive oil. Place flat side down on a separate sheet pan all lined up and sprinkle with salt.
Put the roast in the oven, middle rack and the cabbage on the bottom.
Cook for 60 minutes at 350F. Then bring the temp up to 425F until the internal temperature reaches 140F (for a medium rare cook), usually 30-40 minutes. Remove everything from the oven and let the roast rest for 5 minutes before slicing into it.
Serve with vegetables and pan drippings on the side.
Nutrition
Serving Size: 1 slice with veg
Calories: 669
Fat: 39.2g
Carbohydrates: 17.9g
Fiber: 6.9g
Protein: 64.8g
Keywords: za'atar rib eye roast