Check it out! Multi-time, international Best Selling Author and keto diet expert Maria Emmerich has published a fully DAIRY FREE KETO cookbook! Not only does the book have over 200 recipes, she also includes a 28 day EGG FREE MEAL PLAN and a 7 day NIGHTSHADE FREE meal plan. It's like she wrote it just for us!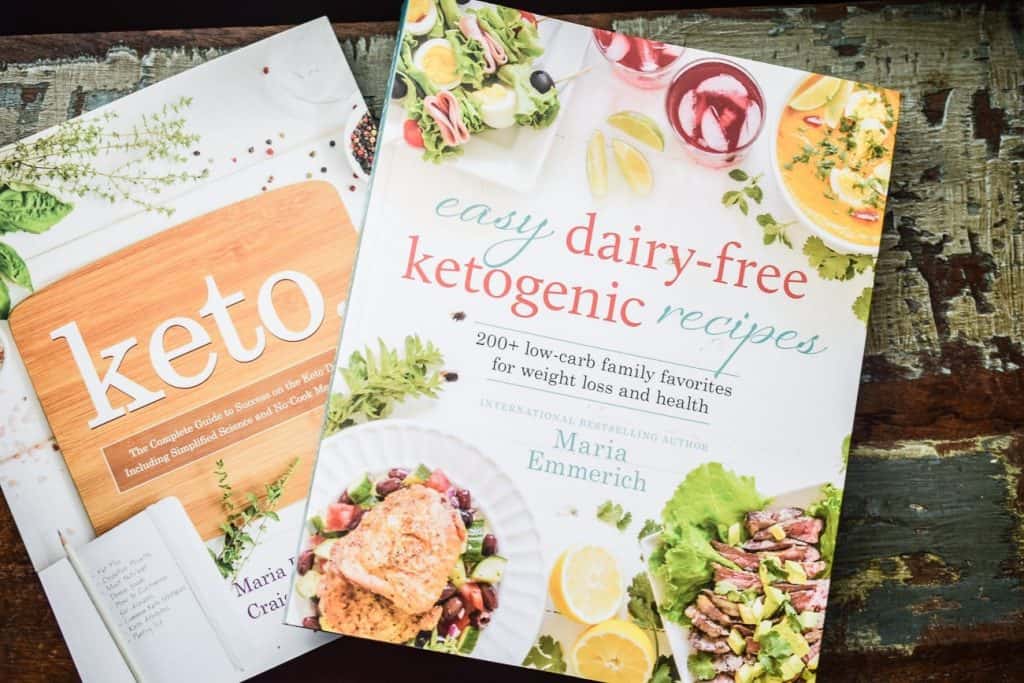 I'm so honored to have received a preview copy, not only of this beautiful cookbook but of KETO. An informational jackpot. Co-authored with her husband Craig, this book has all the science you need to know about keto, how to troubleshoot and more in an easy to follow format.
BOTH BOOKS LAUNCHED TODAY! You can get the right now on Amazon, whoot whoot!
Dairy Free Keto
This, once a non-existent niche is growing rapidly and more and more folks join this high-fat revolution. However, there is still a need for more allergen-friendly keto resources. My work, which is on the fringe of this, combining keto, paleo and AIP is just a small corner of the internet. Luckily with big names like Maria creating resources and books like this, it means more dairy free, allergen-friendly keto recipes for all of us! Wooohoo!!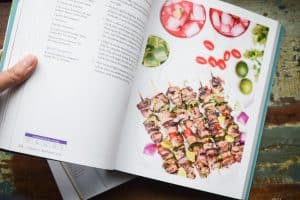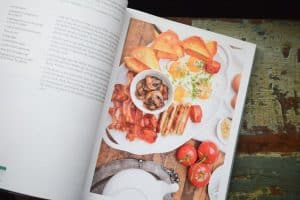 Bonus! Preview Recipe!
This recipe takes 14 minutes and looks totally divine. I just bought ground pork to make it myself, but could not wait to share!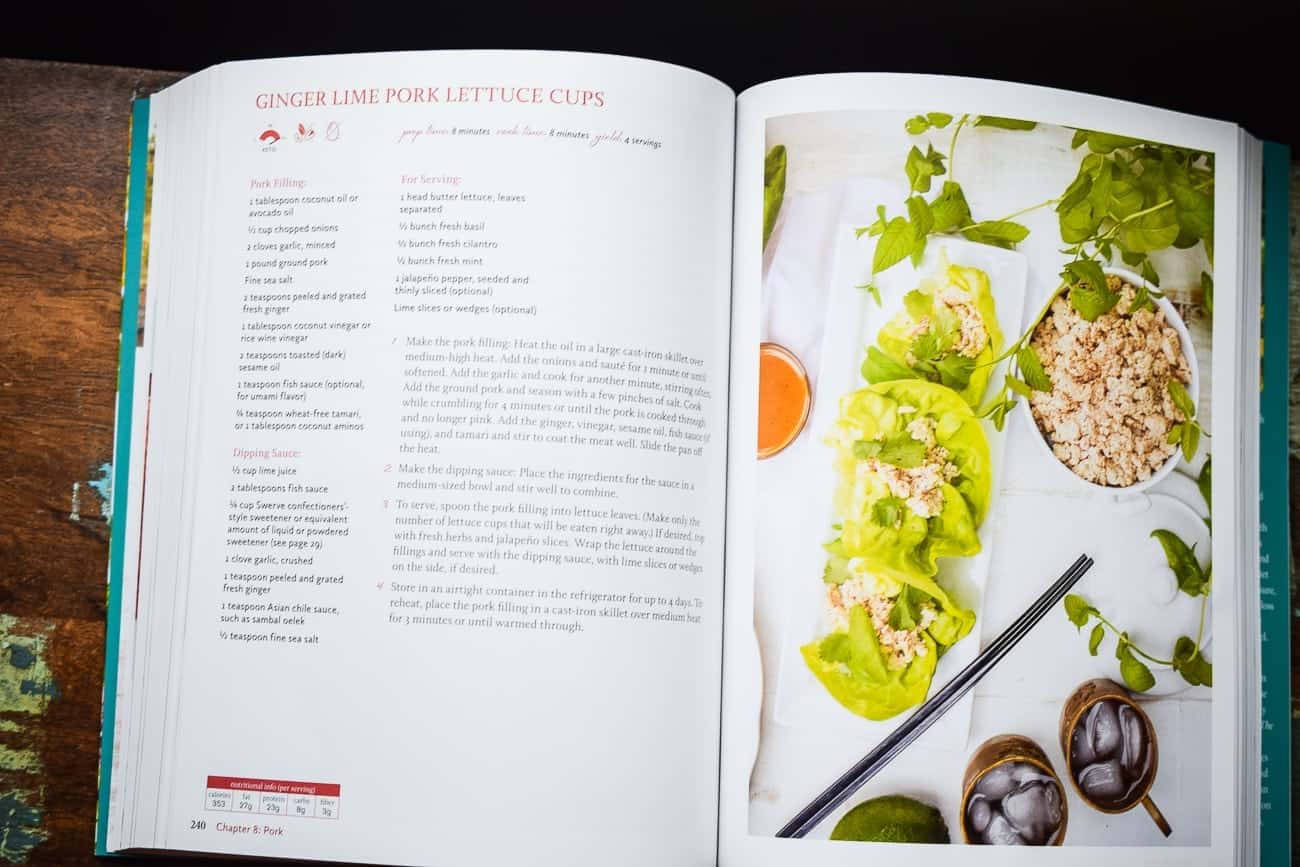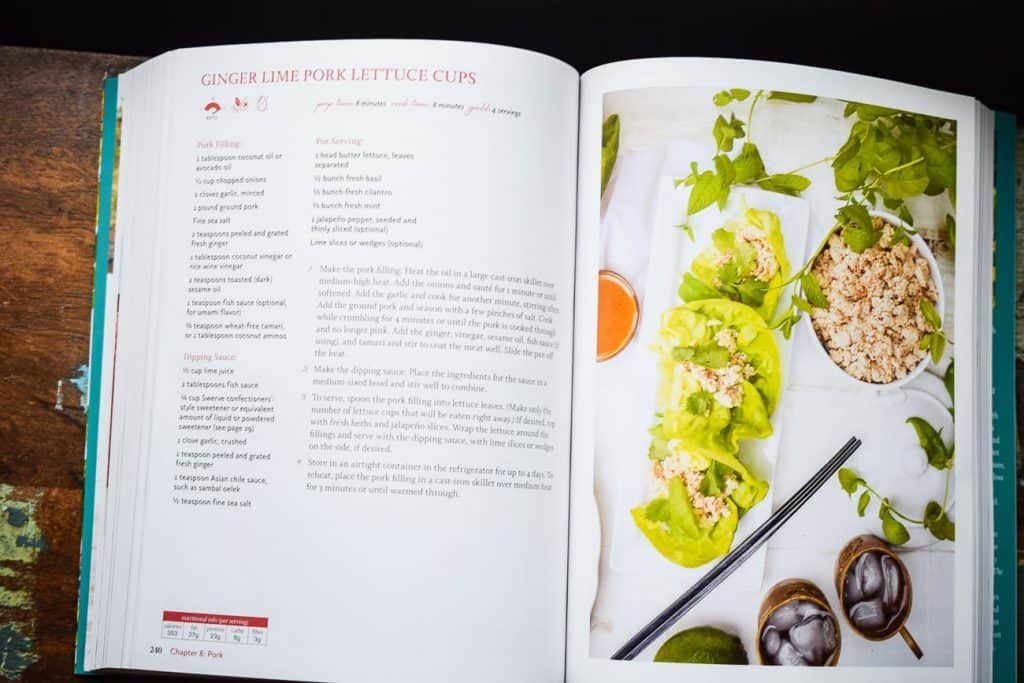 Ginger Lime Pork Lettuce Cups
---
Description
preview from her new book Easy Dairy Free Keto Recipes
---
Scale
Ingredients
1 tablespoon coconut oil or avocado oil
1/2 cup chopped onions
2 cloves garlic, minced
1 pound ground pork
fine sea salt
2 teaspoons peeled and grated fresh ginger
1 tablespoon coconut vinegar or rice wine vinegar
2 teaspoons toasted sesame oil
1 teaspoon fish sauce (optional)
3/4 teaspoon coconut aminos
Dipping Sauce
1/2 cup lime juice
2 tablespoons fish sauce
1/4 Swerve confectioners' or equivalent amount of stevia
1 clove garlic, crushed
1 teaspoon peeled and grated ginger
1 teaspoon asian chile sauce (I would use sun butter for nightshade free)
1/2 teaspoon fine sea salt
For Serving
1 head butter lettuce, leaves seperated
1/2 bunch fresh basil
1/2 bunch fresh cilantro
1/2 bunch fresh mint
1 jalapeno pepper (optional)
lime wedges
---
Instructions
Make the pork filling: Heat the oil in a large cast-iron skillet over medium-high heat. Add the onions and saute for 1 minute or until softened. Add the garlic and cook for another minute, stirring often. Add the ground pork and season with a few pinches of salt. Cook while crumbling for 4 minutes or until the pork is cooked through and no longer pink. Add the ginger, vinegar, sesame oil, fish sauce and coconut aminos and stir to coat the meat well. Slide the pan off of the heat.
Make the dipping sauce: Place the ingredients for the sauce in a medium sized bowl and stir well to combine.
To serve, spoon the pork filling into lettuce leaves. Make only the number of lettuce leaves that will be eaten right away. If desired, top with fresh herbs and jalapeños. Wrap the lettuce around the fillings and serve with dipping sauce and lime wedges.
Store in an airtight container in the refrigerator for up to 4 days. To re-heat place the pork filling in a cast iron skillet over medium heat for 3 minutes or until warm.
Recipe Notes:
Macros per serving: Cal 352, Fat 27g, Protein 23g, Carbs 8g, Fiber 3g