Surf and Turf is the quintessential date night meal. Paired with some bubbly and a red rose, you've got yourself one helluva romantic evening. Perhaps it's the hefty price tag at restaurants or the fact that it's so rich and delicious, I'm not sure. But one thing is certain, Surf and Turf is always a treat!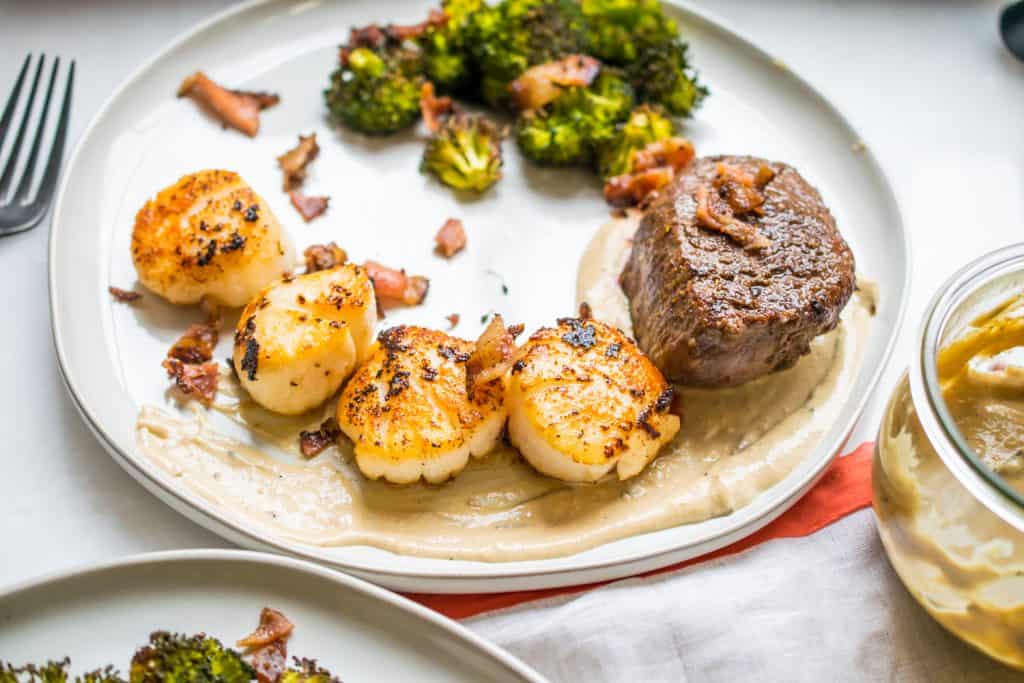 Restaurant Worthy At Home
Not to toot my own horn, but I WAS a RESTAURANT CHEF. So I do make restaurant worthy meals, and I make them so that you can make them in your home and they will be stellar too! An oldie but a goodie from the blog is THIS one, Braised Pork Chops over Cauliflower Cream with Sauteed Onions.  A great Valentine's day or date night meal that checks all the boxes: paleo, keto, Whole30. However, nothing says I love you, babe, like filet mignon!
I get my filet mignon from Butcher Box and my scallops from my local grocery store. I always go for jumbo scallops, fresh. I've also seen them at Trader Joe's! Minimum 2 scallops per person, 3 is ideal and 4 is just showing off!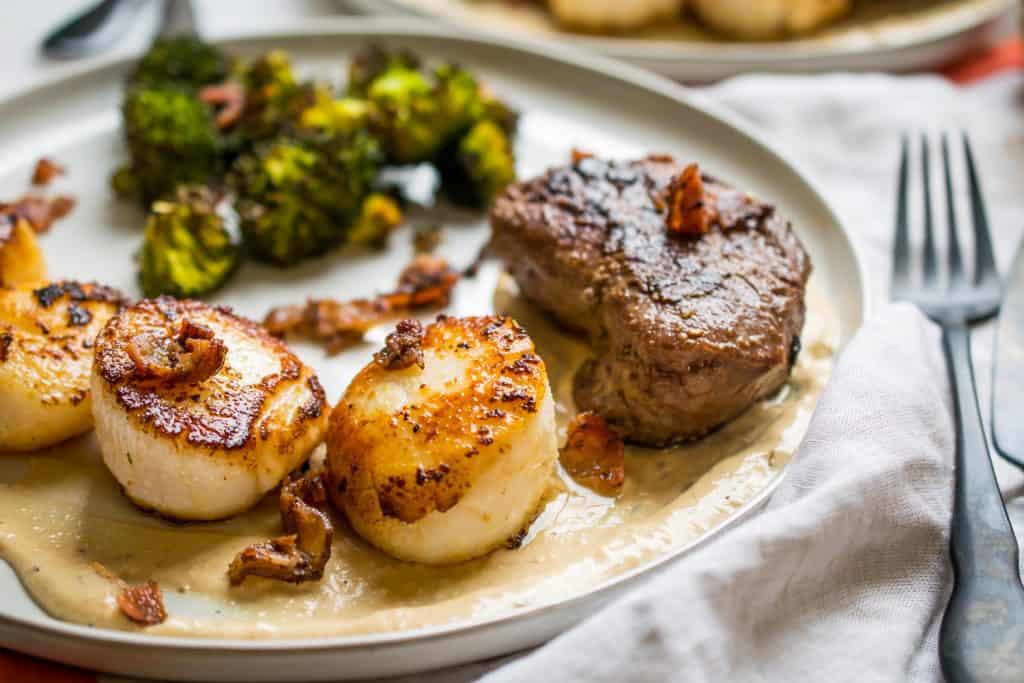 Bacon, Steak + Scallops
Yup, that's all you need for this killer surf and turf, pretty much. But pictured, I served it up with Best Crispy Roasted Broccoli and made the Creamy Garlic Sauce too, which you can get from this recipe. The best thing about that pan sauce is that it works with any protein! Anytime you have a yummy skillet where you seared protein, you can whip this sauce up and it's going to be divine!
I made this surf and turf in my 12″ Ceramic Non-Stick Green Pan, you can win one in THIS POST. Giveaway closes Thursday.
This surf and turf recipe will show you how to make the perfect seared scallops with a golden crust and soft inside, paired with a perfectly cooked, medium rare filet mignon. Follow me to the most romantic, perfectly prepared meal that only takes 20 minutes to make!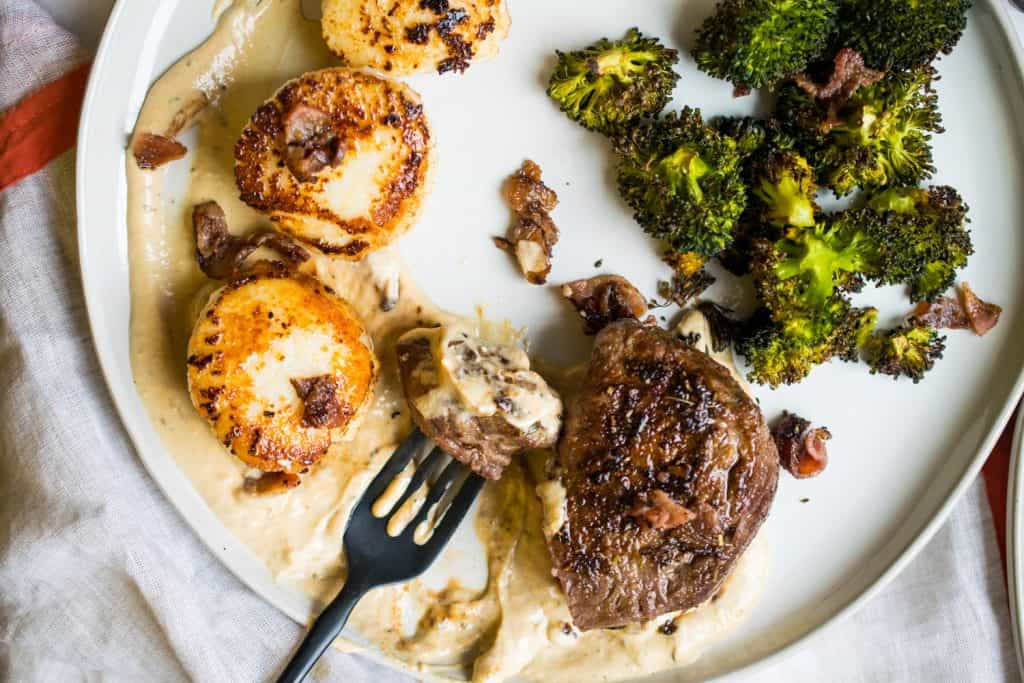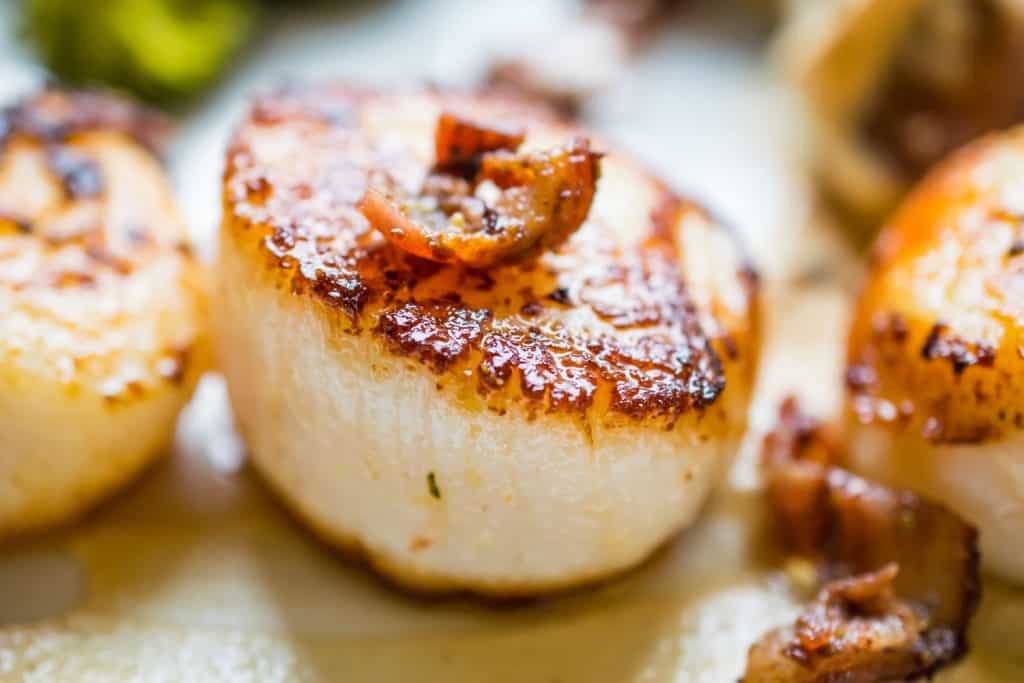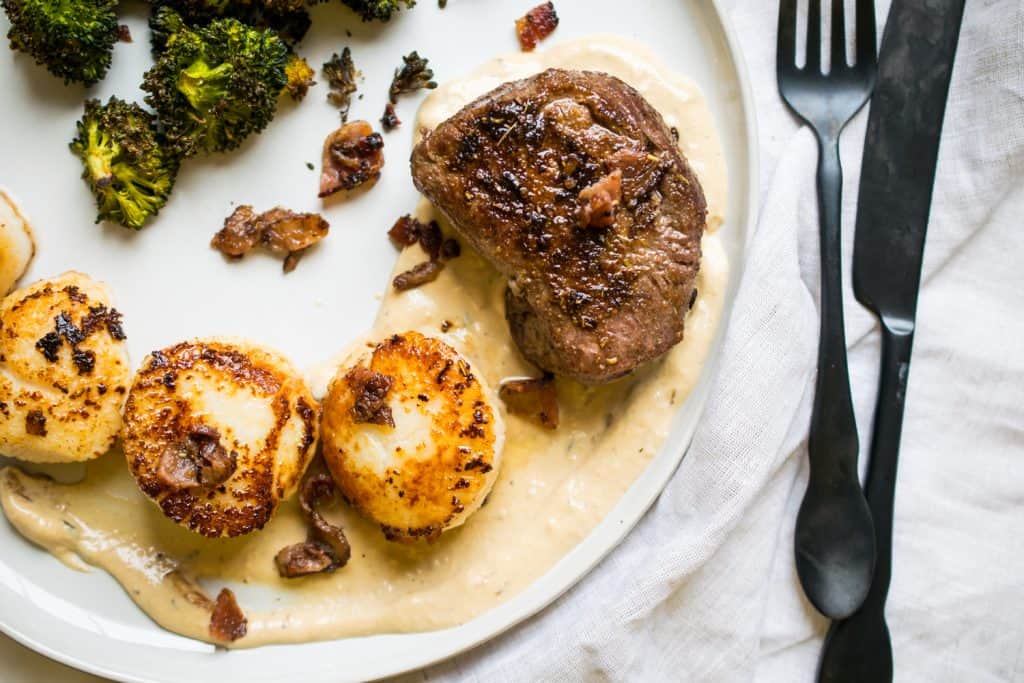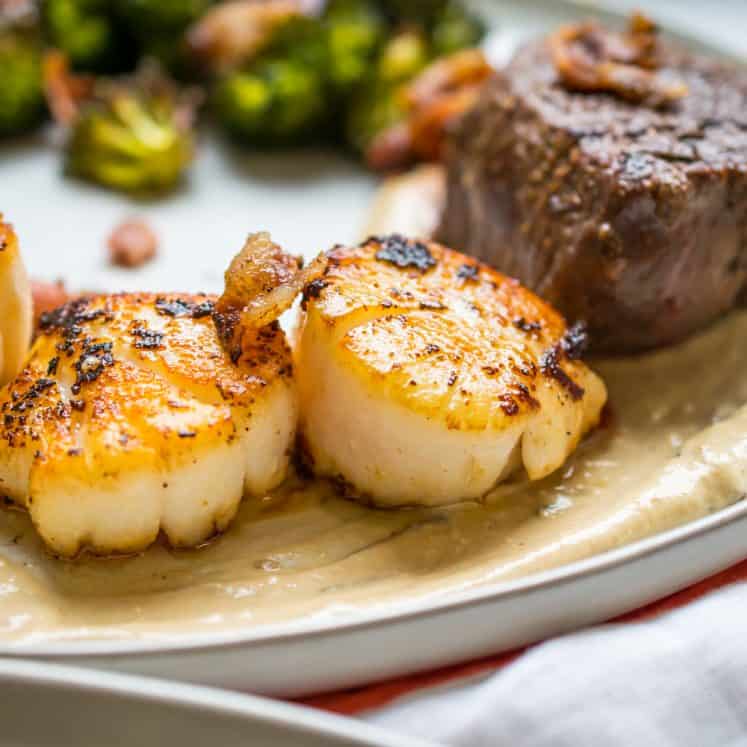 Simple Surf and Turf (Keto, Paleo, Whole30)
---
Author: Cristina Curp
Prep Time: 10
Cook Time: 20
Total Time: 30 minutes
Yield: 2 1x
Category: dinner
Method: pan sear
Cuisine: restaurant
Description
Golden seared scallops and juicy pan-seared filet mignon!
---
Scale
Ingredients
4 slices sugar-free bacon
2 4-ounce filet mignon
1 teaspoon salt, divided
1/2 teaspoon dried rosemary
1/4 teaspoon ground white pepper (omit for AIP)
1 teaspoon garlic powder, divided
1/2 teaspoon onion powder
6–8 jumbo scallops
---
Instructions
Before you begin set your meat out so that it comes to room temperature. Before you are ready to cook, take your scallops out too. Remove them from the packaging, drain any fluid. Set them on a plate and pat them dry. Do the same thing with your steaks.
Set a 12″ skillet on your largest burner over medium heat.
While it comes to temperature salt the filet mignon with 1/2 a teaspoon salt, 1/2 teaspoon garlic powder and all of the white pepper, onion powder and rosemary. Set aside. Season the scallops with remaining salt and garlic powder and set aside.
Put the bacon strips in the skillet and cook 4-5 minutes a side until crispy. Remove the bacon from the skillet and set aside, leave the bacon grease in the skillet on the stove.
Place your steaks in the skillet and cook undisturbed for 4 minutes. Then slip over and cook for 3 minutes. Finally, use tongs to lift the steaks and give the short sides a  sear all around. Total cook time 8 minutes. Set the steaks to rest on a cutting board.
Quickly add the scallops to the skillet, flat side down, with none of them touching. Sear 6 minutes without moving then flip over and sear another 3 minutes. Promptly remove from the skillet and serve with the filet mignon. Chop up the bacon and sprinkle over the plates!
Recipe Notes:
Tips:
If you're making the broccoli I would put that in the oven well before cooking the steaks and scallops, as the broccoli takes 40 minutes and you can always turn off the oven and leave it in there to keep it warm.
Another tip is to place the steaks in the warm oven until you're done with the scallops.
If you're making the pan sauce, make sure to have the broth, garlic and cashew cream ready to go before you start cooking, it comes together in 3 minutes, right after you take the scallops out of the skillet.
Want to keep it super simple: serve with some fresh arugula, lemon and olive oil. The filet and scallops are the stars here and truly don't need any dressing up!
Plate all together and enjoy!
Nutrition
Serving Size: 1/2 recipe
Calories: 327
Fat: 16.3
Carbohydrates: 3.5g
Fiber: 0g
Protein: 52.5g