We Got A Makeover! And we're baking keto bread + giving away things (giveaway entry form below) to celebrate!
Oh buns! specifically, keto buns have been the food of the year, or better yet, last year. I think the Fat Head Dough variations circling the internet are endless. But alas, cheese and almond meal were a constant in all the available recipes. Whey protein. Shredded cheese. Xanthan gum. Always an ingredient that didn't' jive with me. I dabbled in a Nut Free Version of the Diet Doctor Rolls here, and oh man! They are so good! Great rolls. Not really a bun.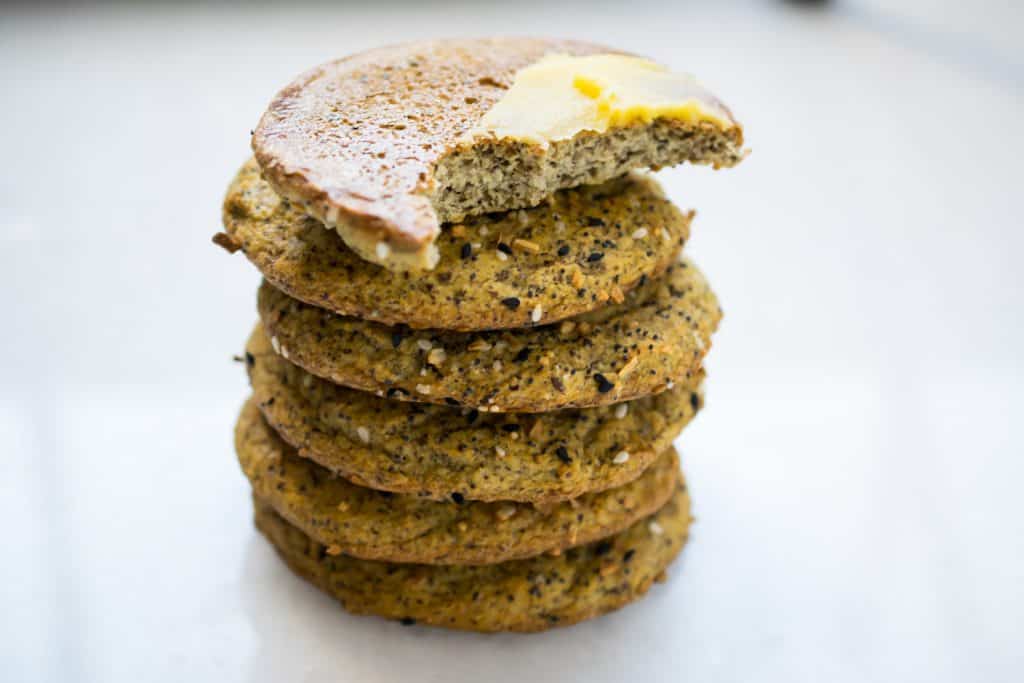 I finally made my own from scratch, keto buns. Yup, dairy and nut free keto buns that are delish! Bonus they're thin buns! Soft and chewy and thin enough to not be too filling, as most grain free breads are (so heavy).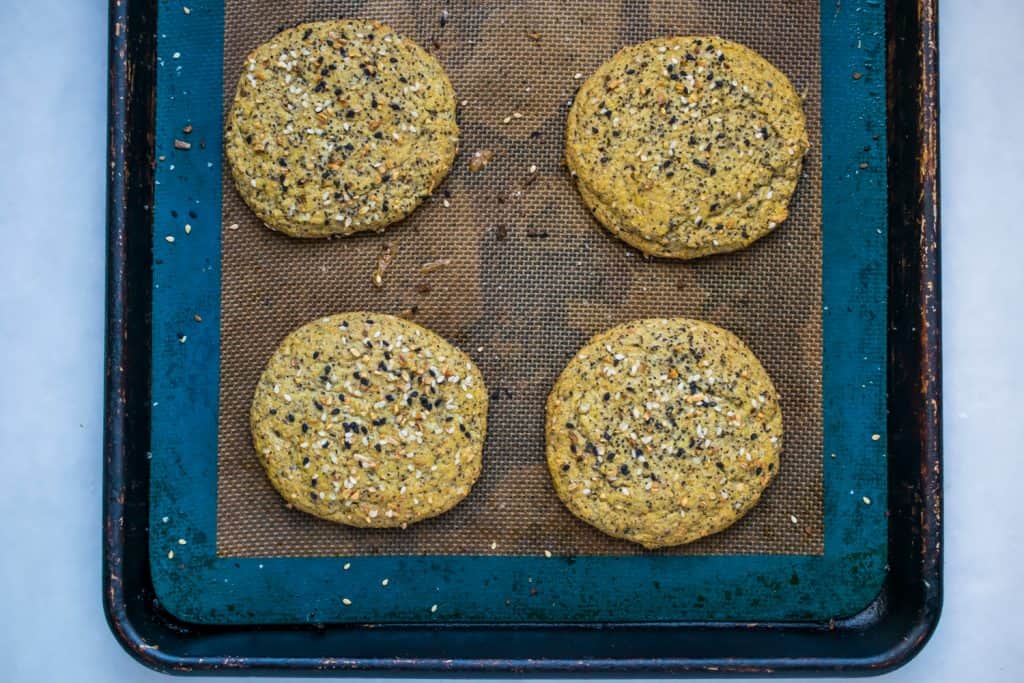 What's in these Keto Thin Buns?
While I do eat almond milk and the occasional almond-based food, I know, via much food experimentation, that I do better when nut-based baked goods are not in my diet. Something about the density of the almond meal, perhaps the phytic acid in them, or omega-6, something just doesn't sit well with my body. I get headaches. So, I'm really excited about these dairy and nut free keto thin buns for this very reason.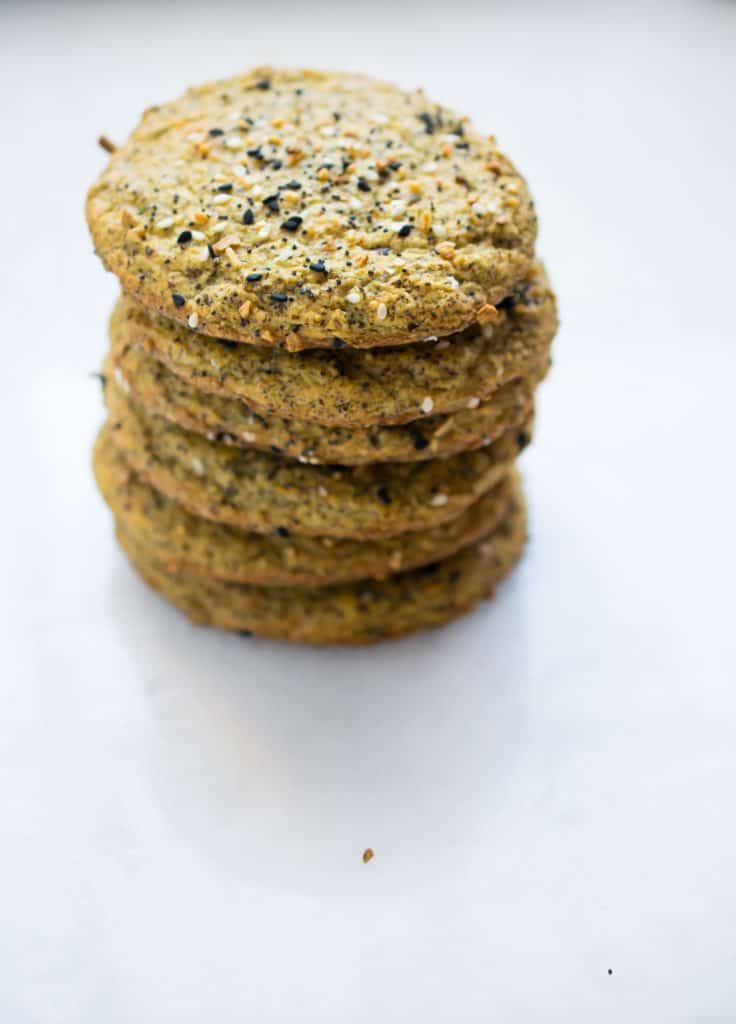 Did you know gluten is a protein? Yup. What gives conventional bread its chew, is a protein, a damn hard to digest one too, which is why we don't eat it. Consuming gluten really messes with gut health. However, in efforts to replace this protein with chew, I used Vital Proteins Gelatin, which I use in my baking and cooking all the time!
The ingredients are all paleo/ keto pantry staples like coconut flour and flax meal. Eggs. Everything But The Bagel Seasoning. Apple cider vinegar. The usual suspects. You won't have to run out to the store to make these keto thin buns.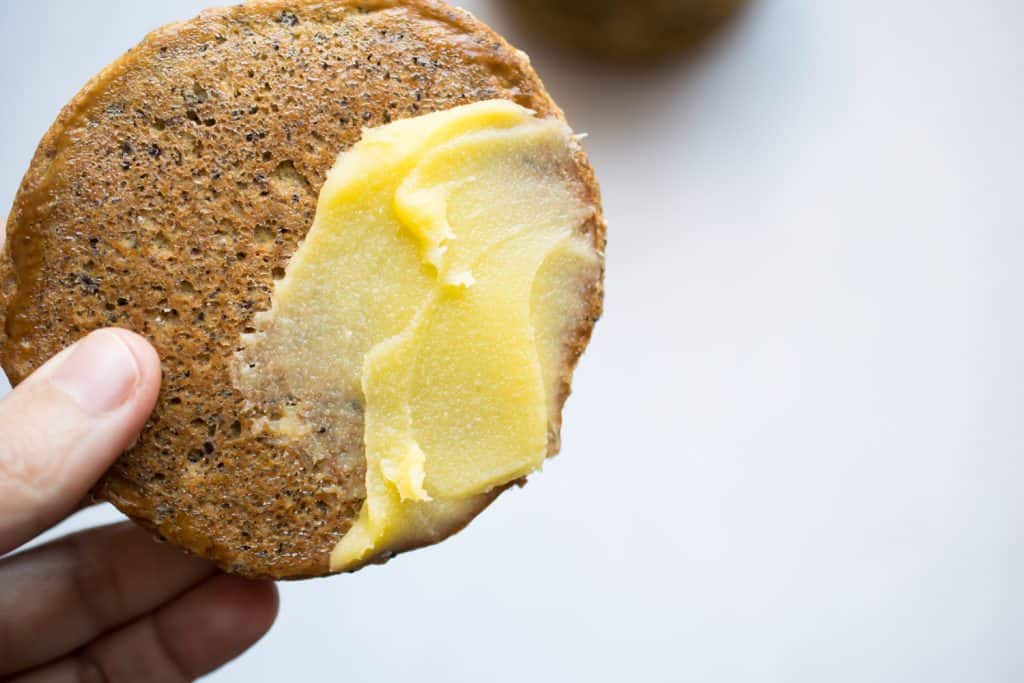 Recipe Play by Play for these Keto Thin Buns:
Making the rising mix: warm water, baking soda, cream of tartar and apple cider vinegar. Let it fizz.
Sift together the dry ingredients.
Add the eggs and oil to the rising mix and stir together. Add the dry mix to the wet mix. Let it sit for a few minutes.
When it's thick shape your buns.
Top with bagel seasoning and then boom, bake!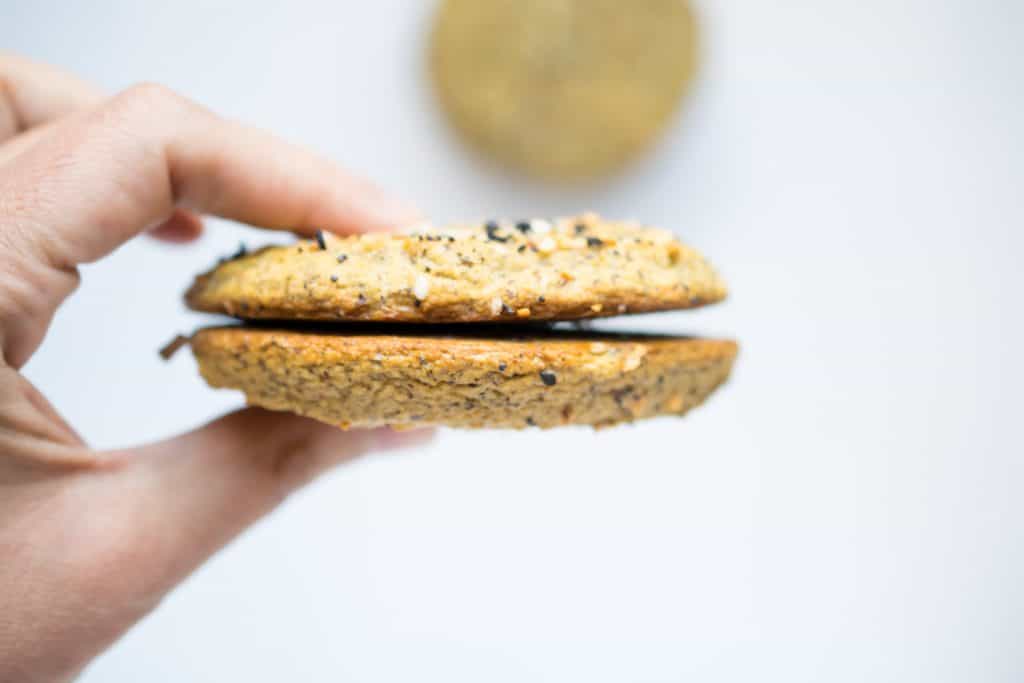 Did you notice the new site layout? Yes! We got a MAKEOVER!
I hope you take the time to browse the new site. It has a bunch of cool new functions like a sexy recipe filtering system.
The blog posts are also divided into categories like Autoimmunity, Self Care and Weight Loss.
I've been working toward the site rebuild for a long time and I am excited and proud to debut it TODAY.
Peruse, check out the new digs! Let me know what you think!
Giveaway!
Use the form below + enter to win:
Made Whole Cookbook
Keto QuickStart
he Keto Diet
Craveable Ketoa
The Healing Kitchen
Ceramic non-stick 12″ Green Pan
Affirmation Stones!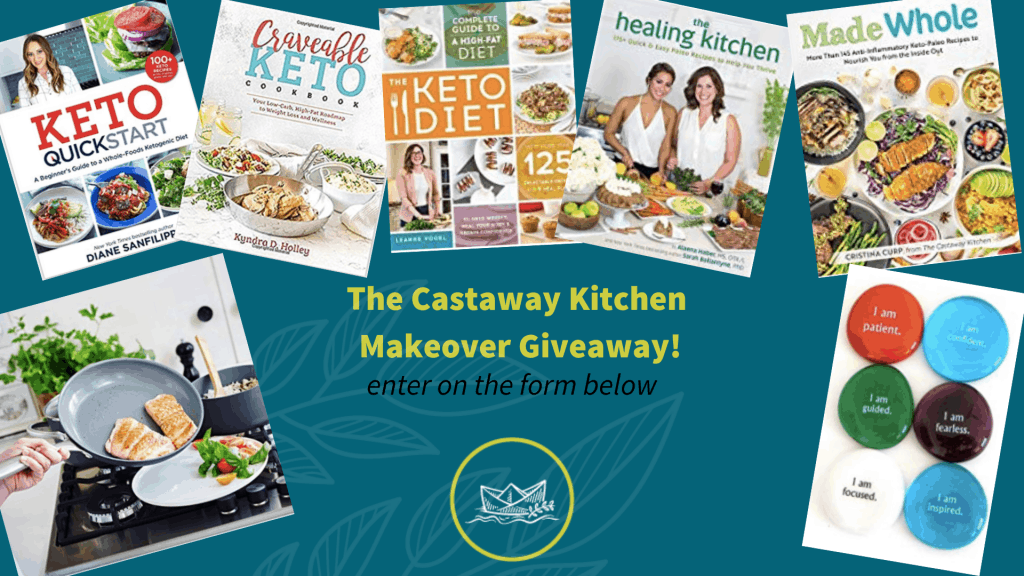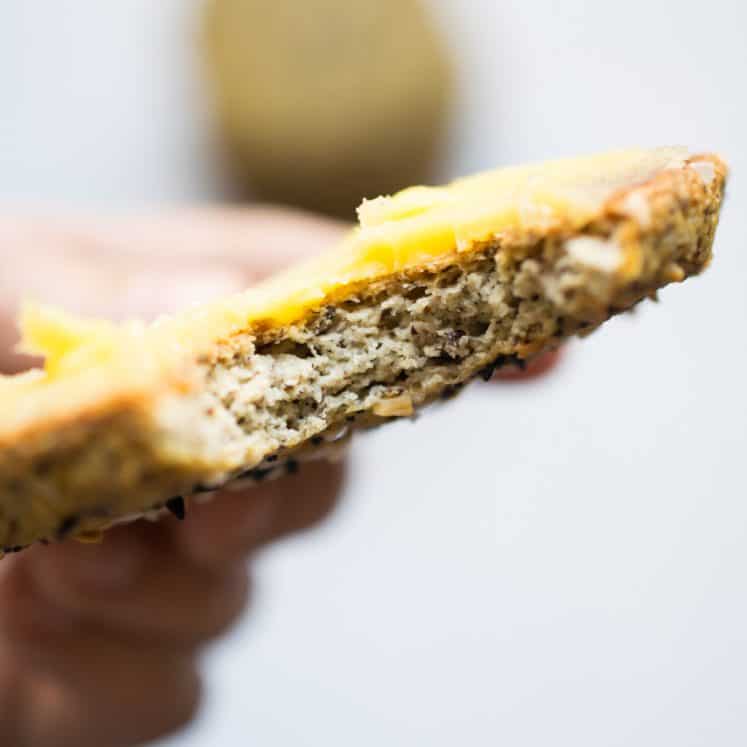 Keto Thin Buns (Dairy Free, Nut Free, Paleo)
---
Author: Cristina Curp
Prep Time: 10
Cook Time: 30
Total Time: 40 minutes
Yield: 6 1x
Category: bread
Method: baking
Cuisine: keto
Description
A simple to make, allergen friendly bread alternative. These keto thin buns are perfect for your low carb bread needs. Gluten and grain free. Made with coconut flour and flax meal.
---
Scale
Ingredients
½ cup warm water
1 teaspoon baking soda
1 teaspoon cream of tartar
1 tablespoon apple cider vinegar
¼ cup + 1 tablespoon coconut flour
¼ cup fine ground flax meal
1 tablespoon pastured gelatin
3/4 teaspoon fine salt
3 large egg whites, room temperature
1 large egg
2 tablespoons olive oil
Optional: Everything But The Bagel Seasoning 
---
Instructions
Pre-heat oven to 350F.
In a large bowl combine the warm water, baking soda and cream of tartar. Add in the apple cider vinegar and stir, let it fizz.
In a medium bowl sift together the coconut flour, gelatin and salt. Then whisk in the flax meal and set aside.
In a small bowl whisk the one whole egg, then pour half of it out into a small ramekin and set aside. Add the egg whites to the remaining egg and whisk together. Then add the eggs and olive oil into the baking soda water mix and whisk for 2 minutes until frothy.
Next, add the flour mix ½ cup at a time to the wet mix until fully incorporated.
Set the bowl aside for 5 minutes for the mix to thicken. Line a baking sheet with a silicone baking mat or lightly oiled parchment paper.
Use a ¼ cup measuring cup to make 6 mounds on the baking sheet. Gently flatten to 1/4 inch thick and shape them into circles, 2-3 inches across.
Add a splash of water to egg you set aside.  Brush your buns with the egg wash and sprinkle with bagel seasoning. Bake on the middle rack for 30 minutes.
Let them cool and enjoy! Use two rounds to make a full bun or enjoy these rounds as slices of bread.
Recipe Notes:
If you can't do flax meal, you may substitute with Psyllium husk. Like with Flaxseed, it is best to buy it whole and grind up when you need it.
Nutrition
Serving Size: 1 round
Calories: 119
Fat: 7.4g
Carbohydrates: 5.5g
Fiber: 3.4g
Protein: 7.5g