We often lump herbs and spices into a category of tasty things to make our food flavorful. These whole food seasonings are FOOD! Herbs pack lots of great nutrition. Did you know that Mint, Basil and Cilantro score the highest on the ANDI scale. Ok, I had to google that, so an ANDI score is a number given to whole food ingredients to rate how many nutrients per calorie they have. These babies have the most! Talk about PACKED with goodness.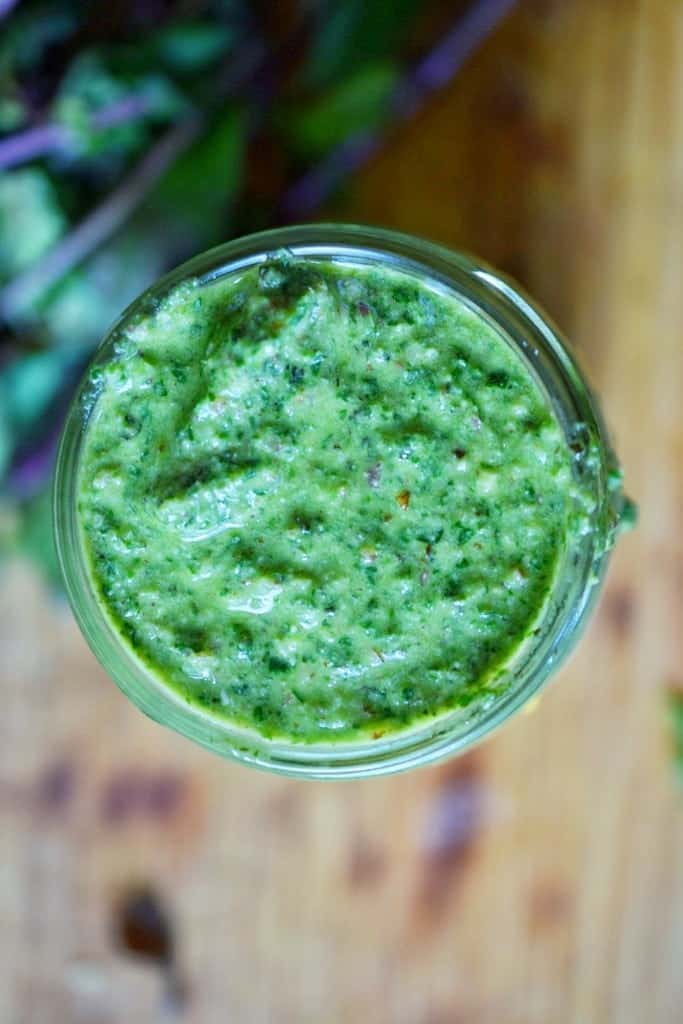 Table of Contents
Pesto + Chimichurri
So I love this sauce because it's tangy like chimichurri but has the nutty creamy aspect of a pesto. It packs all the herbs and even a hit of kale! It's definitely one of those "put on all the things" condiments. Bonus… nutrient density!
Put On ALL Things
A good sauce is the kind that you want to add to every meal and this is it. Add a tablespoon or two or more of this Pesto-Churri to the following recipes for epic flavors:
Fried eggs
Grilled meats
Salads
For dipping veggies
On baked potatoes
Smeared on toast
To dress avocado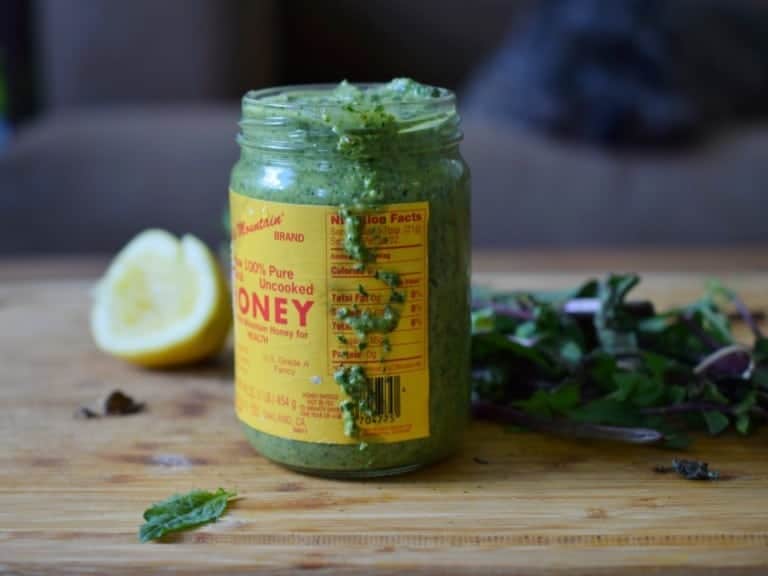 Pesto-Churri Super Green Sauce
---
Author: Cristina Curp, NTP
Prep Time: 10 minutes
Total Time: 10 minutes
Yield: 12 ounces 1x
Category: Sauce
Method: Blend
Cuisine: Fusion
Diet: Gluten Free
Description
Do you love pesto? Do you love chimichurri? You're going to die over this fusion sauce!
---
Scale
Ingredients
1/2 a cup of olive oil
1/4 cup apple cider vinegar (more to taste)
juice of one lemon
1/2 tsp salt (more to taste)
1 cup fresh basil
1 cup fresh mint
1 cup baby kale
1/2 cup chopped pecans
4 garlic cloves
---
Instructions
I make this in the food processor and pulse all the ingredients to combine.
I peel the garlic and give the kale a rough chop.
I add the basil and mint leaves whole.
Add in the oil and vinegar, lemon too.
Then pulse everything together!
Taste, adjust vinegar/salt.
Pulse.
Store in a jar in the fridge up to two weeks!
Nutrition
Serving Size: 2 tablespoons
Calories: 48
Fat: 3g
Carbohydrates: 3g
Fiber: 1g
Protein: 3g
Keywords: chimichurri pesto