Mett the pretty meatloaf. Meatloaf isn't traditionally known as a good looking dish, usually smothered in ketchup or gravy to mask the lump of beef underneath, this ol' classic got a helluva makeover. Just call me TLC channel because this bacon wrapped meatloaf is handsome AF. Egg free, full of flavor and absolutely easy to make! A juicy, easy to make meatloaf made with flaxmeal and love.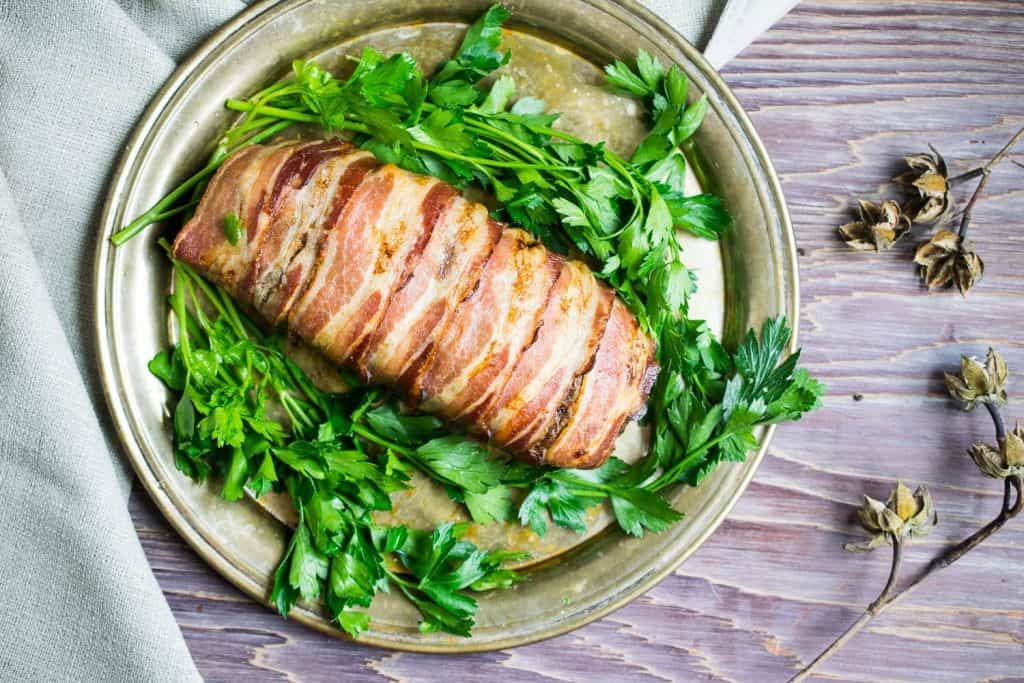 How It's Done
Finely minced onion and garlic, a combination of dried herbs and some flax seeds, which double as a binder and breadcrumbs. Yup! I love flax! A great ingredient that pulls double duty in any dish. Bonus, it's full of omega 3 and fiber.
Line your sheet pan, your manicure will thank you. Then you shape your meat mixture into a log. Think Play Dough. Channel your inner toddler as you create this smooth meat log on your sheet pan. Next, wrap it with bacon. Don't be shy, don't be skimpy. You want a tight, overlapping wall of bacon around this bad boy. Into the oven and boom.
Now you've got plenty of time to clean up, make side dishes, set the table, wrangle your kids, go get dressed etc….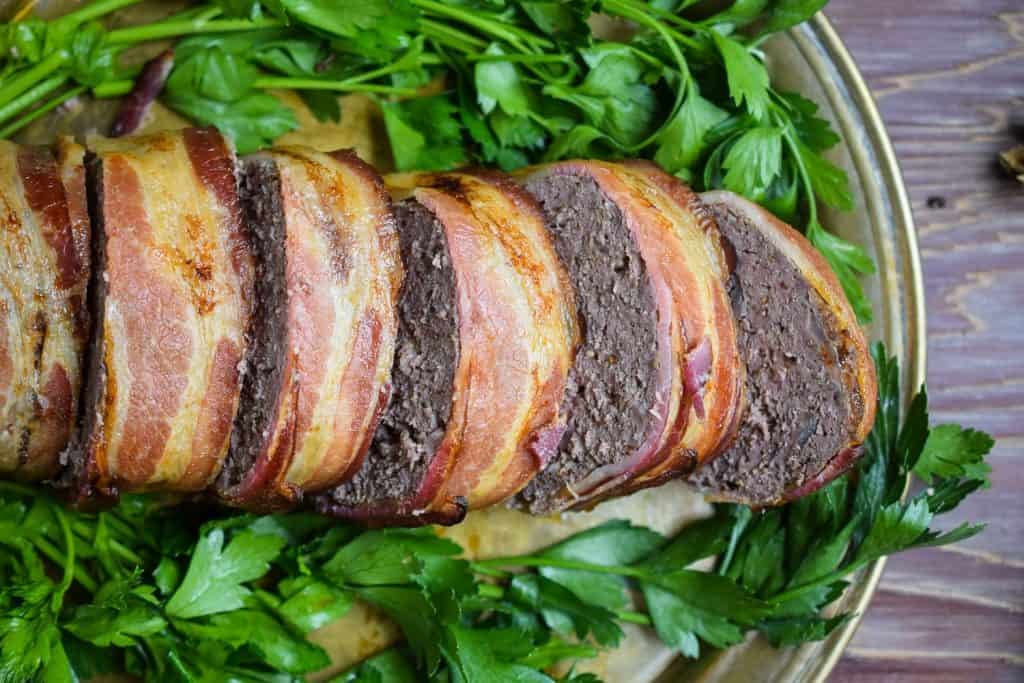 Holiday Worthy
Once you taste and see how lovely this keto, Whole30 compliant, paleo bacon wrapped meatloaf cooks up, you'll say it's Holiday table worthy. A great, affordable option that is a total crowd pleaser. From young children to adults, you can't go wrong with this dish.
As my husband pointed out, the awesome texture of this meatloaf is PERFECT for meatloaf sandwiches, so bring it on leftovers!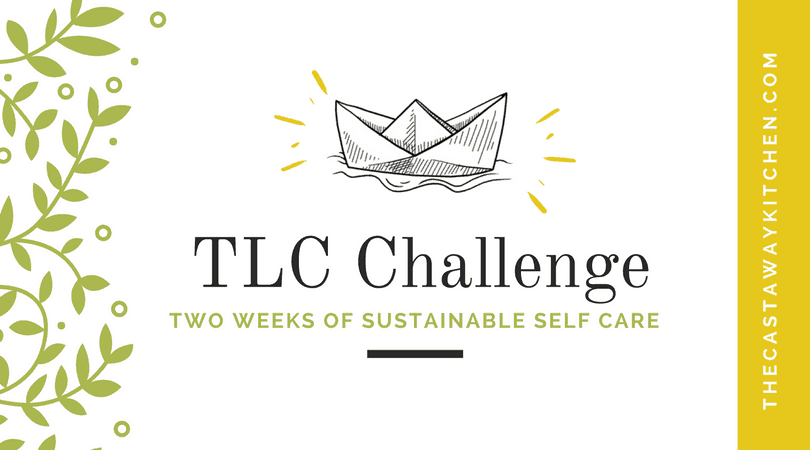 TLC Challenge Update
Total segway here… but we're halfway through the first TLC Challenge. A 2-week self-care initiative. It's free, it's non-restrictive, it's all about positivity, success and inspiration. You can learn more about it HERE.
I'd like to say that by far the biggest impact has been in my mood, the daily affirmations really set me up for success and I find myself being able to deal with stress better. That has rippled into being more productive and sleeping well too! I began the holiday season really overwhelmed. Feeling isolated, homesick and burdened by work. I definitely attribute the shift to the challenge and am happy to see these positive changes in my own life.
I truly hope all of you out there doing it with me are seeing similar if not EVEN BETTER RESULTS!
Full write up with go out in the newsletter next week, not subscribed? Sign up on the SIDEBAR!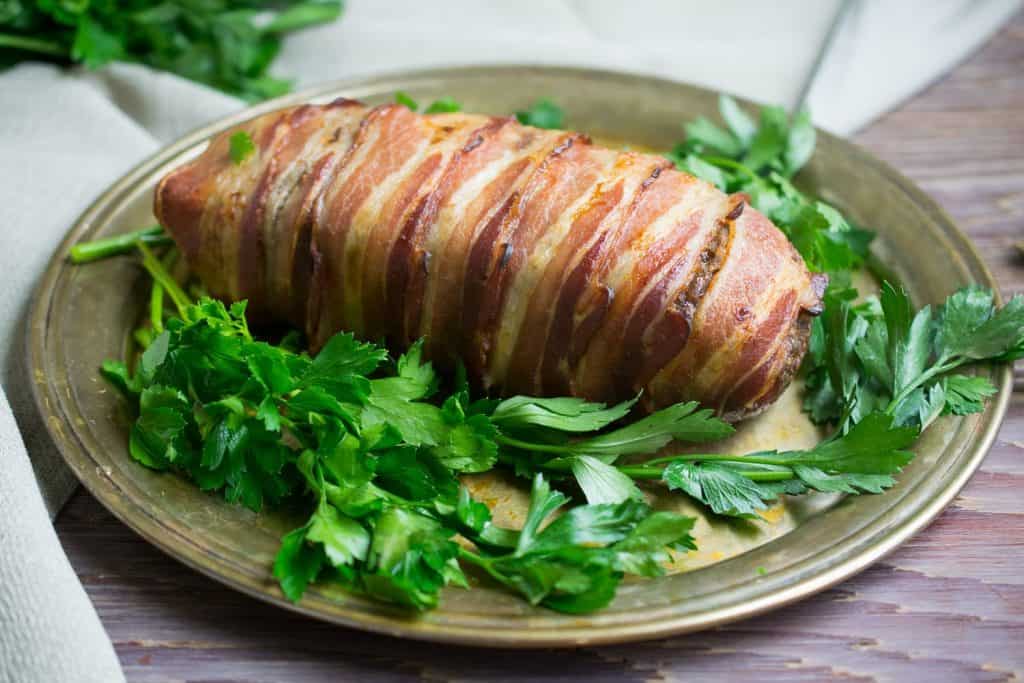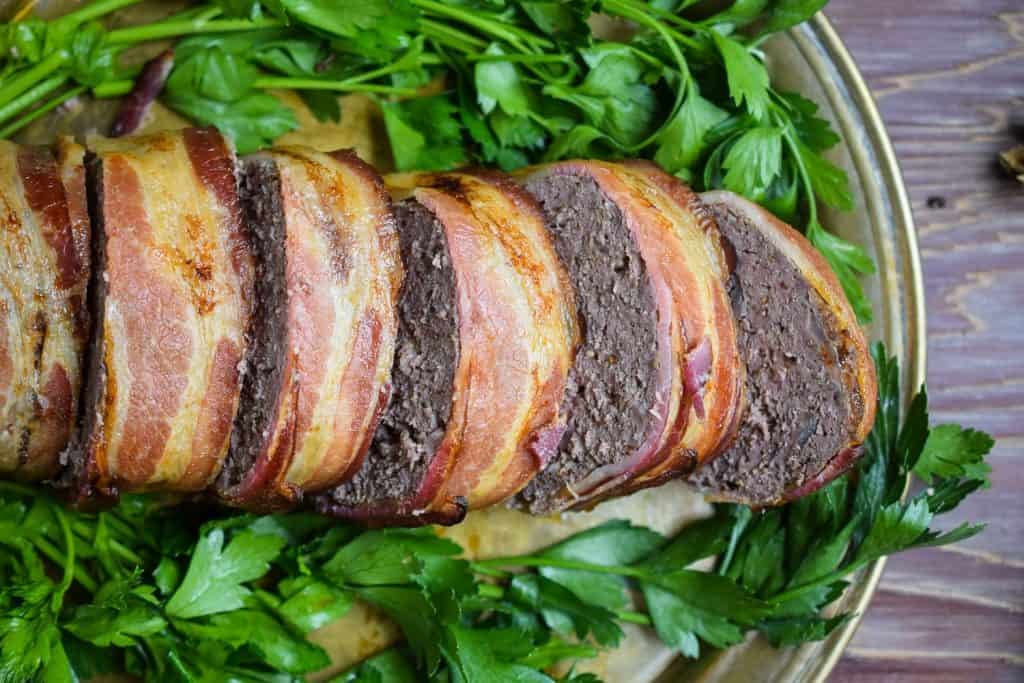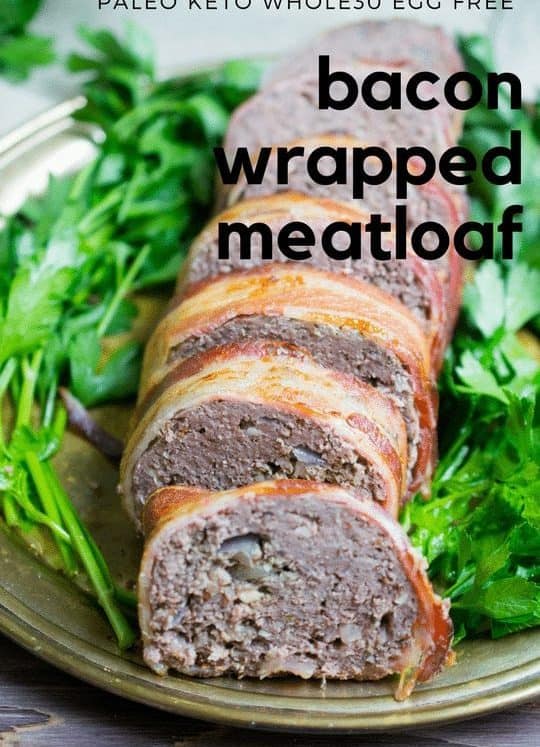 Bacon Wrapped Meatloaf
---
Author: Cristina Curp
Prep Time: 10
Cook Time: 50
Total Time: 60
Yield: 6 1x
Category: Entree
Method: Bake
Cuisine: American
Description
A beautiful egg free bacon wrapped meatloaf!
---
Scale
Ingredients
½ large red onion, minced
4 cloves garlic, minced
1 ½– 2 pounds ground beef 85% lean
1/2 tablespoon fine Himalayan salt (1 1/2 teaspoon)
1 teaspoon ground black pepper
2 teaspoons garlic powder
1 teaspoon onion powder
2 teaspoons ground mustard seed
2 tablespoons flax meal
2 tablespoons red wine vinegar
2 tablespoons avocado oil
½ pound bacon, 7-8 slices
---
Instructions
Pre-heat oven to 400F. Line a sheet pan with parchment paper.
Combine the onion, garlic, beef and all of the seasonings in a large bowl. Mix thoroughly to combine.
Add in the flax meal, red wine vinegar, and avocado oil, mix again until thoroughly combined.
Shape the meat into a log on the sheet pan about 8 inches long and 3-4 inches tall. Move it to the side. Lay your bacon slices down on the center of the sheet pan, line them up so they overlap one an another ¼ of an inch.
Lay the meatloaf log in the center of the bacon then starting at the same end where you finished laying the bacon, bring the bacon slices up, wrapping the meatloaf in them, creating a seam at the top. Make sure you're wrapping it tightly.
Quickly flip it over to the bacon seam is on the bottom. Fix your bacon slices if you need to, make sure there are no gaps in it.
Place the sheet pan in the oven and bake for 50 minutes, or until the bacon is browned and crispy. Let it cool for 10 minutes.
Slice the meatloaf in slices the width of the bacon slices. Serve right away.
Store leftover in an airtight container for up to a week. Heat the slices in a skillet over medium heat until warm.
Substitutions: If you can't do flaxseed you may omit it and use 1 large egg. To make this AIP, omit the ground mustard, black pepper, and flax seed. Add in 1 teaspoon ground ginger instead and use 1 teaspoon of coconut flour.
Nutrition
Serving Size: 6
Calories: 354
Fat: 27g
Carbohydrates: 2.5g
Fiber: 0.9g
Protein: 23.9g
Keywords: egg free meatloaf