this post contains affiliate links, help keep this boat afloat by using them.
Why You Should Care
Our bodies are capable of amazing, natural detoxification. It's true! We have kidneys, and a liver, and enzymes…. but… and this is A BIG BUT… our bodies are not evolved to handle the toxic load of modern life. Toxic load?
Yes! Today's environment is polluted with billions of known endocrine disruptors and carcinogens and our bodies are working overtime to clean house and compensate for this burden. Wonder why hormone issues are so prevalent? Wonder why chronic illness is on the rise?
From our food to our water to our personal care products, this modern empire is built-in toxic materials!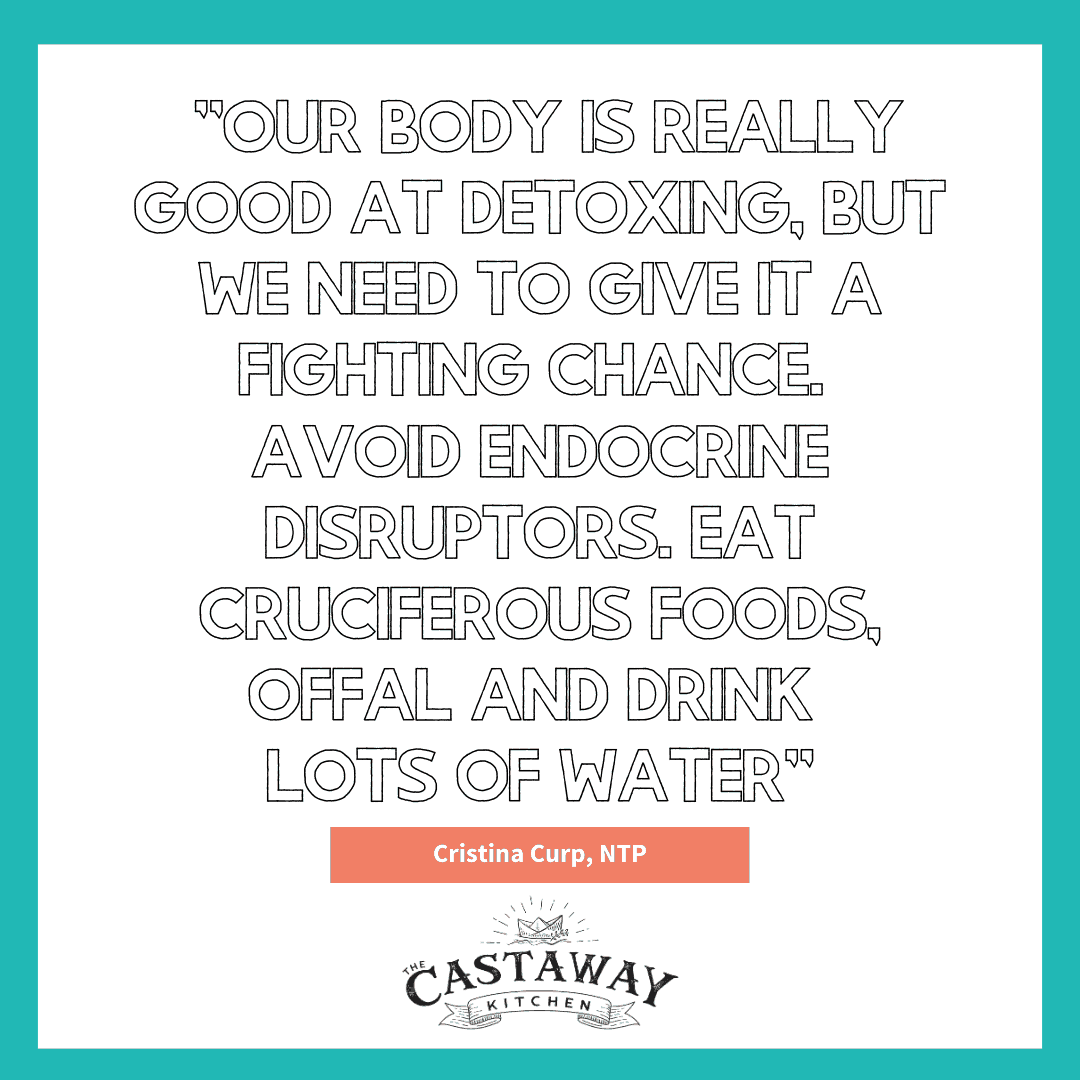 What are Endocrine Disruptors and What Do They Do?
Endocrine Disruptors are described by the U.S. Environmental Protection Agency as "an exogenous agent that interferes with synthesis, secretion, transport, metabolism, binding action or elimination of natural blood-borne hormones that are present in the body and are responsible for homeostasis, reproduction, and developmental process."
Low, persistent exposure has lower water solubility and extremely high lipid solubility, leading to their bioaccumulation in adipose tissue (Diamanti-Kandrakis, Bourguignon, et al 2009). Meaning we hold on to these toxins in our body fat! Oh no! So the toxins that our body can't get rid of, we store? Yes!
This toxic load is a huge burden on the body, and as these EDC's also alter the hormone communication in your body they cause dysfunction with digestion, blood sugar regulation, and mineral balance, creating a cascade that may have serious negative effects on your health. It is often hard to pinpoint the EDC's as the culprit because there is a "potential lag between exposure to EDC's and the manifestation of a clinical disorder. In humans, this period may be years or decades." says Diaminti-Kandrakis, et al. PCOS, infertility, thyroid dysfunctions, ovarian failure, endometriosis are some of these clinical disorders.
This means that exposure to these materials over a lifetime, from hazardous building materials in schools to the plastic toys we put in your mouths as kids, colorful bubble gum shampoo and the makeup we used every day. It's unfair that such harmful materials are so abundant in our everyday lives.
How Do We Protect Ourselves?
Consuming, whole unprocessed foods! Food sourcing is important because many conventionally raised animals from feedings lots have antibiotics, hormones and other chemicals that are categorized at EDC's. GMO produce and produce grown with pesticides contain EDC's. Buy local, buy organic, support your farmer!
There are many nutrients that support your detox pathways! Eating offal, especially liver, consuming cruciferous vegetables, dark leafy greens, and berries. Drinking plenty of filtered water. Drinking water may contain contaminants like atrazine, arsenic and more. Always use filtered water in your home. I like Berkey water filters (use code CASTAWAY5 for 5% off).
Shampoo, lotion, makeup, soaps… our government does not regulate the ingredients used in personal care products. The result has been mass production with ingredients that are toxic, in products we bathe in, put on our skin and on our children. You can read about those harmful ingredients those are and what they do here.
This is why I use products and brands I trust in my home for cleaning and self-care like Young Living, Dr. Bronner's and Branch Basics. For personal care and makeup, I use Beautycounter.
Avoid Teflon and non-stick at all costs and use cast iron or stainless steel switch to glass storage containers! Teflon has extremely dangerous materials, I recommend watching the documentary The Devil You Know on Netflix. Plastic, especially cheap plastic has BPA's, hormone mimicking substances and when you store and reheat food in it, they leach into your food! Gah!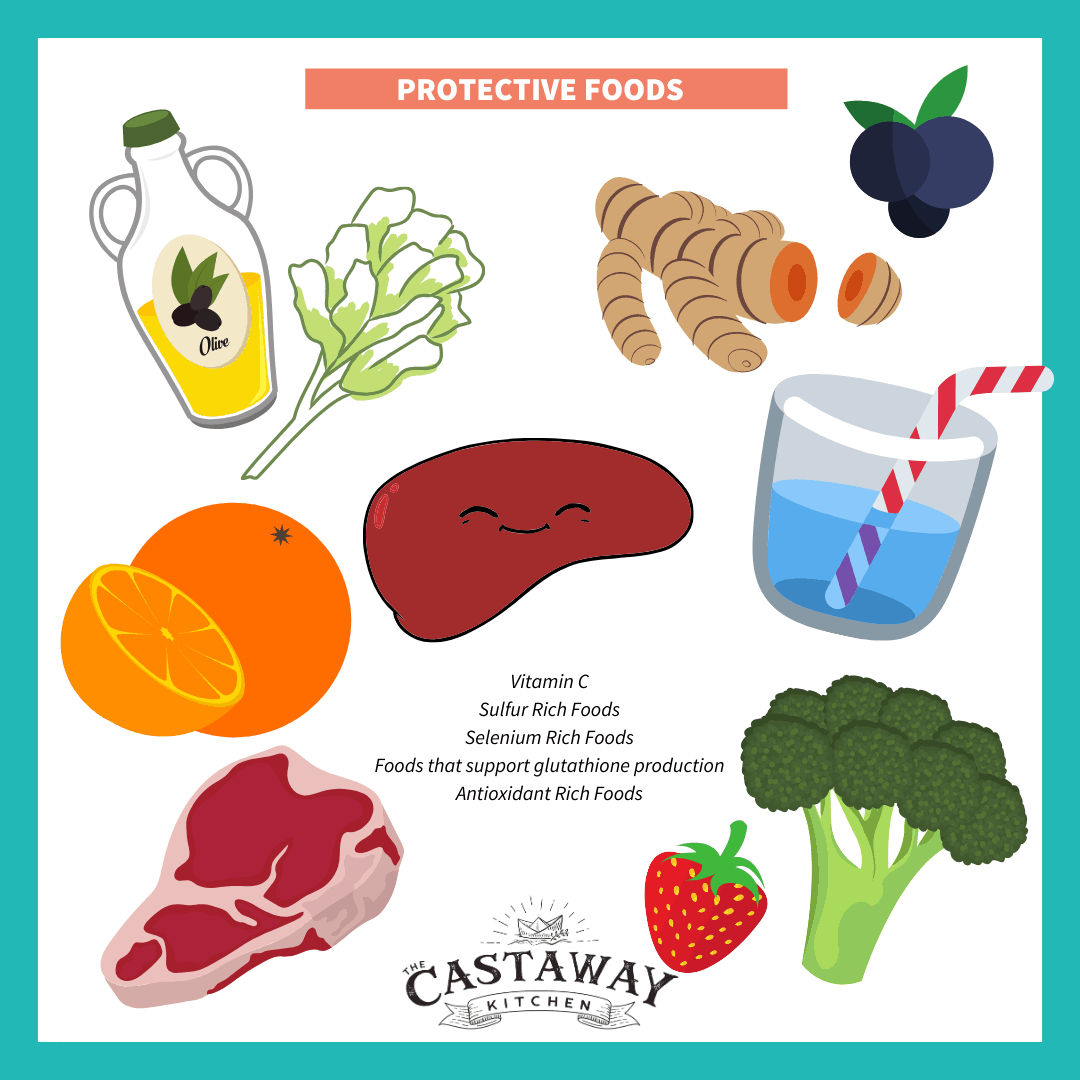 Eat to Protect Yourself
Glutathione is one of the body's most important and powerful antioxidants. While some foods have it, your body doesn't really absorb it well, but it does make it! Eating foods that support glutathione production is important. Quality animal proteins (amino acids methionine and cysteine) are rich in sulfur. Organ meat has amazing benefits and I have great recipes for it. Other sulfur-rich foods include cruciferous vegetables, and alliums too (onions and garlic). Broccoli sprouts with mustard are a powerhouse of bioavailable nutrients!
Berries and citrus are high in vitamin C and which supports adrenals, the immune system and also acts an antioxidant. Extra Virgin Olive Oil is known for its high polyphenol content, it protects the food you cook (the fat in your proteins) from oxidation and also your cells from oxidative stress.
Shop my Favorite Products Here.
Sources
Diamanti-Kandarakis E, Bourguignon JP, Giudice LC, et al. Endocrine-disrupting chemicals: an Endocrine Society scientific statement. Endocr Rev. 2009;30(4):293–342. doi:10.1210/er.2009-0002
WHO