This dairy-free, Paleo Chicken Parmesan is just like the real deal!  Crispy pan-fried chicken cutlets are layered topped with marinara (or nomato sauce) and finished off with dairy-free paleo cheese. A dish that's perfect for any special dinner or weeknight meal. Gluten-free, no sugar added, dairy-free, and with AIP modifications!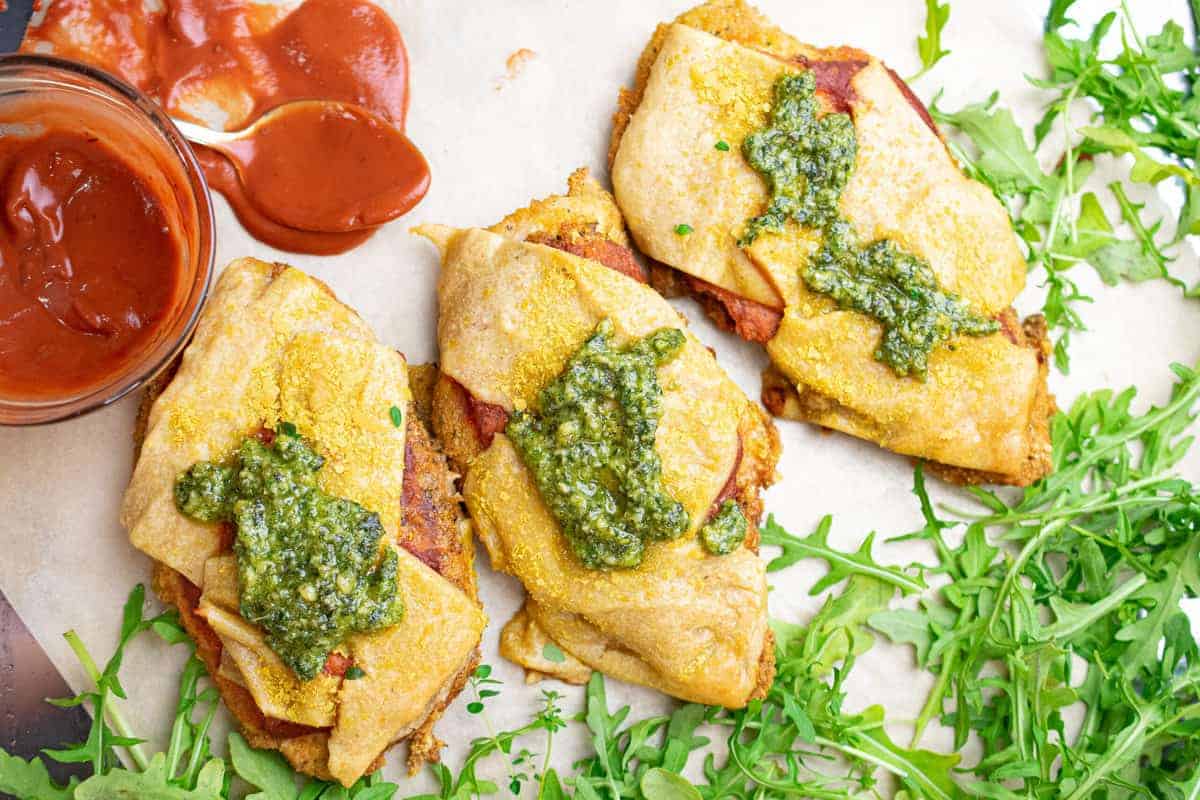 Table of Contents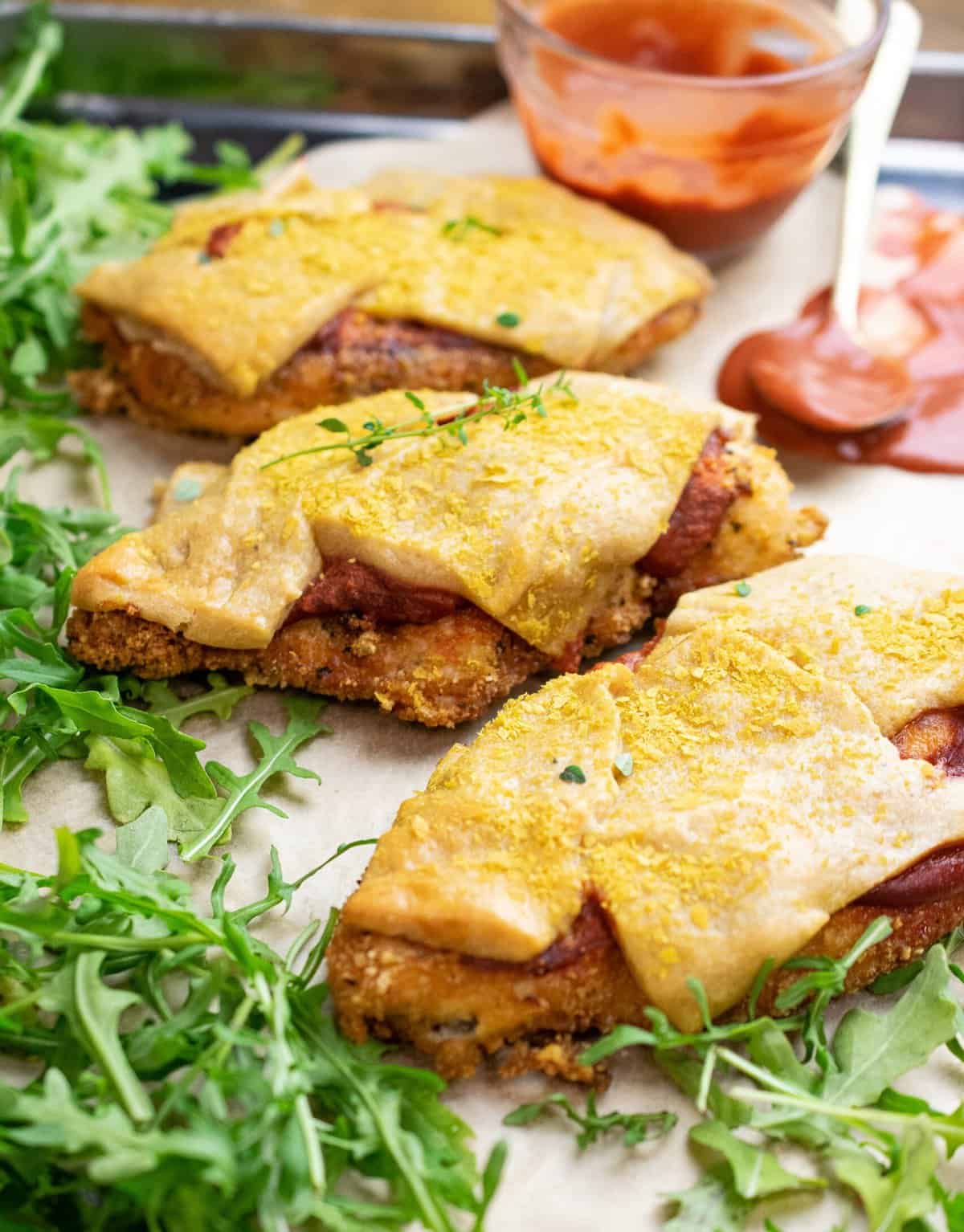 The BEST Paleo Chicken Parm & AIP Friendly Too!
Dairy-Free and gluten-free chicken parm is a super easy meal, even if it looks and tastes restaurant-worthy! Make the cheese ahead of time and if you're nightshade-free, be sure to have a batch of nomato sauce on hand. This meal comes together in less than 30 minutes. The chicken cutlets are crispy and full of flavor from the herbs and garlic. Pan-fried in cast iron and then baked to finish, layered with sauce and cashew cheese. This paleo cheese tastes just like the real thing and is so easy to make! It really makes this paleo chicken parmesan like the real deal.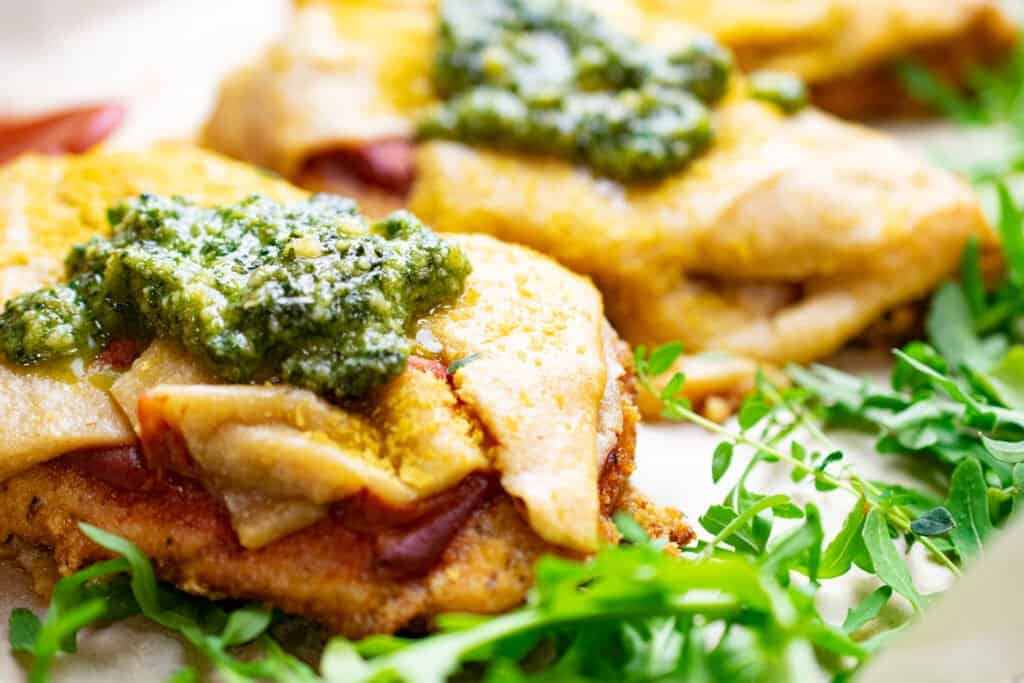 Allergen Friendly Chicken Parm Ingredients
Depending on your personal needs, this recipe might take a little foresight to execute. If you need it to be AIP compliant or nightshade-free you will need to make the Nomato sauce ahead of time. The Dairy-Free Mozzarella takes 10 minutes and you don't need it to harden for this recipe, but you can make it ahead of time too. Here are the highlights of this Paleo Chicken Parmesan ingredients.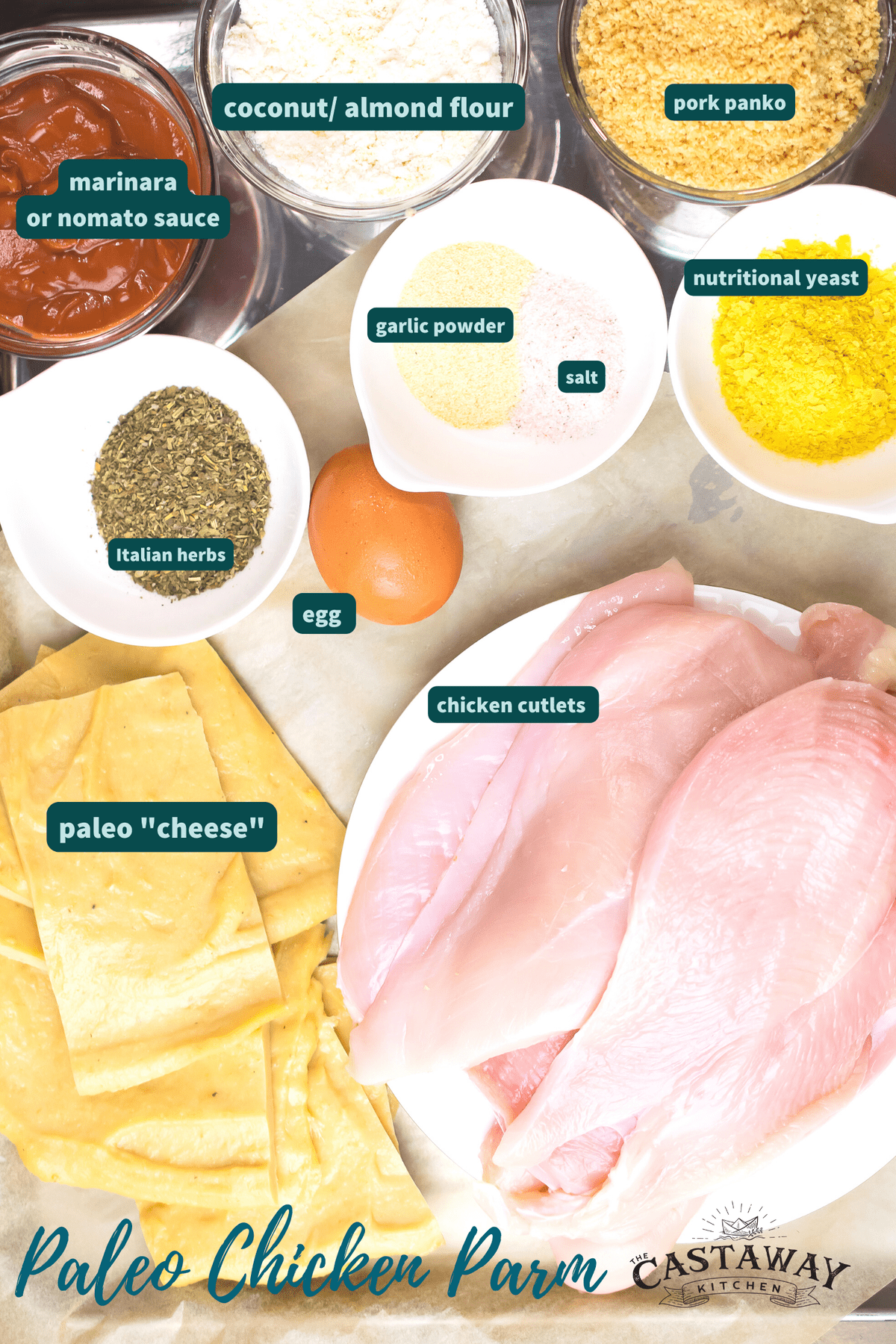 Chicken Cutlets: you can purchase them or buy chicken breasts and butterfly the chicken yourself. The best way to do this is to lay the chicken breast on a cutting board, put a flat palm over it, and run a sharp knife through it horizontally.
Paleo Cheese: I like using my cashew- parsnip recipe that makes THE BEST and most realistic mozzarella. A tip is that you don't actually have to let the cheese harden for this recipe because it's going to melt in the oven anyway. So if you don't make it ahead of time, just smear a dollop of the mix on top of the chicken. However, making the Paleo Mozzarella ahead of time and smearing it on a piece of parchment paper helps it harden VERY fast and you can cut it into squares that mimic sliced mozzarella! Perfect for dairy-free chicken parm!
Marinara: If you can eat tomatoes I recommend Primal Kitchen Sugar-Free Marinara (use code CASTAWAY) it's Whole30 compliant. If you're nightshade-free, like me, make sure you have a batch of my Legit Nomato Sauce on hand.
Pork Panko: This is the best sub for bread crumbs or classic panko and yields the most excellent paleo fried chicken! I like to buy it, but you can make your own by pulsing pork rinds in a food processor until crumbly.
How to Make The BEST Paleo Chicken Parm
Before you begin, make sure you've got all of your ingredients. Namely the dairy-free, paleo cheese, which is key for this paleo chicken parmesan. If you are nightshade free, you also want a batch of nomato sauce on hand. Then you get cooking!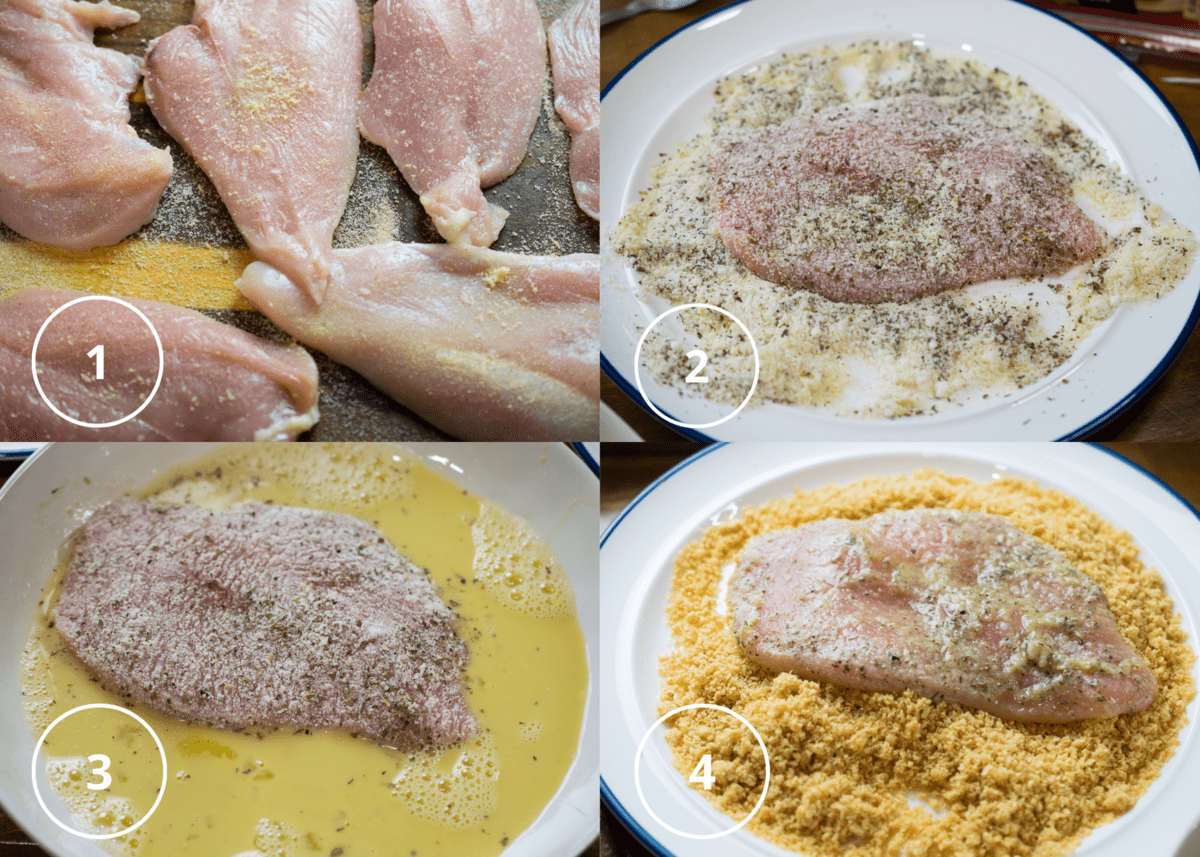 Season the chicken with salt and garlic powder. In one plate mix the coconut flour, almond flour and Italian herbs. In a shallow bowl whisk 1 egg with a little vinegar or water. Lastly in a third plate or shallow bowl put the pork panko.
Bread your chicken cutlets by dredging in the almond flour mix, then egg, then pork panko.
Repeat with all of the chicken cutlets. You will also want to heat a large skillet over medium heat with about 1/2 inch depth of oil heating.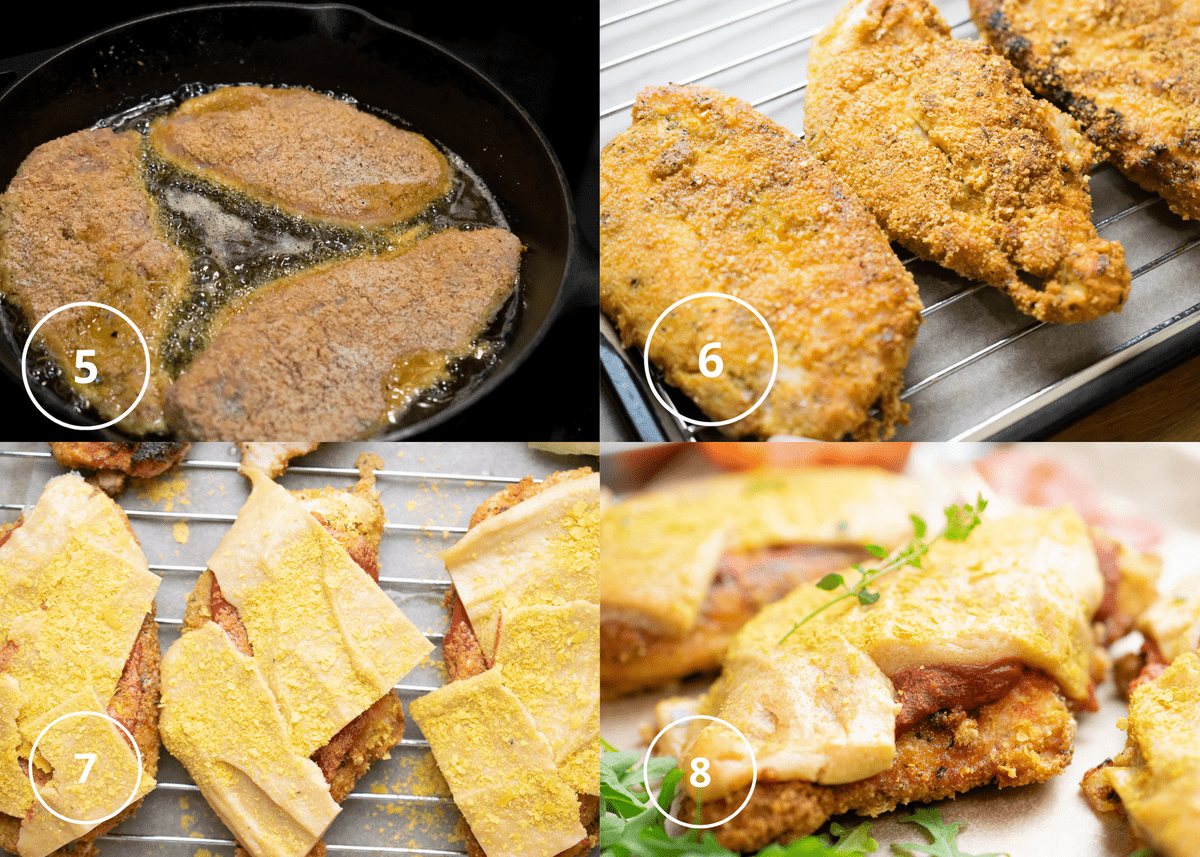 Pan-fry the chicken cutlets in olive oil and ghee for 4 minutes on each side.
Set on a sheet pan with a wire rack.
Layer on the marinara and paleo cheese, and top with nutritional yeast.
Bake at 375F for 10-15 minutes or until the cheese is melted.
How to Make Dairy-Free Chicken Parm AIP Compliant
As you make know, I'm nightshade-free, meaning I can't have tomato sauce. This is why I used my Legit Nomato Sauce for this recipe. But let me show you how to make this recipe 100% AIP Elimination Phase compliant or also egg-free and nut-free.
Use my Legit Nomato Sauce for the Marinara.
When making my Paleo Mozzarella, use the AIP modifications (no cashews or black pepper).
Skip the egg, use 1/2 cup coconut cream + 1 tablespoon vinegar instead of egg.
Use coconut flour for the base and pork panko, skip the almond meal.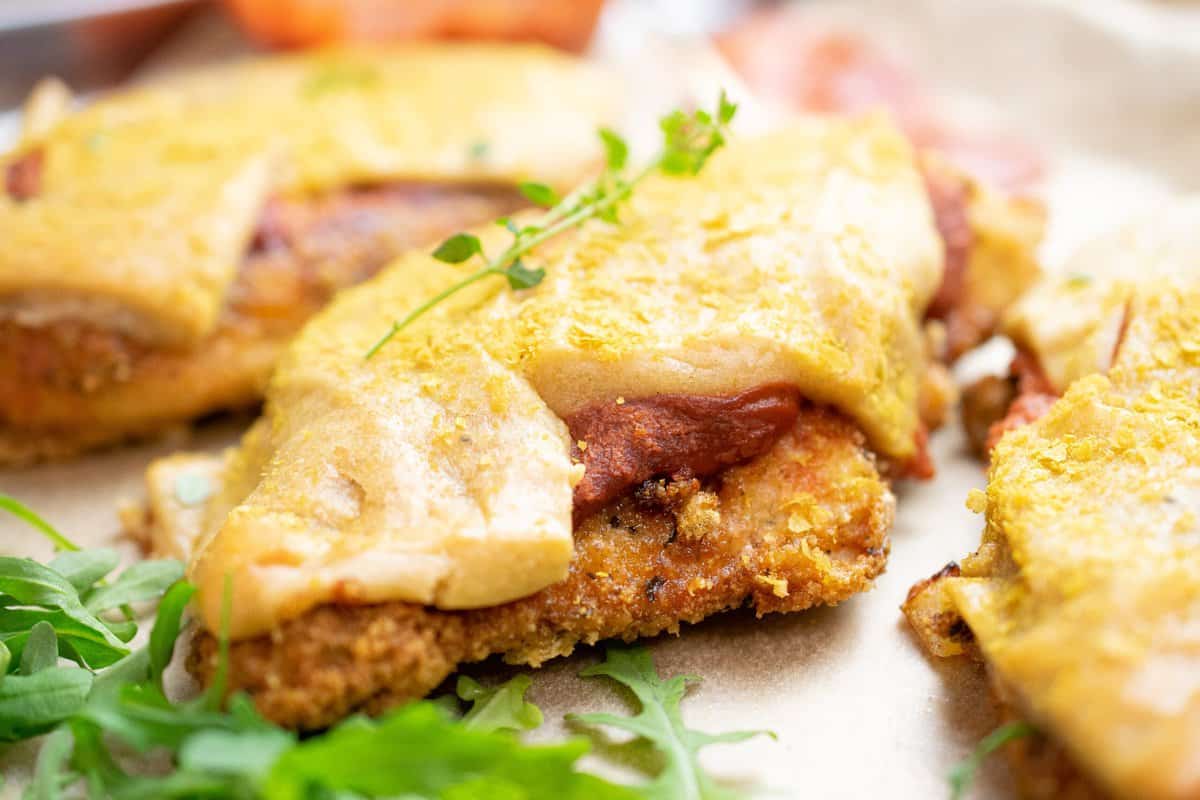 Frequently Asked Questions
Can I use store-bought Dairy Free cheese?
Yes, I like the Miyoko's Creamery Brand.
Can I make this egg-free?
Yes, use coconut cream and vinegar to bind the breading.
If I don't eat pork, what can I use instead of the pork panko?
Use almond meal or hazelnut meal instead.
What's the green sauce on top?
It's pesto! I didn't have fresh basil so I added some dairy-free pesto. You can get that recipe on this blog post.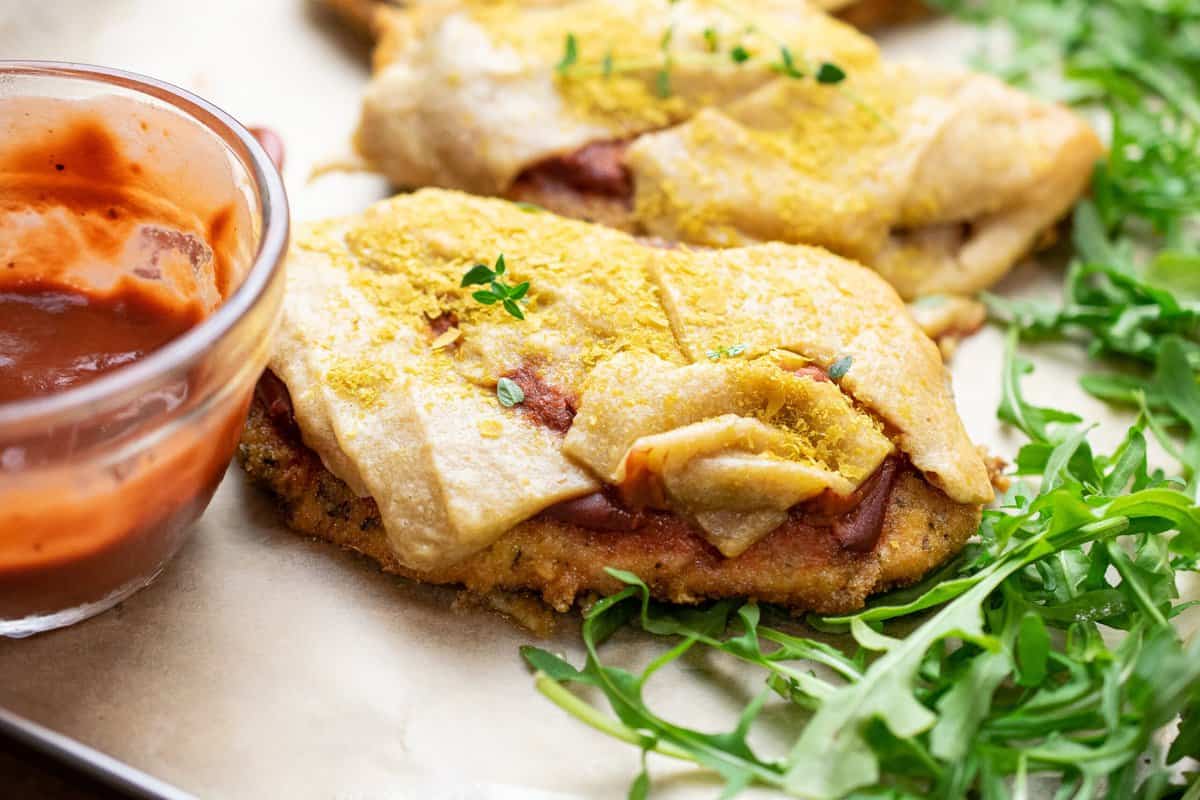 If you LOVE Chicken Parm, You'll Love These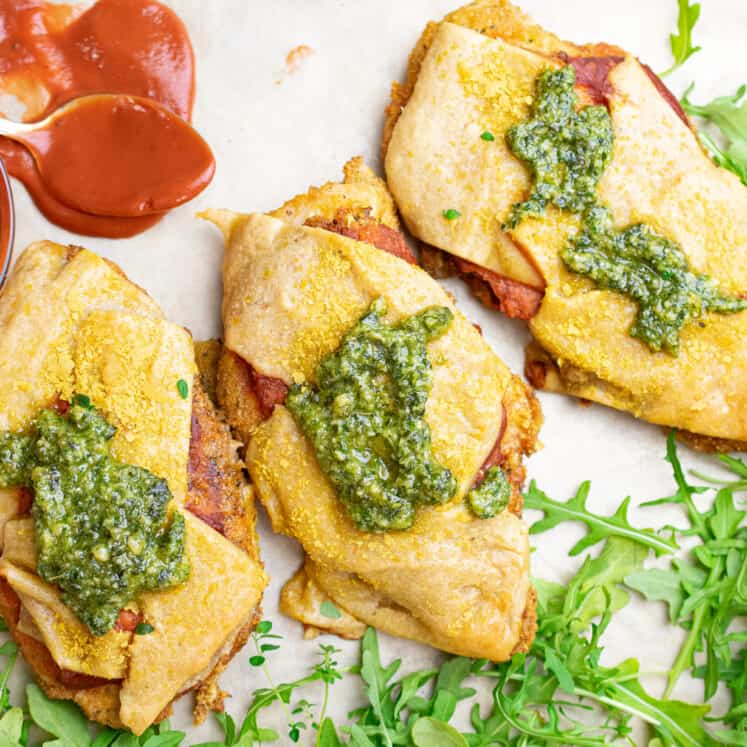 Paleo Chicken Parmesan (Dairy-Free, AIP friendly)
---
Author: Cristina Curp, FNTP
Prep Time: 10 minutes
Cook Time: 25 minutes
Total Time: 35 minutes
Yield: 4 servings 1x
Category: Entree
Method: Pan Fry/ Bake
Cuisine: Italian
Diet: Gluten Free
Description
Dairy-Free, Gluten Free Chicken Parmesan that's easy and also AIP friendly!
---
Scale
Ingredients
Make-Ahead 
For the Chicken 
4 chicken cutlets
1 teaspoon fine salt
1 tablespoon garlic powder
1 tablespoon Italian Herb blend
1 cup almond flour
1/2 cup coconut flour
1 1/2 cup pork panko (crushed pork rinds)
1 large ggs
2 tablespoon vinegar or water
1 cup olive oil
1/2 cup ghee
Optional Toppings 
Pesto or fresh basil
Nutritional Yeast
---
Instructions
Make sure you have all your ingredients ready to go. For the Paleo Mozzarella, you want to use the mix while it's soft or spread it out on a sheet pan so that you can make slices of it, instead of making blocks as the recipe is written.
Preheat your oven to 375F. Heat a large skillet (15″) over medium heat. Add in the olive oil and ghee, you want about 1/2 in the depth of oil for the pan fry.
Pat your chicken cutlets dry, then season with salt and garlic powder.
Mix the coconut flour, Italian Herb and almond flour on a plate. Mix the egg and water or vinegar in a shallow bowl and put the pork panko on a third plate or bowl.
Dredge each piece of chicken in the coconut flour mix, them in the egg mix and lastly in the pork panko, set on a cutting board or plate. Repeat with all of the chicken.
Carefully add the chicken cutlets to the hot oil in the skillet. Fry for 4 minutes per side, flipping once with tongs. Then transfer to a sheet pan.
Smear 2 tablespoons of marinara or nomato sauce on each chicken cutlet. Then layer on 2 slices or 2 tablespoons of Paleo Cheese on top. Put them in the oven and bake for 10-15 minutes or until the cheese is melted.
Remove from the oven and garnish with nutritional yeast or fresh basil and serve hot! This dish is perfect over a bed of arugula or with paleo noodles.
Recipe Notes:
To make this AIP use my Nomato Sauce, the AIP version of the Paleo Mozzarella, and use coconut cream instead of an egg.
See blog post for recipe details, tips, and more.
Nutrition
Serving Size: 1 chicken cutlet
Calories: 386
Fat: 25g
Carbohydrates: 15g
Fiber: 3g
Protein: 42g
Keywords: Paleo Chicken Parmesan