We just moved back to Hawai'i (for the second time) and it's great to be creating AIP-friendly recipes with the amazing flavors inspired by the islands! This nightshade-free and paleo Huli Huli Chicken is super easy. It just takes a handful of ingredients and roasts to sweet, sticky perfection!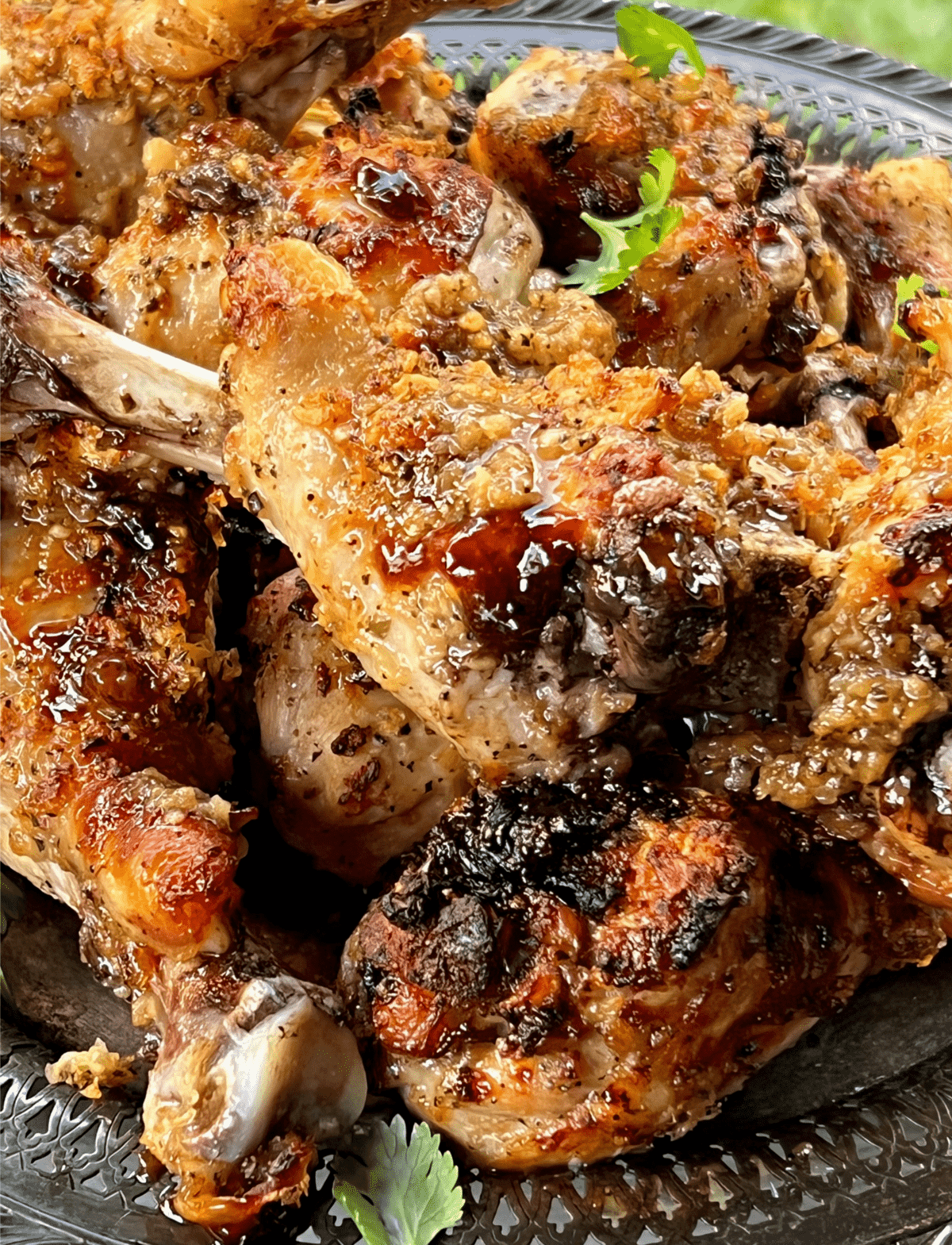 Table of Contents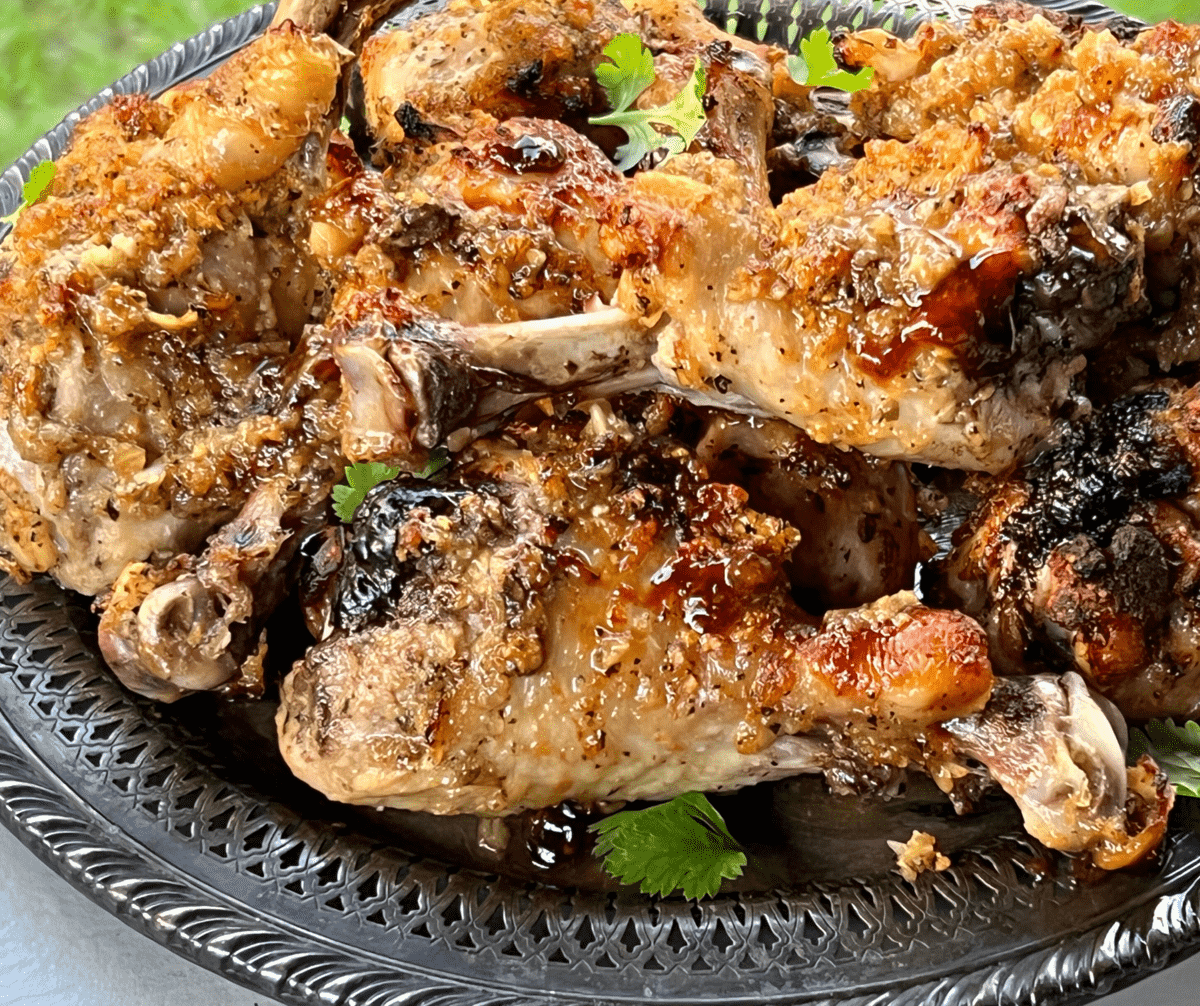 Why THIS Huli Huli Chicken Recipe is Amazing!
The last time I lived in Hawai'i I was strict AIP and missed out on a lot of the amazing local flavors. While I can eat a lot more things now I'm still gluten and nightshade-free, which means I needed to make my own version of Huli Huli Chicken! This one is simple, clean, and truly delectable. A great weeknight or weekend meal. Sweet with a bit of spice from the ginger and black pepper, sticky sauce, and tender chicken.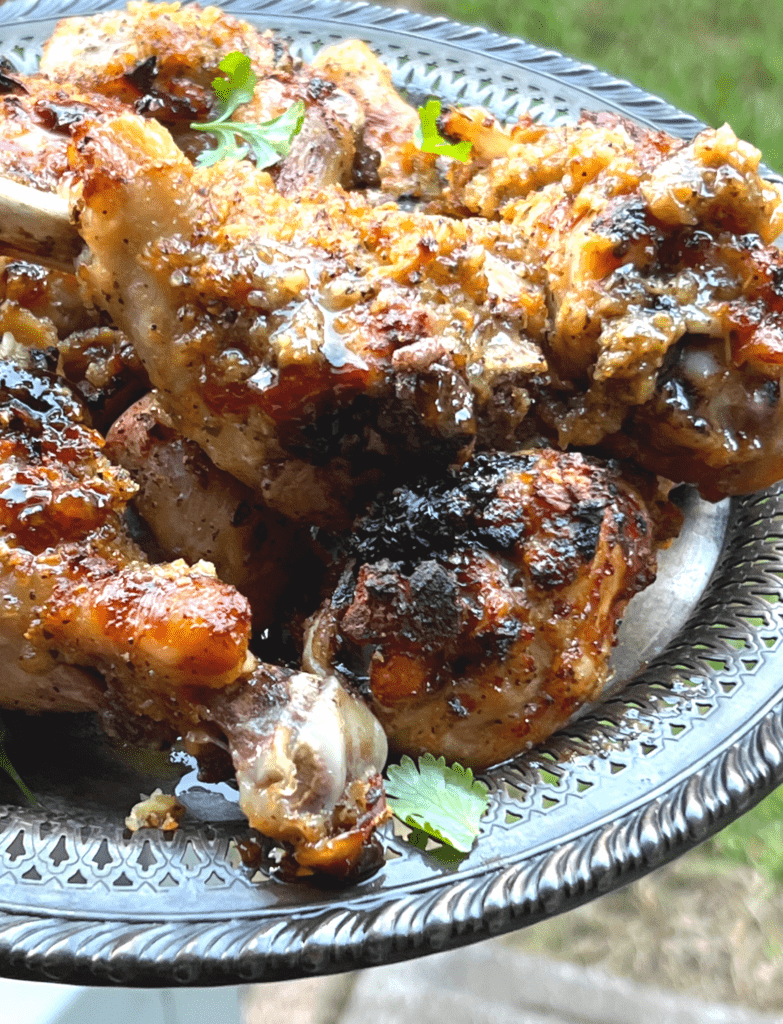 Ingredients for Nightshade Free Huli Huli Chicken
This recipe might deviate from some of the traditional ingredients, and it's meant with no disrespect. When you have the kind of food intolerances that I do, and many of you, we need to take certain liberties with recipes. I promise this Ginger Pineapple Chicken is amazing and a great AIP-friendly Huli Huli Chicken Recipe.
Chicken drumsticks: I used PastureBird chicken, it's the best tasting chicken I've never had. You can also use chicken thighs for this recipe or even wings!
Fresh ripe pineapple: to pick a ripe pineapple chose on with big eyes and thant smells sweet. IF the top twists off easily, it's ready.
Pickled ginger: I'm obsessed with pickled ginger so I buy it from Whole Foods all the time, but you can make your own. My friend Unbound Wellness has a recipe for it.
Coconut Aminos: these are a must here for a soy replacement, but also because it adds to the sweetess.
Ground Black Pepper: we add this for heat, but if you're AIP you can omit.
Step by Step Pineapple Ginger Chicken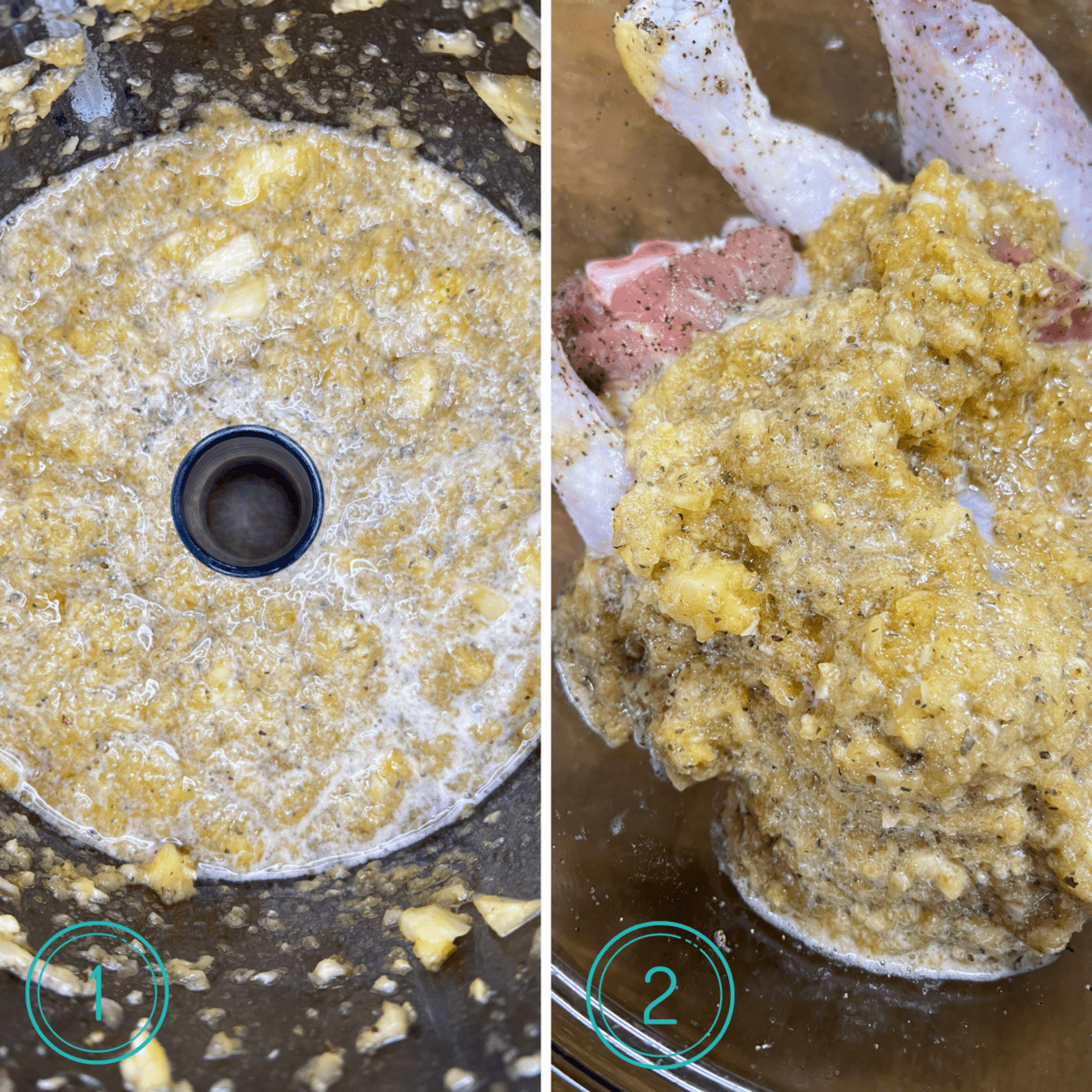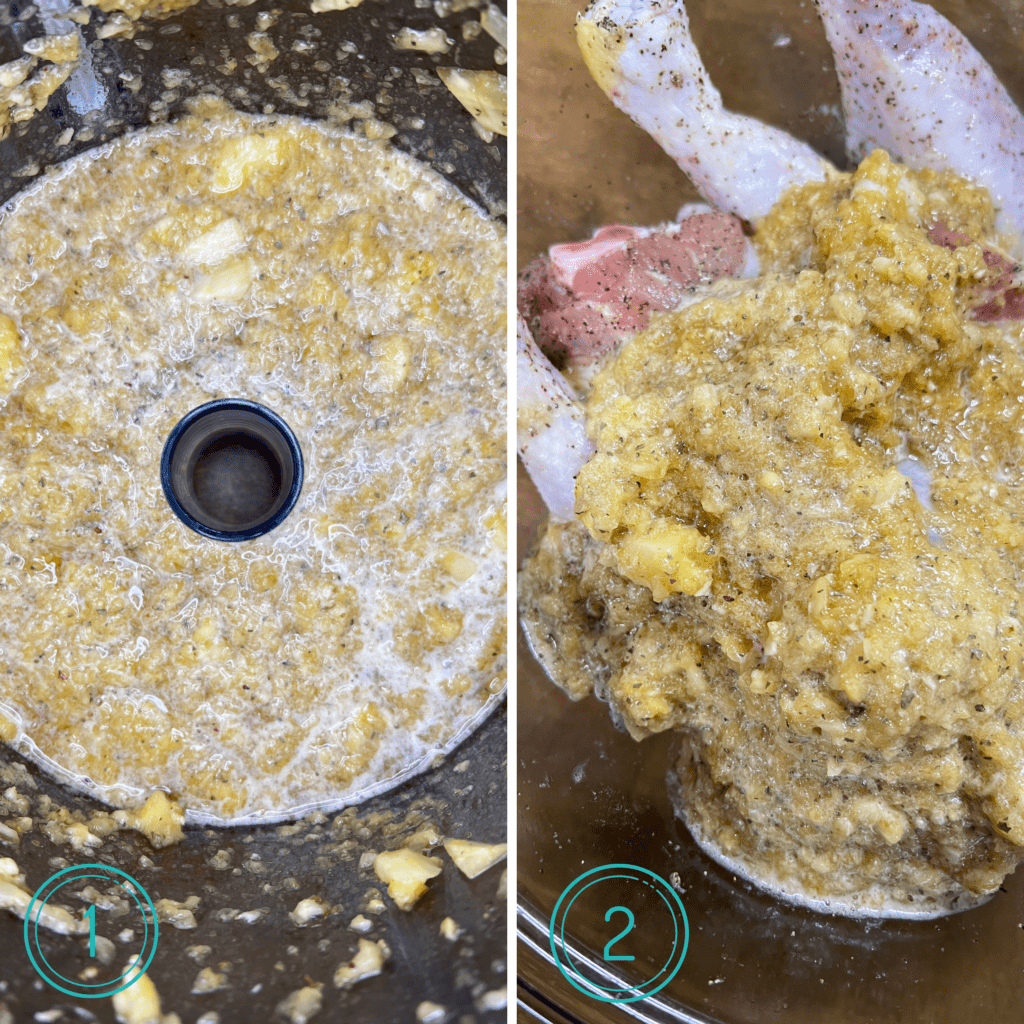 Start by combining all of the paleo Huli Huli sauce ingredients in a food processor or blender and pulse until pureed.
Toss chicken with salt and pepper and marinate in the sauce.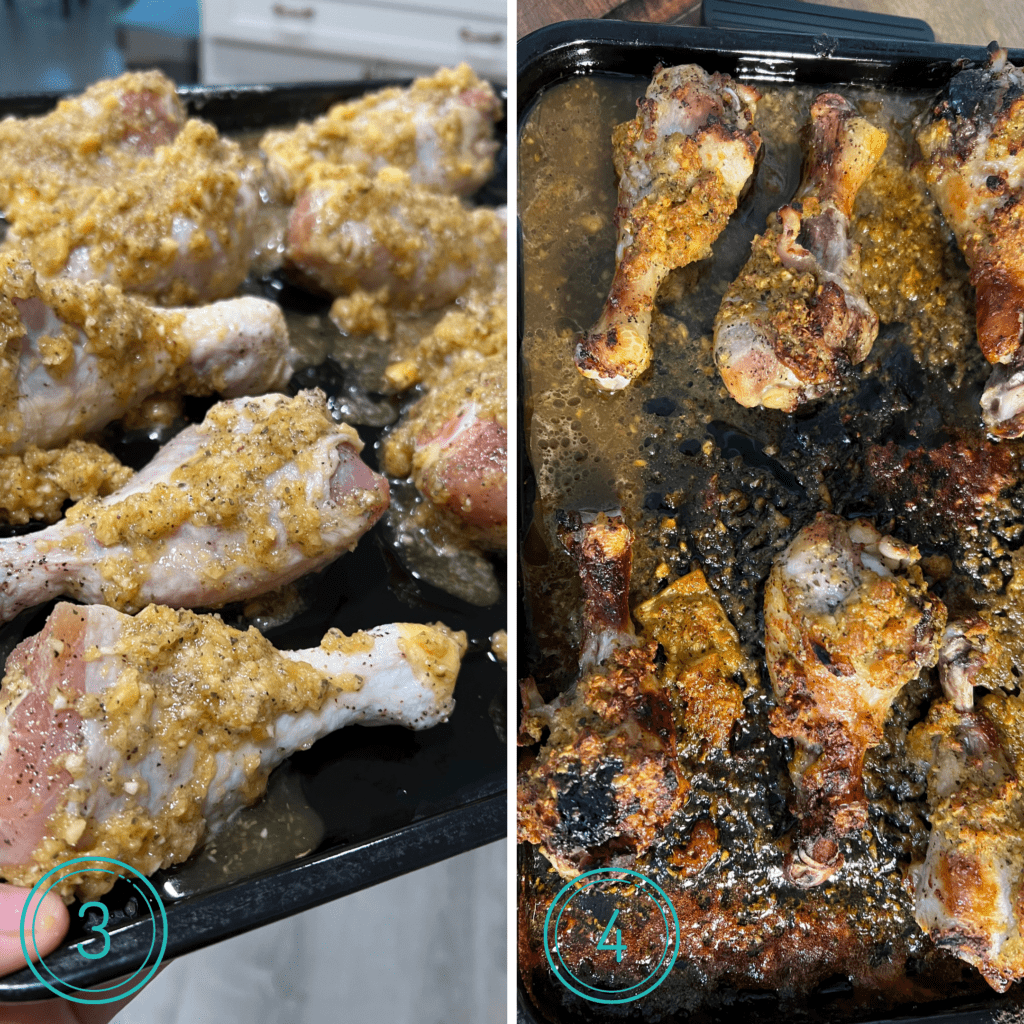 After marinating for 20+ minutes arrange the chicken on an oiled sheet pan. MAke sure to spoon all the of pineapple ginger sauce on top.
Roast at 375F convection for 30 minutes or until cooked through.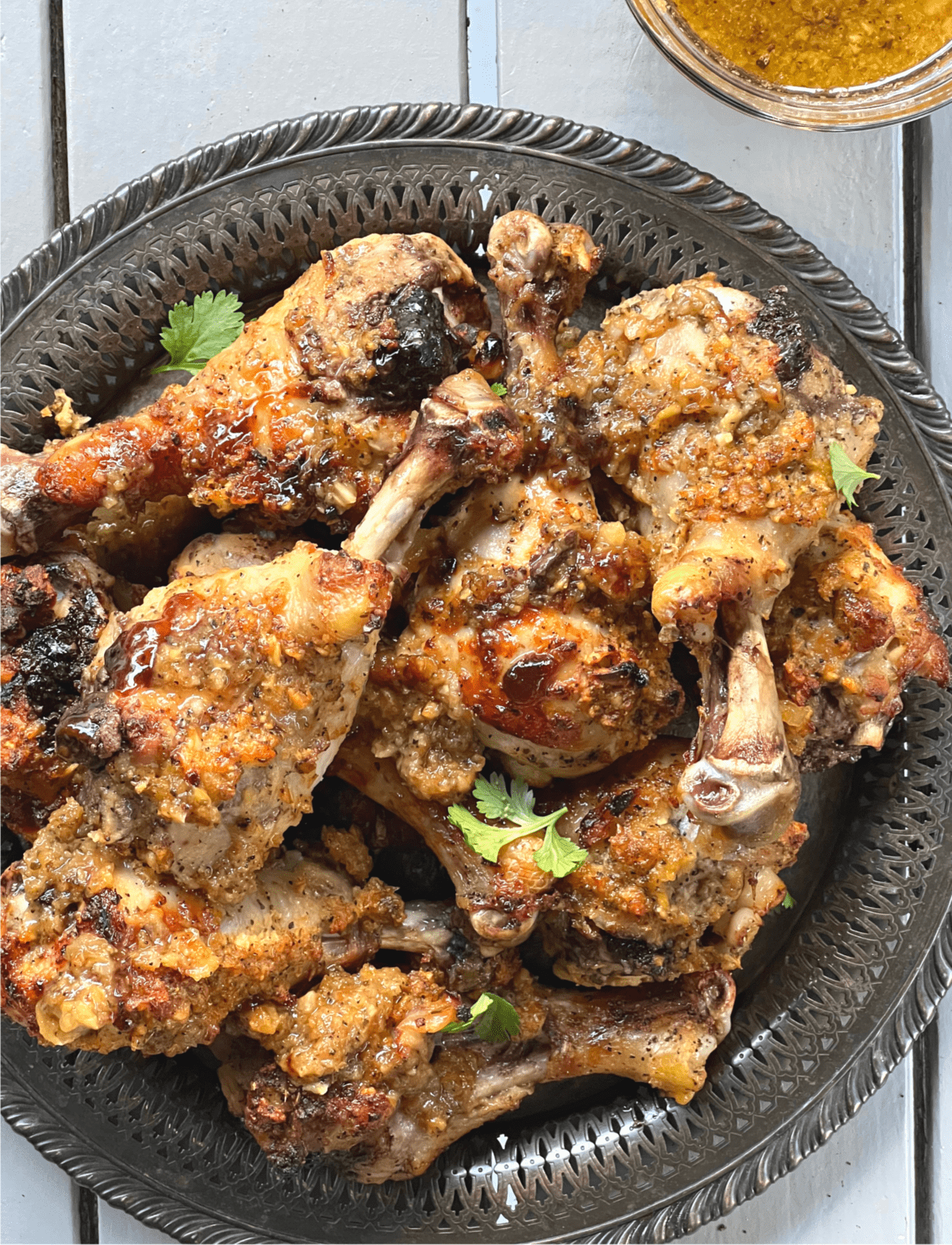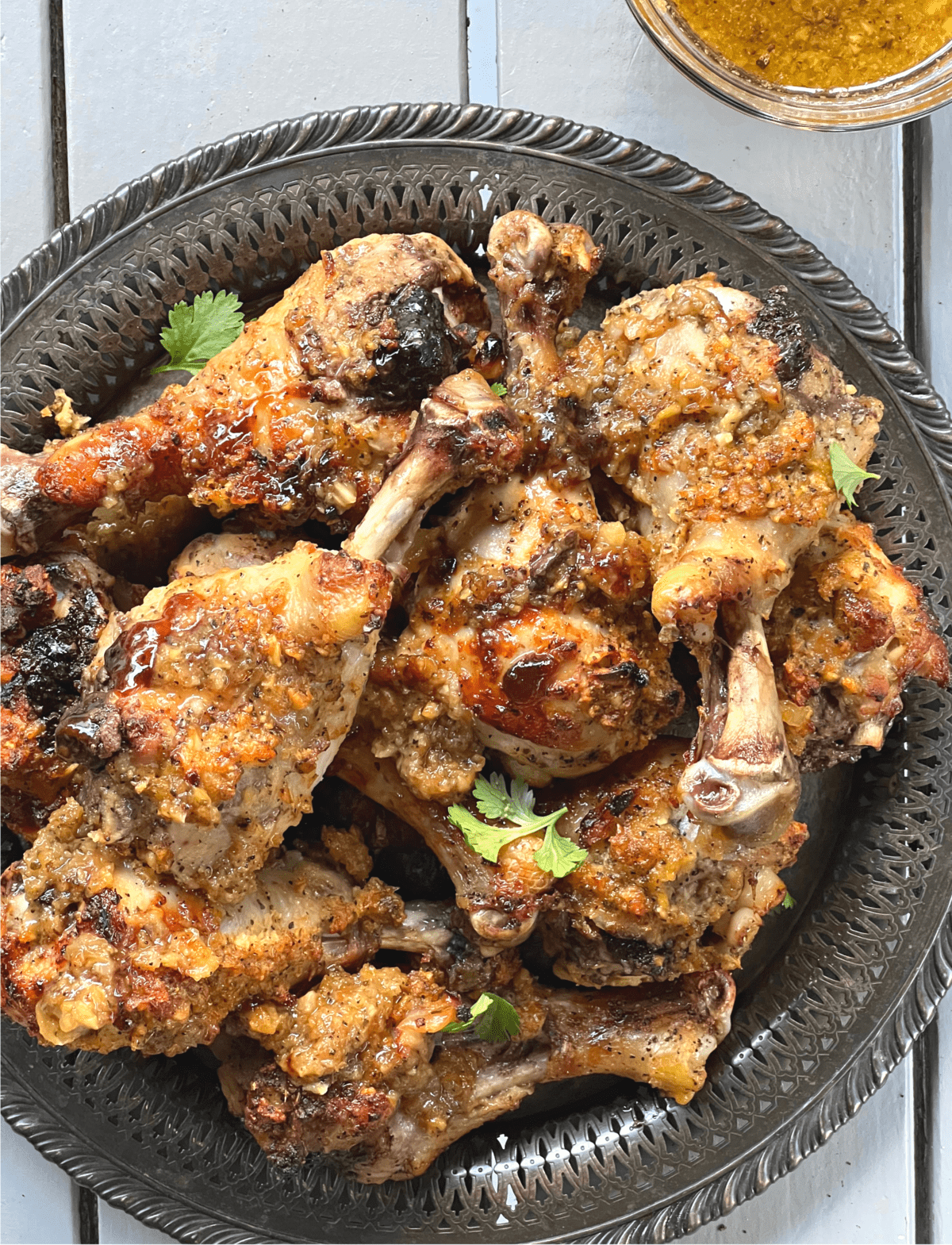 Frequently Asked Questions
Can I use fresh ginger?
You will have to reduce the amount to 3 tbsp and add 1 tbsp vinegar and 1 tsp honey to the recipe.
Can I make this using chicken thighs or wings?
Yes! For chicken thighs follow the same cooking instructions. For wings, you might want to cook them naked first, then toss in the sauce and bake again.
Can I use canned pineapple?
Yes, make sure it's unsweetened and drain it well.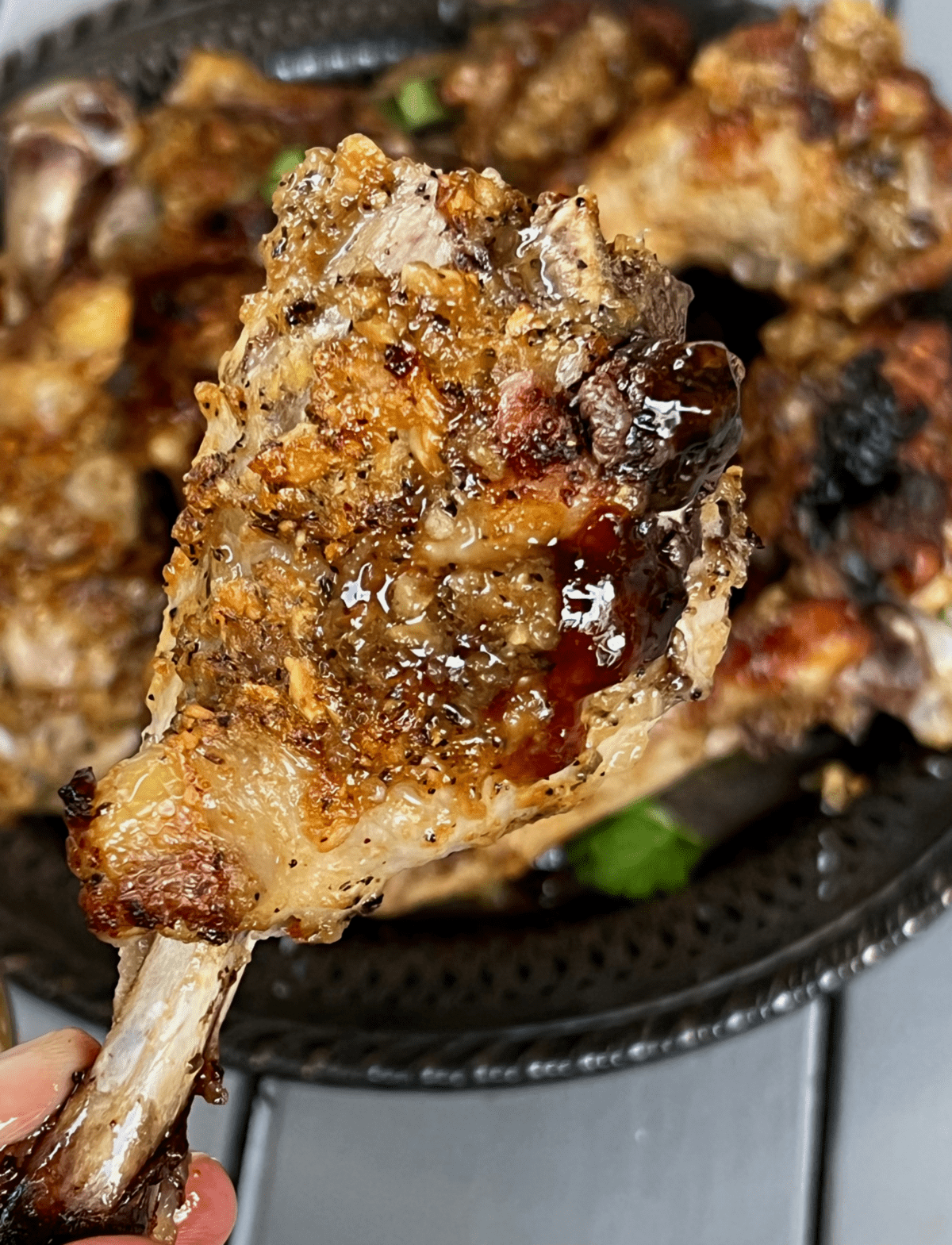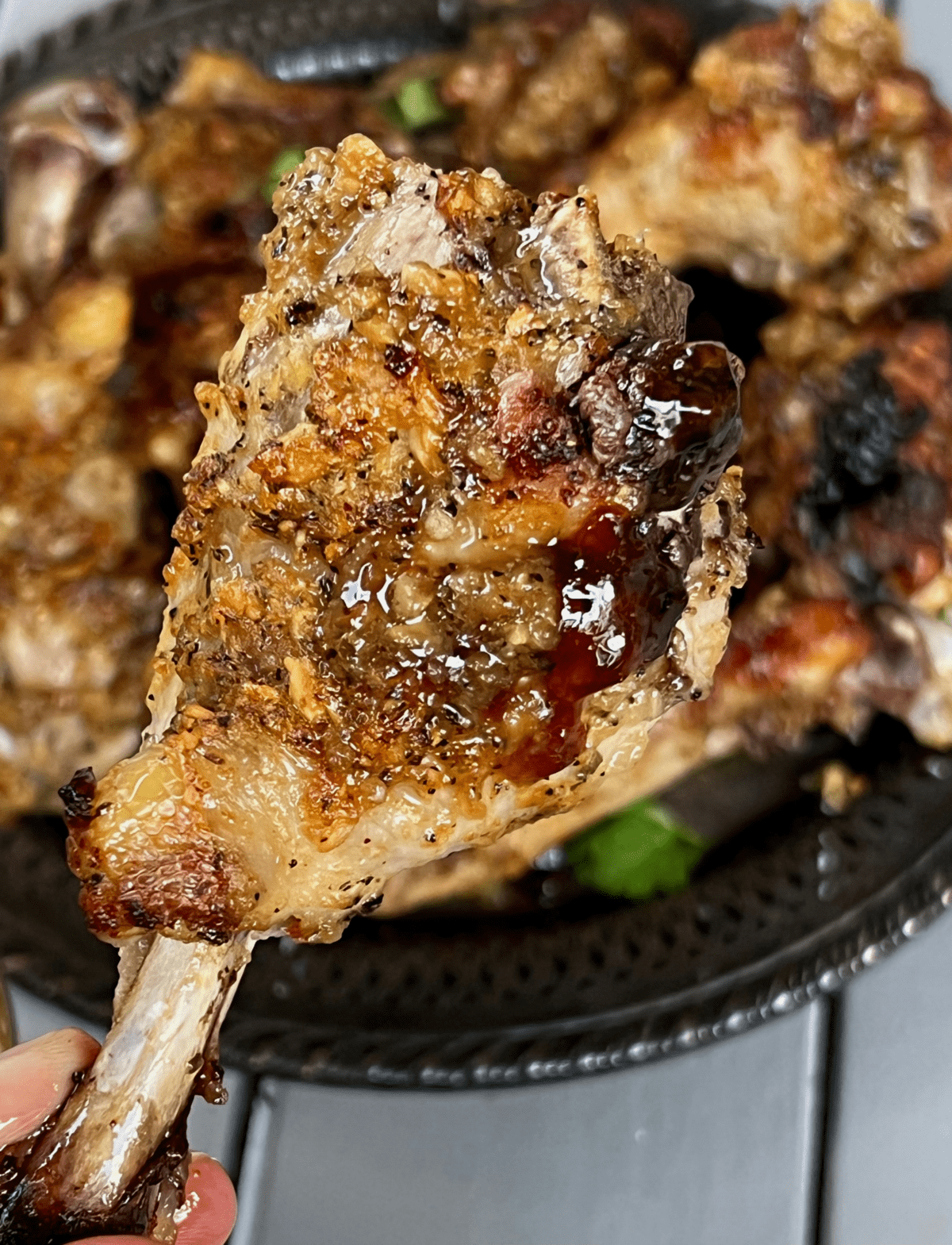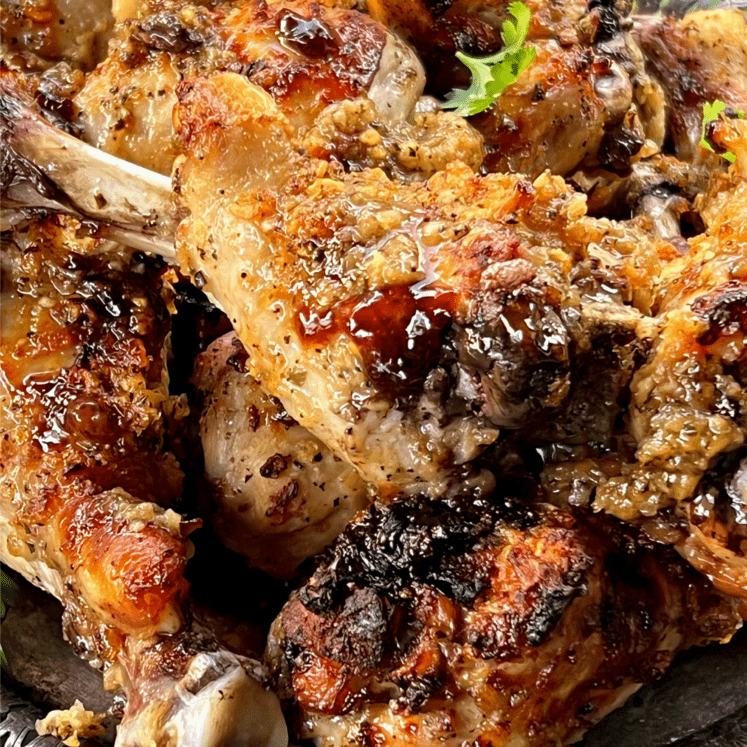 Paleo Huli Huli Chicken (AIP Friendly)
---
Author: Cristina Curp, FNTP
Prep Time: 10 minutes
Cook Time: 30
Total Time: 40 minutes
Yield: 5 servings 1x
Category: Dinner
Method: Roast
Cuisine: Hawaiian
Diet: Gluten Free
Description
Sweet, sticky, and delicious. This Hawaiian-inspired recipe is a must for pineapple lovers. 
---
Scale
Ingredients
10 drumsticks, approx. 2 pounds
2 teaspoons fine salt
1 teaspoon ground black pepper
1 1/2 cups diced pineapple
1/4 cup pickled ginger
4 cloves garlic
1 teaspoon dried. basil
3 tablespoons coconut aminos
1 tablespoon olive oil, for the sheet pan 
---
Instructions
Place your drumsticks in a large bowl and toss with salt and black pepper (omit for AIP). 
In a food processor pulse the remaining ingredients together until pureed.
Pour all of the sauce over the chicken and toss with tongs. 
Cover and set in the fridge to marinate for at least 20 minutes to overnight. 
When ready to cook, set out and preheat the oven to 375F convection. 
Light oil a sheet pan and arrange the drumsticks on it. Spoon the remaining sauce over them. 
Roast for 30 – 40 minutes, turning the drumsticks over halfway through cooking. 
When they're golden brown, with toasty bits and sticky looking, they're ready! 
Recipe Notes:
Omit black pepper for AIP
You can use chicken thighs too, I recommend boneless skinless. 
Cook 375Fconvection roast or 400F bake. 
Nutrition
Serving Size: 2 drumsticks
Calories: 375
Fat: 19g
Carbohydrates: 13g
Fiber: 1g
Protein: 35g
Keywords: Paleo Huli Huli Chicken