Get the perfect Crispy Air Fryer Potatoes, every time! This recipe does not fail, it's so simple and perfect for breakfast or dinner!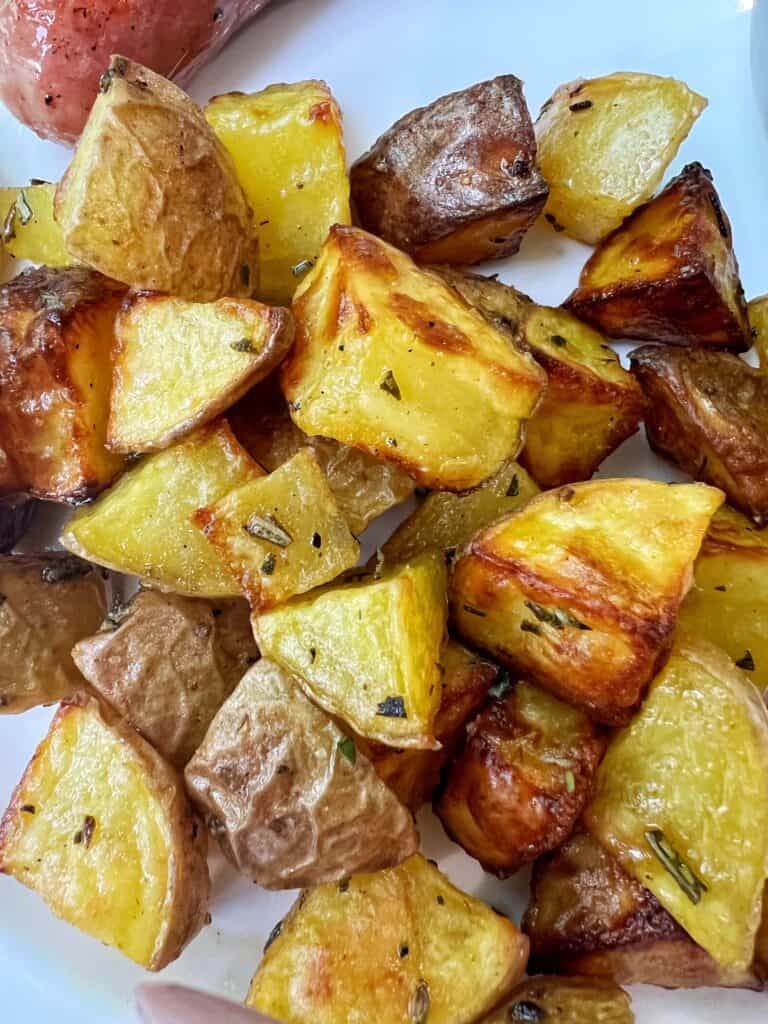 Table of Conents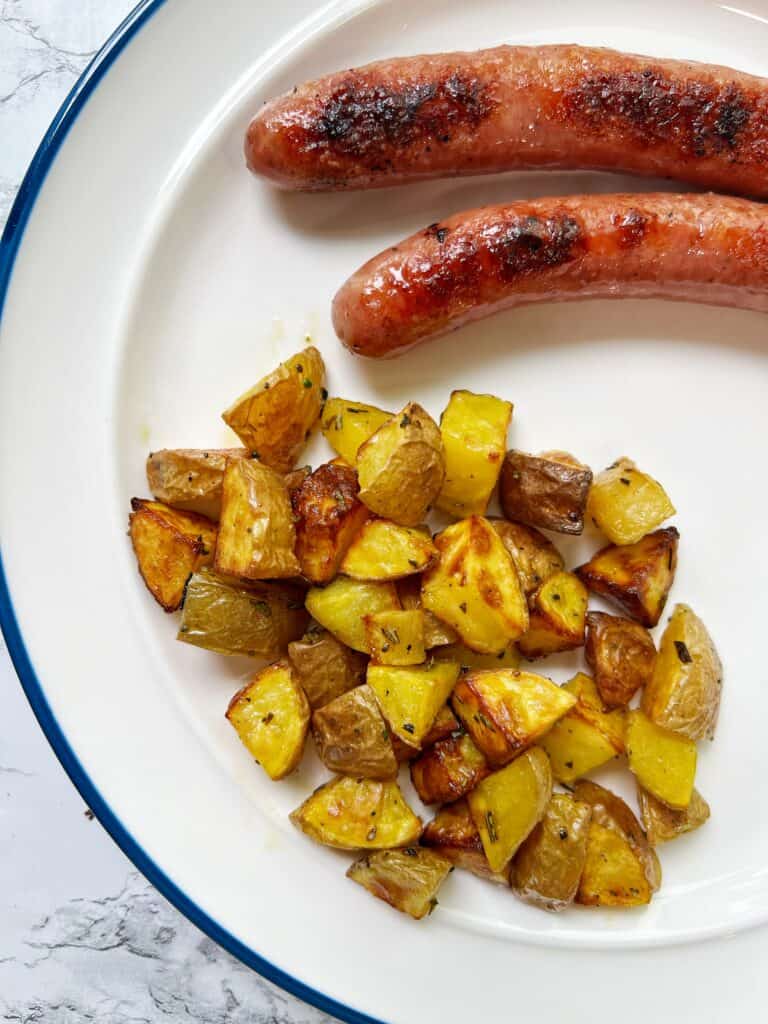 The Best Crispy Golden Brown Potatoes
Move over, oven. Move over, cast iron – the best golden, brown, delicious, cripy potatoes are made in the air fryer! I love this hands-off method, that cooks in less than 30 minutes. As my son likes to say, these are like french fries but in a different shape. Tossed with rosemary, salt, and olive oil, they're also a healthy alternative to fries and pair with any meal.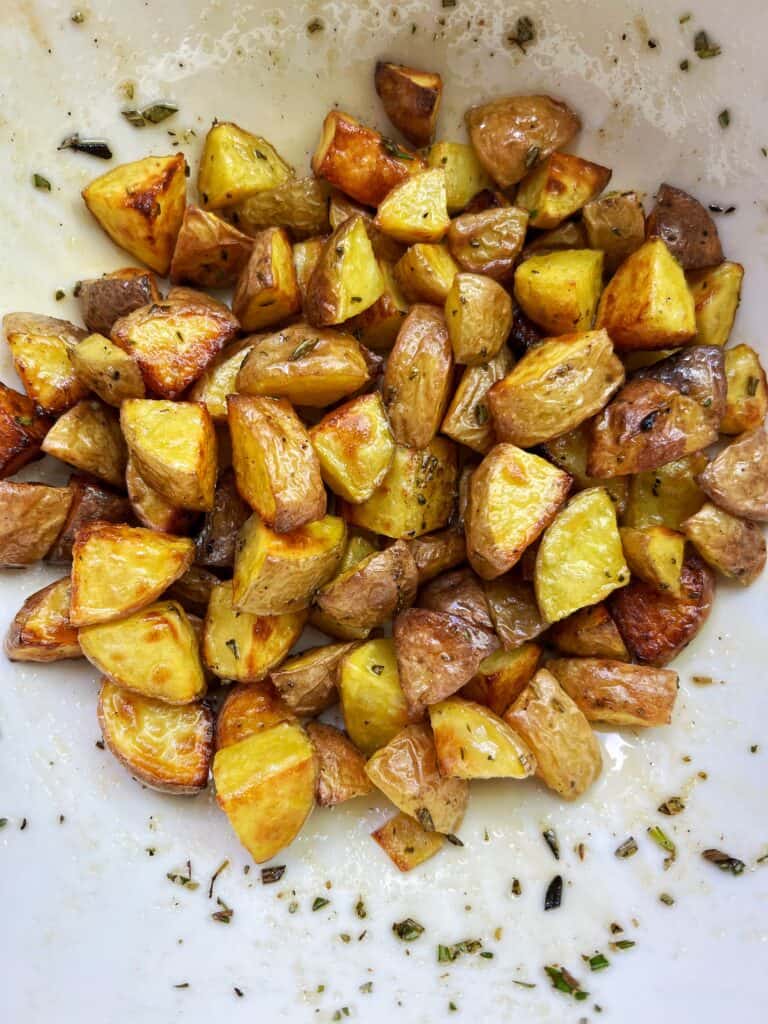 Four Simple Ingredients
I've seen recipes that say you need to coat your potatoes to get them crispy. No thanks. Let's keep it simple and use the better techniques to get the desired results.
Yukon Gold Potatoes – these work best for these diced crispy potatoes. They cook up fast and the flavor and texture is perfect.
Olive Oil – I really like to cook with extra virgin olive oil, you can see my recommended brand and learn the benefits of cooking with olive oil in this post.
Fresh Rosemary- for this recipe I really recommend fresh, not dry. The flavor and texture is better. You can find fresh rosemary at any produce section, or even growing in your neighborhood!
Sea Salt – Although the Balene salt says it's fine, it's actually much coarser than table salt. I prefer. coarser salt for potatoes.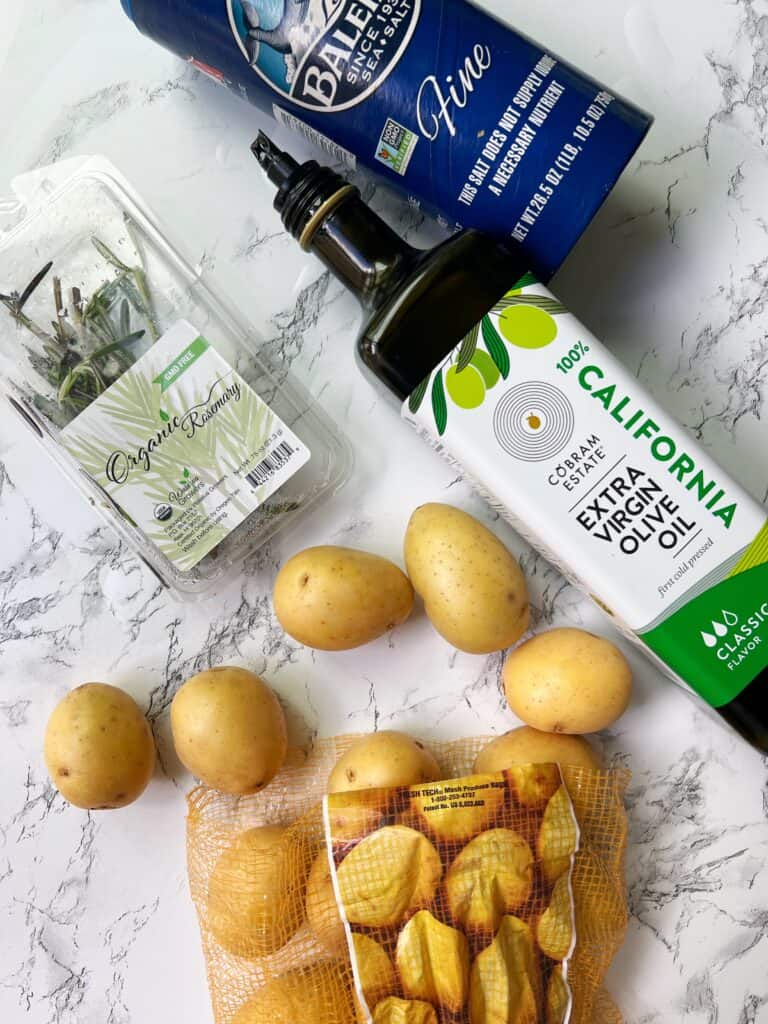 Step by Step Perfect Crispy Air Fryer Potatoes
The secret here is to cut your potatoes into evenly sized pieces. Don't haphazardly dice them. I like to halve them twice, horizontally, so they are in 4 quarters. Then place them quarters flat dice down and cut them 3-4 times again into pieces. Next, you want to soak your potatoes in water for at least 20 minutes, but the longer the better.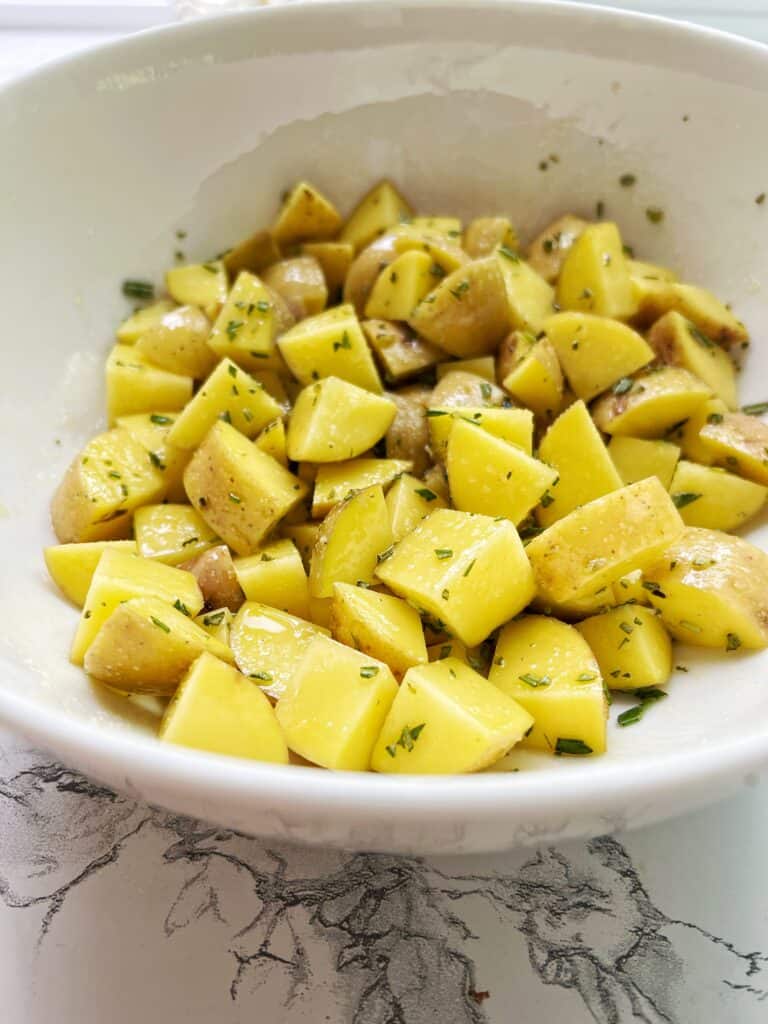 Once you've soaked them you want to drain them and dry them really, really well with a clean kitchen towel. Then toss with olive oil, salt, and rosemary in a bowl.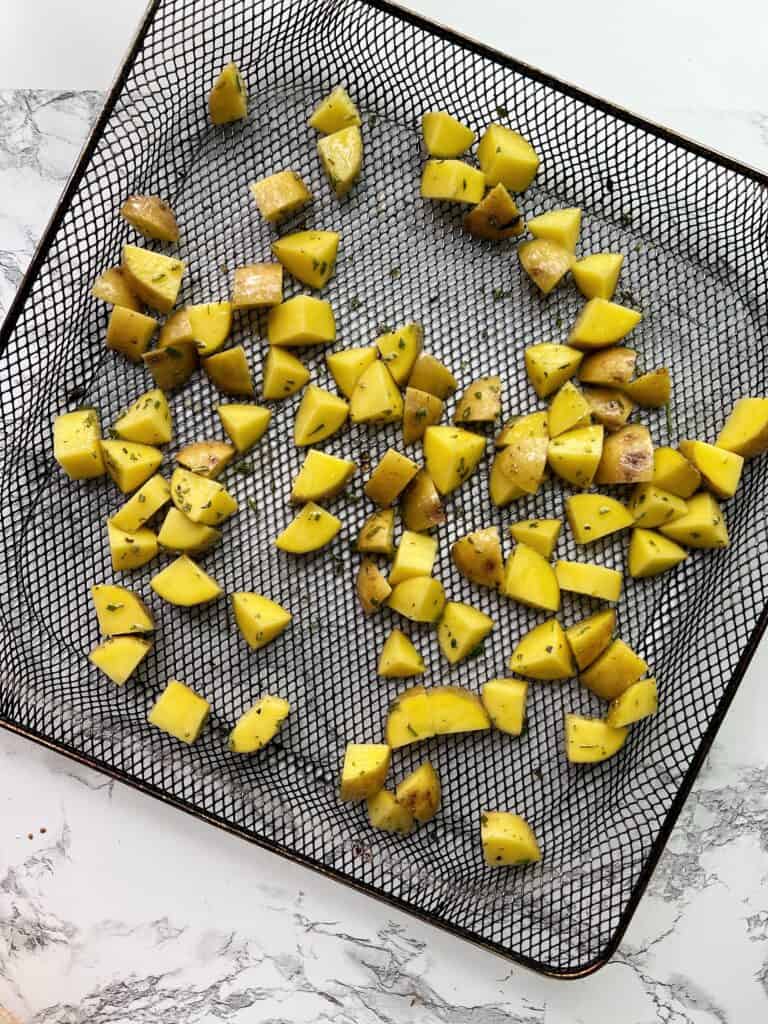 Arrange in your air fryer basket, so it's not overcrowded. If your basket is narrow but deep I will have notes for you in the tips section. Air fry for 20-25 minutes at 420F. Open air fryer and toss with tongs every 10 minutes.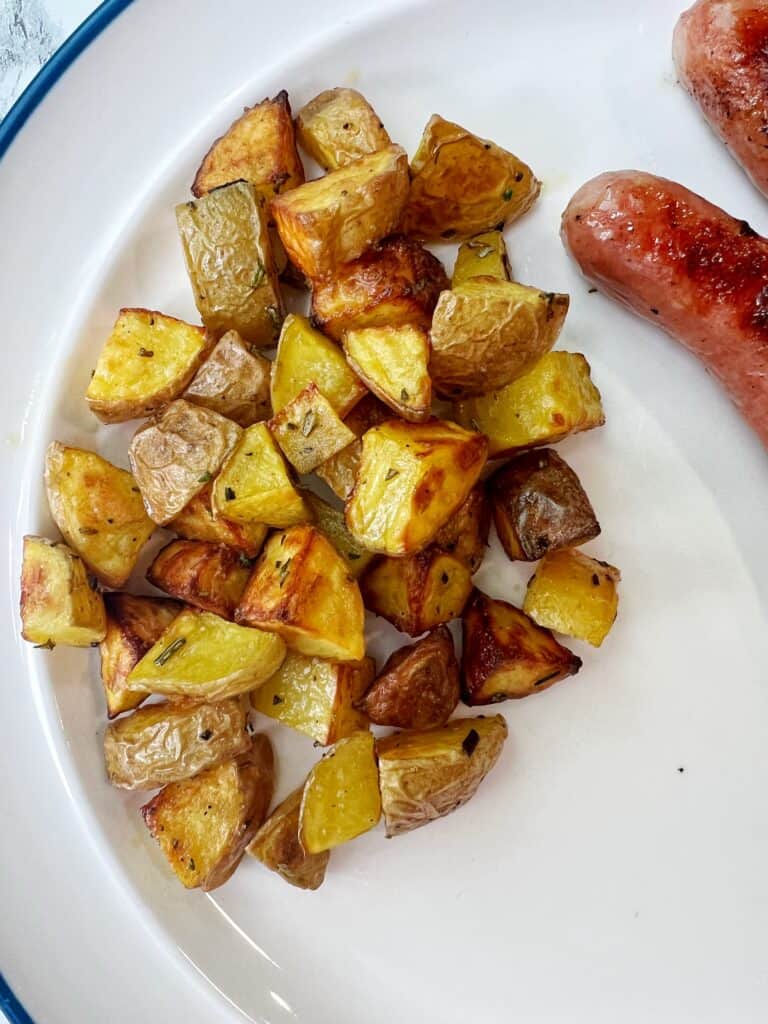 Tips for the Perfect Crispy Potato
DON'T SKIP THE SOAKING. Even if you only have 5-10 minutes, give them a rinse or a short soak, and then dry well. Like until they are BONE DRY.
If your air fryer basket does not look like mine, and it's smaller and deeper, that's okay. You will need to open the air fryer and toss every 8 minutes and you might need to add cooking time until all the potatoes are golden, brown, and crispy.
Don't skimp on the oil. You don't want to drown them, but a healthy coat of olive oil over the potatoes is key.
Frequently Asked Questions
What type of air fryer do you have?
I use a Ninja SP 101 – It's linked in my Amazon Store. Yes, I love it!
Are potatoes a nightshade?
Yes! And while I have not eaten them in many years, this year I was able to reintroduce them. A huge win in healing my body. Learn more about nightshades.
Similar Recipes You May Like…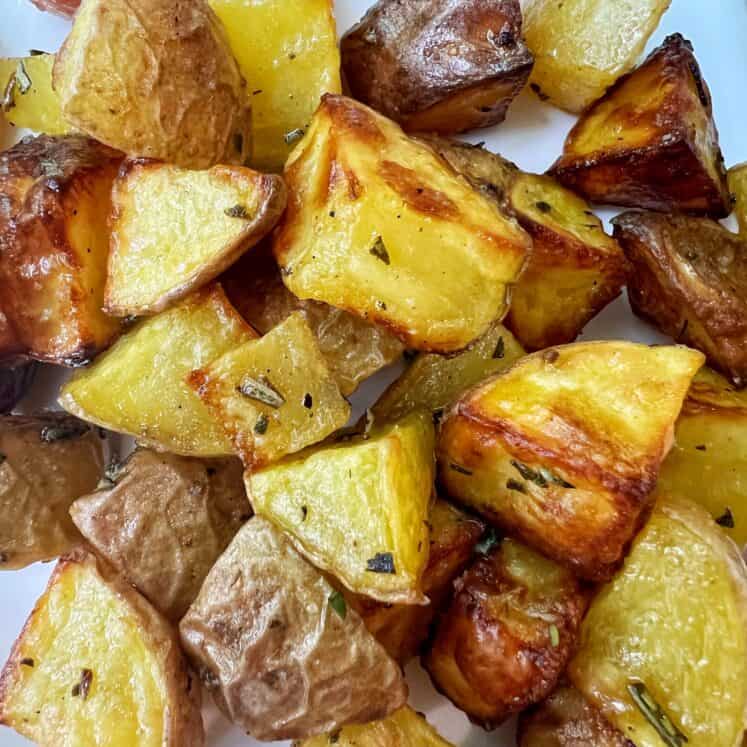 Crispy Air Fryer Potatoes with Rosemary
---
Author: Cristina Curp, FNTP
Prep Time: 20 minutes
Cook Time: 25 minutes
Total Time: 45 minutes
Yield: 3 servings 1x
Category: Side Dish
Method: Air Fryer
Cuisine: Classic
Diet: Gluten Free
Description
Golden, brown and delicious potatoes made in the air fryer
---
Scale
Ingredients
5 Yukon Gold Potatoes
2 Springs Fresh Rosemary
2 tablespoon Extra Virgin Olive Oil
1 teaspoon Sea Salt
---
Instructions
Dice your potatoes in even sized pieces. Then soak in water for at least 20 minutes. Then drain and dry with a clean kitchen towel until bone dry. Dry the bowl too.
Put the potatoes back in the dry bowl. Add in the olive oil, rosemary and, salt. Toss until well posted.
Transfer to the air fryer basket and make sure it's not over crowded. Air Fry for 20-25 minutes at 420F. Open air fryer and use tongs to toss/ turn every 10 minutes.
Once golden, brown, and delicious remove from the air fryer and transfer back to the same bowl where you seasoned them. Toss in the residual olive oil and salt. Taste and add more salt if needed. Serve hot!
Recipe Notes:
If your air fryer basket is small you will need to toss the potatoes every 8 minutes and you might need to extend cook time until all are golden and brown.
You can add black pepper to the recipe for spice, 1/2 teaspoon
Nutrition
Serving Size: 1/3 recipe
Calories: 232
Fat: 16g
Carbohydrates: 20g
Fiber: 3g
Protein: 2g
Keywords: Crispy Air Fryer Potatoes