Toasted gluten-free and keto bread, smeared with creamy sauce and piled high with shredded corned beef, dairy-free cheese, and tangy sauerkraut. This Keto Reuben Sandwich hits the spot and comes together quickly with my recommended ingredients. Low carb? Dairy-free? No prob! Sandwiches are back!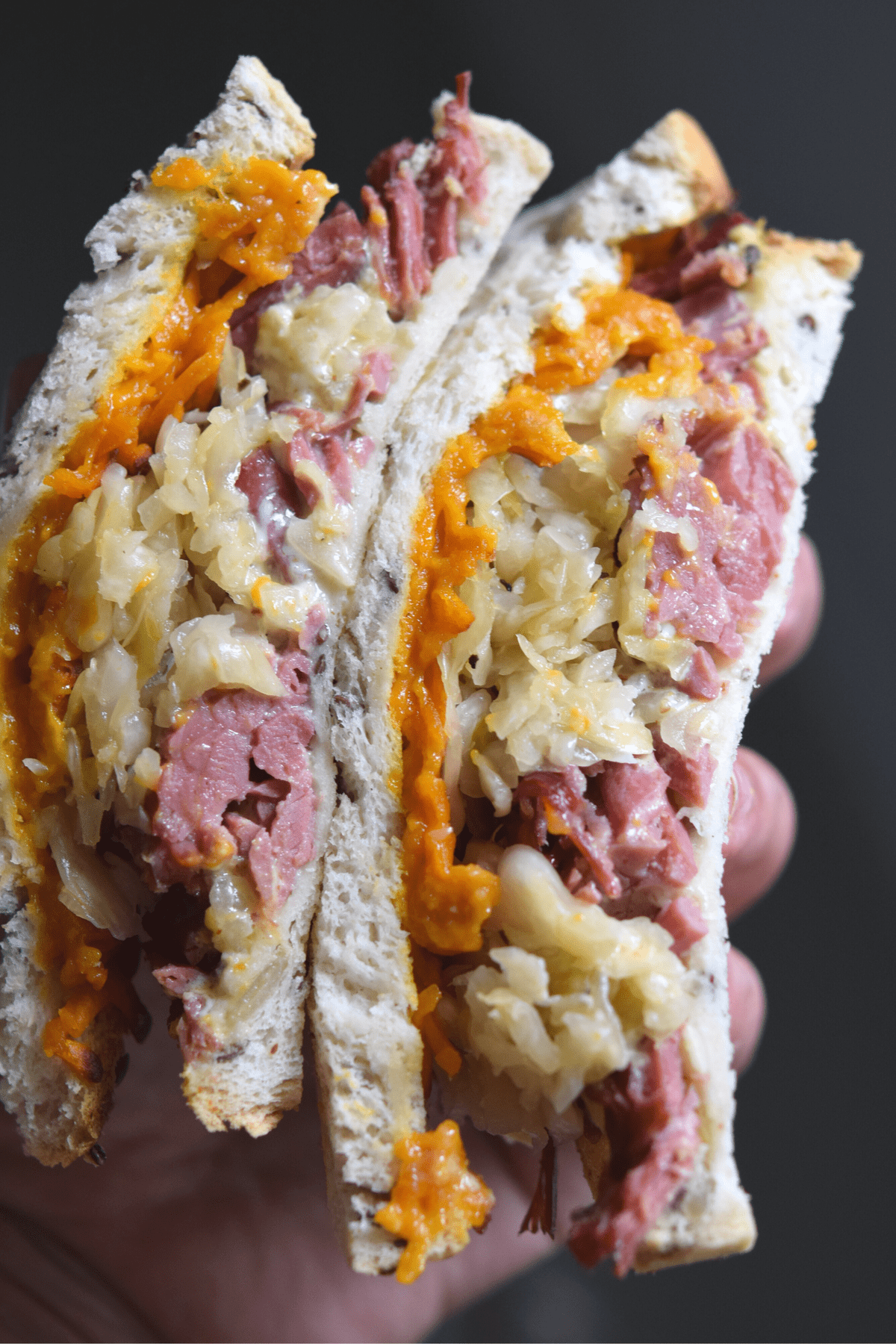 Table of Contents
You're going to LOVE this Keto Reuben Sandwich
Reuben bowls and casseroles are pretty good, but there is something about two slices of bread that just hits the spot. This super easy Reuben Sandwich is low carb and dairy-free with a simple take on this classic.
In this post, I am sharing my Keto Reuben Sandwich Recipe, using some tasty, and pretty clean, keto and dairy-free ingredients! A dairy-free Reuben recipe that's really easy to make, using some store-bought favorites and my chef recommended products. I will also give you alternatives so that you can make a keto Reuben that fits your needs.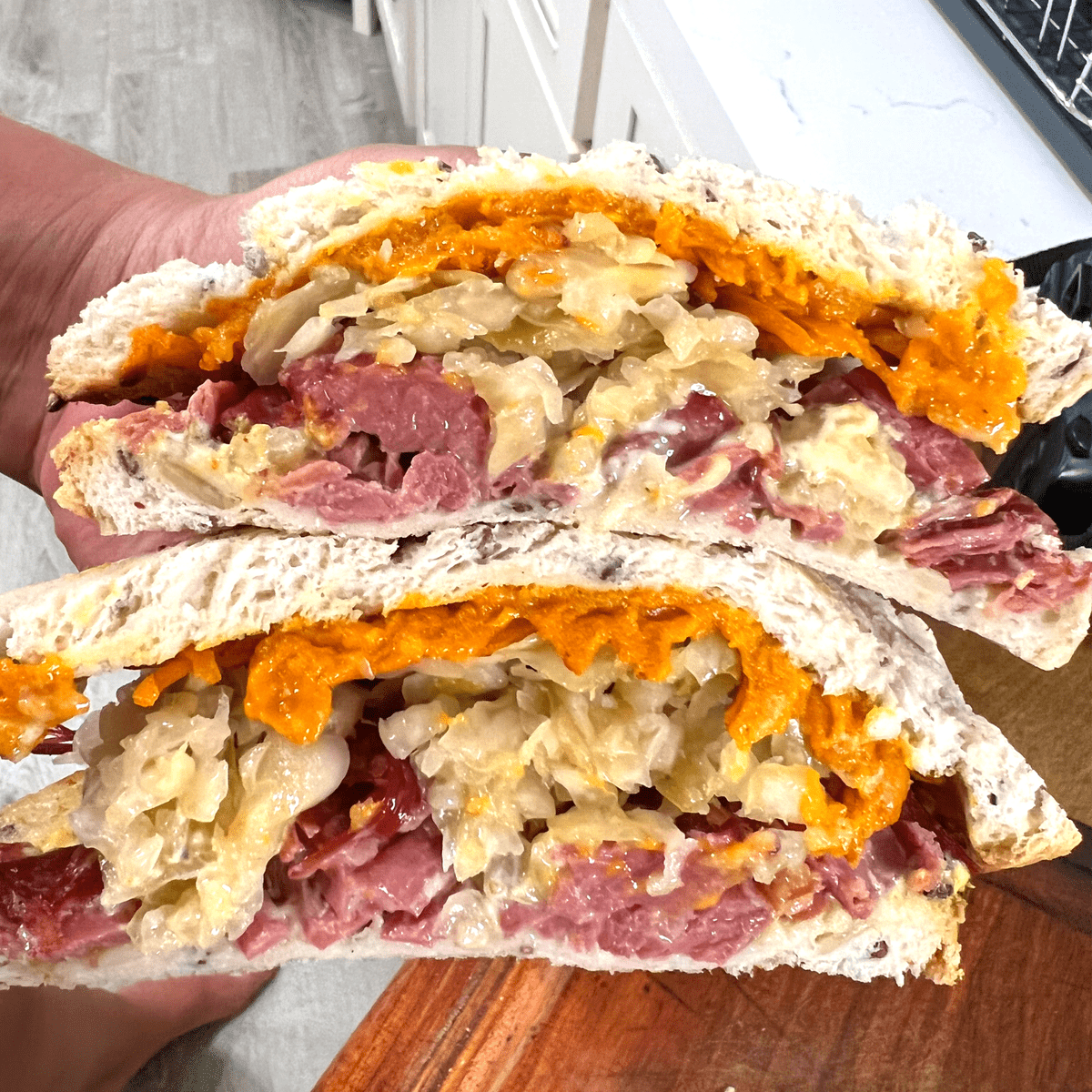 Easy Button Ingredients
If you're a long-time Castaway, you might be surprised at some of these ingredients. For the past 7 years I have stuck to a fairly rigid paleo, no processed foods diet. While that still encompasses the vast majority of my diet, I have also reintroduced some new foods and found that I can tolerate some potato starch and what I call "healthy" processed foods now and then. The benefit here is flexibility with my diet, my lifestyle to enjoy recipes like this Keto Reuben Sandwich!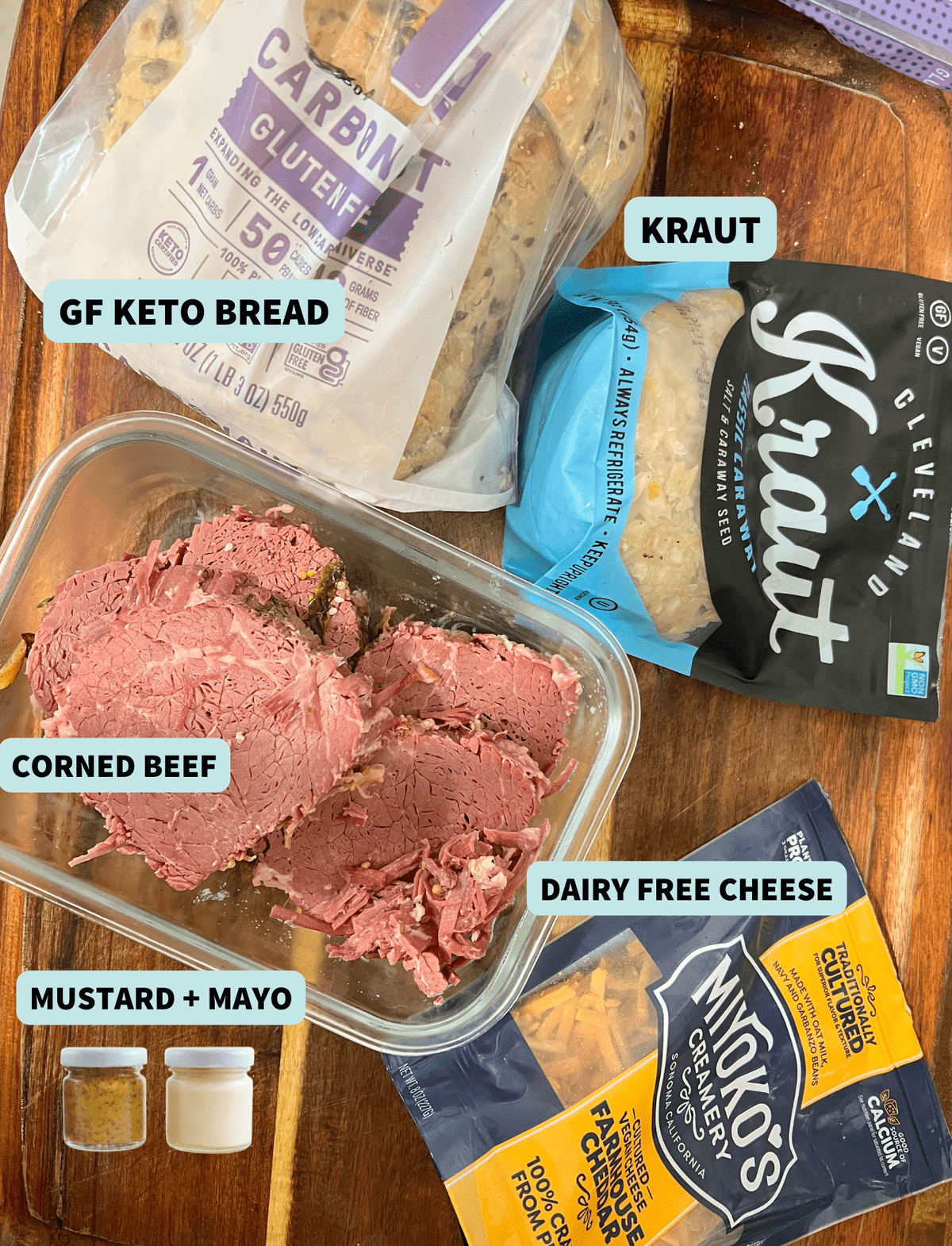 If I don't have a loaf of my Nut Free Keto Bread made then I'm buying this Carbonaut Rye like loaf. It's REALLY good- it's all fiber, and comes out to 1 net carb per loaf. It's really the BEST bread option for a keto Reuben Sandwich! You can get it in the freezer section at Whole Foods or by the case on Amazon.
I bought the corned beef from Costco, they sell it marinating. I just dumped it in my pressure cooker and added water. Cooked it on high for 2 hours. Howerver you can slow cook it, or get corned beef from the deli.
As far as dairy free cheese goes, I have historically made my own, like my Mozz Blocks recipe, but with my new found tolerance to potato starch in some products, I gave Miyokos Creamery a go and it's tasty when it's melted.
Russian dressing is a mix of mayo and ketchup and if you're keto I would reccomend Primal Kitchen avocado oil mayo or homemade mayo and sugar free ketchup. Howerver, I can't eat tomatoes, so I used mustard and mayo. Use code CASTAWAY for a discount on Primal Kitchen.
While making homemade sauerkraut is fairy easy, and I have a recipe in Made Whole Made Simple, I really like Kraut among the store bought brands.
Easy Peasy Keto Reuben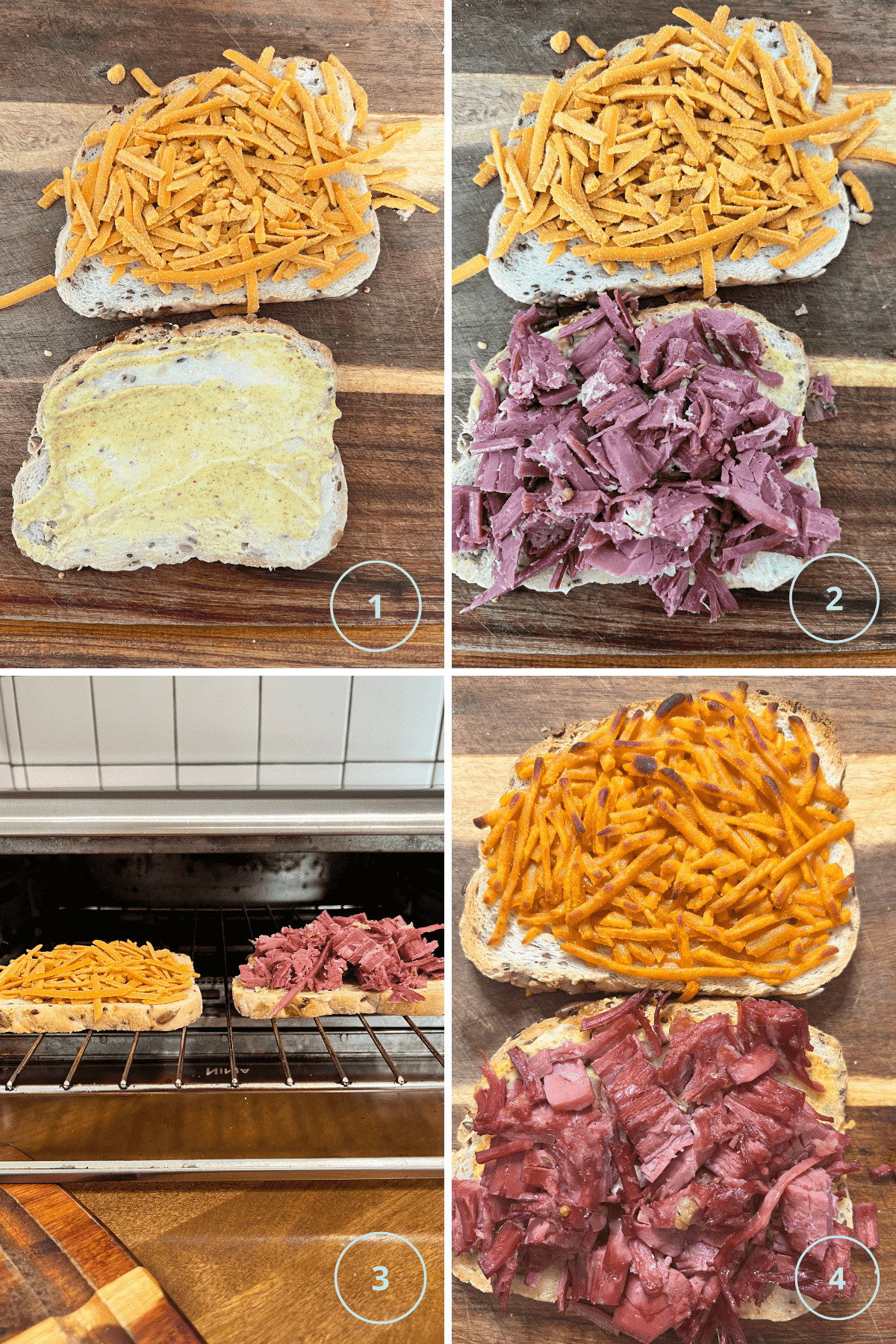 Grab your keto bread and lay them flat on your counter or cutting board. Smear your sauce on one slice. On the other arrange your dairy free cheese.
Pile your shredded or sliced corned beef on the other slice.
Place in a toaster oven and broil for 4 minutes or until the bread is toasted and the cheese has melted.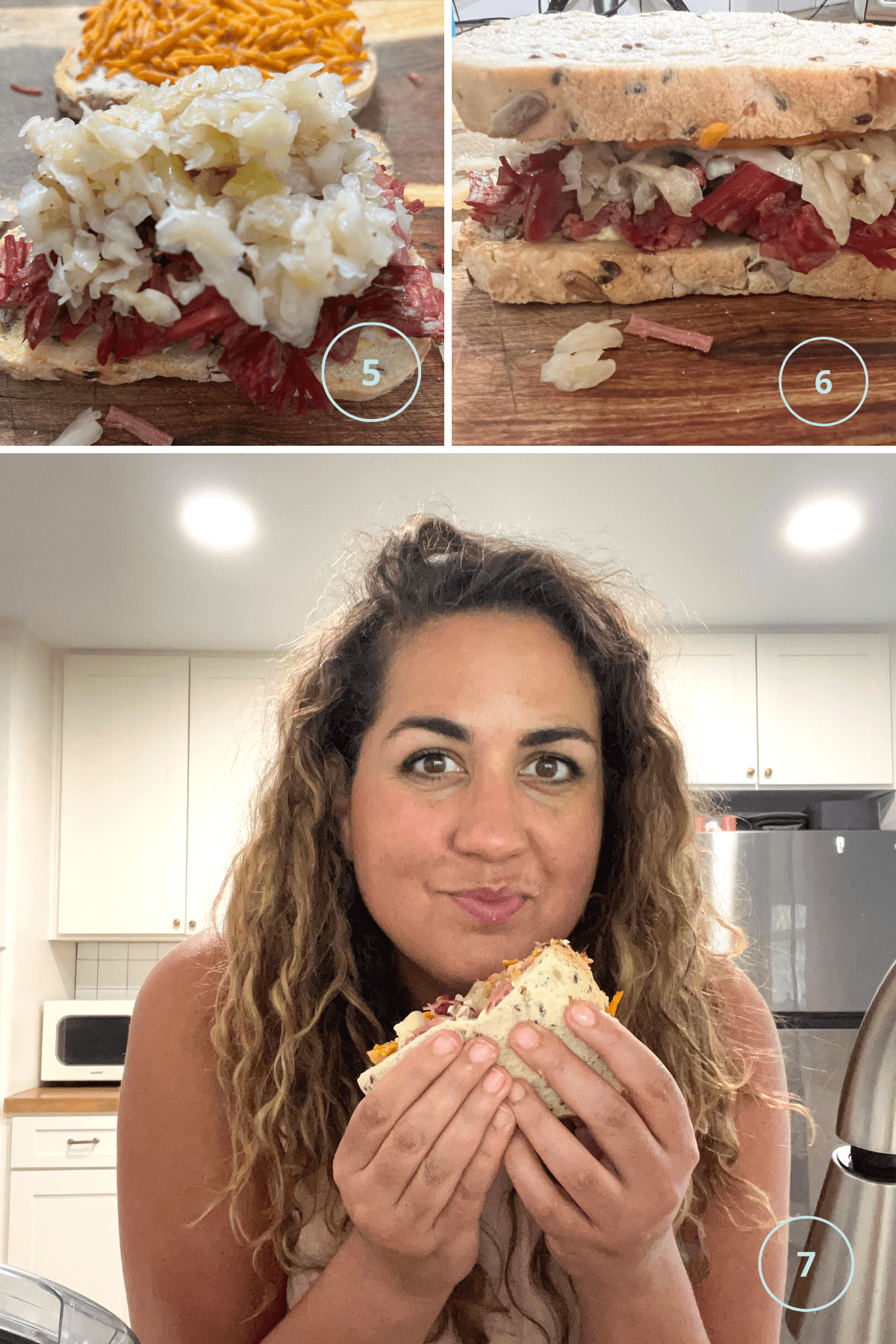 Pile the Kraut over the toasty corned beef, carefully grab the slice with melted cheese and close the sandwich. Gently press down.
Cut it in half diagonally and then dig in!
Frequently Asked Questions
Are you concerned with the additives in pre-marinated corned beef?
Not if I eat it occasionally. However, if you are, you can use a homemade recipe.
Can I use a paleo bread?
Yes, you can use any bread you like, but I recommend sourdough or rye bread for optimal flavor.
Doesn't a Rueben use Swiss Cheese?
Yes, and if you eat cheese on your keto diet then go for it. However, dairy-free cheese flavors are limited. The Miyoko's "Cheddar" worked for me.
You May Also Like…
Thank YOU!
You may have noticed the blue "Thank the creator" buttons on my blog! I'm thrilled to be one of Google's paid early testers for their Thank with Google pilot program. Thank with Google is an experimental feature that allows you to purchase a virtual sticker and directly show your appreciation for content on my website. Seeing the stickers you all send me truly makes me feel appreciated and inspires me to create more delicious recipes.
Creating free content online can often feel like a thankless job, but I truly love it and the community we've built. Using Thank with Google feature allows you to purchase a virtual sticker and directly show your appreciation for content on my website.
As a super Castaway Family member, you can feel more connected and engaged because you can express which posts are your favorite. I also love the personal messages you can send along with the paid stickers.
You can find the Thank with Google feature in multiple places on my site, including the top and bottom of each post as well as the sidebar (on the right of the screen). If you try it out, let me know what you think and as always, thank YOU so much for your support. It truly means the world.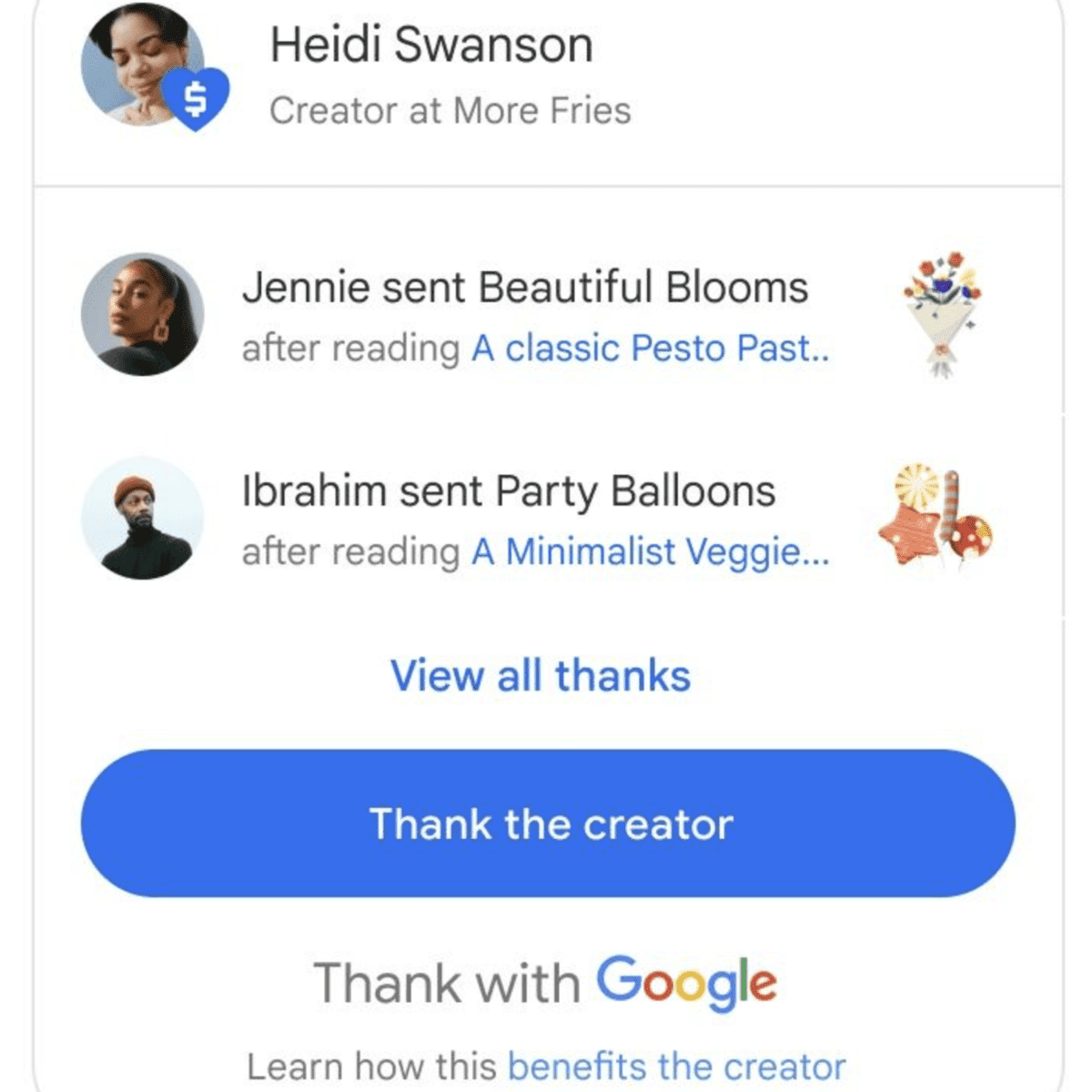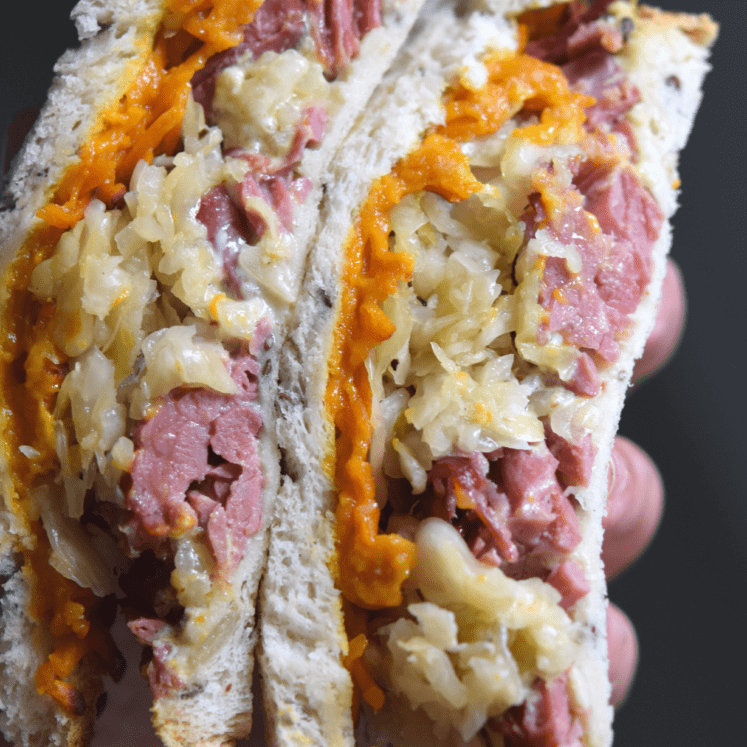 Keto Reuben Sandwich Recipe (Dairy Free)
---
Author: Cristina Curp, FNTP
Prep Time: 10 minutes
Cook Time: 5 minutes
Total Time: 15 minutes
Yield: 1 sandwich 1x
Category: Sandwich
Method: Toast
Cuisine: American
Diet: Gluten Free
Description
Toasty bread, smoky meat, melty cheese, and tangy kraut – this sandwich hits the spot
---
Scale
Ingredients
2 slices keto bread, I recommend Seeded Carbonaut Bread
1 teaspoon avocado oil mayo
1 teaspoon Spicy Brown mustard (or Ketchup)
3 tablespoons dairy-free cheese, I used Miyoko's Creamery shredded Cheddar
3 ounces corned beef, sliced or shredded
3 tablespoons sauerkraut
---
Instructions
Spread the sauces on one slice of the bread. On the other slice put the cheese.
Pile the corned beef over the sauced slice. Toast under the broiler for 4 minutes or until cheese is melted.
Remove from the toaster oven and put the sauerkraut over the corned beef. Then take the slice of bread with melted cheese and put that overtop the sauerkraut. Gently press down.
Cut in half and dig in!
Recipe Notes:
You can use any keto bread you wish, I just like the rye-tasting Carbonaut brand.
If you eat dairy, use Swiss cheese for a more authentic Reuben
Use code CASTAWAY for a discount on Primal Kitchen products.
Miyoko's Creamery Farmhouse Cheddar does have potato starch in it.
Sandwich is 9 net carbs (1g per slice of bread)
Nutrition
Serving Size: 1 Sandwich
Calories: 398
Fat: 23g
Carbohydrates: 23g
Fiber: 20g
Protein: 26g
Keywords: Keto Rueben Sandwich