Cauliflower steaks are so versatile, from a plant-forward main course to a perfectly keto side dish. This recipe for roasted cauliflower steaks with creamy pecan sauce is simple to make but packs loads of flavor, healthy fats, and an elegant flair!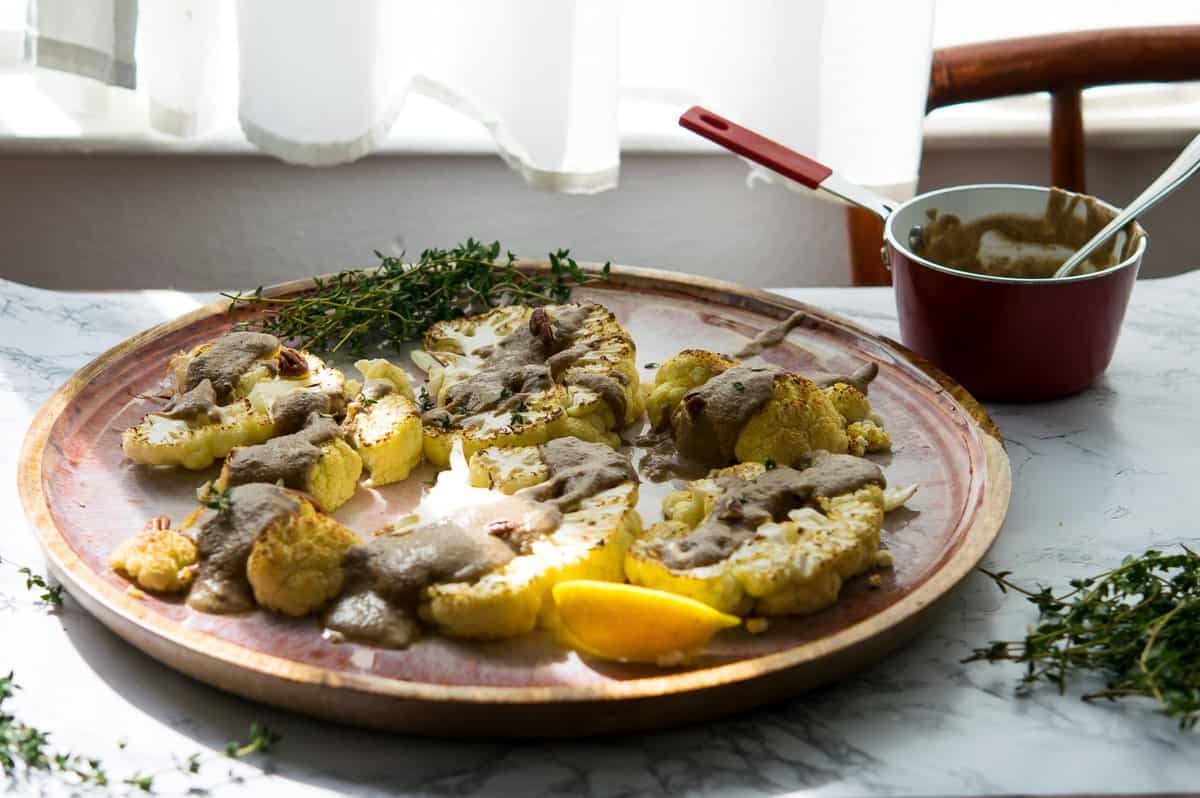 Table of Contents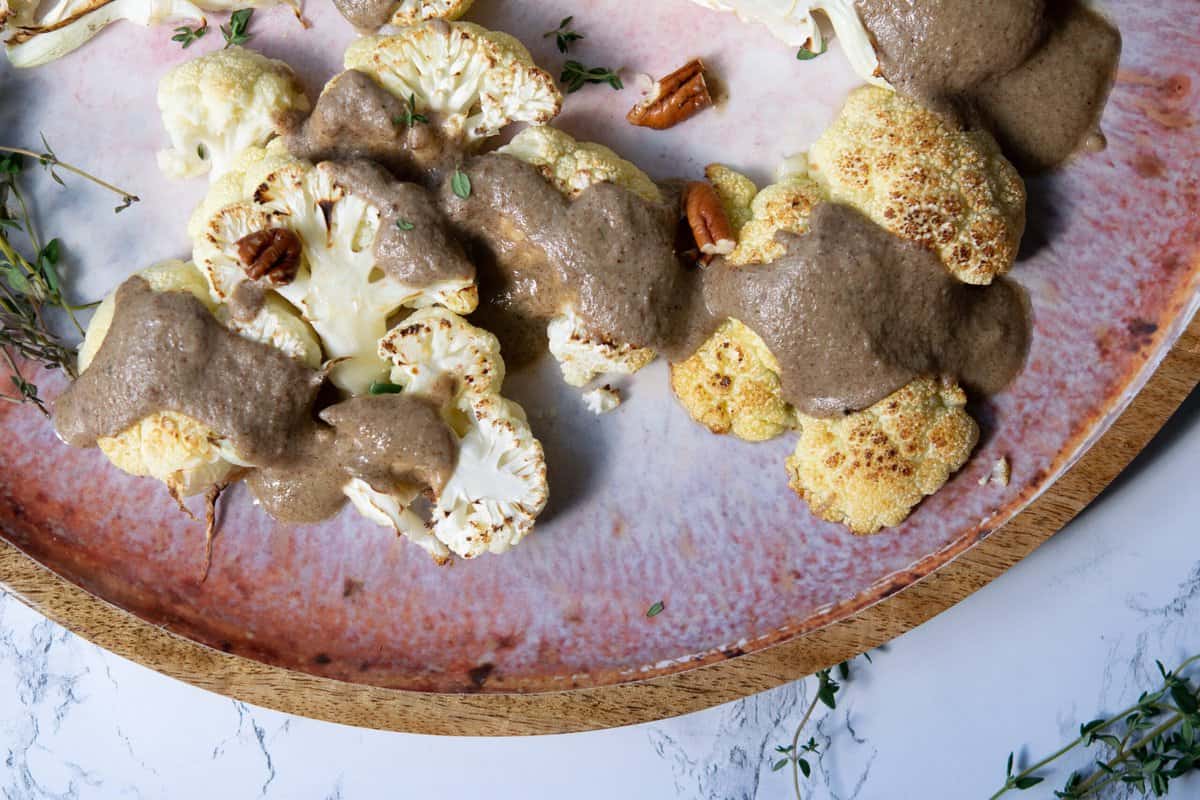 The Best Ever Cauliflower Steaks
I love a good sheet pan recipe, and these roasted cauliflower steaks are super simple. The magical part of this recipe is the sauce. This creamy and dreamy pecan sauce is made with alliums, herbs, and a little white wine. It tastes fancy, looks pretty, but it is truly very easy to make. This rich sauce over the perfect roasted cauliflower steaks is a beautiful combination.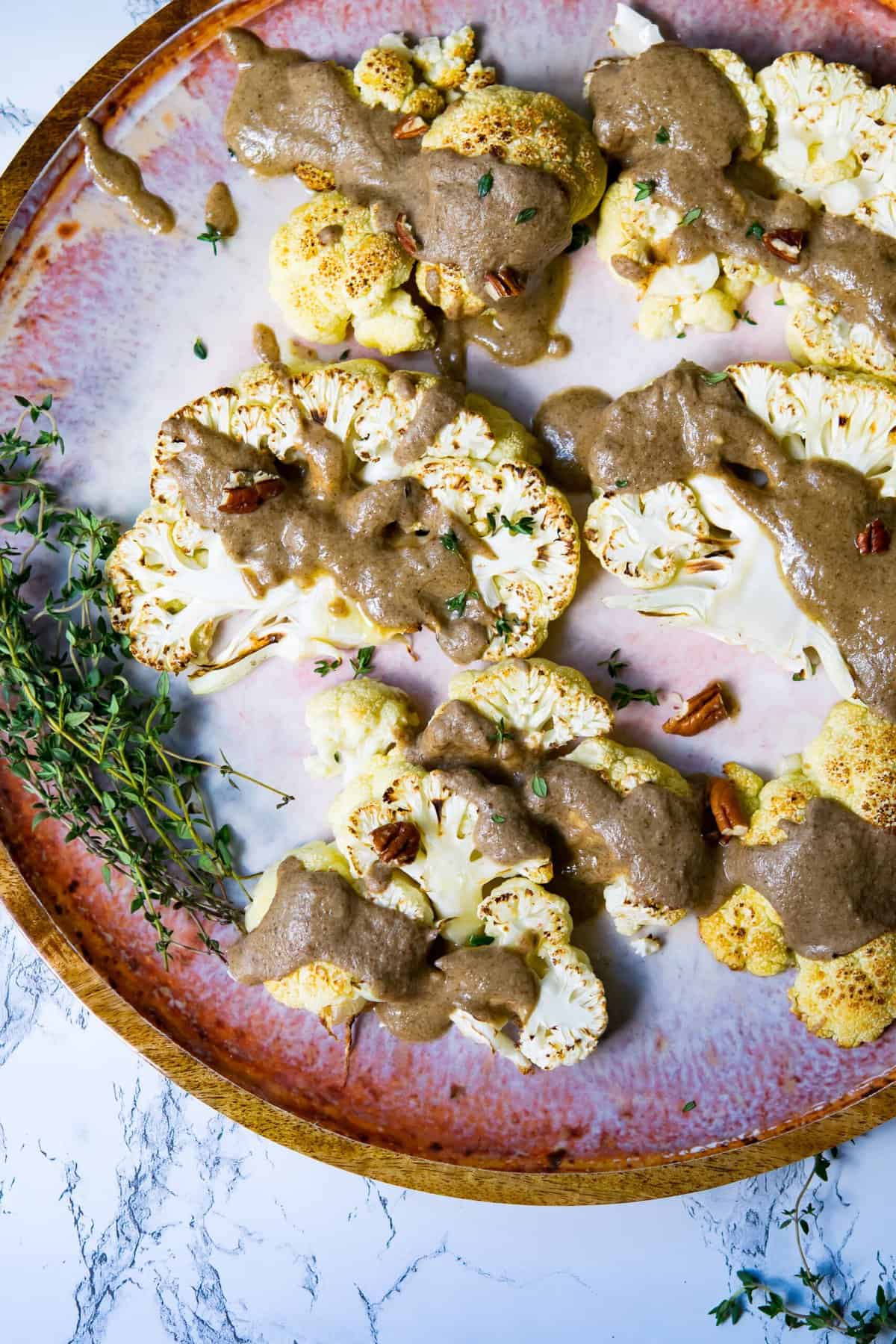 Simple Ingredients, Elegant Dish
Halved, raw pecans are the base of this sauce. I like buying them in the bulk section of my grocery store.
Shallot, they're sweeter and more delicate than onions, but you can use 1/4 red onion in a pinch.
Fresh thyme adds brightness to the flavor profile. Rosemary would work well too!
White wine, you can use cooking wine or any white wine you have on hand. If you don't cook with alcohol, use white wine vinegar.
Lemon helps cut the fat in the sauce a bit, you only need a little.
Avocado oil emulsifes the sauce in the blender and I prefer this over olive oil here because I feel that olive oil overpowers the flavor profile.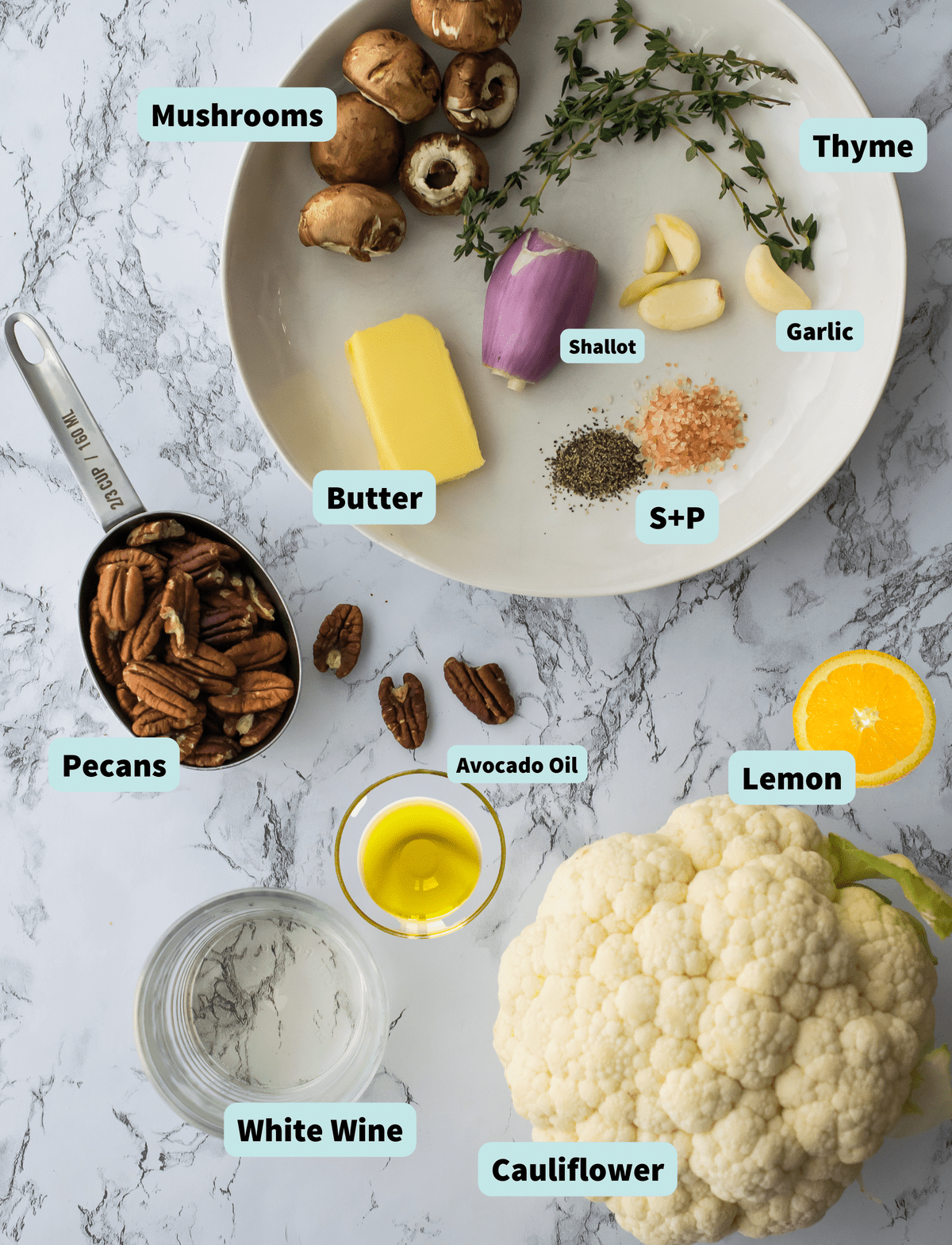 Step by Step Fancy Cauliflower Steaks
Stary by trimming your cauliflower head, cut intso steaks and lay flat on a sheet pan. Drizzle with olive oil and lightly salt.
Slice your mushrooms and shallot, mince the garlic.
Melt butter in a medium skillet and add in the prepared veggies.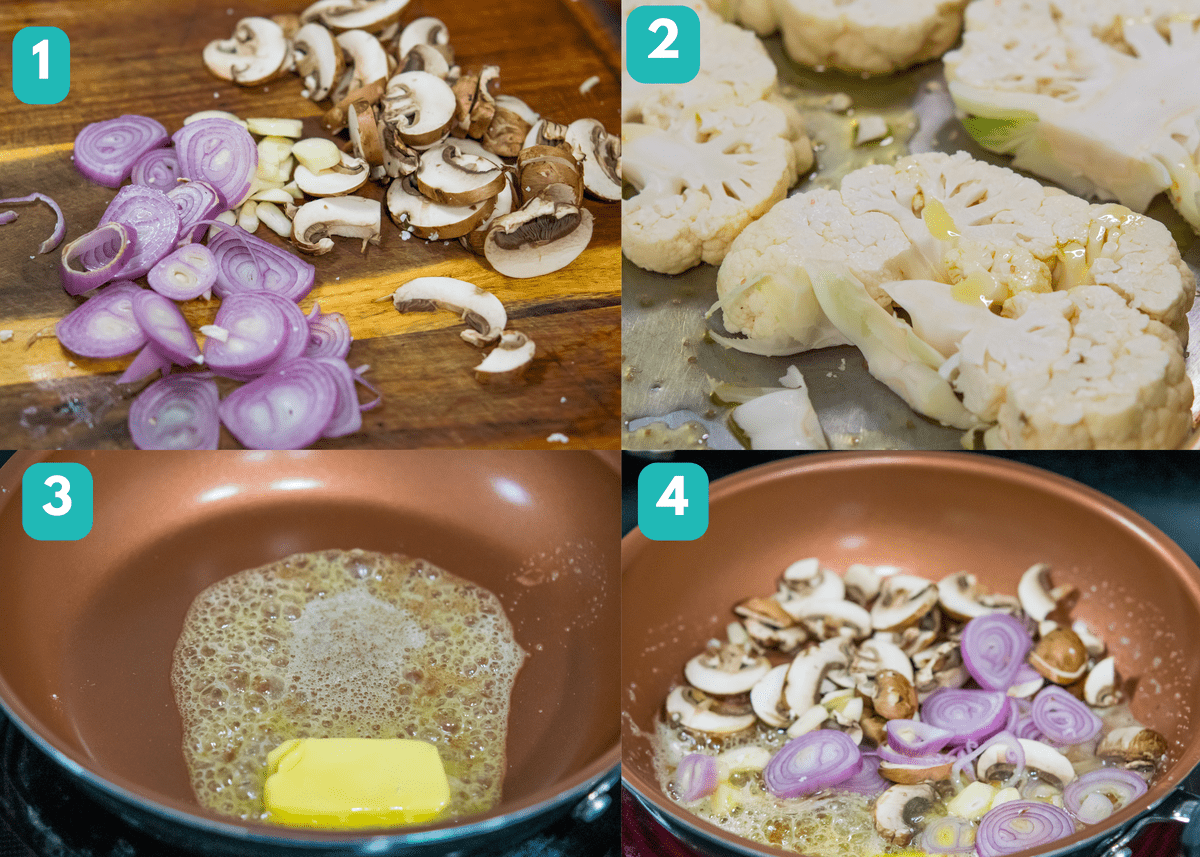 Once the shallot and mushrooms are tender, add in the garlic, thyme, salt and pepper and saute until browned.
Add in the pecans, once browned, deglaze the skillet with white wine.
Tranfer everything to a blender, carefully.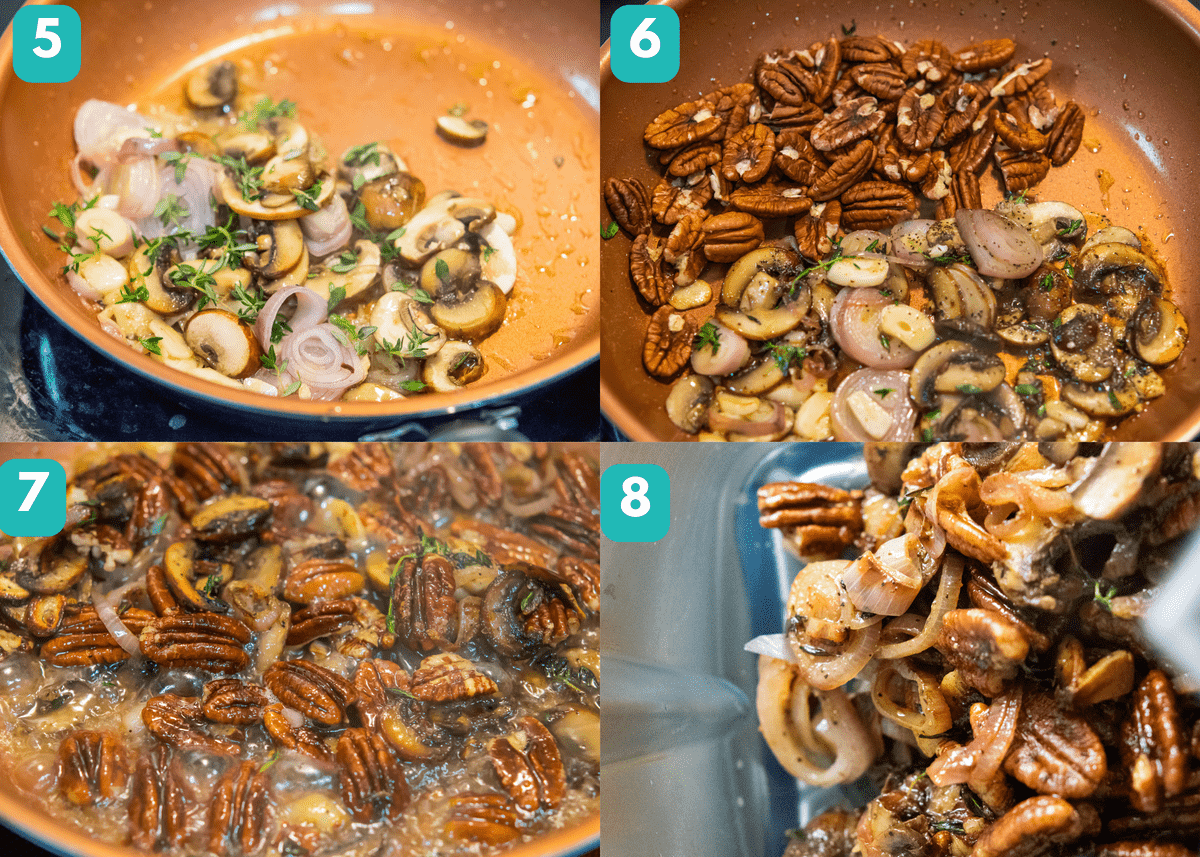 Add in a little bit more wine to the blender, then lemon juice. Blend and drizzle in oil slowly until smooth.
Remove your cauliflower steaks from the oven, use a spatula to transfer to a platter.
Spoon suace over generously, dig in!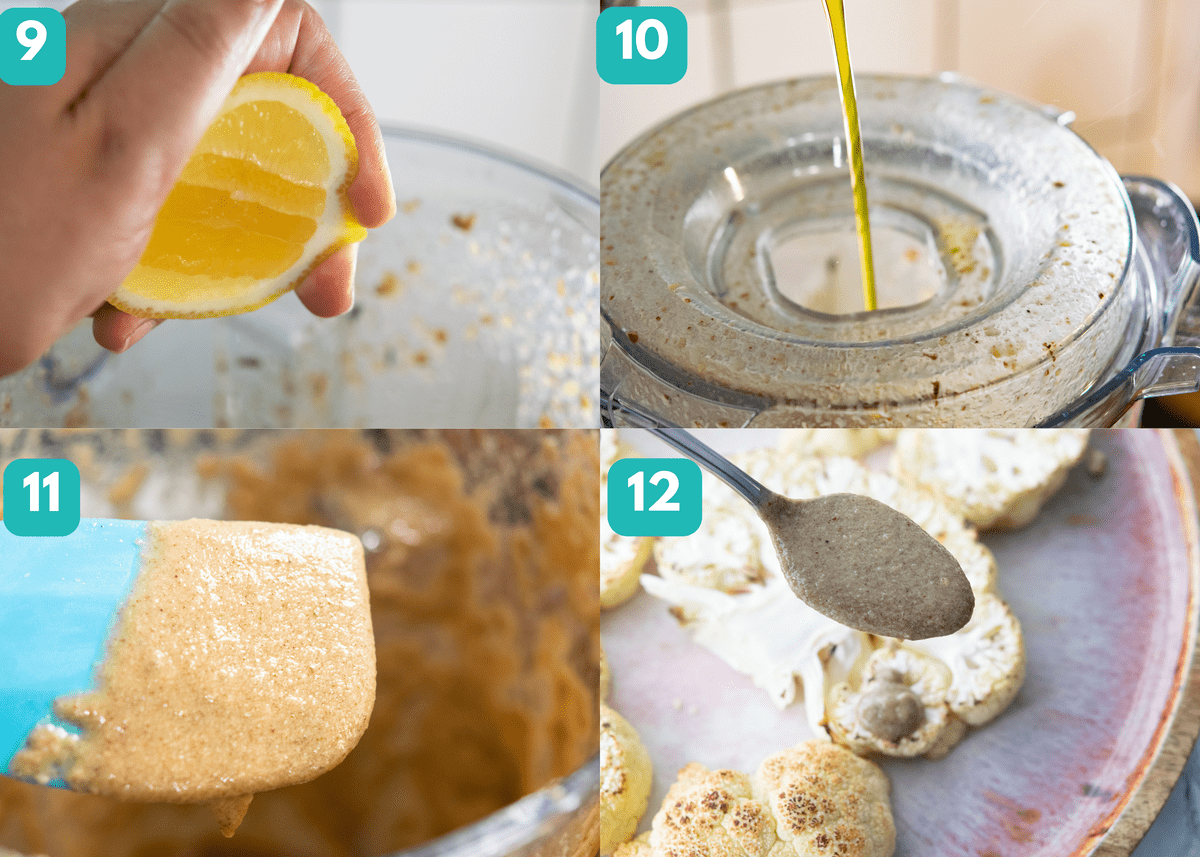 Frequently Asked Questions

How thick do I cut my cauliflower steaks?
1/2 and inch to 1 inch thick. If you have a large head of cauliflower it should yield 4-5 steaks.
Can I use another nut instead?
Macadamia nuts will work second best.
Can I make this nut-free?
You could add clumps of coconut butter to the skillet until toasted and continue the recipe as written.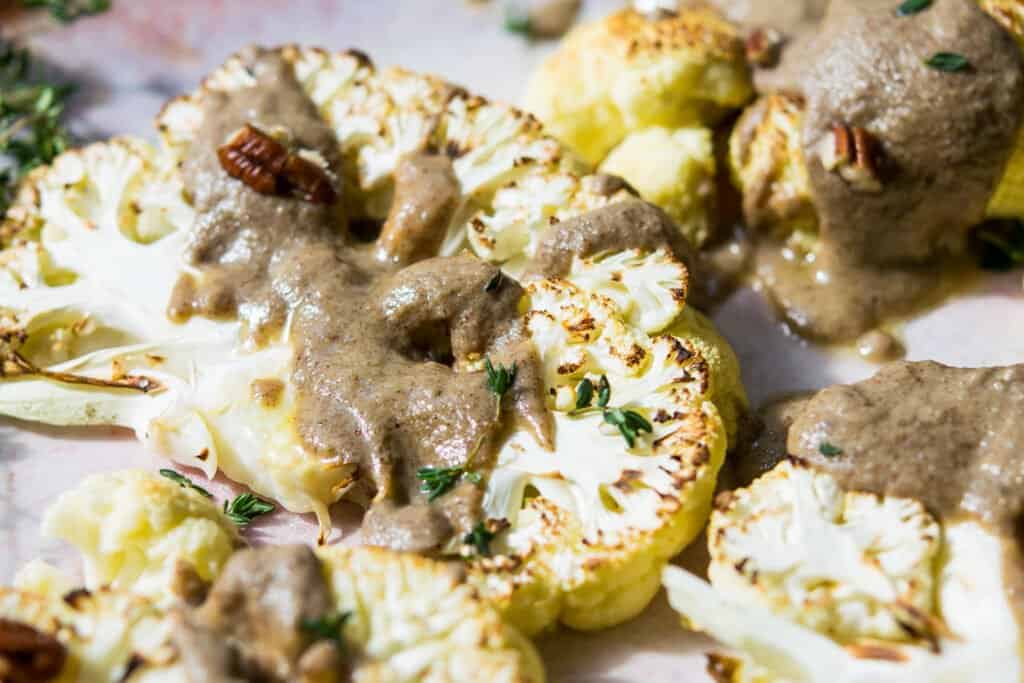 If you like Cauliflower Steaks, You May Also Like…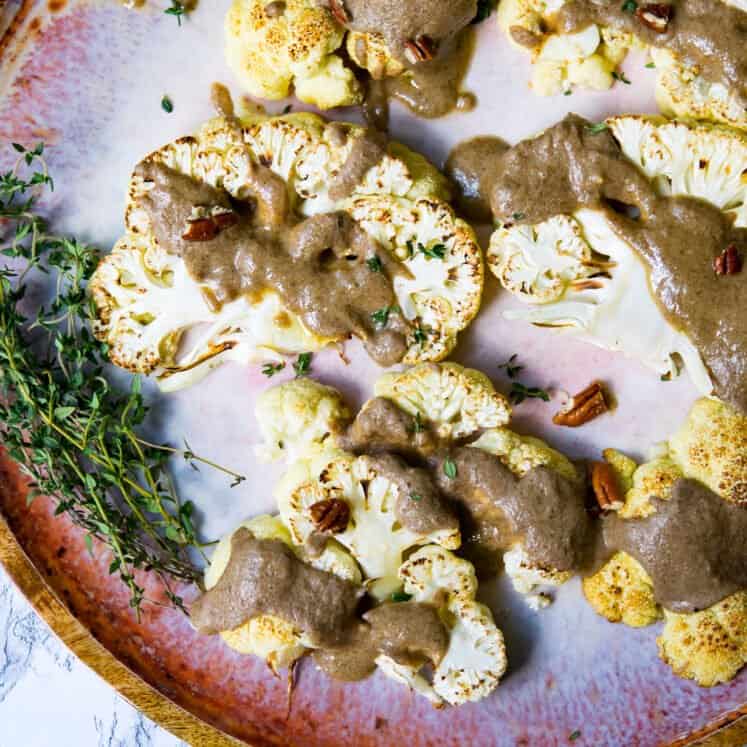 Cauliflower Steaks with Creamy Pecan Sauce
---
Author: Cristina Curp, FNTP
Prep Time: 10 minutes
Cook Time: 35 minutes
Total Time: 45 minutes
Yield: 4 servings 1x
Category: Side Dish
Method: Roast
Cuisine: Healthy
Diet: Gluten Free
Description
Elegant vegetarian main course or keto side dish. Roasted Cauliflower Steaks with creamy pecan sauce. 
---
Scale
Ingredients
1 large head of cauliflower
1/4 cup avocado oil, divided
1 teaspoon fine salt, divided, more to taste
2 tablespoons butter
1 shallot
1 cup mushrooms
4 cloves garlic
3 sprigs fresh thyme
1/2 teaspoon black pepper, ground 
1 cup pecan halves
1/2 cup white wine, divided
juice of 1 lemon
---
Instructions
Preheat oven to 400F. Cut cauliflower head into 1-inch thick steaks. Lay flat on a lightly oiled sheet pan, lightly drizzle with avocado oil, and sprinkle with salt. Roast for 35-40 minutes or until tender and browned. 
While the cauliflower roasts, make the sauce. Start by slicing the mushrooms and shallots, mincing the garlic and prepping the thyme. Best way to get the leaves off of fresh thyme is my holding one end of the sprig and run pinched fingers against the grain, all the little leaves will come right off. 
Melt the butter in a medium to a large skillet. Add in the shallots and mushrooms, saute for 3-4 minutes. Add in the garlic, thyme, remaining salt, and pepper. Saute for another 4-5 minutes. 
Add in the pecans and mix well. Saute until the pecans are starting to toast. Pour in 1/4 cup white wine and let it simmer, use a spatula to scrape the bottom of the pot. Once the wine is reduced by 1/2, transfer everything to a blender. 
Add in the remaining white wine, squeeze the lemon juice in. Begin to blend on low, bringing the power up slowly. If the mix isn't moving, don't worry, it will once you start adding in the oil. Slowly drizzle in the avocado oil until the mix is smooth. Taste, add more salt if you want to. 
Remove the steaks from the oven, serve hot, and with pecan sauce drizzled over generously. 
Recipe Notes:
Cut the steaks 1/2 – 1 inch thick for a large head of cauliflower
To make this nut-free add coconut butter to the skillet and brown instead of pecans
You can use rosemary instead of thyme 
Nutrition
Serving Size: 1 steak with sauce
Calories: 337
Fat: 28g
Carbohydrates: 22g
Fiber: 7g
Protein: 7g
Keywords: Roasted Cauliflower Steaks with Pecan Sauce