We've been eating Greek Salads on repeat and it's because this Honey Balsamic Vinaigrette is just additive and very easy to make. It's tangy, it's sweet, it's not oily or runny, so it clings to every leaf! The bonus is, you just mix up all the ingredients in a jar and you're ready to go.
You Need This Greek Salad Dressing
Having killer salad dressings is a must for anyone that loves salads or is trying to love salads. While you can pick up dressings at the store, making them at home is cheaper and better for you. Most store-bought vinaigrettes are made with crappy oils. This is perfect for Greek Salads, Honey Balsamic Vinaigrette is made with a handful of ingredients you probably already have. It's made with 100% extra virgin olive oil and it tastes amazing! Perfectly balanced flavors that just go so well with the tangy, crunchy flavor profiles of a Mediterranean salad.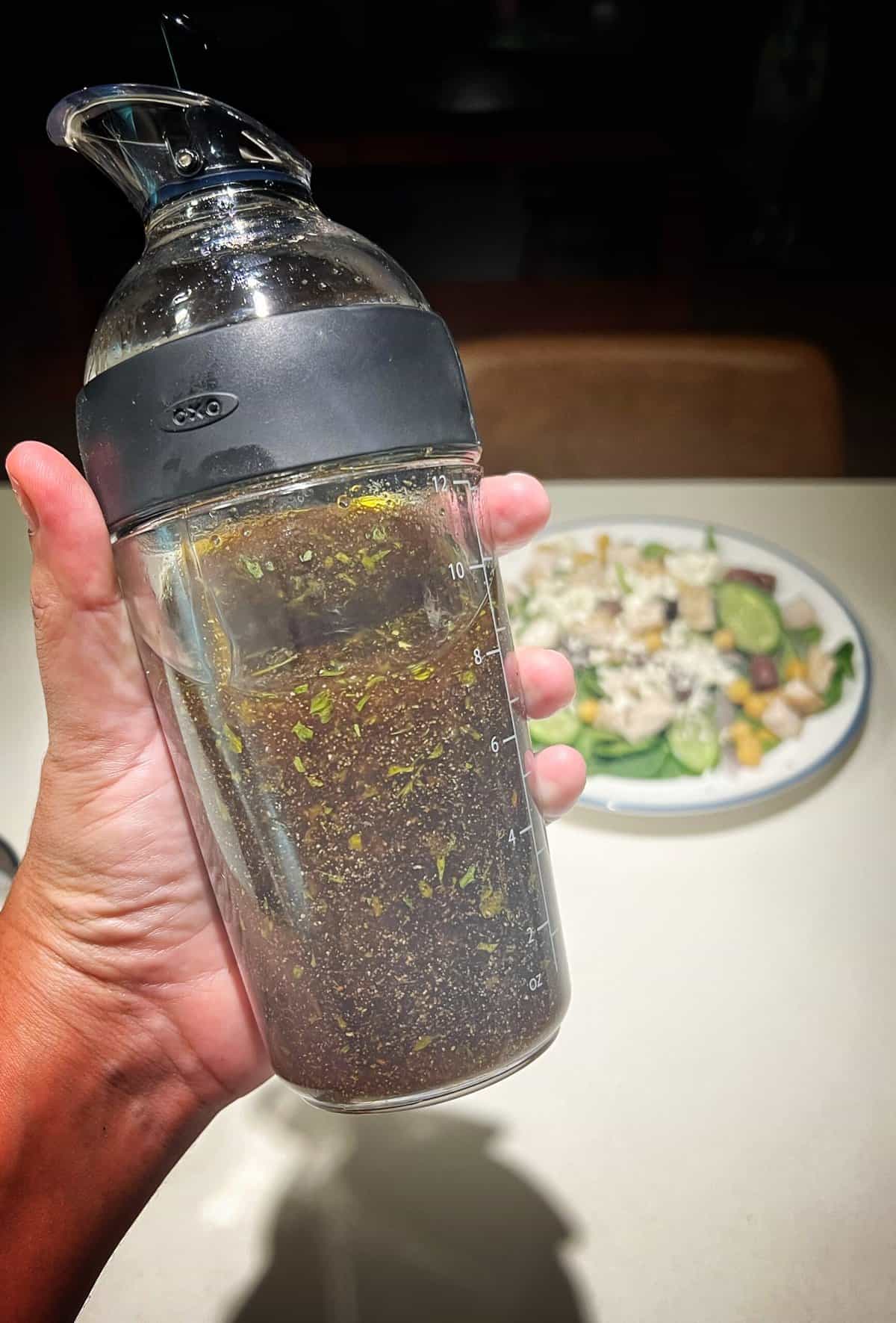 You You'll Need to Make This Greek Salad Dressing
No more than 8 ingredients and 2 of them are salt and pepper, which barely count. Here is your shopping list for this killer vinaigrette:
Extra Virgin Olive Oil
Balsamic Vinegar
Honey
Black Pepper
Salt
Dried Parsley
Dried Oregano
Garlic Powder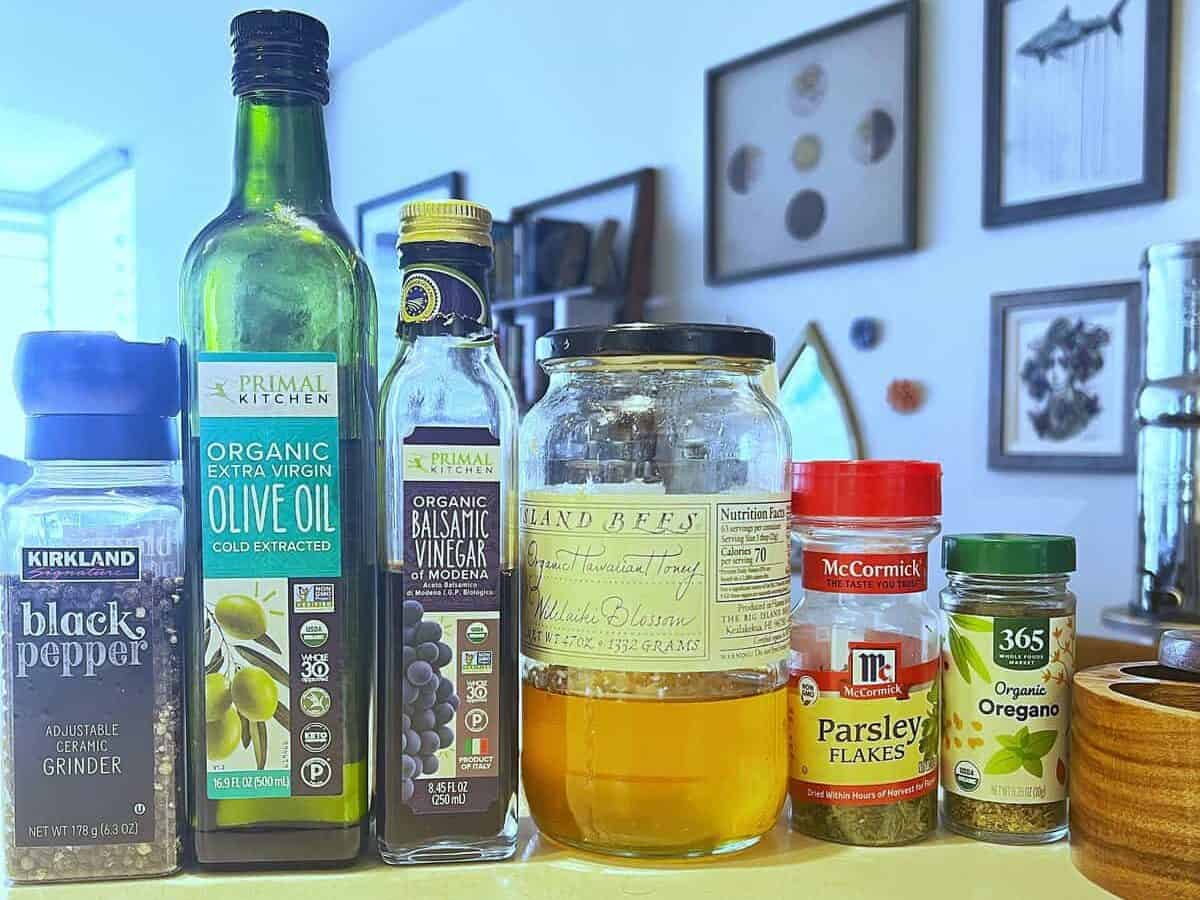 How to Make This Salad Dressing
The trick to a thick and not runny vinaigrette is emulsification! First, combine the honey and balsamic in a jar or cup. I used this cool OXO Dressing Cup/Dispenser. Use a fork, small whisk, or hand-held coffee frother to mix well.
Next, add in the dry herbs, salt, and pepper and mix again. Lastly, while you whisk, mix or froth vigorously, slowly drizzle in the olive oil. Then put the lid on it and shake well. This will create a nice, thick dressing that doesn't separate and coats your salad nicely.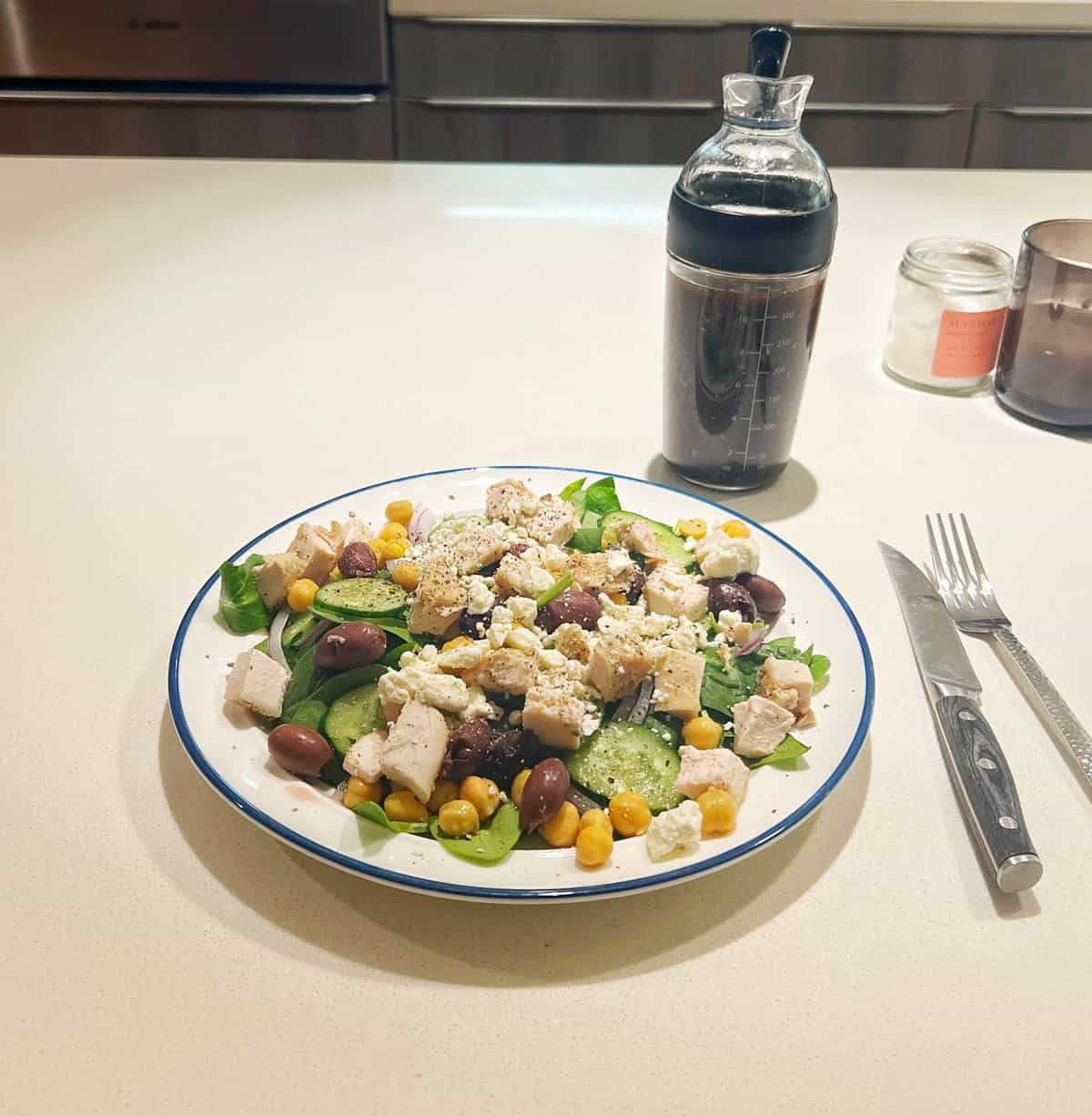 What's In MY Greek Salad?
As many of you know, I don't eat tomatoes because they flare my autoimmune symptoms. I also don't eat dairy for the same reason. Here is what's in my Greek Salad, that I enjoy on repeat with this amazing Honey Balsamic Vinaigrette:
Arugula as the greens and base
Red onion, small diced
Cucumber, small diced
Cooked Chickpeas
Pitted Kalamata Olives
Grilled Chicken Breast
I always add plenty of cracked black pepper to my salads too!
Want More Amazing Salad Recipes?
Check out my other delicious, addictive but healthy salad recipes: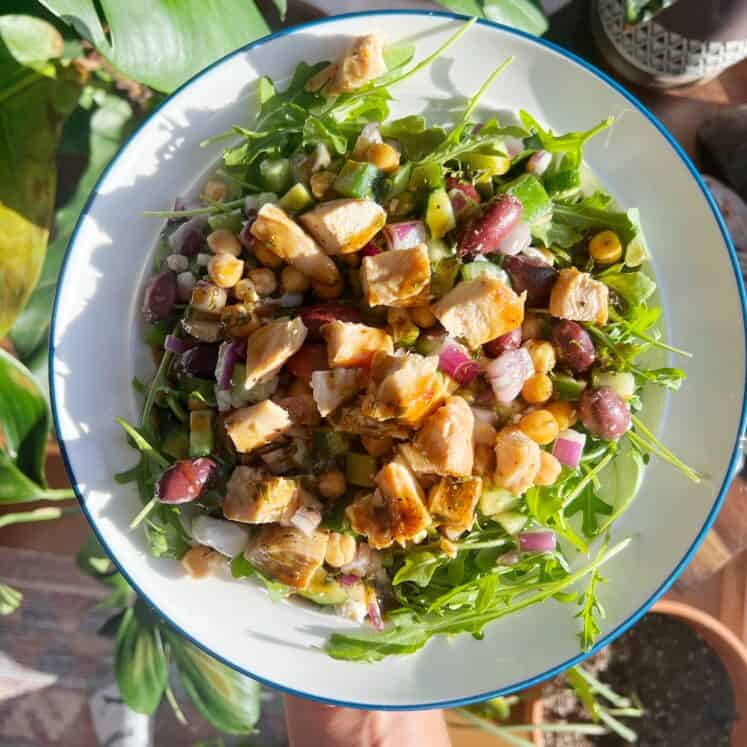 Honey Balsamic Vinaigrette
---
Author: Cristina Curp, FNTP
Prep Time: 5 minutes
Total Time: 5 minutes
Category: Salad Dressing
Method: Mixing
Cuisine: Mediterannean
Diet: Gluten Free
Description
Sweet and tangy, herb-forward vinaigrette that's perfect for Greek Salads or any salad!
---
Ingredients
¼ cup aged balsamic vinegar

2 tablespoons honey

1 tsp coarse black pepper

1 tsp dried parsley

½ tsp dried oregano

½ tsp fine salt

½ cup olive oil, as needed
---
Instructions
In a 12 oz jar mix together the vinegar and honey, then the seasonings.

Drizzle in the oil slowly as you whisk with a fork or a milk frother.

Taste, add more salt, honey, or vinegar to your liking, and shake well.

You can store it in a cool, dry place – or in the fridge. If storing in the fridge let it come to room temp before serving.
Recipe Notes:
If you want to make this AIP, omit the black pepper.
If you want to make this lower carb, use a keto honey alternative.
You can also use avocado oil.
Nutrition
Serving Size: 1/4 cup
Calories: 195
Sugar: 8g
Sodium: 188mg
Fat: 18g
Saturated Fat: 2g
Unsaturated Fat: 15g
Trans Fat: 0g
Carbohydrates: 9g
Fiber: 0g
Protein: 0g
Cholesterol: 0mg
Keywords: Honey Balsamic Vinaigrette