This post is sponsored by NatureSweet.
Getting my husband to eat more vegetables is an ongoing hobby of mine, a passion really. This easy weeknight salad is one way I get Justin to eat the rainbow. Grilled Chicken and Blistered Tomato salad brings together warm and cold components for a salad that you will crave! NatureSweet Cherubs are the perfect little tomatoes for this blistered tomato salad!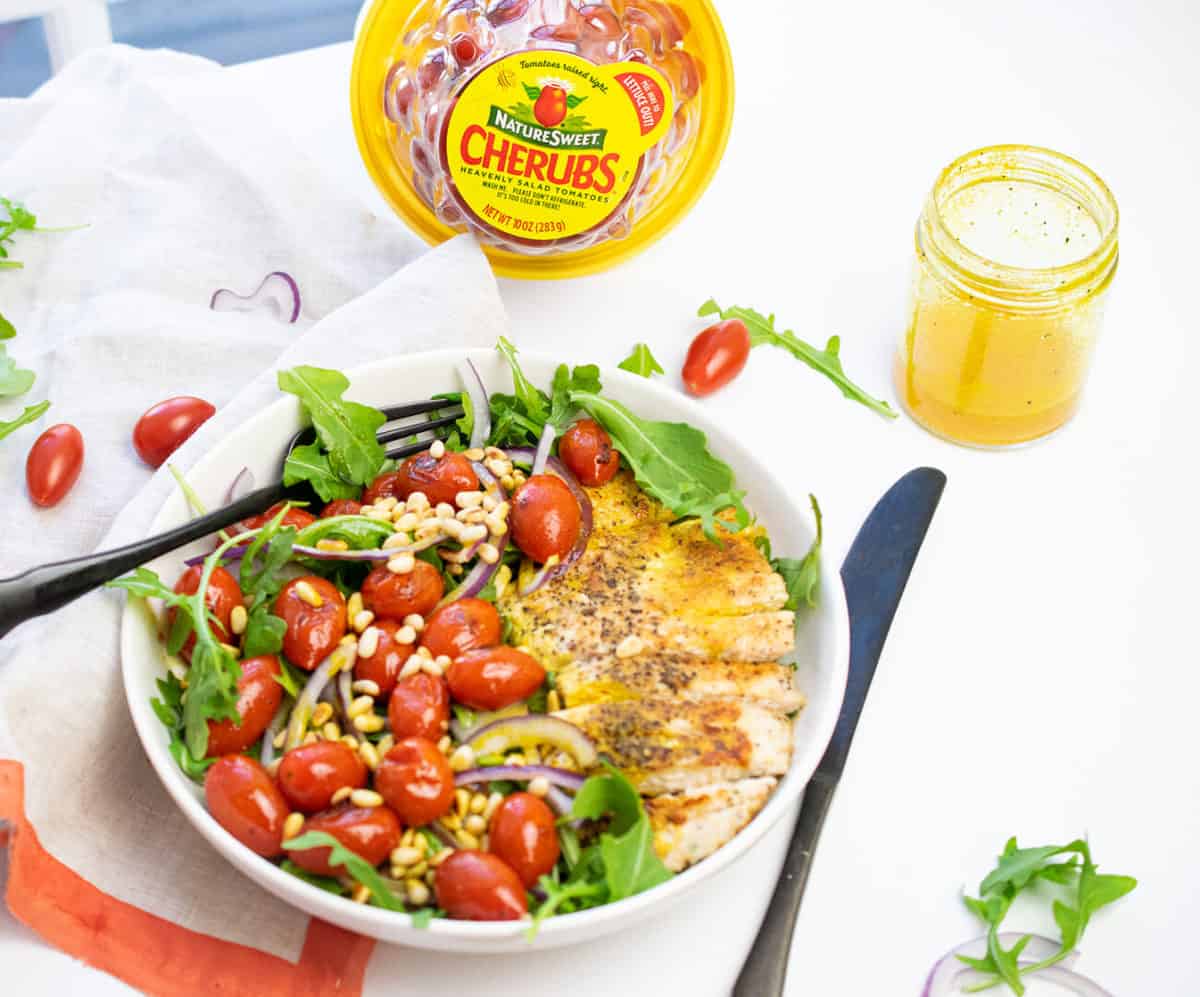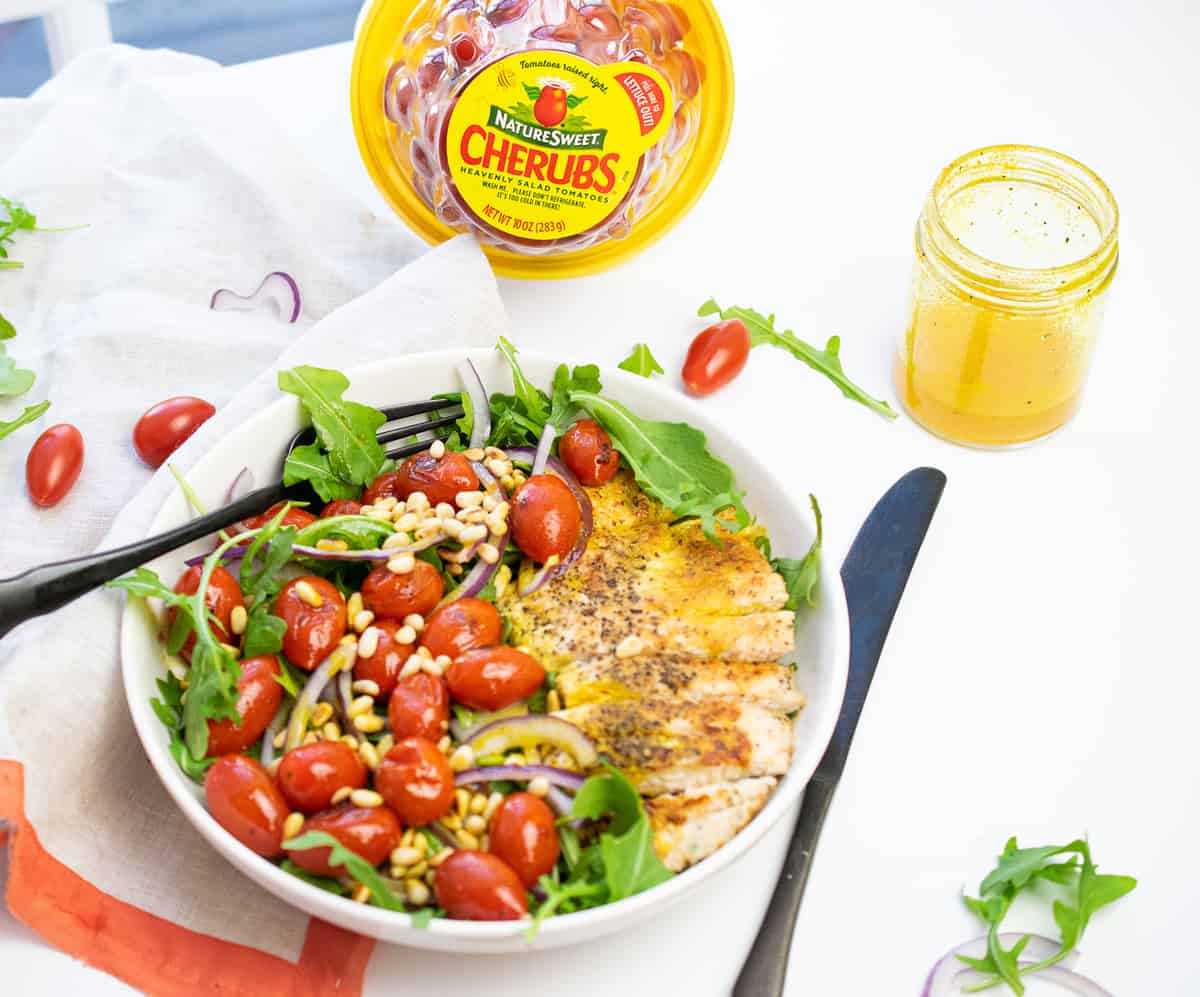 Table of Contents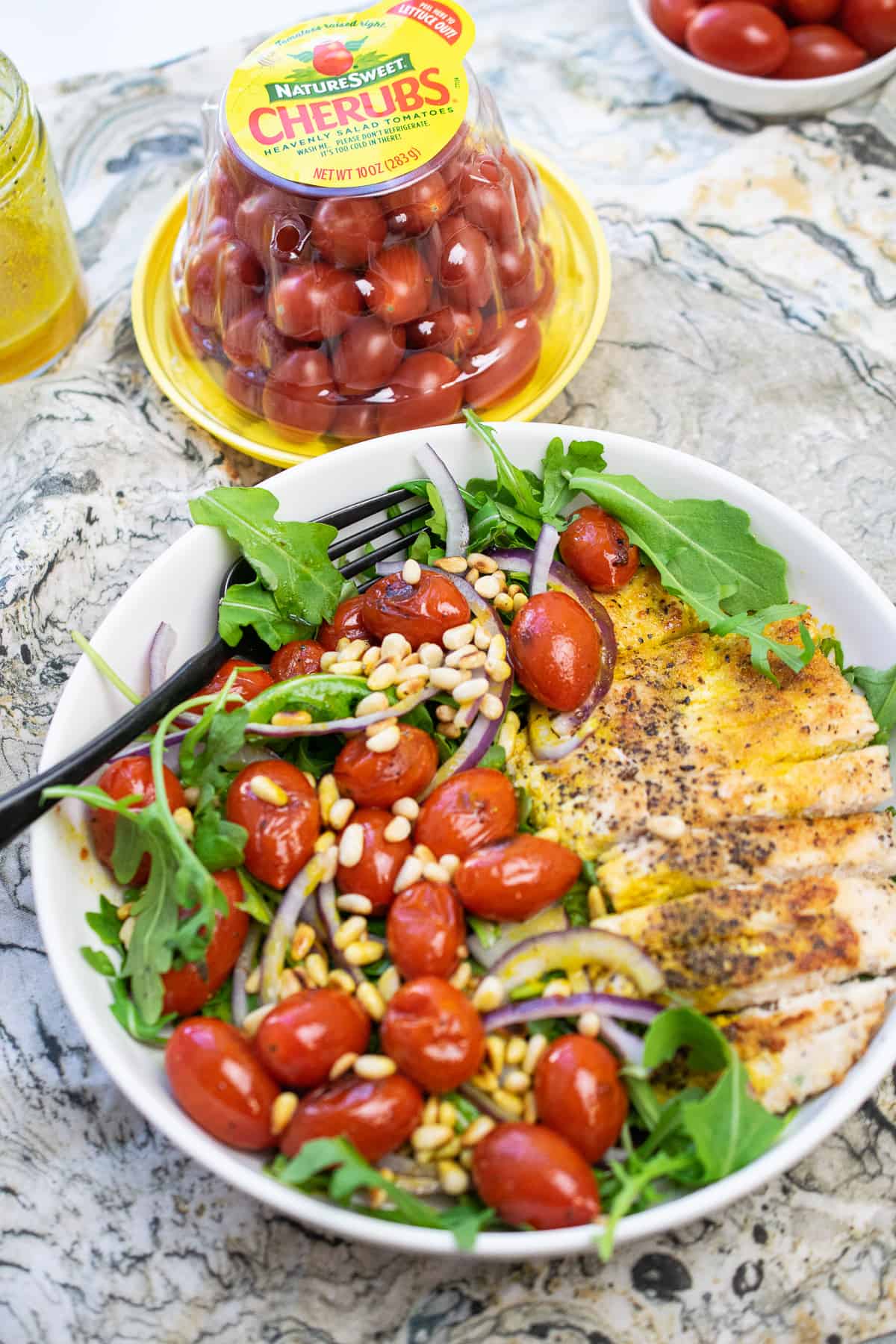 Why You Need This Salad
Salads are all about flavor, freshness, and quality ingredients. They're a great way to get in a lot of veggies in one sitting and the perfect opportunity to have fun with your ingredients. By blistering the NatureSweet Cherubs they go from a fresh, bite-sized explosion of flavor into savory melt in your mouth flavor. Tomatoes add lycopene, a phytonutrient that gives them their red color, which is a powerful antioxidant. Paired with the anti-inflammatory turmeric vinaigrette, leafy greens, red onions (more antioxidants there), and pine nuts, and packed with healthy fats, this grilled chicken and blistered tomato salad is the perfect healthy meal for you and your family!
Great Ingredients Make a Great Salad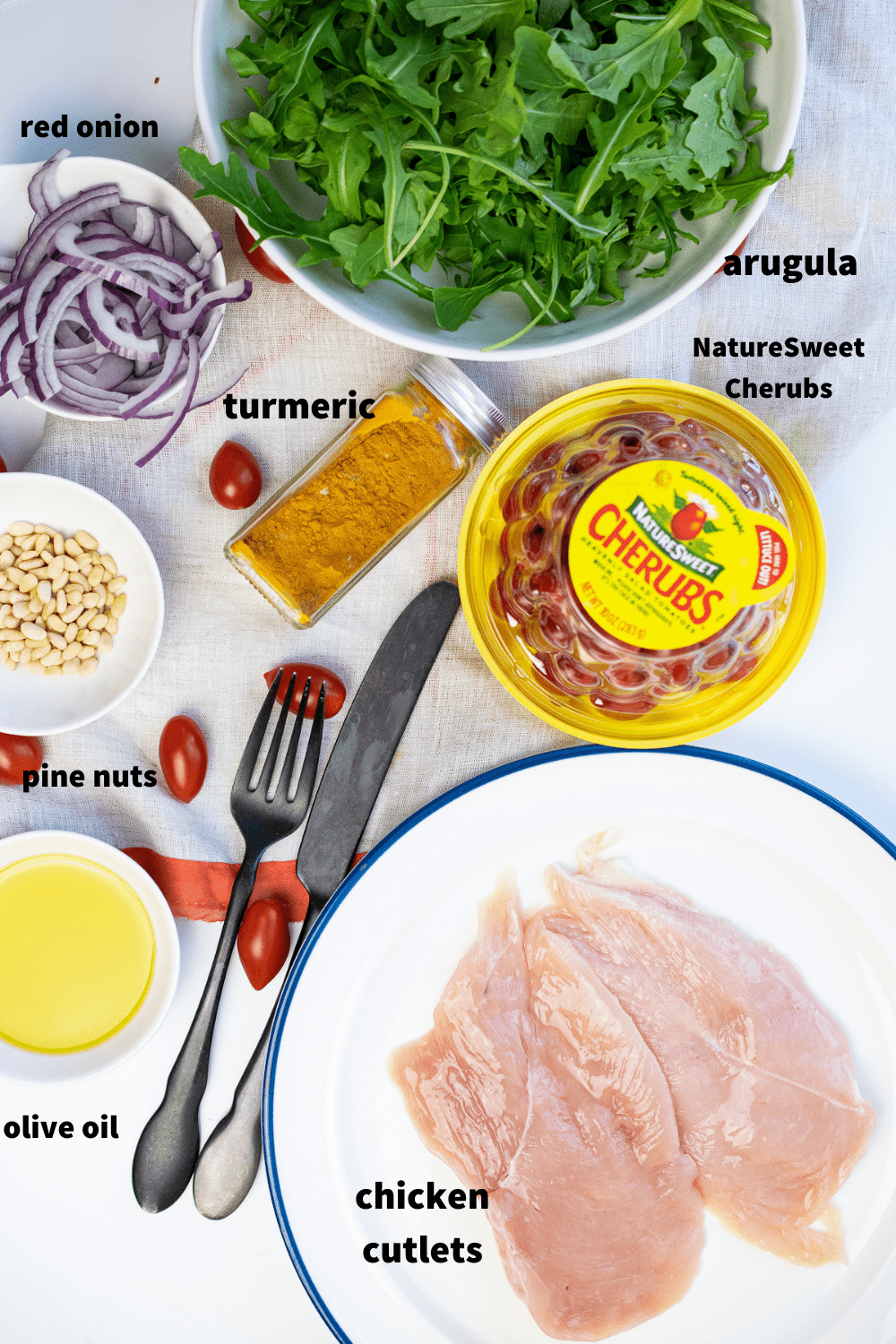 NatureSweet Cherubs: these grape tomatoes are perfect for blistering. They've got a stronger skin and are less watery than cherry tomatoes. A pop of flavor and color for this nutrient dense salad. Grab some NatureSweet Cherubs and let's get cooking.
Chicken cutlets: cutlets will cook faster and more evenly than a whole breast, making this single serving salad a breeze to whip up.
Turmeric and black pepper: ground peppercorn helps activate the curcumin, the anti-inflammatory compound in turmeric.
Pine nuts: these mild and creamy nuts have the best flavor when toasted. They add healthy fats to this Mediterranean-inspired salad.
Step by Step Grilled Chicken Salad
Gather all of your ingredients and measure everything out, this is called mis en place and it makes cooking much easier.
Season your chicken breasts with salt, pepper and garlic powder on both sides.
Cook on a hot skillet for 4-5 minutes per side.
While your chicken cooks, mix up the dressing in a small jar or bowl.
In a dry skillet over medium heat, toast the pine nuts, watch them as they toast quickly.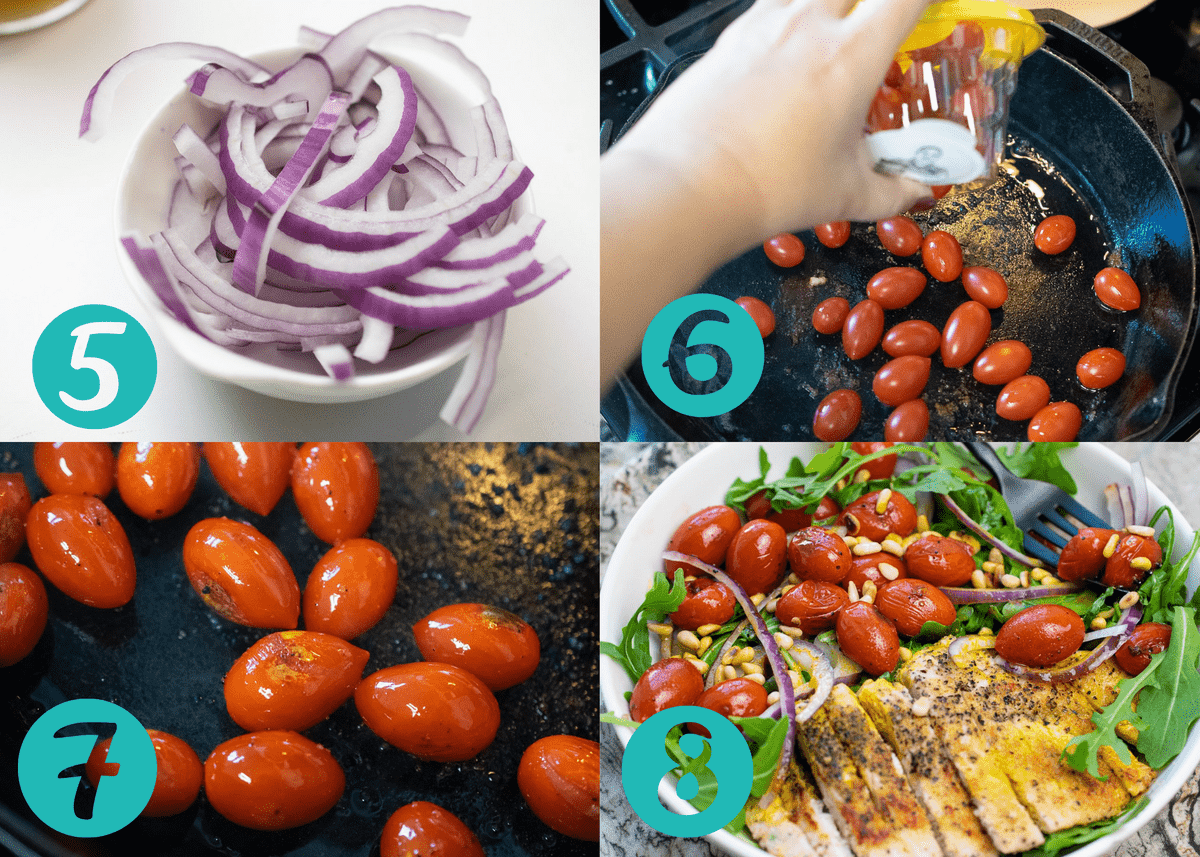 Once you have the arugula in your salad bowl, red onion sliced, pine nuts toasted and dressing done, check on your chicken.
Remove it from the skillet and set it aside. Quickly add your NatureSweet Cherubs to the hot skillet.
Sprinkle with salt and cook here, turning over occasionally for 5 minutes or until blistered.
Slice the chicken and put your salad together.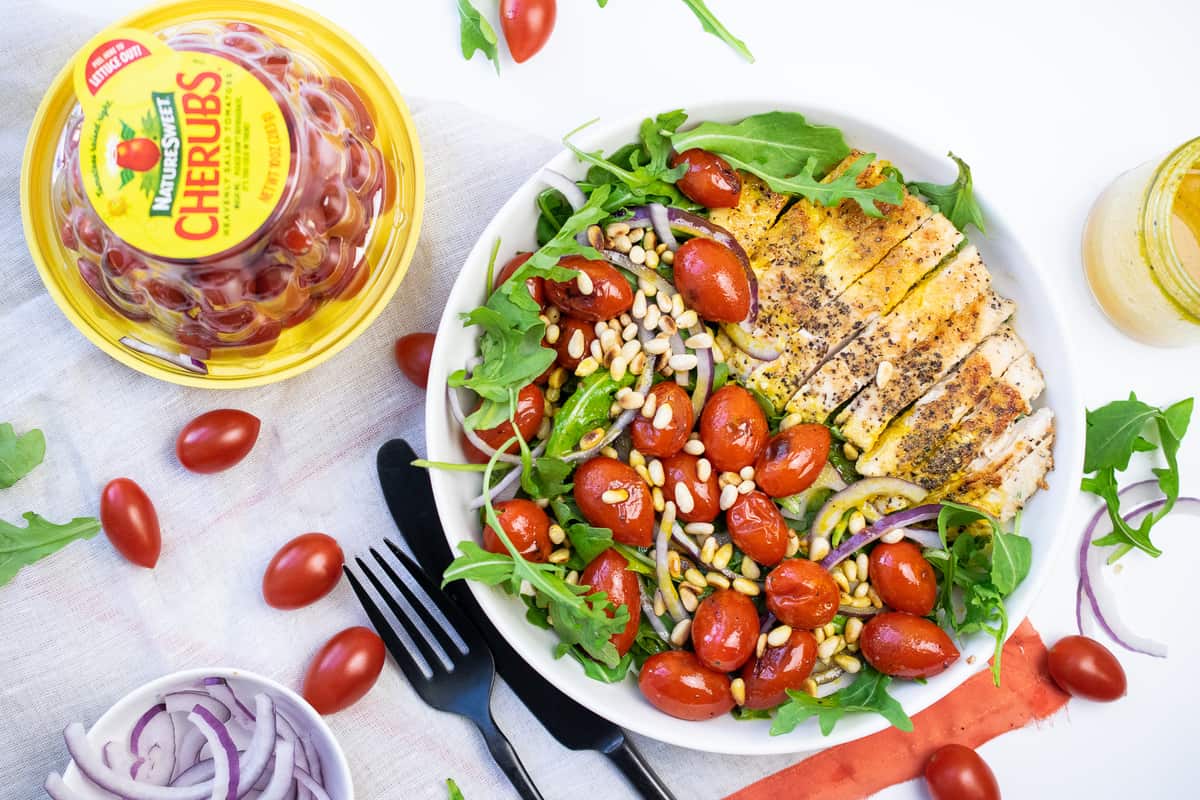 Frequently Asked Questions
Where can I get NatureSweet Cherubs?
You find them on the NatureSweet site or at your local grocer.
Can I use another type of green for my salad?
Yes! Baby spinach or kale will work well too, even romaine.
Do I eat tomatoes now?
I love using NatureSweet Cherubs in recipes for my husband. It also saves me from having to slice or dice large tomatoes.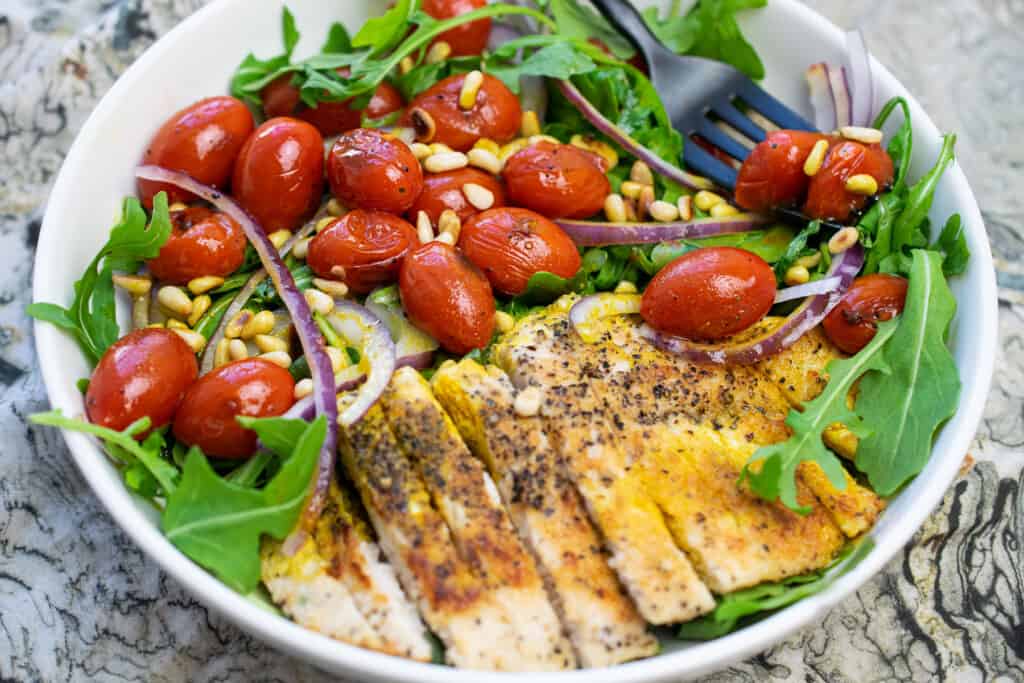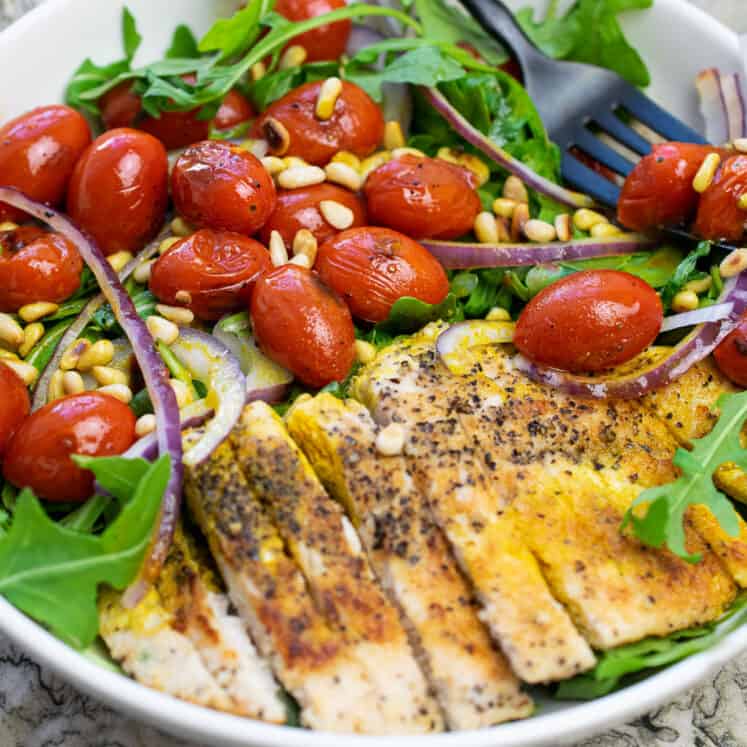 Grilled Chicken and Blistered Tomato Salad with Turmeric Vinaigrette
---
Author: Cristina Curp, FNTP
Prep Time: 10
Cook Time: 10
Total Time: 20 minutes
Yield: 1 large salad 1x
Category: Entree
Method: Stove Top
Cuisine: Healthy
Diet: Gluten Free
Description
A delicious and simple Mediterranean inspired salad that's Whole3o friendly!
---
Scale
Ingredients
For the Salad
2 chicken cutlets
1 teaspoon fine salt, divided
1 teaspoon garlic powder
1 tablespoon olive oil
2 tablespoon pine nuts
1 cup NatureSweet Cherubs
¼ red onion, sliced
3 cups arugula
For the dressing:
2 tablespoon olive oil
1 tablespoon apple cider vinegar
1 tablespoon maple syrup
¼ teaspoon turmeric
¼ teaspoon black pepper
Pinch of ground oregano
Pinch of salt
---
Instructions
Heat a medium cast-iron skillet over medium heat. While it comes to temperature, season the chicken with ½ teaspoon salt, pepper, and garlic powder.
Drizzle 1 tablespoon of oil into the skillet, add the chicken and cook for 4 minutes a side or until cooked through.
In the meantime, grab a small skillet or sauce pot and heat over medium to low heat. Toast the pine nuts until golden brown. Remove from heat promptly. Set aside.
In a small jar or bowl, mix together the salad dressing ingredients until well combined.
Remove the chicken from the skillet and add the NatureSweet Cherubs, cook on the hot skillet for 2-3 minutes. Salt with ½ teaspoon salt and use a spatula to move them around occasionally until their skin begins to blister. Remove from heat.
Build your salad: Slice or dice your chicken, add it to a bowl with the arugula. Add in the red onion, pine nuts, your blistered NatureSweet Cherubs and lastly the dressing. Gently toss and enjoy!
Recipe Notes:
Use about half of the dressing for one serving of salad! Macros calculated accordingly. 
Skip the maple syrup to make this Whole30 compliant and Keto friendly!
Nutrition
Serving Size: 1 Salad
Calories: 434
Fat: 24g
Carbohydrates: 30g
Fiber: 7g
Protein: 33g
Keywords: grilled chicken and blistered tomato salad
This is a sponsored post written by me on behalf of NatureSweet.