When you need to cook something fast and simple, chicken and rice are it. When you need something fast and simple and you're doing keto or paleo then something as simple as chicken and rice can get complicated. Not today! I used ready-to-go ingredients from Target, to make this Keto Chicken and Rice Skillet. It's delicious and the perfect go to meal for my hotel kitchenette situation.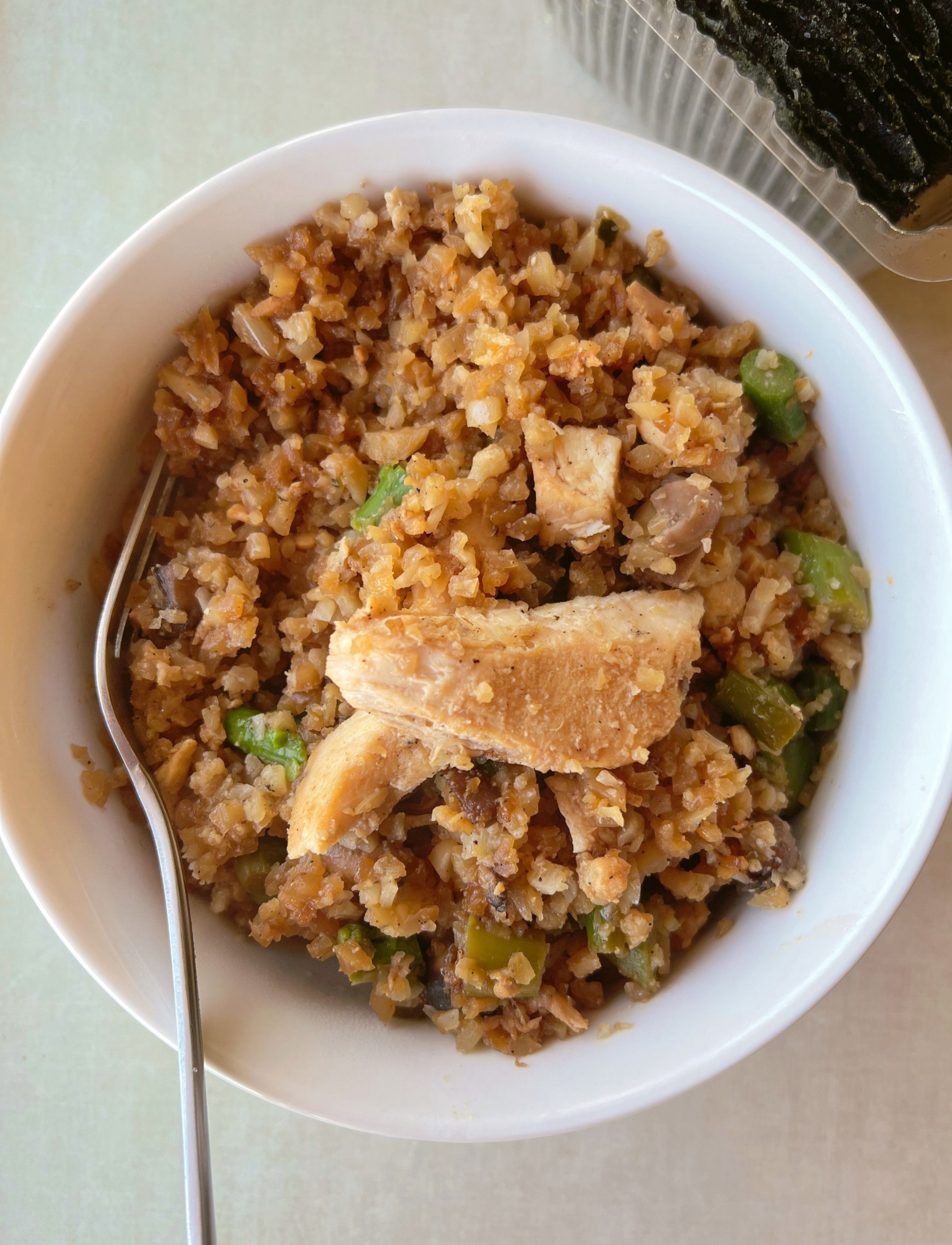 Table of Contents
It Doesn't Get Any Easier or Tasty!
This low-carb paleo Chicken and Rice is totally Whole30 compliant and comes together in less than 15 minutes. We use a handful of ready-to-go ingredients that you can grab at your local Target (or most grocers). This recipe can easily be made AIP if you get an AIP-compliant pre-cooked chicken and omit the black pepper. It's literally open, combine, heat, and serve! I know a first for this blog. But I'm living in a hotel at the moment, so easy button meals are necessary. Serve with some nori sheets for an Emily Mariko experience!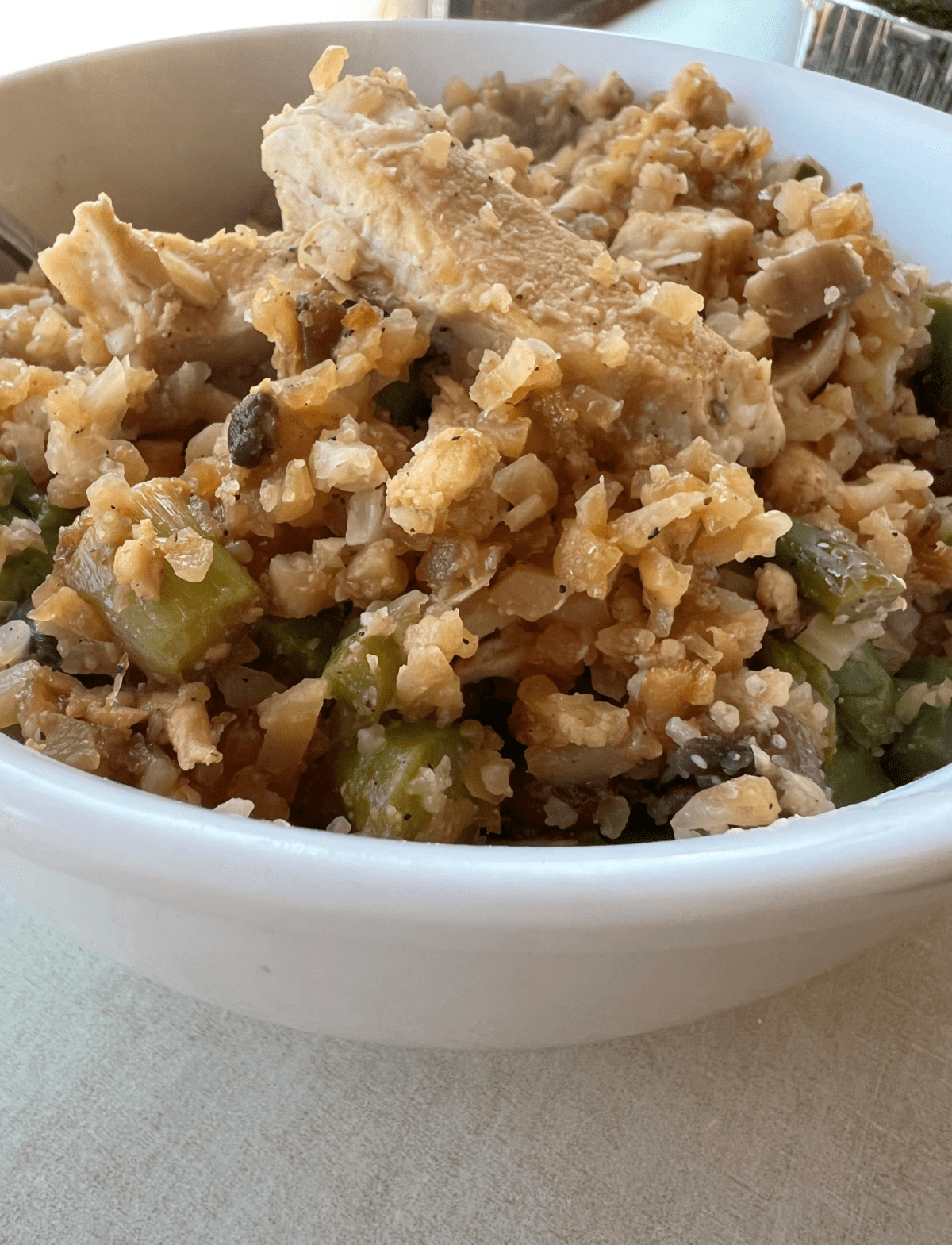 Keto Chicken and Rice Ingredients
I picked up everything at my local Target, but you can find these at most grocers. Start with the base of the meal:
Pre-cooked chicken breast, I use the Good & Gather Grilled Chicken Breast.
Cauliflower Rice with veggies, I used the Green Giant Riced Veggies Cauliflower Rissoto with asparagus and mushrooms.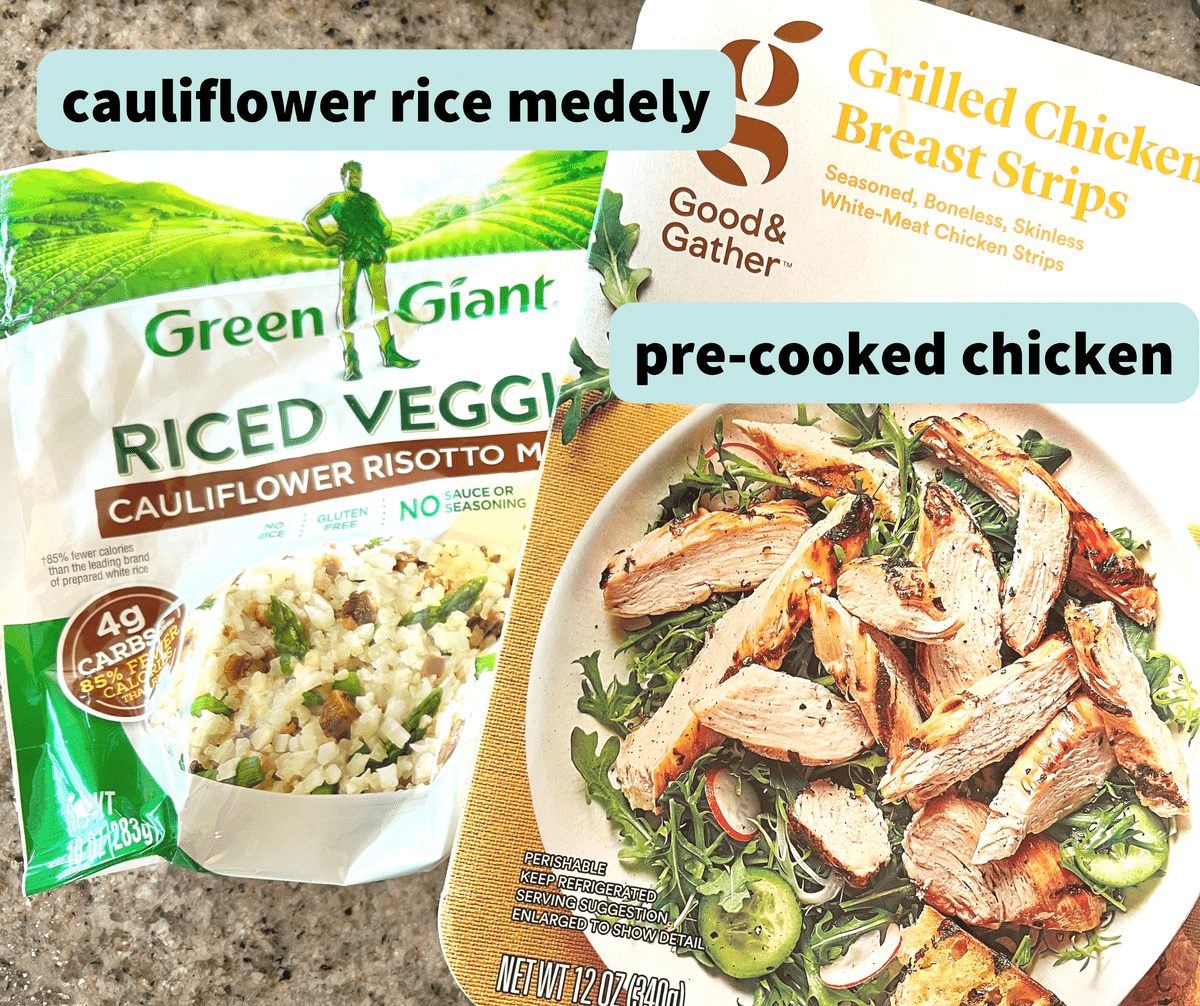 Seasonings: garlic powder, salt, black pepper and coconut aminos. These are the holy trinity of flavor for Whole30, paleo or keto cooking!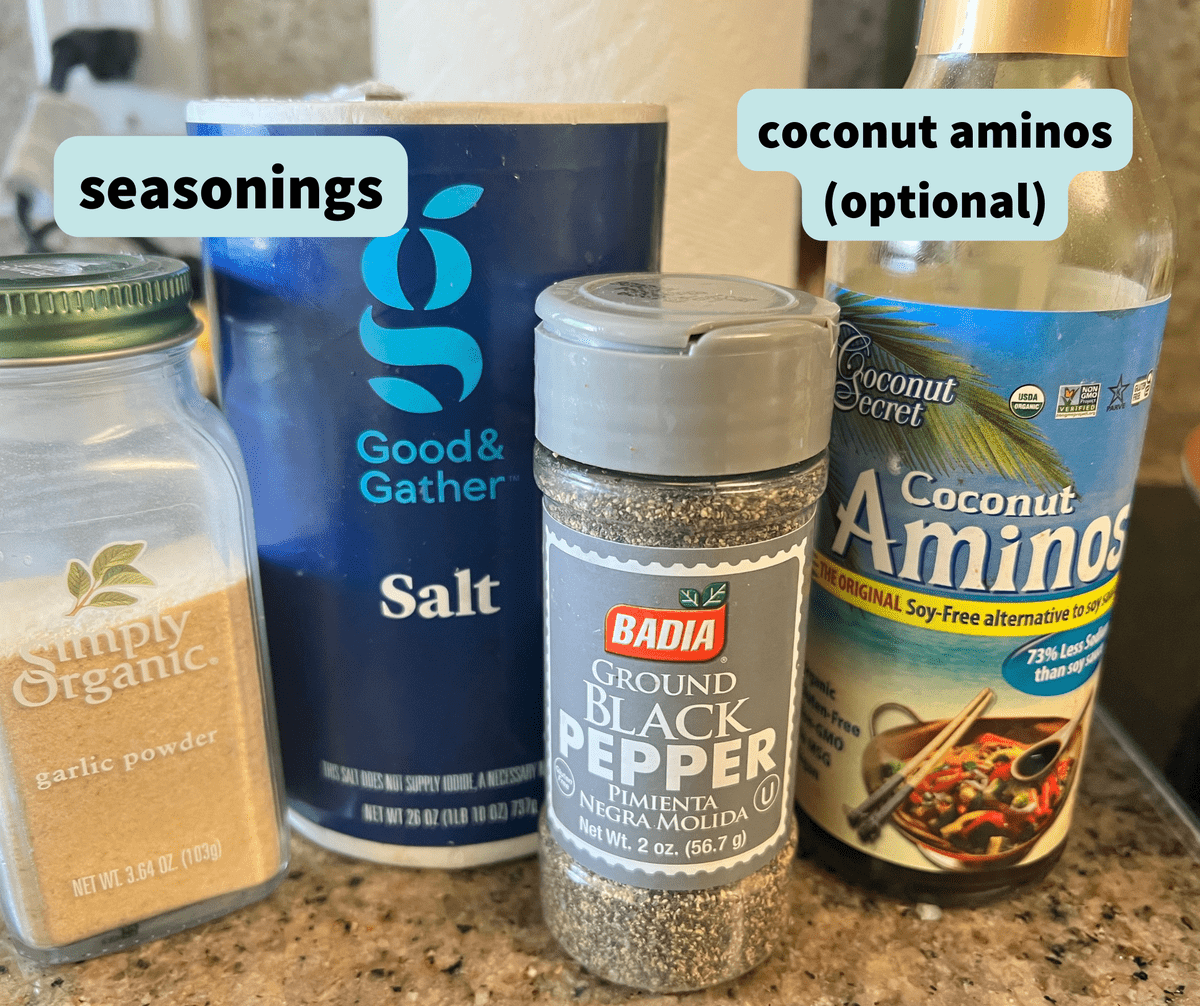 The nori is optional, but a nutrient dense addition. I always buy the SeaSnax olive oil kind, or GimMe avocado oil ones, If you can find the SeaSnax Lime flavor – get it!
Get my AIP KETO Target Shopping List to the best healthy Target finds.
One-Step Recipe
This recipe is all about ease! Just combine the ingredients in a skillet, season, and cook until warm and browned. That's it!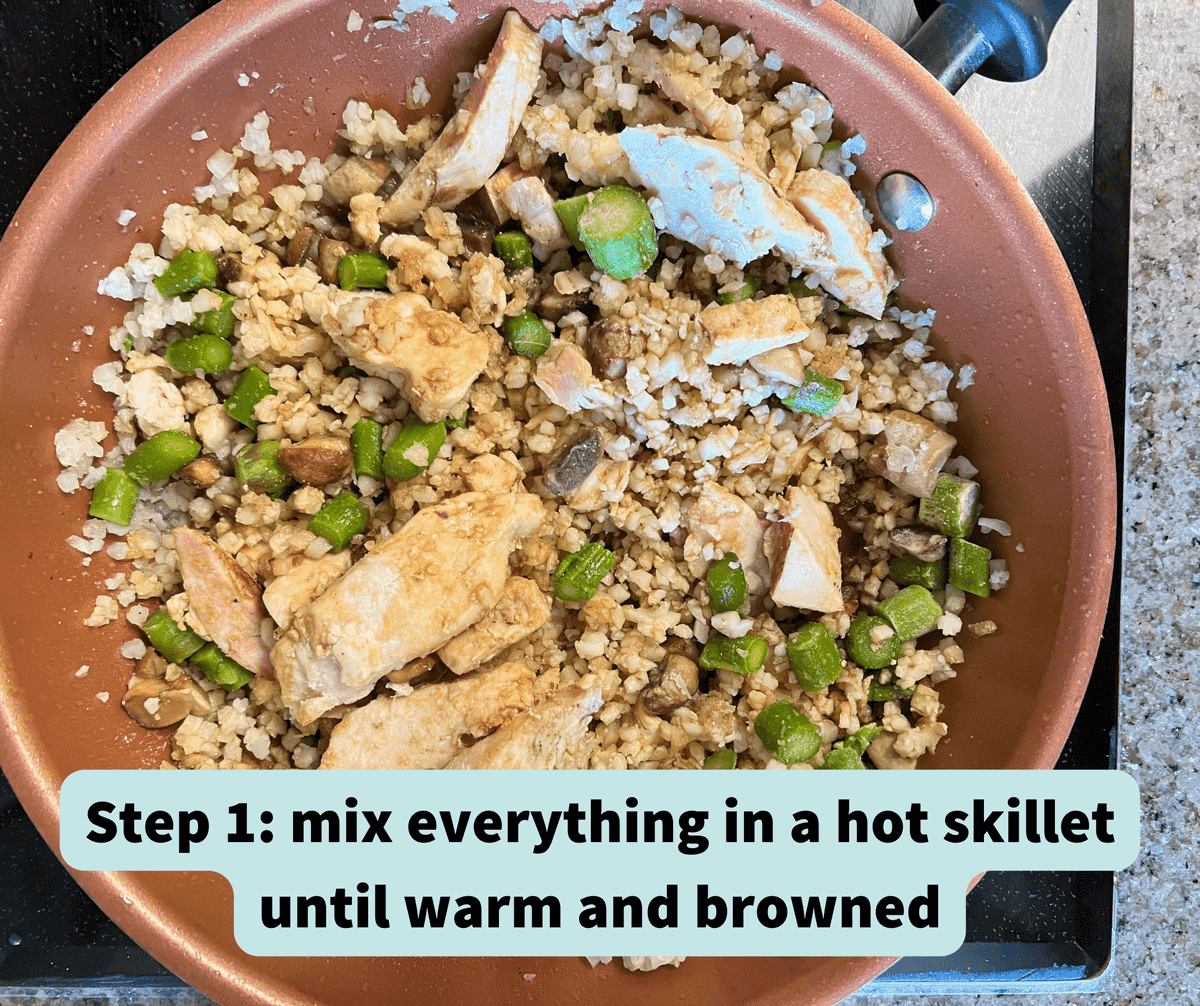 Frequently Asked Questions
Can I use another chicken?
Yes, you can buy a rotisserie chicken and pull the breast meat, you can also use the Applegate Farms pre-cooked chicken or even leftover chicken that you made before. For Whole30 compliant use Applegate Farms chicken.
Can I use any riced veggies?
You can make this with any combination of frozen vegetables, riced or chopped!
Can I make this without coconut aminos?
Yes, you can skip the aminos, but I do recommend a sauce of some sort, you could do aged balsamic or lime juice.
Who is Emily Mariko?
She's a very famous food blogger who has a viral salmon bowl recipe in which she uses nori sheets to pick up the rice and salmon mix and eat it.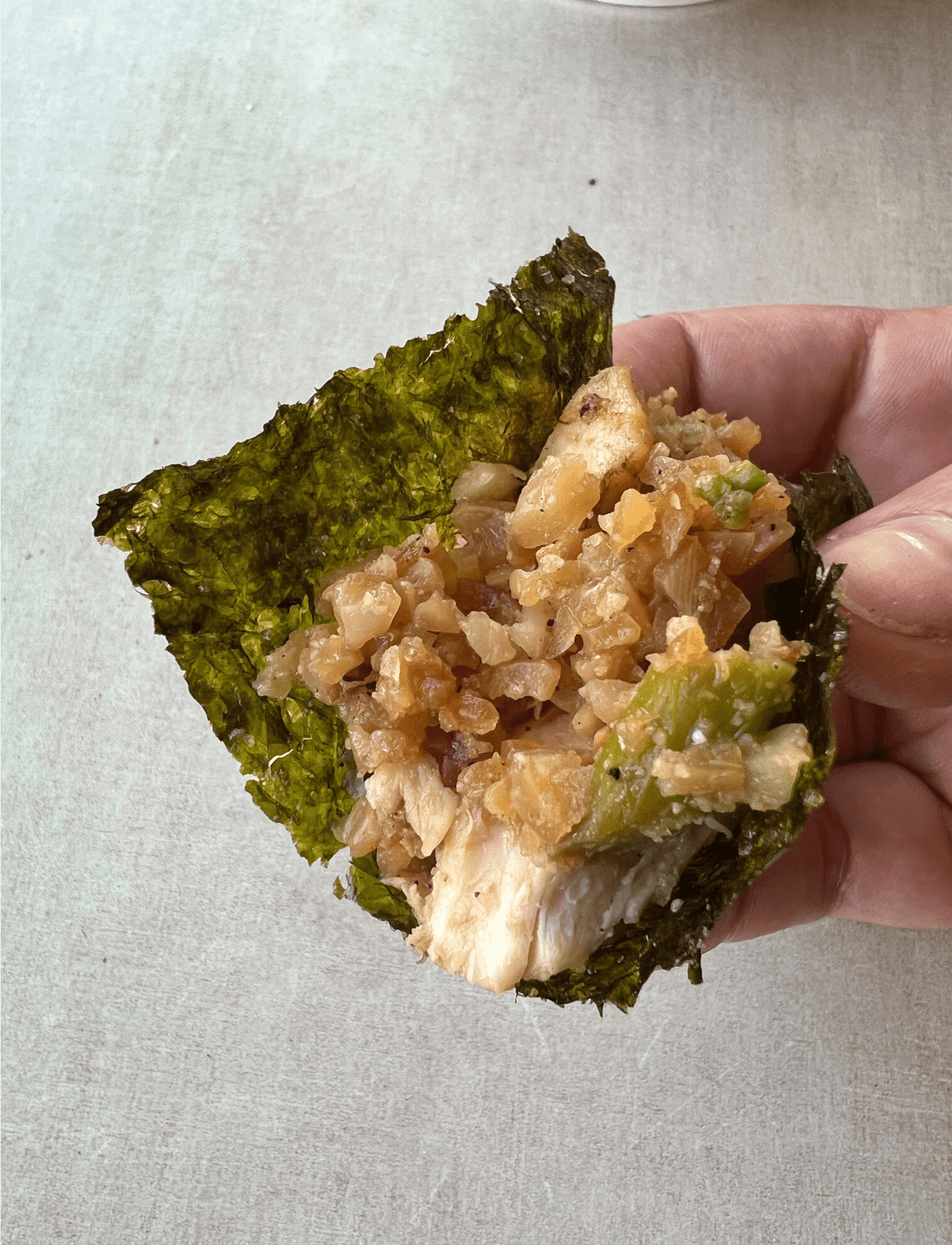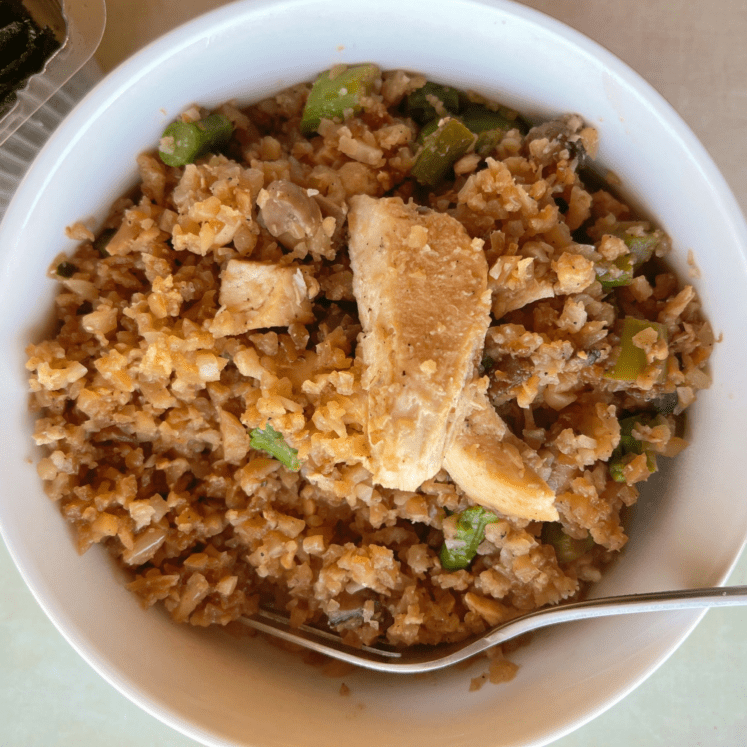 Keto Chicken & Rice (Target Ingredients)
---
Author: Cristina Curp, FNTP
Prep Time: 5 minutes
Cook Time: 10 minutes
Total Time: 15 minutes
Yield: 1 bowl 1x
Category: Dinner
Method: One Skillet
Cuisine: Keto
Diet: Gluten Free
Description
3 Ingredient Keto Skillet!
---
Scale
Ingredients
2 tablespoon cooking fat
5 ounces pre-cooked chicken breast
2 cups priced veggies, cauliflower blend
1 teaspoon fine salt
1 teaspoon garlic powder
1/2 teaspoon black pepper
1 tablespoon coconut aminos (optional)
---
Instructions
Heat a medium skillet over high heat.
Melt or heat the cooking fat in the skillet for 30-60 seconds.
Add in the remaining ingredients. Mix well. Cook here, stirring occasionally for 5-10 minutes until thoroughly warmed and slightly browned.
Serve hot!
Recipe Notes:
To make this Whole30 check label on pre-cooked chicken, use Applegate.
To make this AIP omit the black pepper and use compliant chicken.
Macros with Nori (Sea Snacks): Calories: 476, Fat: 30.7g,  Carbs:12g, Fiber 5g, Protein: 38g
Nutrition
Serving Size: 1 Bowl
Calories: 451
Fat: 28.7g
Carbohydrates: 11g
Fiber: 4g
Protein: 37g
Keywords: keto chicken and rice