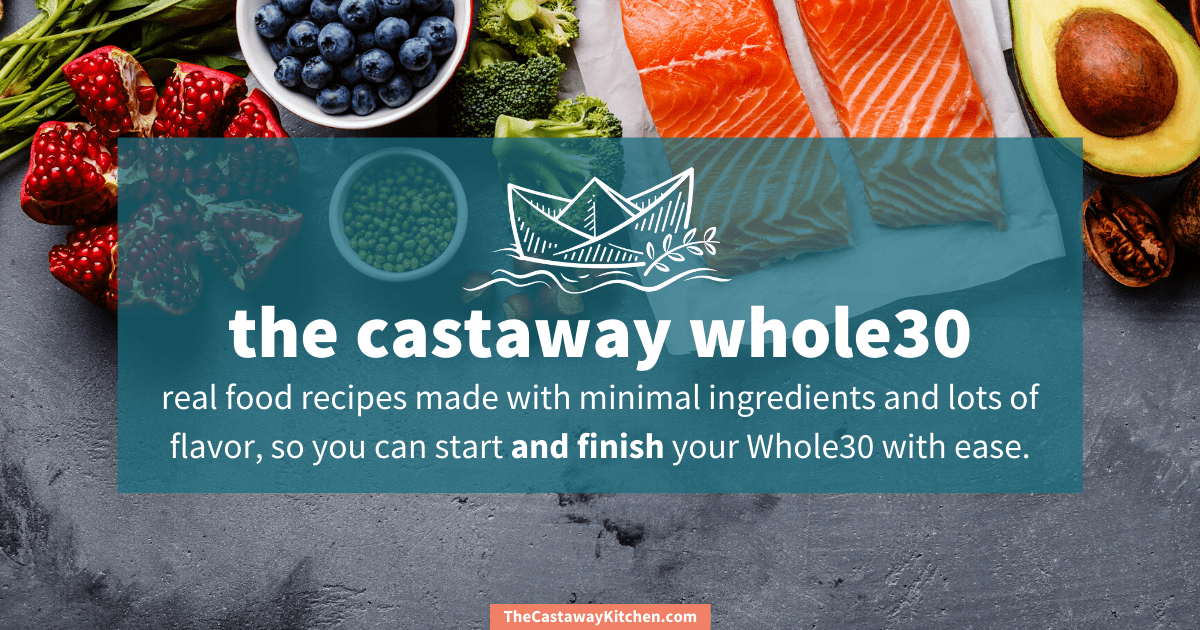 Real food recipes made with minimal ingredients and lots of flavor, so you can start and finish your Whole30 with ease.
How to complete a successful Whole30: bring the flavor
Whether you're attempting your first Whole30, or you're a Whole30 veteran, my best advice is to keep it simple. The Whole30 is challenging, but it doesn't have to feel like a punishment in order to be effective. Plan your meals, prep them when you have time, and pace yourself. I have completed 6 rounds in my life, read about my FIRST ever Whole30 here.
If you're reaching out of your comfort zone to remove certain foods and start incorporating more nutritionally dense options, it's important to lean into flavor to keep your meals exciting and satisfying. Healthy food doesn't have to be bland! And if you know me, you know that I don't make bland food. I've got over 200 Whole30 recipes on my site, and today I'm sharing a few of my favorites … most of them are low in carbs and keto-friendly!
Now, for some of my favorite Whole30 recipes …
Whole30 Breakfast Recipes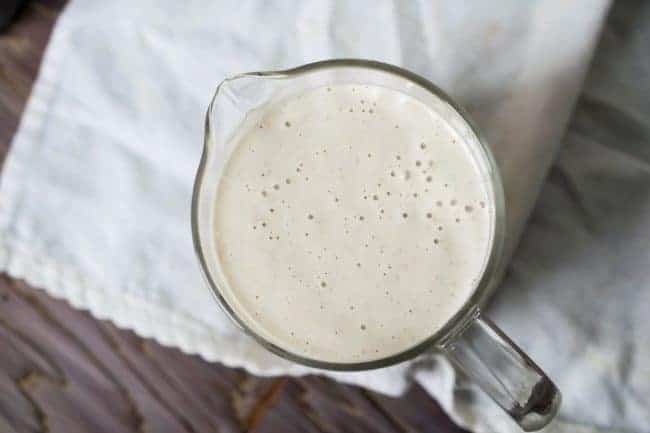 (Keto, Paleo, Whole30)
This creamer stirs in perfectly for a silky, creamy coffee that even looks a little frothed. I like to use my fork to stir it up and bingo! No blender to wash. Creamy, filling, delicious coffee with zero crap, zero sugar.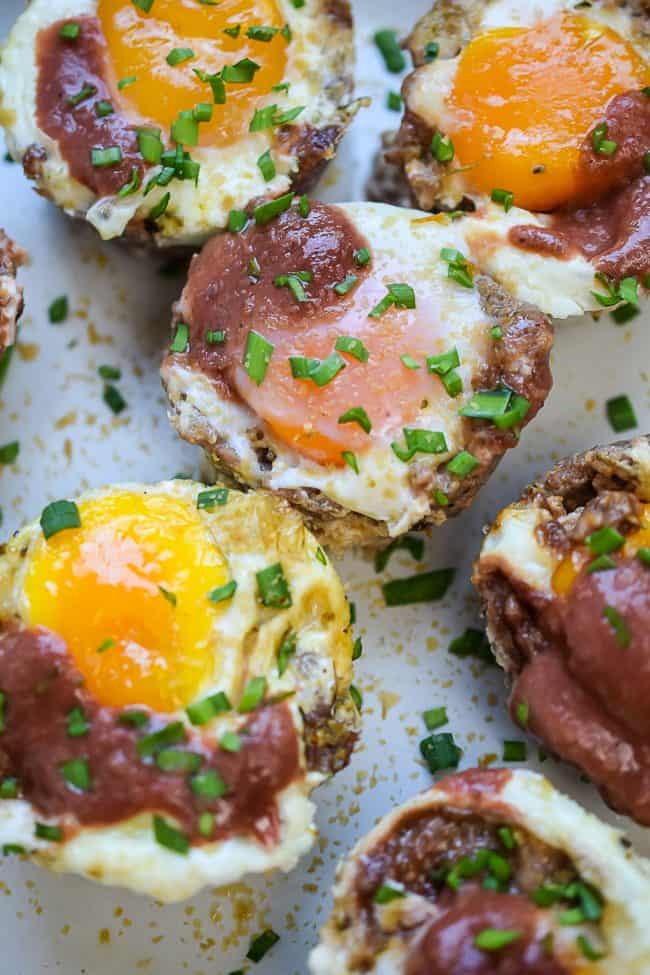 (Keto, Paleo, Whole30)
These pizza flavored egg cups are hearty, healthy and delicious! Easy to make and perfect for meal prep, which is essential on Whole30. Just make sure you use a Whole30 compliant tomato sauce, or you can make your own, like the Roasted Beet Marinara recipe in my first paperback, Made Whole.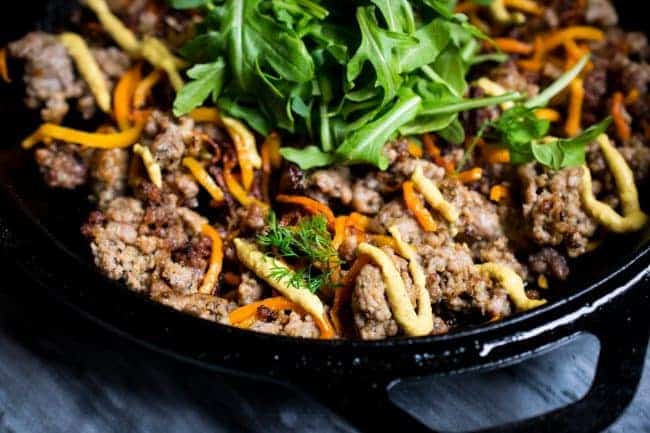 Breakfast Sausage Noodle Skillet
(Keto, Paleo, Whole30, AIP option)
Great for weekend breakfast or breakfast for dinner, this egg free dish can easily be made AIP compliant using homemade AIP pork sausage. This Whole30 Sausage Skillet is all about the right sausage — using a sweetener free, quality sausage is key! I used the breakfast sausage from my Butcher Box which is absolutely delicious and made from pasture raised, heritage pigs. Butcher Box is a great option for sourcing Whole30-compliant proteins.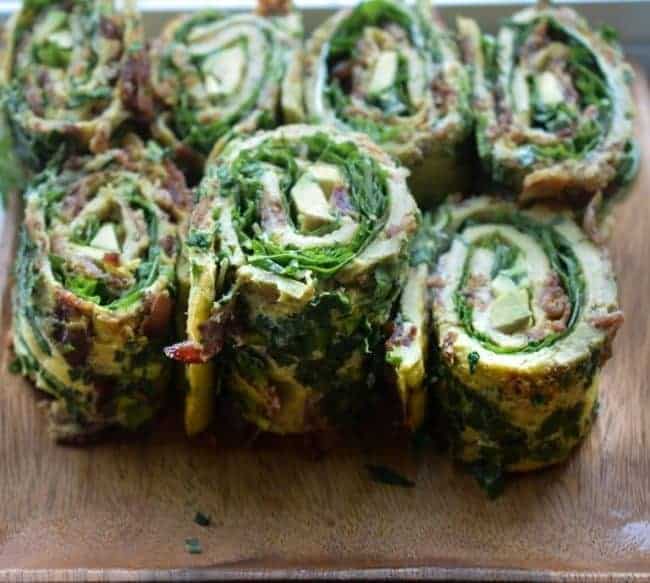 Bacon, Basil, & Green Eggs Roll-Ups
(Paleo, Keto, Whole30)
You can really make these roll-ups any way you want. I love the addition of basil and arugula; they add a fresh and tangy flavor. The avocado adds creaminess and the crispy bacon in the omelet gives it a welcome crunch and saltiness. Seriously, while you can always make these how you wish, I urge you to try it with the basil and all. I really feel that I hit it out of the park with the flavor combination!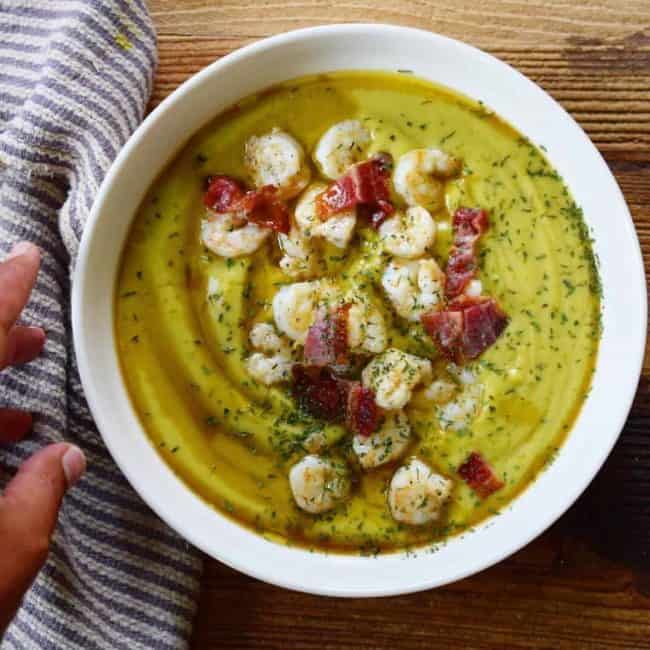 (Paleo, Keto, AIP, Whole30)
This is a pretty standard meal for me. It's easy, it makes extra (broccoli puree), and it's delicious! There is something that I love about purees topped with protein. My mom used to make us "pure de malanga" as kids and put steak over it, with the pan sauce … oh em gee. So good. I think I was shooting for that here, a childhood comfort food. The way the thick puree coats each bite. Yum! This AIP Breakfast Bowl is comforting and delicious!
More Whole30 breakfast ideas here!
Whole30 Lunch & Dinner Recipes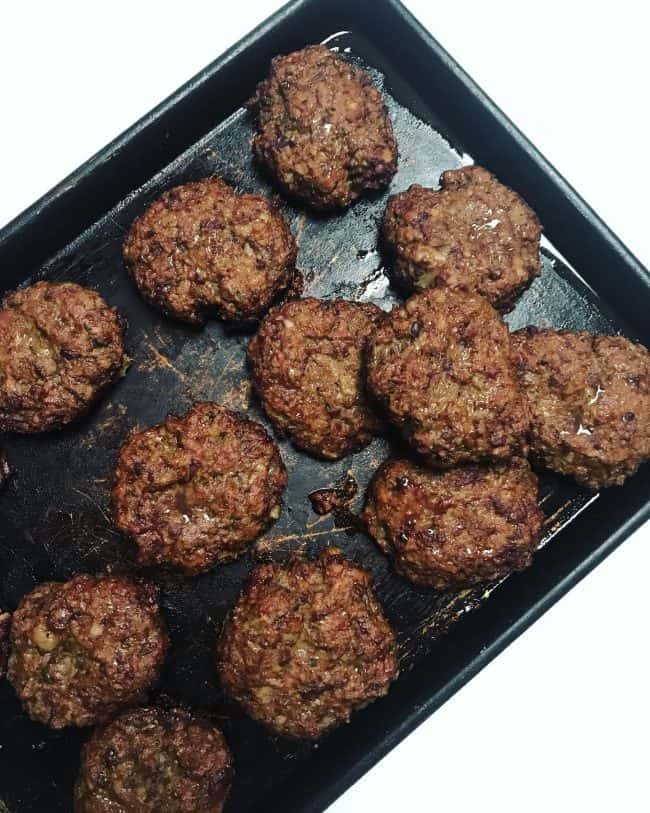 (Egg Free, Paleo, Keto, Whole30)
Nose to Tail Burgers made with beef liver and heart, bacon, onion, garlic, rosemary, and seasonings for a satisfying meal that's super tasty AND nutrient dense.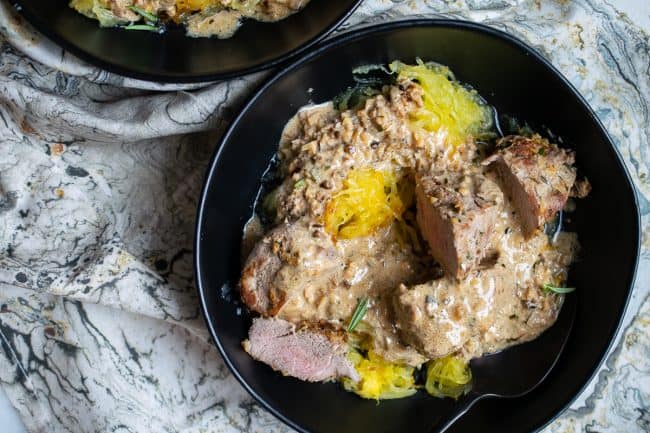 Ginger Rosemary Braised Pork Loin Medallions Over Roasted Spaghetti Squash
(AIP, Egg Free, Whole30, Paleo, Keto)
Tender and juicy ginger rosemary braised pork loin medallions served over roasted spaghetti squash with a creamy dairy-free pan juice sauce. So. Dang. Good.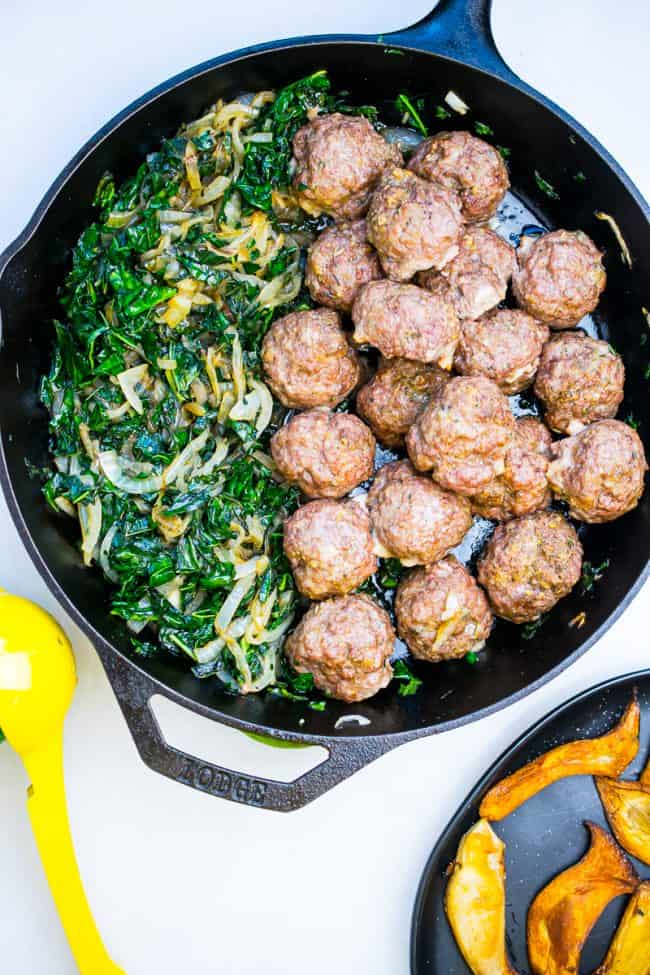 Herbed Meatballs with Sweet Tangy Kale and Mushroom Chips
(Keto, Whole30, Allergen-Free)
This meat and veggies meal is the real deal, an entire meal all in one recipe. Meatballs, kale and mushrooms, a wonderful combination, prepared together but not mixed up, so each can shine with their own flavor and texture.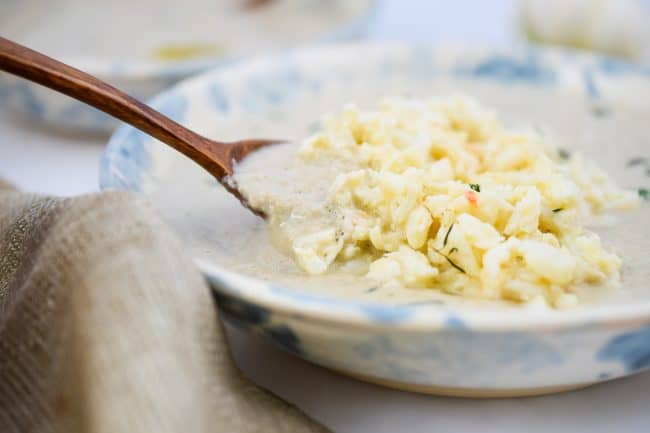 Dairy Free Creamy Mushroom and Crab Bisque with Tahini
(Keto, Whole30, Nightshade Free, Nut Free)
This Dairy-Free Creamy Mushroom and Crab Bisque with Tahini packs way more flavor than the old classic, with added protein and mood-boosting vitamins.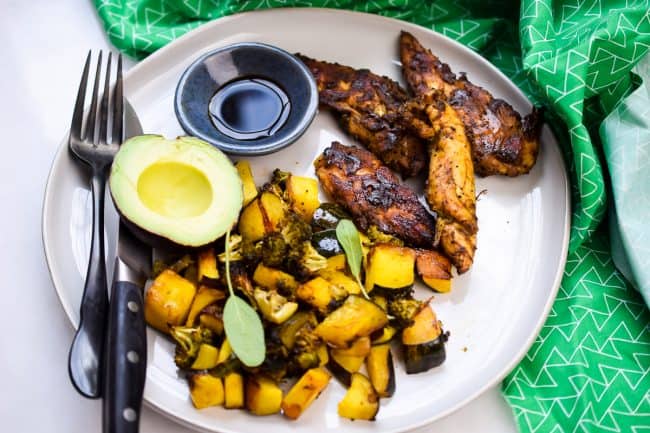 Sheet Pan Spiced Chicken and Balsamic Winter Squash
(Whole30, Nut Free, Coconut Free)
Nightshade free blackened chicken with tender balsamic winter squash: this Sheet Pan Spiced Chicken and Balsamic Winter Squash has a subtle seasonal sweetness and tons of fall flavors in a Whole30 compliant 30 minute meal.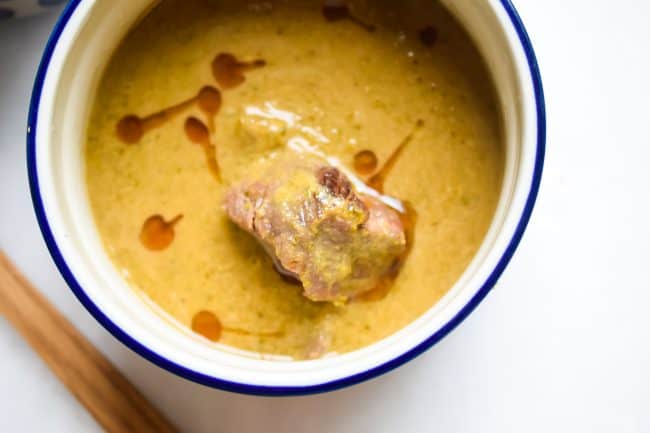 Instant Pot Beef and Broccoli Soup
(Keto, Paleo, AIP Friendly)
This Beef and Broccoli Soup is easy and delicious! Made in the Instant Pot it's the perfect weeknight meal!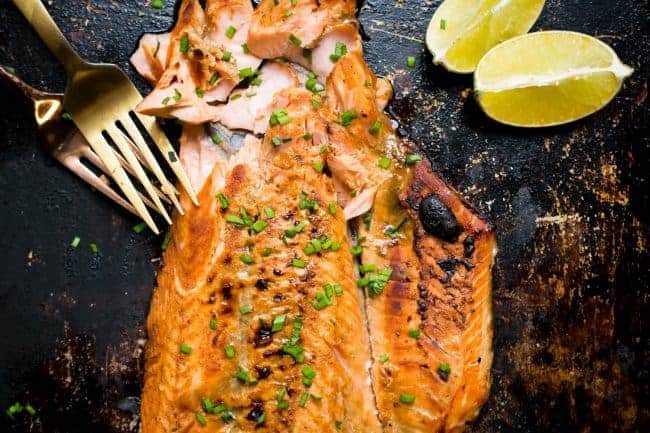 (Whole30, Keto, Paleo, AIP)
My favorite part of this recipe is the toasty, caramelized bits from the marinade. This happens because of the coconut aminos and oh mah lawdy those toasty bits are bites of heaven.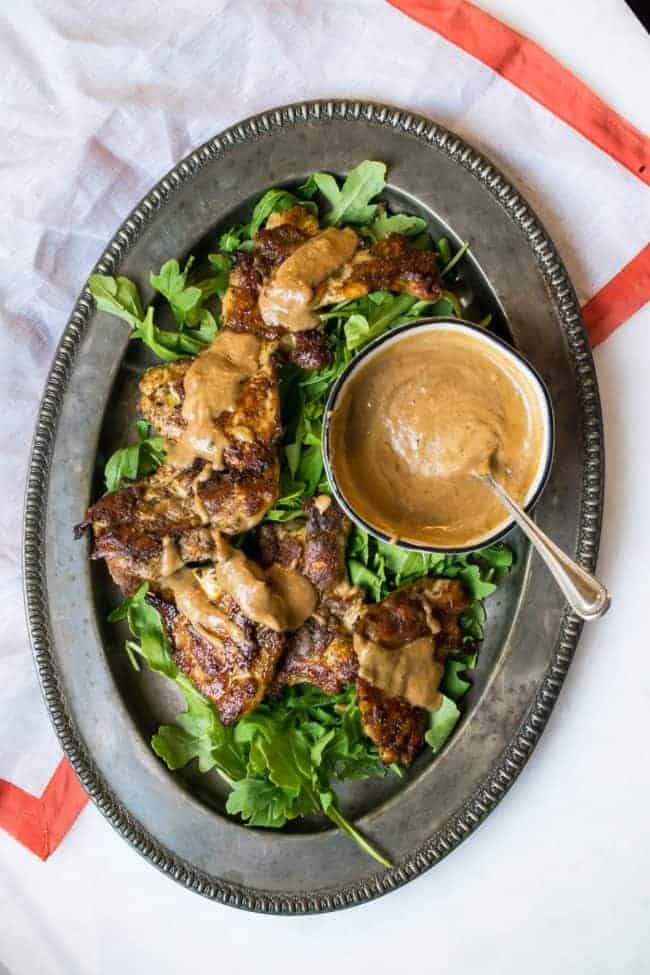 Cacao Butter Romesco Sauce with Crispy Chicken Thighs
(Paleo, Keto, Whole30, Nightshade Free)
Romesco has a tangy, yet warm flavor. It's a little toasty and totally delicious. This cacao butter and cashew version, made using fried red onions vs red peppers is finger licking good too!
More Whole30 dinner and lunch ideas here!
Whole30 Snack Recipes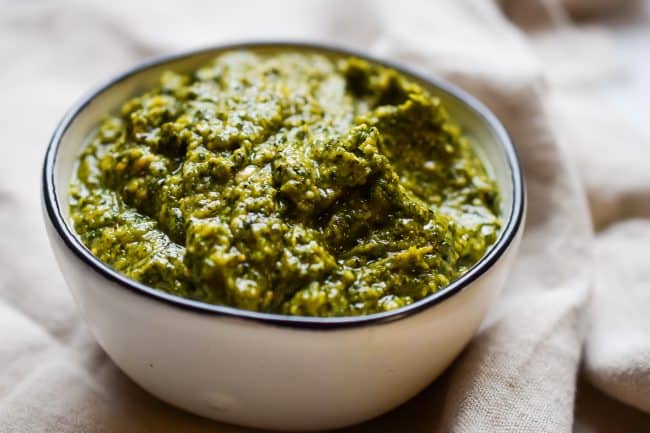 (Egg Free, Whole30, Paleo, Keto, Nightshade-Free, Anti-Inflammatory)
Swiss Chard Romesco: a sweet and tangy superfood sauce loaded with vitamins and anti-inflammatory properties. You'll want to add it to everything!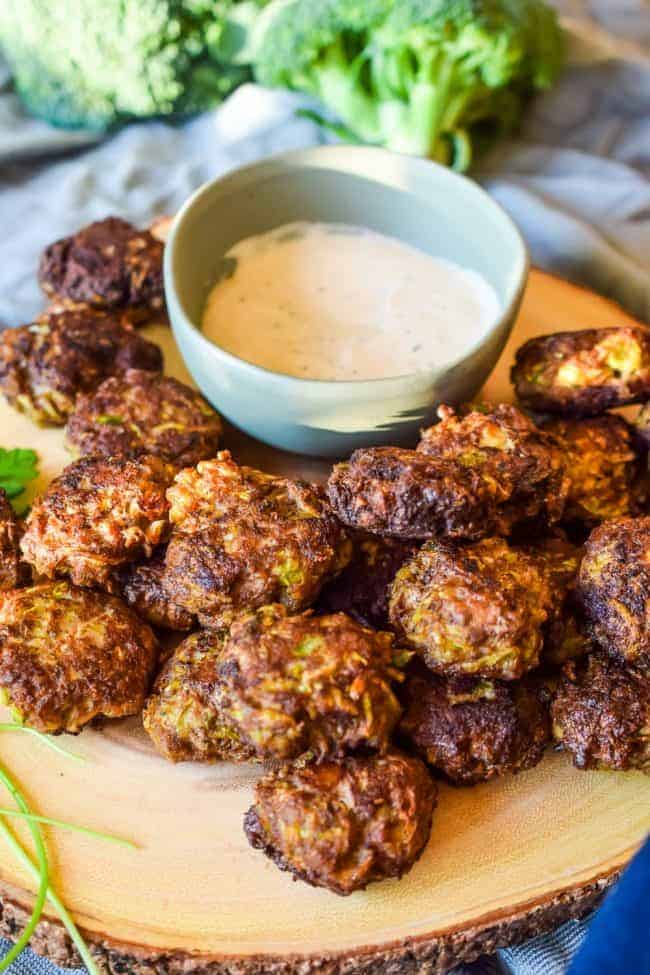 (Keto, Paleo, Whole30)
These Keto Egg Roll Poppers take all the yummy flavors of an egg roll and fry it up in a delicious, low carb finger food. A little closer to an original egg roll, but still a far cry from the carbalicious takeout staple. Use a nut flour instead of pork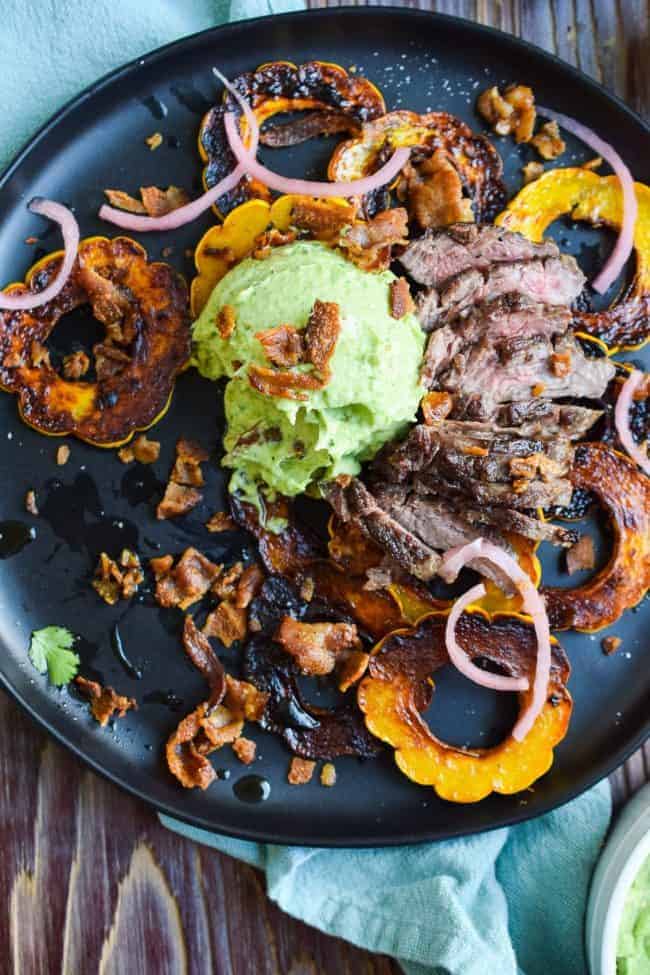 (Whole30, AIP, Keto)
I get it, this dish doesn't have corn tortillas, or cheese or salsa … but the overall meal template is a-la-nacho! Crispy base, meaty and saucey toppings. Crunch, savory, and cool flavors all together. These are fun to eat and they will hit the spot! Whoot Whoot! Whole30 Steak Nachos baby!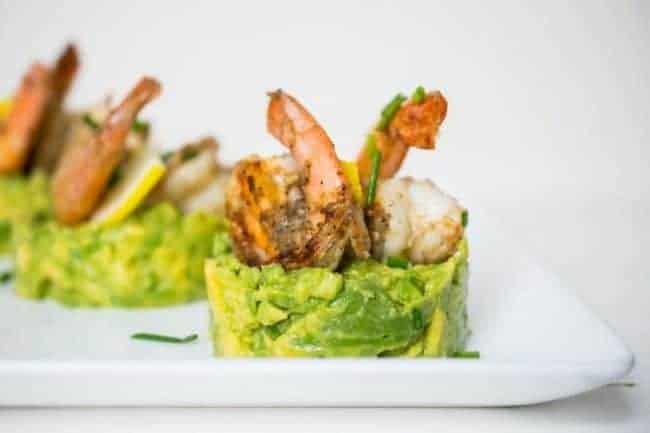 Grilled Shrimp + Avocado Appetizer
(Keto, Paleo, Whole30)
A simple and beautiful appetizer that rivals anything you could find in a fancy restaurant. Grilled shrimp over avocado mash!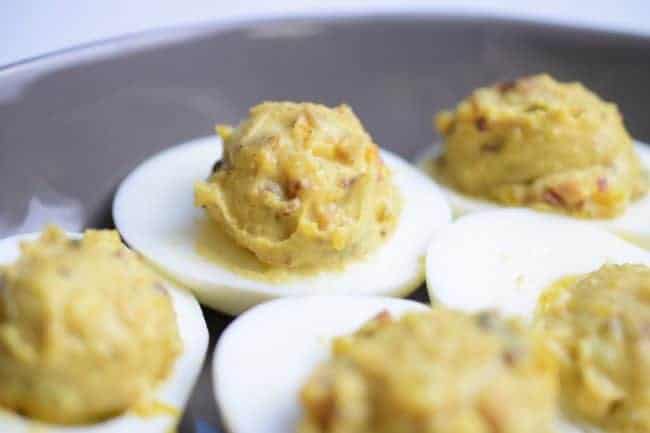 Fried Garlic and Bacon Deviled Eggs
(Keto, Paleo, Whole30)
Adding bacon to deviled eggs is a no brainer. I also LOVE garlic, but raw garlic would be too harsh. While I had a skillet full of hot bacon grease, it occurred to me that I could FRY IT! Then toasted, golden, crispy minced garlic morsels could grace these eggs too. The deviled egg filling has the classic smoothness from mayo and mustard but it's littered with tiny crispy bit that makes these extra delicious.
More Whole30 snack ideas here!
Need more Whole30 meal inspiration?
Check out the Whole30 archive here!