This meat and veggies meal is the real deal, an entire meal all in one recipe post. Usually, it's easier to write and entrée and the side separately, but the way this cooked up was so easy and so good that I wanted to share it all together. Meatballs, kale and mushrooms, a wonderful combination, prepared together but not mixed up, so each can shine with their own flavor and texture.

Table of Contents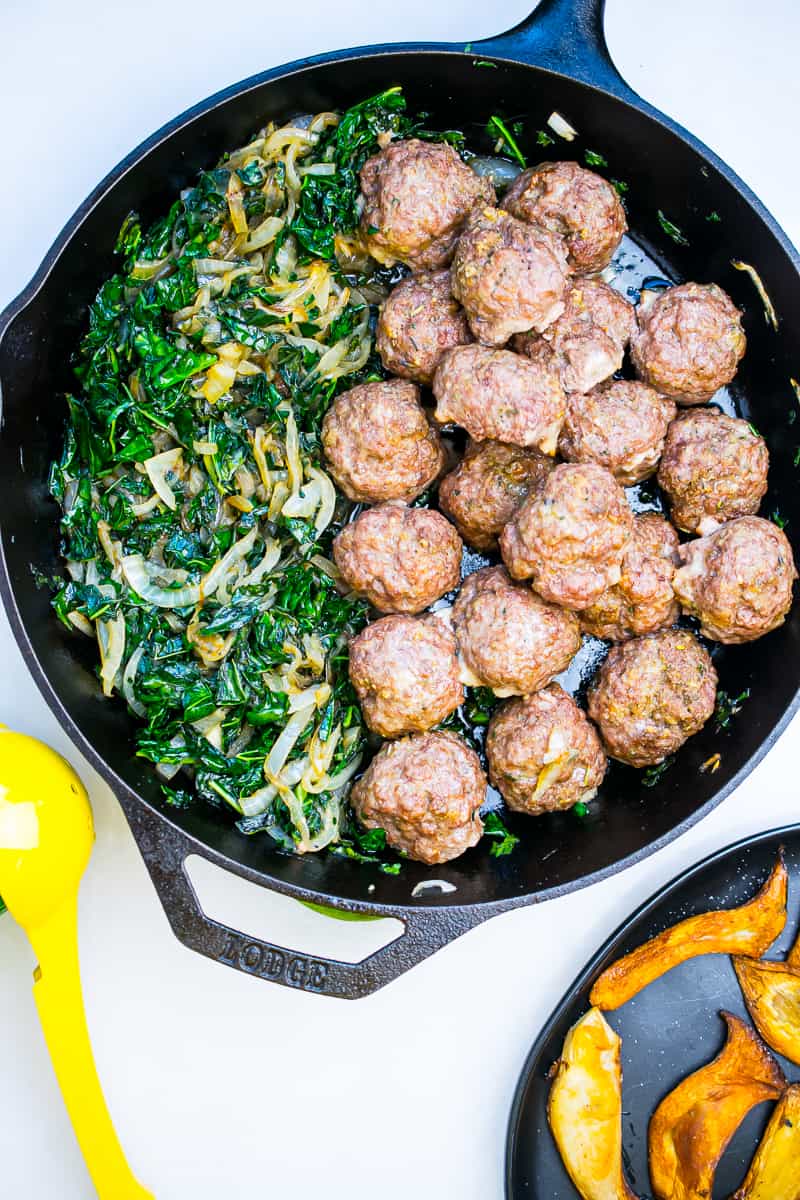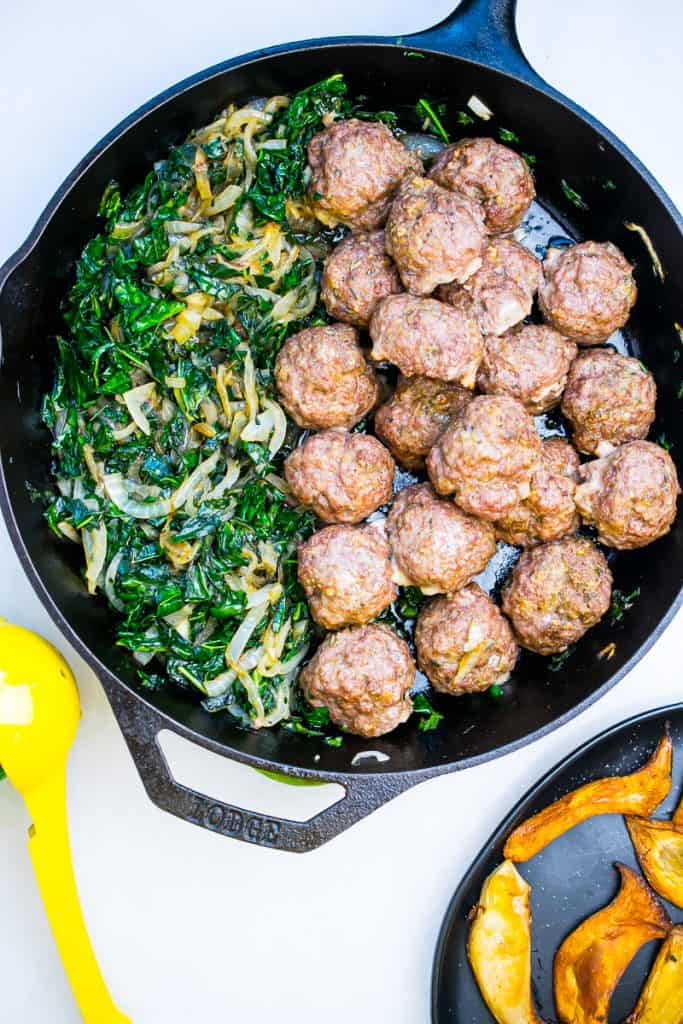 The Secret to Cooking Kale
Kale can often be bitter and tough, so why eat it? Well, it's good for you! Dark leafy greens are great for supporting healthy detoxing in the body and the fiber contributes to eliminating toxins from the gut. Kale is not only delicious and enjoyable to consume but easier to digest when cooked this way. It's perfect in this meatball, kale and mushroom combo.
Step 1: De-stem the kale. Rip the leaves off of the stems which are really hard.
Step 2: Cut the leaves up, and massage them until tender, they will become soft and dark green.
Step 3: Saute or braise, adding in plenty of citruses! Citrus cuts the bitter flavor and compliments kale perfectly. Using some citrus essential oils could work here too, especially if you can't source lime or lemon in the winter.
Using a CITRUS SQUEEZER when cooking with lemons or limes is a game-changer. You don't have to worry about picking the seeds out of the food and you get the most juice out of your lemons or limes. I love this one!
Making Mushroom Chips
I never thought to make mushrooms crispy until my mom accidentally burned some shiitake mushrooms, but then discovered that holy moly, they were crispy and delicious. She called me up raving about her discovery and so began my obsession with roasting mushrooms. In my next book Made Whole MADE SIMPLE, you will see my mom's crispy shiitake "mistake" but for this post, here is how I made chips from roasted king oyster or trumpet mushrooms.
At my grocery store, they sell a 7-ounce basket of sliced kind oyster mushrooms that I used for this, but you can get whole ones and make sure to slice them in 1/8 inch thick slices. I like these big flat mushrooms for this because they are more chip-like, but really, even sliced cremini mushrooms will work. Optional, but don't skip them, in this meatball, kale and mushroom dinner.
Step 1: toss you sliced mushrooms with fat, I like 2 tablespoons of bacon grease, but olive oil will work too.
Step 2: sprinkle with ½ teaspoons fine salt.
Step 4: Arrange, laying flat and spread out over a sheet pan (or two).
Step 5: Roast for 20 minutes at 400F on the bottom rack.
Step 6: Broil on high for 2 minutes, then flip over and broil for another 1-2 minutes. Enjoy!
Putting it All Together!
The beauty of this meatball, kale and mushroom meal is that the meatballs and mushrooms cook in the oven (hands-off) at the same time, and then you can focus on your skillet to make the kale with sautéed onions that is life-changing!
This kind of meal template is the epitome of real food that feeds the entire family. No fuss, delicious, nutrient-dense. Simple. Good food that is good for you!
This dish is high in Vitamin C, selenium, zinc, iron, B12, protein, Vitamin A and Choline! Read more on the nutritional benefits of beef and the difference between grain and grass-fed here.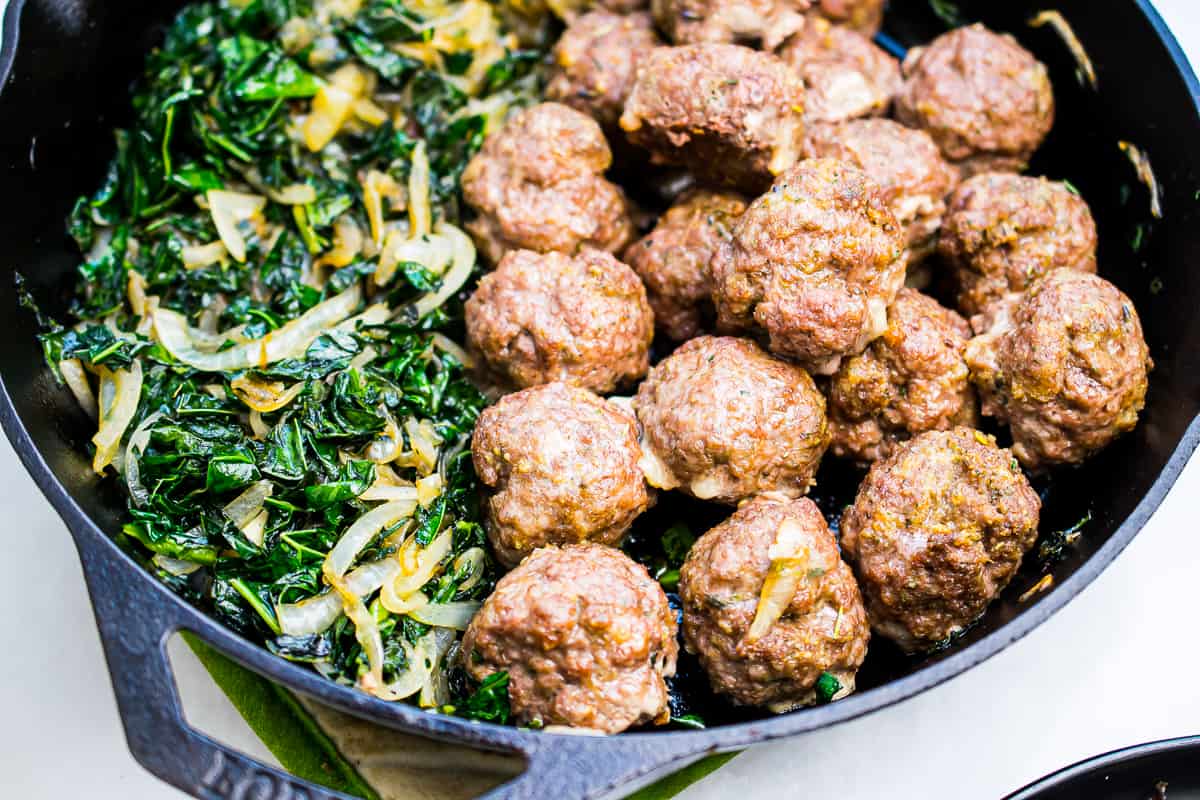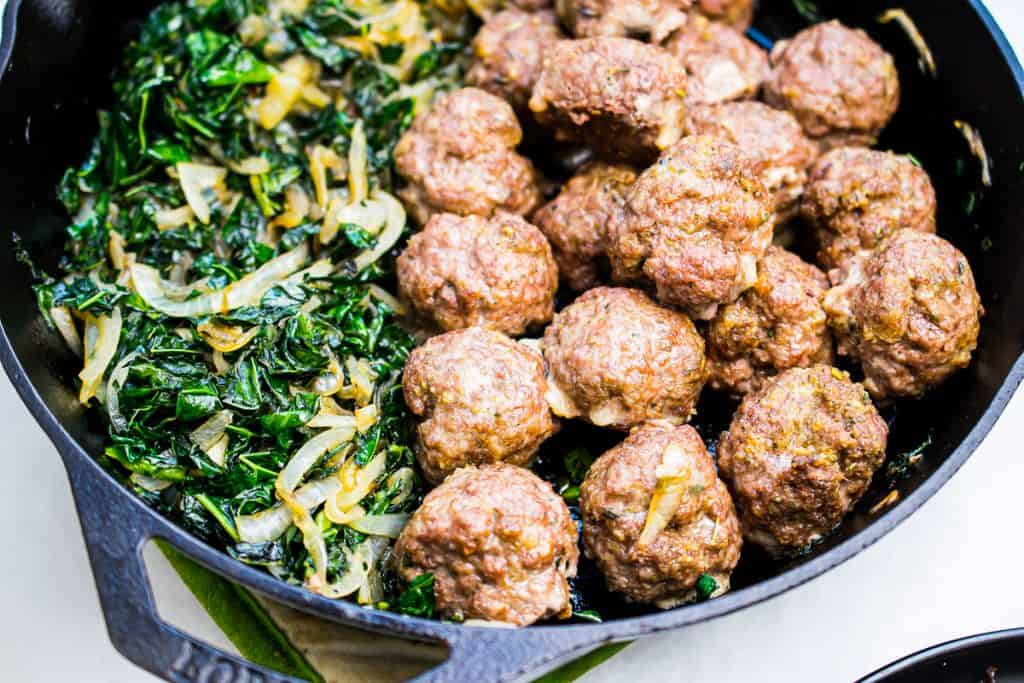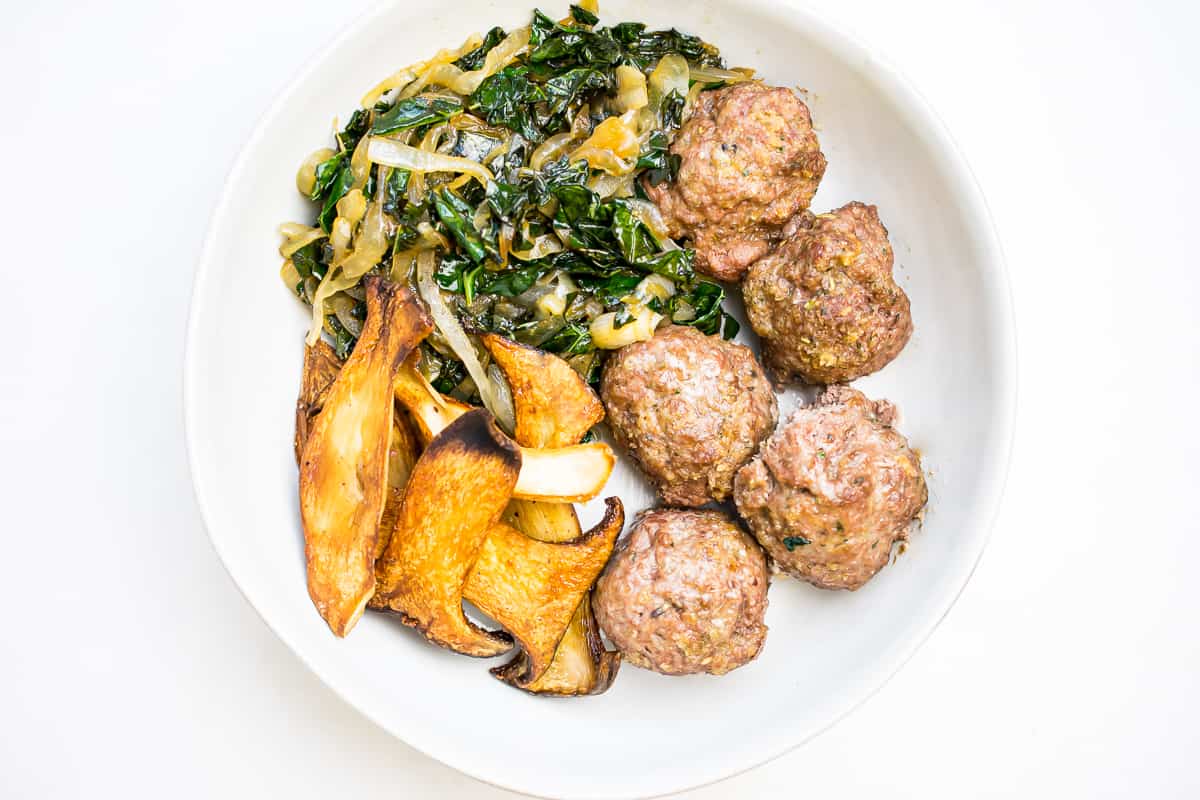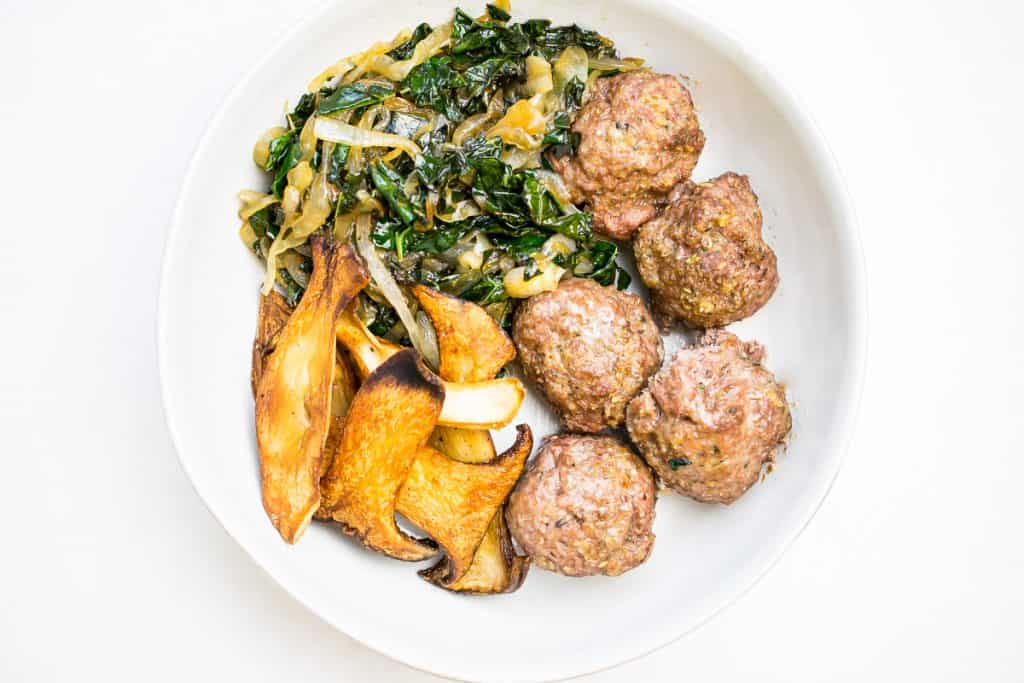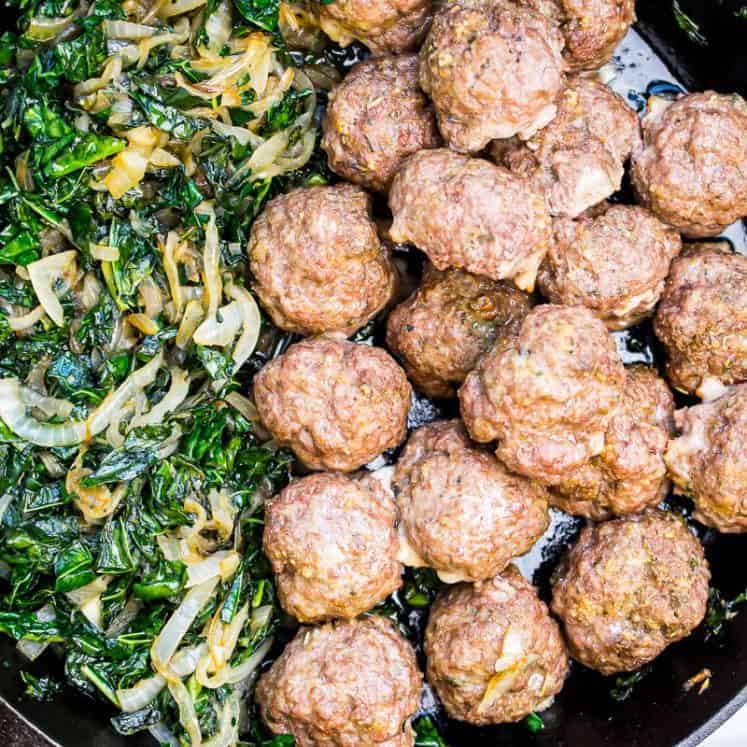 Herbed Meatballs with Sweet Tangy Kale and Mushroom Chips
---
Author: Cristina Curp
Prep Time: 10
Cook Time: 28
Total Time: 38
Yield: 5 servings 1x
Category: dinner
Method: simple
Cuisine: healthy
Description
The perfect easy and healthy dinner! Get dinner on the table in about 30 minutes with meatballs, mushrooms and kale! A meal the entire family will love that is healthy and simple!
---
Scale
Ingredients
For the Meatballs:
2 pounds ground beef, 85% lean (I use this one)
2 teaspoons fine salt (I use this one)
2 teaspoons herbs de Provence (I use this one)
1 teaspoon onion powder
1 teaspoon garlic powder
1 tablespoon fine ground almond meal, or flax meal
1 cup pork panko (I use this one), or use almond meal instead
1 large egg (or flax-egg)
2 tablespoons extra virgin olive oil
For Kale:
2 tablespoons bacon grease, lard, ghee or coconut oil
1 large onion, sliced
1 bay leaf
½ teaspoon fine salt, divided
Pinch of nutmeg
2 bunch lancinato/ dino kale, about 3 cups chopped up
Juice of 2 lemons (I use this juicer)
2 teaspoons coconut aminos
---
Instructions
Preheat oven to 400F. Combine all of the meatball ingredients except the olive oil in a large bowl. Mix well. Shape 20 medium meatballs
Brush a sheet pan with some of the olive oil, and line up all the meatballs on the sheet pan and brush the remaining oil. Place in the oven (with the mushrooms, see post above) and cook for 25 minutes. While these are in the oven, make the kale.
Heat a large, 16" inch, skillet over medium heat. When it comes to temperature, put the cooking fat in the skillet, the onion, bay leaf and ¼ teaspoon salt. Cook here, stirring occasionally for 10-15 minutes, or until very tender and browned.
While the onion cooks down, prepare the kale by ripping the leaves from the stems, bunching up the torn leaves in a tight pile and slicing thinly with a knife. Then sprinkle the pile with the remaining salt and massage the leaves until they become wet, dark and tender.
Add the kale to the onions and stir well. Sauté here for 8 minutes or until bits begin to brown. Stir in the lemon juice and coconut aminos and sauté until the liquid has simmered off.
Remove the meatballs from the oven and mushrooms and serve all together!
Recipe Notes:
Serving is 1/5 of the recipe, divide kale in 5 even piles before servings and distribute mushrooms the same way. 5 meatballs per dish!
Nutrition
Serving Size: 1/5 recipes
Calories: 529
Fat: 37g
Carbohydrates: 7.9g
Fiber: 1.8g
Protein: 42.2g
Keywords: healthy meatballs kale and mushroom dinner