Shredded Beef with Mushroom Gravy: tender beef slow-cooked with bone broth mushroom gravy, flavored with onion, rosemary, garlic, and ginger. Whole food, antiinflammatory, gut healing, keto comfort food.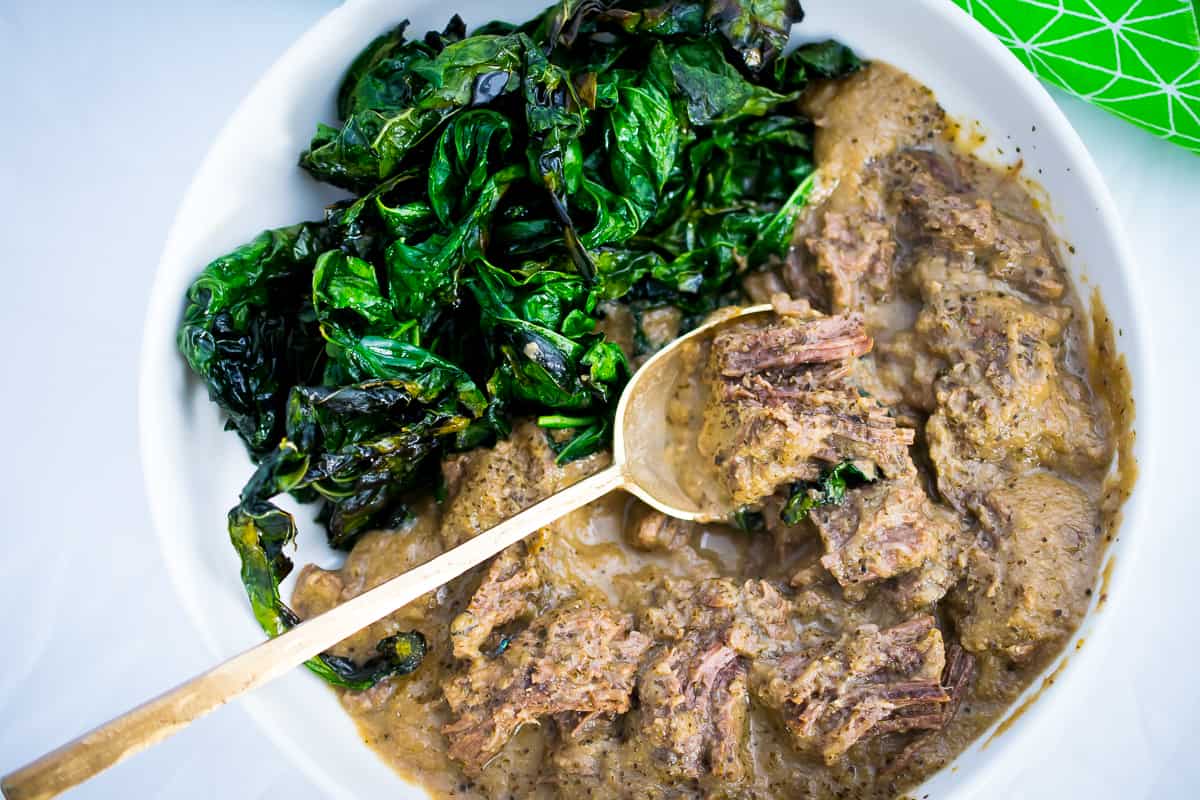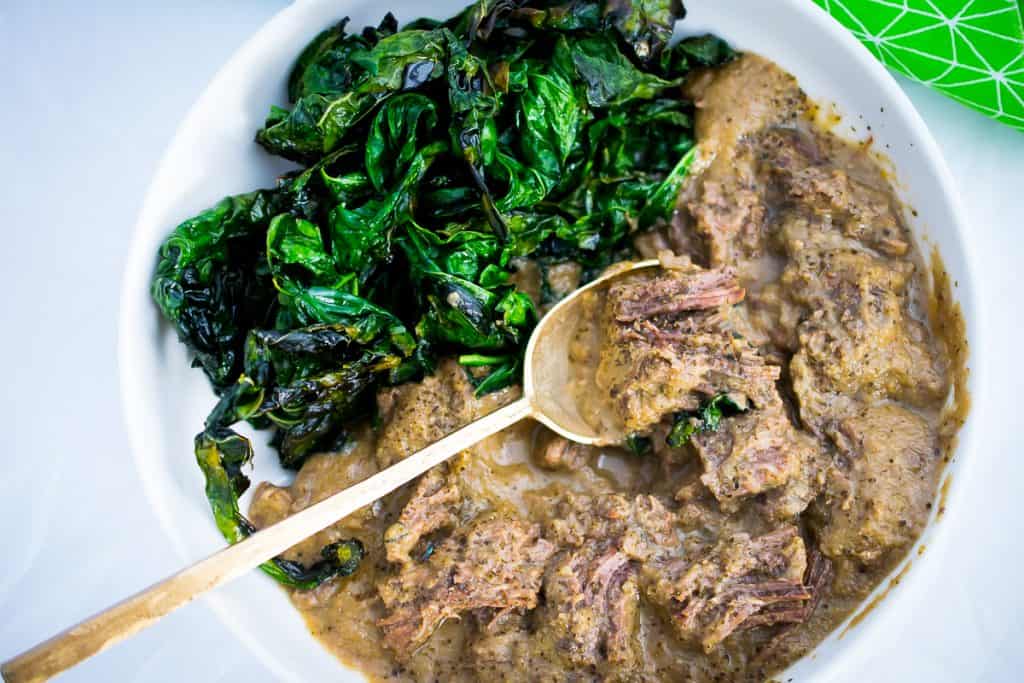 Table of Contents
This Shredded Beef with Mushroom Gravy is serious keto comfort food
When it comes to comfort food, bone broth recipes are where it's at. Not only does bone broth add an amazing savory flavor, but it also makes you feel good by supporting your gut health. Adding roasted veggies, herbs, and seasonings takes the flavor to the next level, and then as the beef cooks, all of the juices meld into the gravy.
Every bite is like a flavor explosion — you'll want to dip everything into this dairy free mushroom gravy. Pro tip: make extra gravy and use it to top veggies and proteins throughout the week for a super easy, super delicious keto meal prep. Need to make it AIP friendly? Omit the white pepper and 5 spice.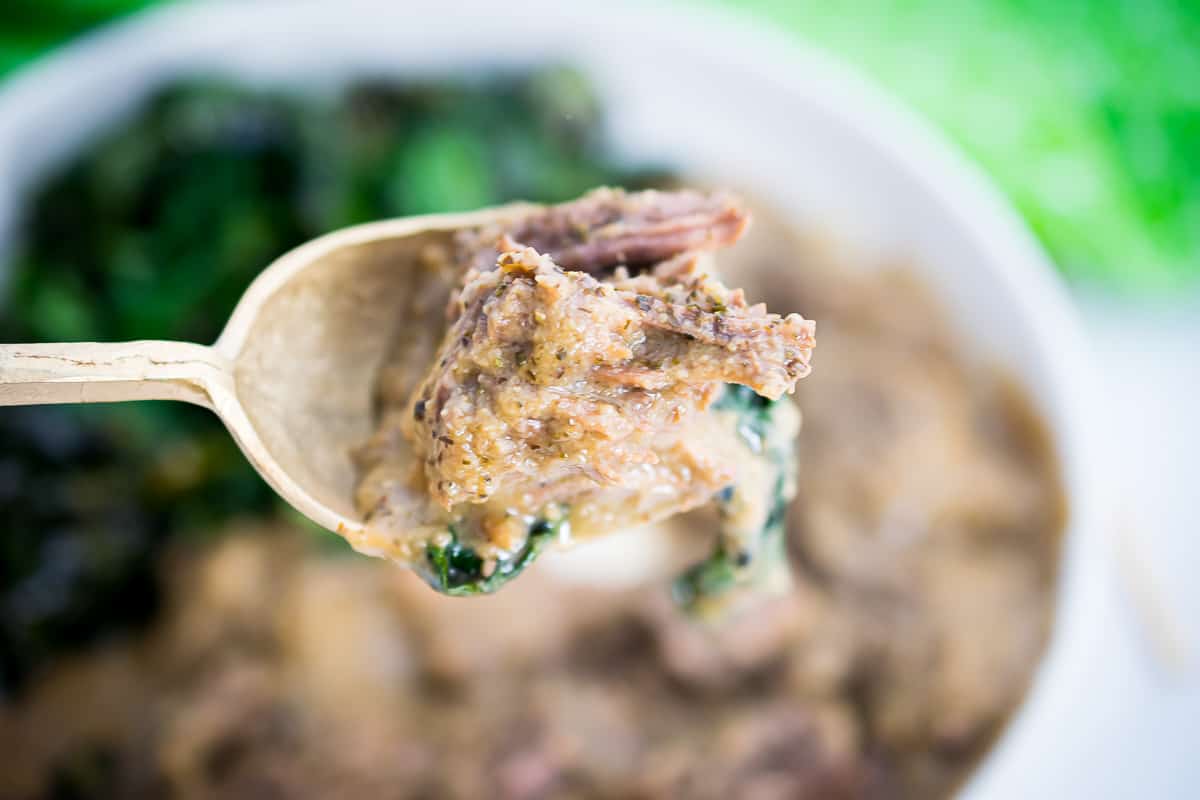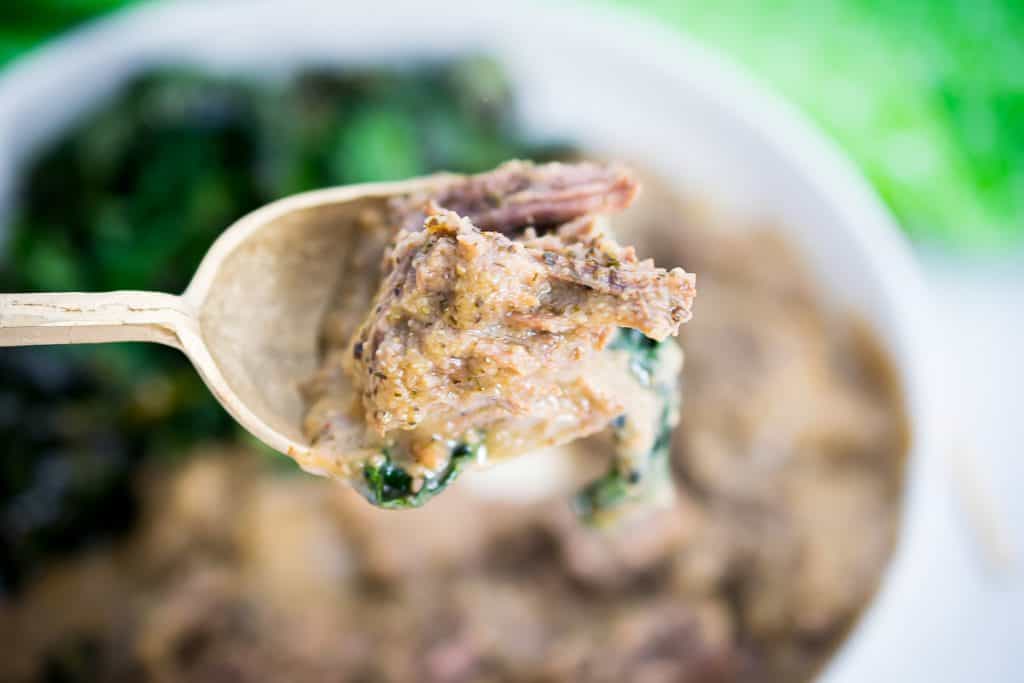 What's better: a slow cooker or pressure cooker?
This shredded beef recipe works for both a slow cooker and a pressure cooker, and I've included instructions for each option below. If you want to make this all in the pressure cooker and you have the big one, just insert an immersion blender for a one-pot meal. If you have anything smaller than an 8-quart pressure cooker, I would use saute the veggies in the large skillet or they won't cook right.
When it comes to deciding between a slow cooker or pressure cooker, it's really up to you. I like my pressure cooker because it has a slow cooker option if I want to throw something in to cook all day. Otherwise, the pressure cooker functions are great because they help develop the flavors in a dish like a slow cooker, only it takes way less time. Most slow cooker recipes can be adapted into pressure cooker recipes, so again, it's personal preference. You do you!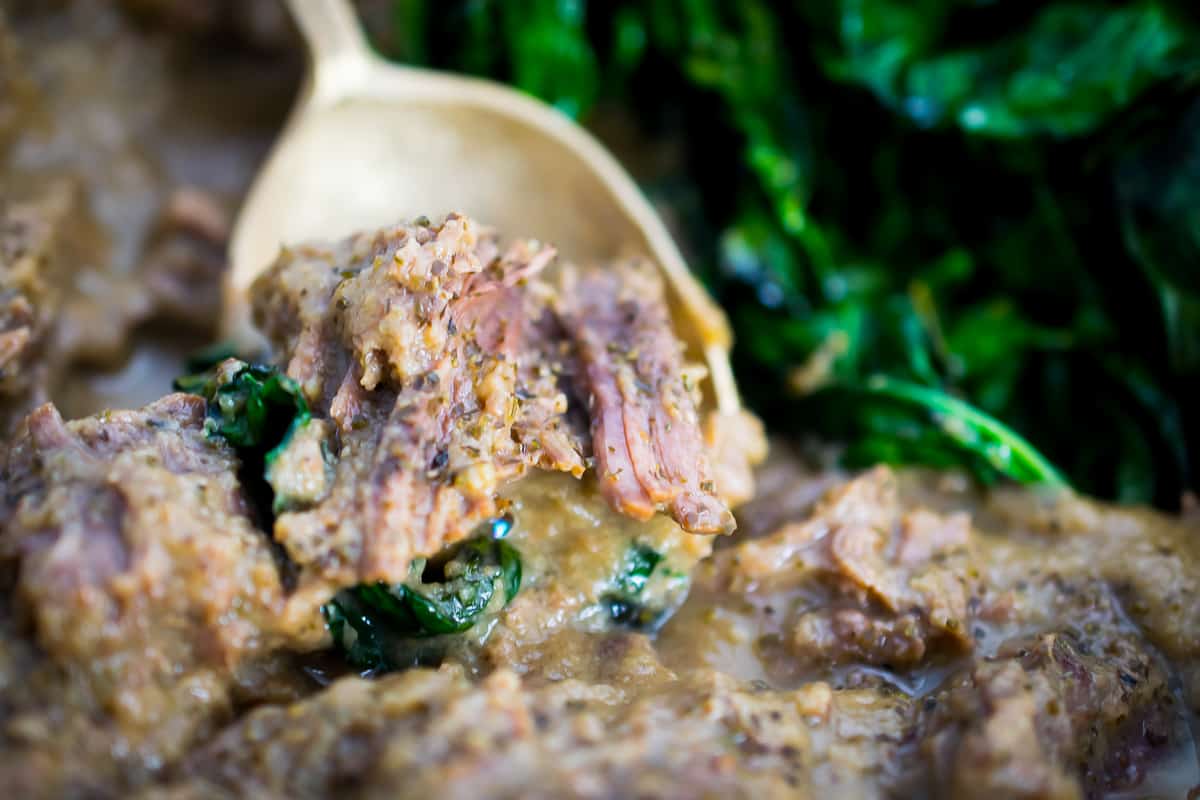 How to make the tenderest shredded beef
(Yes, tenderest is a word.) My favorite beef to use for this recipe comes from Butcher Box because it's 100% grass-fed, making it the most nutrient-dense option for protein. Once you source your meat, there's an important step that has to happen first before cooking: salting your beef.
One of the reasons why we salt meat is because the salt draws juices out of the meat. The juices combine with the salt, acting like a brine that then soaks back into the meat, breaking down the muscle fibers and making super tender. From there, you'll sear the meat to seal in those juices and finish the beef in the slow cooker. The end result melts in your mouth and goes perfectly with the veggie keto gravy.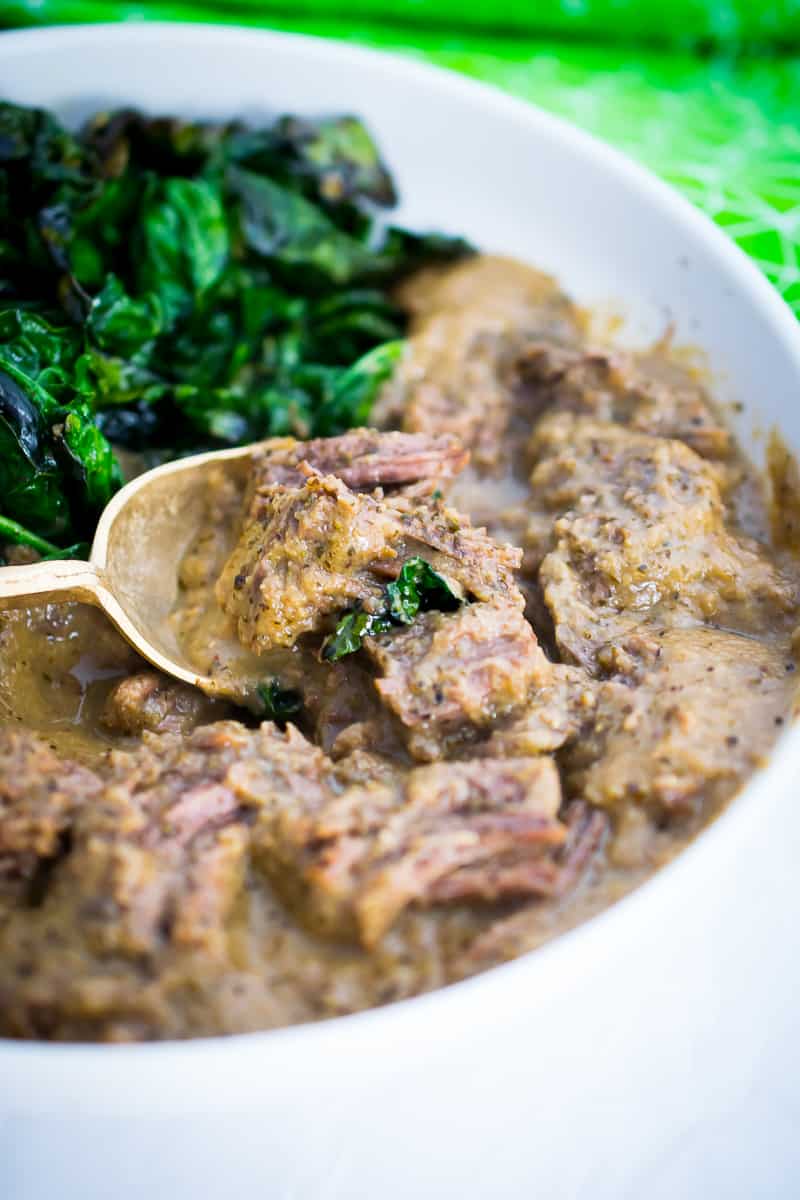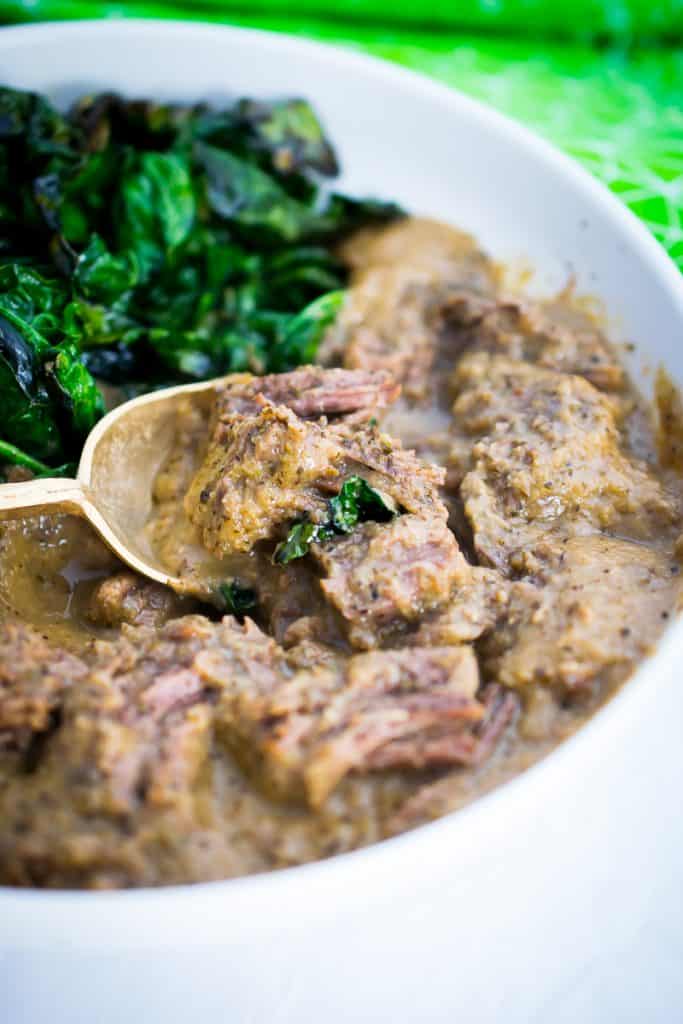 A note on salt:
Another reason why we salt meat? FLAVOR. We crave salt, not just because it provides us with electrolytes and keeps us hydrated, but because it makes everything delicious.
I've been enjoying Salt Acid Fat Heat and if you don't have a copy, I think every novice cook should! It's like cooking school in a book. I love that the author, Samin Nosrat, loves salt maybe more than I do.
Not all salts are created equal. For about a year now I've been cooking strictly with fine ground Redmond Real Salt. It's delicious, amazing quality, and because it's sourced from an ancient salt mine (and not from today's polluted oceans) it's free of microplastics!
Don't be afraid of salt. Even though salt gets a bad rap nowadays, it's an essential nutrient, and your body needs salt to function optimally. Season your food with quality salt and enjoy.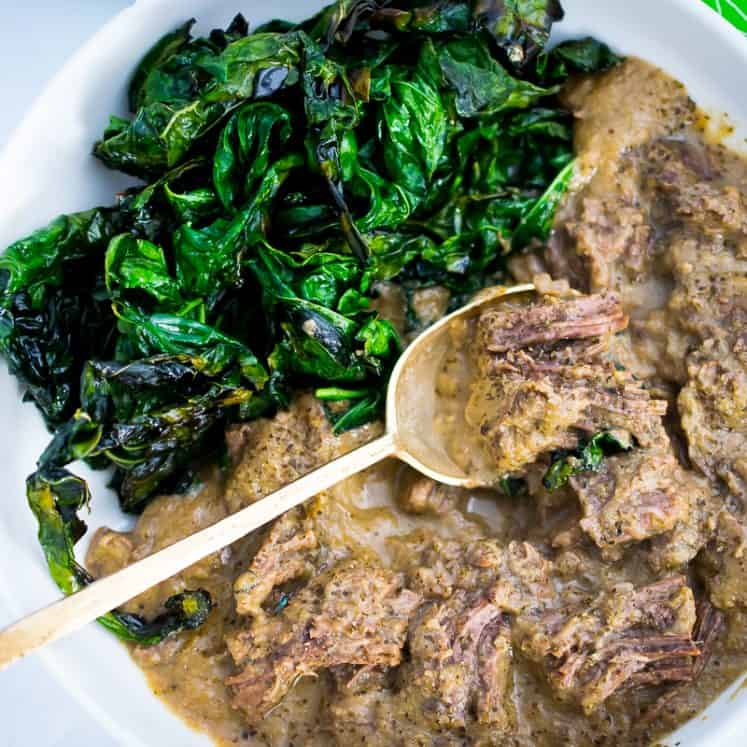 Shredded Beef with Mushroom Gravy (Dairy Free, Nut Free, Coconut Free, Egg Free)
---
Author: Cristina
Prep Time: 20 minutes
Cook Time: 50 minutes
Total Time: 1 hour 10 minutes
Yield: 4 servings 1x
Category: Entree
Method: Pressure Cooker
Cuisine: Beef
Description
Shredded Beef with Mushroom Gravy: tender beef slow cooked with bone broth mushroom gravy, flavored with onion, rosemary, garlic, and ginger. Keto comfort food.
---
Scale
Ingredients
1 1/2 – 2-pound chuck roast
3 teaspoons fine salt, divided
1 teaspoon garlic powder
1 teaspoon onion powder
½ teaspoon ground white pepper
¼ teaspoon five spice
2 tablespoons salted ghee or lard
1 medium onion, diced
1-pound sliced mushrooms
2 sprigs rosemary, minced
2 cloves garlic, minced
2-inch nub of ginger, peeled and sliced
Juice of one lemon
1 cup bone broth
1 tablespoon extra virgin olive oil
---
Instructions
Salt the beef with 2 teaspoons fine salt and set aside.
Heat a large (16 inch) skillet over medium heat. When it comes to temperature, melt the ghee in the skillet. Add in the onion, mushrooms and sauté for 8 to 10 minutes or until very tender and aromatic. Add in the rosemary, garlic and ginger and sauté for another 5 minutes.
Stir in the lemon juice and deglaze the skillet, then remove from the heat. Transfer the onion and mushroom mix to a blender, then add in the bone broth and blend until a puree forms.
Drizzle ½ tablespoon olive oil into the hot skillet and sear the meat for 3 minutes each side, then sprinkle with the rest of the dry seasonings.
Pour the mushrooms gravy into the pot of your slow cooker or pressure cooker. Add the seared and seasoned meat to the creamy sauce.
Close the lid and set to cook on low for 6 hours in the slow cooker. If you're using a pressure cooker, cook on high for 50 minutes, then release the pressure manually.
If you make this in the pressure cooker, shred the beef then reduce the sauce for 8 minutes. If you used the slow cooker, shred the beef, stir well and serve hot!
Recipe Notes:
Omit the 5 spice and white pepper to make this AIP.
5.8g net carbs per serving
Nutrition
Serving Size: 1 serving
Calories: 363.7
Fat: 16.3g
Carbohydrates: 6.9g
Fiber: 1.1g
Protein: 46.3g