Roma-what? All you need to know… this romesco sauce with chicken is a game-changer. I kid, romesco sauce is a delicious sauce, usually brick read in color, made of red peppers and nuts from Catalonia! I've re-created here, nightshade-free and totally delicious.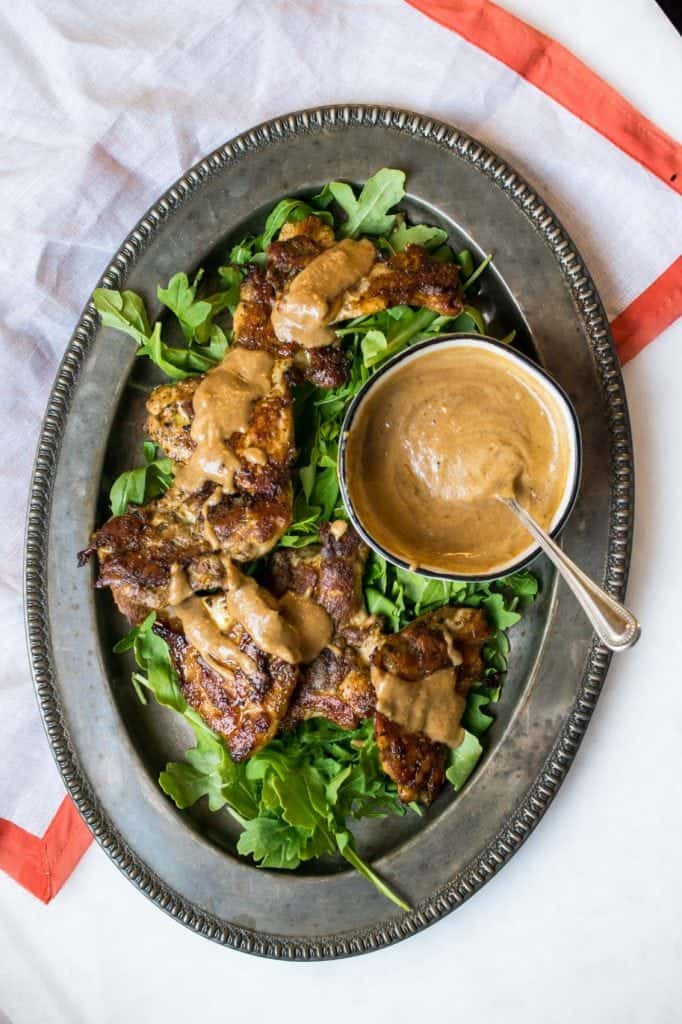 The Original Encounter
My first encounter with romesco was on the gourmet food truck I worked on in San Diego, Harvest Kitchen. Marguerite Griftka, the veteran chef who was to replace me as I was about to have a baby, created the most epic tacos with this delicious sauce. This rich sauce is perfect for fish. But honestly, the bbq nature of the sauce makes it perfect for this romesco sauce with the chicken recipe! Romesco has a tangy, yet warm flavor. It's a little toasty and totally delicious. This cacao butter and cashew version made using fried red onions vs red peppers is finger-licking good too!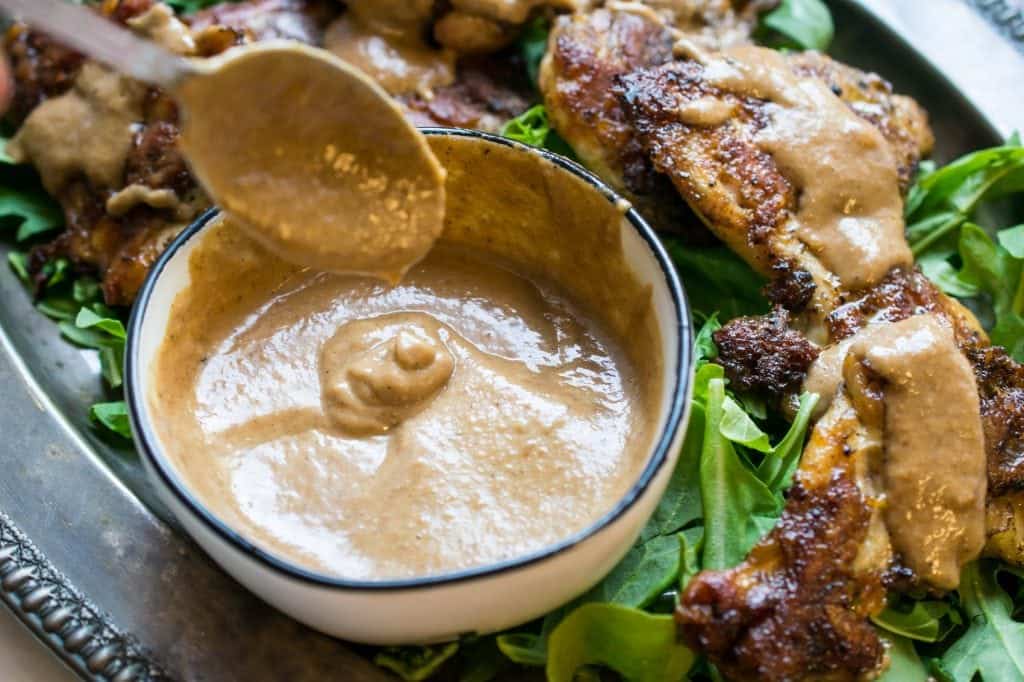 Cacao Butter
Other than being the perfect alternative to my avocado, coconut and dairy afflicted friends. This monounsaturated fat is packed with antioxidants. It also thickens when cooled and lends itself to making this sauce rich and creamy!
Other uses for cacao butter are Rocket Fuel Lattes and Homemade Chocolate.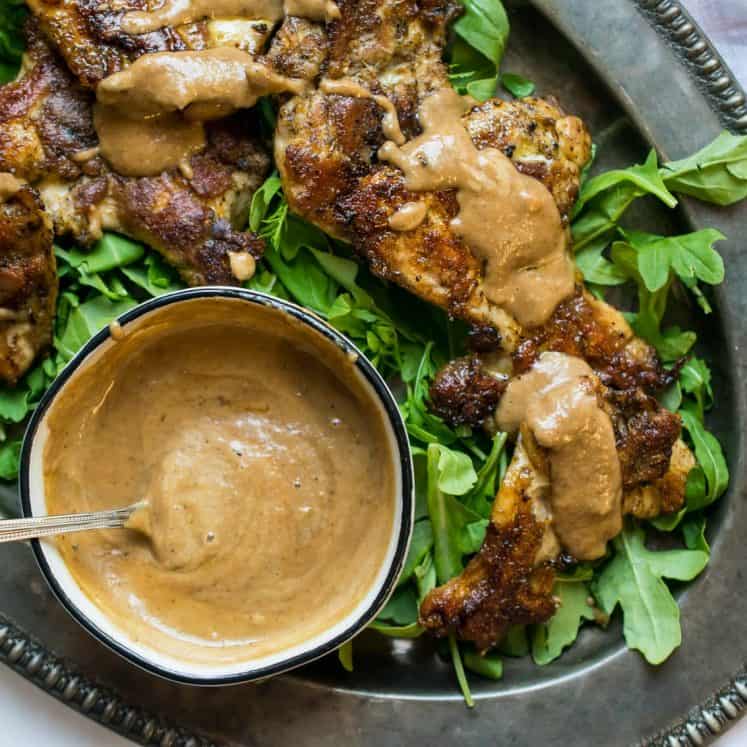 Cacao Butter Romesco Sauce with Crispy Chicken Thighs
---
Author: Cristina Curp
Prep Time: 10
Cook Time: 40
Total Time: 50 minutes
Yield: 6 servings 1x
Category: Entree
Method: Oven
Cuisine: Spanish
Description
This fun twist on Romesco sauce is somewhere between the traditional earthy and smoky sauce and BBQ sauce. A mix of fried red onions, toasted cashews and warm spices. Get all the antioxidant goodness of cacao in this deliciously savory recipe! Romesco Sauce with Chicken!
---
Scale
Ingredients
The Sauce:
½ cup melted  Cacao Butter
½ red onion, sliced
¼ cup raw cashews (hemp hearts or pumpkin seeds for nut free)
½ teaspoon garam masala
½ teaspoon toasted ground cumin
½ teaspoon fine salt
¼ cup coconut aminos
1 tablespoon apple cider vinegar
1 tablespoon low carb date syrup (or 10 drops stevia glycerite)
The Chicken:
2 pound boneless skinless chicken thighs
3 tablespoons bacon fat
2 teaspoons salt
1 teaspoon black pepper
---
Instructions
Heat a small sauce pot over medium heat with the cacao butter.
Once hot, add in the onion and cashews. Fry, stirring occasionally for 5 minutes, or until the onions and cashews are golden and toasty.
Pour everything into a blender, add in the seasonings, aminos, vinegar and sweetener if you're using it. Blend until smooth.
To make the chicken:
Pre-heat oven to 425F.
Toss the chicken thighs, bacon fat, salt, and pepper together then lay the thighs flat on a sheet pan, so none of them over lap or touch.
Roast for 30 minutes, then flip over and roast another 10. Use a spatula to scrape them up off the sheet pan.
Serve over greens, drizzle the sauce all over them!
Recipe Notes:
Substitutions: Almonds or hemp hearts may be used instead of cashews and in equal amounts.
If you can eat nightshades, try using smoked paprika instead of the garam masala!
Nutrition
Serving Size: 1/6 of recipe
Calories: 365
Fat: 23g
Carbohydrates: 7g
Fiber: 0
Protein: 30g
Keywords: romesco sauce with chicken