Tender and juicy ginger rosemary braised pork loin medallions served over roasted spaghetti squash with a creamy dairy-free pan juice sauce. So. Dang. Good.
Table of Contents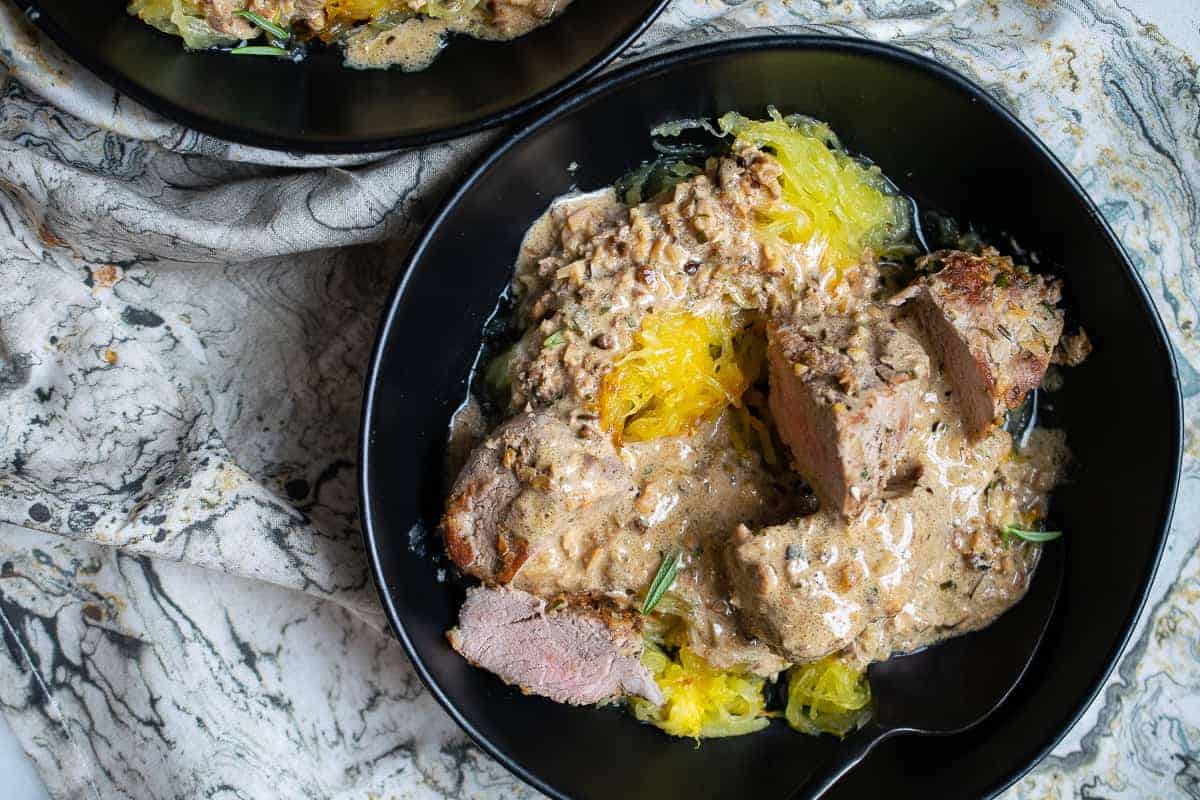 A great reason to throw a holiday dinner party
If you're looking for a restaurant worthy recipe that doesn't take restaurant-level skills, this is it. Roasting the spaghetti squash really develops a deeper flavor that pairs so well with the braised ginger rosemary pork loin medallions, and the creamy sauce made from the pan juices pulls it all together. The result is a beautifully plated, absolutely delicious Whole30 pork tenderloin recipe, bursting with holiday flavor. Get your invitations ready — it's time for a dinner party.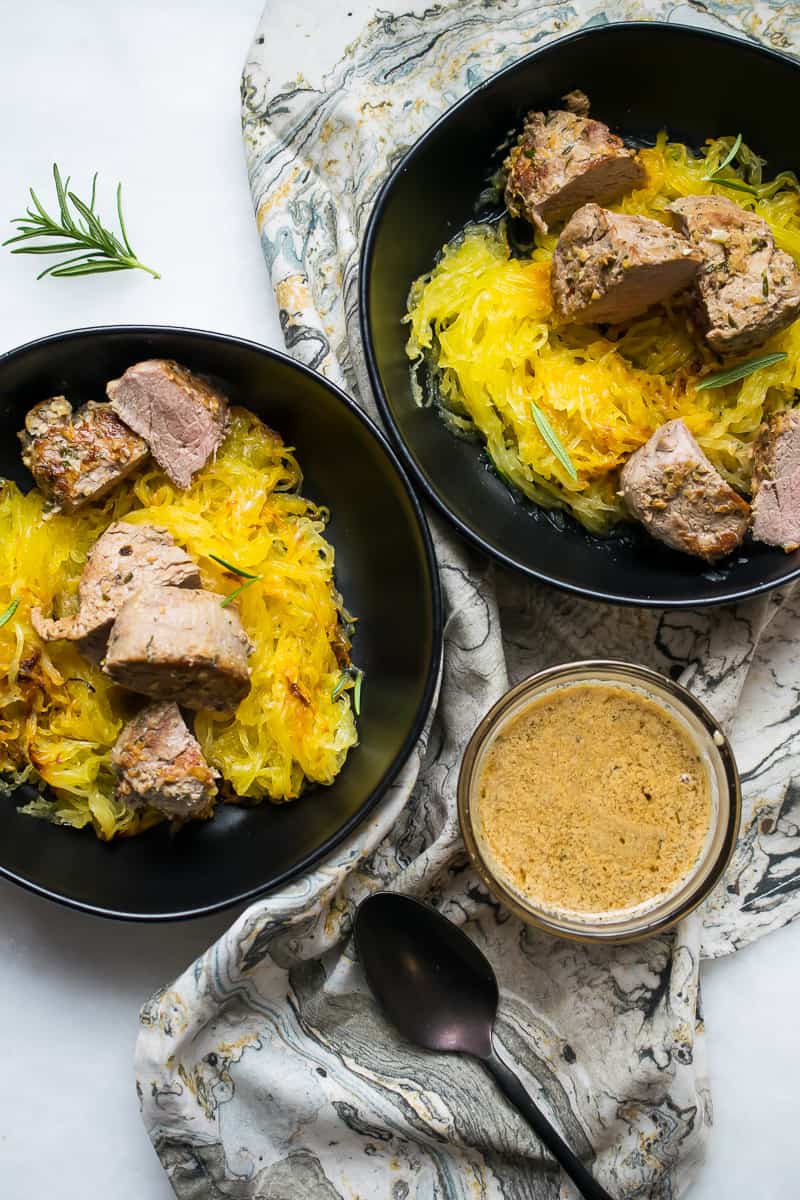 Before we get into this pork tenderloin recipe..
Here's a quick Made Whole Made Simple Update:
Y'all, my next book, Made Whole Made Simple is going to release March 1oth, 2o2o. That's only 4 months away, which seems insane. The pre-sale freebies will go out Dec 1st and I'm cooking up some killer incentives, so keep your eyes peeled and make sure you're subscribed to my newsletter. You can pre-order at anytime between now and March 10th and the the lowest price pre-order guarantee from amazon.
If you're not an Amazon fan, you can also pre-order from Barnes and Noble.
About Made Whole Made Simple
Made Whole Made Simple is a guide to self-healing! I wanted to step back from diet specific content, because healing is bio individual and I wanted to give you the tools, the foundations, so that you can navigate healing through food and healthy habits at your own pace, your own way.
The book covers the foundations of health: Digestion, Hydration + Mineral Balance, Fatty Acid Balance and Blood Sugar Regulation. I go into how the body creates energy from food, metabolic flexibility and how it plays into managing blood sugar and inflammation. It's not about macros, but eating for your energy needs.
I also cover hormone health with actionable tips and foods that will specifically support your hormones. I explain the autoimmunity and gut health connection, discuss healing protocols and finding your root cause. Then I wrap it all up with habits for success, meal prep plans, actionable tips, therapeutic nutrient graphics and 143 EASY, HEALING RECIPES! Boom! I can't wait to share this book with all of you. It's the perfect evolution from my first book: Made Whole.
Wanna read more about Made Whole Made Simple? Check out this blog post.

Okay, back to this holiday pork recipe …
One of the things that I love most about this recipe is that it's a great holiday recipe. With 44.8g of protein, 28.7g of fat, and 10g net carbs per serving, this recipe is satiating and super satisfying flavor-wise. And before you ask …

Is spaghetti squash keto?
Food isn't "keto" or "not keto." That being said, spaghetti squash can definitely find its place on a keto plate. It's low in carbs and high in fiber, and a little goes a long way. The texture of roasted spaghetti squash really satisfies the craving for something starchy without tanking your blood sugar. Spaghetti squash has always been a great paleo alternative to pasta, and it's the perfect base for this Whole30 holiday recipe.
How to cook spaghetti squash:
First, you'll want to preheat the oven to 400F. Wash your spaghetti squash, then cut the top and bottom off your squash so that you can stand it up without it rolling around all over your cutting board. From there, you can easily cut the spaghetti squash in half lengthwise.
To remove the seeds from your spaghetti squash, just use a pair of kitchen shears and cut around the "pit" area. Then lightly brush the spaghetti squash with olive oil, season with salt, and place the squash cut side down on a sheet pan, and roast for 30 minutes.
After removing your spaghetti squash from the oven, flip over each half with tongs and shred the squash with a fork — this should be really easy, because the squash will be super tender. The end result is roasty shreds of squash that really look like spaghetti!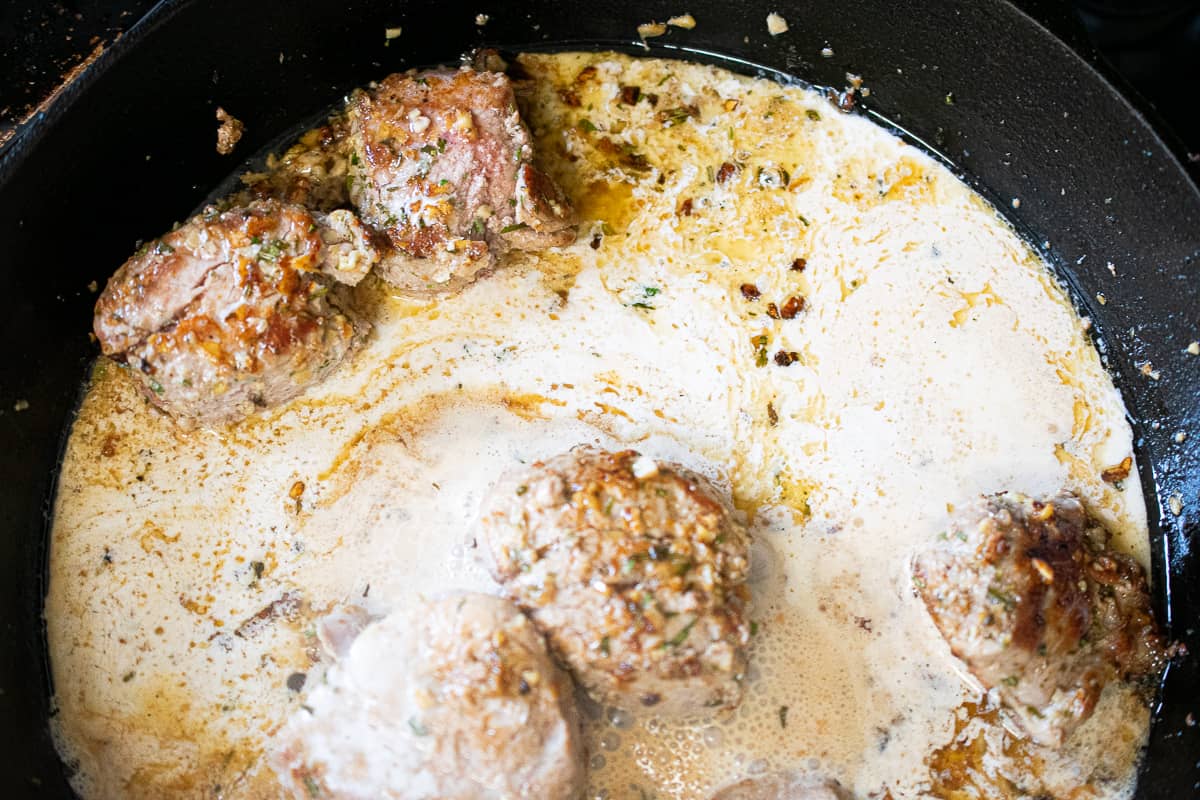 More cooking hacks for making this restaurant recipe at home:
Customize the flavors by switching up the herbs: I recommend rosemary, thyme or tarragon because they go well with pork tenderloin, and they are fitting for the season.
Not fully confident in your knife skills? First, make sure you have a SHARP knife. More kitchen injuries are caused by dull knives than sharp knives. Otherwise, you can use a mini food processor to mince the ginger, garlic, and herbs

And finally, a note on how to cook pork
This pork, cooked until it's a nice soft pink is perfectly safe when you're cooking with a good quality pork loin. This is why I use pork from Butcher Box — you can cook it to medium/medium-well without worry, and it's succulent and juicy and just so GOOD. If you're really worried, you can also use a meat thermometer and cook your pork to an internal temperature of 145°F.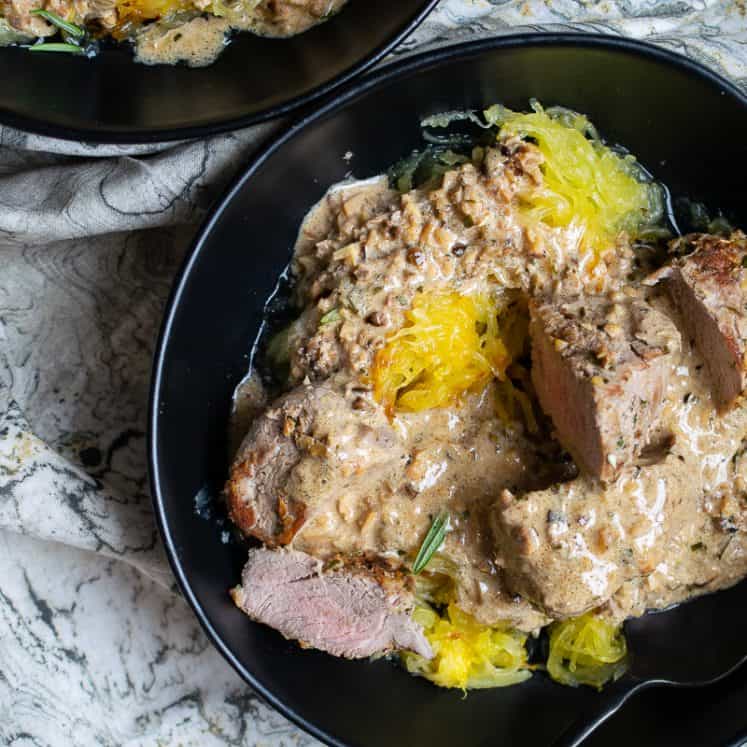 Ginger Rosemary Braised Pork Loin Medallions Over Roasted Spaghetti Squash (AIP, Dairy Free, Egg Free, Whole30, Paleo, Keto)
---
Author: Cristina
Prep Time: 15 minutes
Cook Time: 30 minutes
Total Time: 45 minutes
Yield: 2–3 servings 1x
Category: Entree
Method: Sauté, Roast
Cuisine: Pork
Description
Tender and juicy ginger rosemary braised pork loin medallions served over roasted spaghetti squash with a creamy dairy-free pan juice sauce. So. Dang. Good.
---
Scale
Ingredients
For the Spaghetti Squash:
For the Pork Medallions:
1 pound pork tenderloin 
1 teaspoon fine salt 
4 cloves garlic, minced
2 inch nub of ginger, peeled and minced
3 sprigs fresh rosemary, minced
2 tablespoons extra virgin olive oil
2 tablespoons white wine vinegar 
½ cup unsweetened dairy free milk (I use this one — only 2 ingredients and shelf stable!)
---
Instructions
Pre-heat oven to 400°F. 
Cut the spaghetti squash in half and remove seeds, see tips above. Brush with olive oil, sprinkle with salt, then place cut face down on a sheet pan and roast for 30 minutes while you prepare the pork.
Trim any excess fat on the tenderloin, using a sharp knife to trim the silver skin off. Do this by pulling up on the skin, angling your knife under it with upward pressure, so you're not cutting into the meat. Cut the film off.
Cut the loin into medallions, about 6 2-inch thick rounds. Salt and set aside. 
Mince all of the ginger, garlic and rosemary. Then toss the pork with the minced aromatics and toss with olive oil. 
Heat a large cast iron skillet over medium heat for 8 to 10 minutes. Put the medallions flat side down on the pan and sear for 5 minutes. Flip over and sear another 5 minutes. Add all of the minced aromatics to the skillet. 
Use tongs to turn over the medallions, searing the sides for about 2 minutes. Then add in the vinegar and deglaze the skillet, sautéing the medallions. Add in ½ cup milk and lower the heat. Simmer for 4-5 minutes. 
Remove the squash from the oven, use forks for shred it out into two or three bowls. Sprinkle with salt. Serve 3 medallions per plate (or 2 per plate, serving 3). Spoon the sauce all over! Yum! Serve hot. 
Recipe Notes:
1og net carbs per serving
Nutrition
Serving Size: 1 serving
Calories: 487.7
Fat: 28.7g
Carbohydrates: 12.3g
Fiber: 2.3g
Protein: 44.8g