Creamy, spicy, and loaded with feel good flavors and health benefits, this Sugar Free Spiced Chai Latte is a deliciously comforting non-coffee caffeine boost.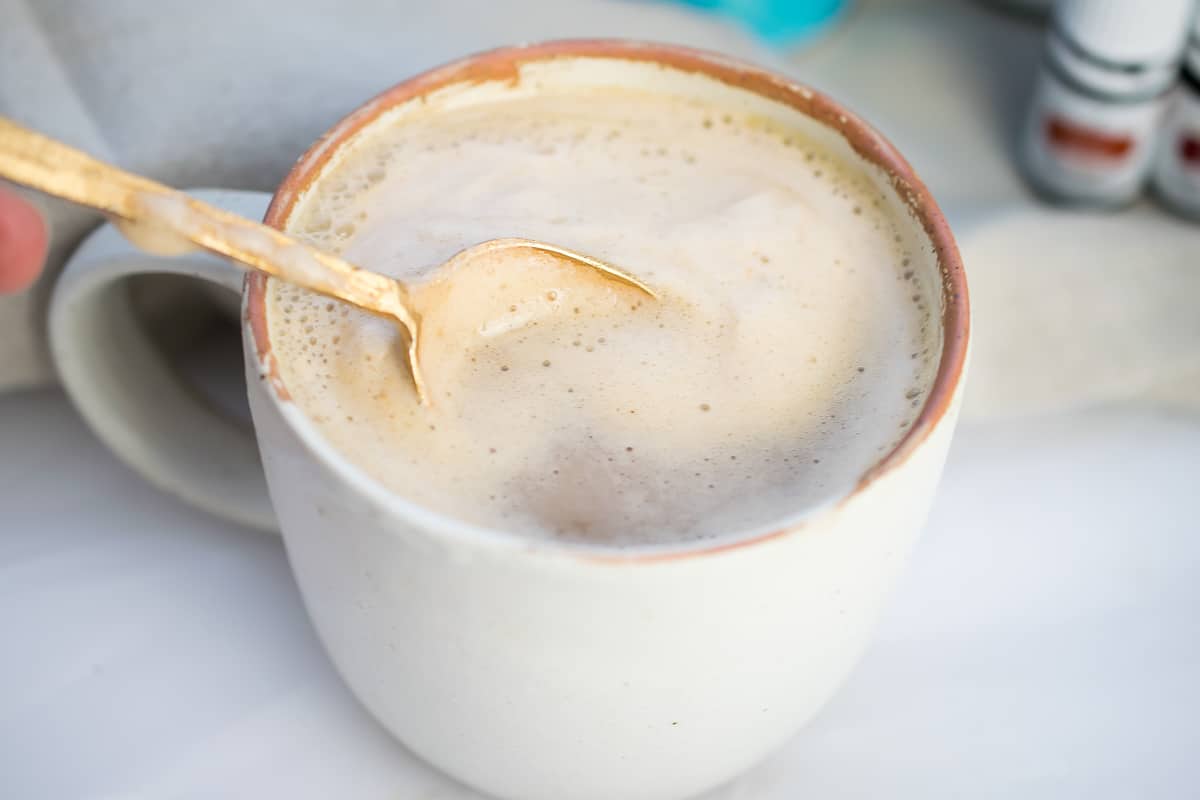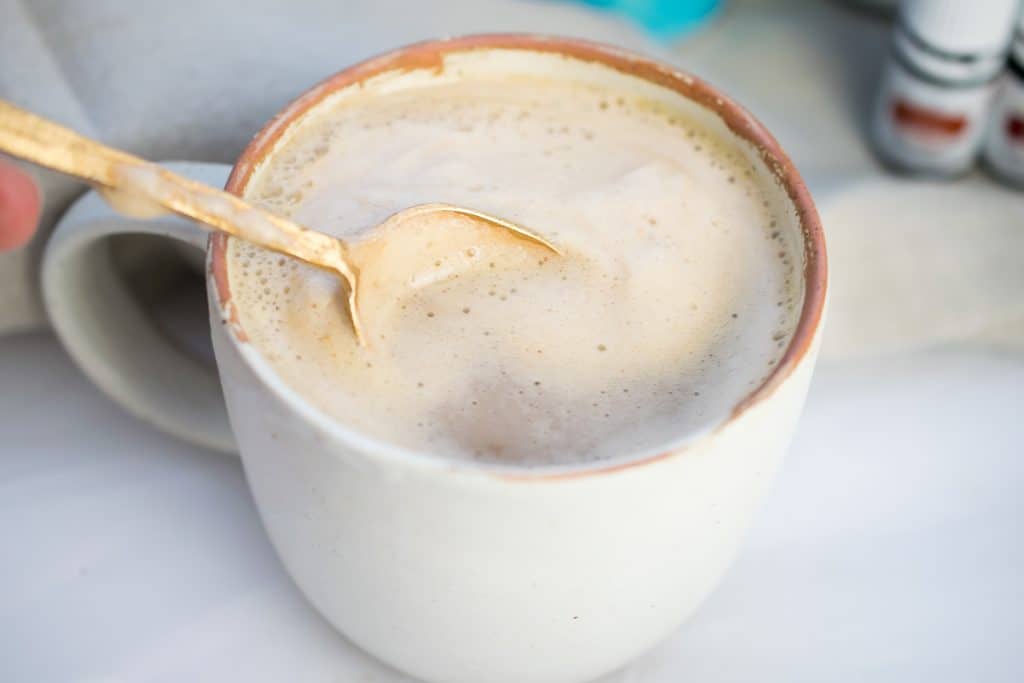 Table of Contents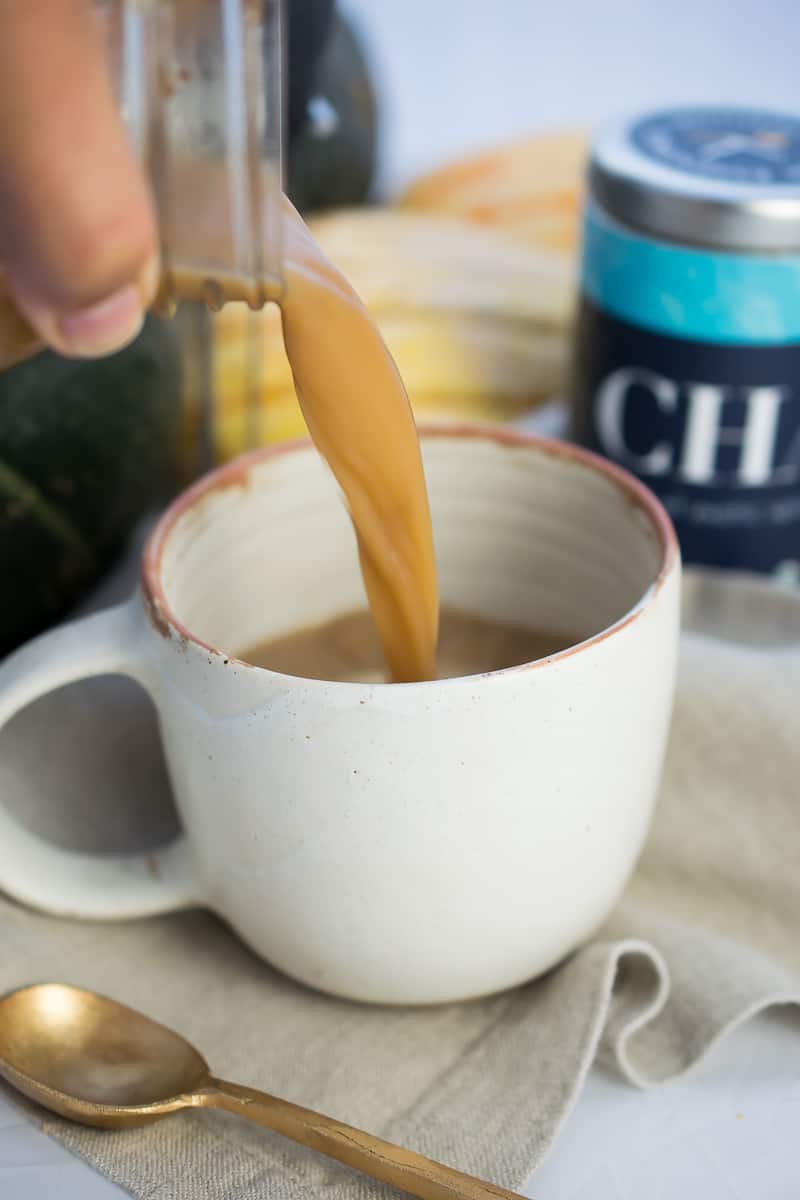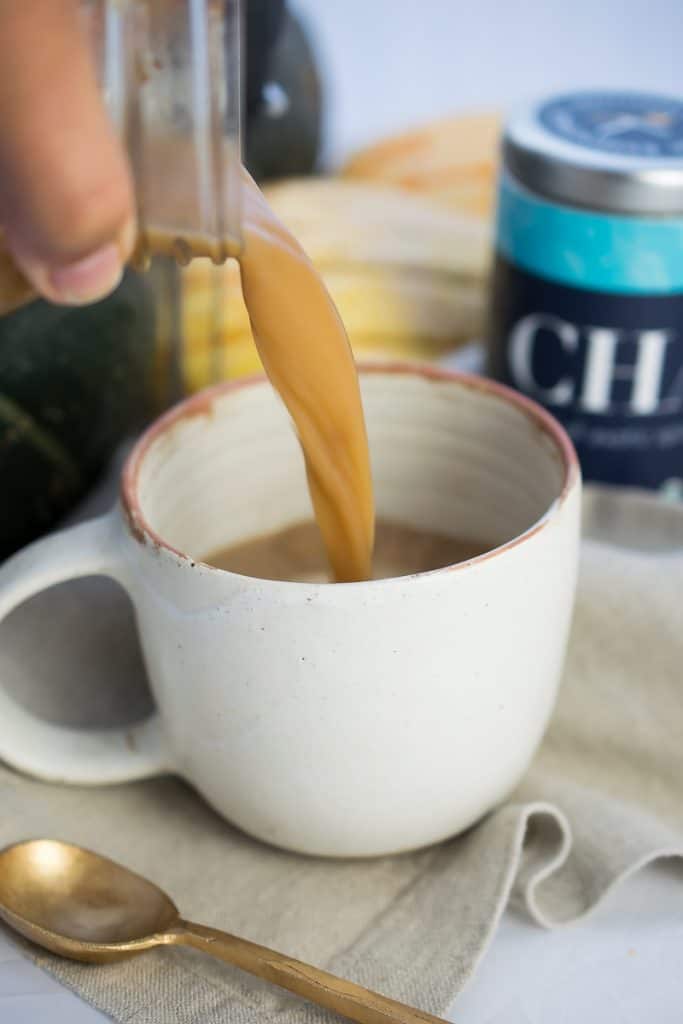 The perfect beverage for fall and winter
This sugar-free chai latte is full of warming spices. What are warming spices? Cinnamon, ginger, cardamom, black pepper, nutmeg, turmeric, coriander, cayenne … the list goes on and on. Warming spices increase your internal body temperature and your circulation, which is why they're usually found in seasonal recipes. The flavors in this anti-inflammatory drink are fully festive, but you can enjoy this spiced chai latte recipe any time of year.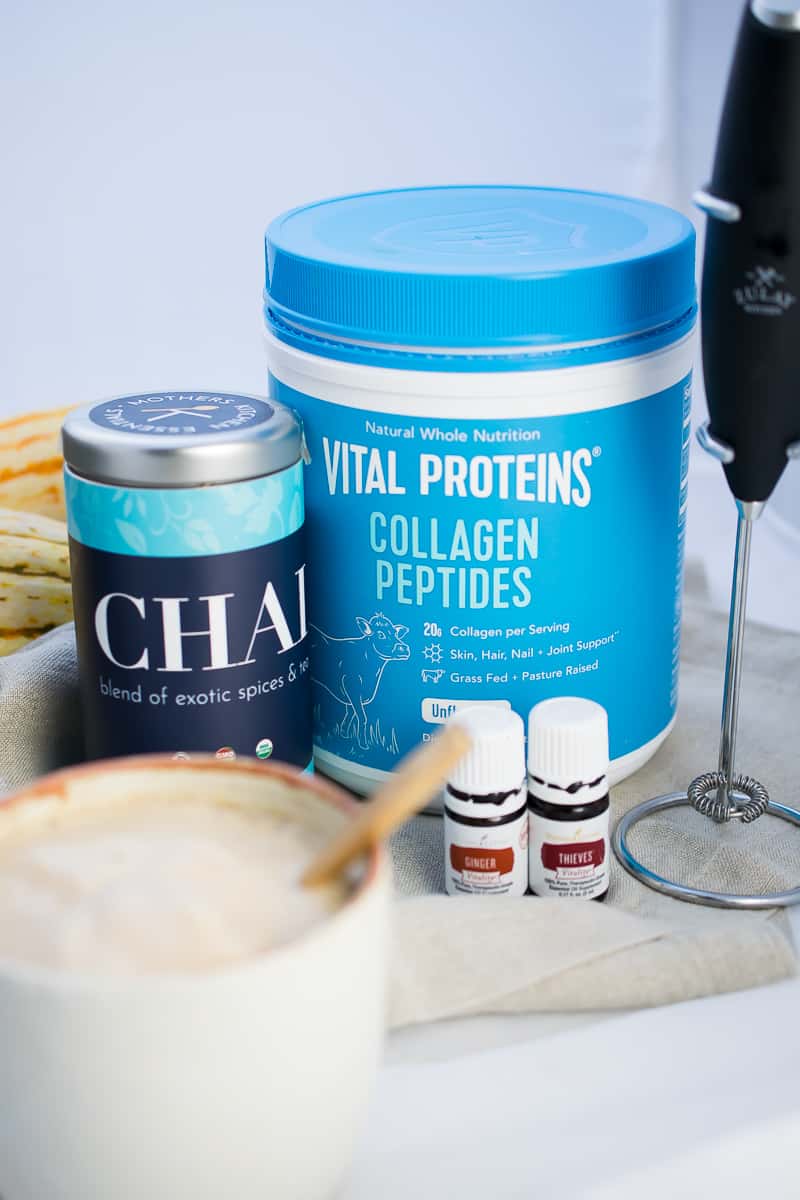 Let's talk about the health benefits of chai
There are tons of benefits to drinking tea, but chai tea specifically is anti-inflammatory, loaded with antioxidants, and it helps to aid in digestion and can help with nausea. Because this sugar free chai latte recipe is made with warming spices like ginger and cinnamon, it can help with blood sugar regulation. Chai is a great way to get a non-coffee caffeine boost, especially if you're looking for an alternative to boosted coffee. You can even add in collagen peptides for added protein, and to support skin, hair, nail and gut health.
This recipe gets an added boost from essential oils (more on that later) …
How this dairy free chai latte is better than the one you'll find at a coffee shop
Typically, coffee house chai is made with syrup instead of tea or tea concentrate. Like most coffee house drinks, chai lattes are loaded with sugar, throwing off your blood glucose and triggering inflammation. Making a chai latte at home is not only more delicious, but it's a guarantee that you'll get all the good stuff with none of the preservatives and added sugar. Plus the at-home version is way cheaper, even with the added collagen and essential oils.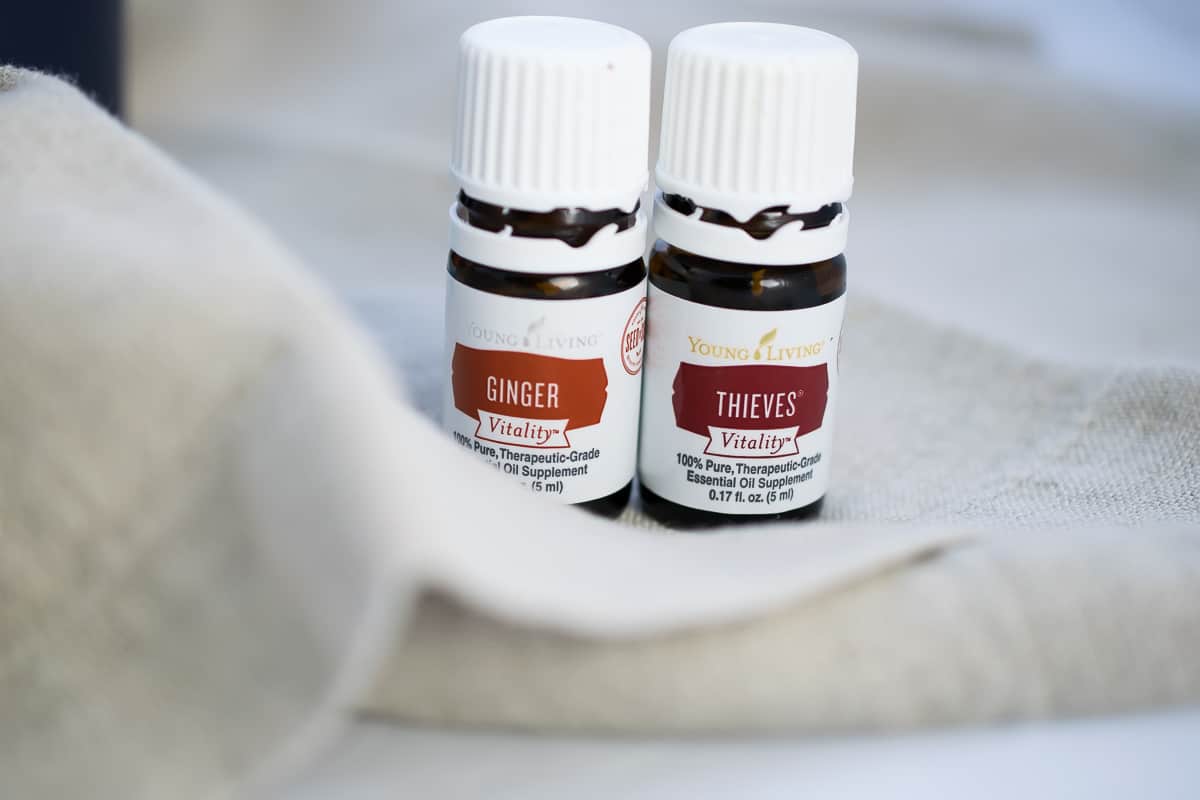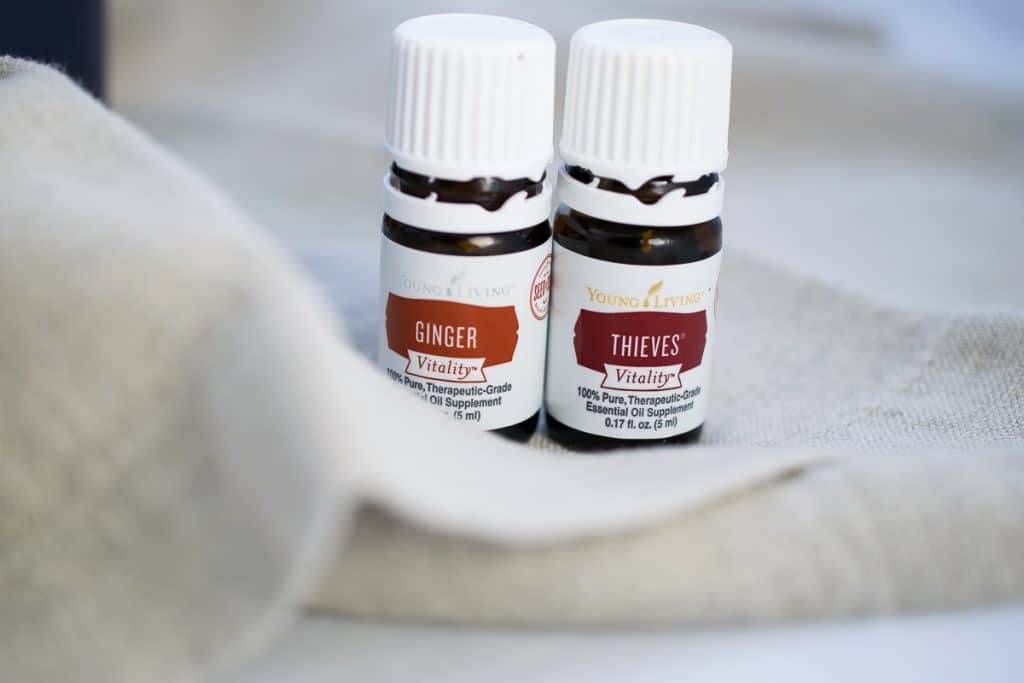 Is it safe to consume essential oils?
Not all of them!
When it comes to consuming essential oils, it's super important to check the quality of the oils. The only essential oils I feel comfortable consuming are from the Young Living Vitality line. Every oil in this collection is produced with the highest food quality standard. Make sure to read the lables for proper dosing. Read more about how to use the SAFELY here.
There are a bunch of Young Living recipes on the internet that incorporate different oils from the Vitality line. In this recipe, I'm using a drop of Ginger Vitality for digestive health and a drop of Thieves Vitality for an immune boost.
I've been incorporating essential oils into my daily life for hormone, immune, and digestive support, pain relief, aromatherapy, muscle recovery, and more. I also have clients in my NTP practice who have noticed health benefits from incorporating essential oils into their daily routine. If you have specific questions about supplementing with essential oils, you can send me an email and let me know what you're interested in learning about.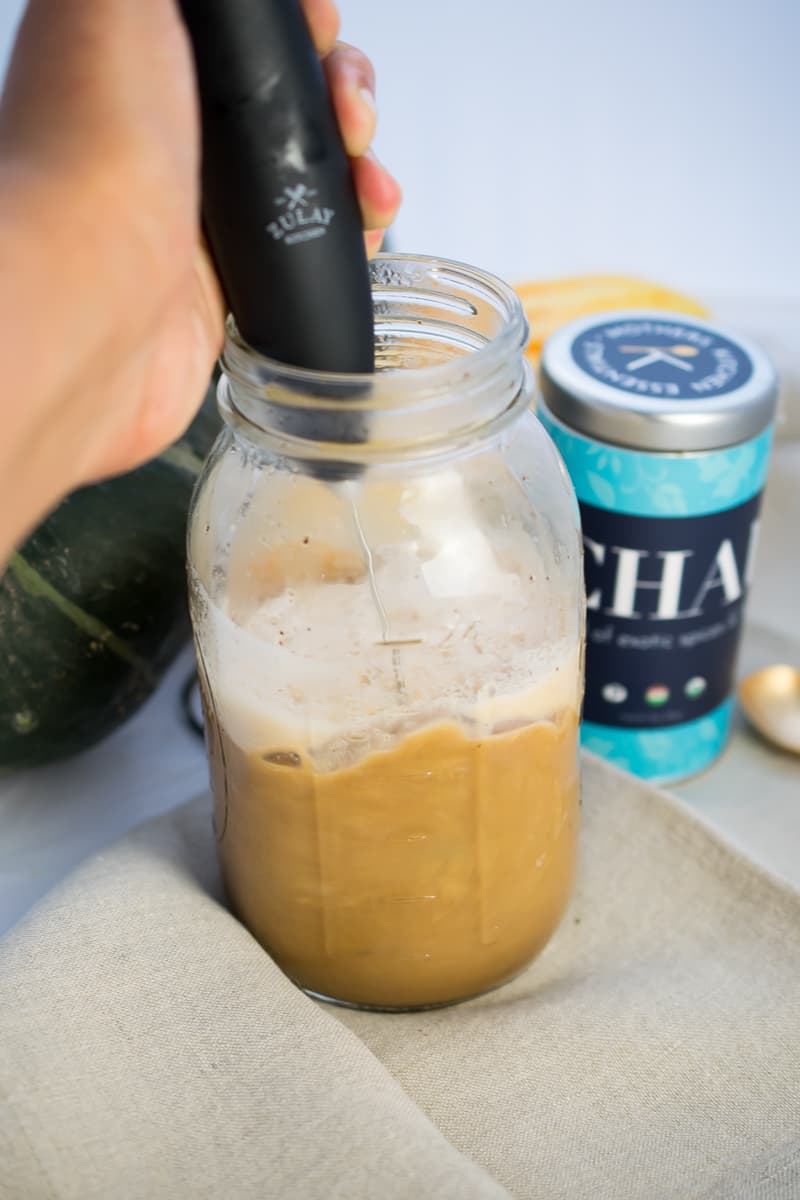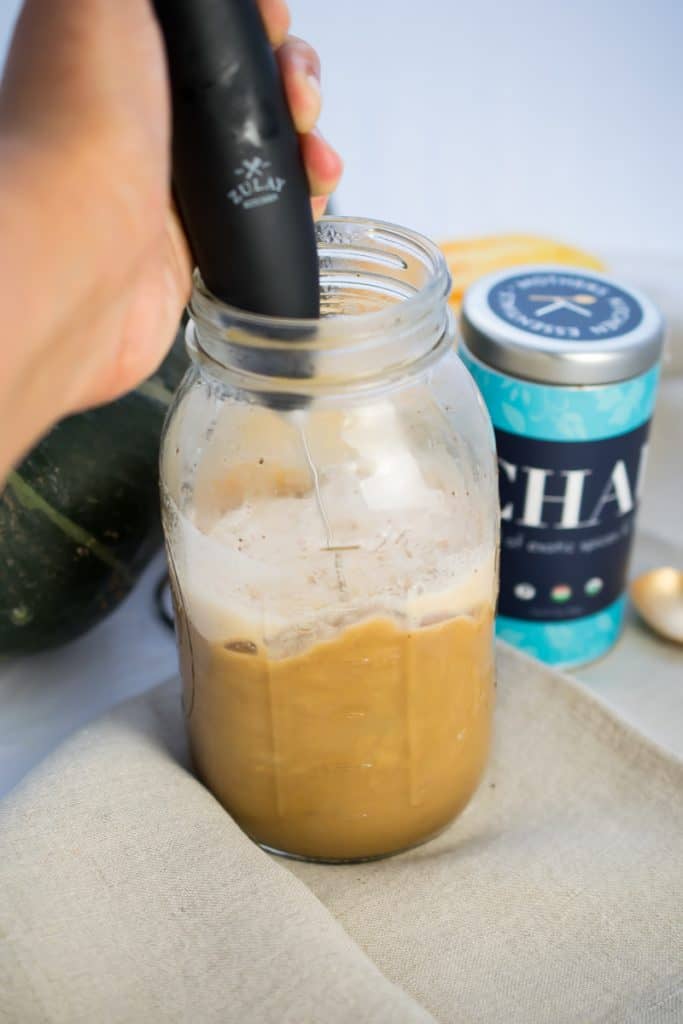 Did you know Chai means Tea! So saying Chai Tea is like saying Tea Tea 😉
Sugar Free Spiced Chai Latte (Dairy Free, Egg Free, Nut Free, Paleo, Keto)
---
Author: Cristina
Prep Time: 5 minutes
Cook Time: 3 minutes
Total Time: 8 minutes
Yield: 2 servings 1x
Category: Beverage
Method: Boil, Froth
Cuisine: Coffee/Tea
Description
Creamy, spicy, and loaded with feel good flavors and health benefits, this Sugar Free Spiced Chai Latte is a deliciously comforting non-coffee caffeine boost.
---
Scale
Ingredients
12 ounces filtered water
2 teaspoons chai blend, loose leaf
¼ cup dairy free milk
1 teaspoon ghee or coconut oil
½ teaspoon cinnamon
Pinch of salt
5 drops stevia glycerite or 1 teaspoon raw honey
Optional:
---
Instructions
Warm the water with the tea leaves in a small sauce pot. Bring to a boil. Turn off and cover for 2 minutes.
Strain the tea into a mason jar through a fine mesh sieve.
Add the rest of the ingredients and insert the milk frother. Blend until well combined and serve in your favorite mug!
Recipe Notes:
Nutrition information will vary based on dairy free milk, sweetener, etc.
Nutrition
Serving Size: 1 cup
Calories: 60
Sugar: 0
Sodium: 0
Fat: 4g
Carbohydrates: 1g
Protein: 2g
Keywords: sugar free spiced chai