We've all seen, heard of or tried a keto egg roll on a bowl recipe. I mean, they're taking over the internet. Shredded veggies, usually a blend of something cruciferous, sauteed with ground pork or turkey. Seasoned with delicious takeout flavors like sesame or soy. Yeah, it's a great, one skillet meal.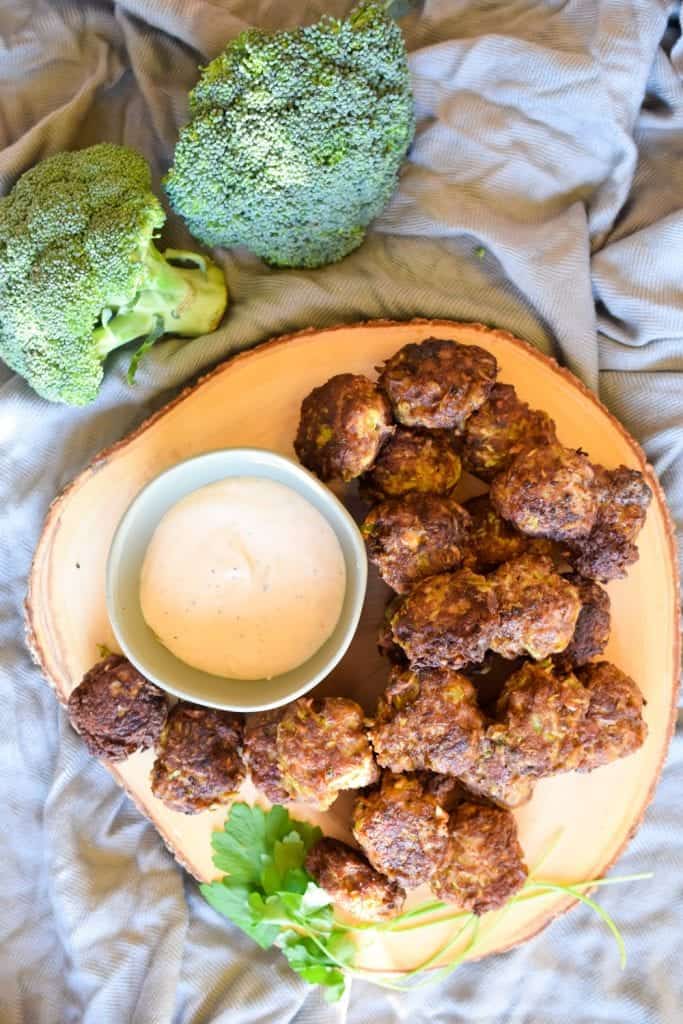 These Keto Egg Roll Poppers take all the yummy flavors of an egg roll and fry it up in a delicious, low carb finger food. A little closer to an original egg roll, but still a far cry from the carbalicious takeout staple.
>>> TRY MY KETO PUMPKIN BREAD <<<
Keep It Simple
This recipe takes simple ingredients but brings complex flavors and super satisfying finger food that even kids will love. Yup, Jack, my 5-year-old gobbled these right up.
The dipping sauce is made with yogurt, and you can use greek yogurt if you do dairy or coconut yogurt as I did. Or if you're not into those flavors, try it with mayo. I love a good thick mayo as a sauce base. Even peanut butter or almond butter would work. I mean, you can't go wrong when you add coconut aminos and ginger to anything. Thrive Market makes THE BEST aminos ever.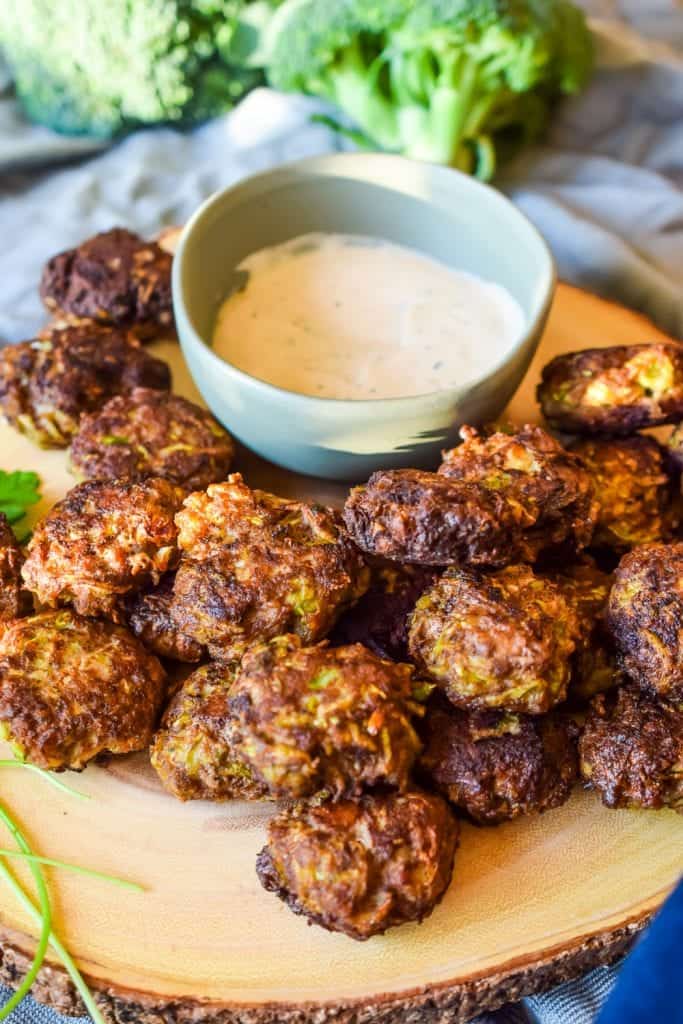 Other Take Out Fake Outs for your Keto Life
Check out my Sheet Pan Fried Rice, my Teriyaki Meatball Bowl  or my Beef and Broccoli Bowls .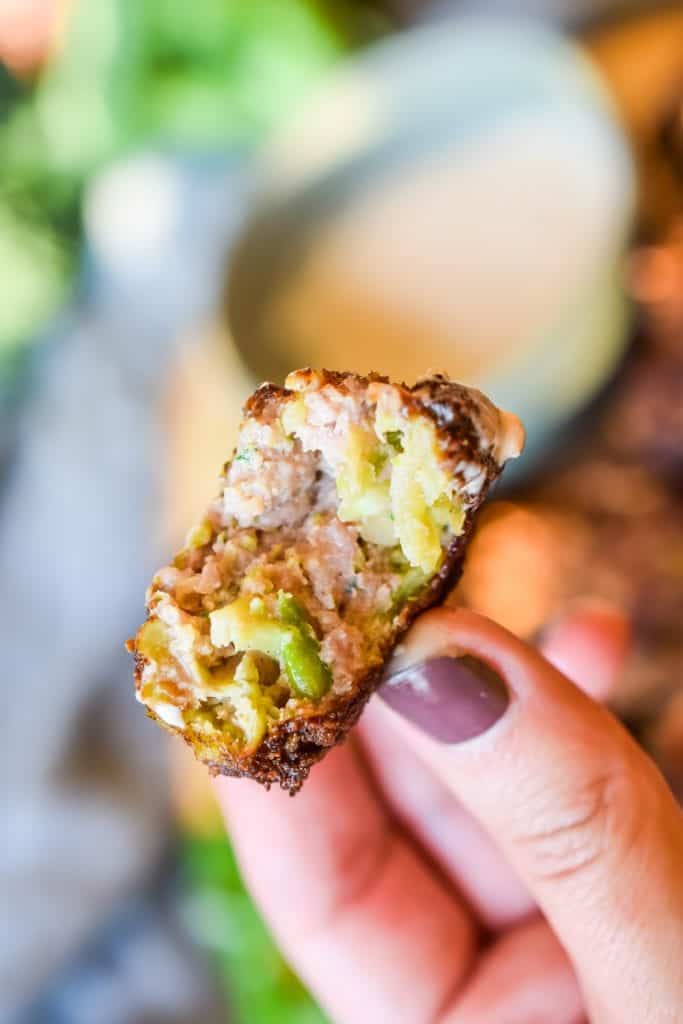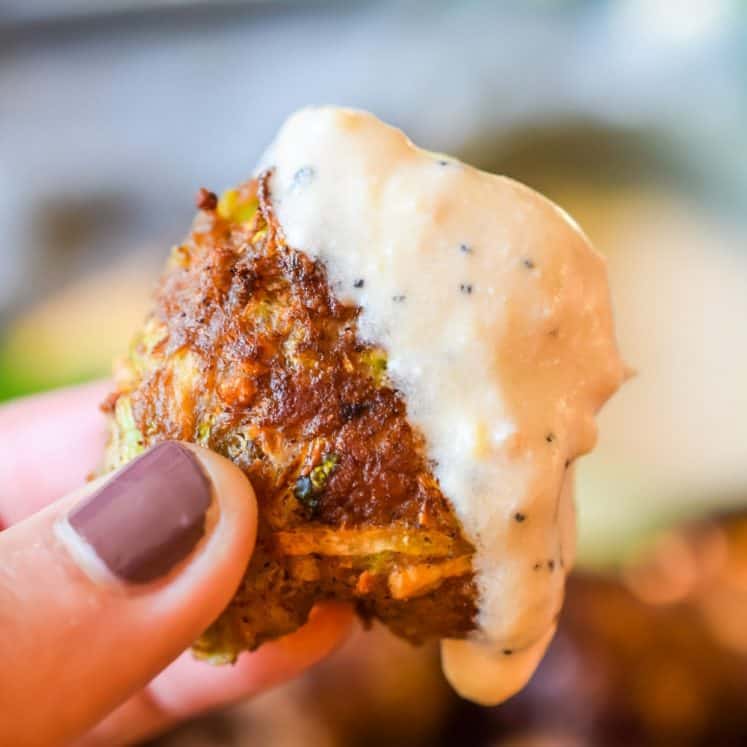 Keto Egg Roll Poppers (Paleo, Flourless, Dairy Free)
---
Author: Cristina Curp
Prep Time: 15
Cook Time: 30
Total Time: 45 minutes
Yield: 35 poppers 1x
Category: appetizer or side
Method: frying
Cuisine: take out
Description
Delicious and easy keto egg roll poppers! Ground pork, broccoli and Asian seasonings in a delicious fried finger food!
---
Scale
Ingredients
1/4 cup coconut oil (for frying)
4 cups shredded broccoli (I use leftover stalks for this)
2 pounds ground pork
4 cloves garlic, fine minced
2 tablespoons fresh minced ginger, mince so fine it's like a paste (or 2 teaspoons ground ginger)
3 teaspoons fine salt
2 teaspoons ground mustard seeds
1 teaspoon black pepper
3 teaspoons coconut aminos
3 ounces pork panko (ground up pork rinds)
2 large eggs
For The Sauce:
1/3 cup coconut yogurt (see post for substitutions)
1 tablespoon sesame oil
1 tablespoon sesame seeds (or everything bagel seasoning)
1 teaspoon fresh ginger
1 tablespoon coconut aminos
splash of fish sauce
---
Instructions
Heat your broccoli slaw in a large skillet with a tight-fitting lid with 2 tablespoons water for 10 minutes over medium heat. Let it cool then strain it through a fine-mesh sieve, kitchen towel or nut milk bag, you want to remove as much water as possible. Alternatively, you may microwave the slaw for 2 minutes on high heat before straining the water out.
Heat a large skillet over medium heat with the coconut oil while you prepare the mix and the poppers.
In a large bowl combine the pork, broccoli, garlic, ginger, salt, black pepper, mustard seed, coconut aminos, pork panko and eggs.
Mix well until evenly combined. Shape 35 small balls and gently flatten. Check the oil, when a wooden spoon inserted sizzles, it's ready to fry.
Fry 6-7 poppers in the hot coconut oil, 3 minutes per side. Don't overcrowd the skillet. I use a 9″ cast iron skillet for this. If your skillet is larger you will need add extra oil so it's high enough to pan fry. It should come up to half way up the poppers when 6-7 are in the oil.
Fry in batches until all the poppers are done. As you remove from the oil, place them on a paper towel lined plate.
Make the sauce: combine all of the sauce ingredients in a bowl and stir well.
Recipe Notes:
You can use a MICROPLANE to get the garlic and ginger in a fine mince for this recipe, easier than using a knife!
Nutrition
Serving Size: 5 poppers dipped in sauce
Calories: 485
Fat: 36g
Carbohydrates: 7g
Fiber: 3g
Protein: 33g
Keywords: keto egg roll popper