These stunning and summer grilled shrimp and avocado appetizers can't be any easier. The perfect way to dazzle your guests without breaking a sweat in the kitchen. The best part is that these pretty appetizers are also super healthy!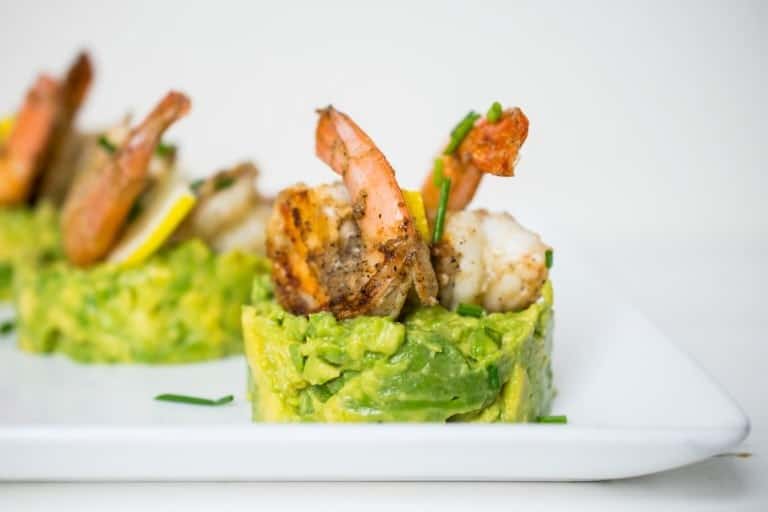 Making Pretty Food
About two months ago I got an email from the Editor of the Feed Feed. She wanted to know if I wanted to host a recurring cooking show of sorts on their Instagram stories. Their Instagram following exceeds over 1.2 million views. Ummm heck yes!
Not only because it's a great way to reach a wider audience, but it's an honor. FeedFeed is a community of foodies, chefs, and bloggers. The various editors who curate feed on topics like chocolate, Hawaiian food, Whole30 recipes, pizza are more are among my favorites to follow online. It truly, an honor to be among such talented companies.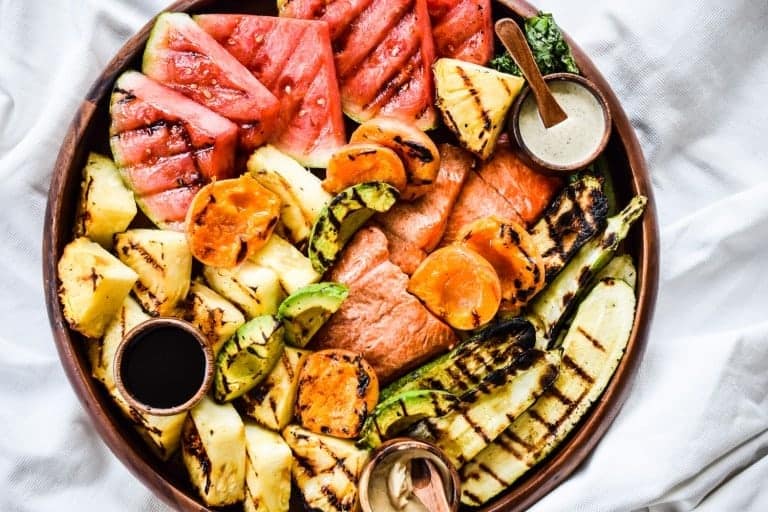 Around the time my first episode went live, where I made a fabulous grilled salad, I also created a recipe I called Shrimp Stacks for one of my clients.
I do recipe development for various brands. It's my main source of income. My dream job. I get to work with like-minded brands, cook delicious paleo, keto, and Whole30 recipes from home and send them to these brands to use on their blogs, websites, and social media channels. I often give these creations a nod or a share on my Instagram.
I don't share them here, however, because I've sold these recipes and they are no longer mine to share. That being said… This recipe is definitely a CLOSE play on the Shrimp Stacks I made for Perfect Keto. But it was just so perfect for the second episode of Cristina's Paleo Kitchen, and so perfect for summer. I've changed the cooking method and seasoning up just a bit and I think it's absolutely divine.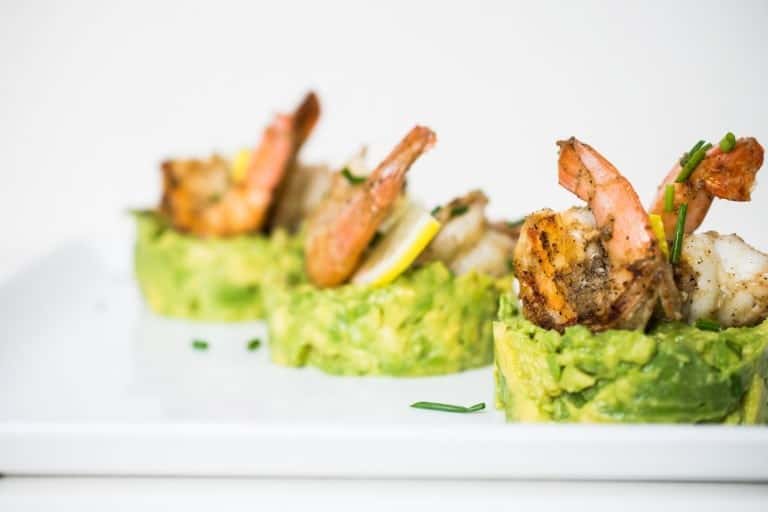 Grilled Shrimp + Avocado Appetizer
---
Author: Cristina Curp
Prep Time: 10 minutes
Cook Time: 10 minutes
Total Time: 20 minutes
Yield: 4 1x
Category: Appertizer
Method: Grill
Cuisine: Summer
Diet: Gluten Free
Description
The perfect summer appetizer!
---
Scale
Ingredients
6–9 16 count shrimp (that means 16 shrimp to a pound, or jumbo shrimp)
*I buy them shell and tail on
1/2 tsp salt, more to taste
1 tsp black pepper
1 tbsp onion powder
1 lemon
2 tbsp coconut aminos
2 tbsp avocado oil
2 ripe hass avocado
chives
---
Instructions
Clean and peel your shrimp. Use a scissor to cut a slit into the top of them. Use your fingers to remove the little black vein in them. Then peel the shell outwards. It's like unwrapping them. Leave the last segment and tail on.
Do this with all the shrimp and place them in a bowl. Add in the salt, pepper, onion powder, coconut aminos and juice of one half of the lemon. Toss to combine.
Heat your grill or your cast iron skillet on medium heat to temperature. Oil with a little more avocado oil and place your shrimp on the hot surface so they are all laying flat. Cook 3 minutes a side. Use tongs to flip.
Remove the shrimp from the heat and let them cool while you prepare the avocado base.
Scoop out your avocado into a bowl. Sprinkle in a little salt and the remaining lemon juice. Use a fork to gently mash up, leaving some chunks in the guac.
Set out three plates, or one serving platter. Use a cookie cutter or another 3″ round to shape the "guac cakes". Do this by filling the round with spoonfuls of the avocado mix and gently pressing down, then sliding the mold straight up.
Arrange your shrimp, 2-3 per guac round, tails up. Garnish with minced chives and lemon slices.
Nutrition
Serving Size: 1 stack
Calories: 316
Fat: 23g
Carbohydrates: 13g
Fiber: 8g
Protein: 18g
Keywords: grilled shrimp and avocado appetizer