A rich and creamy AIP cream of mushroom soup that comes together in one pot! Perfect winter recipe. This allergen-free and nutrient dense cream of mushroom is silky and and packed with flavor. It comes together in one pot and it is perfect for your holiday casseroles too. You get vitamin D and prebiotics from the mushrooms. Healthy fats from olive oil. Antimicrobial properties from rosemary and garlic. A bowl of flavor and nutrient density all in one!
Table of Contents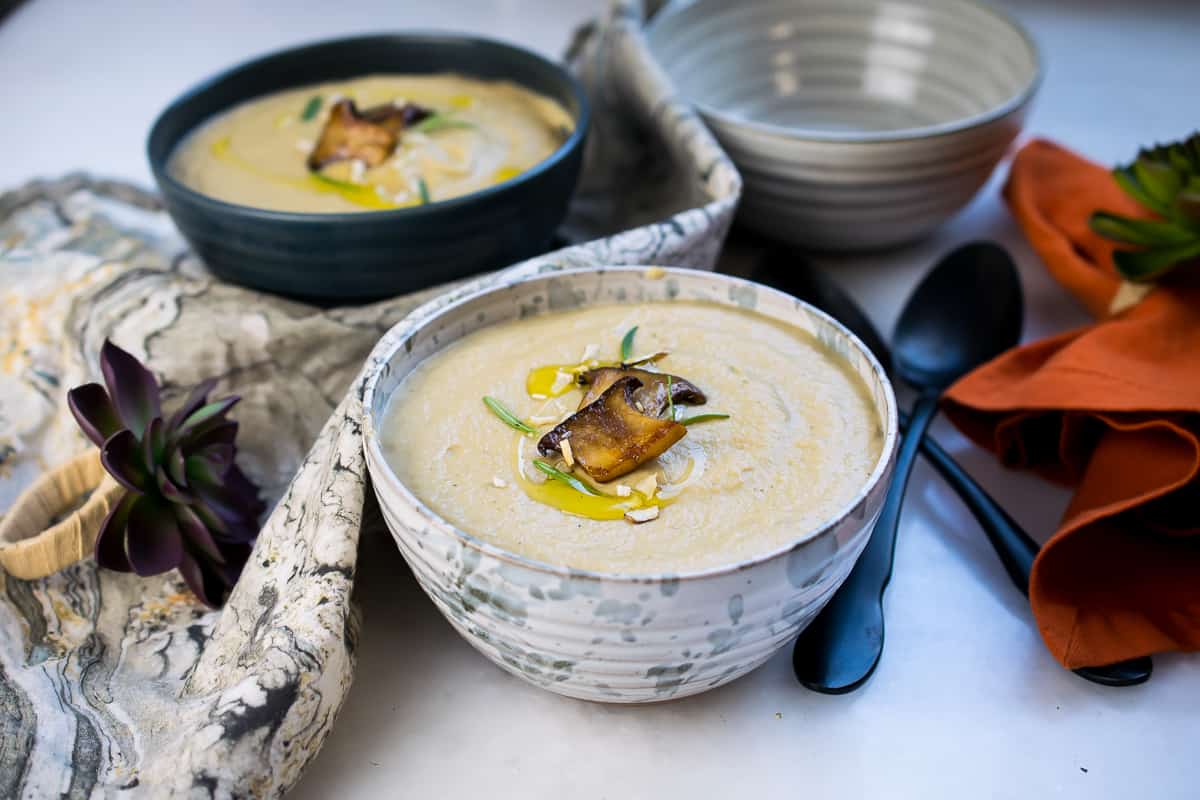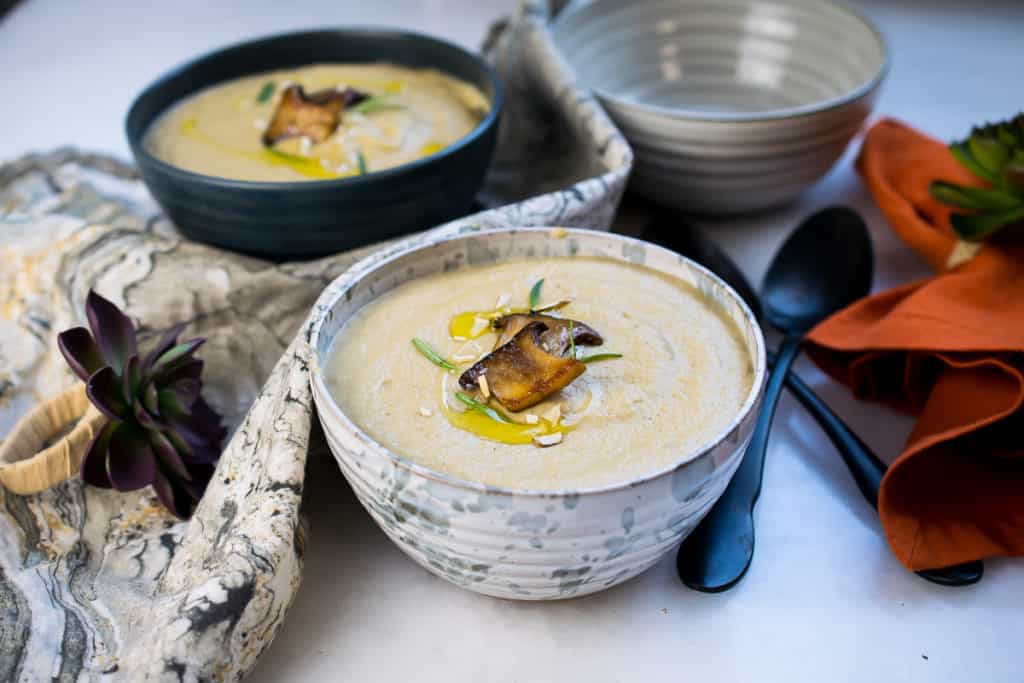 Ingredients for this AIP Cream of Mushroom
Mushrooms! You can use white mushrooms, shiitake or any kind you like.
Celery and onion for the sofrito!
Flavor makers: garlic, salt, Italian herbs, bay leaves, nutritional yeast
Bone broth
Cauliflower and coconut milk (it's what makes it creamy)
You're going to need: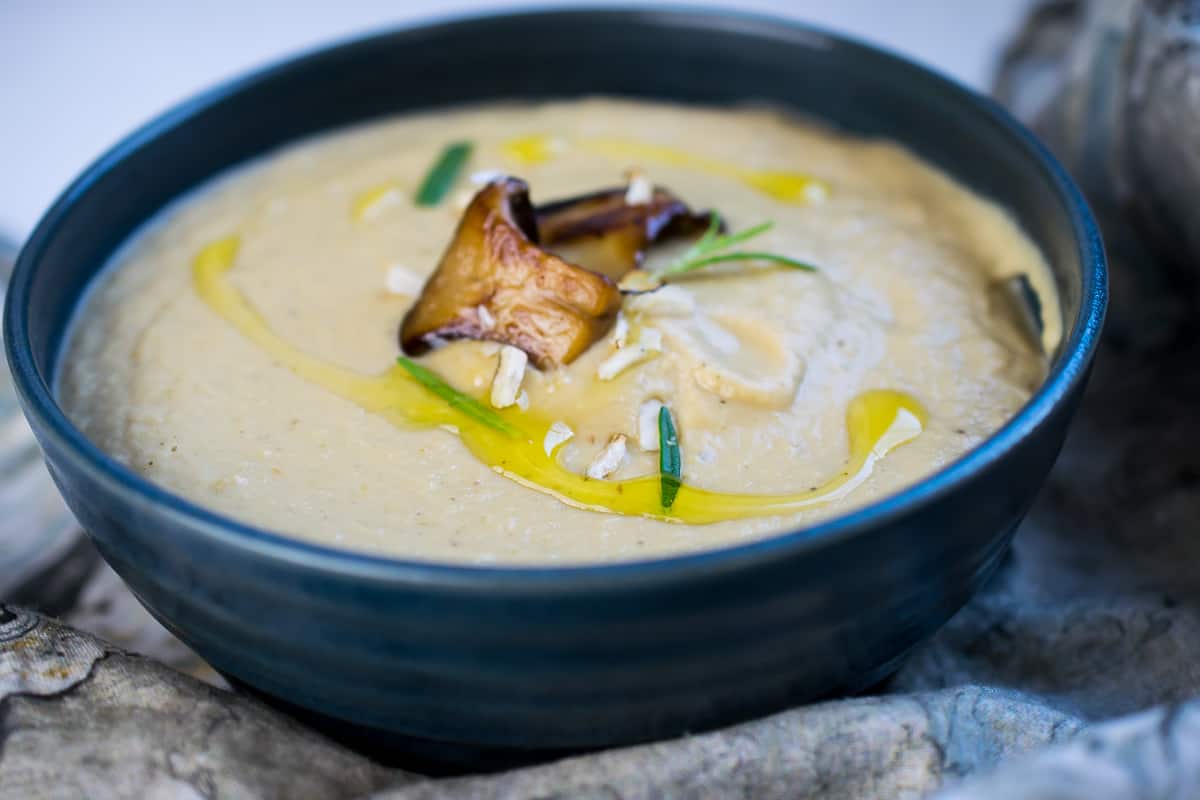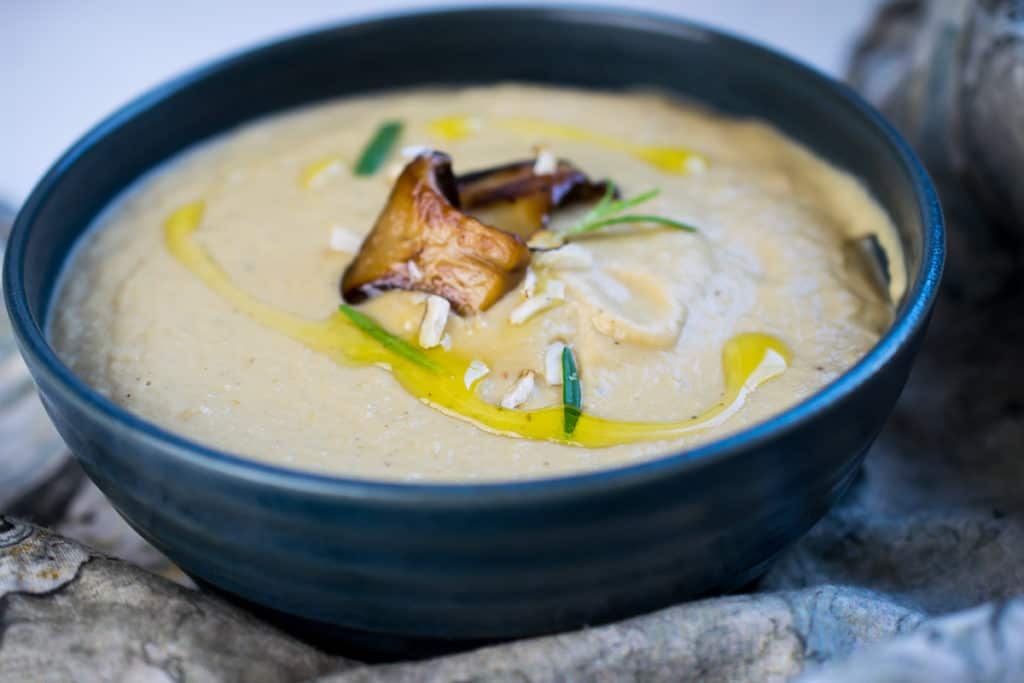 I love everything mushrooms, you must know this if you follow my blog or have my books, especially my second book. How I've come this far without a Cream of Mushroom soup on the blog is beyond me.
Funny story, Justin, my husband HATES mushrooms. Not the flavor, but the texture. So I often sneak them into our meals without him noticing. He even had this soup and loved it! This AIP Cream of Mushroom is made without dairy, nuts, or nightshades.
I kept it low carb too! As we roll into the new year I'm dedicated to helping you thrive and reduce inflammation and feel great, while eating delicious food. Listen to my latest podcast episode, Between Healing Protocols and Weightloss Diets.
Oh So Creamy!
This AIP Cream of Mushroom is THICC. Like a puree and I like it like that. However, you're welcome to add more broth or coconut milk and thin it out a bit, which will also stretch the recipe out more too! I've been enjoying it with scoops of crispy carnitas or ground beef on top! Que rico!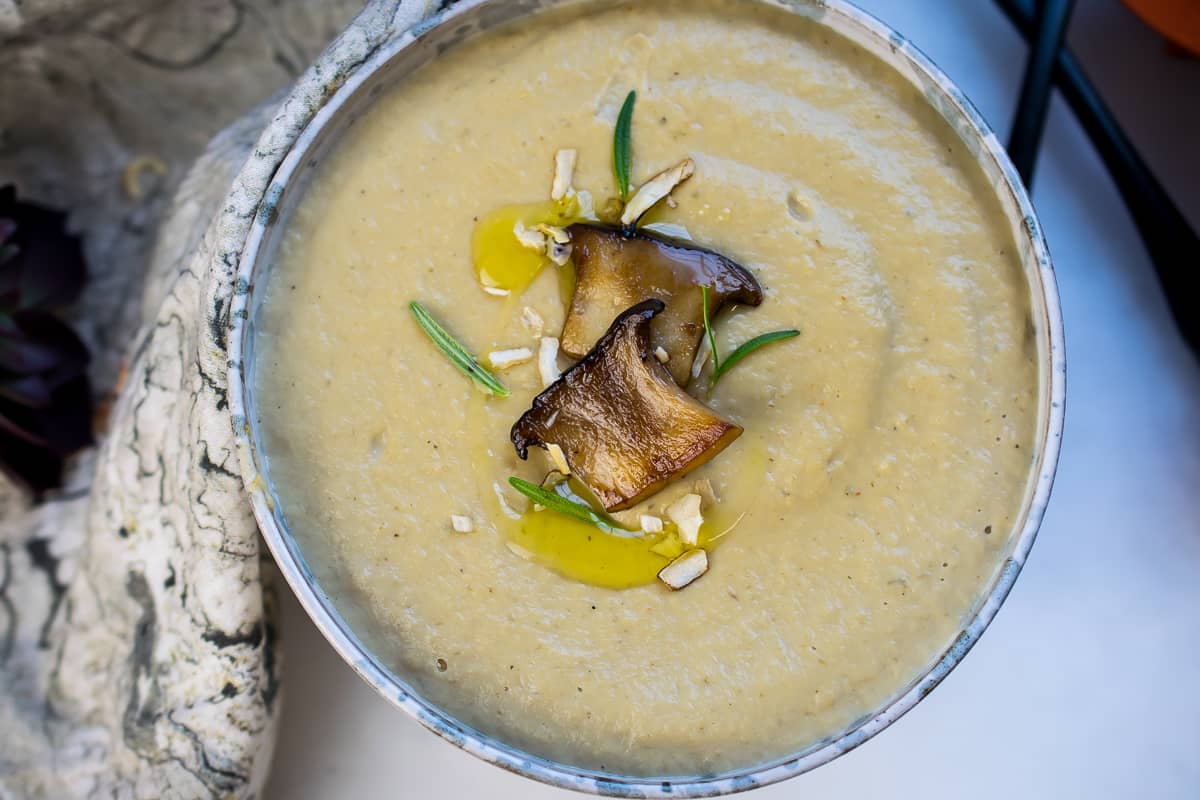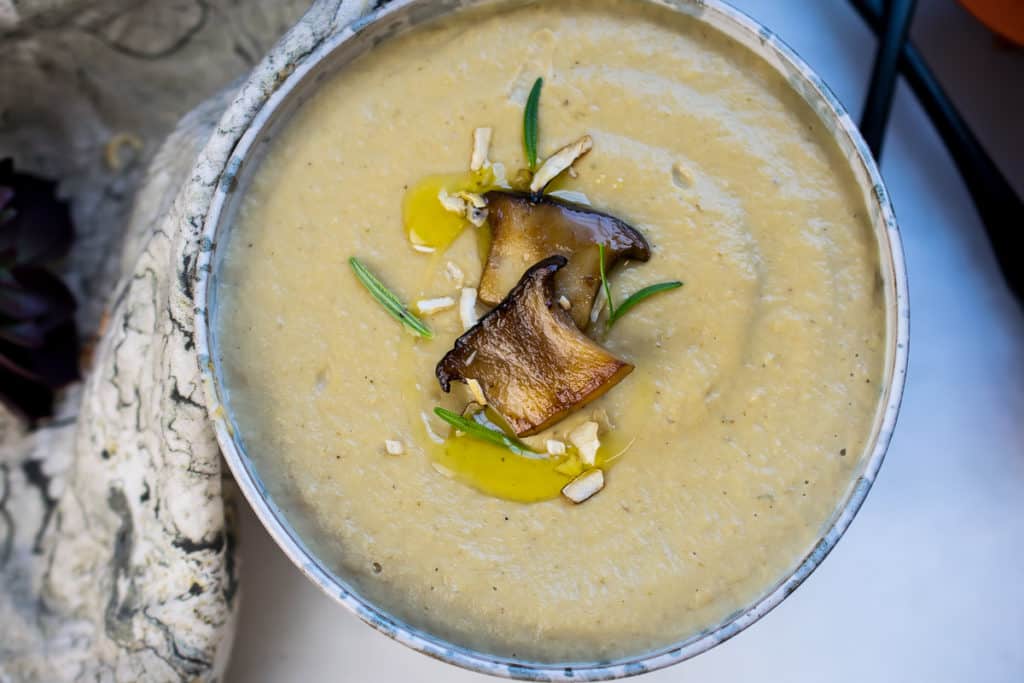 More Mushrooms Please!
Mushrooms are a wonderful winter food because they're packed with Vitamin D and great for your immune system! Did you know fungi aren't exactly plants, nor animals, they're somewhere in between?
I'm thrilled to be adding this delicious, creamy dreamy allergen-free Cream of Mushroom to my existing mushroom-packed recipes like:
Instant Pot Chicken and Mushroom
Shredded Beef with Mushroom Gravy
Herby Meatballs with Tangy Kale and Mushroom Chips
Creamy Mushroom and Crab Bisque
Quick Mushroom and Spinach Fritatta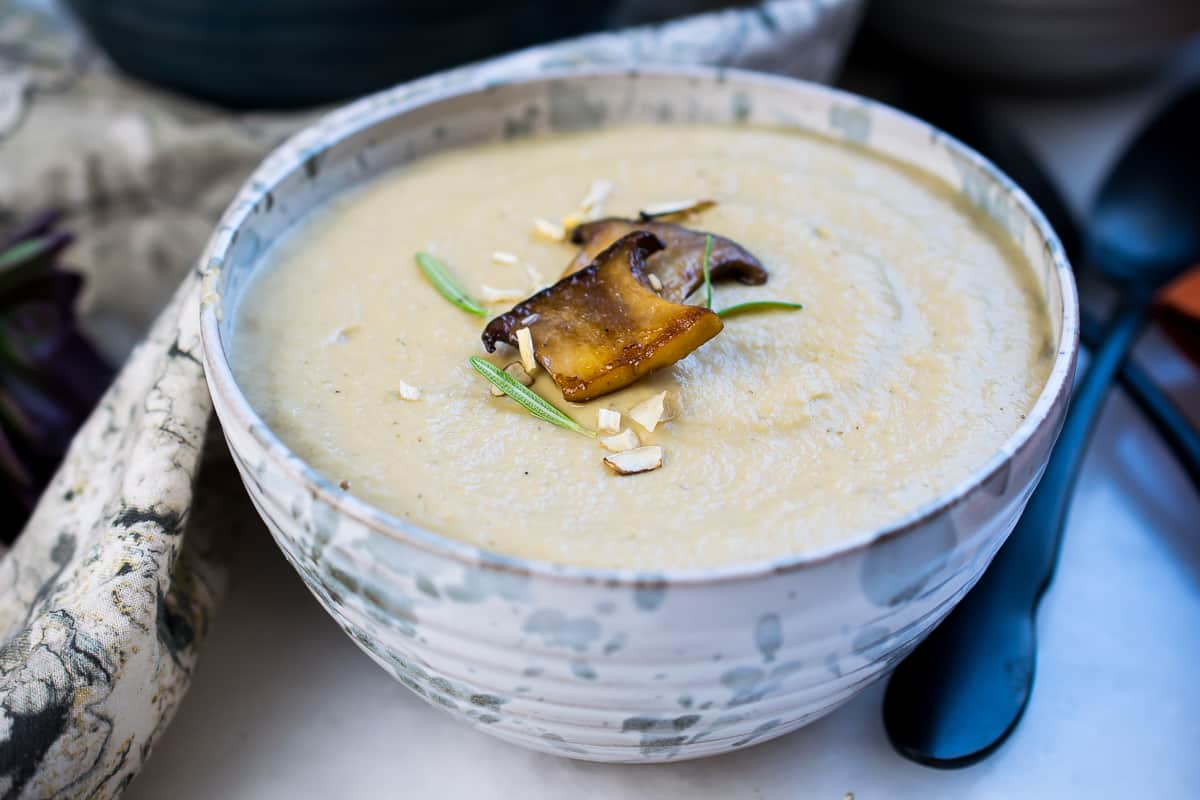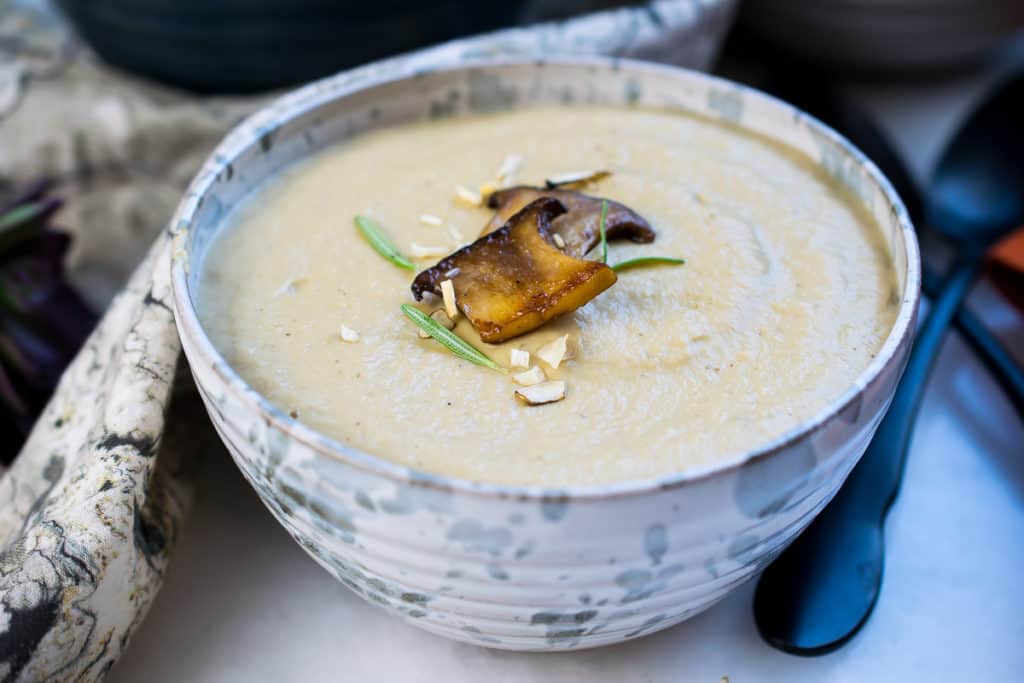 FAQ's
Can you use other types of mushrooms?
YES! Any type you like. I'm partial to trumpet mushrooms and shiitake mushrooms.
Can you leave out the nutritional yeast?
Sure, but use the fish sauce!
What if I don't have balsamic vinegar?
Use red wine vinegar or coconut aminos and a splash of apple cider vinegar.
What's my favorite bone broth?
I use Bonafide Provisions Frontier Blend or Kettle and Fire Beef (use code CASTAWAY for 25% off)
Does it freeze well?
Yes! Thaw in the fridge overnight when ready to eat again, and bring it to a simmer stovetop.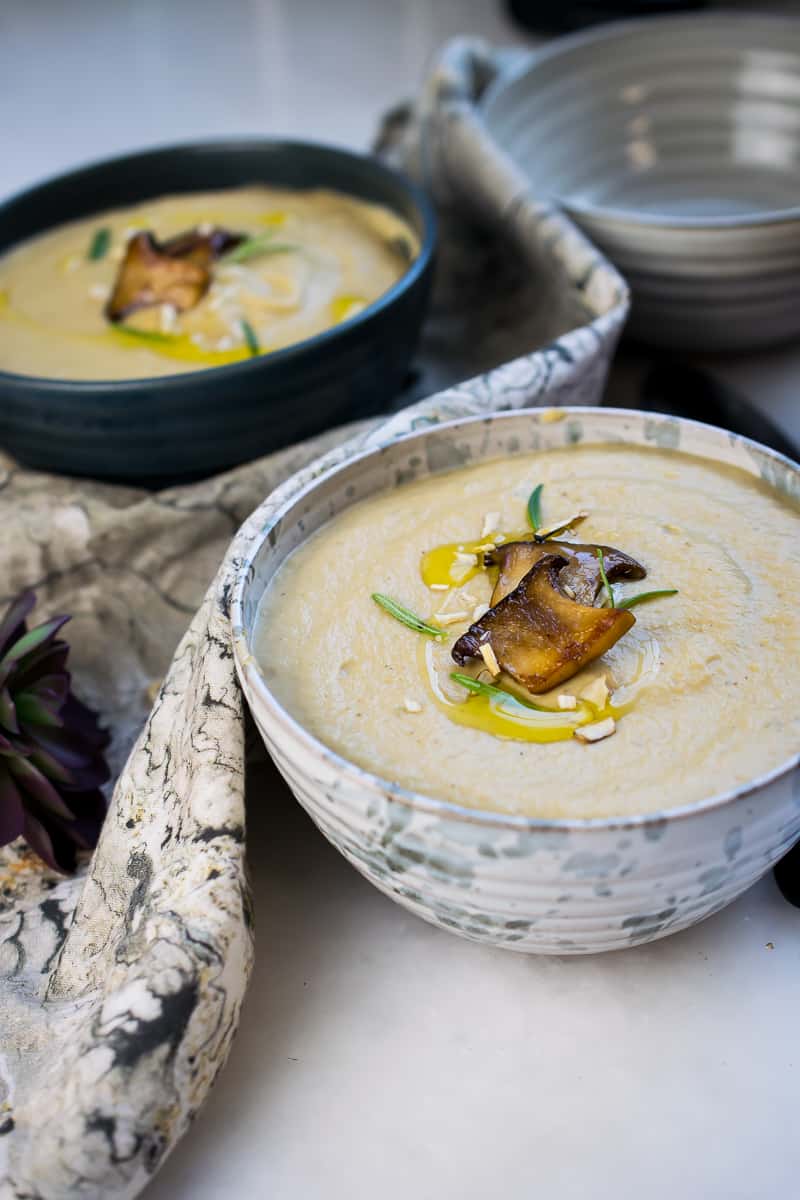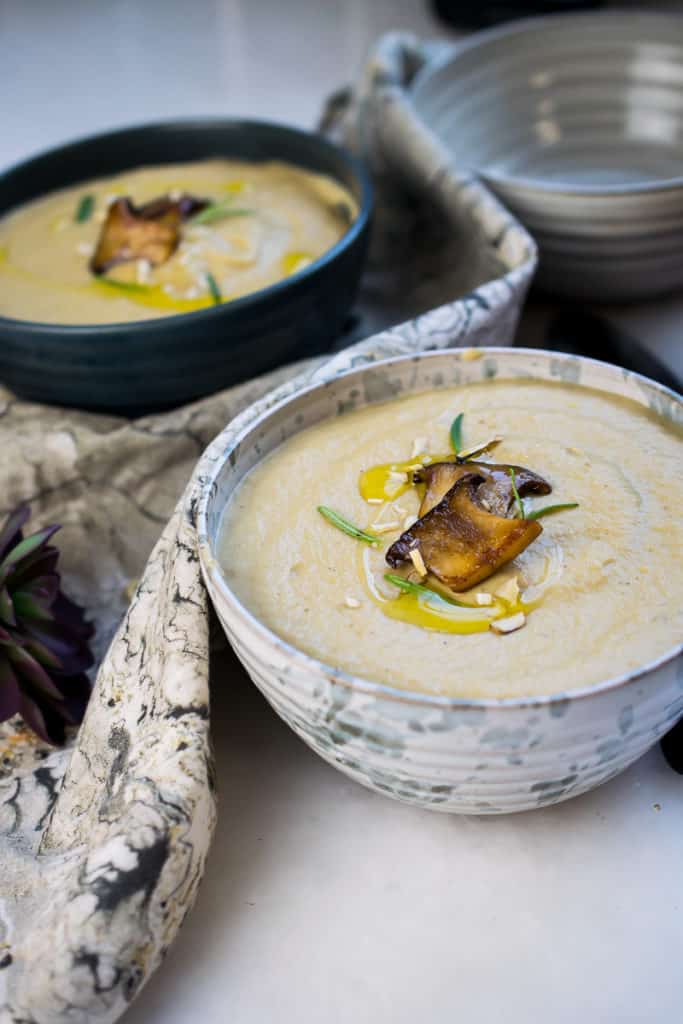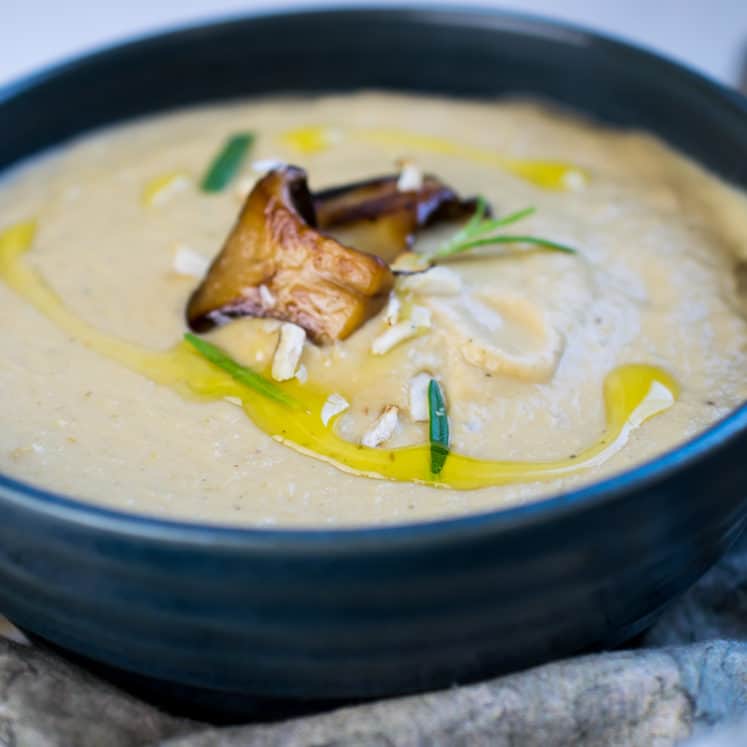 AIP Cream of Mushroom
---
Author: Cristina Curp
Prep Time: 10 minutes
Cook Time: 20 minutes
Total Time: 30 minutes
Yield: 4 cups 1x
Category: Soup
Method: Stove
Cuisine: Healthy
Diet: Gluten Free
Description
A thick and silky cream of mushroom soup without dairy!
---
Scale
Ingredients
7 ounces of mushrooms, diced
2 tablespoons extra virgin olive oil
1/2 cup celery, diced
1/2 cup onion, diced
3 garlic cloves, sliced
1 teaspoon fine salt
1 teaspoon dried Italian Herbs
1 bay leaf
1 tablespoon balsamic vinegar
3 cups bone broth
1 pound cauliflower, diced
1/4 cup nutritional yeast or 1 tablespoon fish sauce
1 cup full-fat canned coconut milk  (or tigernut milk)
---
Instructions
Heat a 5-quart pot over medium heat. When it comes to temperature drizzle in the olive oil.
Add in the mushrooms and saute for 5 minutes or until tender.
Add in the onion, celery, garlic, bay leaf, salt, herbs. Mix well and saute for 8-10 minutes until the onion is translucent.
Deglaze the skillet with the vinegar then promptly pour in the bone broth and stir well. Bring the soup to a simmer.
Add in the cauliflower and close the lid. Let it simmer with lid closed for 10 minutes or until the cauliflower is very tender.
Carefully transfer everything to a blender, add in the nutritional yeast and coconut milk and blend until smooth.
Transfer back to the pot and stir well. Here you can serve as is or simmer to make it thicker or stir in more broth to thin it out. Taste and adjust salt and needed.
Recipe Notes:
To make it pretty save some of the sauteed mushrooms before you blend to garnish. Add fresh herbs and a drizzle of olive oil on top!
Nutrition
Serving Size: 1 cup
Calories: 174
Sodium: 262 mg
Fat: 10.9g
Saturated Fat: 9.9g
Trans Fat: 0g
Carbohydrates: 9.1g
Fiber: 2.1g
Protein: 11.g
Keywords: AIP Cream of Mushroom Soup