Creamy, tangy, meltable mozzarella cheese blocks, made without dairy, fillers, or gunk. This keto Paleo AIP Mozzarella Cheese is the answer to all of your cheese prayers, and it's so simple to make!
Super powered AIP Cheese? YEP!
Gut healing bites that tastes and melt like real cheese! The benefit to this melty, delicious AIP Paleo Cheese is that it's also keto friendly! Yes! Made without the use of sweet potato or tapioca starch it's low carb, too. Much like all of the recipes in my second book, Made Whole Made Simple, this paleo mozzarella is a wonderful blend of AIP and keto for super healing powers! Check out the AIP modification in the recipe notes below, or on page 104 of Made Whole Made Simple.
Paleo Mozzarella and more!
If you're looking for paleo recipes that aren't super complicated, this book is the holy grail. I wrote it with the intention of making a paleo lifestyle as easy as possible, with plenty of accommodations and variations for those eat AIP and those who want to keep it keto. Made Whole Made Simple is my second book, a guide to healing yourself with strong foundational health and therapeutic nutrients. I teach you how to use every day, real food ingredients to support your system, and the habits to compliment your food choices.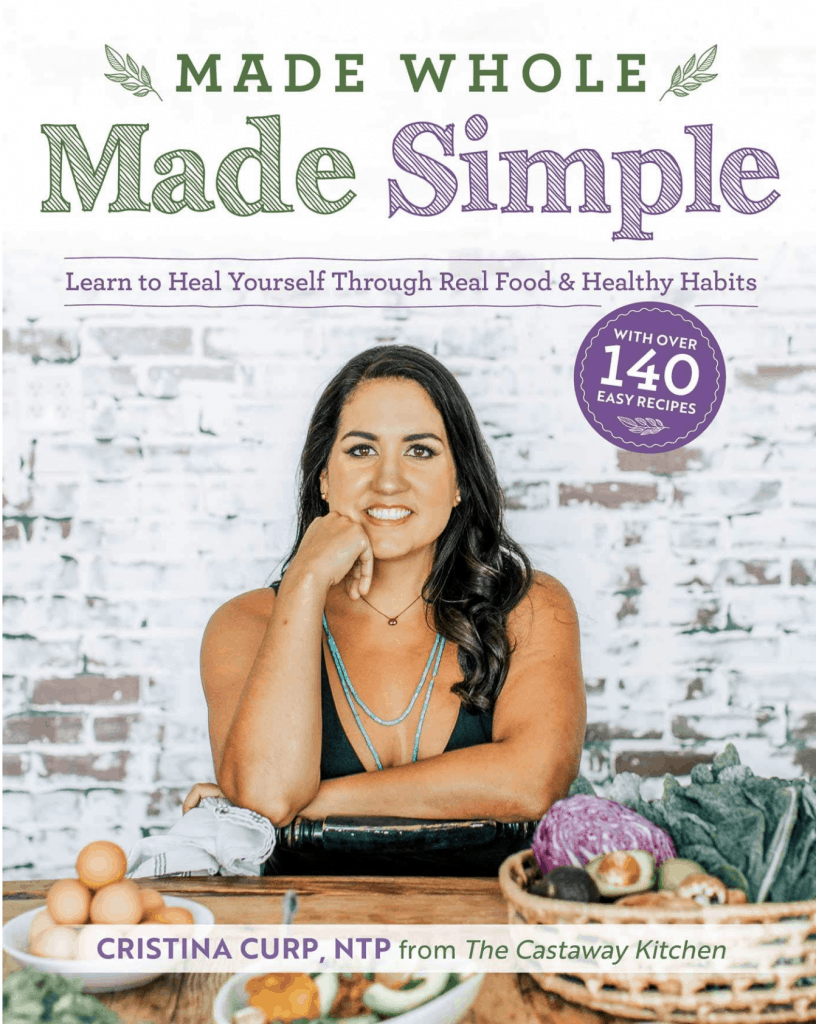 GET YOUR COPY: INDIE BOUND | BARNES & NOBLE | BOOKS A MILLION | AMAZON  | TARGET  | WORDERY | FREE INTERNATIONAL SHIPPING: BOOK DEPOSITORY
Already have a copy of Made Whole? I have cauliflower and nutritional yeast cheese on page 70 that's nut-free, and it's a killer recipe.
How to make paleo cheese
While cashews and parsnips may seem like an unlikely pair, they hit a home run here. You can use steamed cauliflower instead of cashews for AIP. These creamy Mozz Blocks are what paleo AIP cheese dreams are made of. They're a dairy-free cheese that tastes legit, and it's even more so melted into a comfort food dish.  Perfect on paleo pizza, grilled cheese, casseroles, and more!
If you've got 20 minutes, you've got time to make this paleo cheese recipe. The hardest part of this recipe? Waiting for the blocks to cool. I promise it's worth the wait!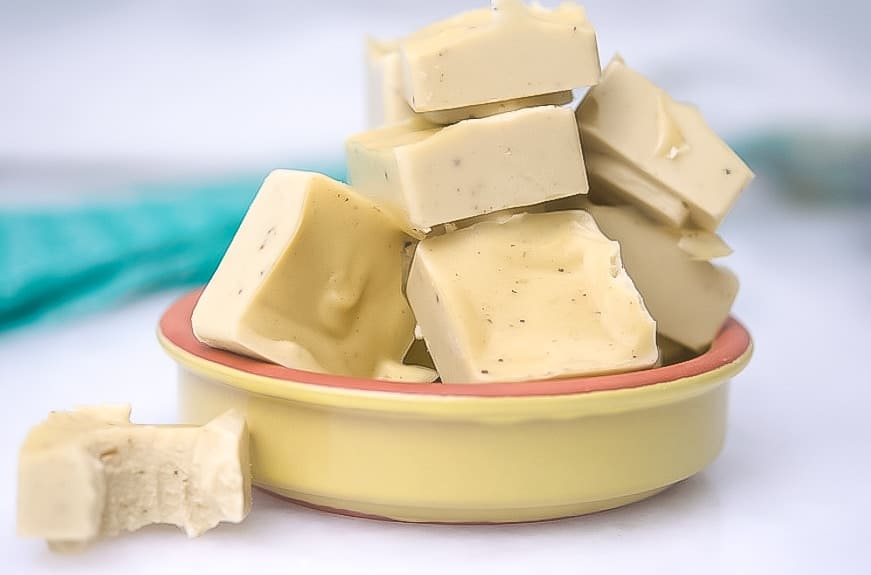 How to enjoy this Paleo AIP Mozzarella Cheese
My favorite part about this cheese is that it's so versatile: it melts into this creamy, deliciousness that you can use exactly like regular cheese. Try the "Cheesy" Mushroom Pizzas on page 230 of Made Whole Made Simple, or the Creamy Bacon Mushroom Noodles below, recipe on page 302 of Made Whole Made Simple.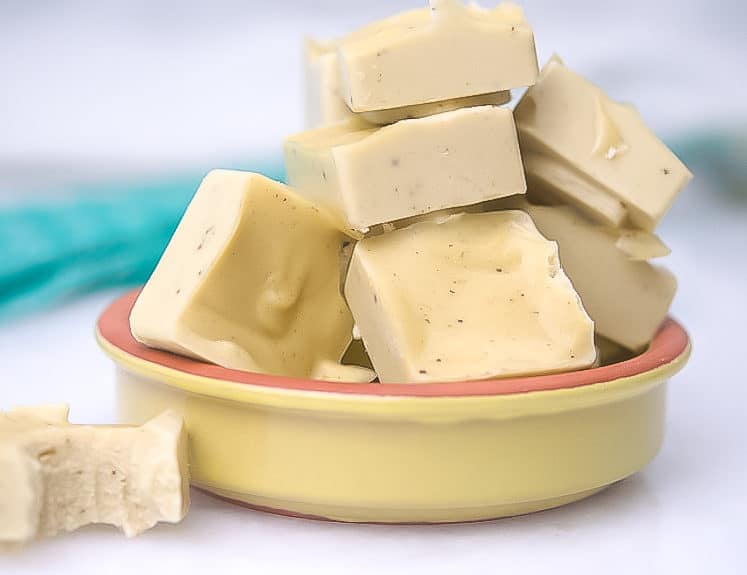 Paleo AIP Mozzarella Cheese (Nut Free, Egg Free, Coconut Free)
---
Author:
Prep Time: 20 minutes
Cook Time: 1 hour
Total Time: 1 hour 20 minutes
Yield: 12 blocks 1x
Category: Condiment
Method: Blend and Set
Cuisine: Cheese
Scale
Ingredients
4 ounces raw cashews* (SEE NOTES FOR AIP)
4 ounces diced parsnips
1 tablespoon fish sauce
2 teaspoons white wine vinegar
1 teaspoon garlic powder
¼ teaspoon ground black pepper
¼ cup pastured gelatin
¼ cup extra virgin olive oil
¼ cup boiling water
1/8 teaspoon fine salt
---
Instructions
Combine the cashews and parsnips in a small sauce pan with 1/2 cup of water. Cover and bring the water to a simmer over medium heat. Cook until the parsnips are tender then drain the water.
Combine the cashews, parsnips, fish sauce, vinegar, garlic powder, and powdered beef gelatin in a high powered blender or food processor and blend until smooth. Slowly drizzle in the olive oil until a thick cream forms. Then slowly pour in the hot water until it is fully incorporated. Taste the mix, add the salt if needed.
Distribute the mix into 12 ice cube molds in a silicone tray or into a loaf pan lined with parchment paper. Set in the fridge to firm up. Store in an airtight container in the fridge for up to a week.
Snack on as is, melt into noodles or on your favorite pizza crust (check out the "Cheesy" Mushroom Meatzas on page 230 of Made Whole Made Simple). 
Recipe Notes:
net carbs per serving: 3.4g
*variations: For a nut-free AIP option, use 4 ounces steamed zucchini or cauliflower in place of the cashews.
Nutrition
Serving Size: 1 block
Calories: 112.3
Fat: 8.7g
Carbohydrates: 4.2g
Fiber: 0.8g
Protein: 4.8g
Keywords: AIP cheese, paleo cheese, paleo mozzarella, nut-free cheese