A non-chocolate treat? How am I?? Hehe… well this Vanilla Tahini Fudge is a delicious reason to set that chocolate aside. I love the toasty tahini flavor, the familiar vanilla, and the creamy coconut. With a handful of ingredients, these freeze fudge bars are an easy treat, snack or fat bomb to keep stashed away for … well, any reason!
So let me tell you about these special keto vanilla fat bombs! 
About the Ingredients:
Tahini: A good source of methionine which aids in liver detox, vitamin E and a few of the B's too! THIS ONE is non-gmo, organic and affordable!
Coconut Cream: Is a great dairy free alternative to baking and cooking. Use it like you would heavy cream! You can buy coconut cream like THIS ONE or buy full fat, unsweetened coconut milk, and put it in the fridge for the cream to separate to the top, like THIS ONE. 
Coconut Oil: Other than being a great saturated fat, great for cooking, frying and baking… Coconut fat is rich in MCT's (medium chain triglycerides) which help your body stay in ketosis!
Stevia Glycerite: This type of stevia is my favorite. It's not as strong or bitter as the dropper variation. It's sweet and mild. I really like it, you use a little more than the dropper kind, so if you're using regular liquid stevia you will need to use much less. Perhaps 10-20 drops. This stevia is so mild I measure it in teaspoons. It is becoming my favorite keto sweetener. I use THIS ONE.
Vanilla Bean: Using vanilla extract is A-ok too! I just prefer the rich flavor of vanilla bean scrapings. I slit the bean with a paring knife, unfold the sides open and use the knife to scrape out the sticky, black insides. 2 beans will only yield about 1/2 a tsp but that is enough!! This stuff is GOLD. But expensive, see HERE. So if you go the extract route, I like THIS ONE. 
I use a silicone mold to make these keto vanilla fat bombs, like THIS ONE. 
Gently Heat. Mix. Mold. Freeze. Done.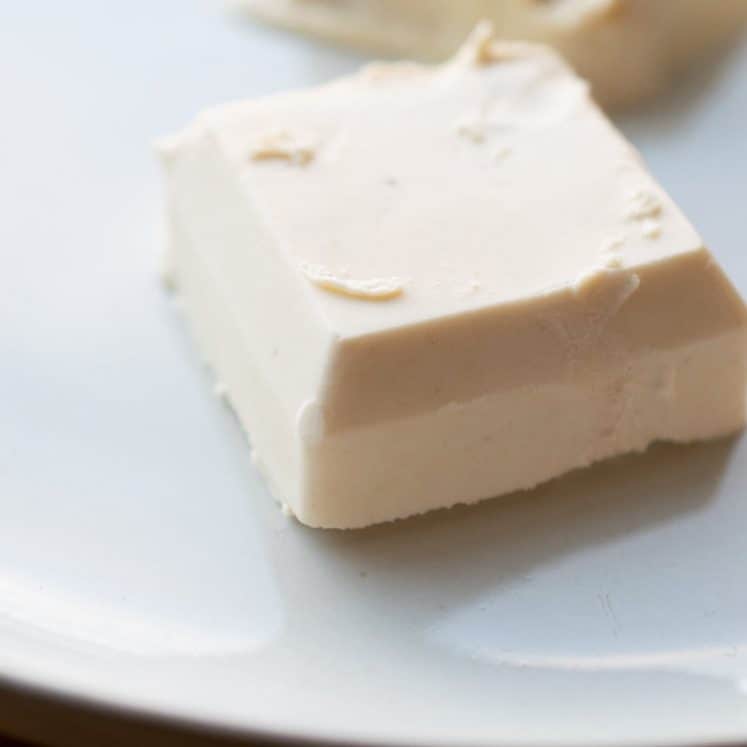 Vanilla Tahini Keto Fudge
---
Author:
Prep Time: 5
Total Time: 5
Yield: 6 1x
Category: dessert
Method: no cook
Cuisine: keto
Description
Raw, easy, 5 ingredient keto fudge, that's not chocolate! Keto Vanilla Fat Bombs like no other!
---
---
Instructions
In a small sauce combine the coconut oil, coconut cream and tahini.
Stir continuously over very low heat until just combined.
Remove from the heat and whisk in the vanilla, salt, and stevia and continue to whisk until the mix cools a bit and is creamy.
Divide the mixture between 6 silicone molds, or pour into a small loaf pan lined with parchment paper.
Freeze for 1 hour or until completely firm.
If using a silicone mold, pop them out of the molds and store in a Tupperware in the fridge.
If using a loaf pan, lift up by parchment paper and cut into 6 squares. Store in Tupperware in the fridge.
Nutrition
Serving Size: 1 fat bomb
Calories: 237
Fat: 25g
Carbohydrates: 2.5g
Fiber: .9g
Protein: 1.8g
Keywords: keto vanilla fat bombs
https://thecastawaykitchen.com/2017/10/keto-chocolate/
https://thecastawaykitchen.com/2017/11/coconut-caramel-slice-paleo-keto-nut-free/