A delicious, quick, and easy, super satisfying, gut-friendly answer to your cookie dough cravings. This Dairy Free Cookie Doughs strikes the perfect balance of slightly sweet, salty, buttery, chocolatey goodness. A dairy free cookie dough recipe that everyone can enjoy.
Table of Contents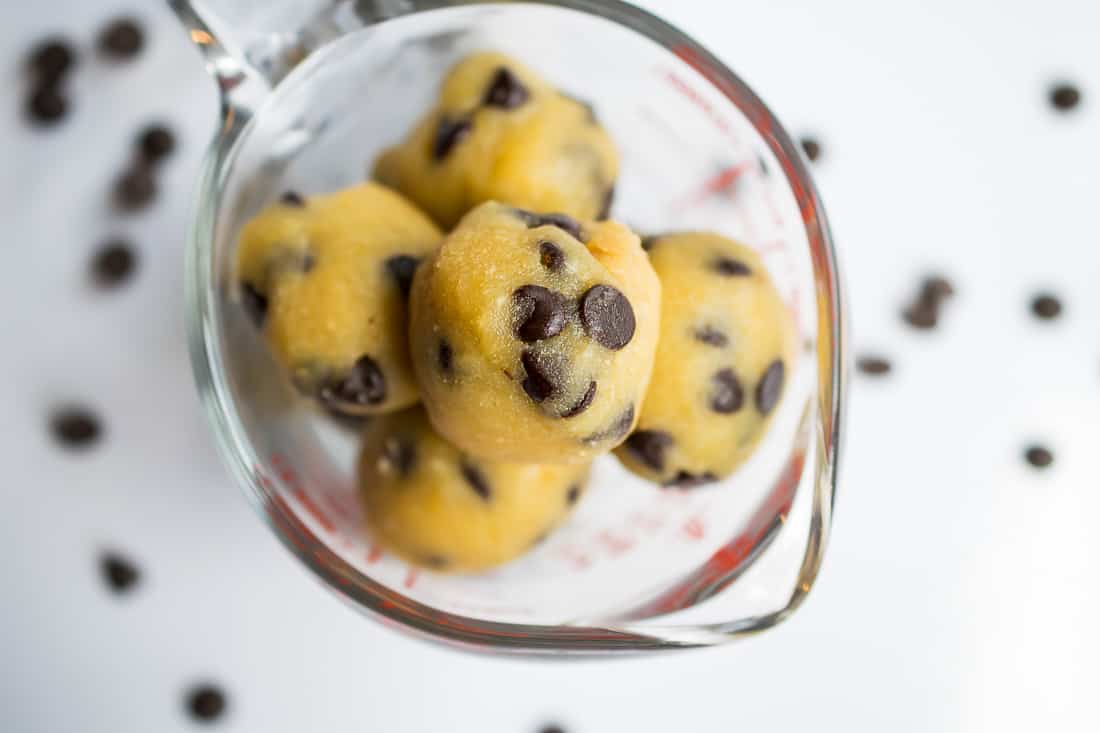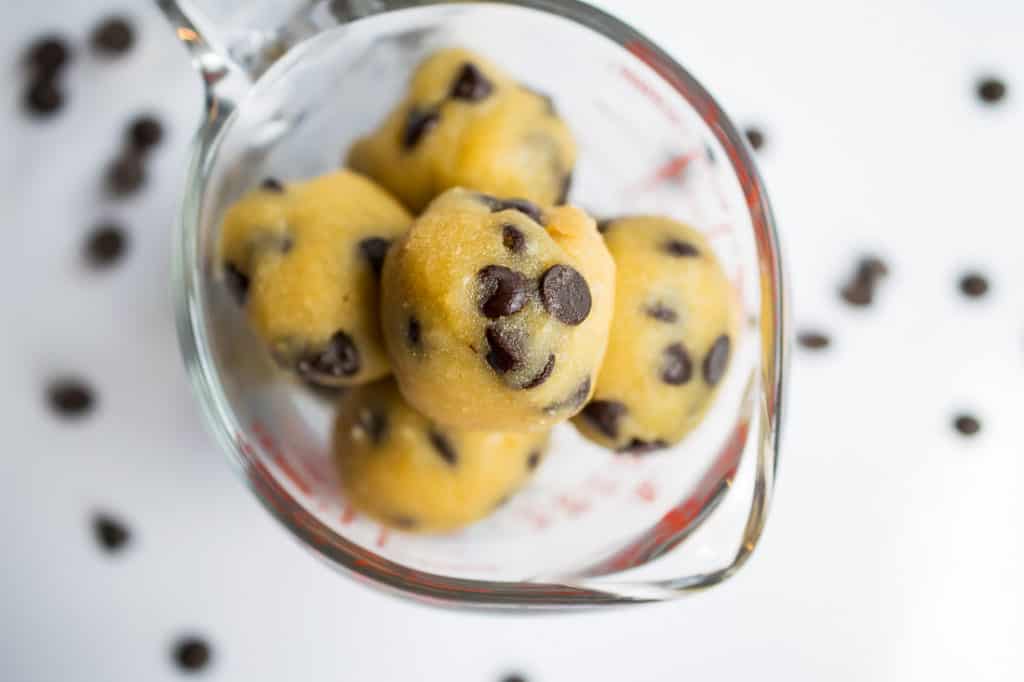 Edible Cookie Dough Heaven
Gluten-free chocolate chip cookie dough made with collagen and pork panko (yes, for real), sweetened with allulose (more on that below), and chock full of rich, dark chocolate chips. These keto cookie dough bites are everything I crave in a dessert and more. This no-bake dough comes together in 5 minutes, and while I recommend throwing it in the fridge to chill before forming into bites, I understand that sometimes you just can't wait. I mean, look at this …
I highly recommend making a bunch of these chocolate chip edible cookie dough and keeping them on hand. They're good at any time of day … trust me, I've tried them around the clock.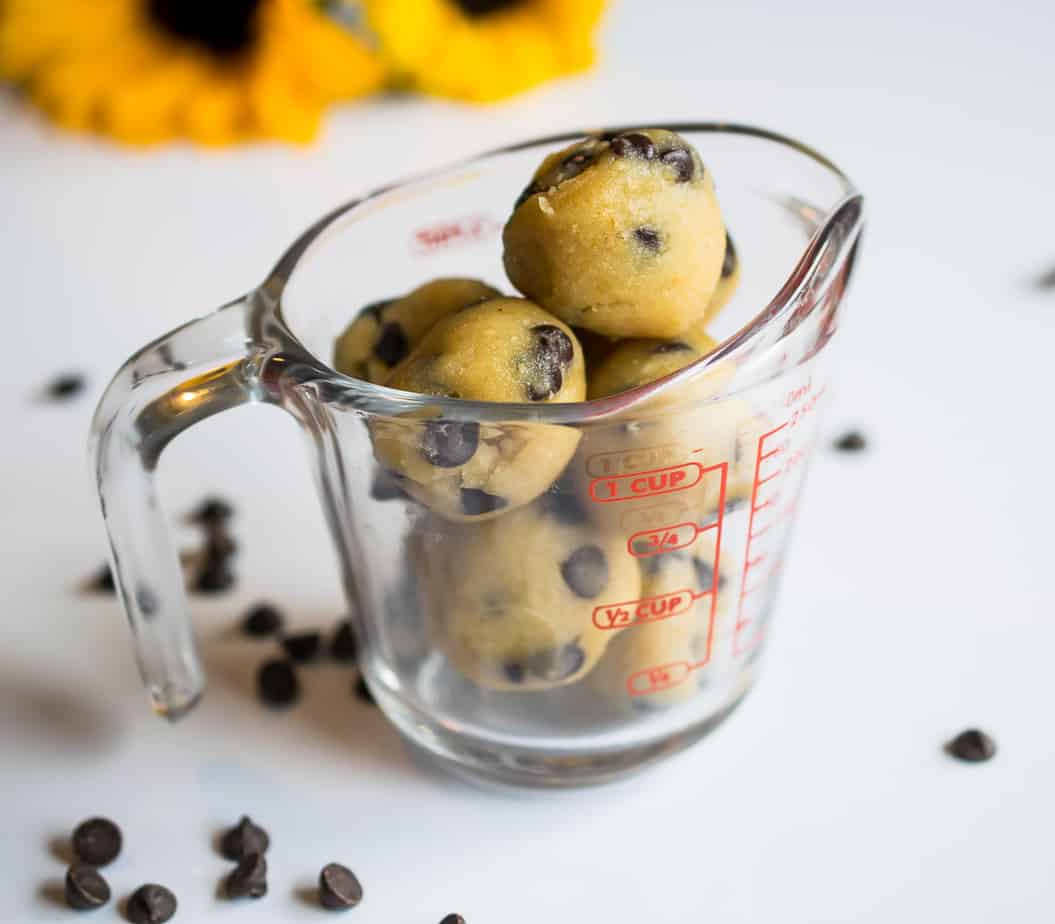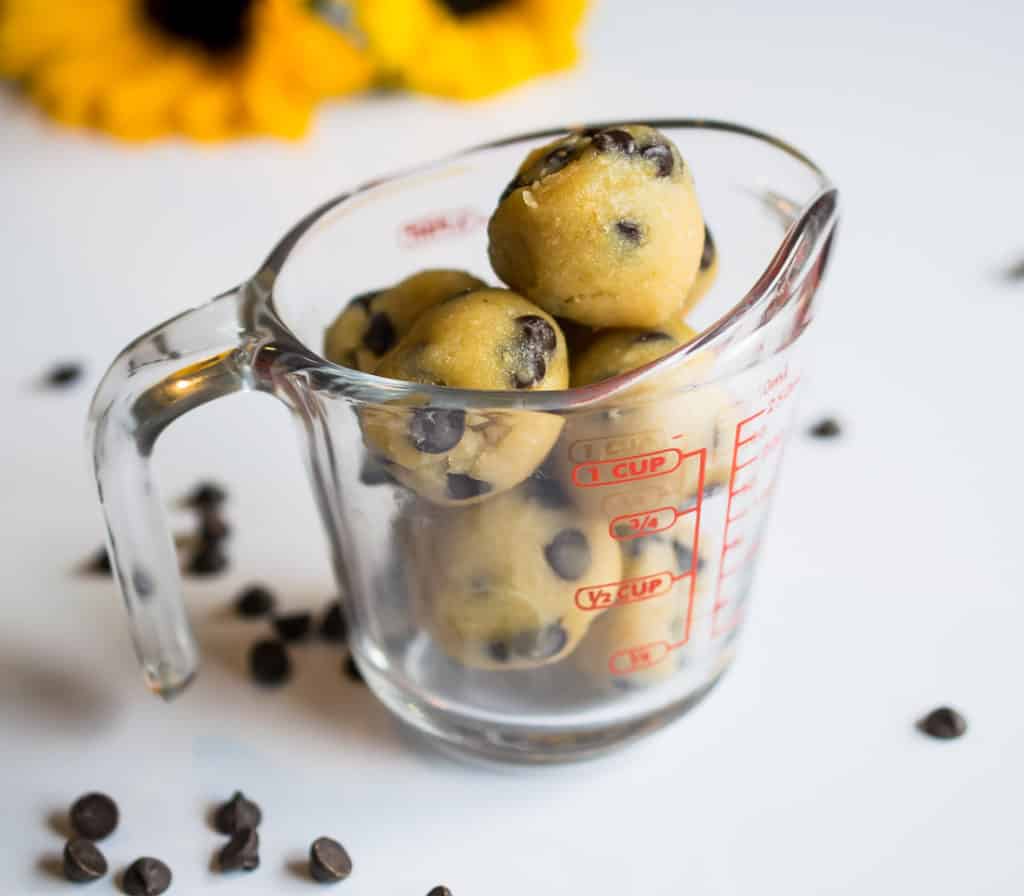 While collagen adds a bit of volume to this recipe, it also serves a bigger purpose. Collagen adds protein and supports gut health. Protein has iron, zinc, and biotin, all essential for healthy hair, and collagen also supports healthy skin and nails. I like to use Naked Nutrition, Vital Proteins, or Primal Kitchen collagen (get it on Thrive Market) because I know the brands and I trust their sourcing.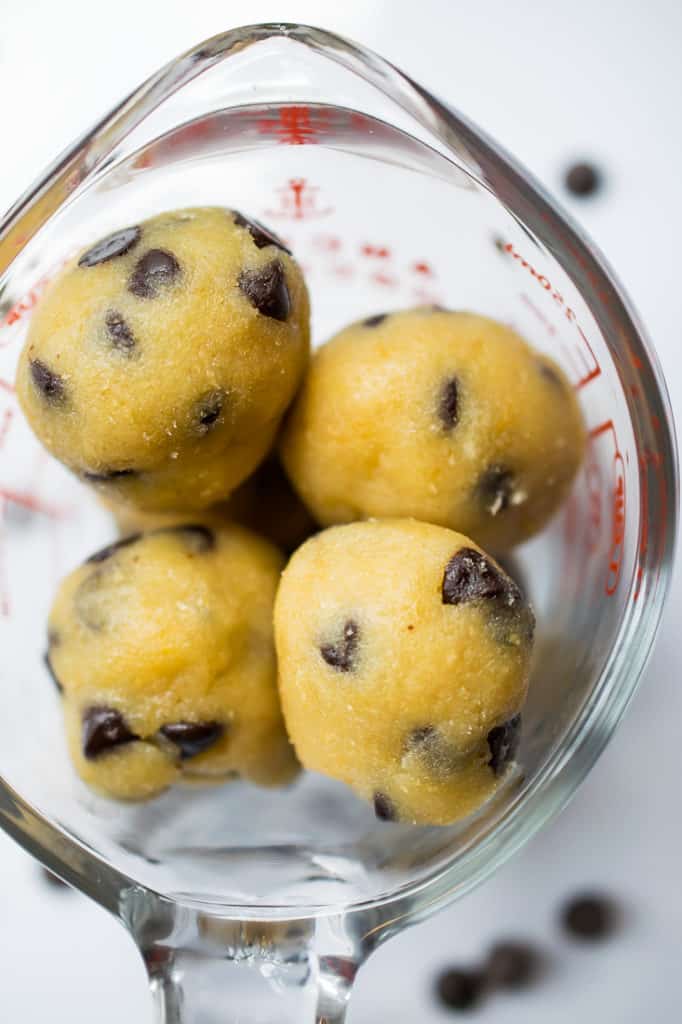 I know bacon is big in the keto scene, but this pork panko cookie dough is next level. Pork Panko adds a delicious savory flavor, which might sound weird at first, but think about the salty/savory/chocolate combination. Pork Panko also keeps this recipe low carb and it's a great option for those, like me, who prefer to not eat too many nuts (inflammation). Plus, I love the subtle bacon flavor in this recipe. You can spoon this dairy free edible cookie dough from the bowl or roll it up into balls!
You can omit the pork panko if you want and use more almond meal, but it's definitely worth a try, it's sooo good. Can't find pork panko? I have a homemade pork panko recipe in Made Simple.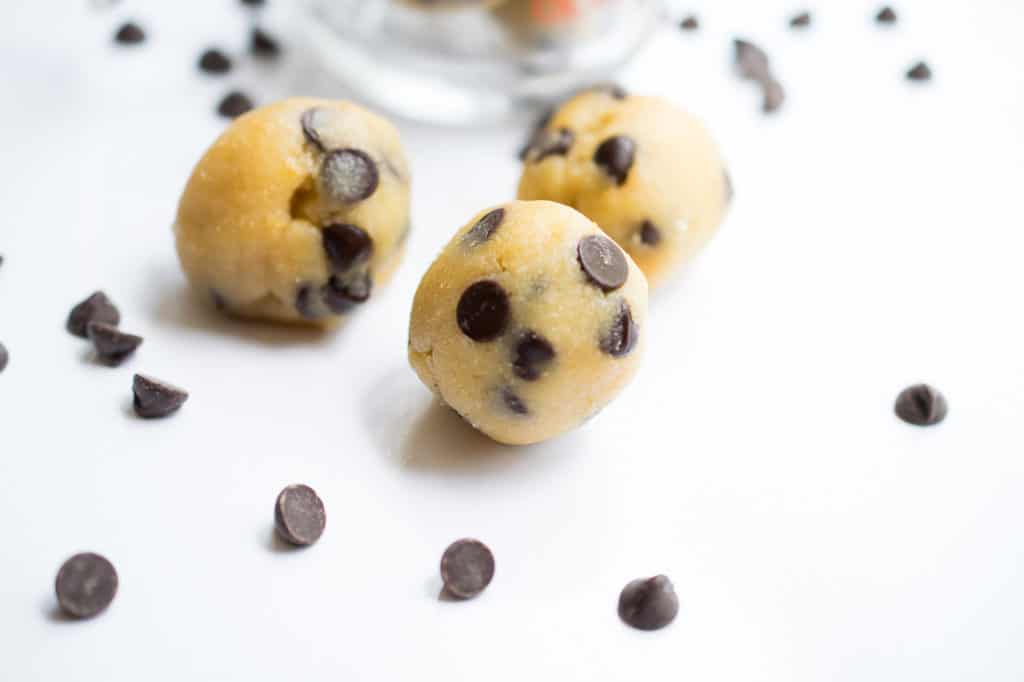 Is allulose safe?
And is allulose keto? Paleo? Gut friendly? I found allulose at Publix and I've seen a lot of people writing about it, so I decided to research it a bit and try it out.
Allulose is:
less likely to cause digestive upset than other sugar-free alternatives (link to study)
made from maple syrup, figs, and raisins
70% as sweet as sugar
low on the glycemic index
virtually zero calories, and may increase fat oxidation while keeping plasma glucose levels low (link to study)
I digest allulose well and studies say it's safe. But you can use what works for you. Processed sources of allulose are usually a no-go on paleo, so if you want a truly paleo option for this recipe, swap allulose for maple syrup.
How to calculate net carbs from allulose
If you're counting carbs, you'll be happy to know that allulose is not digested like regular sugar. Like erythritol and fiber, allulose can be subtracted from the total carb count in order to give you the net carb count. The FDA is allowing allulose to be excluded from total sugar counts on food labels, so most food labels will already have the carb and sugar counts from allulose removed from the total.
For this recipe, the total carbs per cookie bite are 8 grams. After subtracting the fiber (1 gram) and allulose (3 grams), the net carb count per No Bake Cookie Bite is 4 grams.
That being said, feel free to use your favorite sweetener in this recipe. It's very flexible. Okay, let's whip up some Dairy Free Edible Cookie Dough!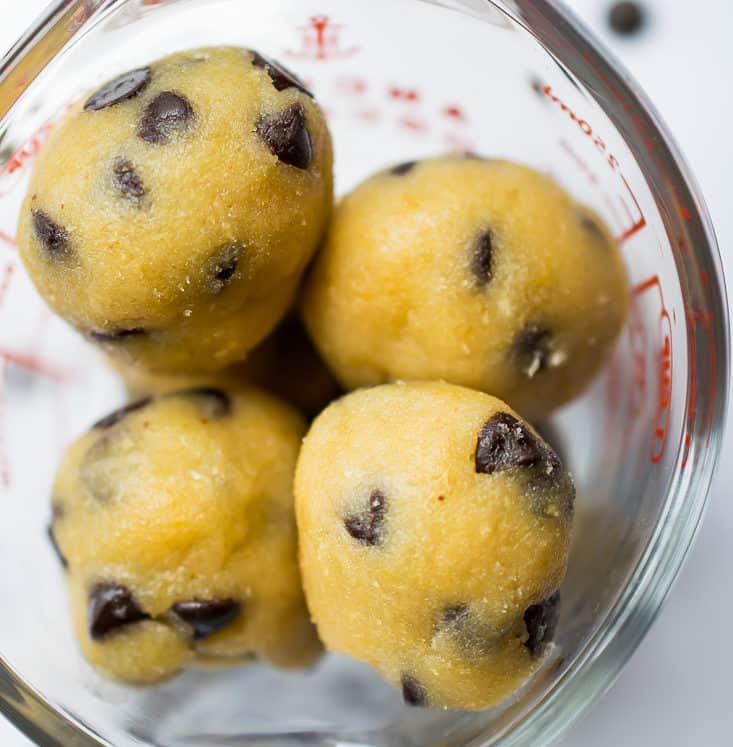 Dairy Free Cookie Dough (paleo, keto, gluten free)
---
Author: Cristina Curp
Prep Time: 5 minutes
Total Time: 5 minutes
Yield: 15 bites 1x
Category: Dessert
Method: Mix
Cuisine: Cookie
Description
Delicious, edible cookie dough that's low carb and has gut-healing collagen!
---
Scale
Ingredients
3/4 cup blanched almond flour
1/2 cup Bacon's Heir Pork Panko (or homemade, find the recipe in Made Whole Made Simple)
1/4 cup collagen powder
2 pinches Real Salt (code CASTAWAY for 20% off)
1/4 cup liquid allulose or maple syrup
1/4 cup melted butter or coconut oil
2 tbsp nut milk or coconut milk
1/2 cup dark baking chips (I use Pascha's or Lily's, you can find them on Thrive Market)
---
Instructions
In a small bowl whisk together all of the dry ingredients.
Add in the wet ingredients and fold in with a spatula until dough forms.
Fold in the chocolate chips.
Ready to eat! You can store it like this, covered, in the fridge and eat it with a spoon or …
Place the bowl in the fridge to let the dough harden then use a tablespoon to make bite-sized balls.
Either way, you can't go wrong. Keep dough stores in the fridge for up to a week. Note the coconut oil will make the dough harder than the butter.
Recipe Notes:
*net carbs per serving: 4g (total carbs – fiber – allulose = net carbs)
Nutrition
Serving Size: 1 bite
Calories: 169
Fat: 12g
Carbohydrates: 8g*
Fiber: 1g
Protein: 5.9g
Keywords: edible cookie dough, no bake cookie dough, keto cookie dough, gluten free cookie dough, paleo cookie