This Keto Pecan Brittle is what dreams are made of and yes you can make it with half pecans and half walnuts too! It's easy to make and highly addictive. Yes, as addictive as my Coconut Caramel Slice. Full disclosure I've made this recipe three times and each time had to give away most of it to stop me from eating it all. This Keto Pecan Brittle is so salty, crunchy, sweet, and good that you won't be able to stop. Bonus it's made with simple, clean ingredients so it won't leave you feeling yuck!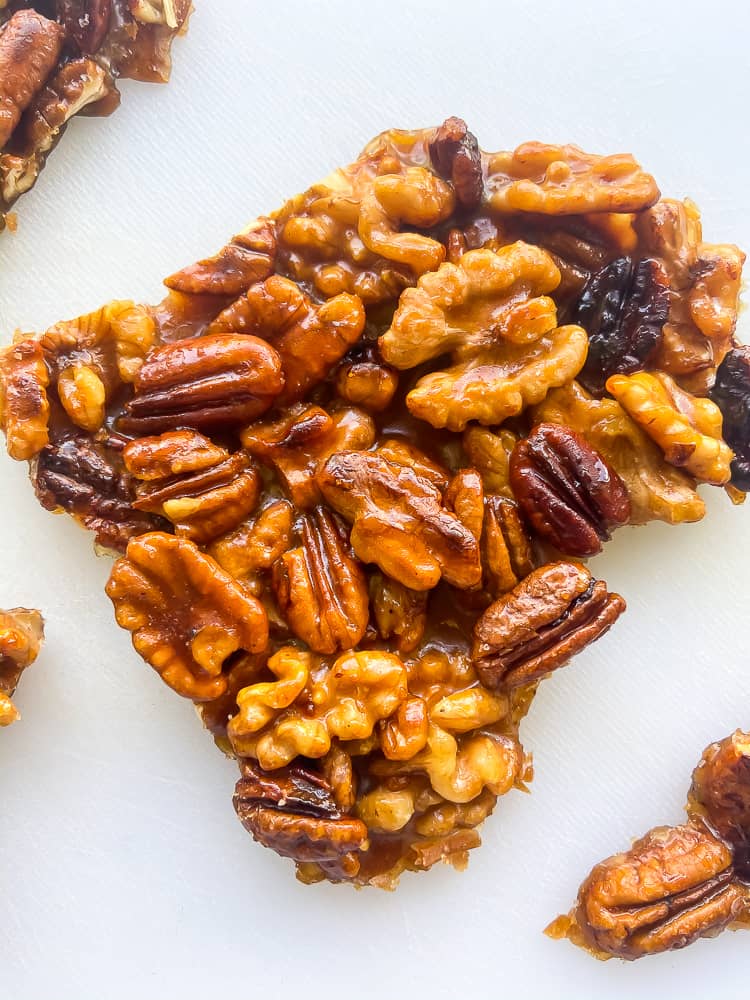 Table of Contents
Low Carb Pecan Brittle That's Paleo Friendly?
YUP! You read that right. I've been using allulose to sweeten with lately. I like it because it doesn't make me bloat like erythritol, and it's not as sweet as sugar, it's less sweet. I prefer! It also leaves no after-taste like most other low-carb sweeteners. You can read more about it in my Edible Cookie Dough Recipe.
Easy to Make Keto Pecan Brittle Steps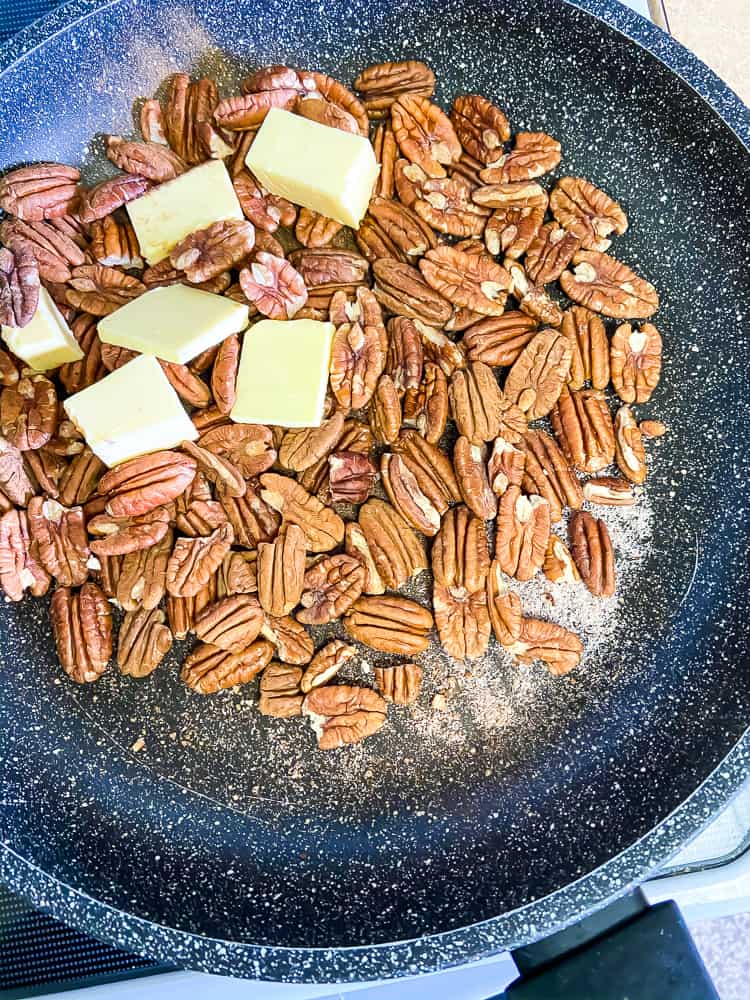 Warm seasoned pecans in a skillet, then add in the butter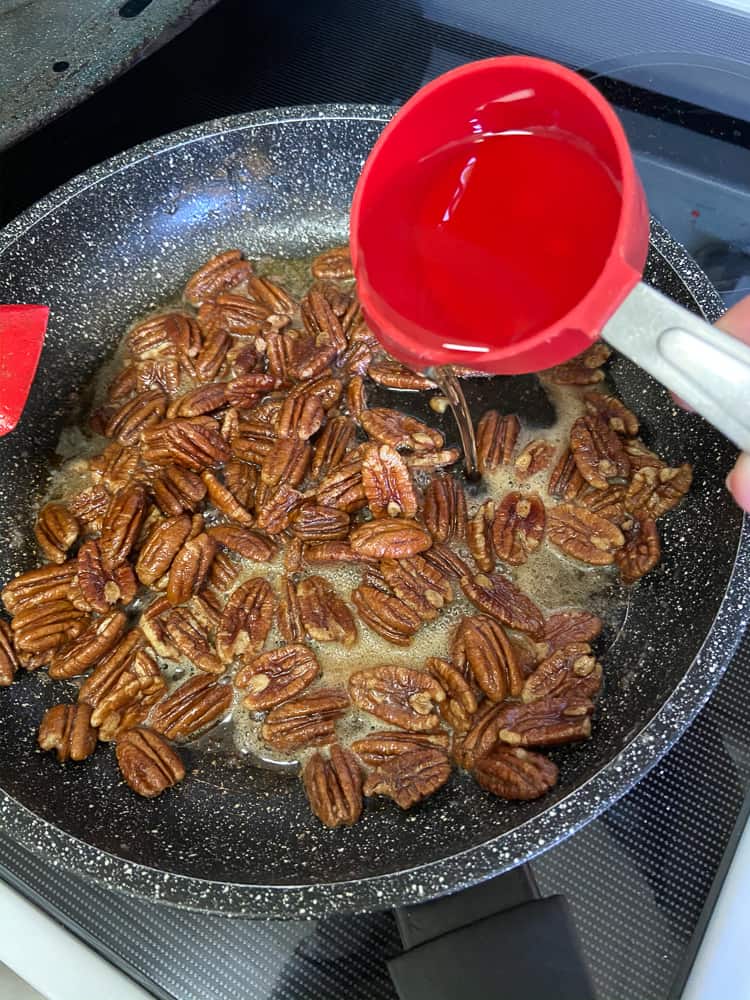 Once the butter is melted and bubbly pour in the liquid allulose.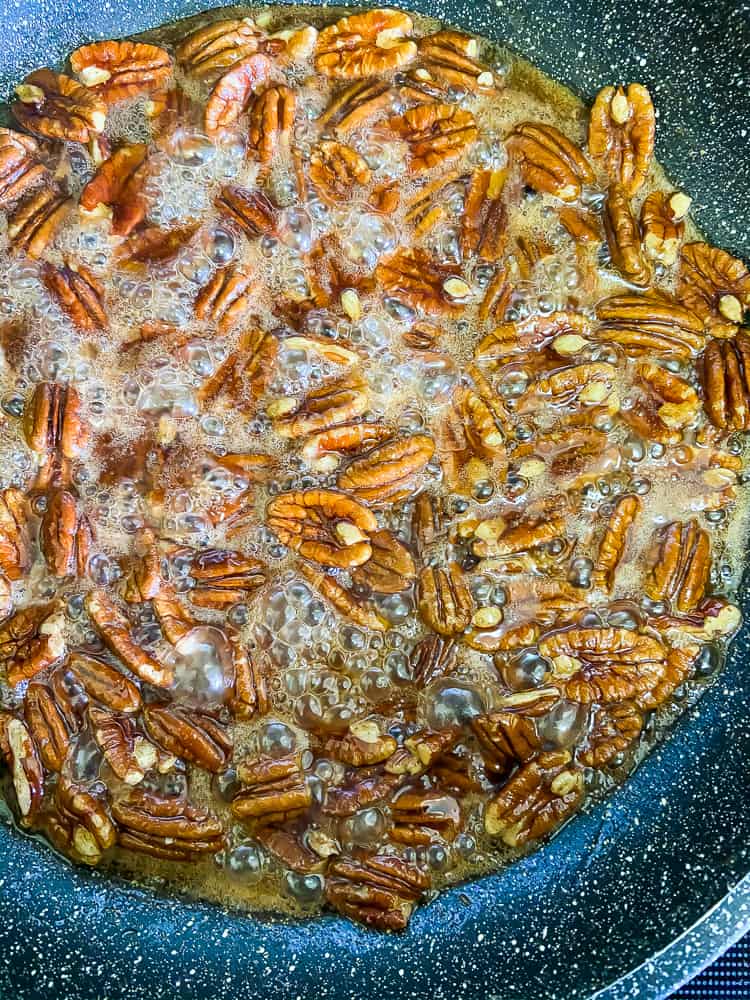 Cook here, over medium heat until bubbly. Up the heat to medium-high for the nuts to toast.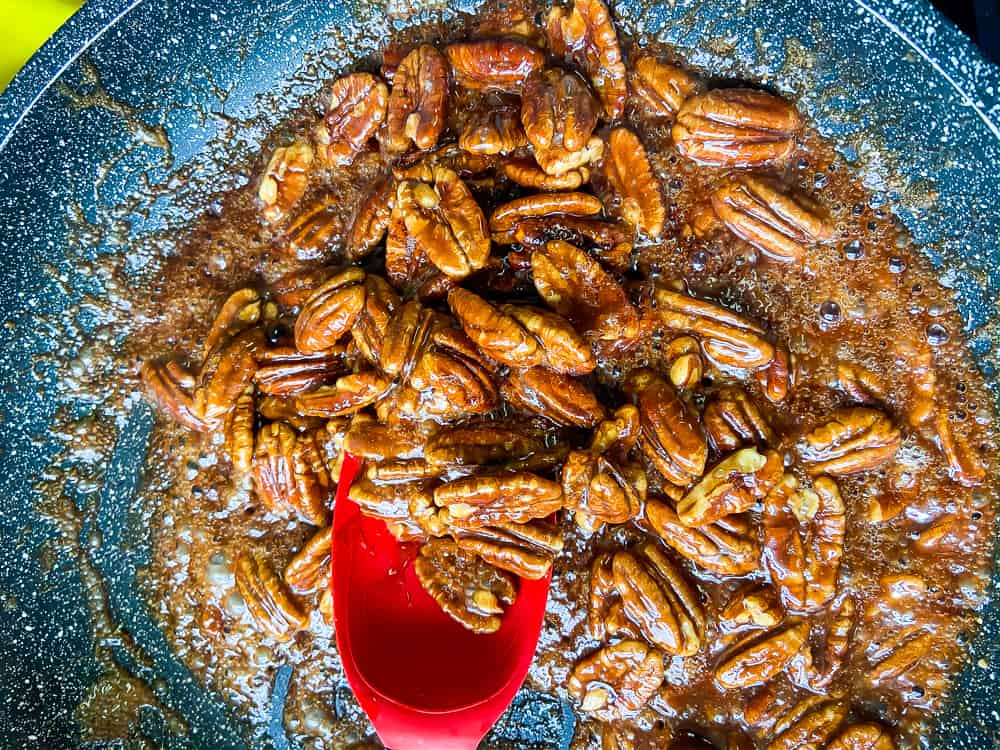 Once the pecans have toasty bits and the butter and allulose a thickened to a caramel sauce (brown and sticky) remove from heat.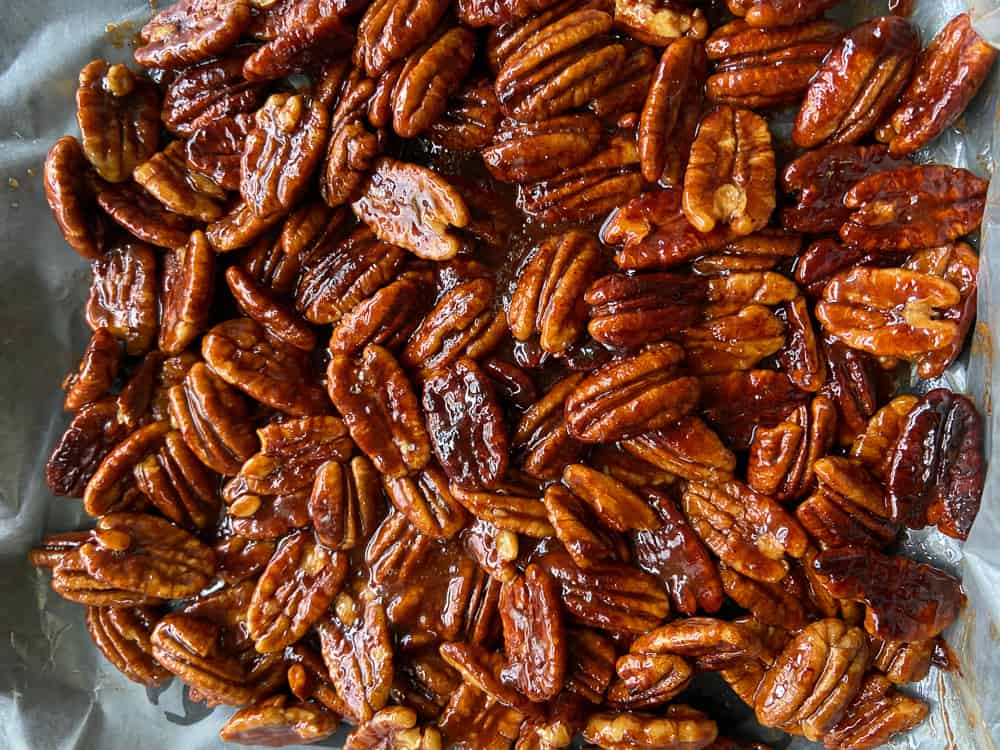 Use a rubber spatula to scrape everything out of the skillet and quickly transfer it to a tray lined with parchment paper. Spread the mix out evenly and pop in the fridge or freezer.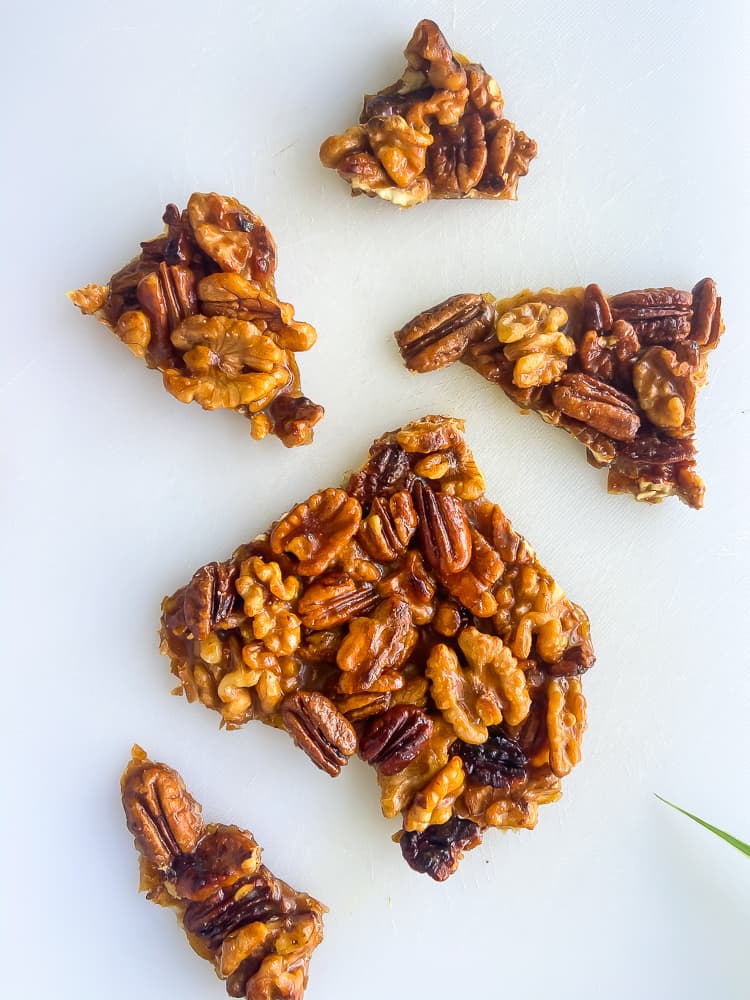 Once it's cooled and hard break it up into shards and share!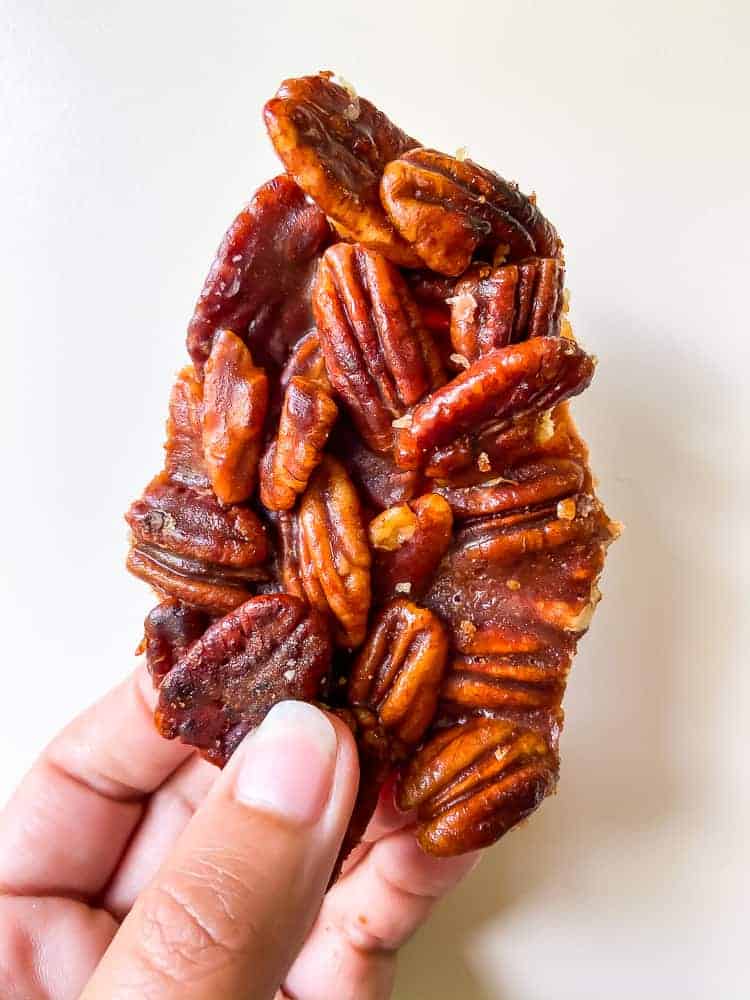 Ingredients for The Brittle
Raw pecan halves (or you can do half walnuts), I like raw nuts because they will toast during cooking! Real Salt (code CASTAWAY for 10% off) because it's got minerals and a pinch of ground cinnamon for extra flavor. The allulose is what makes this magical, this keto sweetener makes the best caramel. You can use liquid allulose, or granular (or maple syrup for paleo).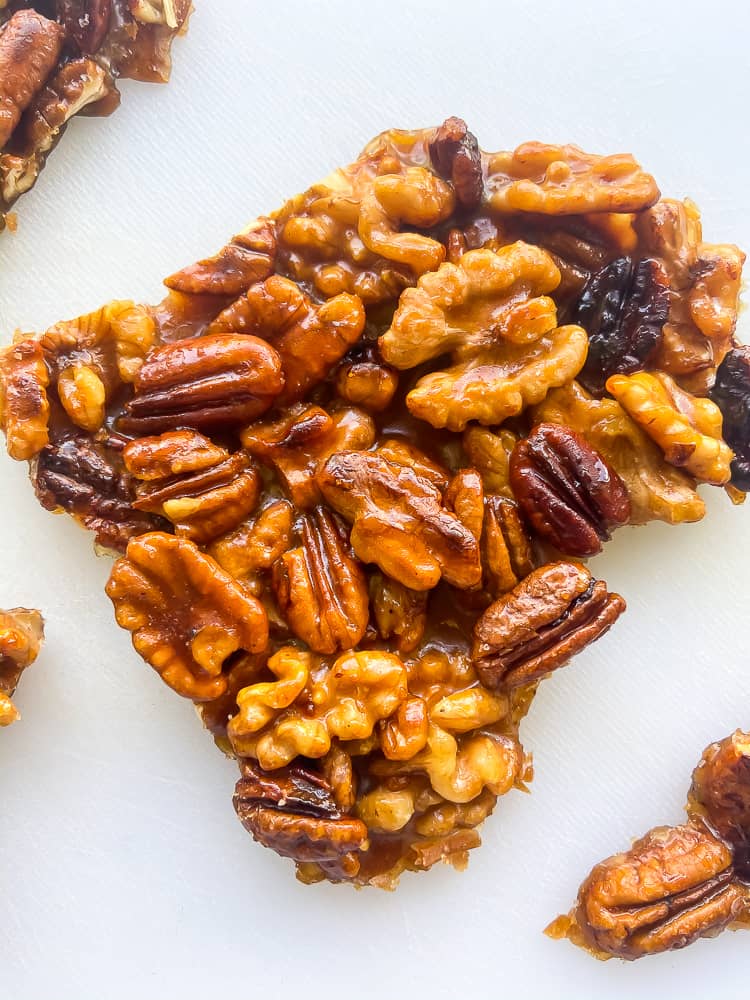 Have my cookbooks? Remember to leave a review on Amazon, please!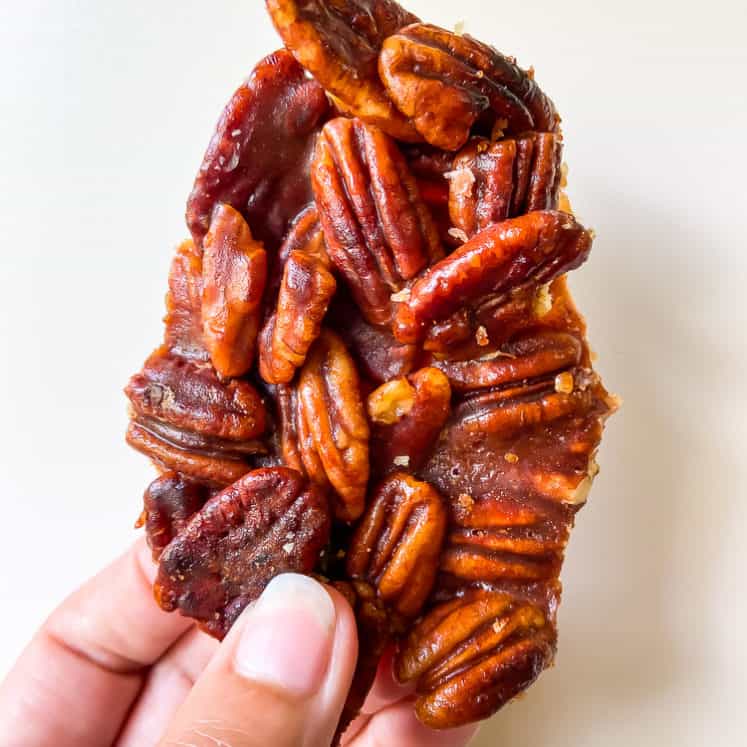 Keto Pecan Brittle (keto, primal, paleo)
---
Author: Cristina Curp, NTP
Prep Time: 5
Cook Time: 30
Total Time: 35 minutes
Yield: 10 1x
Category: Dessert
Method: Candy
Cuisine: American
Description
This quick and easy pecan brittle is sugar-free and paleo-friendly! Read the notes for dairy-free modifications. 1 gram net carbs per serving. 
---
Scale
Ingredients
2 cups raw pecan halves (or 1 cup pecans, 1 cup walnuts)
1/4 teaspoon Real Salt
1/4 teaspoon ground cinnamon
3 tablespoons grass-fed butter
1/3 cup sweetener of choice (I use liquid allulose, see notes)
1/2 teaspoon vanilla extract
more salt to taste
Tray lined with parchment paper
---
Instructions
Heat a 10″ skillet over medium heat. Put the raw nuts in the skillet and the dry seasonings. Stir and heat until the pecans are warm and aromatic.
Add in the butter, cut in chunks, and stir in until melted. Use a spatula to combine everything so the pecans are all coated in butter.
Add in the sweetener and mix in. Cook, stirring frequently until the caramel begins to bubble. The butter and sweetener will create a foamy, golden bubble, about 6- 8 minutes. If using a granular vs a liquid sweetener this step might take a little longer. Watch out for the golden bubble.
Stir in the vanilla extract and bring the heat up to medium-high, stirring often until you see toasty bits on the pecans and the caramel sauce is a deep golden brown and getting sticky.
Quickly transfer the mix, while hot to the parchment paper and spread it out a bit to create aprx a 6×6  inch mass. Keeping the nuts bunched up and close to they stick together as it cools.
Pop it in the freezer to harden, make sure it's on a flat surface. After about 20-30 minutes it should be hard enough to break up into pieces.
Store in an airtight container in the fridge or freezer.
Recipe Notes:
to make it dairy-free use coconut oil instead
if using granulated sweetener you may need to add more butter to add volume to the caramel
to make it paleo use maple syrup or maple sugar
you can use liquid or granular sweetener, I use the liquid
the recipe will work with macadamia nuts, peanuts, or cashews too!
1 gram NET carbs per serving (11 grams total – 8 grams allulose – 2.1g fiber = 0.9g net carbs)
Nutrition
Serving Size: 1/10 of recipe
Calories: 181
Sodium: 45mg
Fat: 19g
Carbohydrates: 11g (8g allulose)
Fiber: 2.1g
Protein: 2g
Keywords: keto low carb pecan brittle