A summer Whole30 meal made for the grill, these juicy and succulent Garlic Mango Shrimp Skewers are an easy AIP recipe and a total win! My neighbor was kind enough to share some of the mangoes right off his tree (completely fresh and organic). If you don't live in a mango-friendly climate, you can still enjoy this recipe for a fresh taste of summer.
Table of Contents
A Whole30 Shrimp Recipe for the Books
I mean, does seasonal eating get any better than this? You can prep the garlic mango marinade for these shrimp skewers ahead of time (a few hours in the marinade is ideal) and throw them on the grill for 10 minutes and boom: dinner is done. I love to grill up some Vidalia onions or summer squash as a side, you can throw them on the grill, too!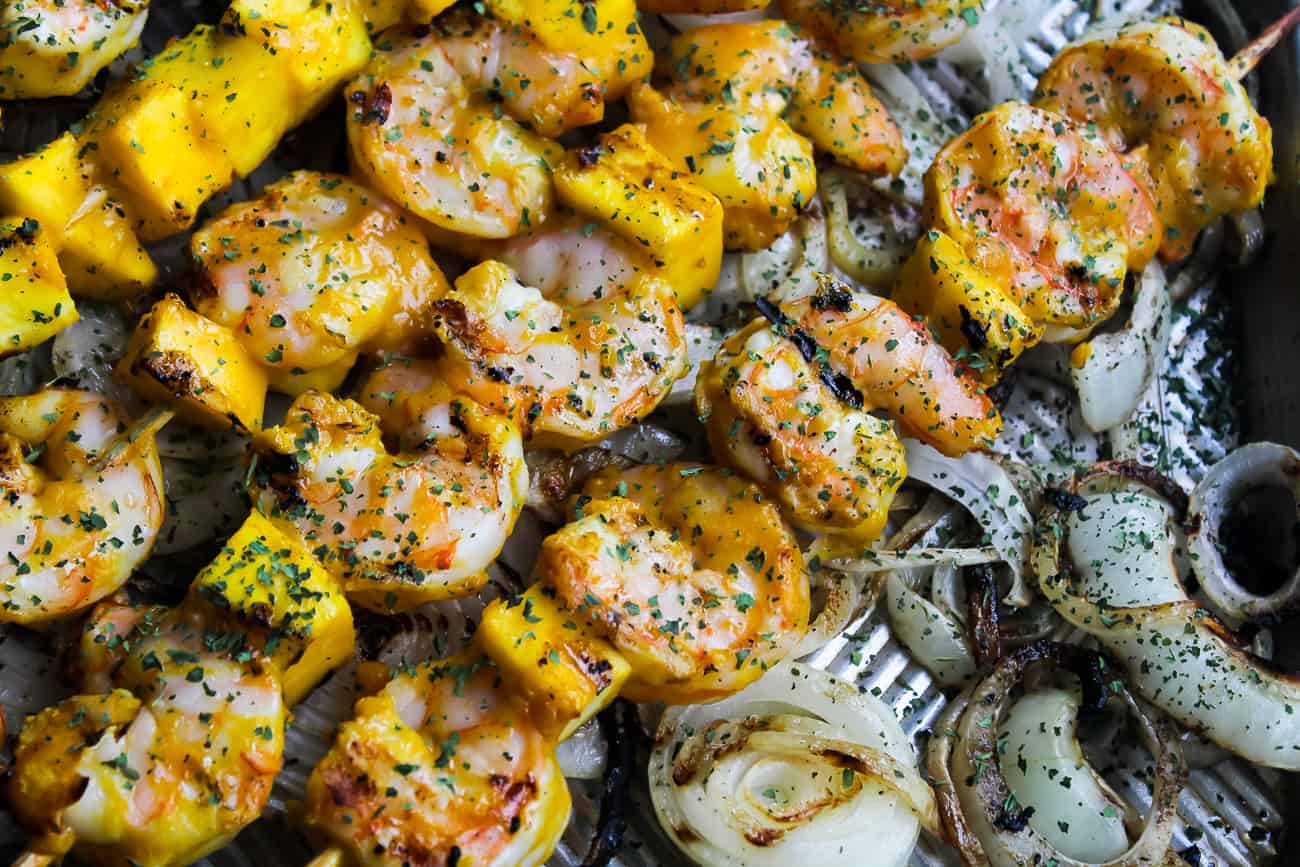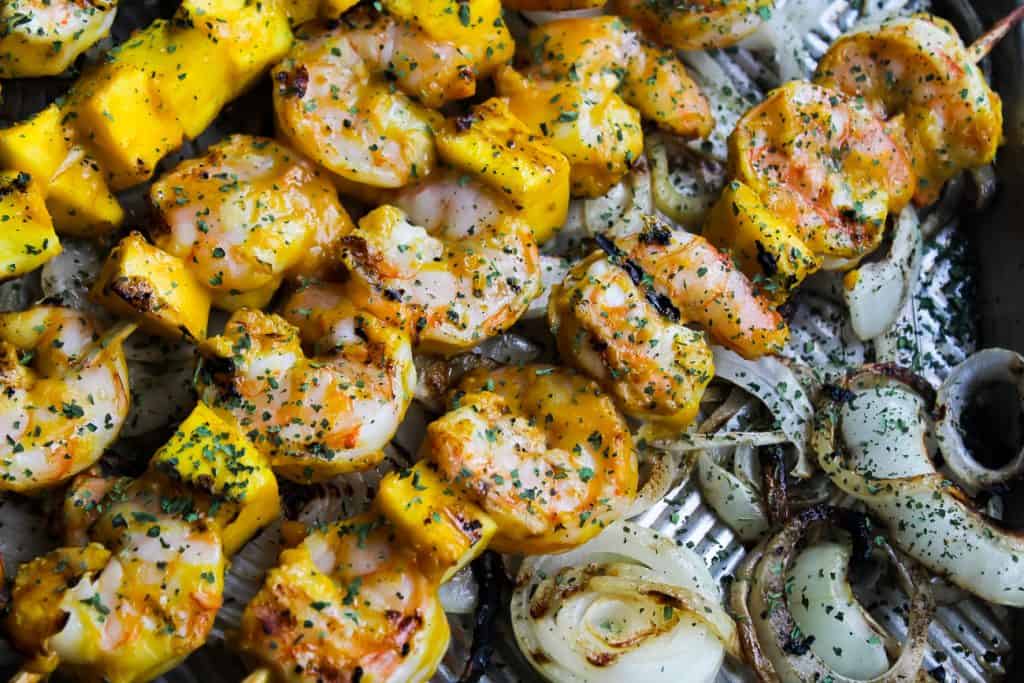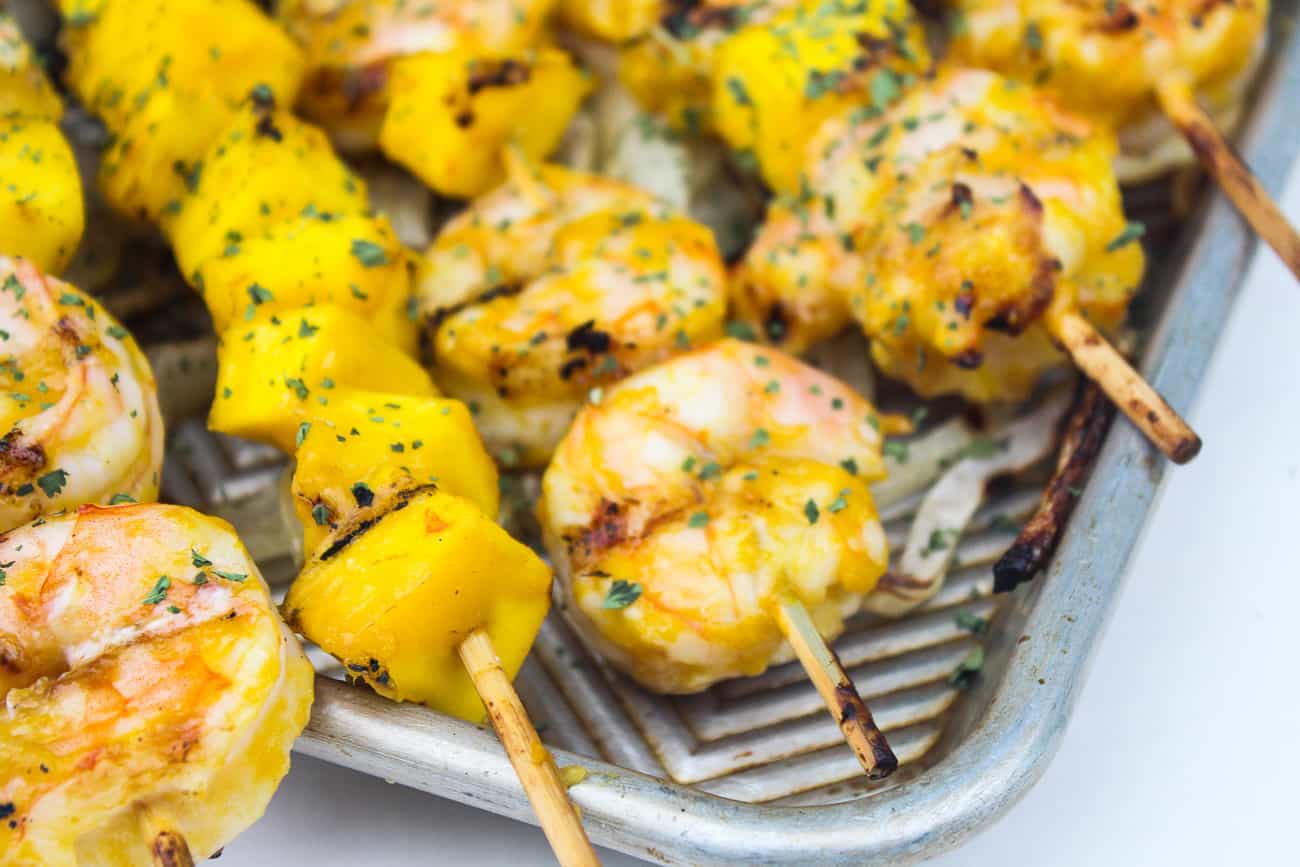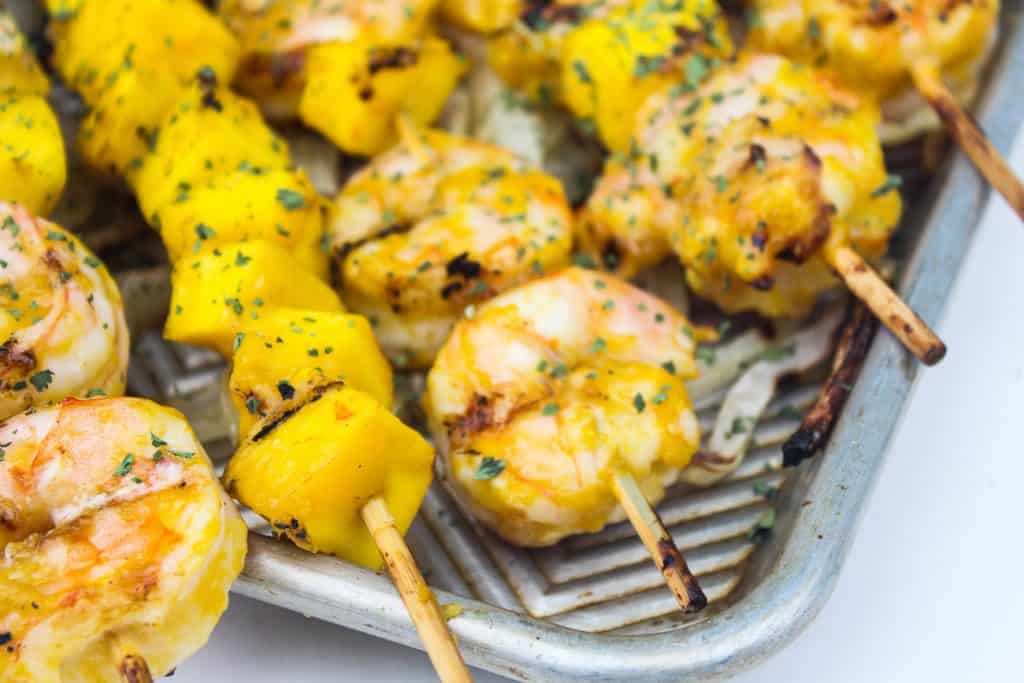 How to pick the perfect mango:
A ripe mango is almost completely yellow and red on the outside, and when you squeeze, it has some give. The almost ripe mango is partly yellow and red, but still a little green too and feels firm, but not rock hard. The texture of the firm mango will soften when cooked and marinated in sweet mango — it has a killer mouthfeel and flavor. For this recipe, you'll want to use one very ripe mango and one just-ripe mango.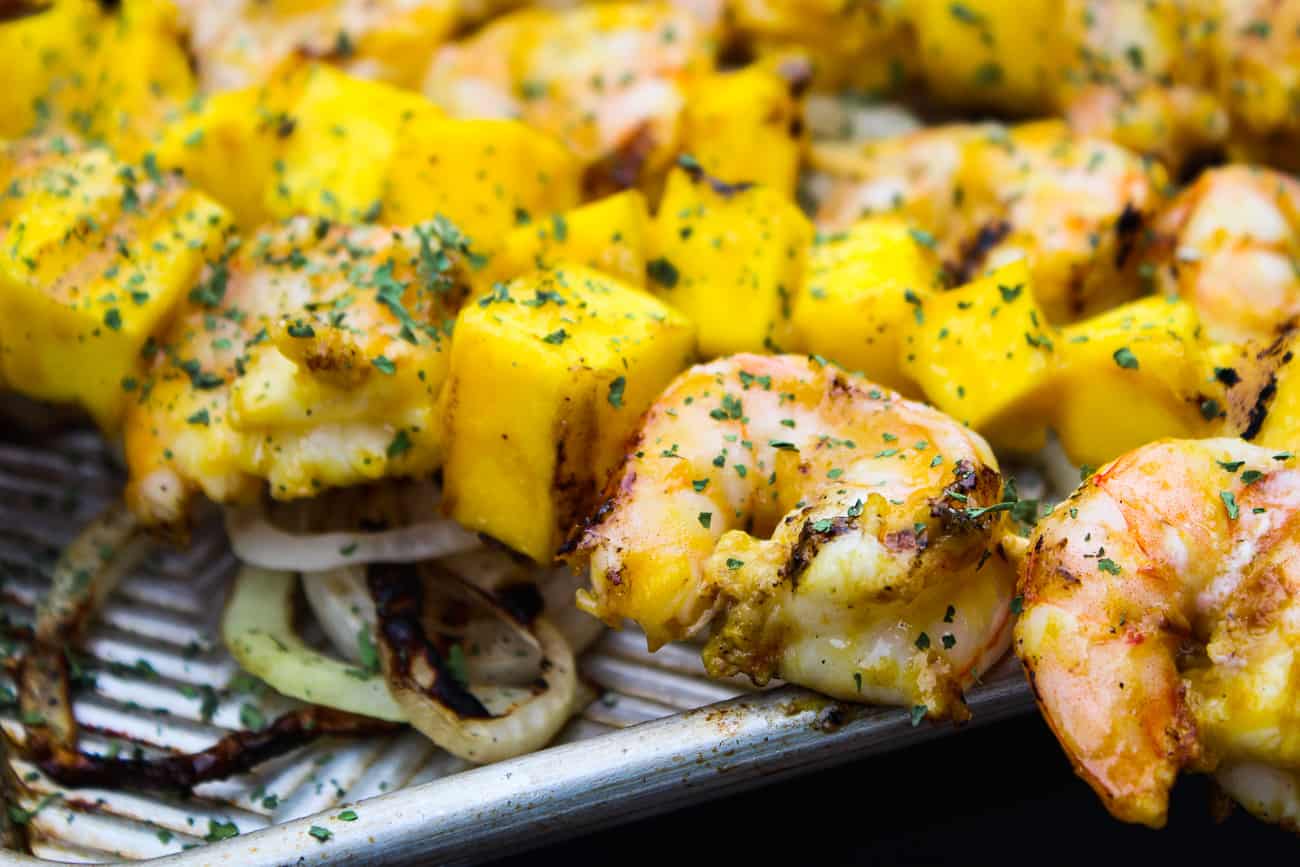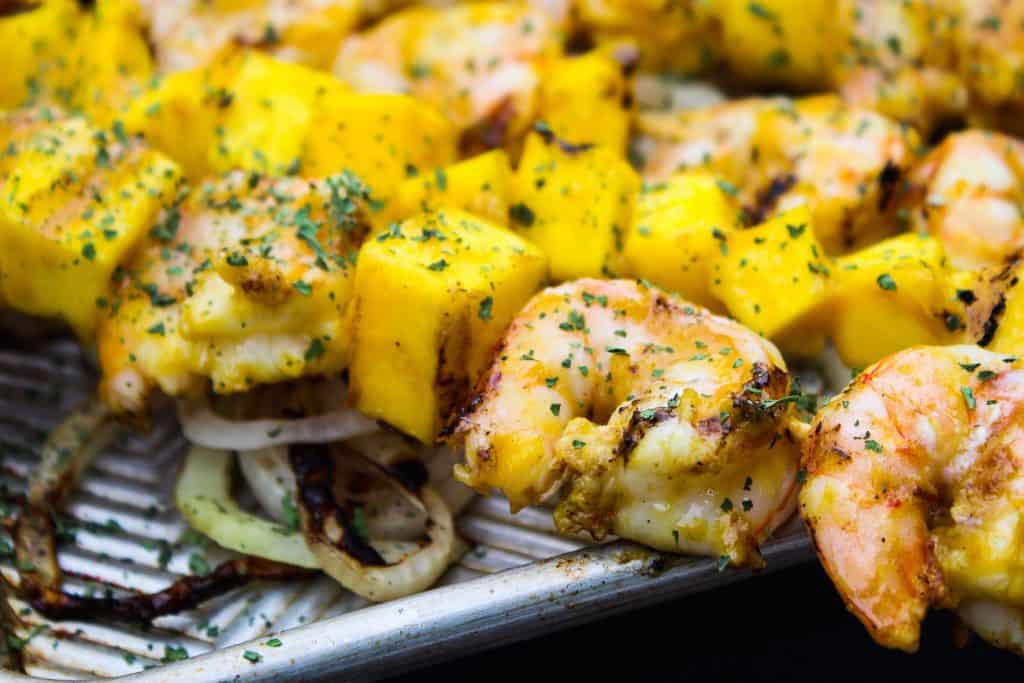 How to grill shrimp skewers:
To get the most flavor and lock in the moisture, you'll want to let the shrimp marinate for a few hours. If you're short on time, a few minutes will work.
When using wood or bamboo skewers, soak them in water for 20 minutes prior to grilling so that they don't catch fire on the grill.
Always start with a clean grill, and after cleaning, brush it with a little oil before you place the food down so it doesn't stick. This is critical for shrimp since it's very low in fat! You want to make sure you get nice grill marks, and that you don't leave half of your shrimp behind, stuck to the grill.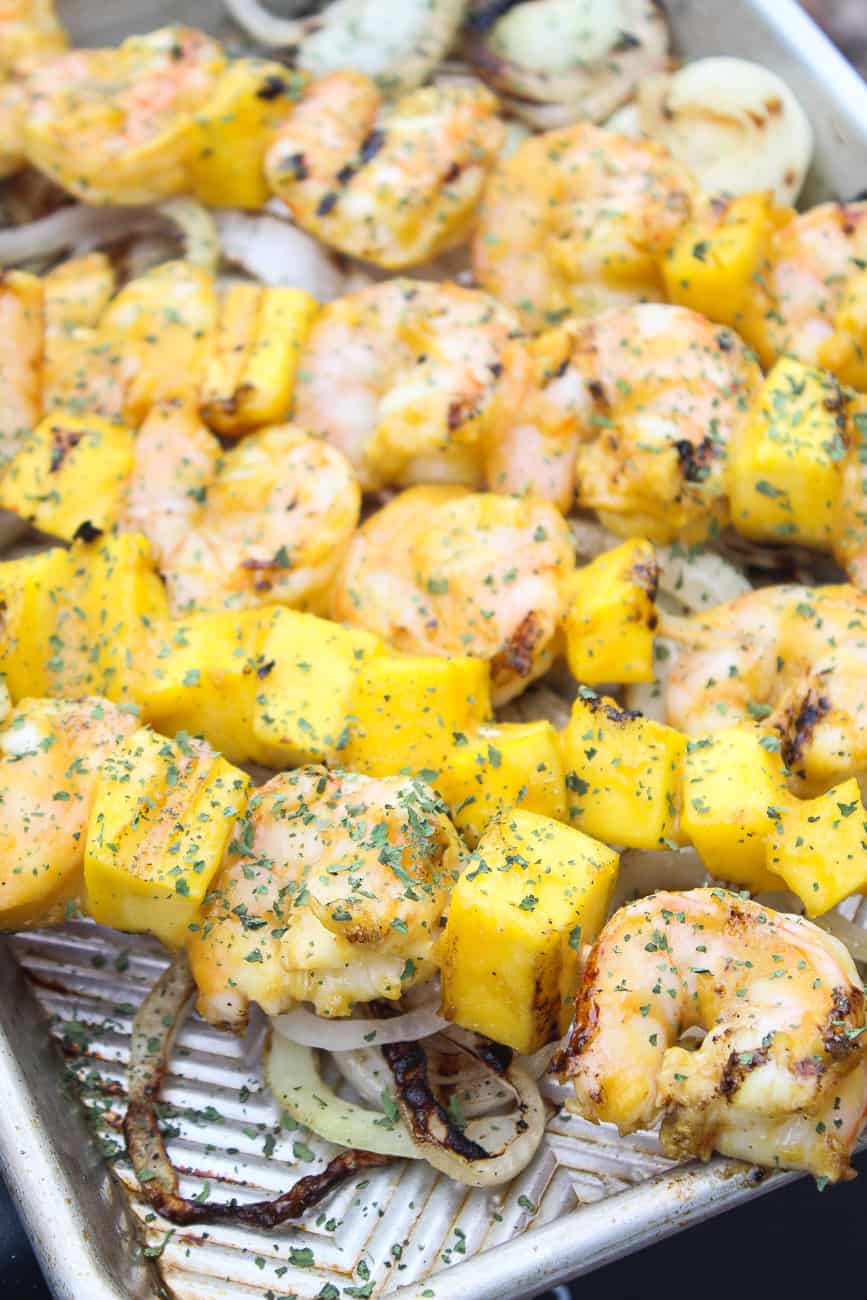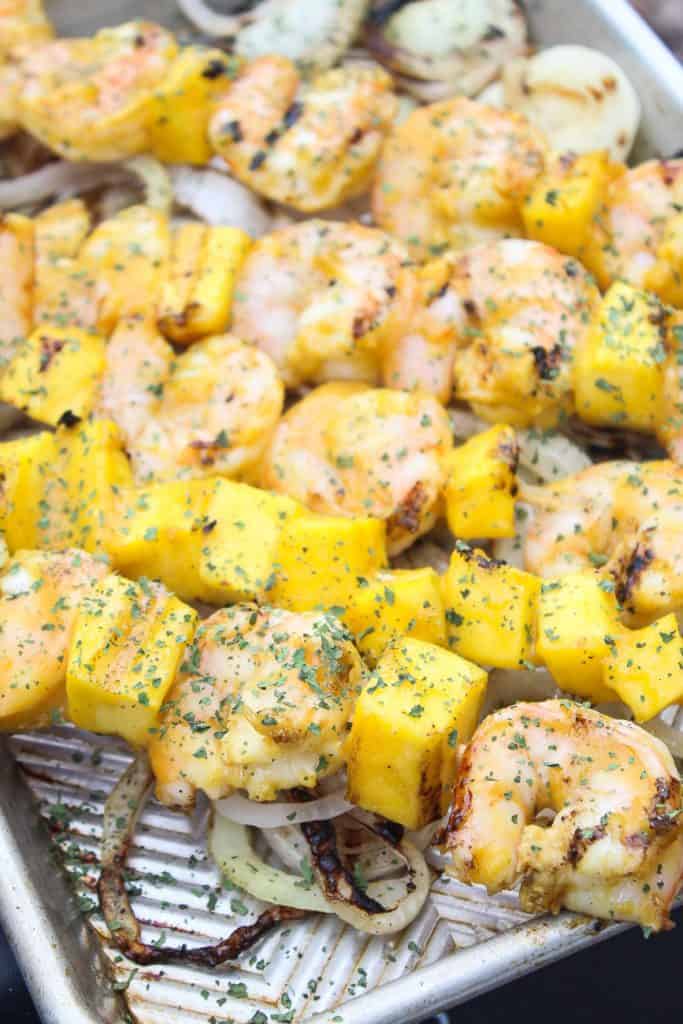 Keeping this recipe AIP compliant
Made with mango, minced garlic, the juice of one lemon, olive oil, salt, and shrimp, this recipe is perfectly autoimmune protocol-compliant, Whole30 approved, and just dang tasty. This recipe is proof that you don't need to make it complicated to make something delicious; focus on real food ingredients and in-season produce with the right kind of seasoning and technique (in this case, using a marinade and then grilling). You could also try chicken with this recipe, or swap mango for pineapple for future variations. Keep it fresh, fun, and dang good.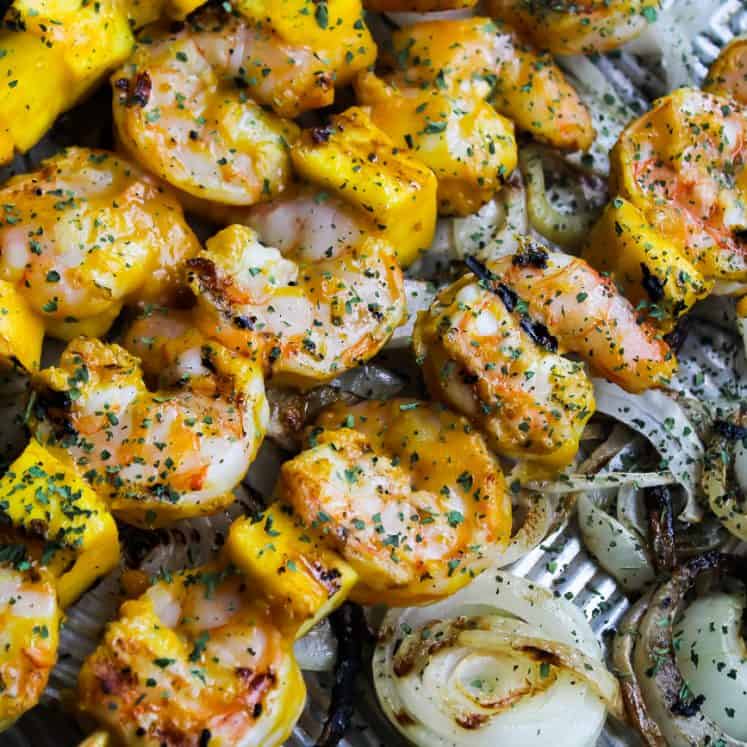 Garlic Mango Shrimp Skewers (AIP, Paleo, Whole30)
---
Author: Cristina Curp
Prep Time: 30 minutes
Cook Time: 10 minutes
Total Time: 40 minutes
Yield: 4 skewers 1x
Category: Entree
Method: Marinate and Grill
Cuisine: Shrimp
Description
Delicious sweet and savory shrimp skewers! Perfect for summer, this Whole30, paleo and seasonal recipe is simple and satisfying!
---
Scale
Ingredients
1 very ripe mango
1 just-ripe but still firm mango (see post)
2 tablespoons minced garlic
juice of one lemon
1 tablespoon olive oil (I like this brand)
1 teaspoon fine salt
20 large shrimp, peeled, deveined
---
Instructions
Peel and dice the mangoes in to 1/2 inch chunks. Take the very ripe mango and blend it with the garlic, lemon juice and olive oil to make a puree. Set the firm mango pieces aside.
In a bowl, combine the mango puree, shrimp, salt, olive oil, and diced mango. Let marinate for a few minutes (or a few hours).
When ready to grill, prepare your skewers: add 5 shrimp and 2-3 pieces of mango to each skewer. You will have enough diced mango to make one mango only skewer, which is great as a side dish or a good option if you have plant-based guests.
Brush the remaining marinade all over the skewers when ready to grill. Heat your grill on high heat – 400F°. Place the skewers horizontally on the grill. Cook for 4 minutes with the lid closed.
Open the grill and flip the skewers and cook another 4 minutes on the other side or until the shrimp have a nice deep pink color and some grill marks.
Serve hot! I like to grill some Vidalia onion slices or summer squash too and make it the perfect summer meal!
Recipe Notes:
net carbs per serving: 25.2g
Nutrition
Serving Size: 1 skewer
Calories: 214
Fat: 5.3g
Carbohydrates: 28g
Fiber: 2.8g
Protein: 15.9g
Keywords: easy whole30 meal, grilled shrimp, garlic mango shrimp skewers, how to grill shrimp, summer recipe, AIP compliant recipe