I Scream, You Scream, We All Scream for Ice Cream!
Mint chip ice cream is my favorite. Sweet and refreshing and the crunch! Oh my! Well this easy, ready in two minutes, fatty recipes whips up so easily it's almost a crime that I'm calling it a recipe. But I made it on stories and you all wanted it… so here it is… Instant Keto Mint Chip Ice Cream!
So delicious I forgot to photograph it when I did the video! True story. I had to snag a still from the video for the picture. Yeah, it's that good.
It's all about the right coconut milk.
For one forget about the carton dairy-free kinds of milk. Garbage, all of them. Full of weird fillers and ingredients, not to mention watery as all hell. Gross.
When buying coconut milk for all your paleo and keto cookies and baking needs you get FULL-FAT CANNED COCONUT MILK. Watch out, look at the labels, a lot of them have some weird stuff in it. Thai Kitchen is an easily found, good quality brand with only guar gum in it. Most of the better brands contain water, coconut and guar gum. Guar Gum is made from husked guar beans. It's one of those sciency food things, but at least its made from food. Same goes for 365 brands by Whole Foods. Aroy-D is another preferred brand for some folks although I can't find it where I live.
You can often buy these on Amazon too! Even one that is completely additive free! The less crap in your coconut milk the better. REAL coconut milk has plenty of fat and doesn't need gums to make it thick.
What Else Can I Do With Canned Coconut Milk
Well…. anything you would use heavy cream for. I like to add the coconut cream to my coffee. I keep a few cans in my fridge at all times for the thick, cream that separates to the top, what we use in this recipe. It's also great for mug cakes, to spread on pancakes and to add to smoothies or pan sauces. Make sure your cans are FULL FAT or regular NOT LIGHT- or they won't make the cream when chilled.
You can use the room temperature cans, shake them up and you have a delicious, fatty milk. Great for pancake batter, curry, teas and more.
What do you do with the leftover water/milk after you use the cream… that "light" milk is great for pancake or waffle batter, smoothies, salad dressings and pan sauces. Store it in ice cube trays in the freezer for quick thawing and use! 
Check out these recipes!
Instant Keto Mint Chip Ice Cream Video
Other Ingredients:
Sweetener… I used Sweet Like Sugar by Ketologie. It's a mix of non-gmo erythritol, stevia and vanilla flavor. I think it's the best tasting keto sweetener I have tried. I also like that the stevia makes it sweeter tasting so less IS more! You can find it on their site… HERE. 
Other keto sweetener options: 

Peppermint Extract Options:

For the Chips:
If you're of the paleo persuasion use your preferred sweetener!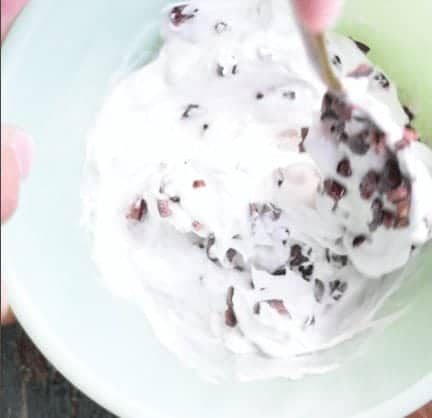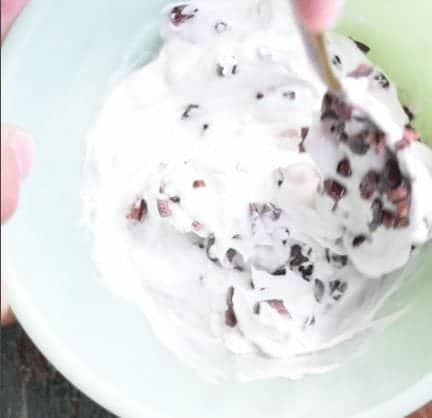 2 Minute Mint Chip
---
Author: Cristina Curp
Prep Time: 6
Total Time: 6 minutes
Yield: 1 1x
Category: dessert
Method: no cook
Cuisine: ice cream
Description
Easy pease ice cream treat!
---
Scale
Ingredients
1 can full-fat coconut milk, cold, fat only
1/2 teaspoon peppermint extract
pinch of sea salt
1 teaspoon sweetener
1 tablespoon cacao nibs or chocolate chips
---
Instructions
Open your can of coconut milk and carefully spoon the firm cream into a bowl. Use the back to the spoon to soften and stir it until it's smooth.
Add in the rest of the ingredients and stir to combine.
Eat, enjoy!
Recipe Notes:
Serves one, macros per recipe: Calories 386, Fat 36g, Carbs 8g, Fiber 0g, Protein 4g
Nutrition
Serving Size: 1
Calories: 386
Fat: 36g
Carbohydrates: 8g
Fiber: 0g
Protein: 4g
Keywords: dairy free keto mint chip ice cream