These fresh paleo spring rolls are made with tapioca paper and use shredded lettuce instead of rice noodles to keep them grain-free. I've included a seaweed paper version for keto folks. The "peanut" sauce has several variations depending on your needs. A fun and delicious meal perfect for Spring!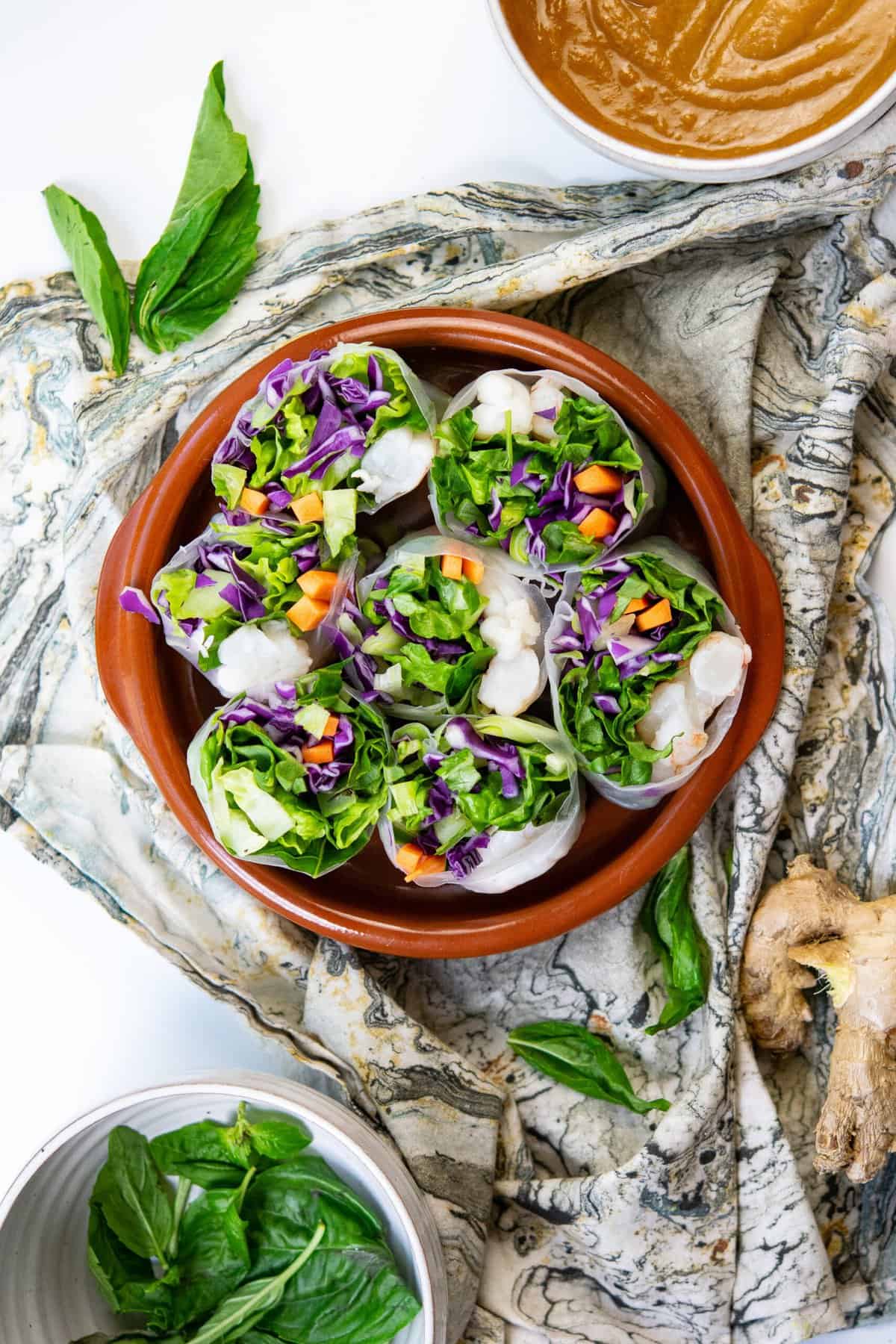 Table of Contents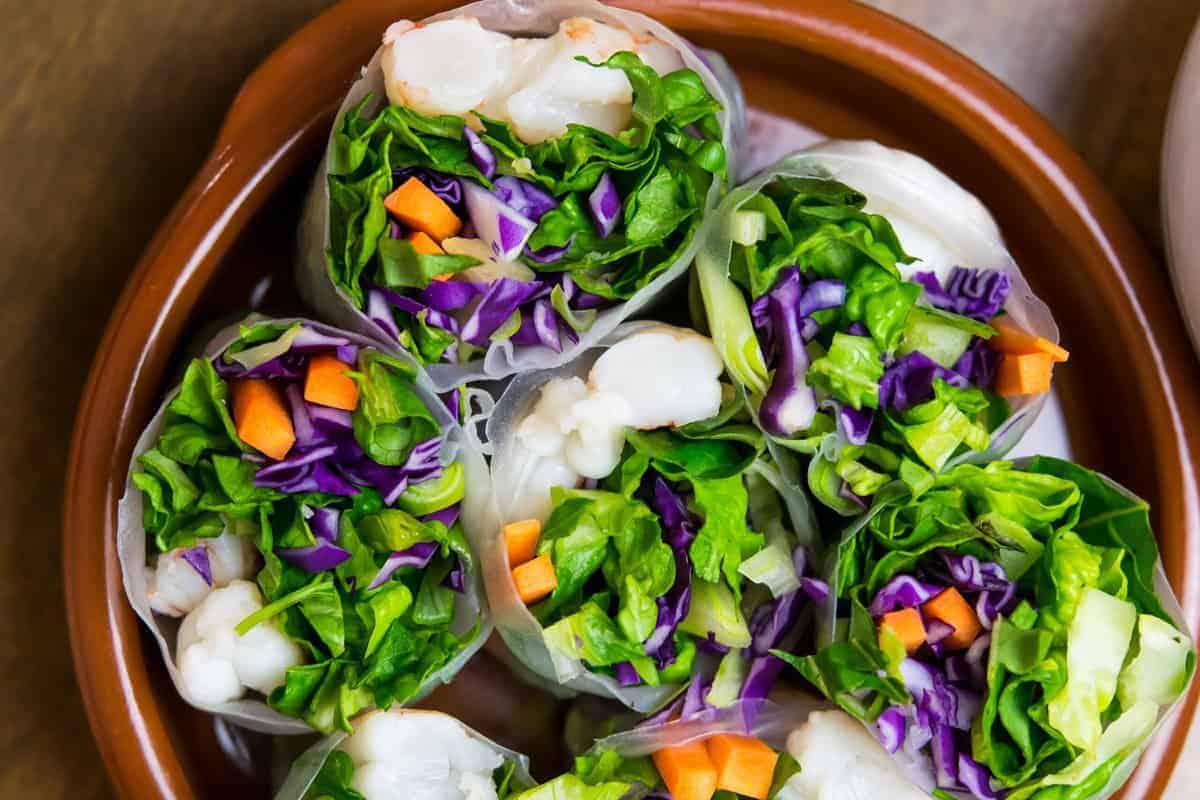 The BEST Paleo Spring Rolls
These simple spring rolls are the real deal! The tapioca sheets make them very authentic and the dipping sauce packs a flavorful punch. These are perfect lunches or appetizers as the weather heats up. Get a load of raw, nutrient-dense vegetables, lean protein, and flavor in this light meal. This is THE perfect recipe for when you just want something light but also want to get loads of nutrients and stay satisfied for hours.
Simple Ingredients for AIP Friendly Spring Rolls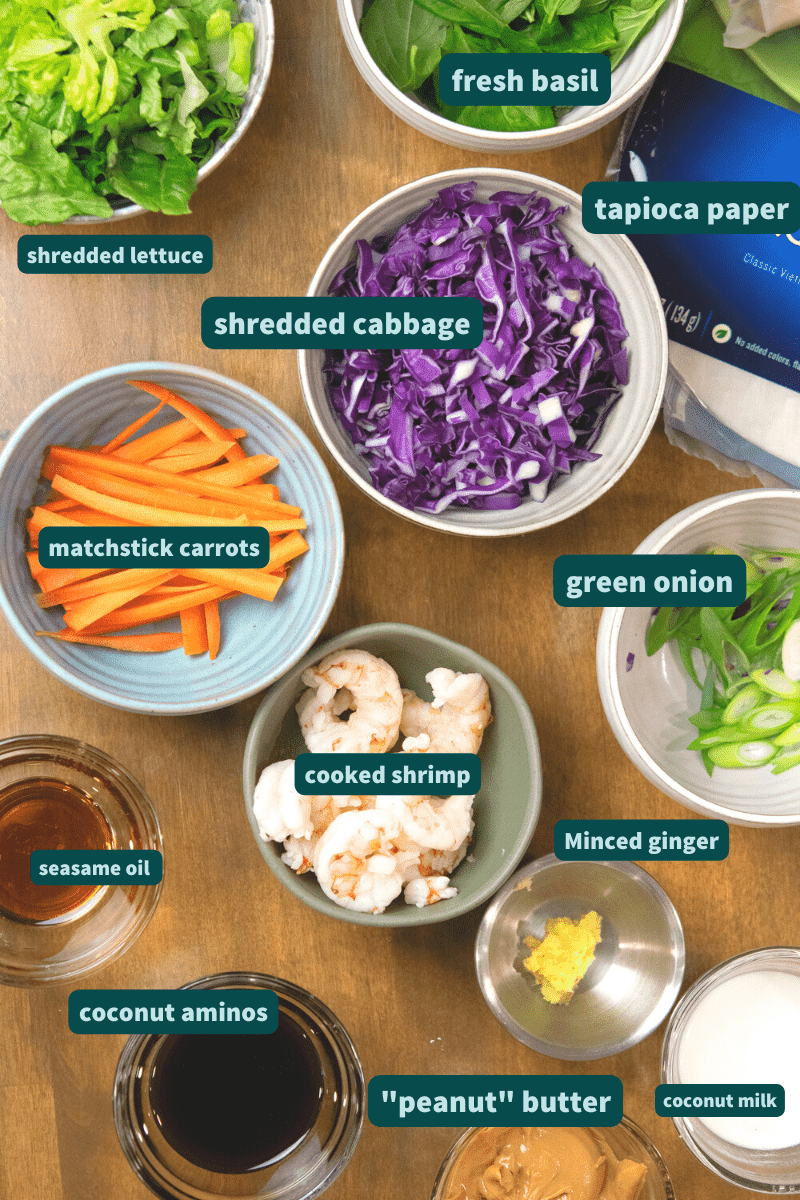 The KEY to making these PALEO is using tapioca paper instead of rice paper. They behave similarly, tapioca is a little more strechy, which I like beccause it doesn't rip as easily.
If you want to make the Spring Rolls Keto or Whole30 compliant, use seaweed sheets instead.
Coconut aminos instead of soy sauce to keep the sauce soy free and paleo, whole30 and AIP friendly.
For the peanut of the peanut sauce, there are a few options. You can use a good quality peanut butter, use almond butter of sunflower seed butter. If you're AIP, use my Toasted Coconut Butter!
I like using fully cooked shrimp, you can steam them yourself or buy them cooked. Alternatively you can also use shredded chicken for the protein in your paleo spring rolls.
How to Make Legit Paleo Spring Rolls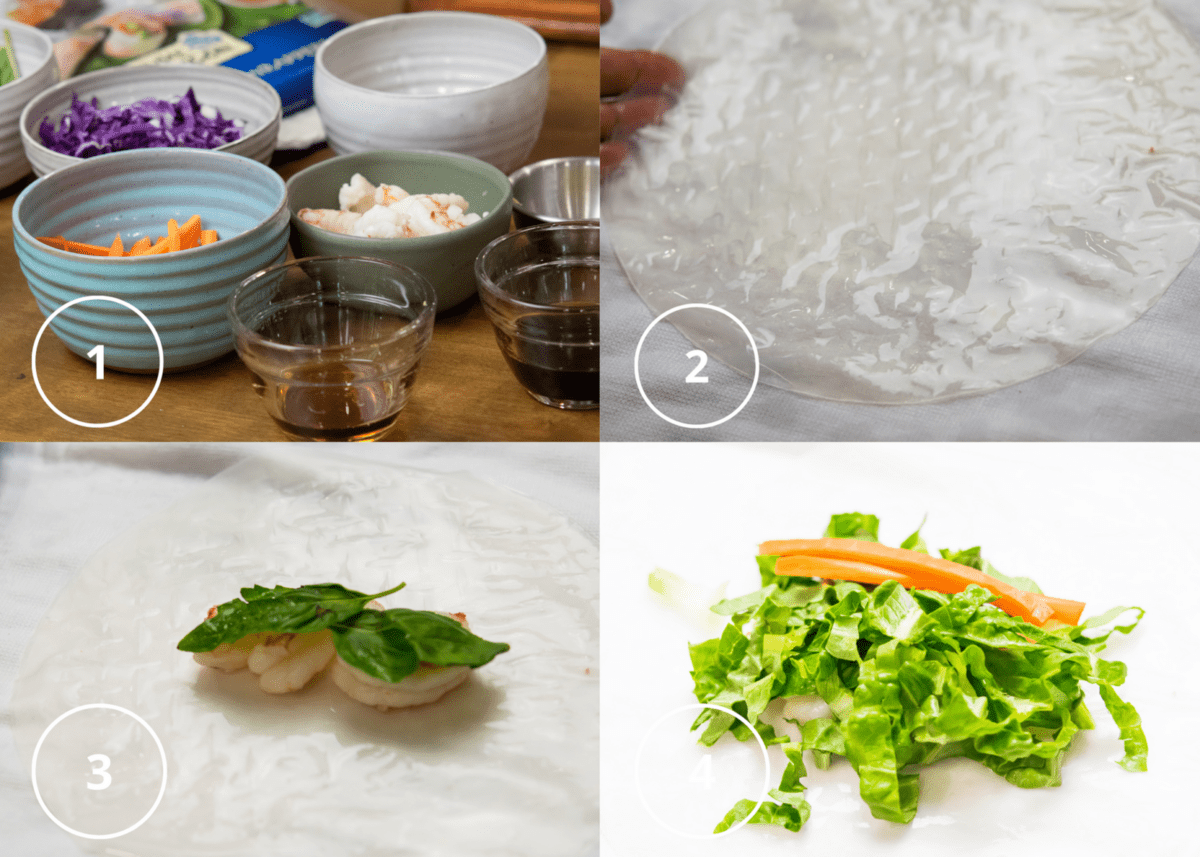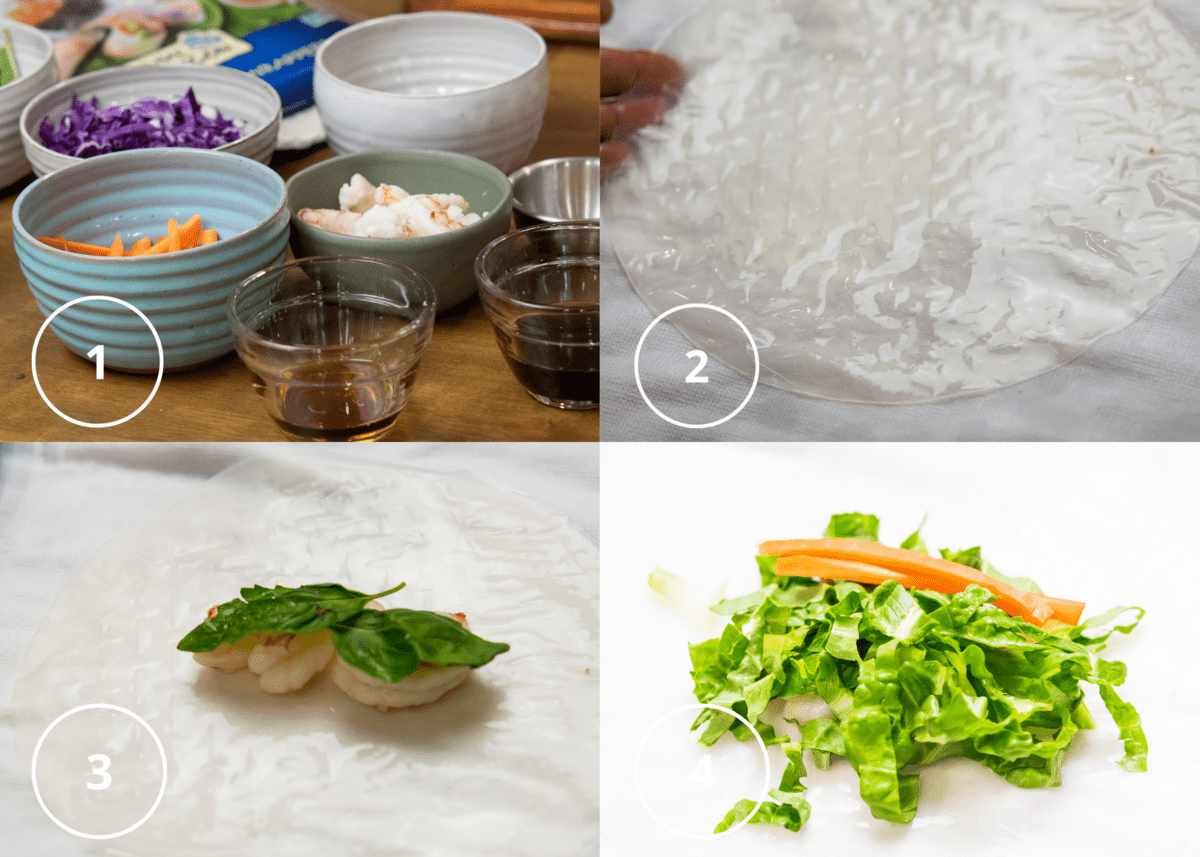 To start preparing your paleo spring rolls it's important that you have all of your ingredients read to go. Cut, measured, prepped etc. Set up your work space with water for the tapioca paper, and a tea towel to work on.
Wet the tapioca paper for 10 seconds in warm water, dap it on the tea towel then work fast.
Add 2-3 shrimp and some basil leaves.
Top woth shredded lettuce, and carrots.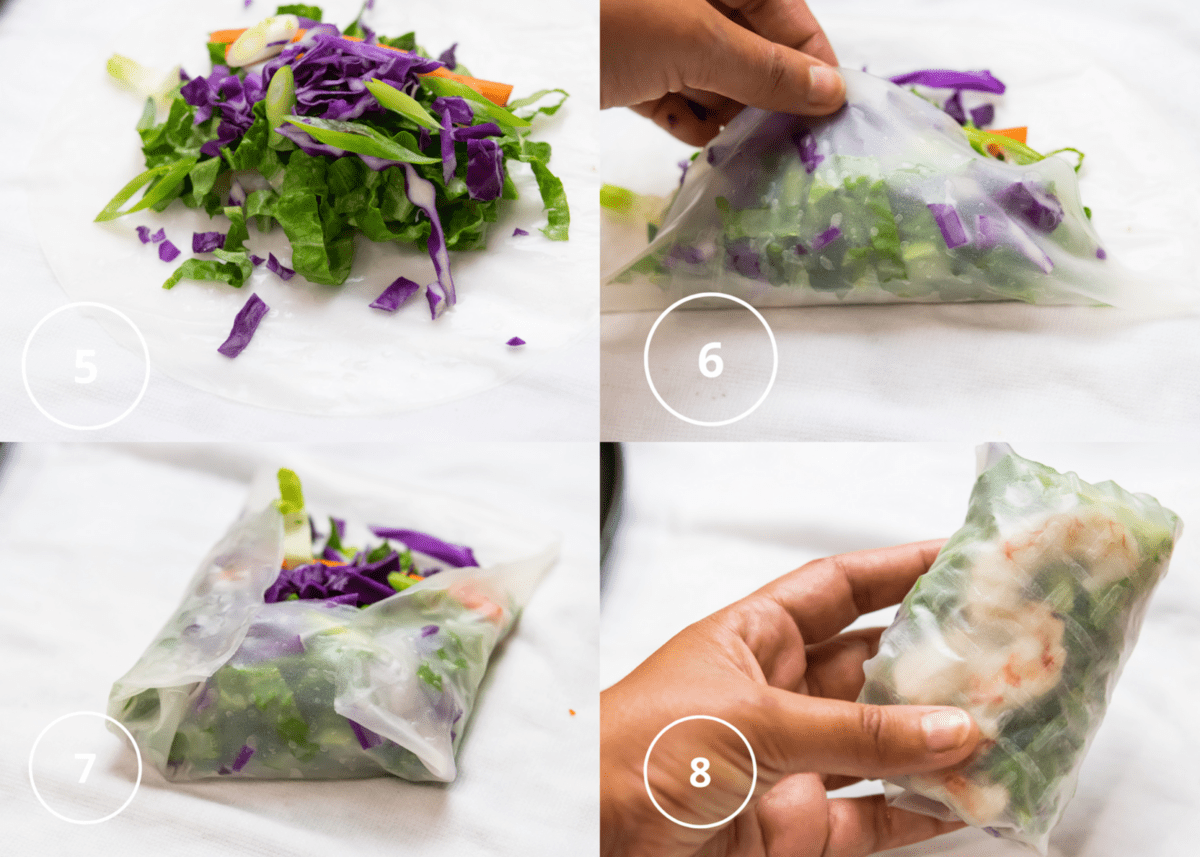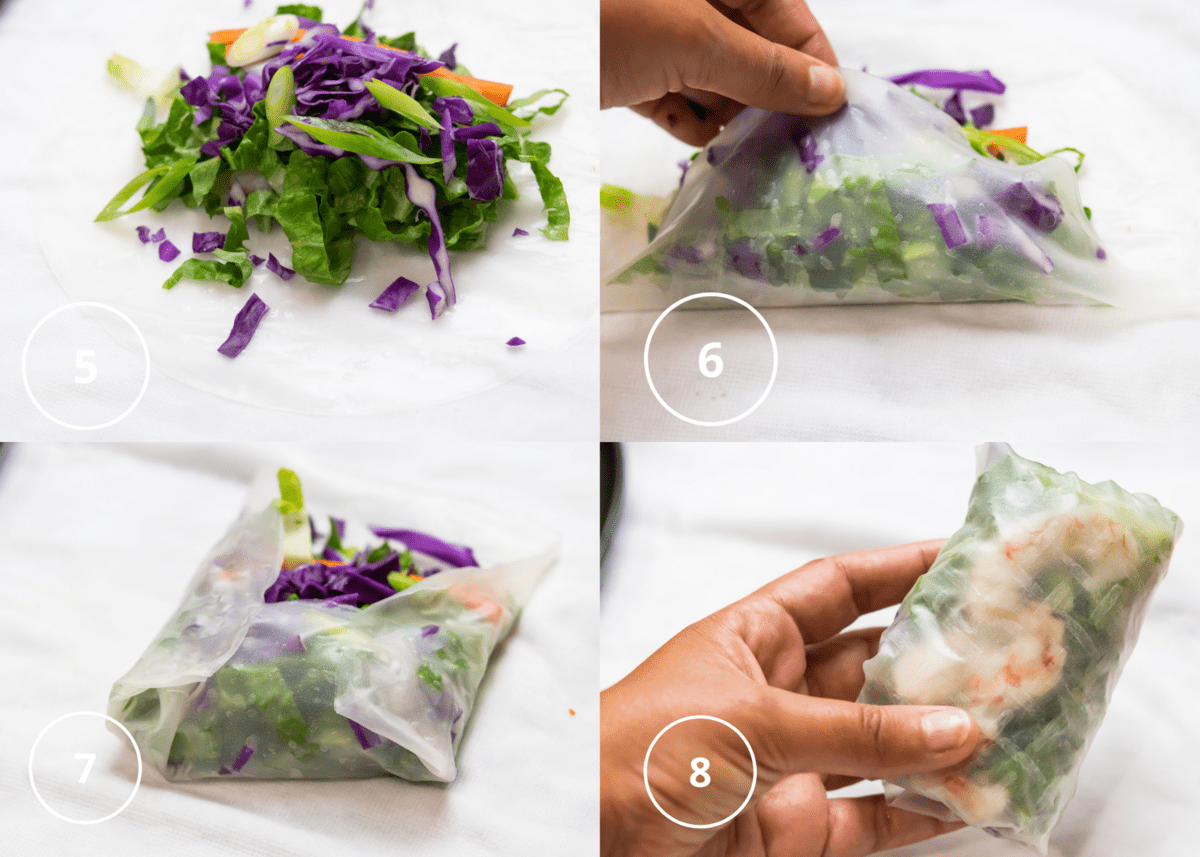 Finish adding in your roll filling, cabbage, green onion etc.
Fold up the bottom half of the wrap up and over the filling.
Next fold in the sides and then roll it upward to close it. The tapioca paper will stick to itself, so it will hold well.
Be sure to keep tention on it so that it's not loose. Repeat until you've made the desired amount of paleo spring rolls.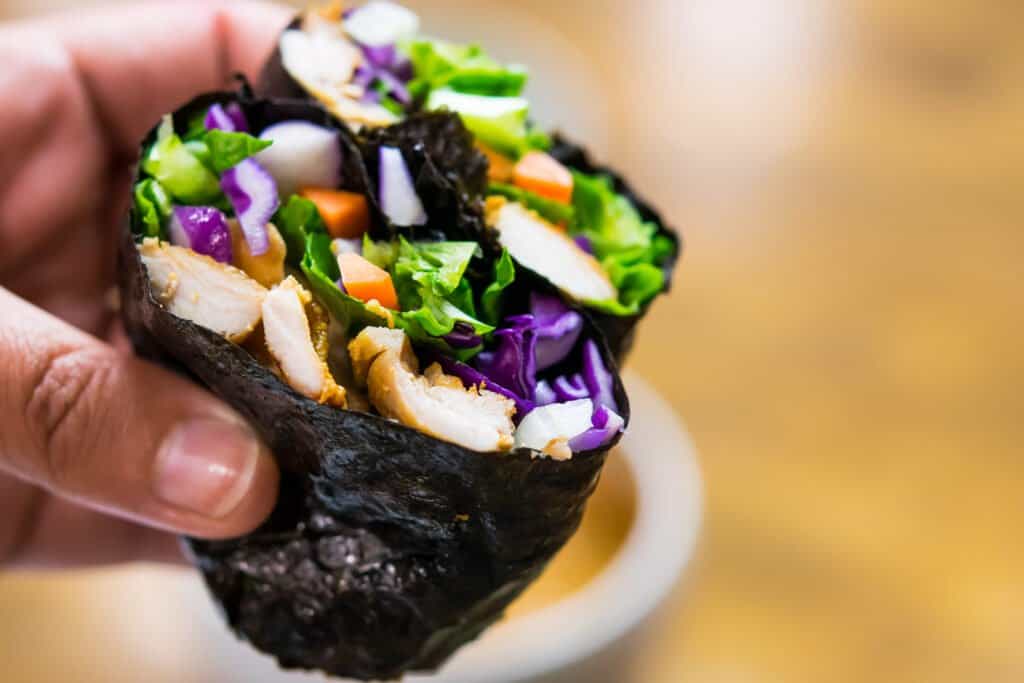 To make a keto spring roll use nori instead of tapioca paper. Put the shiny side of the nori down. Add filling to the center of the sheet. Use wet fingers to dampen the edges. Roll half way up, then fold in the sides, then roll up again and use the wet edges to seal the wrap closed.
Tips for the perfect Spring Rolls
Work ontop of a tea towel, this way your tapioca paper won't stick. It will also aborb any excess liquid as you work.
Don't overfull your rolls, but don't underfill it either. Always start with a practice wrap to guage how much you can add.
Once you wet the tapioca paper work fast! As it dries it will be more prone to ripping.
Even if the package says to wet it longer, I like 10-12 seconds tops. I find that the paper continue to soften as I work with it and if it's too floppy when I remove it from the water it sticks to itself.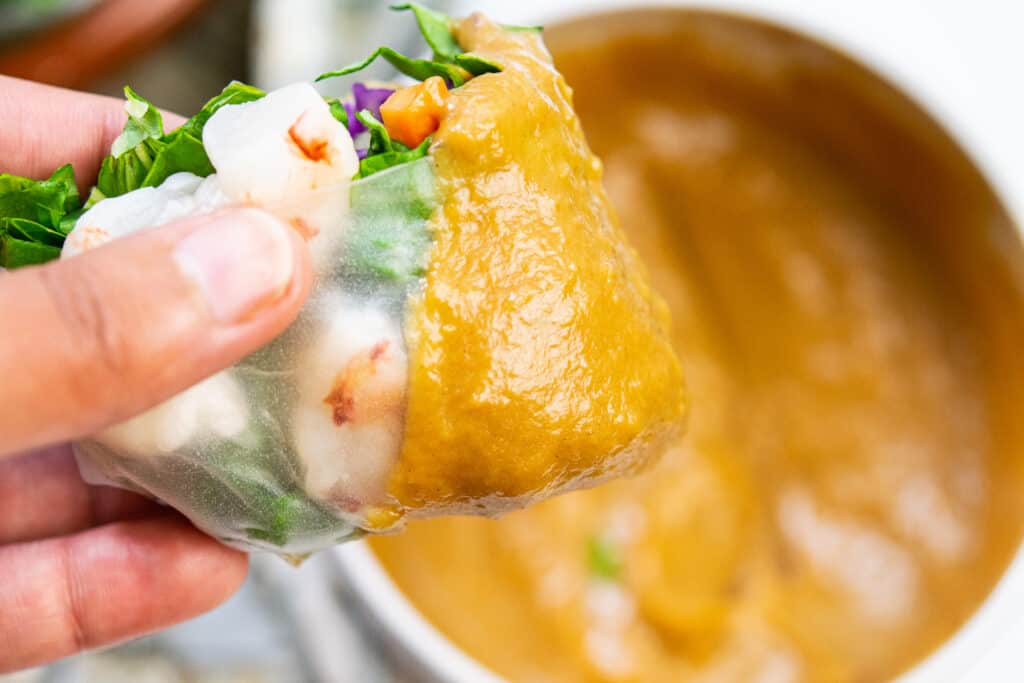 Frequently Asked Questions
Can I use rice paper?
Absolutely! Use whichever spring roll wrapper you wish!
Can I use collard greens?
Yes, I have a recipe that will teach you how to wrap with those. AIP Breakfast Wrap. It's a great alternative to the seaweed for a Whole30 or Keto Spring Roll!
Why is Peanut Butter not Paleo?
Peanuts aren't nuts, they're legumes and as such not paleo, but there's nothing wrong with peanut butter and it's delicious, so if it works for you, use it for the sauce!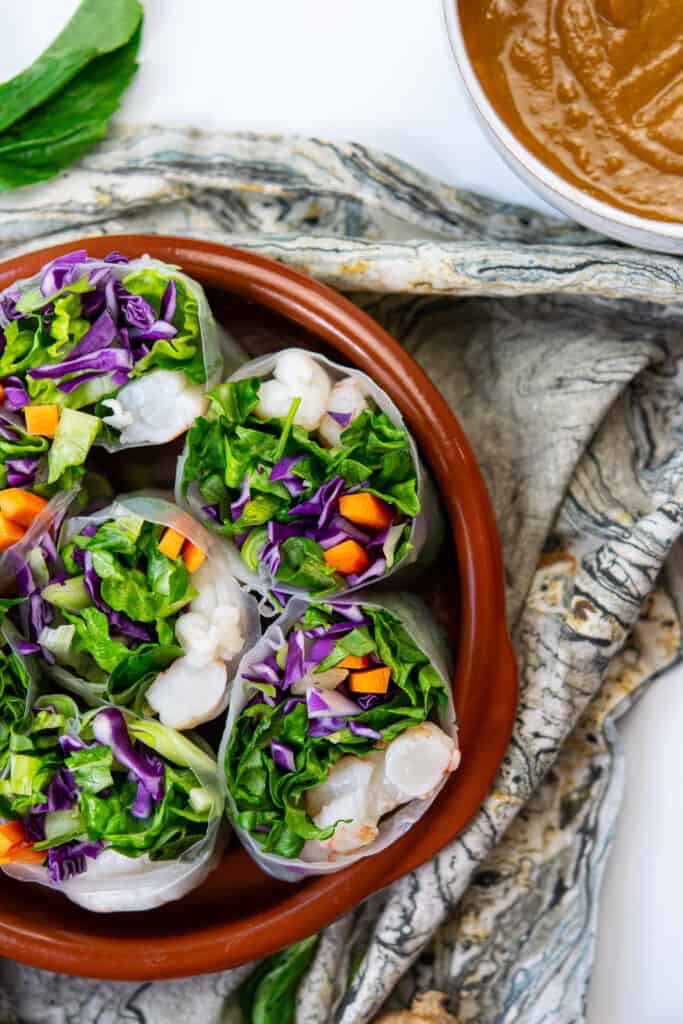 Love Spring Rolls? You May Also Like…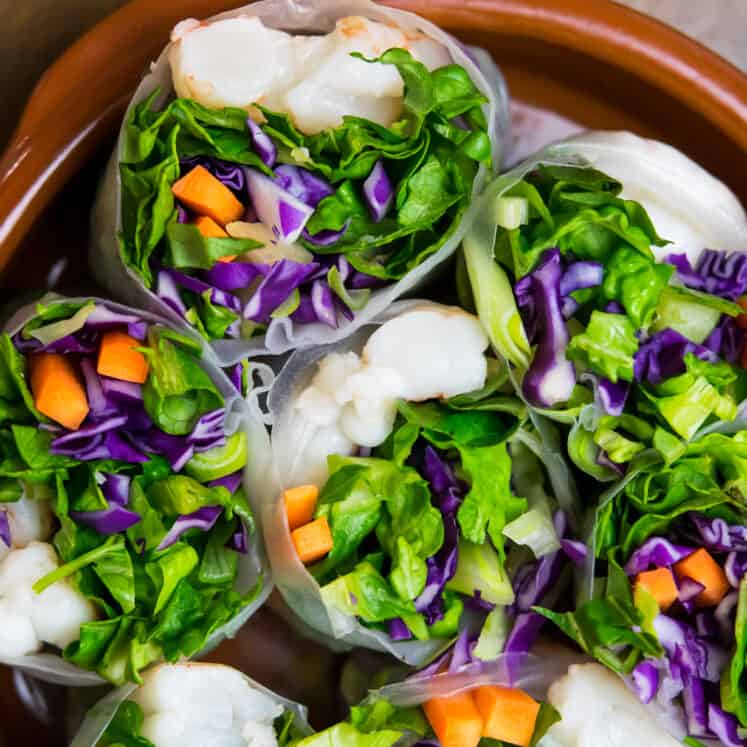 Paleo Spring Rolls with "Peanut Sauce" (AIP, Keto)
---
Author: Cristina Curp, FNTP
Prep Time: 15
Cook Time: 4
Total Time: 19 minutes
Yield: 5 spring rolls 1x
Category: Appetizer
Method: Roll
Cuisine: Asian
Diet: Gluten Free
Description
Refreshing and light, these paleo spring rolls are a great recipe that can fit any dietary need!
---
Scale
Ingredients
Spring Roll Filling 
15 large shrimp peeled and deveined
5 tapioca spring roll sheets
1 cup matchstick carrots
1 cup shredded lettuce
1 cup shredded red cabbage
1 cup basil leaves
1/4 cup thinly sliced green onion
"Peanut Sauce"
1/3 cup almond butter, sunflower seed butter (toasted coconut butter for AIP)
1/4 cup coconut milk, full fat
1/4 cup coconut aminos
2 tablespoons sesame oil
2 teaspoons grated ginger, or ginger paste
pinch of salt
---
Instructions
Make the "peanut sauce"
Mix all of the ingredients in a small bowl and whisk together until smooth. Taste add more salt, ginger or aminos to taste.
Cook the Shrimp
Bring a small pot of water to a boil.
Over the top place a colander with the shrimp. Cover with a lid.
Steam the shrimp for 5 minutes or until opaque and cooked through.
Place in the fridge to cool off quickly.
Assemble the spring rolls 
Wet a sheet of tapioca paper in warm water for 10 seconds. Place it on a tea towel and flip over once carefully without folding it.
In the center place 2-3 shrimp then 2 basil leaves, then some lettuce, carrots, cabbage and lastly green onion.
Pull the bottom half of the wrap over the filling then fold in the sides. Then keep rolling up/ forward. See the step my step images for a visual.
Repeat with remaining shrimp.
Serve chilled and with sauce to dip!
Recipe Notes:
For AIP use Toasted Coconut Butter in the sauce
For Keto use Seaweed Sheets to roll! 
Macros listed are with tapioca sheets
Nutrition
Serving Size: 1 roll
Calories: 211
Fat: 12g
Carbohydrates: 15g
Fiber: 3g
Protein: 14g
Keywords: paleo spring roll, keto spring roll, whole30, AIP spring roll