Low Carbing
If you've been reading my posts, you know that I've been low-carb paleo for a while now. Well, while I feel great! The scale hasn't reflected the changes I had hoped for. After talking with some other paleo bloggers that I love and respect, the consensus was that I needed to shock my body. That I needed a carb load day! So yesterday I ate #allthecarbs and it was glorious. Jicama, butternut squash, banana… it was glorious. Today, back to low carb business per usual. We'll see if these carbs up days work. If they do, I'm all for it! Until them, I'm all about these collard green wraps.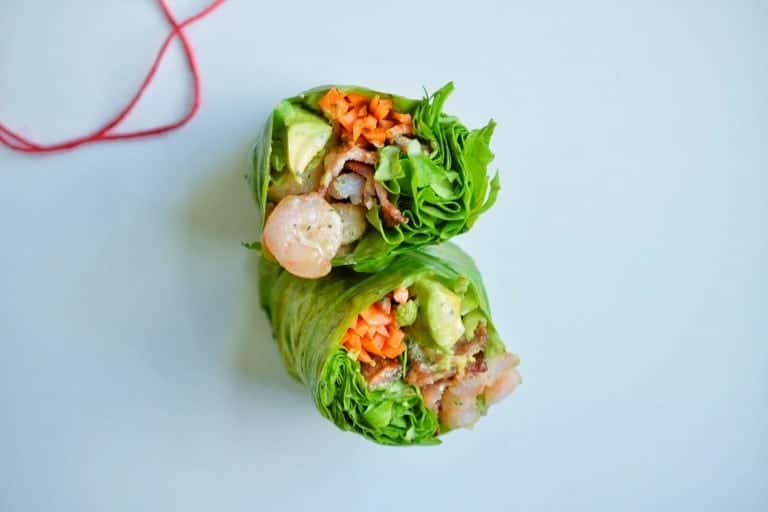 New Traditions
Anyway… I bought some giant collard greens to make wraps last week, and for some reason, I hadn't gotten around to it, the leaves were beginning to yellow so it was "do or die today. I had bacon, lots of bacon, haha my pals over at Pederson's Natural Farms sent me a little care package!  PS. Their bacon, the Whole30, sugar free one, is AIP COMPLIANT! Not to mention, freaking delish! I had avocado… oh and shrimp! I like making AIP recipes on Monday's so I have a new one to share to the AIP Roundtable on Wednesday. It's become a great little habit of mine.
About These Collard Green Wraps Wraps
I'm calling the breakfast wraps because I made them for breakfast, but you can obvs eat them whenever. Also, one skillet. Multi-step. But no hard at all. Seriously. So good. Also… easily made even simpler, but having all the components ready to go. If you want to meal prep these… cut your carrots and scallion in bulk. Blanch a few leaves, pat dry and store layered with paper towel. Cook your bacon and shrimp. Make your sauce. Store it all in the fridge like a ready to wrap station!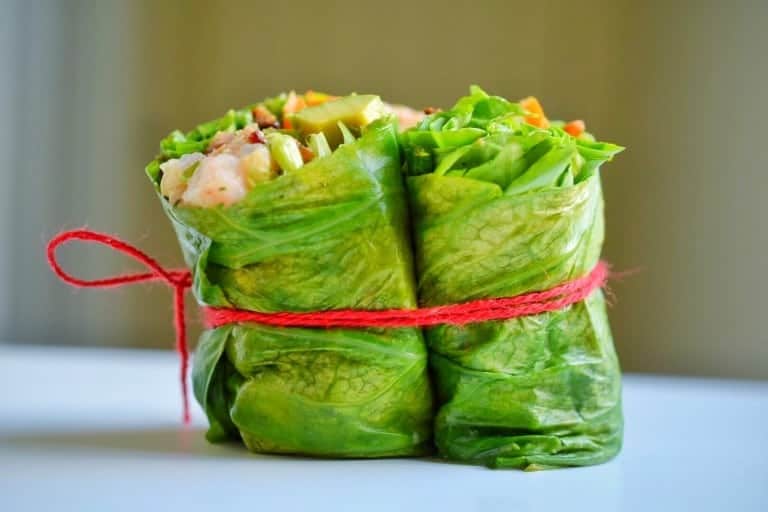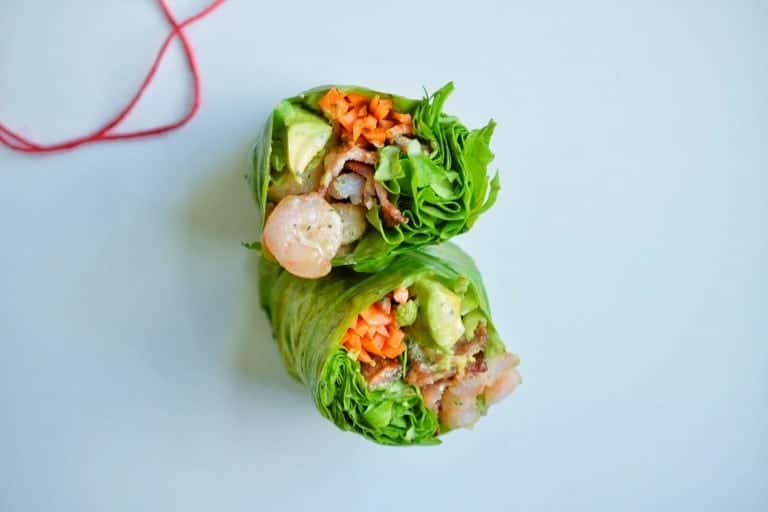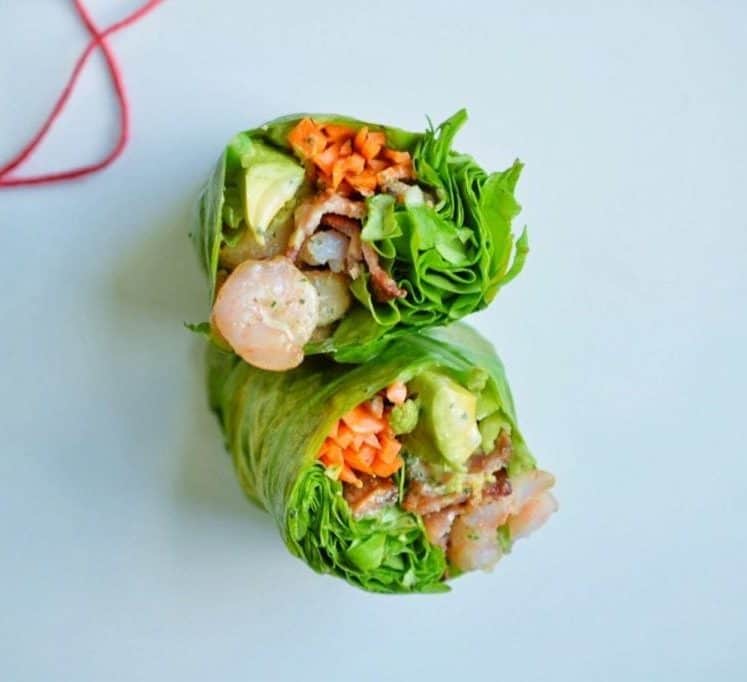 Shrimp & Bacon Wraps
---
Author: Cristina Curp
Prep Time: 5
Cook Time: 10
Total Time: 15 minutes
Yield: 2 wraps 1x
Category: Breakfast
Method: Skillet
Cuisine: American
Description
Keto, Whole30, AIP!
---
Scale
Ingredients
1 or 2 large collard green leaves
1 cup peeled, de-veined shrimp
3 slices bacon
1 half hass avocado
1 small carrot
1 stalk green onion
1/2 head of butter lettuce
1/4 tsp salt
For Sauce: Garlic Cilantro "Mayo"
2 garlic cloves
2 heaping tbsp coconut milk fat or cream (from chilled coconut milk cans)
2 tsp coconut aminos
1 tbsp dried cilantro (you can use fresh too, mince to add)
3 tbsp olive oil
pinch salt
---
Instructions
In a large skillet bring a few cups of water to boil, you want the skillet full 1 inch from the brim.
Fold collard green in half, with the back side of the leave outwards and in a diagonal angle, cut the stem off and trim the vain.
Place your leaf in the skillet with boiling water.
Fill a large bowl with ice water.
Flip your leaf. When it is bright green, 1 minutes or less, remove from skillet and place in ice water.
You can prepare two leaves in case one breaks! Or you are making more than one wrap.
Dump the water out of the skillet into your sink, carefully.
Place the skillet back on the heat, and add 3 bacon slices to it.
Cook a few minutes each side to desired crispiness.
While it cooks, remove leaves from ice water and place on clean kitchen towels or paper towel to dry.
Remove bacon from skillet, place on a plate, and drain a little of the fat out of the skillet.
Add shrimp to the skillet with salt.
Sautee on high, stirring often, until shrimp are coiled and pink.
Cooking time will vary depending on the size of your shrimp, but it should not take more than 5 minutes.
Set shrimp aside with bacon,
Cut carrots into matchsticks: slice in long diagonal slices, and then cut your diagonal slices into sticks vertically.
Slice green onion in long diagonal slices.
Open your avocado, peel half of it and cut that half into 4 quarters.
Cut a head of butter lettuce in half, and then cut that half into two quarters.
Make the sauce:
use an immersion blender or small food processor
Mix all the ingredients until smooth
Assemble wraps:
Lay blanched collard green on cutting board lengthwise (landscape).
Arrange bacon, carrots and green onion along the vein of the leaf leaving about 1 inch on each side.
Keep filling the wrap like this, shrimp, avocado, then the sauce (about 2 tbsp- you will have extra).
Like you're making a burrito!
Lastly add the greens, then holding then down with your thumbs and index fingers, use the rest of your hands to fold in the sides of the wrap.
While holding the sides of your wrap in with your pinky's, maneuver your thumbs and index fingers to begin to fold it over and create the wrap.
Fold and roll. Fold and roll.
Roll it forward while maintaining pressure on your fingers to hold it together.
One it's wrapped up it should hold together well.
If the sides open a bit, that's ok, just keep in mind when eating it so the insides don't fall out.
ENJOY!
Nutrition
Serving Size: 1 wrap
Calories: 481
Fat: 39g
Carbohydrates: 14g
Fiber: 8g
Protein: 34g
Keywords: Collard Green Shrimp and Bacon Wrap