You're doing to be obsessed with this simple Green Onion Sauce over fried plantains. It's a 4 ingredient sauce that will make any dish pop! This green onion mojo has a lovely bite to it and is paired perfectly with sweet fried plantains. A Cuban- Chinese-inspired vegetable side dish that will make your guests and family beg for more.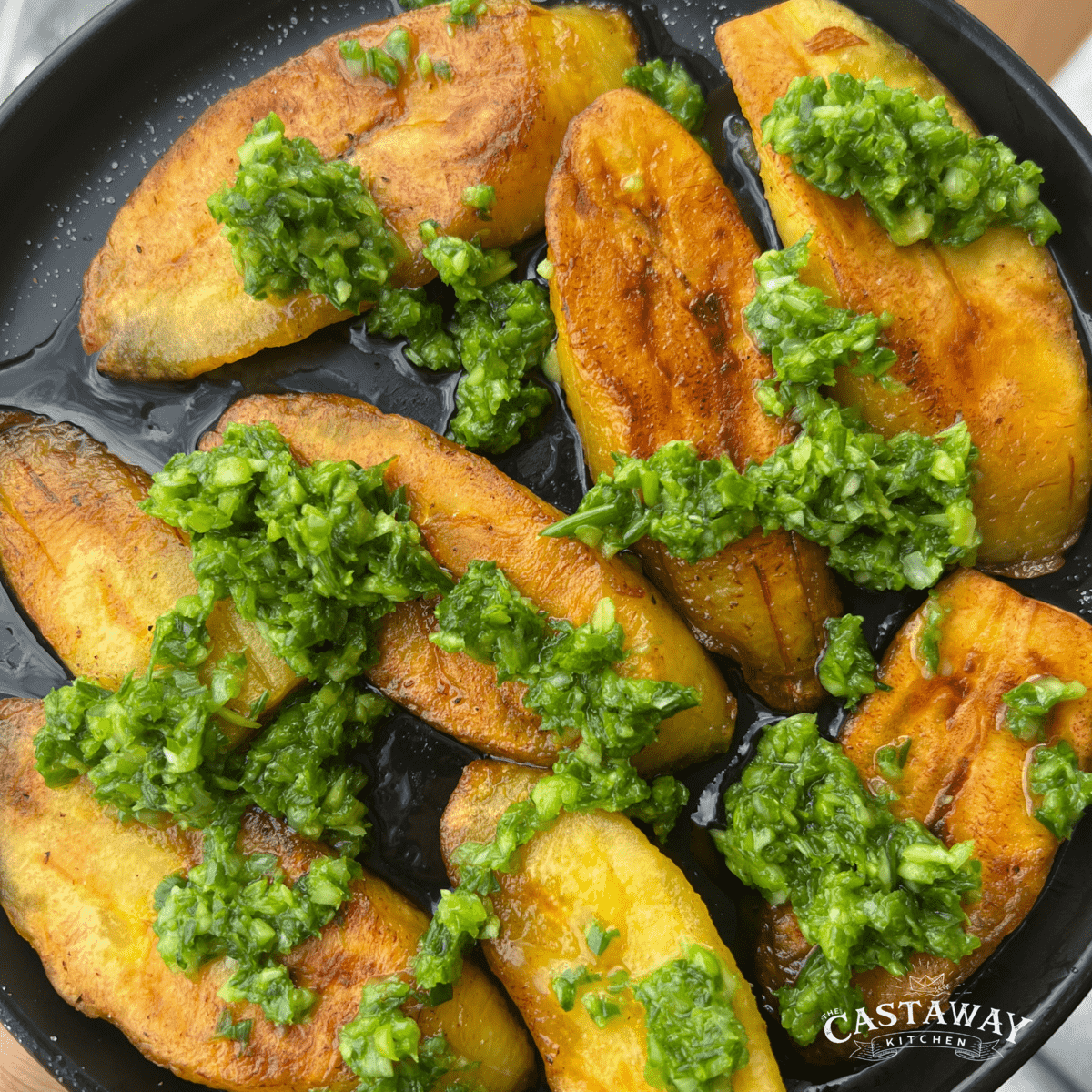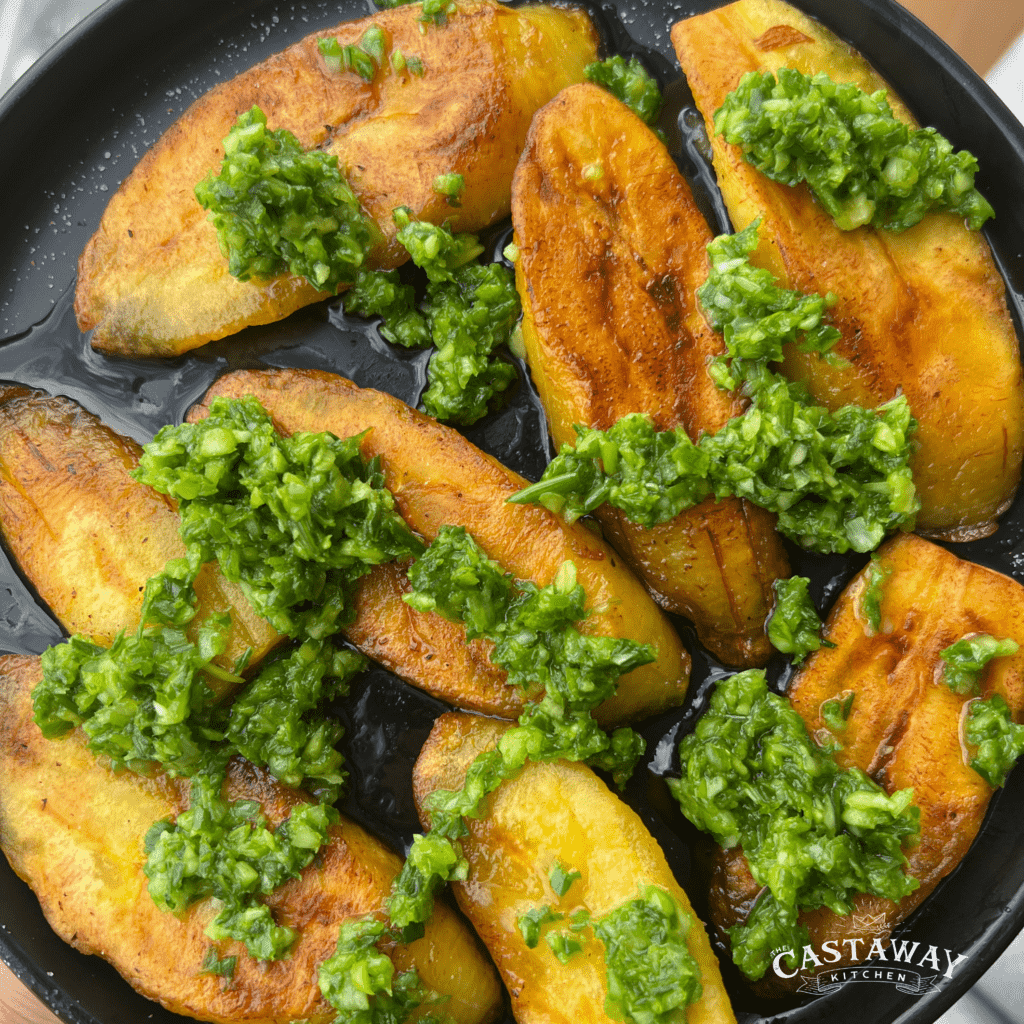 Table of Contents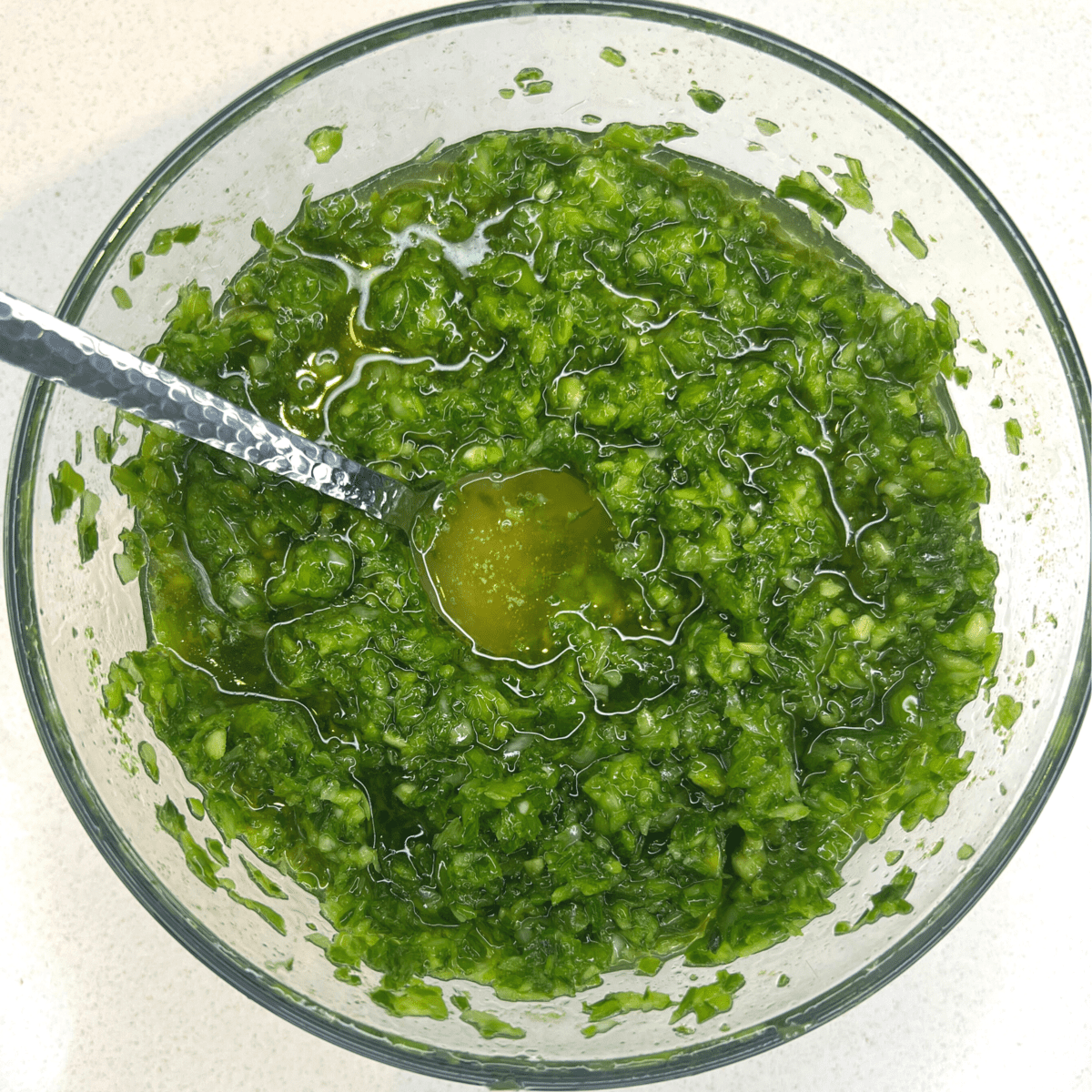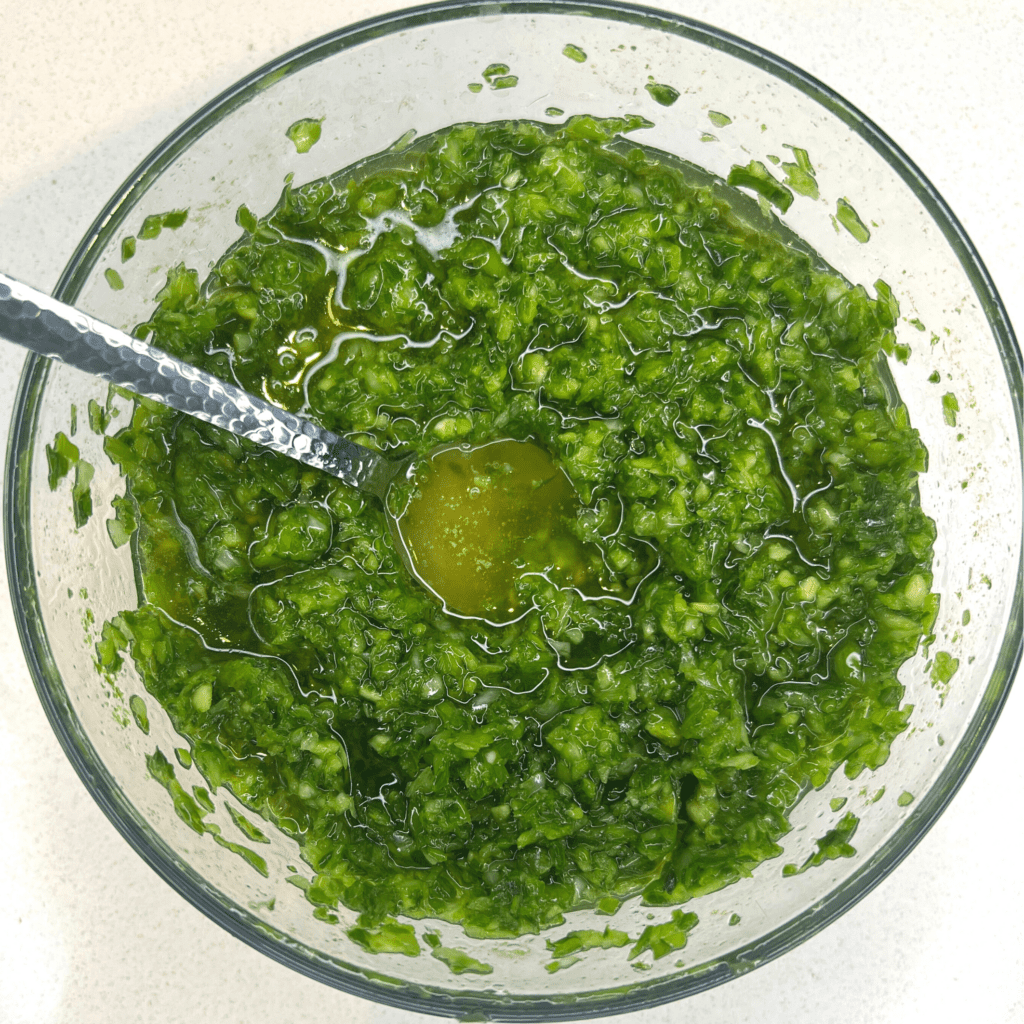 Your New Favorite Sauce + Side Dish Combo!
This Green Onion Mojo is a recipe from my second cookbook Made Whole Made Simple. It's a killer sauce that I first had at my friend Margart's house. She's an avid paleo cook, and after that lunch at her place, I regularly whipped up this sauce in my own kitchen. Now I want to share it with you all. It's minced green onion and garlic cooked with hot oil poured over it. A similar style to my Cuban Mojo. but easier. It's tangy and bright green and pairs well with everything, but especially sweet plantains! You get a two-for-one recipe here: Green Onion Mojo and perfectly fried sweet plantains. The flavors in this dish remind me of my Abuela!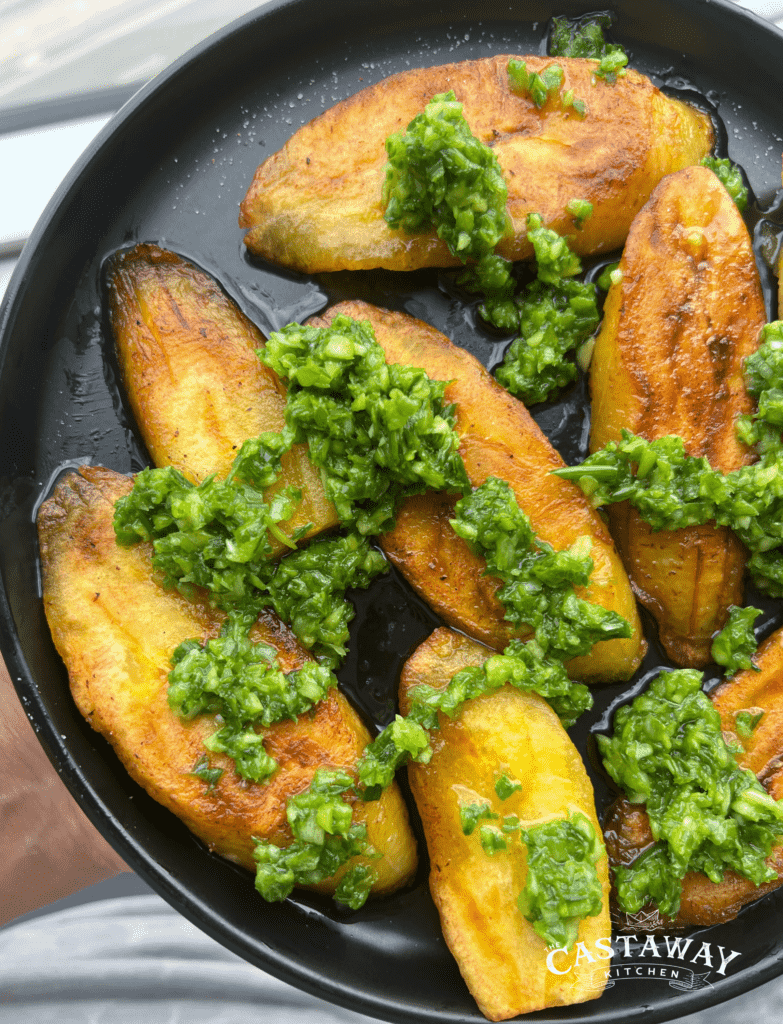 Green Onion Sauce Ingredients
This recipe is as simple as it gets. The Chinese-inspired green onion sauce is 4 ingredients, including salt and the plantains are just peeled and fried.
Green onion or scallion – you will need a lot
Garlic cloves – peeled.
Salt – any kind will do.
Avocado Oil – I prefer this for the sauce because it doesn't have a flavor and really lets the onion shine.
Ripe Plantain, you want one that is all yellow with some black on it. You can read more about picking the right plantain for the recipe in my plantain guide.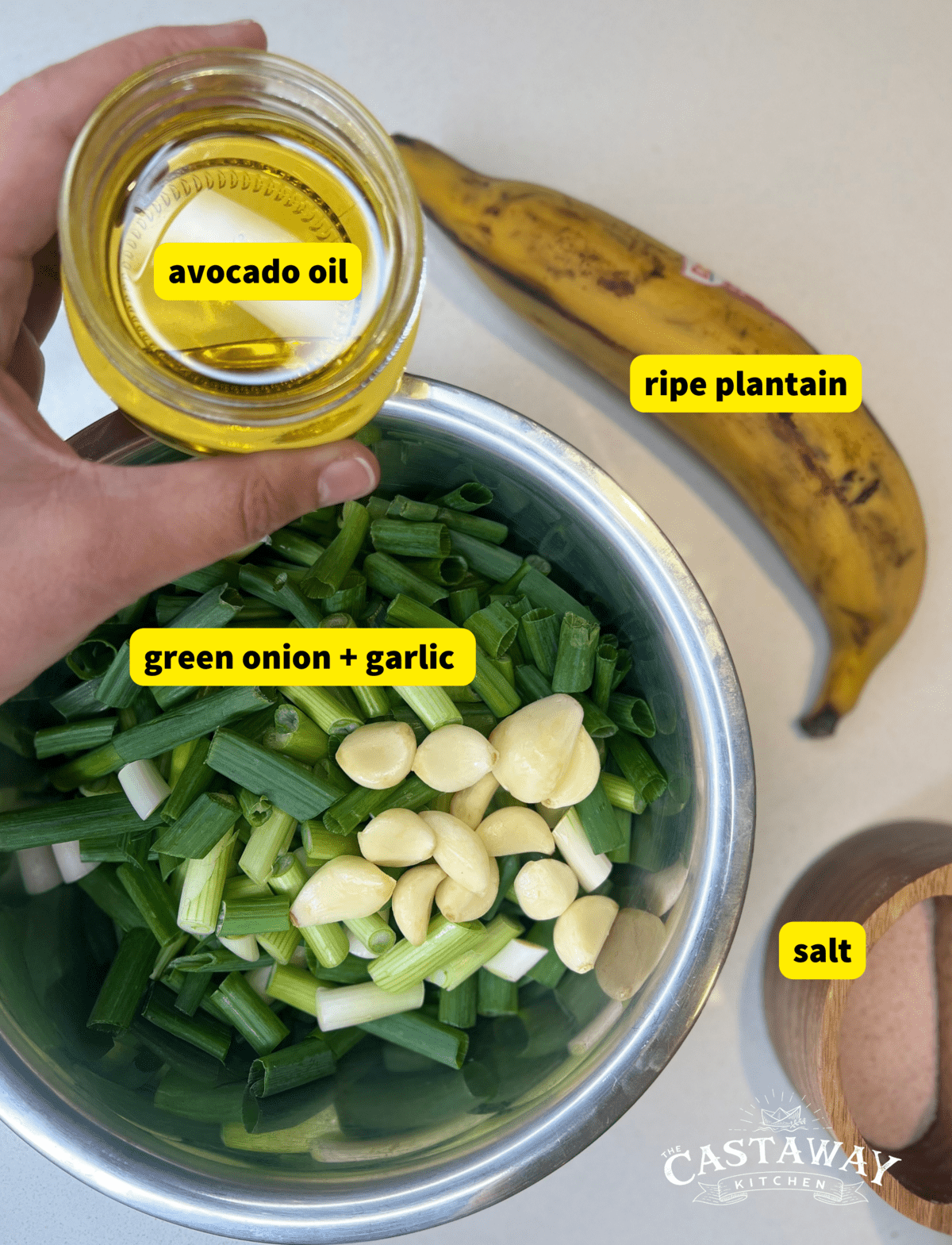 Step by Step Green Onion Sauce with Sweet Fried Plantains
Start by putting your chopped green onion and garlic in a food processor and pulsing until minced.
Then heat your 1 cup of avocado oil in a skillet until it reaches frying temp.
Transfer the green onion to a heat-safe bowl and pour the hot oil over it.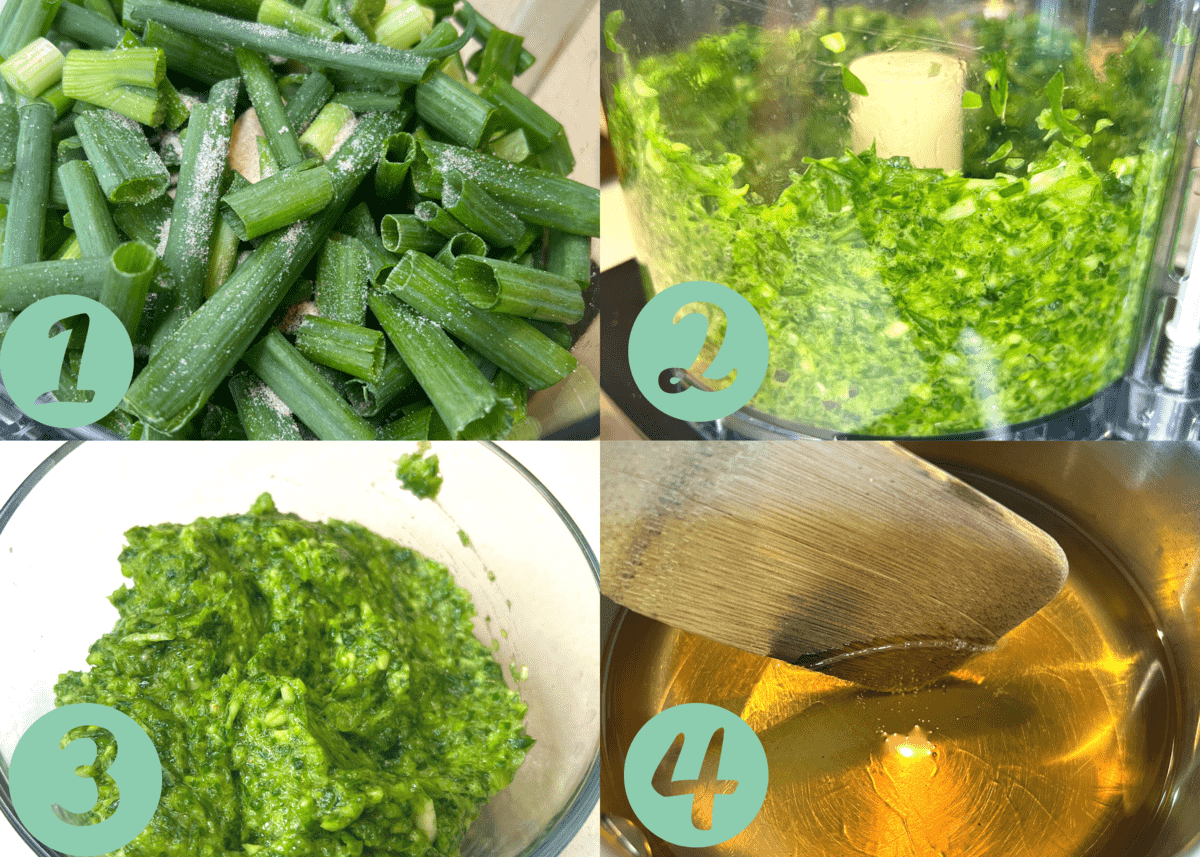 Let it sizzle and settle and then stir well or whisk, and let it sit uncovered for 30 minutes before eating.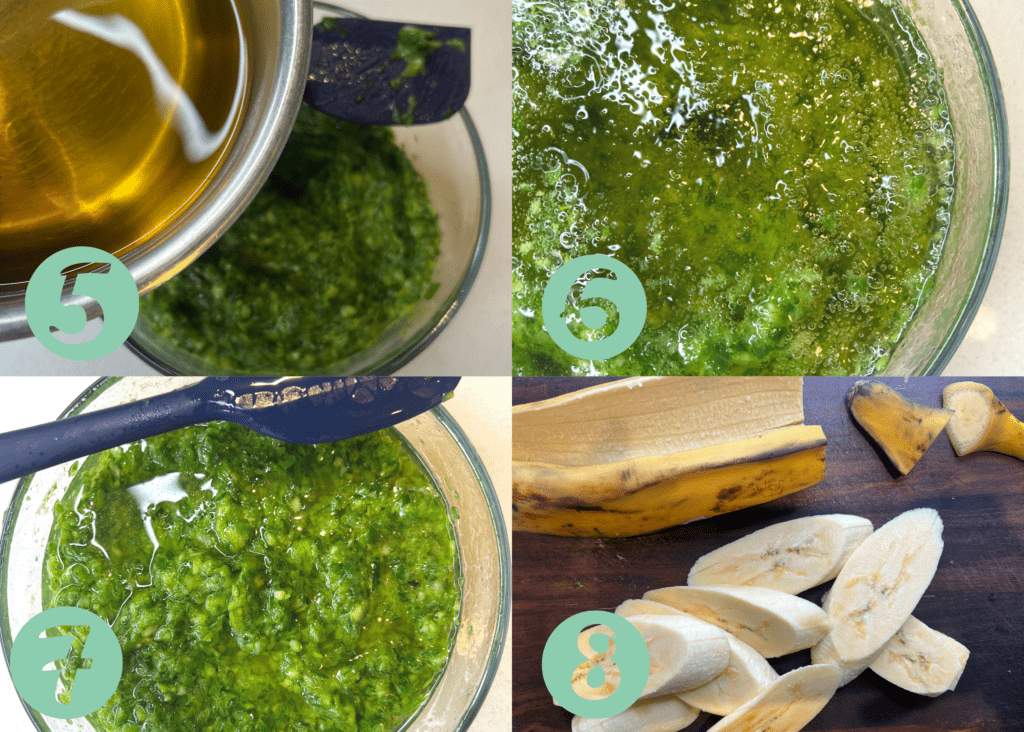 To fry your plantains, peel them by making a long slit down the side and unwrapping the plantain. Make diagonal cuts. Heat avocado oil in a large skillet.
Fry the plantain until golden and flip. About 4 minutes per side. Transfer to a paper towel-lined plate. Then serve, salt and spoon copious amounts of sauce on top.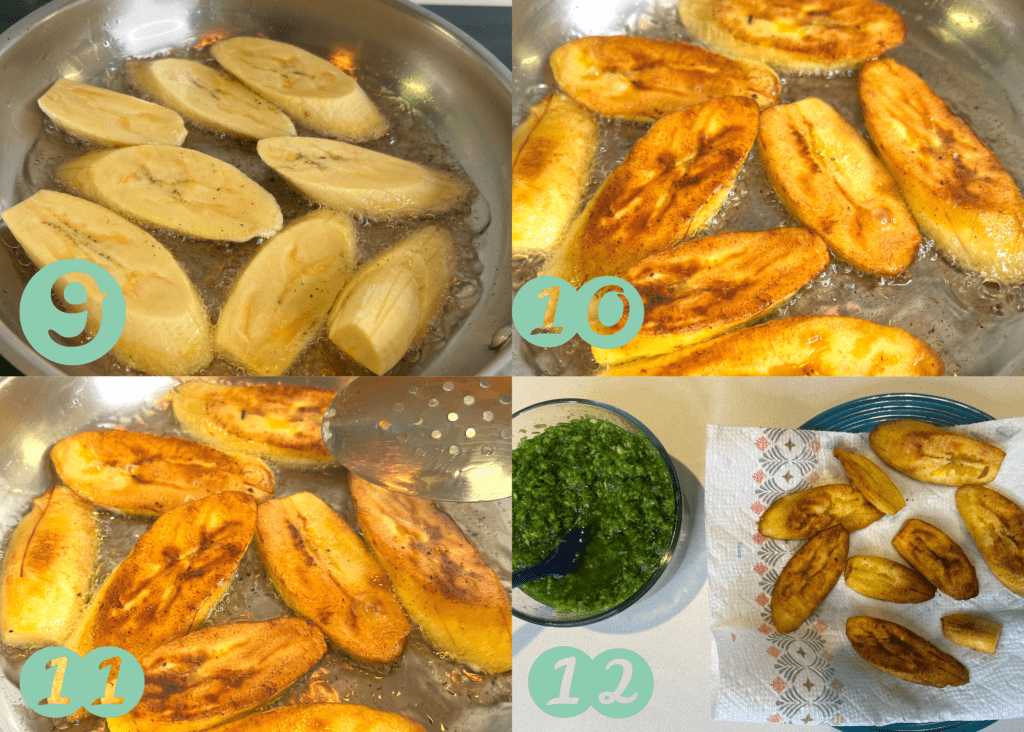 FAQ's
Can I use another oil?
Yes, light virgin olive oil will work for the sauce and you can use coconut oil, or tallow for frying the plantains. See my Guide to Healthy Fats.
Can I skip the garlic?
Yes, traditionally this Chinese Scallion sauce is made with ginger and green onion. Using garlic instead of ginger gives it a Cuban twist.
Can I use green bananas?
You can cook with cooking bananas, but the ripe plantain will have the sweetness to offset the sauce's bite. However, this sauce really goes with ANYTHING!
You Make Also Like….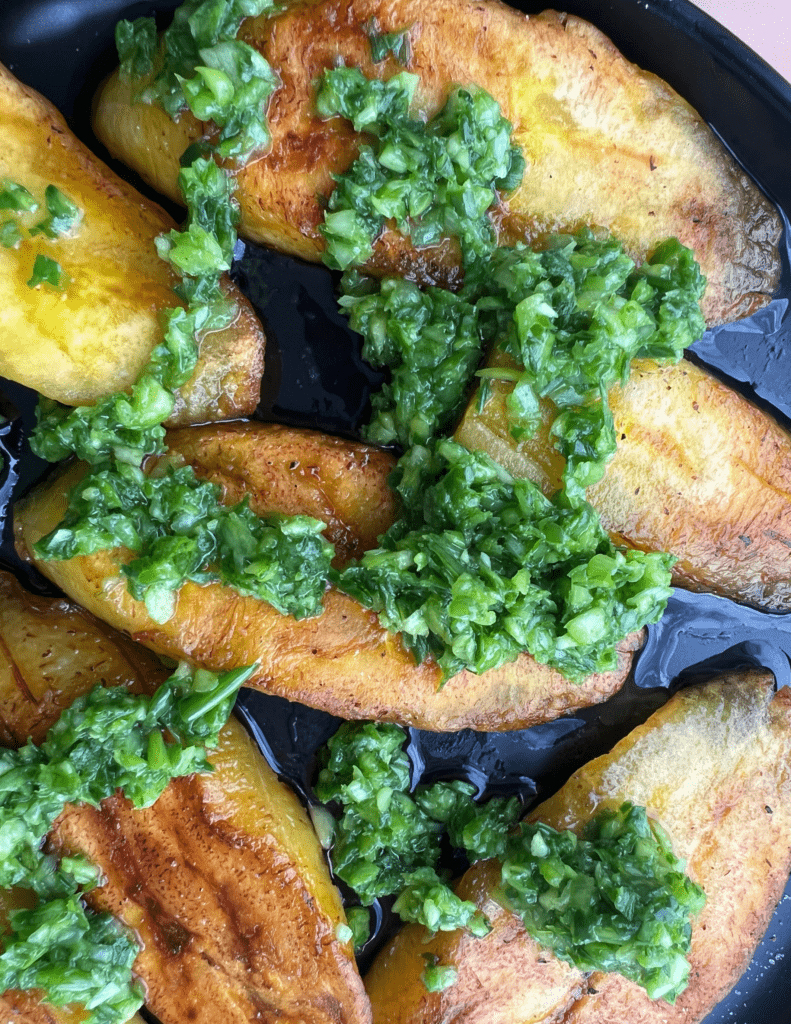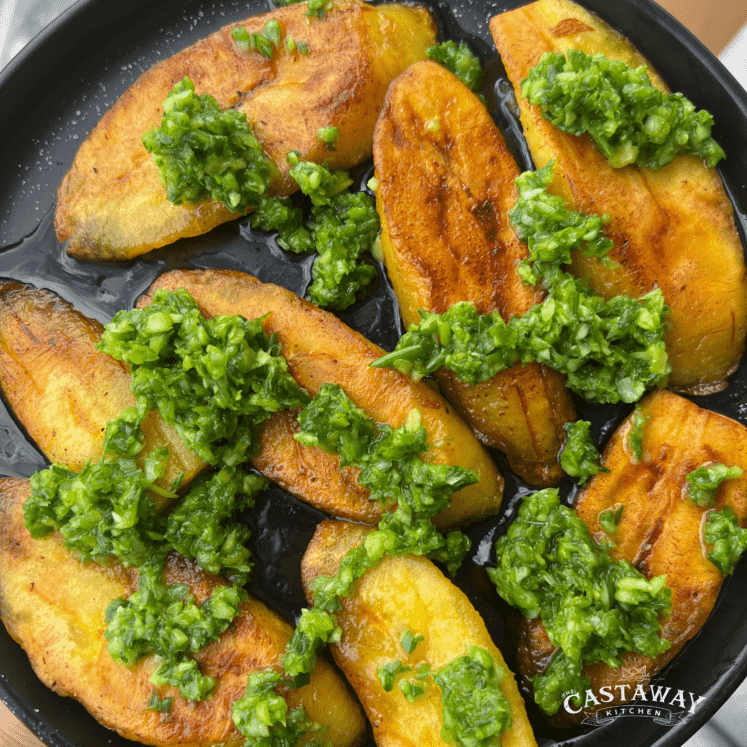 Green Onion Sauce with Fried Plantains (Whole30, AIP, Paleo)
---
Author: Cristina Curp, FNTP
Prep Time: 5 minutes
Cook Time: 10 minutes
Total Time: 15 minutes
Yield: 4 servings 1x
Category: Sauce
Method: Frying
Cuisine: Fusion
Diet: Gluten Free
Description
Tangy Green Onion Sauce over Sweet Fried Plantains!
---
Scale
Ingredients
For the Green Onion Sauce
6 bunches of green onion, trimmed and chopped
10 cloves of garlic, peeled
1 cup avocado oil
1 teaspoon salt, more to taste
For the Fried Plantains
1–2 ripe plantains, peeled and sliced
1/4 cup oil for frying
salt to taste
---
Instructions
Combine the garlic, green onion, and salt in the food processor and pulse until minced. Transfer to a heat-safe bowl, and make sure there's room for the oil.
In a small sauce pot, heat the avocado oil until it's frying temperature. You can check this by inserting a wooden spoon, when it sizzles, it's ready.
CAREFULLY pour the hot oil over the green onion mix. Let it sizzle, then whisk or stir for 30 seconds. Then let it sit uncovered for 30 minutes before eating. Taste, and add more salt if you wish.  To store, just cover in an air-tight lid and keep in a cool dry place for 4-5 days.
To make the plantains, heat 1/4 cup fat in a large skillet. Test it for frying temp. Peel and slice the plantains, into 1/4-inch slices. Add the slices, without crowding the skillet to the fat.
Fry for 3-4 minutes per side or until golden brown. Use a slotted spoon to transfer to a paper towel-lined plate. Sprinkle with salt, serve, and then pile on the sauce.
THERE WILL BE EXTRA SAUCE! Use as much as you like for the plantains and store the rest to put on all things for days.
Recipe Notes:
This sauce can be found in Made Whole Made Simple under Green Onion Relish. My second cookbook has over 140 simple paleo, Whole30, and AIP recipes.
The macros are JUST FOR THE SAUCE!
Nutrition
Serving Size: 2 tablespoons
Calories: 71
Fat: 7.9g
Carbohydrates: 0.3g
Fiber: 0.1g
Protein: 0.1g
Keywords: Green Onion Sauce with Fried Plantains