Pickled red onions are a staple in my kitchen as is obvious by my Instagram feed (@thecastawaykitchen), along with Garlic Confit. Both highly coveted recipes which appear in my first book Made Whole. However, these sugar-free pickled beets and carrots are not to be unappreciated! They are squeaky clean, paleo, Whole30, and yes! Even great for a low carb and keto diet.  They have been absolute lifesavers during my AIP KETO RESET!
Why Veggies Rule!
Beets are about 13g of carbs per cup, but about 1/3-1/2 of these babies are more than sufficient to add color to your plate, salad or to dip in pate (my favorite way to eat them). However, they deliver a healthy dose of potassium, folate, and vitamin C!
Carrots are about 10 grams of carbs for two medium carrots, these pickled carrots are cut into carrot stick so a serving of 4 sticks will be about 5 grams of carbs, and carrots have Vitamin A, beta-carotene, calcium, and potassium!
I don't know about you, but I rather eat my veggies (and offal) than take a whole bunch of supplements for the rest of my life. Nature truly provides everything we need to thrive and these colorful root veggies are a great way to get them in.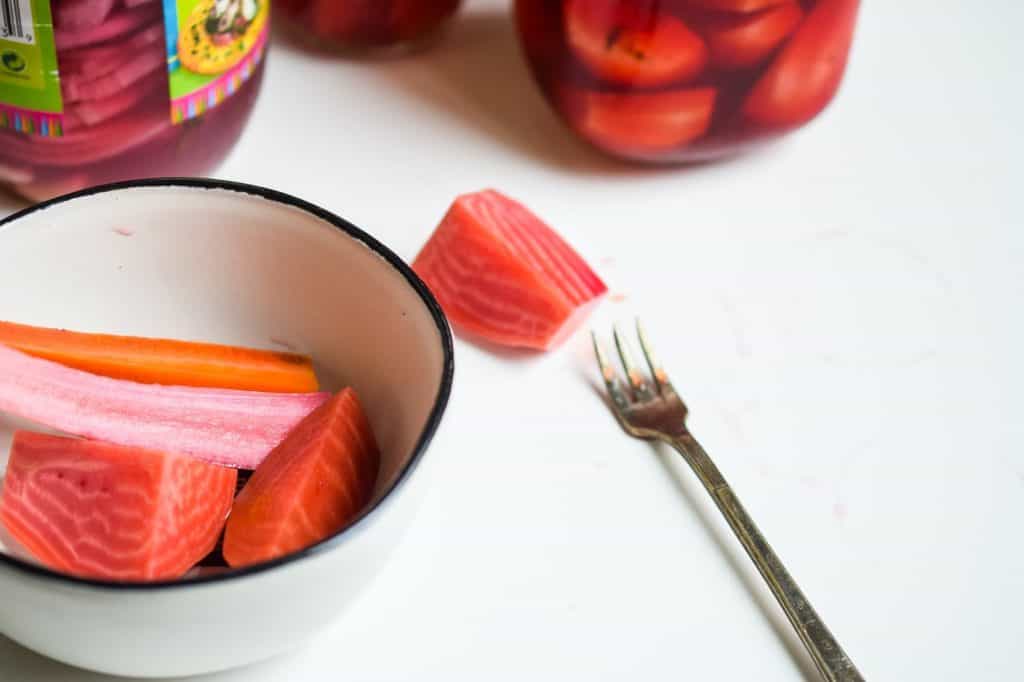 How To Enjoy Them
I love slicing up some beets over my salad or using the carrots or beets to scoop up pate or other fatty dips. They are a great burger or taco topper and add a huge pop of color to any plate! They are tender and tangy, and for some reason, the pickling process really brings out their natural sweetness!
I was lucky enough to get some beautiful farm fresh beets for this. I used golden beets and Chioggia beets (the stripped or peppermint beets). I find them to be less earthy! I also used rainbow carrots… for well.. fun and color!
I have a theory that if you eat by color, the more color the better, the more nutritious your meal will be!
Sugar Free Pickled Beets and Carrots
---
Author:
Prep Time: 10
Cook Time: 10
Total Time: 20 minutes
Yield: 2 1x
Description
A quick pickle recipe for your beets and carrots without sugar!
---
Scale
Ingredients
2–3 cups peeled and diced golden and striped beets
4–6 rainbow carrots, peeled and cut into sticks
2 cups filtered water
2 cups apple cider vinegar
1 teaspoon fine salt
4 cloves garlic
2 cloves
2 sprigs fresh dill or rosemary, optional
---
Instructions
Add the beets to a clean quart sized jar. Add the carrots to another. Add 2 cloves garlic, 1 clove and 1 sprig of herbs to each jar as well.
Heat the water and vinegar over medium heat in a 2 quart sauce pot. Add in the salt.
Bring to a light simmer and stir until salt is dissolved, about 8 minutes.
Pour the brine into the jars until the veggies are submerged.
Let them sit out for 30 minutes. Then cover with a tight fitting lid and store in the fridge.
Always use a clean fork to retrieve veggies, and these will last several weeks.