Soft and chewy, these keto chocolate chip cookies have only 2g net carbs per cookie! These are a favorite on my blog, and in my house. Bonus they're sugar-free, paleo-friendly, and have a nut-free and egg-free option! It took a few tries, but I tell ya, they're the best, and we're hooked. People are always messaging me to thank me for this recipe. After many attempts, they finally found the perfect keto chocolate chip cookie.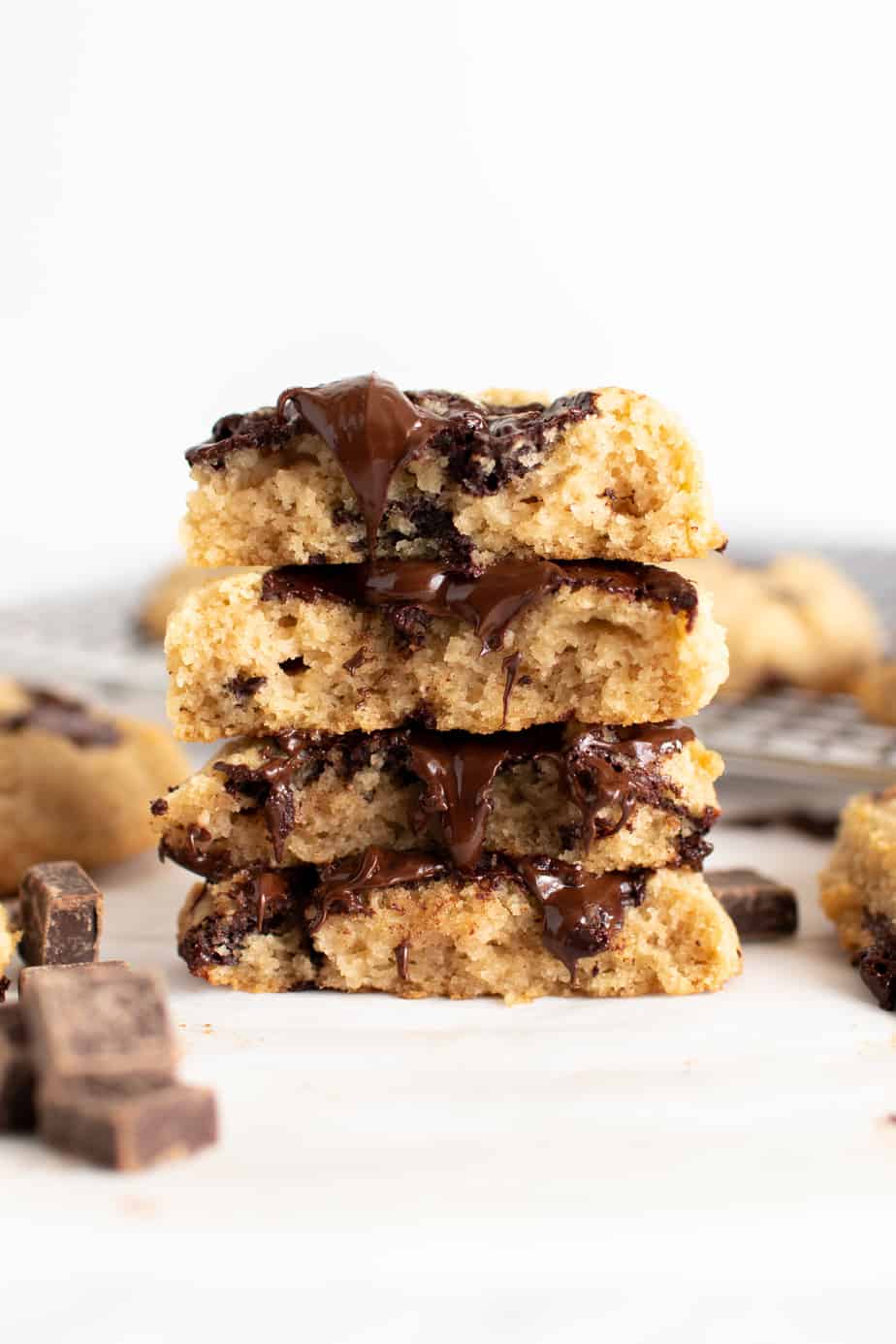 Head to the bottom of the post for the full recipe or keep on reading to learn all the tips and tricks for the best chewy keto cookies, ever.
Table of Contents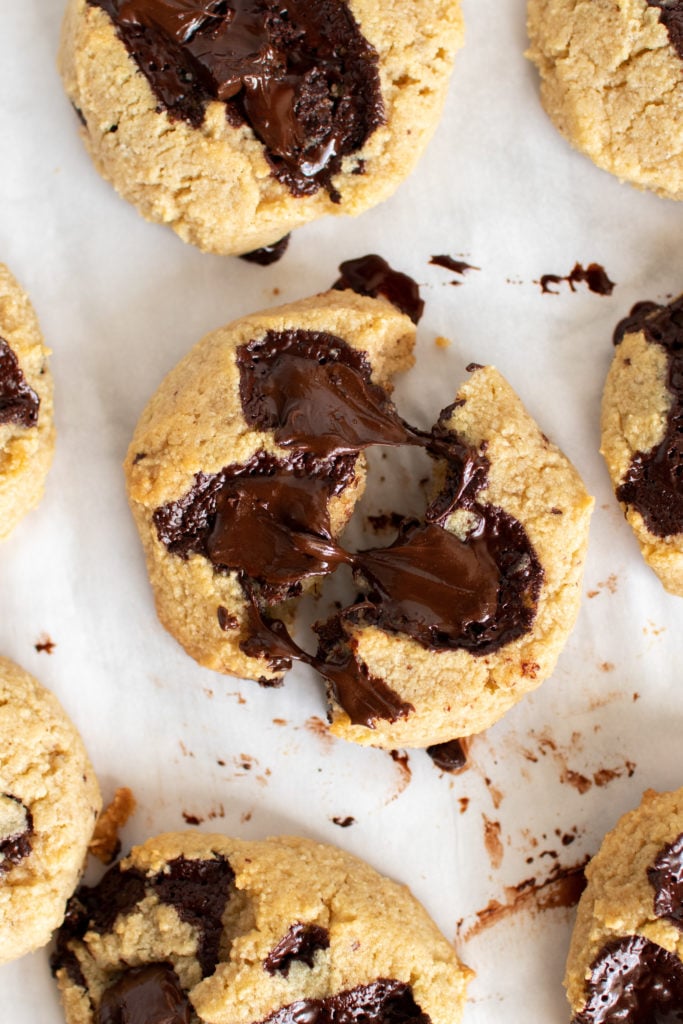 I got close with my Giant Low Carb Cookies… Have you seen that recipe? The look, the flavor is spot on but the texture is actually best the next day. I'm realistic, I'm honest. I know the perfect cookie is hard to come by. So when I tell you that THIS IS IT. I am not fucking around. These gluten-free, sugar-free, low-carb chocolate chip cookies are a favorite for anyone who makes them.
The secret is that you need to have the perfect ratio of fat to flour, too much fat and they will turn out too flat. Then you need a good amount of sweetener, melted/ caramelized sweetener in baked goods contributes a lot of holds and chew. Lastly, the. most important ingredient and what sets THESE CHEWY COOKIES apart is grass-fed gelatin.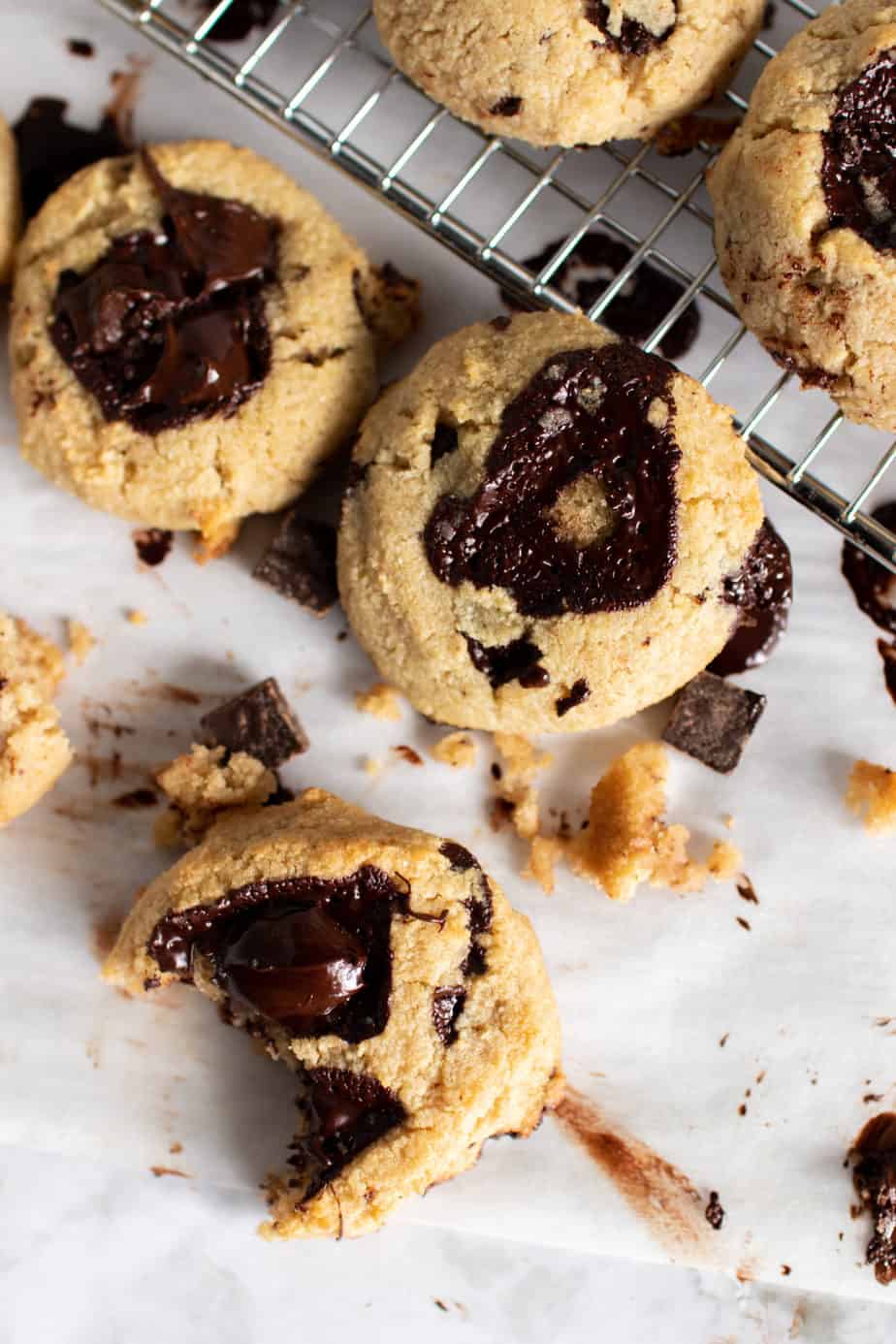 Magic Ingreidients
These chewy chocolate chip keto cookies are one of the most popular recipes on the blog, second to the Avocado Brownies. They use almond flour, ghee, one egg, and the secret ingredient: gelatin. The result is a soft but dense cookie with a nice chew. The pools of melty chocolate are a bonus! Everyone, even non-paleo boyfriends and spouses… mine included… LOVE these. The magic is in the ingredients!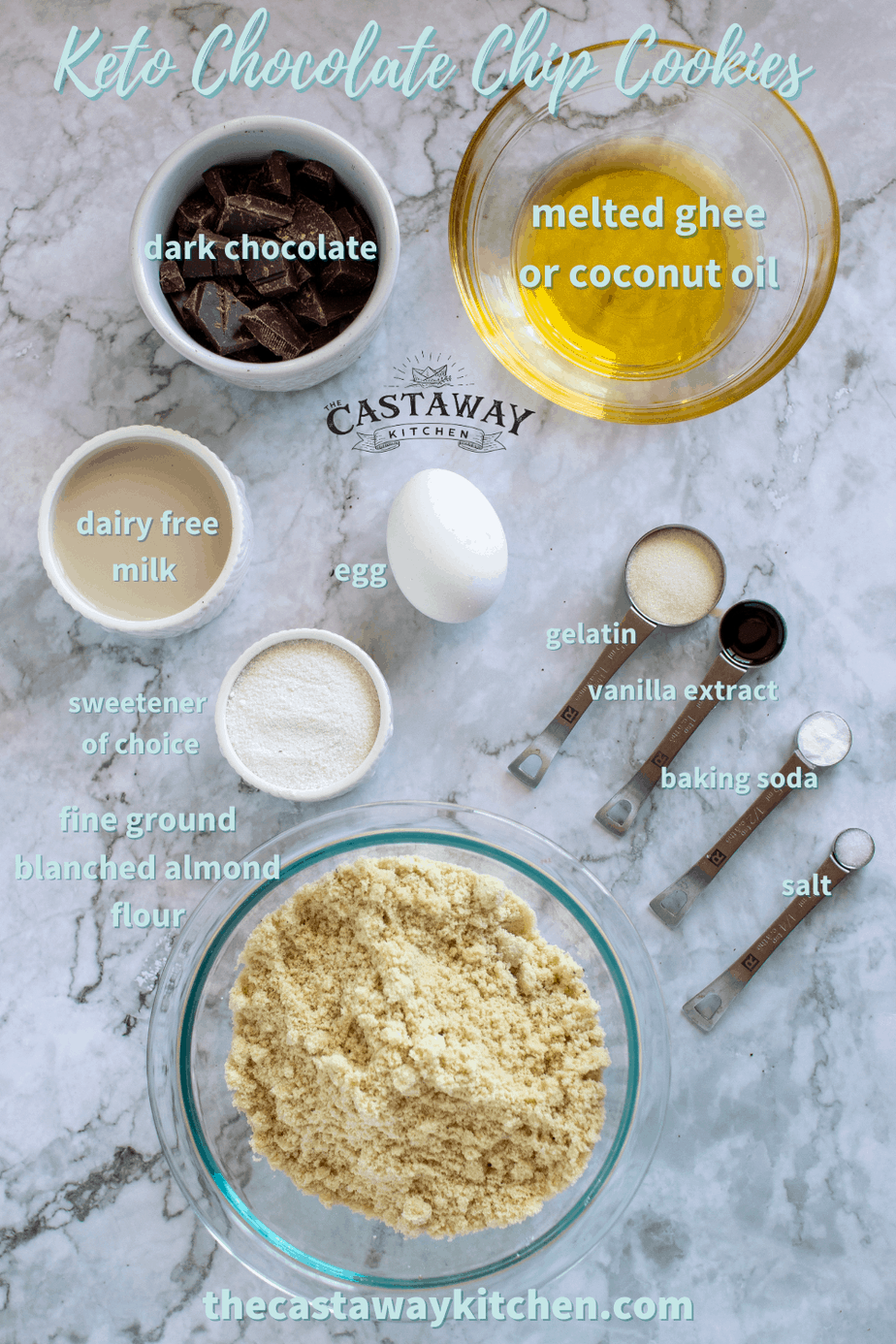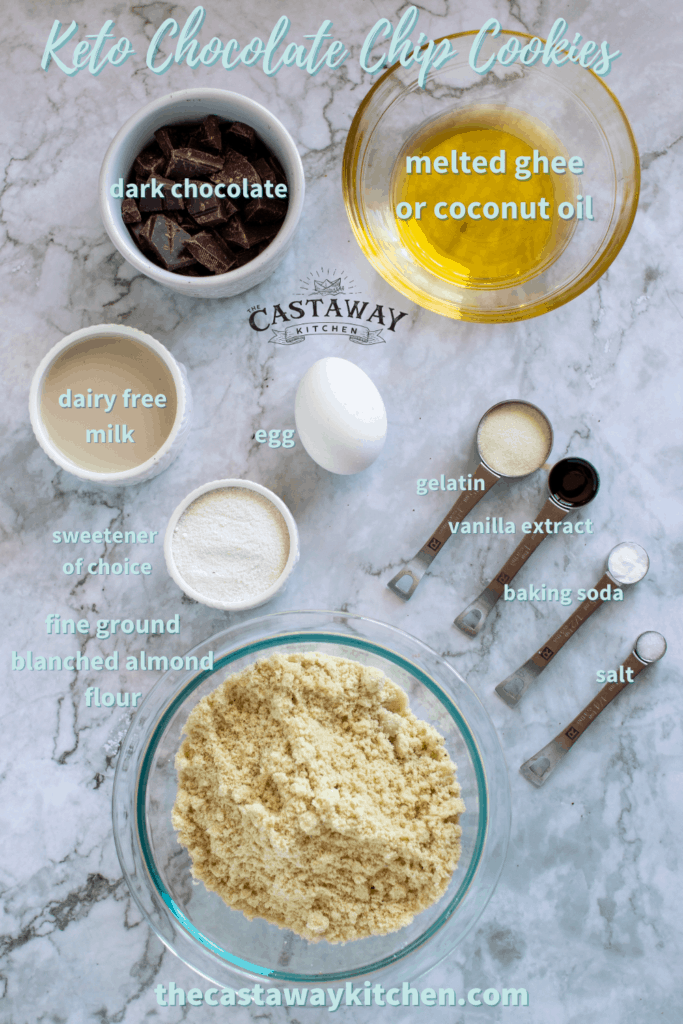 You want to use almond flour or almond meal that is made from blanched almonds, meaning they don't have their skin. It will look beige, not speckled with brown. These days most almond meal is fine ground, some bags so say it, a fine ground flour will make smoother cookies.
You can use ghee or coconut oil, butter or lard, any saturated fat will do.
The sweetener is your choice too! I use a keto sweetener, like Lakanto Golden, but coconut sugar works well.
I really like chopped-up dark chocolate for cookies, it creates those big melty pools. Choosing chocolate that doesn't have added lecithin in it will also result. Chips will usually not melt in cookies.
The gelatin in here, as well as the denseness of them, is what makes them chewy. They're not a crispy or bendy cookie. They're like Soft Batch cookies! I use pastured beef gelatin but Knox will work too, as long as it's powered.
Allergen Free Variations
Need the egg-free recipe?
Mix one tablespoon of flaxseed meal with one tablespoon of water.
Let it sit to get thick and gelatinous for about 5 minutes.
Use that as your egg. Follow the recipe as written.
The adorable Sadie from Goodies Against The Grain made them like this and they turned out beautifully! I've since made them with a flax egg and it works well.
Need a nut-free recipe?
I've developed a nut-free keto cookie, a version of these cookies that is just as good as this one, the recipe is in my best-selling cookbook, Made Whole.
What you do is use 2 eggs and use 1/3 cup + 2 tablespoons coconut flour. That's it. The rest of the recipe stays the same!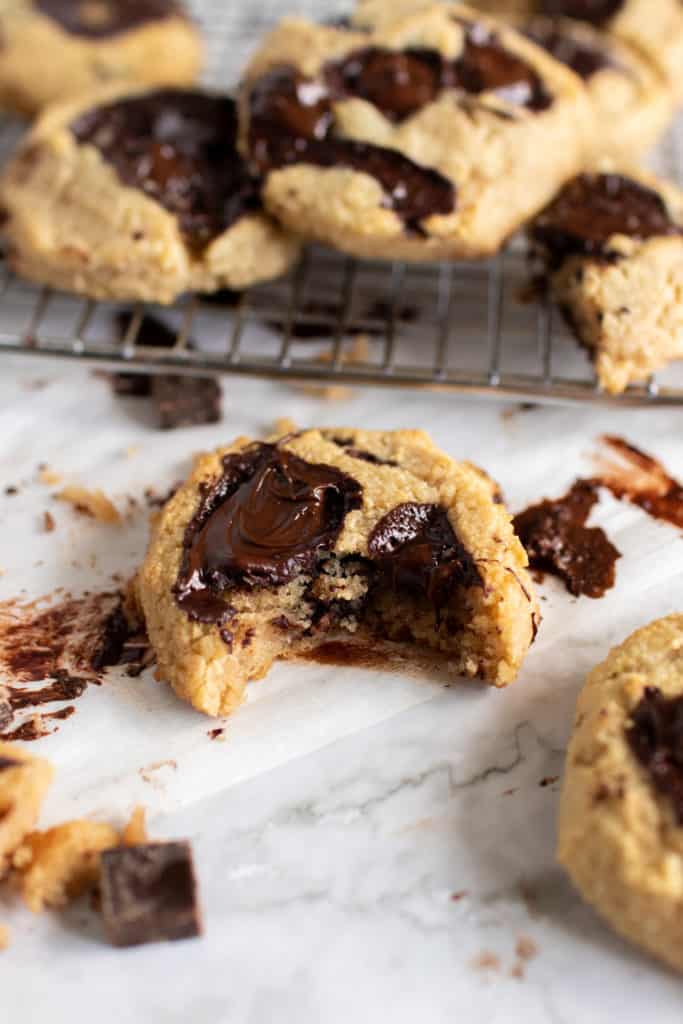 Step by Step Keto Cookies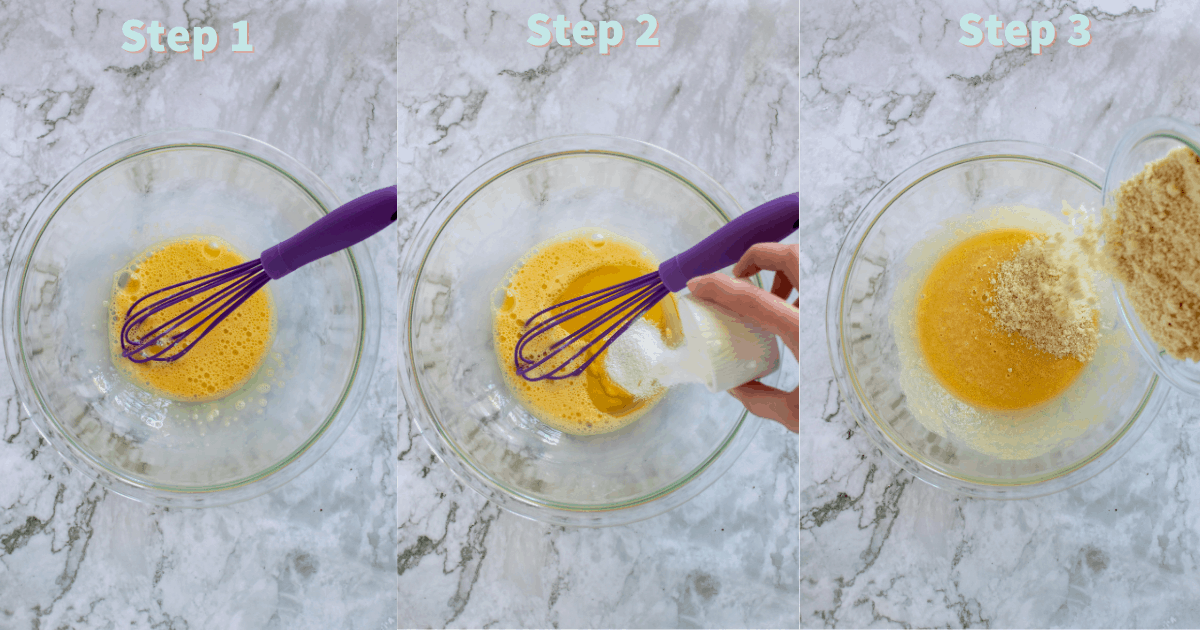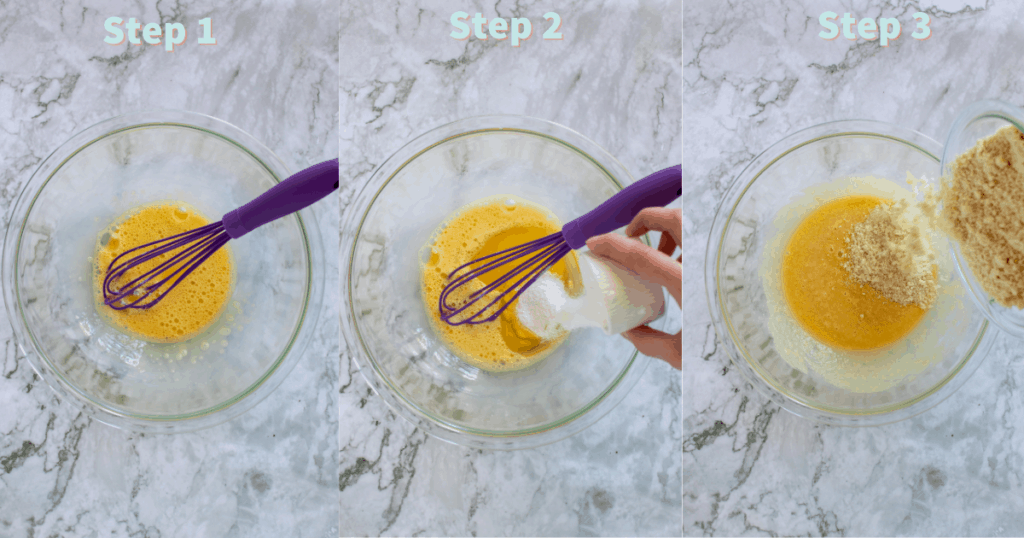 Start by whisking the egg vigorously until it's frothy.
Then you add in the melted ghee, vanilla and sweetener and mix well.
Then you add in all of the dry ingredients.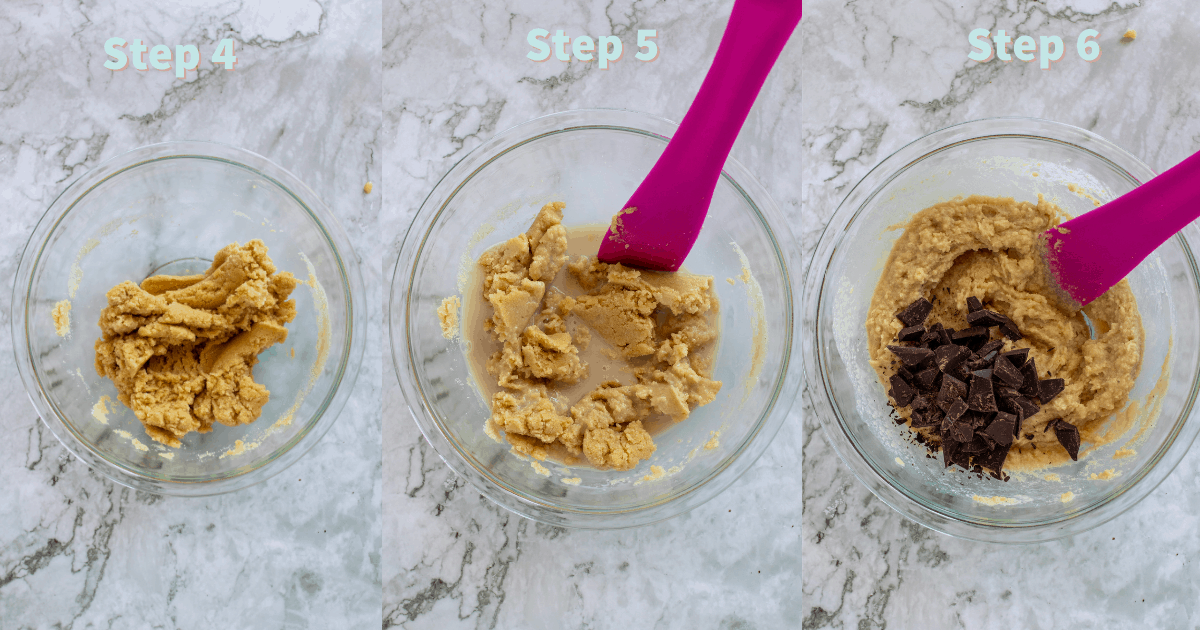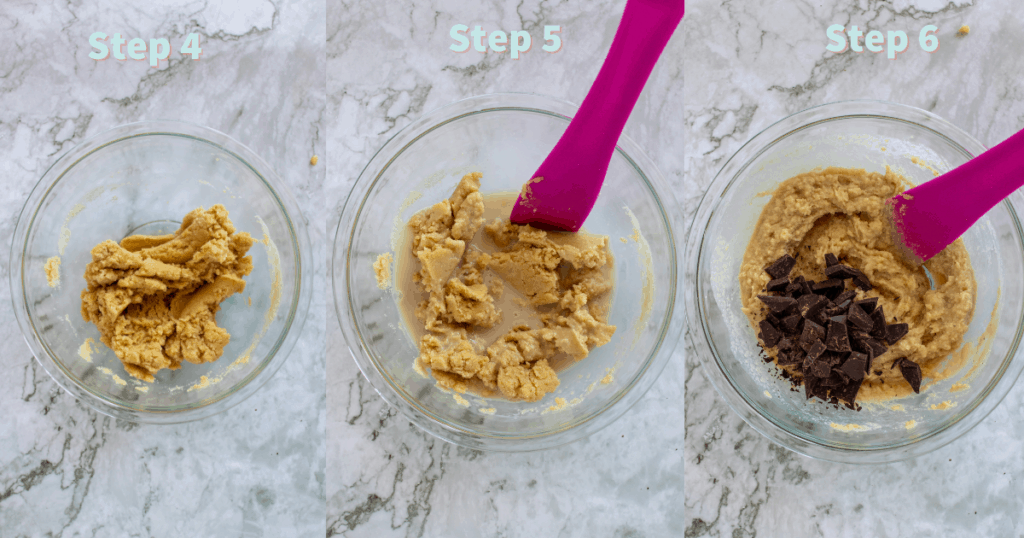 Use a spatula and mix and fold make a dough, it will be a very thick, almost dry dough.
Add in the dairy free milk and fold and mix until it comes together again.
Add in the chocolate and fold it in until thoroughly mixed in.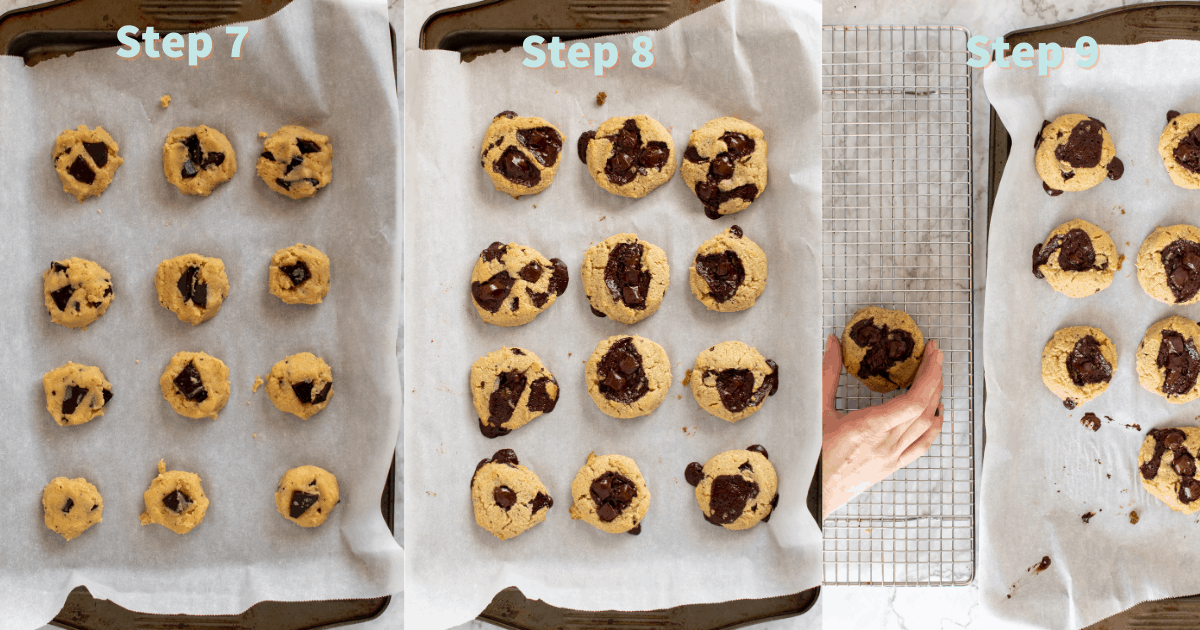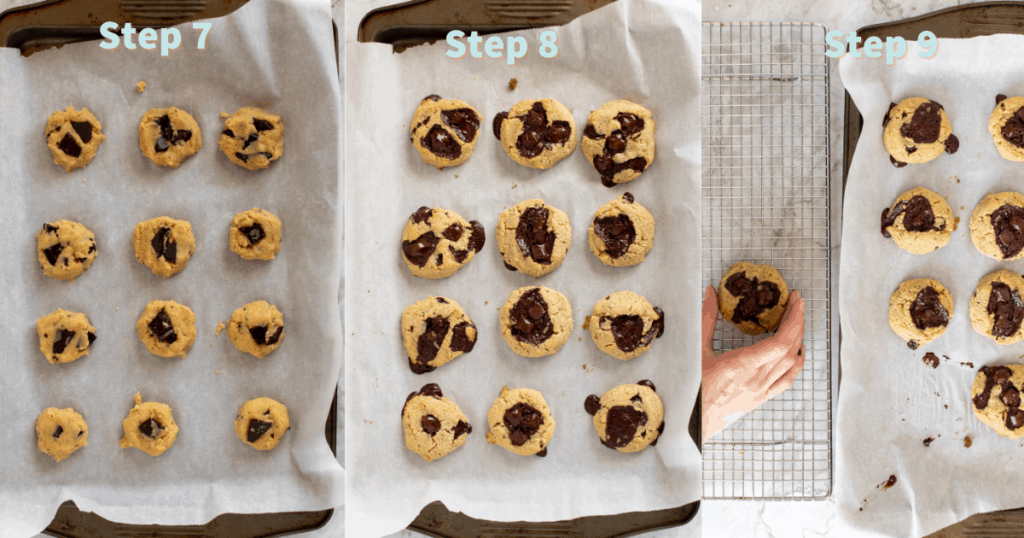 Shape one-inch balls with the dough.
Place them on a lined sheet pan and gently flatten.
Repeat with all of the dough.
Bake for 15 minutes. Let cool and dig in!
Frequently Asked Questions
What's the difference between almond flour and coconut flour?
Almond flour is lower carb by volume, and coconut flour is higher in fiber, and much more dense.
So while per cup coconut flour is higher in carbs, you use much less per recipe. For example, 2 cups of almond flour would substitute for 2/3 cup coconut flour.
What type of chocolate chips do you use?
I like several kinds. If you do well with keto sweeteners I like Lily's Dark Chocolate Chips. If you prefer a very dark with very little sugar chocolate, I like Pasha's Dark Chocolate Chips. I am also a fan of using chopped-up dark chocolate bars, chocolate without lecithin will melt better in the cookies.
Can I freeze the dough?
Yes, make your dough balls and refrigerate for 2-3 days or freeze. Thaw to bake!
Can I omit the gelatin?
Yes, although they won't be quite as chewy, they will still be delicious!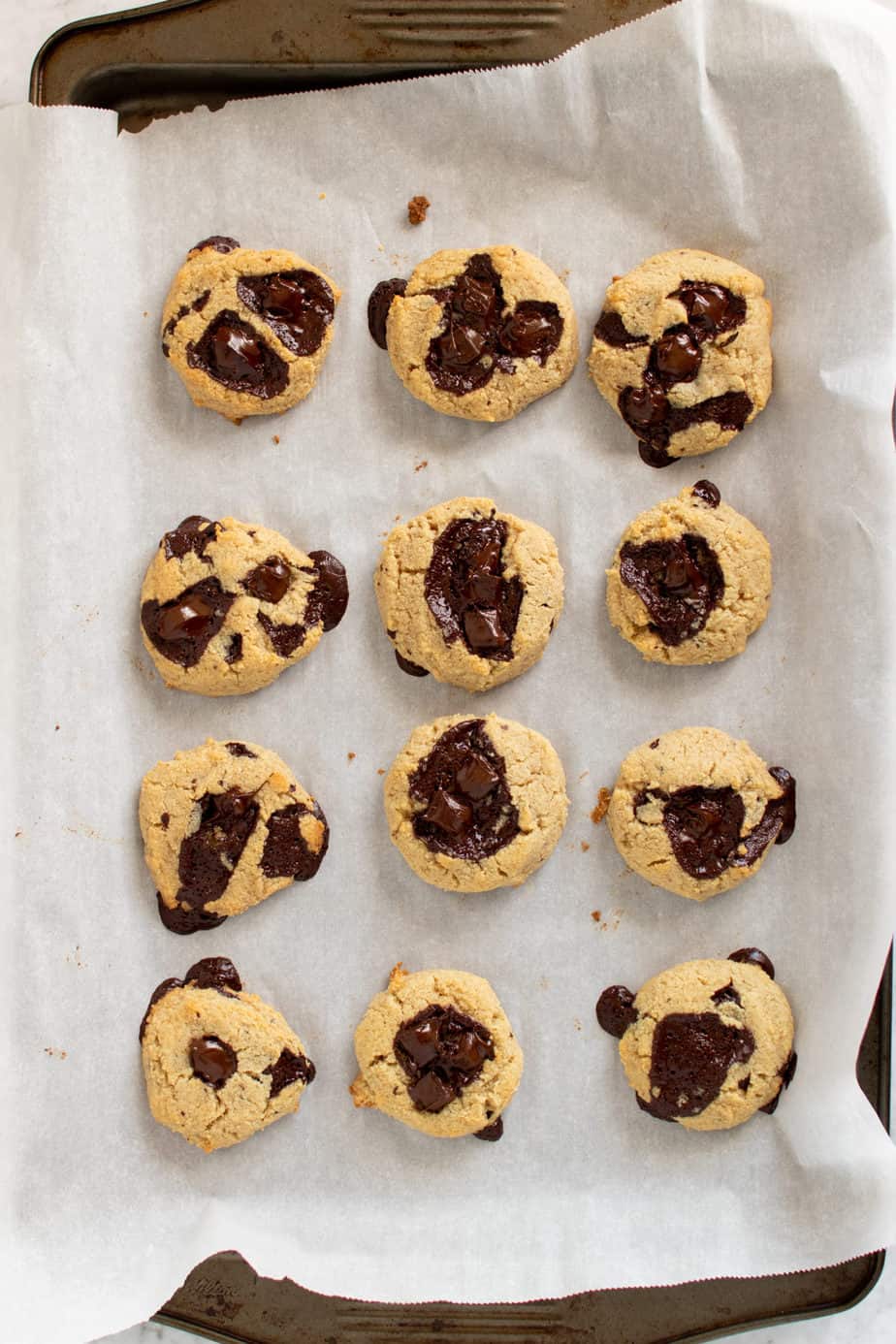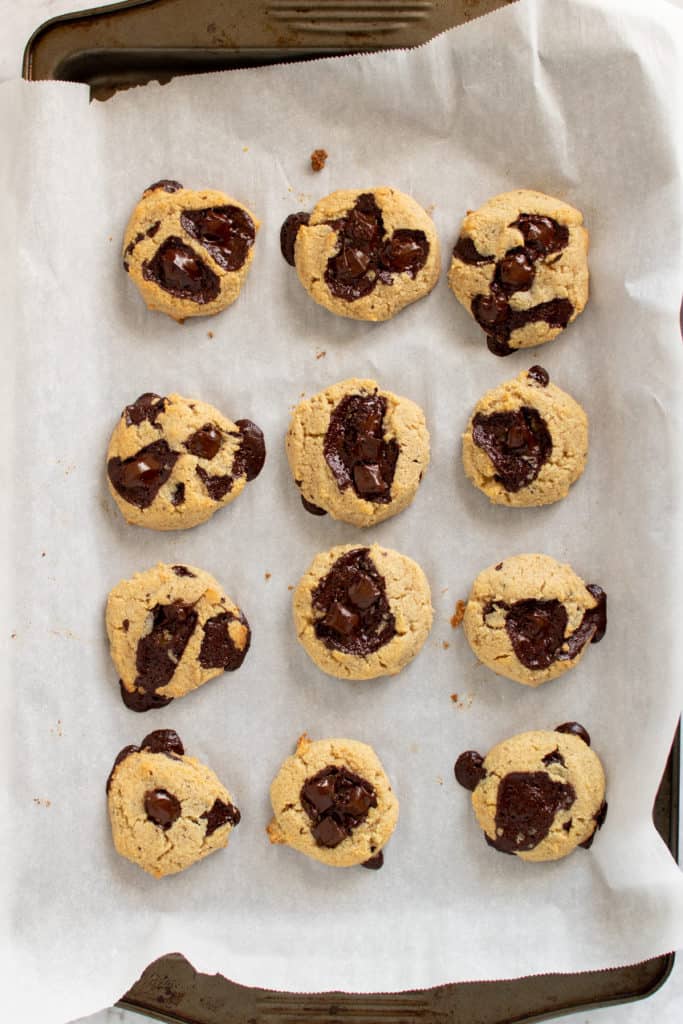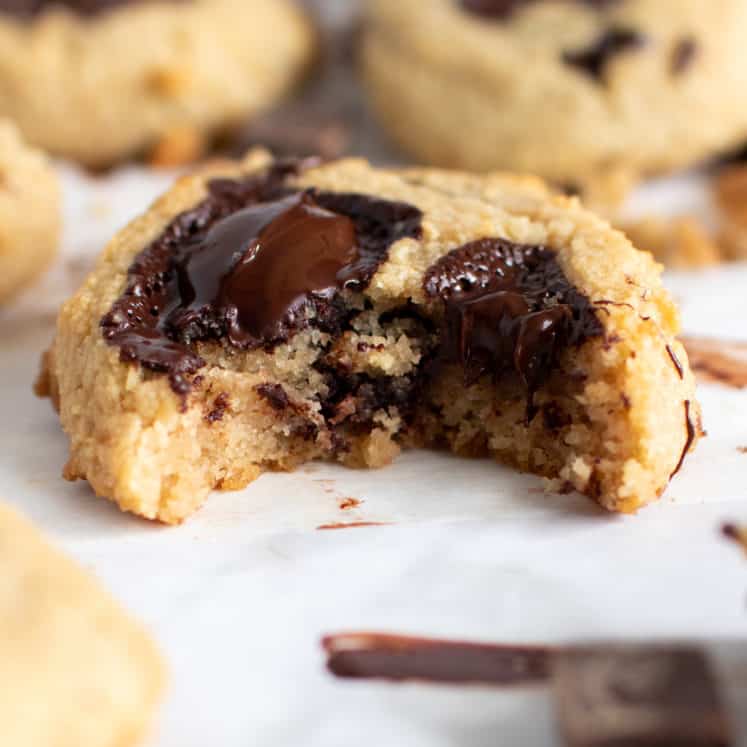 Chewy Keto Chocolate Chip Cookies
---
Author: Cristina Curp
Prep Time: 10
Cook Time: 10
Total Time: 20 minutes
Yield: 12 cookies 1x
Category: desserts
Method: baking
Cuisine: American
Diet: Gluten Free
Description
One bowl and 15 minutes to the BEST Keto Chocolate Chip Cookie!
---
Scale
Ingredients
1 large egg
3 tbsp melted ghee (coconut oil or softened butter)
1 tsp vanilla extract
1/3 cup Swerve Sweetener, Lakanto (or coconut palm sugar for paleo)
2 cups fine ground almond meal or flour (from blanched almonds)
1 tbsp pastured gelatin (for chewy factor, but you may omit)
1/2 tsp baking soda
1/2 tsp flake salt (if using fine salt only use 1/4 tsp)
1/3 cup milk (I use cashew milk, or coconut milk)
1 cup chopped dark chocolate (I use Alter Eco)
---
Instructions
Preheat oven to 325F convection (or 350F bake).
In a medium bowl, whisk egg until frothy. Keep whisking as you add in the oil, vanilla, and sweetener. Mix well.
Add in the almond meal, baking soda, salt, and gelatin. Whisk to combine the dry ingredients. 
Switch to a spatula and mix until the dough is crumbly. Add in the milk, mix well until the dough comes together again. Once the dough is moist, chop the chocolate into small pieces and fold in.
Shape 1 inch balls with the dough, roll between your hands to make smooth, even balls, and place them 2 inches apart on a sheet pan lined with parchment paper. Gently flatten the cookies with the palm of your hand or the back of a spoon.
Bake 15 minutes or until the base of the cookies turns golden brown. Remove from oven, let cool for ten minutes. Enjoy!
Recipe Notes:
READ THE POST FOR NUT FREE AND EGG FREE VARIATIONS 
The gelatin is there to make them chewy once the cookies cool down. You can use peptides if you want a protein boost or you can omit them altogether, the recipe is still bomb dot com.
Nutrition
Serving Size: 1
Calories: 157
Fat: 14.6g
Carbohydrates: 2g (net)
Fiber: 3g
Protein: 4.1g
Keywords: keto chocolate chip cookies