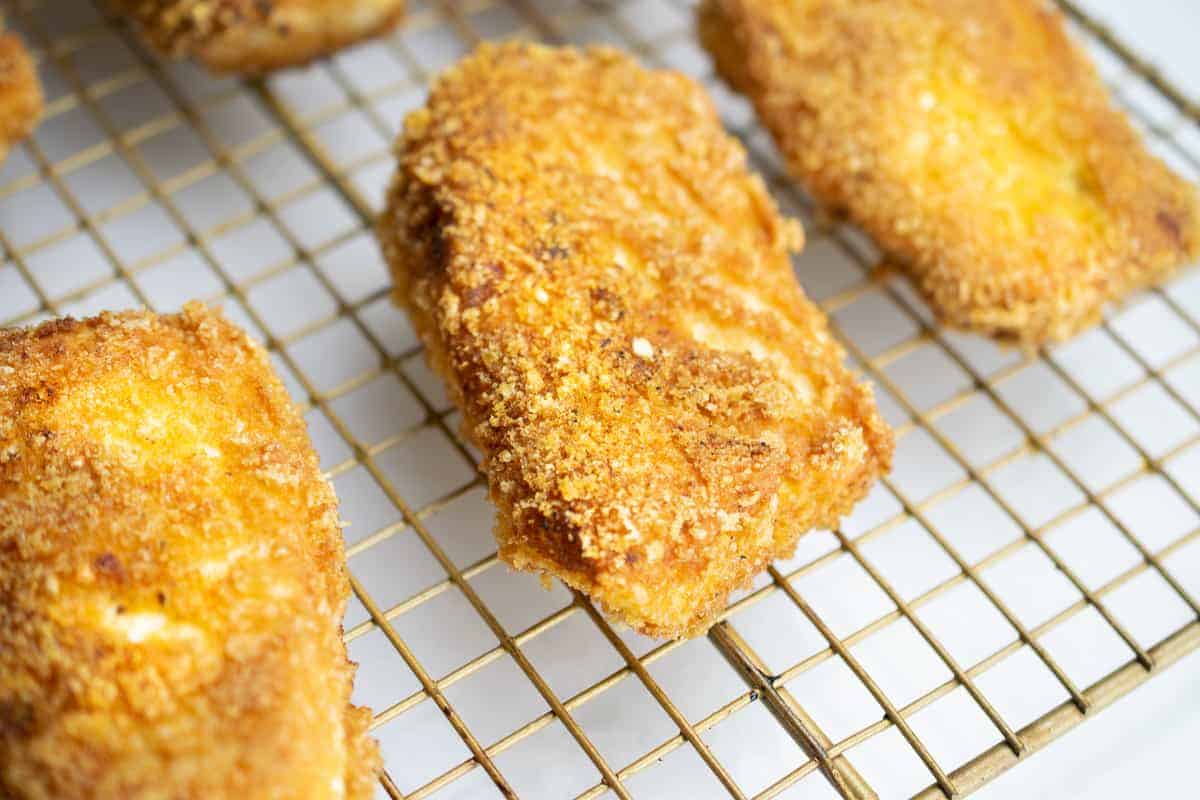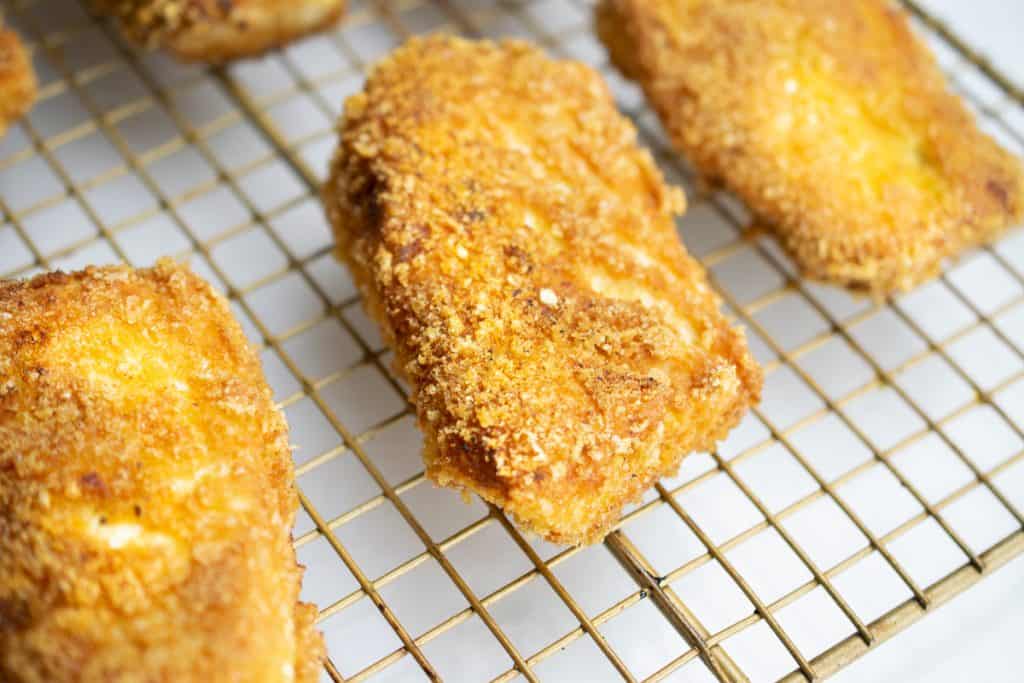 Tender, juicy, keto fried fish, coated in seasoned, gluten free breading, fried golden brown, and served with your favorite fatty dipping sauce… YUM!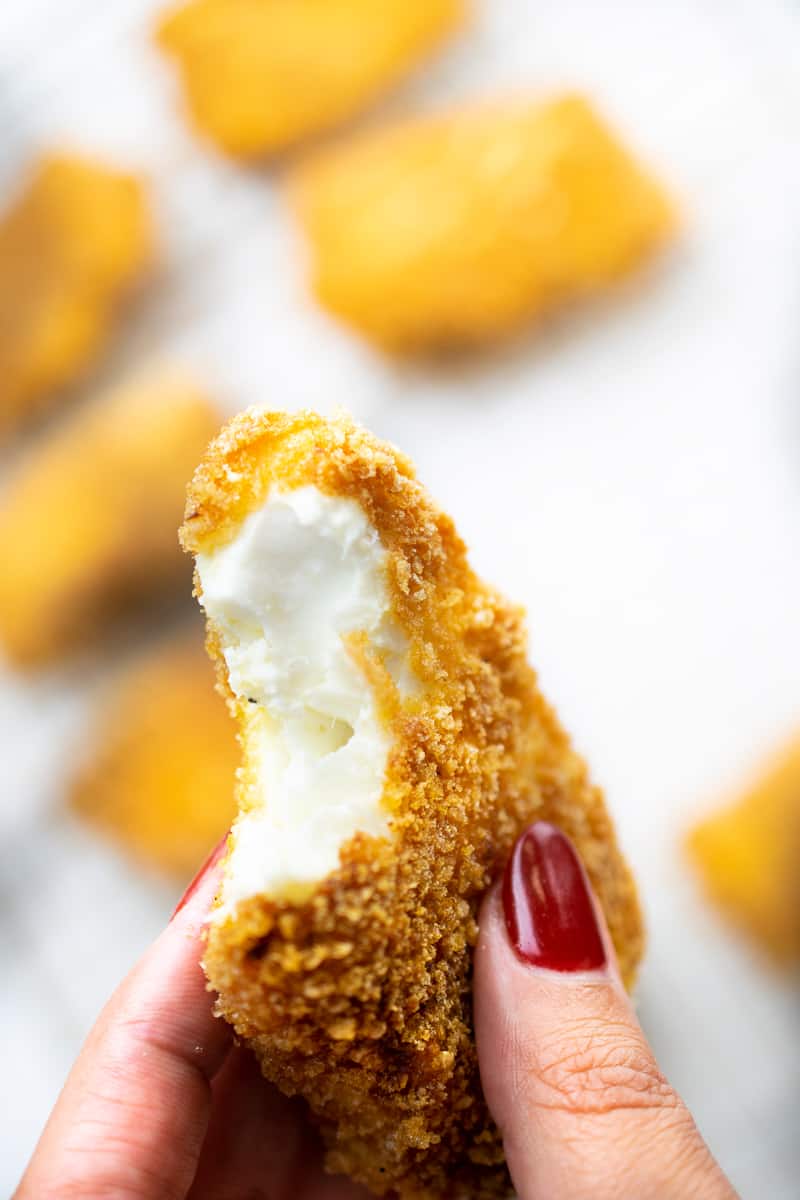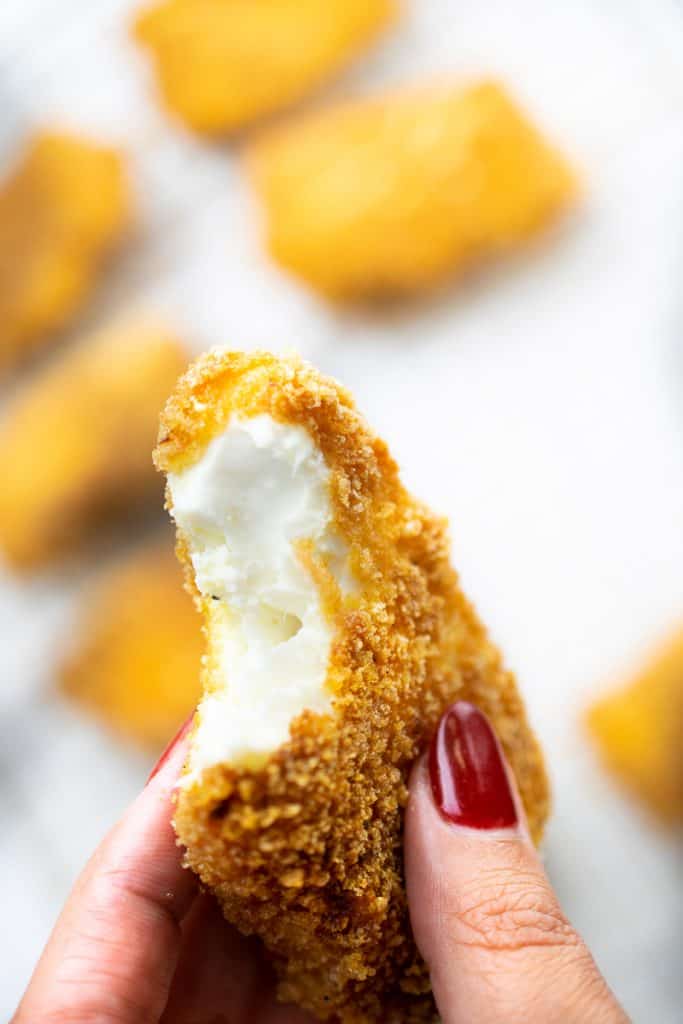 Is fried fish keto? Are panko breadcrumbs gluten free?
Typically, fried fish is made with breadcrumbs or panko breadcrumbs, and neither option is gluten free. While food isn't technically keto or not keto, there are certain foods that will help you maintain ketosis more easily. For example, breaded fish made with regular breading, fried in an inflammatory oil like canola or peanut oil is going to make it harder for your body to stay in ketosis.
In other words, while the carb count might be low in regular breaded fish, the gluten in the breading along with the highly processed oil used for frying can knock you out of ketosis, and make you feel pretty crummy.
Don't worry, this isn't your regular fish fry, this is a keto fish fry! This Pork Panko Crusted Halibut is the perfect way to get your kids off those crap filled fish sticks, and on to eating nutrient dense, grain free, crispy paleo fried fish. And, spoiler alert: this Keto Fried Fish is a spin off of the Legit Chicken Tenders recipe that will be in Made Whole Made Simple, my second paperback cookbook.
But wait, is fried food healthy? And what's the best oil for frying?
Quality fish, coated in a keto breading, fried in healthy, minimally processed oil… yes, in this instance, fried food can be healthy.
For this Pork Panko Crusted Halibut, I recommend frying in coconut oil, tallow, or lard; either option is full of healthy fats, safe for frying (with a high smoke point), and will yield a delicious, golden crust without overwhelming the flavor of the breading or the fish. A crunchy, fried, low carb, nut free, completely paleo, Whole30 fish recipe. Yes, it's not only possible, but also absolutely delicious.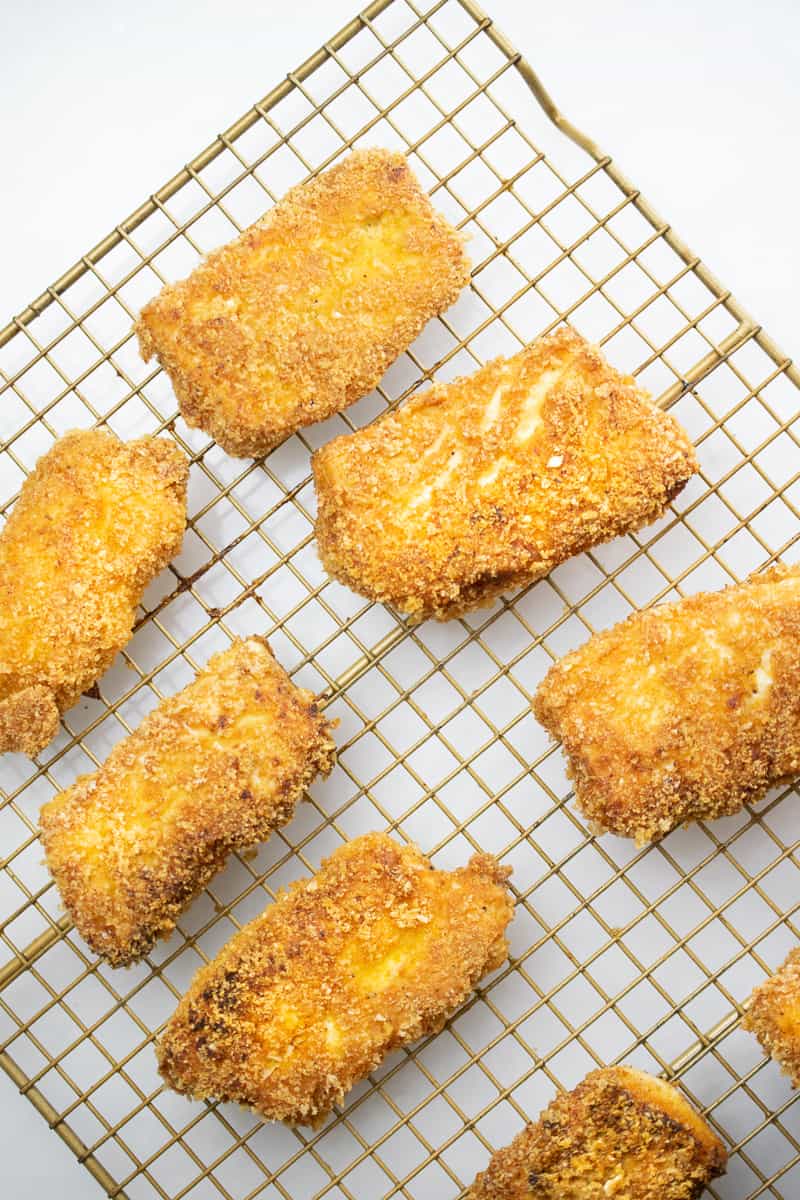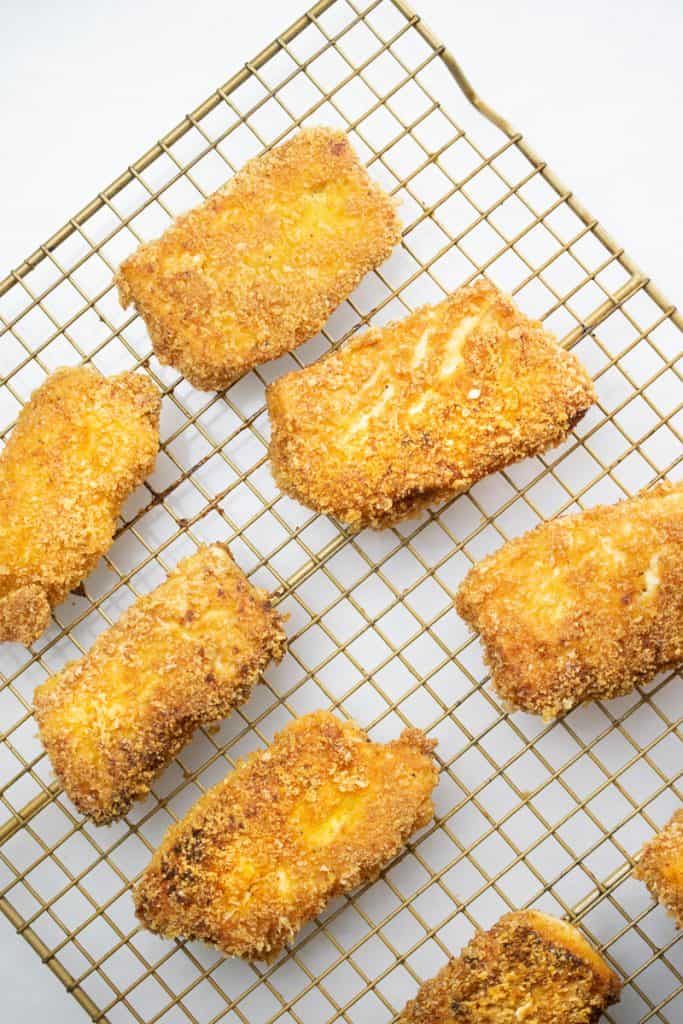 How to make gluten free breading:
First, the secret to a good gluten free breading is layers of crunch. To start, I used coconut flour and seasoning as the first layer to really seal in the flavors, then an egg wash with a bit of ACV for that classic fish and vinegar pairing, then a final dredging in Pork Panko.
You can make your own pork panko by pulsing regular pork rinds in your food processor until they reach a fine, panko texture. This can take some expert timing — if underprocessed, the panko won't stick well to the fish. Too fine, and the crunch won't be as satisfying.
That's why I used Bacon's Heir Pork Panko; they're made with Bacon's Heir kettle-cooked Pork Clouds, which are fried in olive oil, resulting in the cleanest pork rind on the market! Bacon's Heir pulverizes the Pork Clouds into the perfect panko consistency. Super delicious and the one-pound bag is ENORMOUS! You can also use Pork Panko in gluten-free meatballs, or to top a keto casserole.
Which fish is best for keto?
Halibut is ideal for this keto fried fish recipe because it's juicy, mild, white meat fish. That being said, center cut mahi mahi filets would work well, and they're typically more affordable (Costco sells them frozen, wild caught).
In this instance, I like halibut for this recipe because it's tender and flakes easily, but still firm enough to hold up to frying. In addition, halibut has a mild, sweet flavor that goes perfectly with the seasoning for this recipe.
Alternatively, you could try using another fish aside from halibut or mahi mahi, but I can't guarantee that it'll hold together while frying.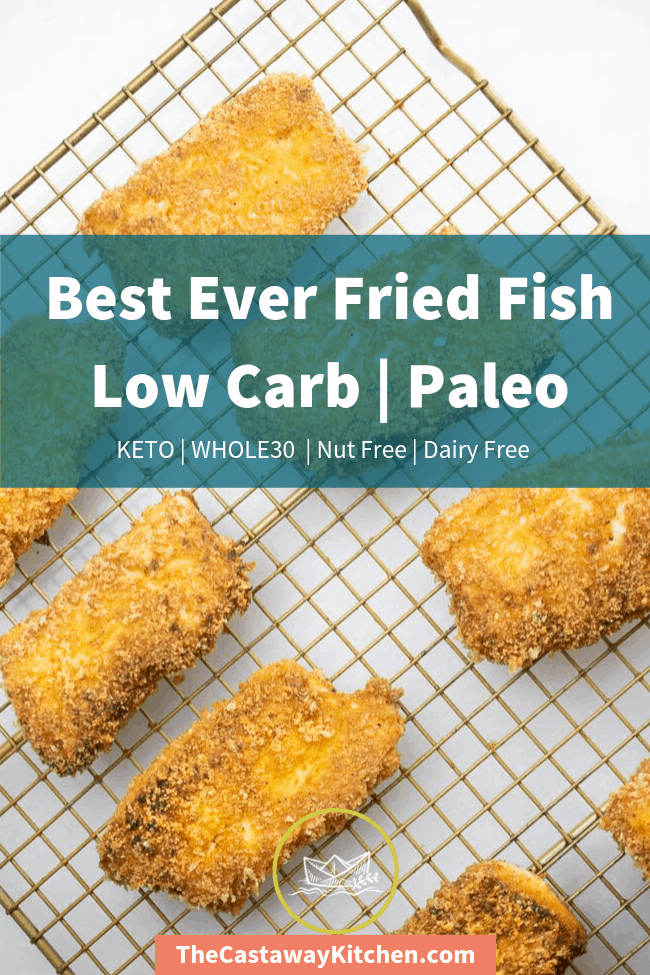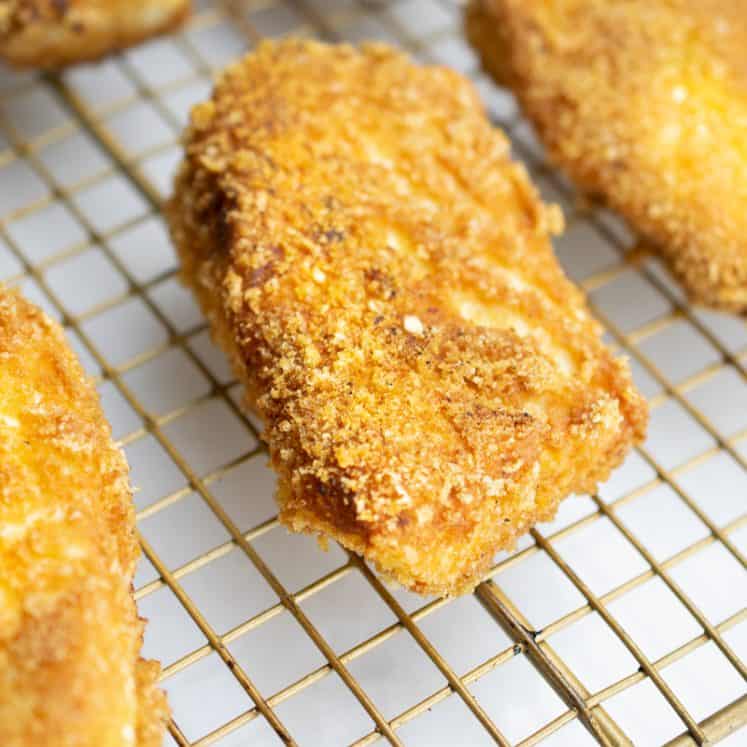 Keto Fried Fish: Pork Panko Crusted Halibut (Paleo, Whole30, Nut Free)
---
Author:
Prep Time: 20 minutes
Cook Time: 20 minutes
Total Time: 40 minutes
Yield: 4 servings 1x
Category: Entree
Method: Fry
Cuisine: Fish
Description
Tender, juicy, keto fried fish, coated in seasoned, gluten free breading, fried golden brown, and served with your favorite fatty dipping sauce… YUM!
---
Scale
Ingredients
1 ½–2 pounds of wild caught halibut or center cut mahi mahi filets
½ cup coconut flour or gingernut flour
2 teaspoons fine salt
1 teaspoon garlic powder
1 teaspoon onion powder
½ teaspoon ground mustard
½ teaspoon black pepper
2 eggs, whisked
1 tablespoon apple cider vinegar
2 cups Pork Panko, I use this one
1 cup saturated fat for frying (tallow, coconut oil, or lard)
16" cast iron skillet
---
Instructions
Heat the skillet over medium heat while you prepare the fish. Add the fat to the skillet so you have about half an inch of depth. 
Pat your fish dry and remove any skin or bones. Cut it into 3 ounce pieces, you should have about 8 pieces total. 
In a shallow bowl, combine the seasonings and coconut flour. In a second shallow bowl, combine the eggs and vinegar. In the third shallow bowl, add the panko. 
Test to see if the oil is ready by putting a wooden spoon in the oil. When it sizzles it's ready, then you can begin frying. 
One at a time, dredge the pieces of fish in the coconut flour mix, then the egg, and lastly the panko. Carefully place each breaded piece in the hot cooking fat. Cook 3-4 pieces at a time, so you don't crowd the skillet. 
Fry for 4 minutes on each side. Use tongs to place the cooked pieces on a wire rack while you fry the rest. If you double the recipe, you can keep the cooked pieces in the oven at 300F to keep them warm while you finish frying. 
Serve hot with a dipping sauce, like my One Minute Mayo or Cilantro Aioli, plus a fresh lemon wedge.
Recipe Notes:
3.7g net carbs per serving
Nutrition
Serving Size: 2 pieces
Calories: 475.8
Fat: 27.4g
Carbohydrates: 7.8g
Fiber: 4.1g
Protein: 51.7g