With only 3 net carbs, these Chewy Chocolate Chip Keto Cookies are not only delicious, they're also Paleo, dairy-free, and have an egg-free option!
My Addiction… CHEWY KETO COOKIES
These Chewy Keto Chocolate Chip Cookies are the bees knees. It took a few tries, but I tell ya, they're the best.
THE BEST KETO COOKIES, EVER.
Chocolate chip cookies. I just love them. I will always choose them as a dessert if they are a choice. Crispy, soft, melt in your mouth or chewy. They're just so good. But alas, once I went grain free it was difficult to find a satisfying recipe.
The secret to the perfect chewy chocolate chip keto cookie
I got close with my Giant Low Carb Cookies… Have you seen that recipe? It's really good. Really close to perfect. The look, the flavor are spot on. The texture is actually best the next day. I'm realistic, I'm honest. I know the perfect cookie is hard to come by. So when I tell you that THIS IS IT. I am not fucking around.  These gluten free, sugar free, low carb chocolate chip cookies are a favorite of anyone who makes them.
CHEWY BECAUSE OF THE ADDED GELATIN. SUPER CHOCOLATEY. Yup. The PERFECT KETO COOKIE.
Chocolatey, chewy deliciousness
These chewy chocolate chip keto cookies are one of the most popular recipes on the blog, second to the Avocado Brownies. These are the cookies people make and then find themselves making them weekly.
Everyone, even non-paleo boyfriends and spouses… mine included… LOVE these.
MAKE THEM. SHARE THEM. LOVE THEM. TAG ME. @THECASTAWAYKITCEN
Egg Free Chewy Chocolate Chip Cookies
Need the egg free recipe? Mix one tablespoon of flaxseed meal with one tablespoon of water and let it sit to get thick and gelatinous about 15 minutes. Use that as your egg. The adorable Sadie from Goodies Against The Grain made them like this and they turned out beautifully! I will test this my self soon! Thank you Sadie!
Nut Free Chewy Chocolate Chip Cookies
I've developed a NUT FREE KETO COOKIE, a version of these cookies that is JUST AS GOOD! RECIPE IN MY NEW BOOK! Recipe shared exclusively on Peace Love and Low Carb HERE.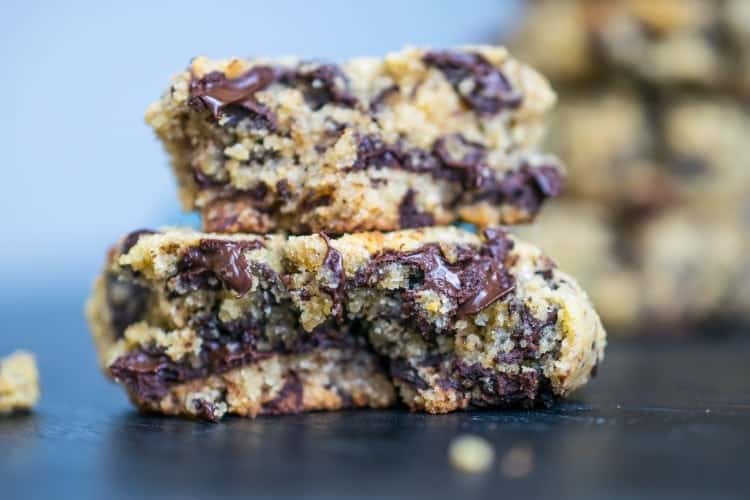 Chewy Keto Chocolate Chip Cookies
---
Author:
Prep Time: 10
Cook Time: 10
Total Time: 20 minutes
Yield: 24 1x
Category: desserts
Method: baking
Cuisine: American
Scale
Ingredients
1 large egg
3 tbsp melted ghee (coconut oil or softened butter)
1 tsp vanilla extract
1/3 cup Swerve Sweetener, Lakanto (or coconut palm sugar for paleo)
2 cups fine ground almond meal or flour (from blanched almonds)
1 tbsp pastured gelatin (for chewy factor, but you may omit)
1/2 tsp baking soda
1/2 tsp flake salt (if using fine salt only use 1/4 tsp)
1/3 cup milk (I use cashew milk, or coconut milk)
1 cup chopped chocolate chunks or chips (I use Lily's)
---
Instructions
Preheat oven to 325F convection (or 350F bake).
In a medium bowl, whisk egg until frothy. Keep whisking as you add in the oil, vanilla, and sweetener. Mix well.
In a separate bowl, add in the almond meal, baking soda, salt, and gelatin. Whisk to combine the dry ingredients.
Combine the wet and dry ingredients with a spatula until the dough is crumbly. Add in the milk, mix well until the dough comes together again. Once the dough is moist, chop the chocolate into small pieces and fold in.
Shape 1 inch balls with the dough, roll between your hands to make smooth, even balls and place them 2 inches apart on a sheet pan lined with parchment paper. Gently flatten the cookies with the palm of your hand or the back of a spoon.
Bake 15 minutes or until the base of the cookies turns golden brown. Remove from oven, let cool for ten minutes. Enjoy!
Recipe Notes:
The gelatin is there to make them chewy once the cookies cool down. You can use peptides if you want a protein boost or you can omit them all together, the recipe is still bombdotcom.
Nutrition
Serving Size: 1
Calories: 113
Fat: 11.2g
Carbohydrates: 3.2g
Fiber: 1.1
Protein: 3.7g
Keywords: chewy keto chocolate chip cookies