This allergen friendly, dairy free fat bomb recipe is delicious!
They're made with sunflower seed butter, hence the name: Sunshine Fat Bombs. The sun butter is mixed with coconut cream and coconut oil. Lightly sweetened, splash of vanilla. Finished off with a layer of dark chocolate and flaked salt. What's not to like?
Similar to peanut butter cups, these nut and dairy free fat bombs are creamy and light and like a classy cousin of the peanut butter cup.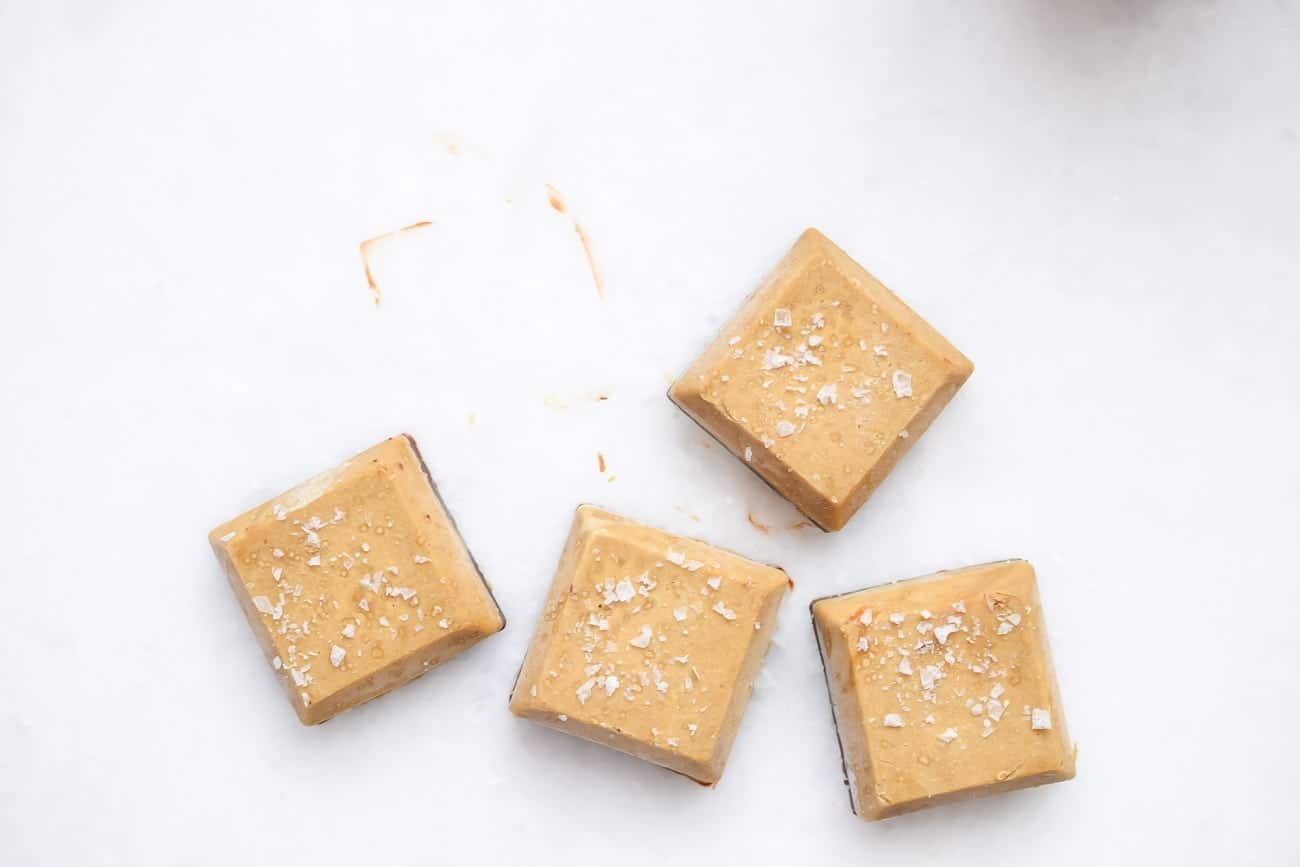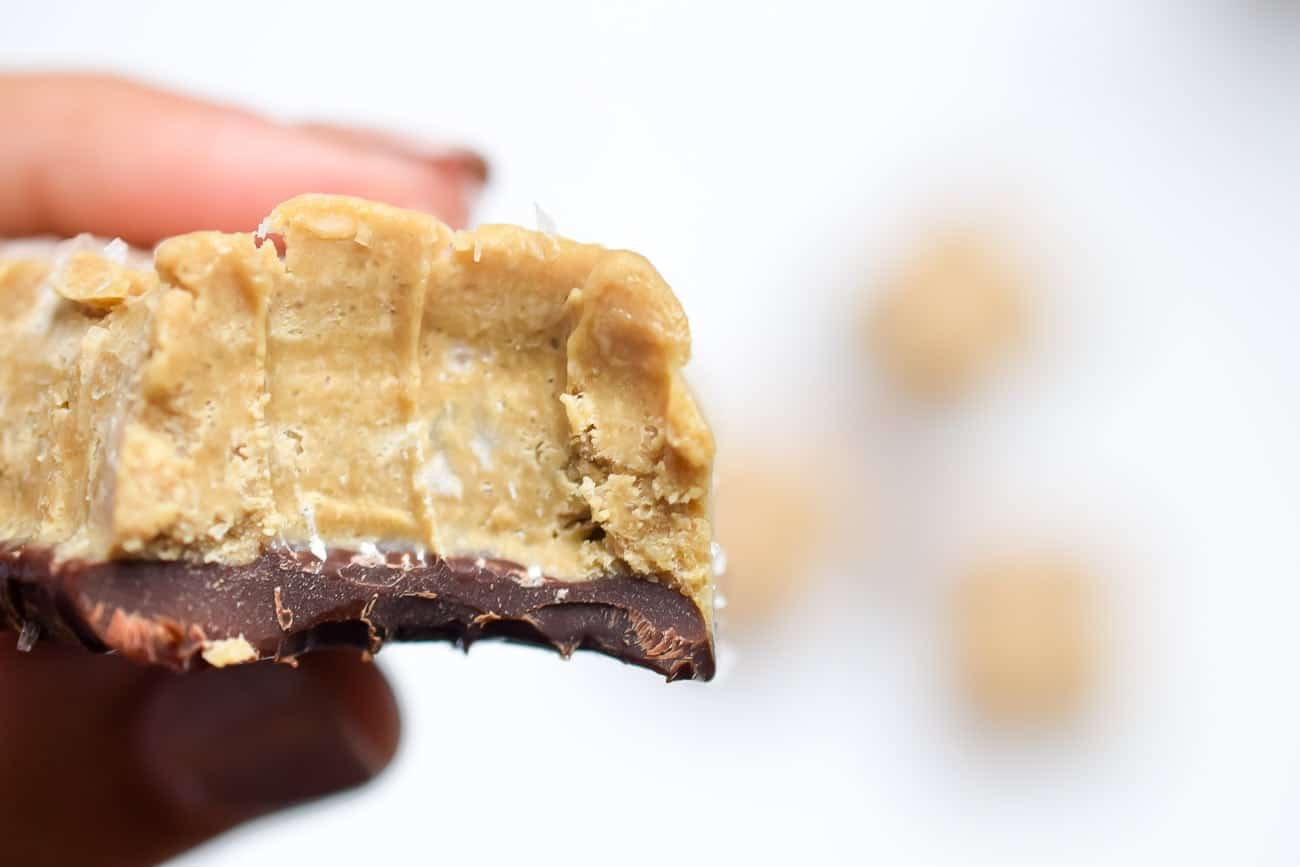 Low Carb Sweetener Guide (choose your fav for your dairy free fat bomb)!
I use Anthony's Goods Erythritol for this. Swerve has been giving me cramps, I think it's the oligosaccharides which are a pre-biotic fiber.  These non-digestible fibers tend to be rough on the gut.
Stevia Glycerite is another favorite of mine. It's not as sweet as the other liquid stevia. The glycerite is thick, like syrup and about 3x as sweet as sugar. I also don't experience and aftertaste with it.
Monk fruit is picking up popularity, but Pure Monk fruit is sooooo strong it's hard to use. Lakanto brand markets as a monk fruit sweetener but it's really a blend of erythritol and monk. Folks seem to really like it though.
If you don't do low carb sweeteners I would recommend honey for these.
A complete guide to low carb sweeteners HERE.

(STAY TUNED FOR A POST ON KETO DIET APP) 

More About These Dairy Free Fat Bombs!
This recipe is a no-bake recipe. You don't even have to heat the mix. Boom. Perfect summer treat.
I like using Alter Eco 90% dark chocolate, you can also use Lily's Dark Chocolate or unsweetened dark chocolate.
For the flake salt, I keep a box of Maldon Flake Salt around for these finishing touches, but you can use regular salt or omit it.
As for the mold, these are big ice cube molds I found at Target, you can use these, these or these.
You can get all the ingredients for these at 25-50% on THRIVE MARKET! Check it out, Now!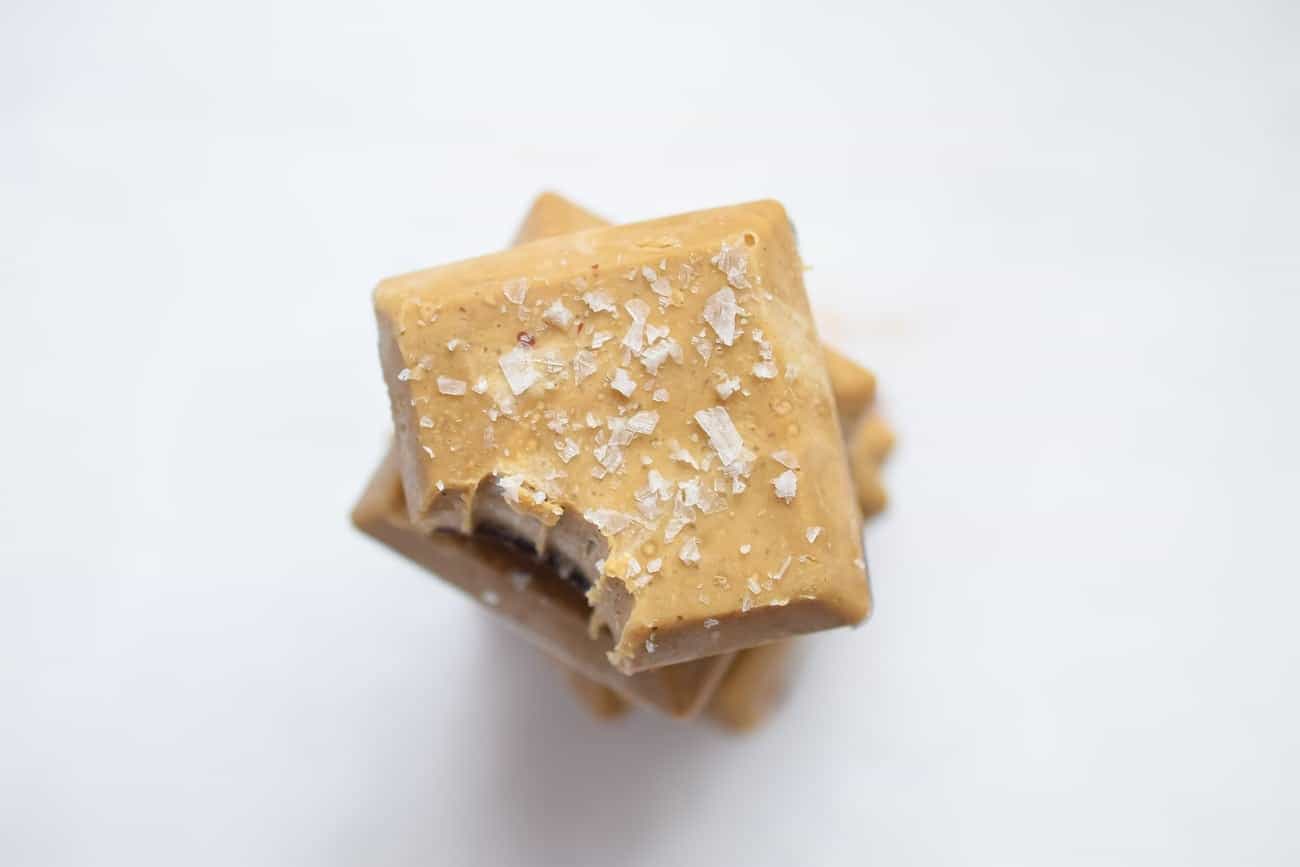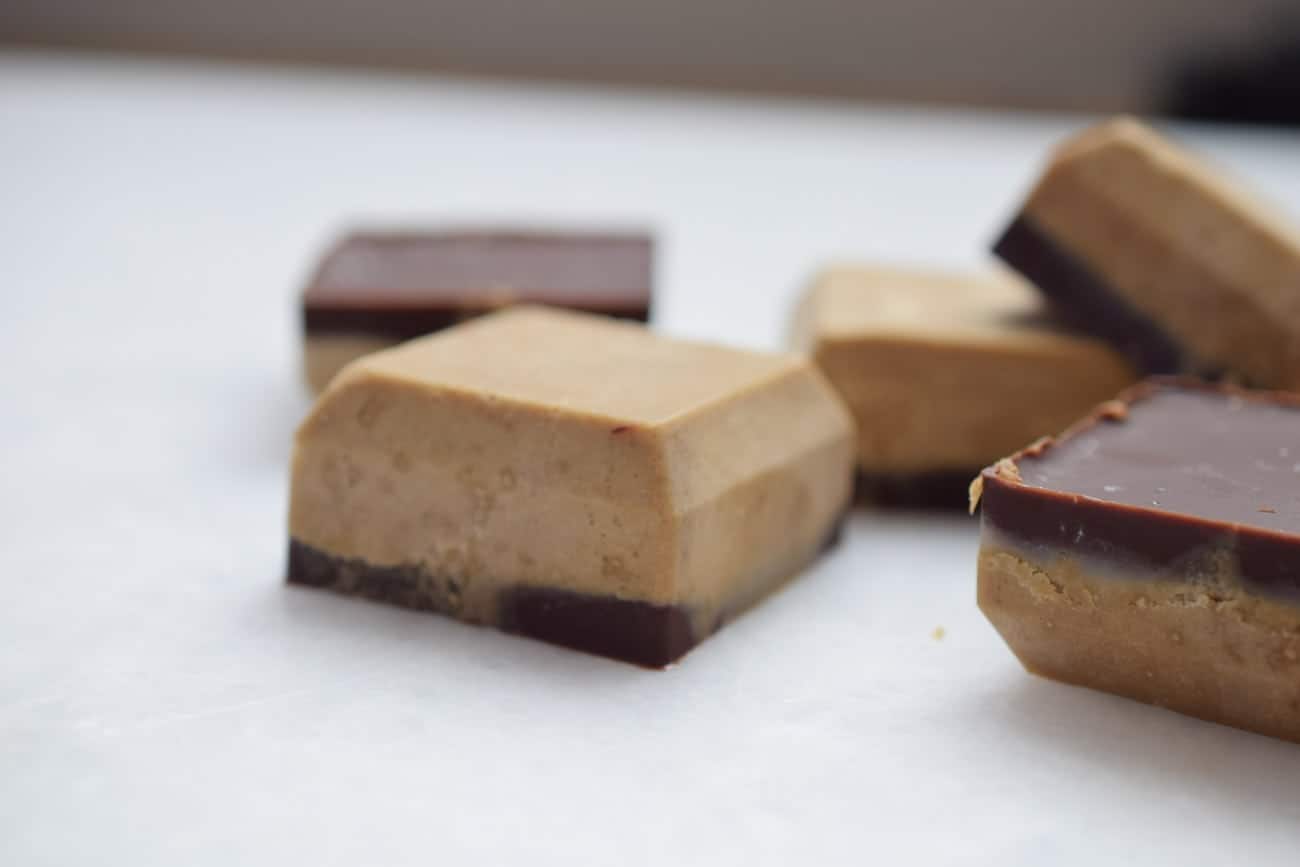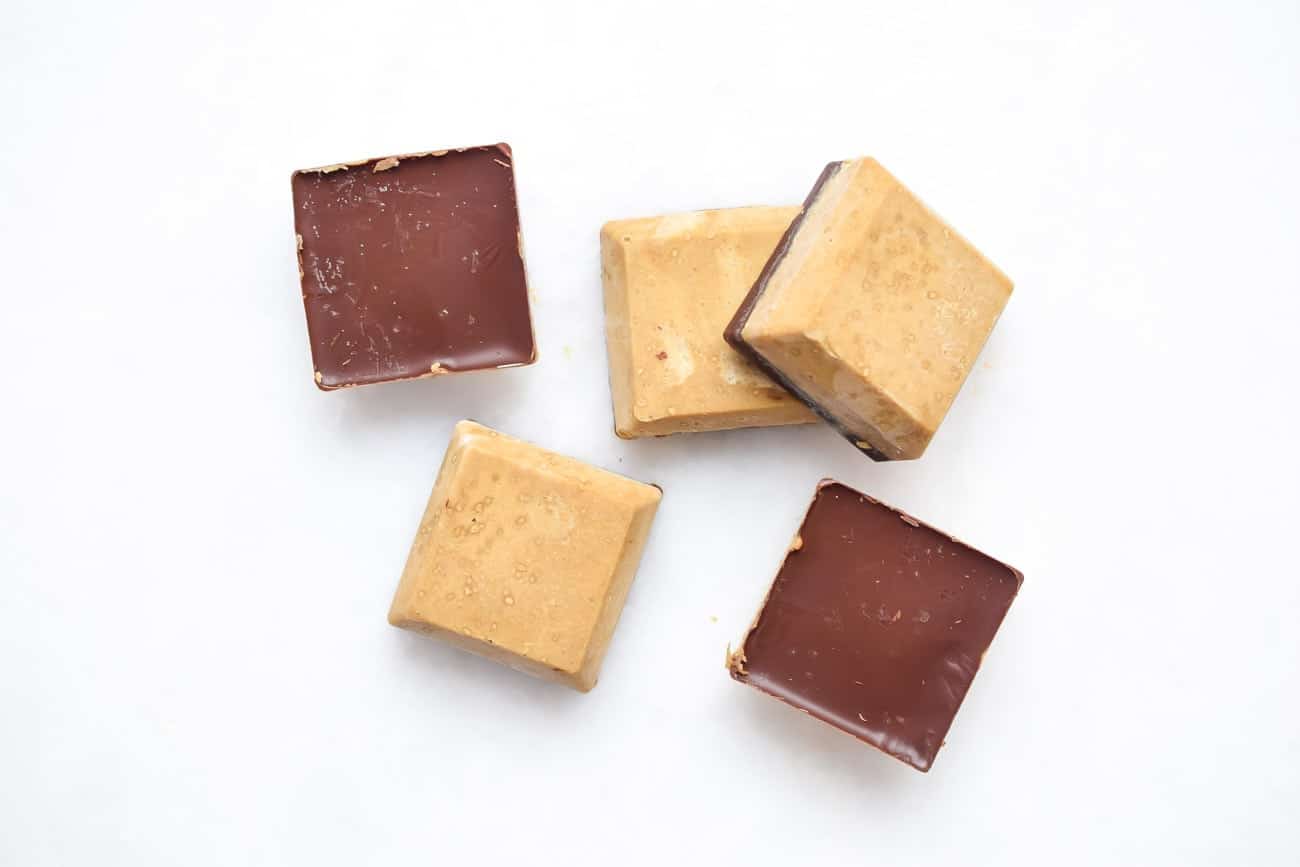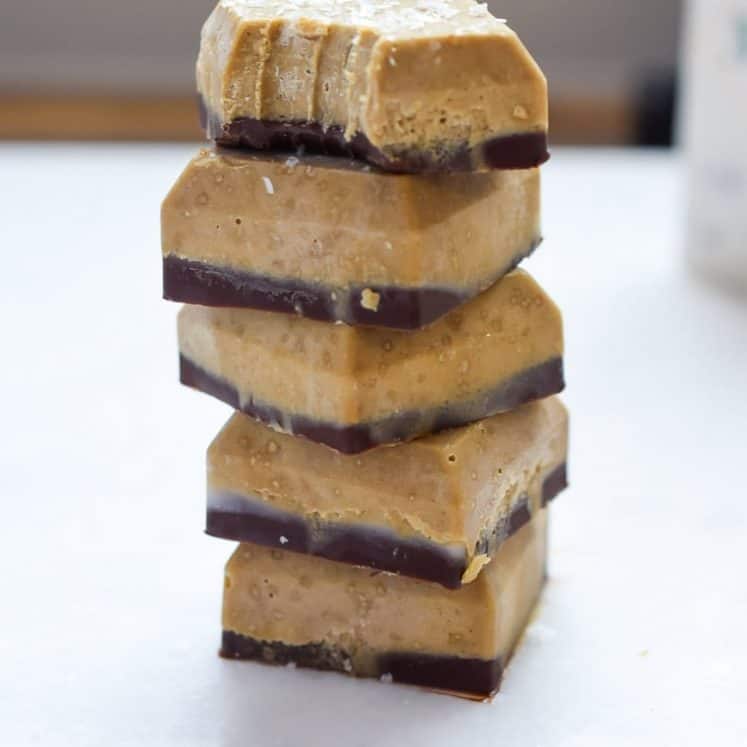 Sunshine Fat Bombs (Dairy Free, Nut Free, Keto)
---
Author:
Prep Time: 10
Total Time: 10
Yield: 6 1x
Description
These dairy free, nut free, fat bombs are easy to make and delicious!
---
Scale
Ingredients
1/4 cup sun flower seed butter, I use this one 
1/4 cup coconut cream (from a chilled, full fat coconut milk can)
3 tablespoons coconut oil, divided
1/4 teaspoon fine salt
2 tablespoons erythritol, or preferred sweeter, see substitution guide above
1 teaspoons vanilla extract
6 squares dark chocolate (about 50 grams)
Flaked salt, optional
---
Instructions
Start with room temperature ingredient. If your coconut oil is solid run the jar under warm water to liquefy. Combine the sunflower seed butter, coconut cream, 2 tablespoons coconut oil, fine salt, sweetener, and vanilla until smooth. I use a small whisk.
Distribute the mix into 6-8 slots of a silicone mold, cupcake mold etc. Tap the tray or mold on the counter to settle the mix flat in each slow. If it's really thick use a small spoon to flatten. Place in the freeze on a flat surface.
Chop up the chocolate and put it in a small bowl with the remaining coconut oil. Microwave for 30 seconds. Then stir until liquid. If it has not fully melted, give it another 10 seconds.
Stir well and let is sit at room temperature for 10 minutes. Then take the fat bombs out of the freeze and distribute the melted chocolate between them. For 6 I had about 3 tsp per fat bomb.
Carefully put the fat bombs back in the freezer on a level surface and freeze until hard or overnight. Un-mold, finish with a sprinkle of flake salt. Store in Tupper ware in the freezer.
Recipe Notes:
I have not included macros for these because the brand of sunflower seed butter and sweetener used will change that information. I recommend  Keto Diet App to track macros.
Nutrition
Serving Size: 1 fat bomb
Calories: 105
Fat: 10g
Carbohydrates: 4g
Fiber: 3.5g
Protein: 1g
Keywords: dairy free fat bomb