Chicken meatza party!
Pizza shaped foods can be pretty taboo on paleo and Whole30's… but when the crust is made of PROTEIN and there is no cheese in sight, I say it's a go. It falls under the "there's no way you are going to overeat/abuse this" kind of food, and as such, not SYWPO (sex with your pants on).
Protein is impossible to overeat. Actually, of the macronutrients (fat, protein, and carbs) it's the only one that our bodies are like, NOPE. We're full. It's extremely satiating. Bonus, unlike the carby counterpart, this chicken meatza will keep you full a long time.
This chicken meatza crust bakes up like your favorite CRISPY, THIN crust! It's toasty and firm and holds together perfectly!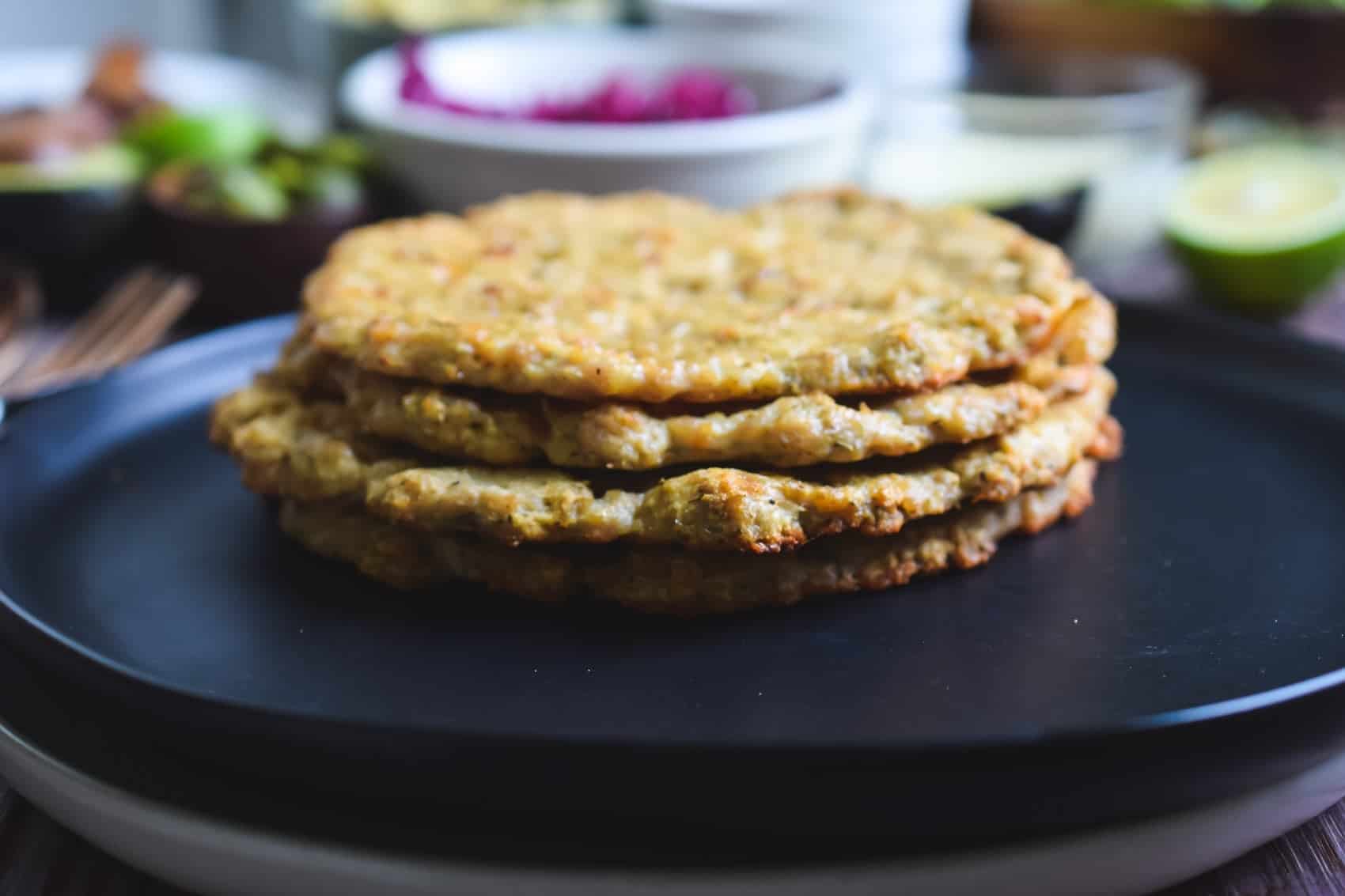 Let's Talk Toppings
My go-to is avocado, greens and a good sauce. But eggs, kraut, mayo, guac, salsa…. really the possibilities are endless. Check out this build your own pizza bar action: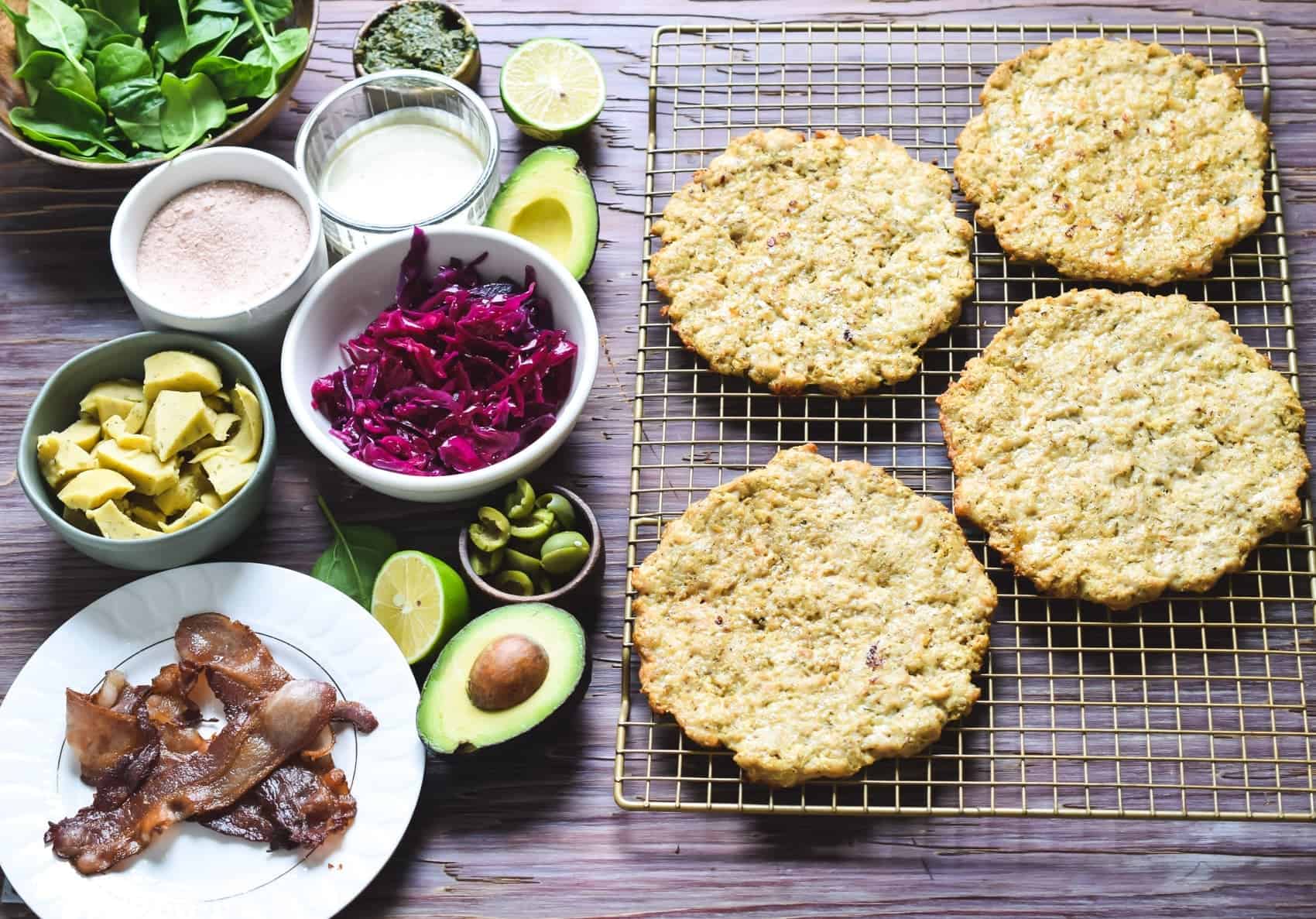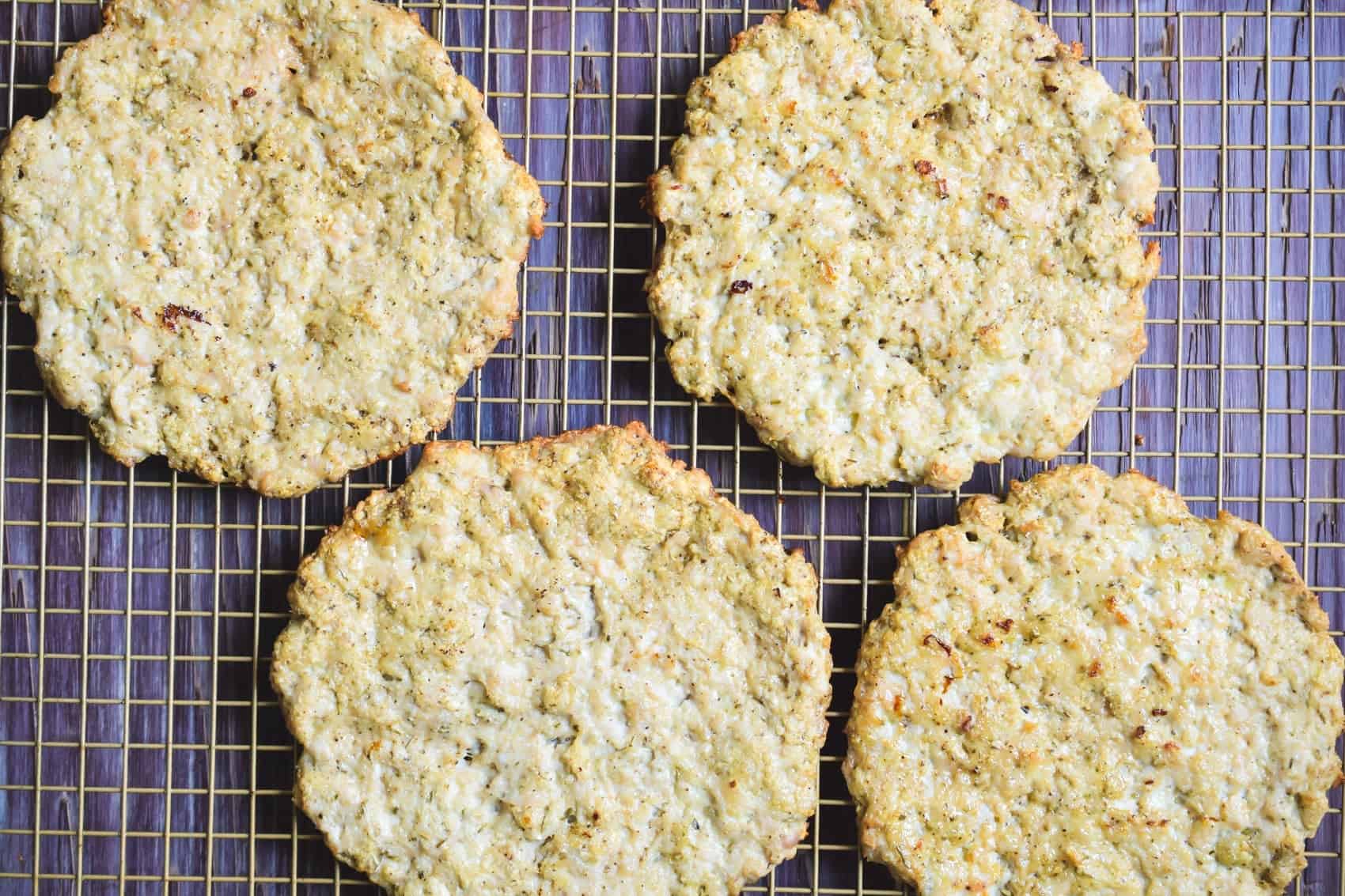 If you're AIP and want a marinara and "cheese" combination, all I can say is… coming soon! I have a Roasted Beet Marinara and a Hard Cheese, and a Cheese Sauce in my cookbook, Made Whole. Pre-order HERE (it releases in July).
I have a killer dairy free Pistou recipe HERE. 
Storage
The recipe makes 4 mini chicken meatza crusts. You can wrap them up and store in the fridge for up to a week. Toast in the oven or in a skillet to heat. Or top and bake on a sheet pan for 10 minutes at 350F.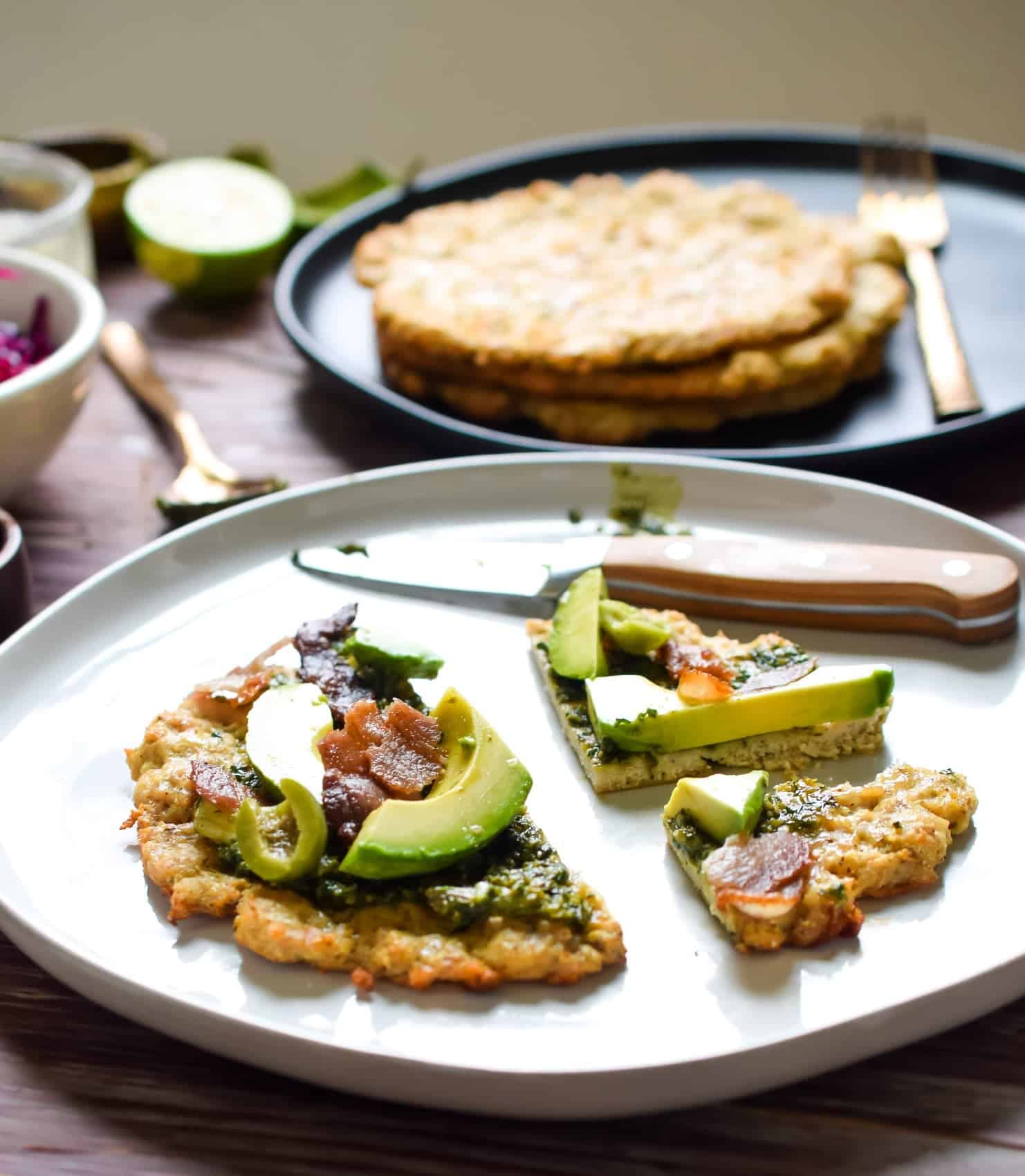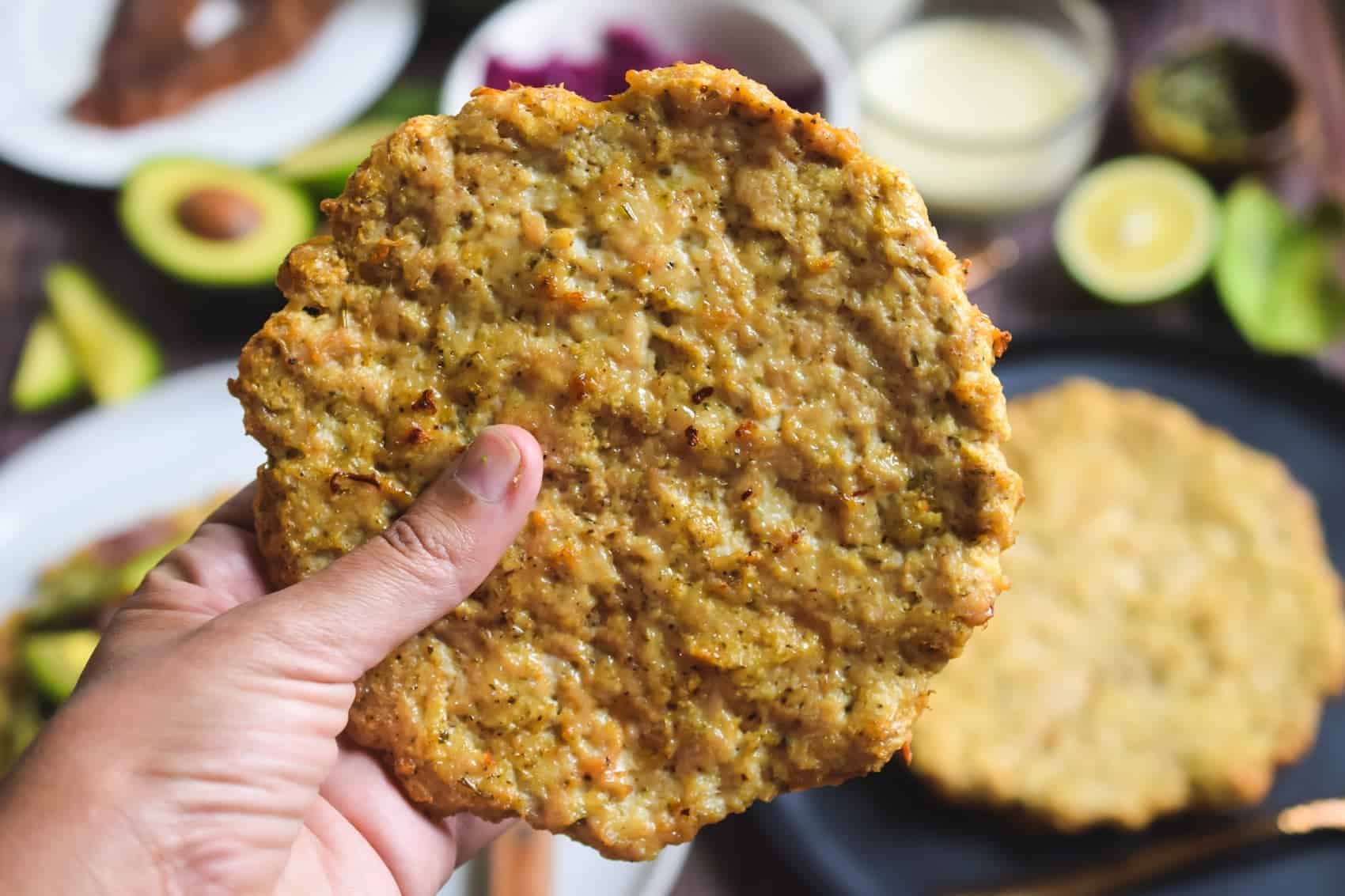 Shop Recipe Ingredients: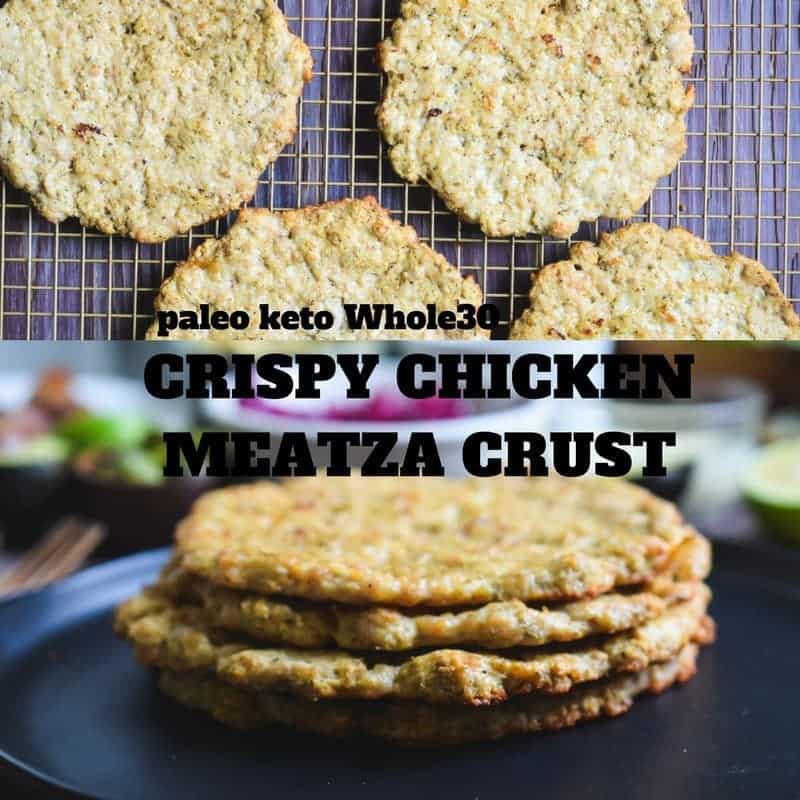 Crispy Chicken Meatza
---
Author:
Prep Time: 10
Cook Time: 35
Total Time: 45
Yield: 4 1x
Category: Pizza
Method: Bake
Cuisine: Italian
Description
Keto Thin Crust Pizza! Made of Chicken!
---
Scale
Ingredients
2 pounds ground chicken or turkey
2 teaspoons fine salt
2 teaspoons Italian herb blend
1/2 teaspoon black pepper (omit for AIP)
1/2 teaspoon ground cumin (omit for AIP)
2 teaspoons nutritional yeast (optional)
1 tablespoon pastured gelatin (or 1 large egg)
1 tablespoon coconut flour (+ up to 2 teaspoons more if needed)
3 tablespoons avocado oil, divided
---
Instructions
Pre-heat oven to 400F.
Line a baking sheet with parchment paper.
In a large bowl combine all of the ingredients, except 1 tablespoon avocado oil.
Mix until well combined and a dough forms.
Shape 4 equal sized balls. One at a time place them on the sheet pan and gently spread out to shape a 6″ wide, 1/4 inch thick round. Repeat with all of the chicken meat balls.
Bake for 10 minutes. Check on the crusts. If the chicken has released a lot of water, carefully drain the fluid in to the sink.
Drizzle the meatzas with avocado oil, and rotate the pan (turn it around).
Bake another 20 minutes, then open the oven and carefully flip the meatzas over. Bake 5 more minutes, remove from the oven and let them cool on a wire rack.
Top, share, enjoy! See post for storage instructions.
Nutrition
Serving Size: 1 crust
Calories: 276
Fat: 23g
Carbohydrates: 4g
Fiber: 1g
Protein: 23g