These veggie keto buns are so easy to make. You just throw the ingredients in a blender. Whiz up until smooth. Let the batter thicken to a dough (coconut flour magic). Scoop. Bake. Boom.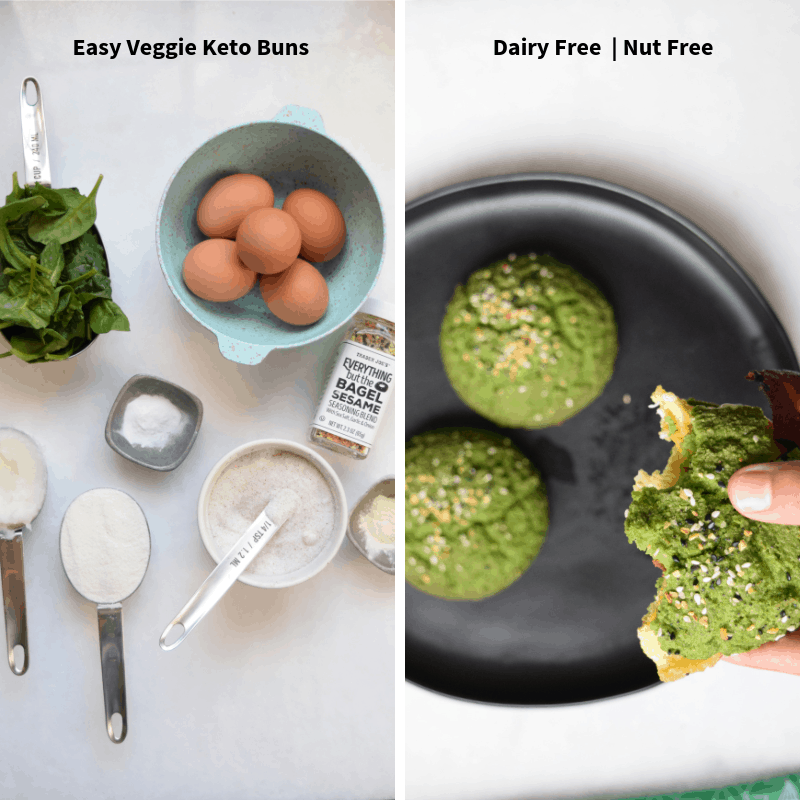 You don't NEED to add the spinach. You can leave it out for plain ol' buns and top with sesame seeds, everything bagel seasoning or poppy seeds if you like. This blender batter keto bun recipe is a blank slate, but I love the green!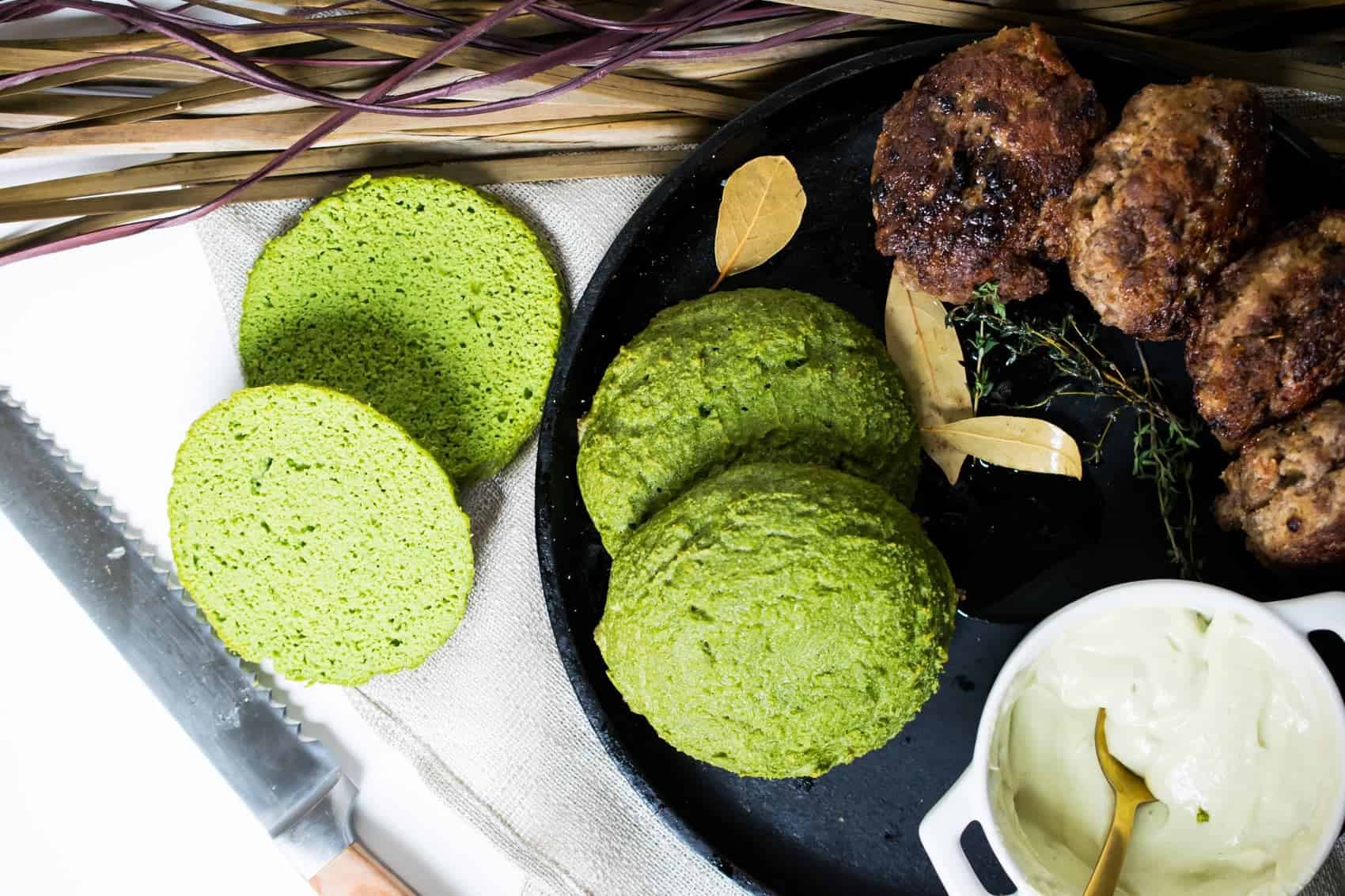 Keto Hamburger
For the perfect burger, pair these keto burger buns with THESE Fatty Patties! Top with some Avocado Crema from THIS recipe and hot damn, you got yourself a winner! Enjoy!
These are soft and a little spongy without being eggy. They're also really filling! Fiber (and veggie) packed! These buns paired with a fatty patty make on heck of a meal!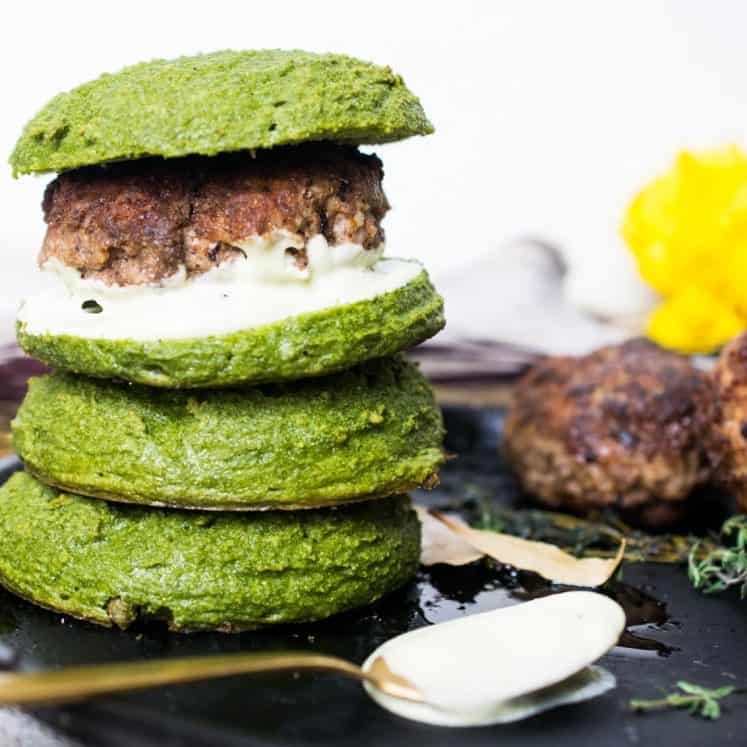 Veggie Packed Keto Burger Buns
---
Author:
Prep Time: 10
Cook Time: 20
Total Time: 30 minutes
Yield: 4 buns 1x
Category: bread
Method: baking
Cuisine: american
Description
Easy blender batter buns green with spinach!
---
Scale
Ingredients
5 large eggs eggs
1 cup packed spinach or baby kale
¼ cup coconut oil, ghee or bacon fat
1/3 cup coconut flour, more as needed (up to 1/2 cup total)
½ teaspoon salt
1/2 teaspoon garlic powder
1/2 teaspoon baking soda
---
Instructions
Pre-heat oven to 400F. Line a baking sheet with parchment paper.
Crack the eggs into the blender. Add in the spinach and fat. Blend until completely smooth.
Add in 1/3 cup coconut flour, salt, garlic powder and baking soda.
Blend until a dough forms.
Use a spatula to scrape the dough out into a bowl. Let the mix sit for 1-2 minutes. If it has not thickened, whisk in 1 tablespoon of coconut flour at a time, waiting 30 seconds between each one, until the mix becomes a dough.
Once it has reached that thick consistency, use scant 1/4 cup to add 4 scoops to the parchment paper. You may do 3 larger buns, but you will have to adjust the macros. You can sprinkle seeds on top if desired. The scoops should be solid enough to hold shape. It not, you need more flour.
Bake for 20-25 minutes, until fluffy, but firm in the center and slightly risen. They won't be super tall, but thick enough to slice through.
Remove from the oven, let them cool for 10 minutes, then use a bread knife to slice in half to make buns!
Nutrition
Serving Size: 1 bun
Calories: 251
Fat: 21.3g
Carbohydrates: 6.1g
Fiber: 3.5g
Protein: 9.4g